Who says chicken fingers are just for kids? NOT ME! You are going to love these coconut-crusted chicken fingers made with No Antibiotics-Ever chicken breast, unsweetened coconut flakes, and ground cashews.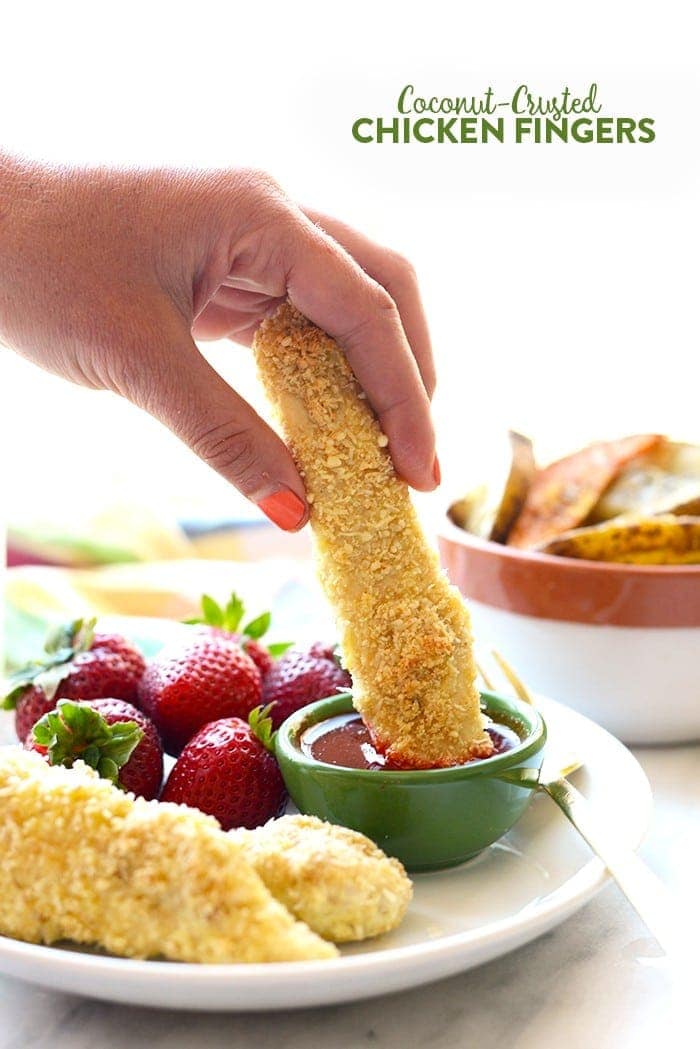 My sister and I are 12.5 months apart and have pretty much been called twins our entire life. We went back and forth as to whom was taller and always got mixed up between who's who. Get this – apparently we both sounded like mice when we spoke because our voices were very high pitched. LOLz. While we looked very similar, we had very different personalities. My mom was telling me the other day that most of the time I spoke for my sister and even tied her shoes until she was 5. People, I'm the younger one! When it comes to food…I was an EXCELLENT EATER. Michelle on the other hand only ate 5 things: peanut butter sandwiches, waffles, bananas, mac n' cheese, and chicken fingers. I'm not even kidding…she refused to eat anything else and had her first hamburger when she was 18. THANKFULLY I've been able to introduce her to many foods that are much more satisfying and healthy. I'm super excited to make these homemade chicken fingers, I just know she's going to love them!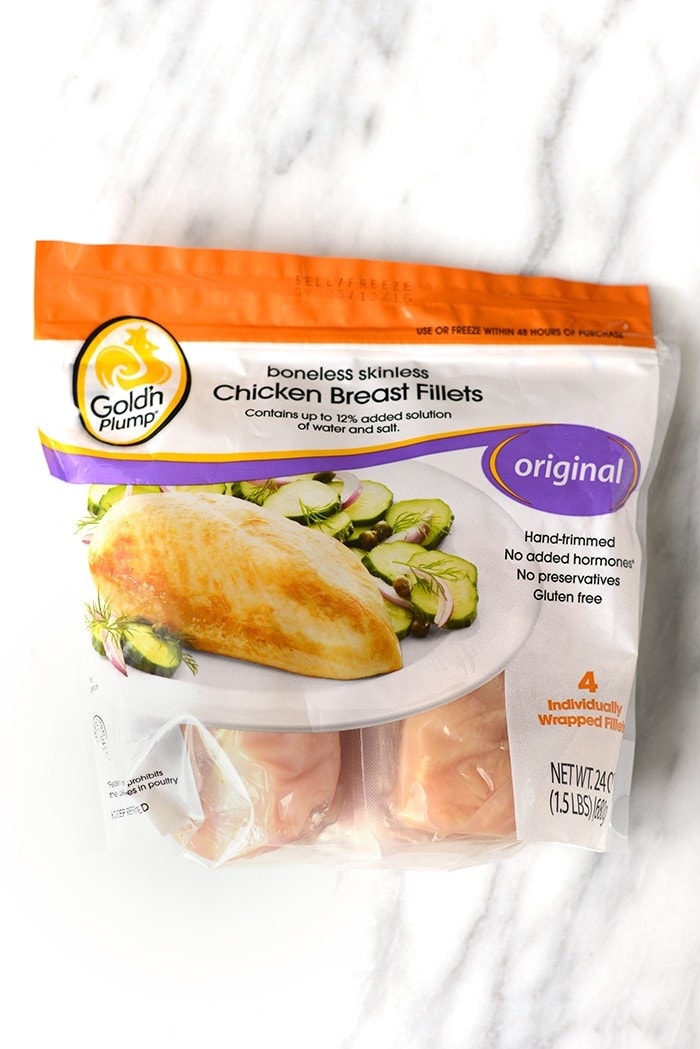 Today I am partnering once again with my favorite chicken brand, Gold'n Plump! They really are the ultimate chicken brand because not only are they based in Minnesota (and you all know I'm obsessed with all things MN), but they actually care about the food we put in our bodies! The brand's chickens are raised responsibly with the attributes of No Antibiotics-Ever and American Humane Certified and they partner with family-owned, smaller-scale farms. Love.
For this recipe I wanted a classic dinner mixed with more sophisticated flavors. Chicken fingers + coconut = love.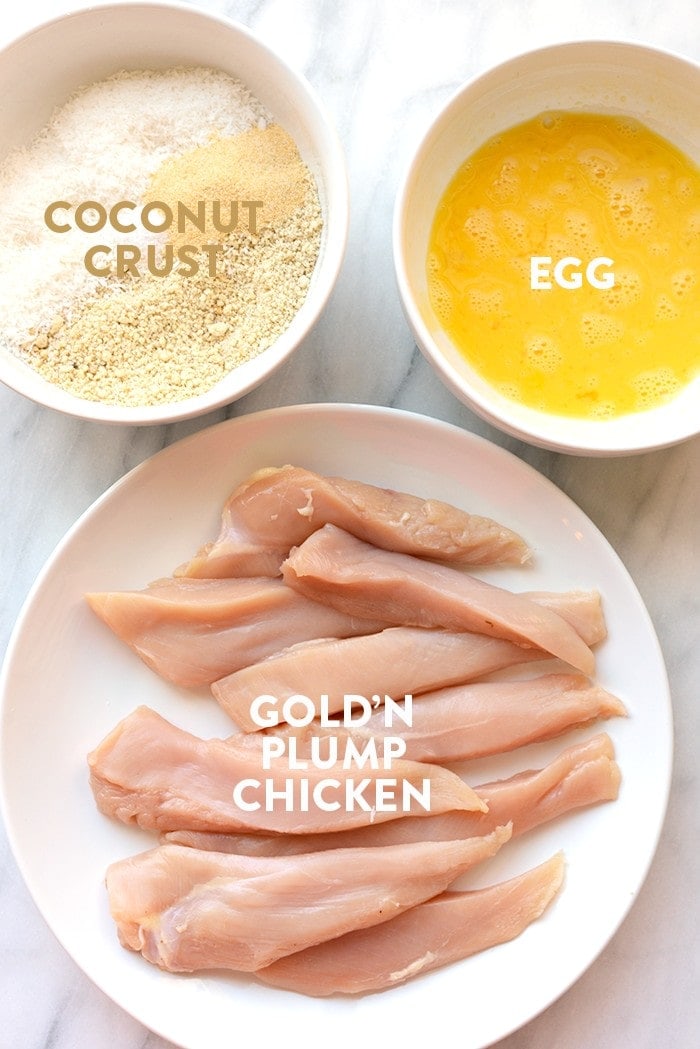 And oh so easy to make! Want to know the key to perfect homemade chicken fingers? Perfectly even chicken strips! To do this all you have to do is place a piece of parchment paper on top of your chicken breast and use a meat pounder to even things out. This is extremely important because you want to make sure your chicken cooks as evenly as possible. No one likes partially undercooked chicken OR overcooked chicken. YICK.
The chicken finger "crust" is made with a mixture of unsweetened coconut flakes, cashew meal, and spices. The option is yours to switch up the cashew meal for almond or walnut! It will work just the same.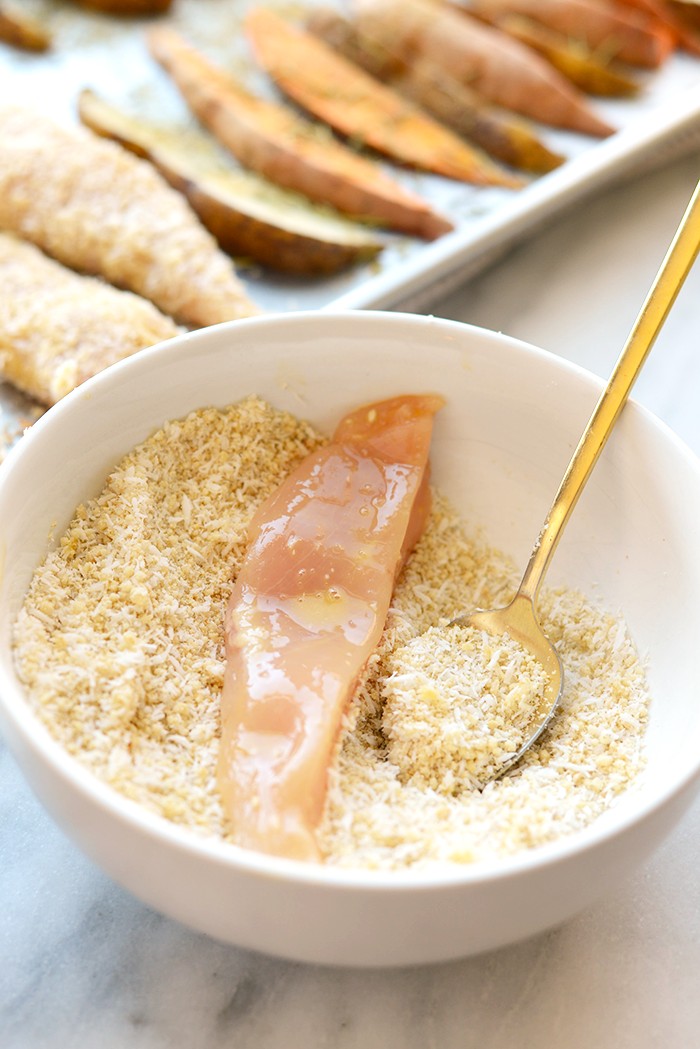 This isn't just a chicken finger recipe, guys…it's much more than that! It's a one pan meal, meaning that you throw everything onto a single pan and pop it in the oven. No sense in messing up multiple pans. The less you have to clean the better! I figured I'd make a classic side to go with chicken fingers…
FRIES
We used a mixture of russet and sweet potatoes, but you can also take this with a grain of salt and use whatever kind of potato your heart desires.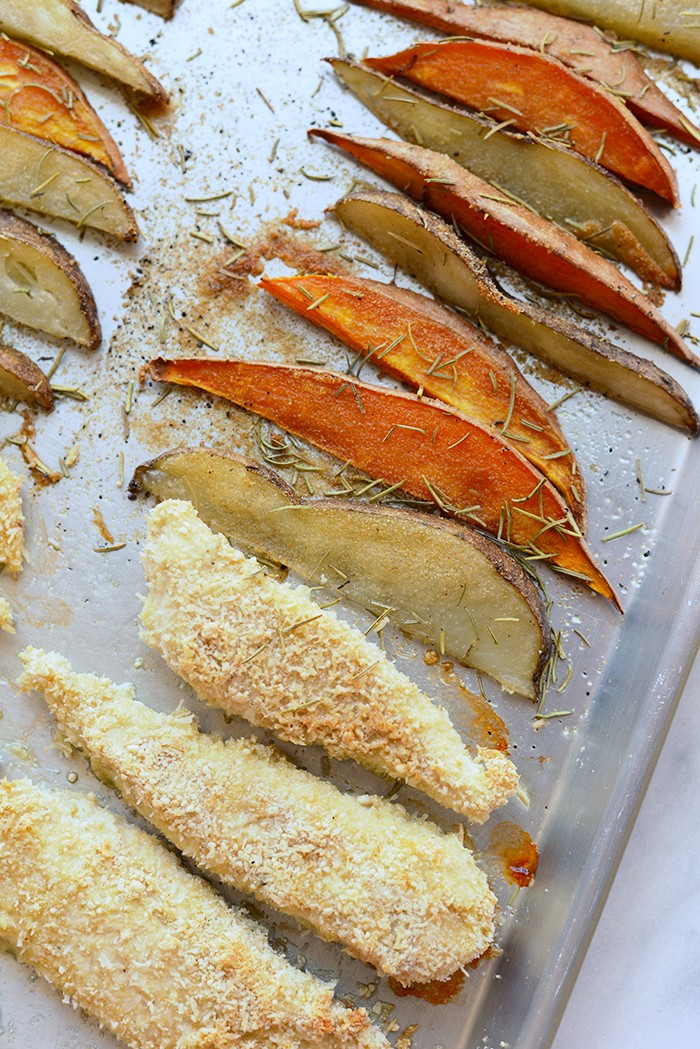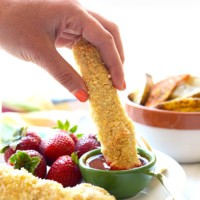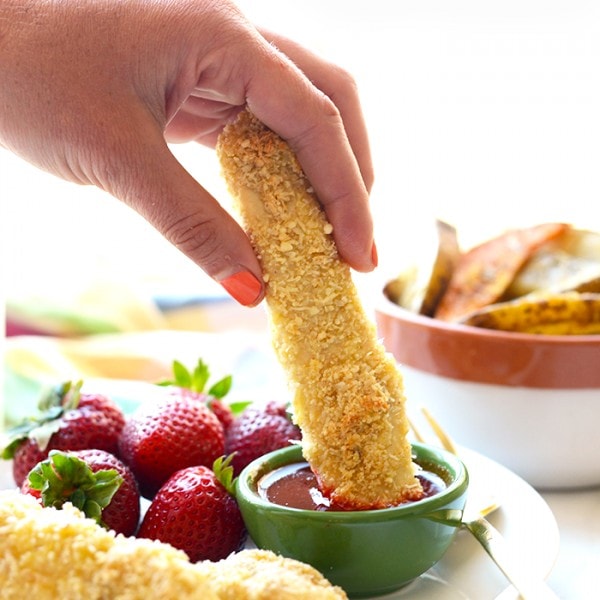 Coconut-Crusted Chicken Fingers
A coconutty twist on chicken fingers! Make this healthy meal wih a few simple ingredients.
Ingredients
For the Rosemary Garlic Potato Wedges
Instructions
First, preheat the oven to 375ºF.

Prep potatoes by slicing into 1/2-inch thin wedges. Line them on half a large baking sheet. Drizzle with olive oil and season with garlic powder, rosemary, salt, and pepper. Place in oven for 10 minutes.

Prep chicken fingers by pounding chicken with a meat pounder so that it's about 1-inch thick. You'll want to make sure you do this so that the chicken fingers bake evenly. Next, slice chicken breasts into chicken tenders; about 3 tenders per chicken breast. Prep the coconut coating mixture by mixing together coconut flakes, cashew meal, garlic powder, salt, and pepper into a medium size bowl. Crack 2 eggs into another medium size bowl and whisk.

After 10 minutes, remove potatoes from the oven.

Finish prepping chicken fingers by first dipping each chicken tender into the egg wash and then into the coconut flake mixture. Make sure to coat the entire chicken tender. Place on the second half of the pan. Repeat for all tenders. Season the top of each tender with salt and pepper.

Place the pan back in the oven for about 20-25 minutes (we did ours for 23), or until chicken tenders are fully cooked. Then, turn oven to broil and broil for 1 minute to brown the chicken.

Serve with honey Sriracha sauce.
Nutrition facts
Calories:
442
kcal
Carbohydrates:
37
g
Protein:
35
g
Fat:
19
g
Fiber:
3
g
Sugar:
17
g
One last thing to complete this recipe.
HONEY SRIRACHA SAUCE!
I am a total honey girl when it comes to chicken fingers. I know there are ketchup people out there…but I'm all about that honey. So why not add some heat 🙂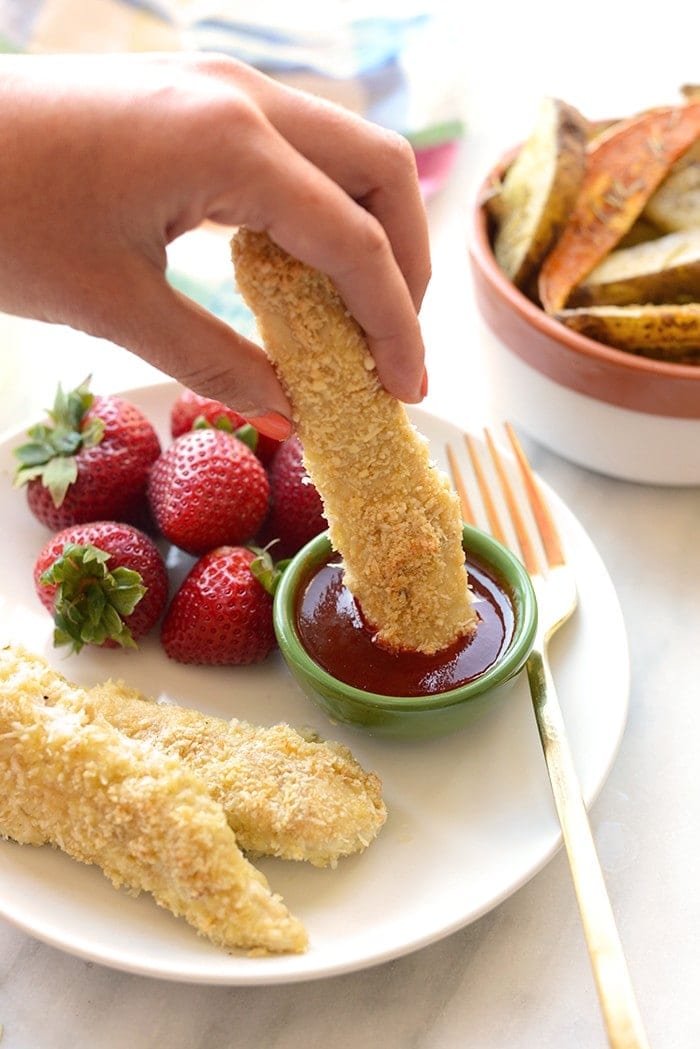 This post is sponsored by Gold'n Plump. I was compensated and all opinions are my own. Thank you for supporting Fit Foodie Finds!