Ready for the juiciest chicken you've ever had? Make this air fryer chicken breast recipe for dinner as the main dish or make a batch of air fryer chicken for salads, wraps, or meal prep meals.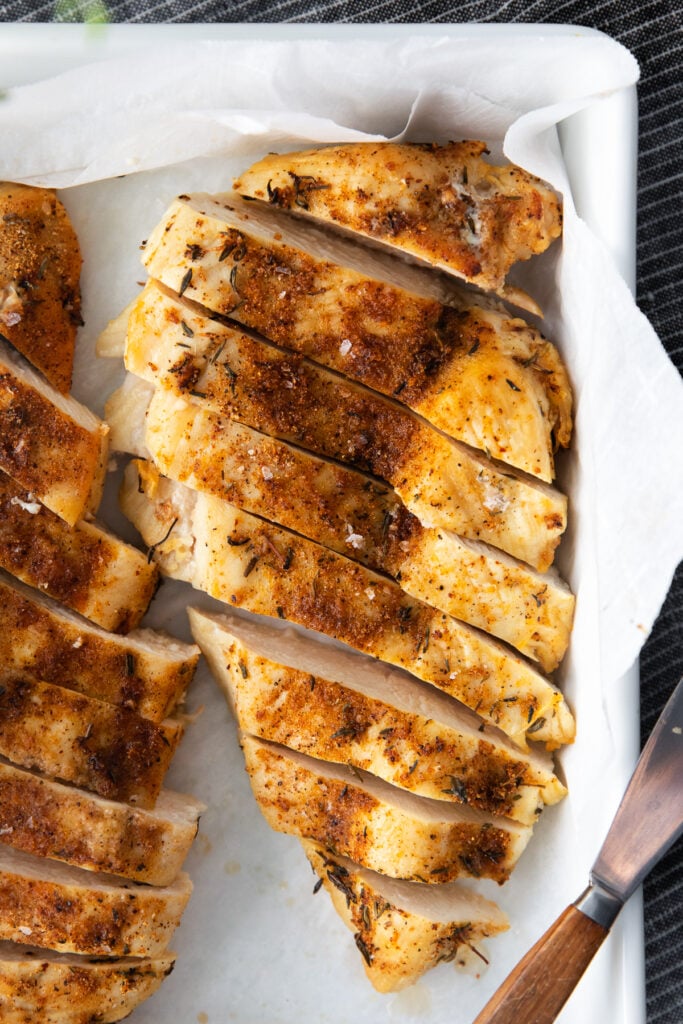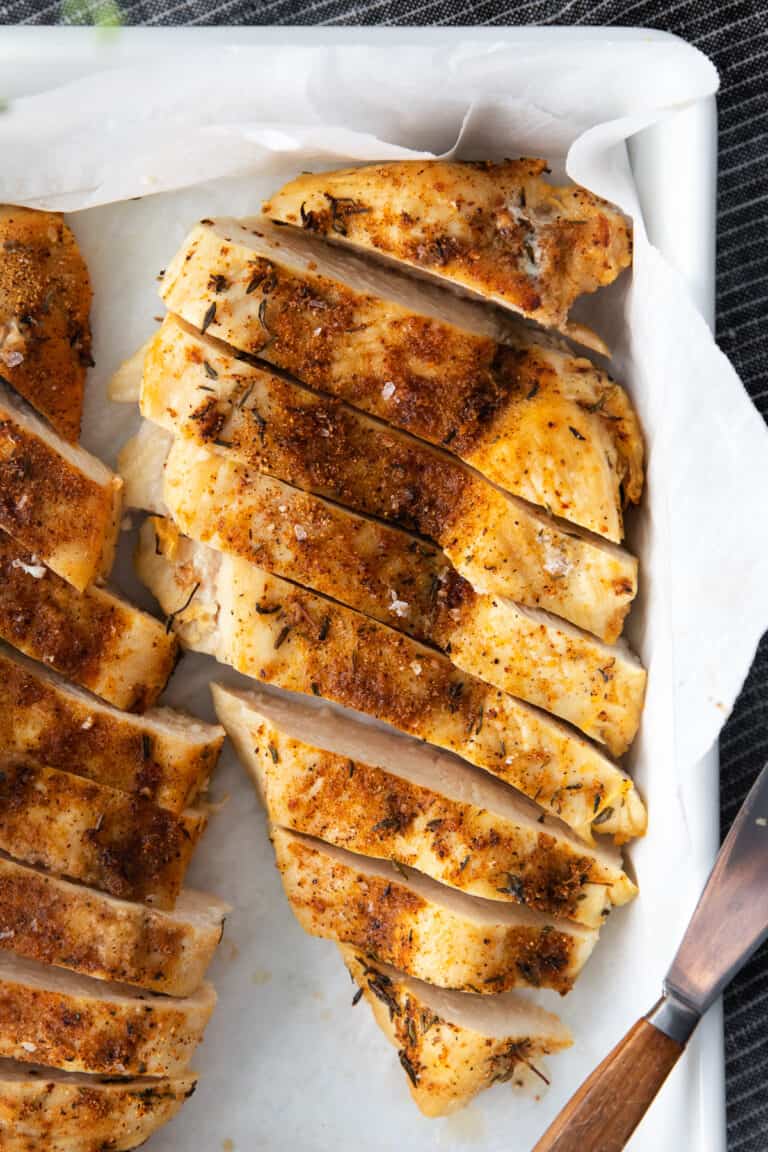 We have so many flavorful chicken breast recipes on Fit Foodie Finds. We have Instant Pot Chicken Breast, juicy pan seared chicken, crunch pan fried chicken breast, and juicy grilled chicken recipes that you just can't beat.
Love your air fryer? Make these air fryer chicken nuggets or this air fryer chicken parmesan recipe next.
Why Air Fryer Chicken?
You get juicy chicken in a matter of minutes, no stove required.
Your chicken breast ends up juicy on the inside and golden brown on the outside.
There is no limit on what you can season your chicken with. You can go simple or use our all purpose chicken seasoning.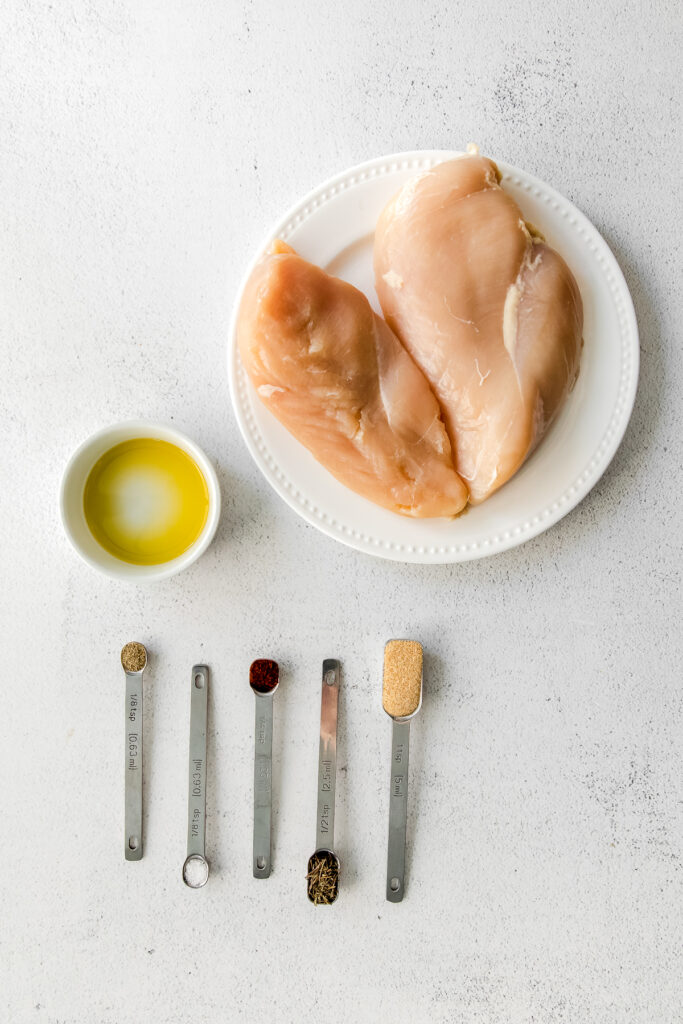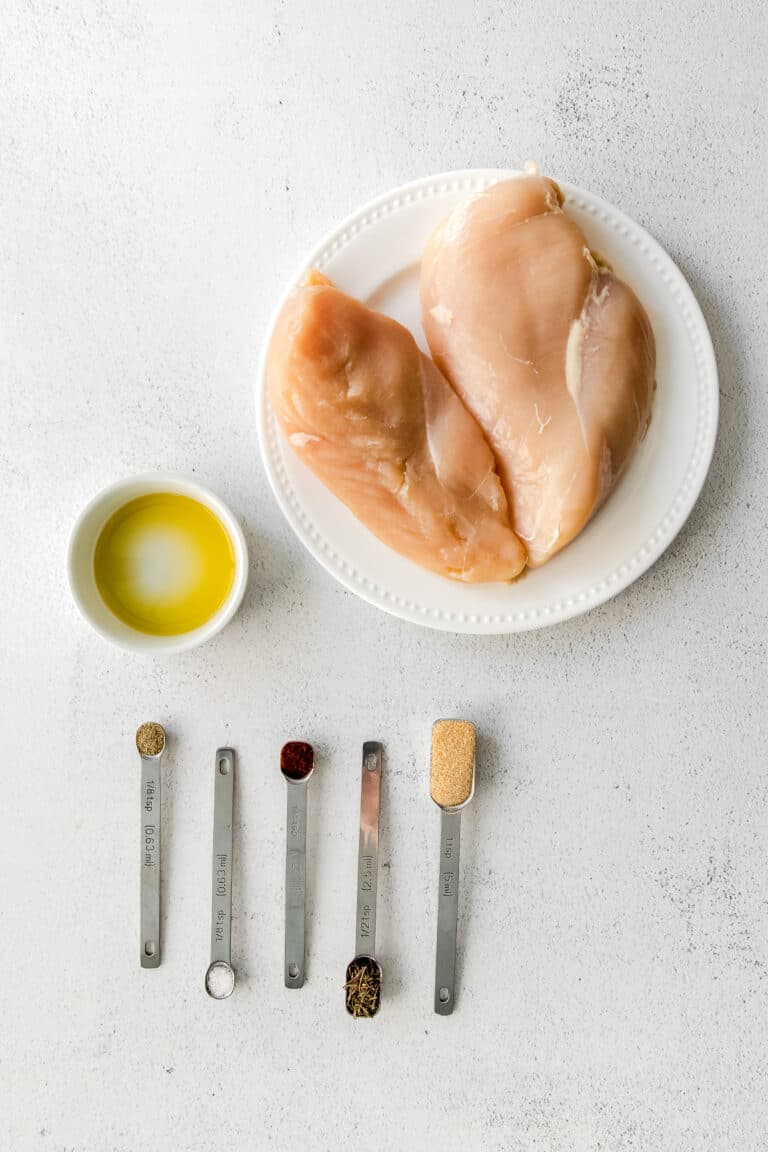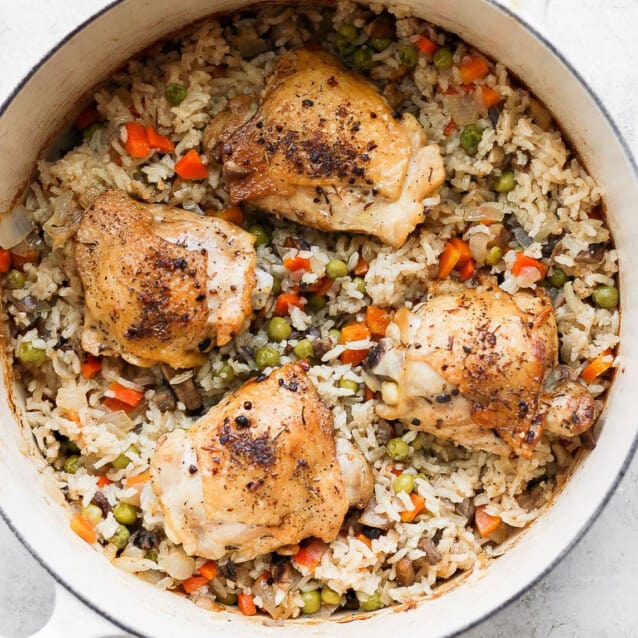 Become a Pro at Cooking Chicken!
We'll teach you everything you need to know on how to cook chicken perfectly every time + we'll share our top chicken recipes when you subscribe to our emails today!
Ingredients You Need
Chicken breasts- this recipe calls for 2 chicken breasts. We suggest buying small to medium sized chicken breasts because most air fryer baskets are smaller. If you want to make more than 2 chicken breasts, just double the recipe and make the chicken breasts in batches.
Spices ( garlic powder, dried thyme, chili powder, salt, and pepper)- we used a very simple spice mixture for this easy air fryer chicken breast recipe. Don't be limited by this spice mix, we share other dry rubs you can use below.
Olive oil – you do need some olive oil to cook the chicken and get that golden brown exterior.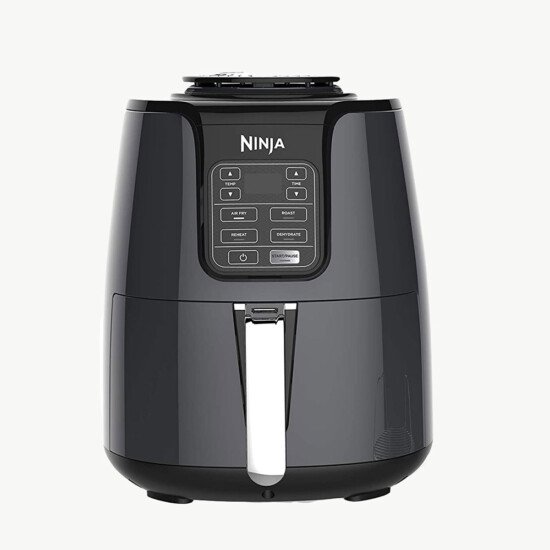 Ninja
Air Fryer
Are you in the market for an air fryer? There are so many great air fryers out there. This Ninja Air Fryer is a fan favorite.
Buy Now!
Raw or Frozen Chicken
We recommend using raw chicken for this recipe, but you can use frozen chicken, too. The cook time will increase by 10-15 minutes depending on the size of your chicken breasts.
how long does it take to air fry chicken?
How long you cook your chicken in the air fryer depends on how big your chicken breasts are. Here are the different times we stick to based on chicken breast size. Below are cooking times for raw chicken breasts.
Small (4 to 6 ounces): 8-10 minutes
Medium (7 to 9 ounces): 10- 15 minutes
Large (10 or more): 15- 18 minutes
Just remember, the goal is to get your chicken breast to a safe eating temperature which is 165ºF.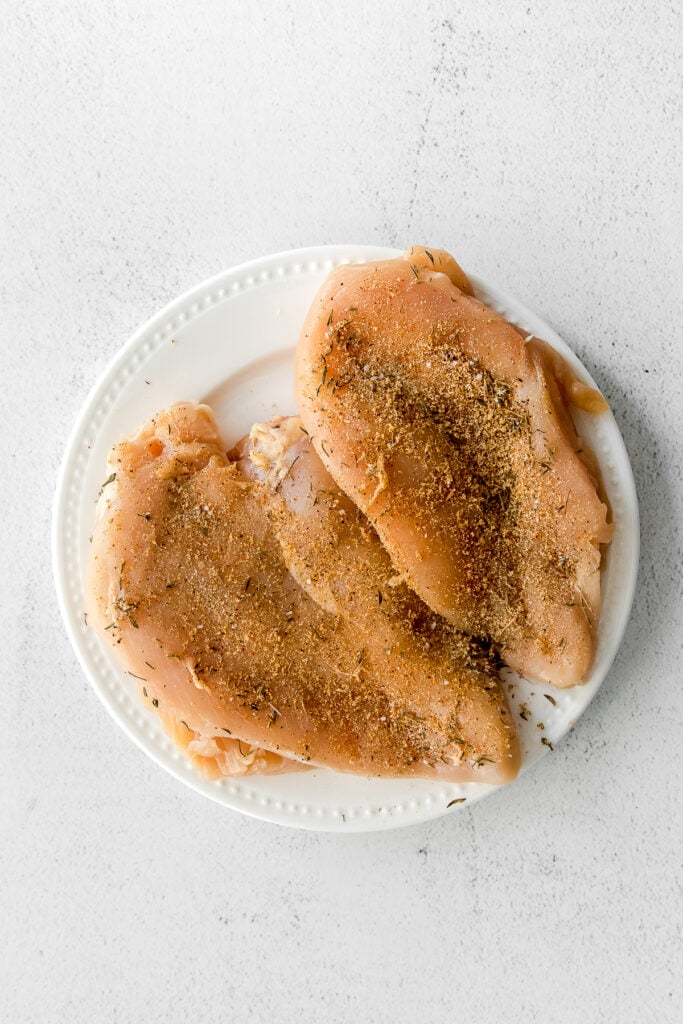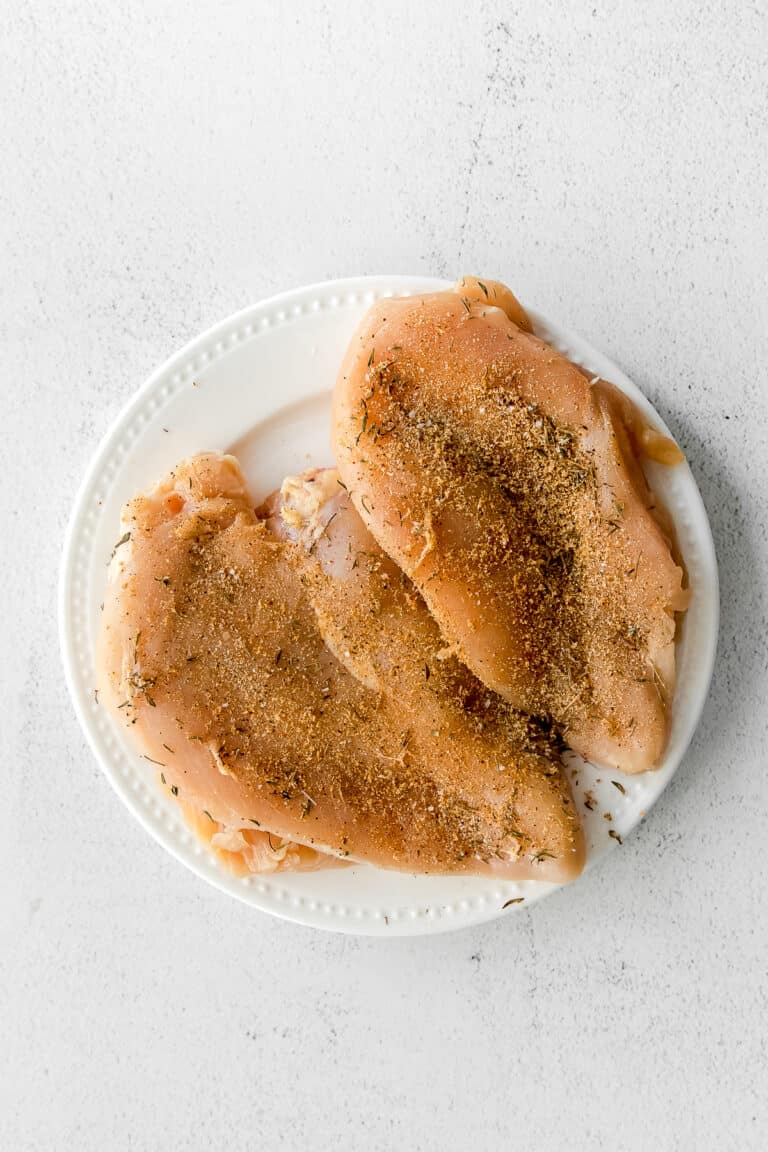 How to Season Air Fryer Chicken
This air fryer chicken recipe is a very basic recipe that can be changed a bit just by switching up how you season your chicken.
We use a simple spice mix of garlic powder, dried thyme, salt, and pepper, but you can also use 2-3 teaspoons of any of the dry rubs below depending on what flavor pallet you are going for.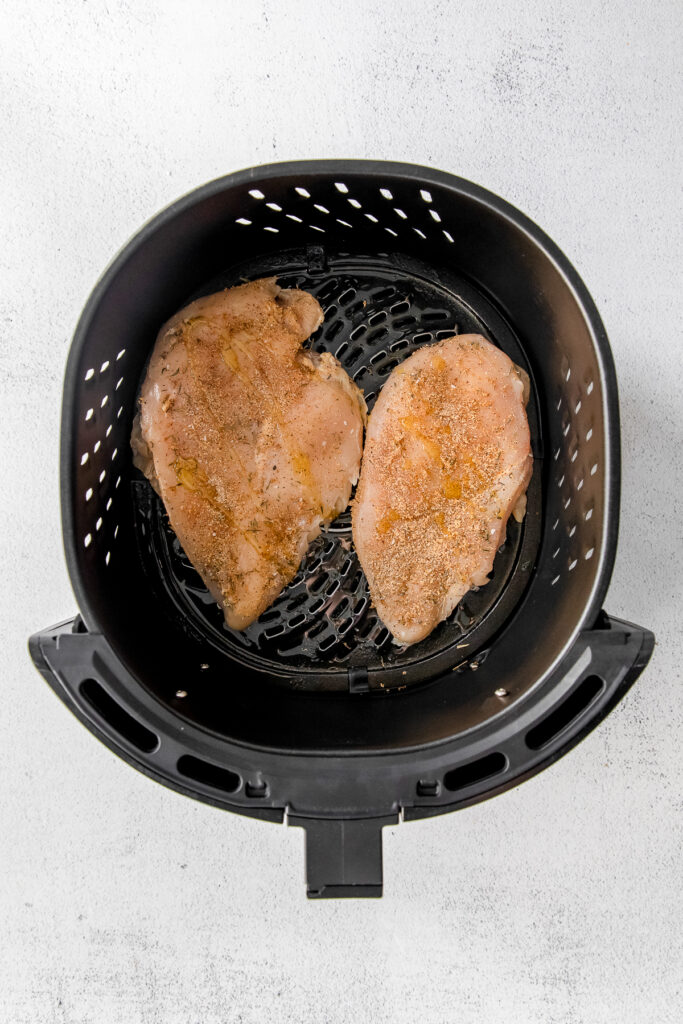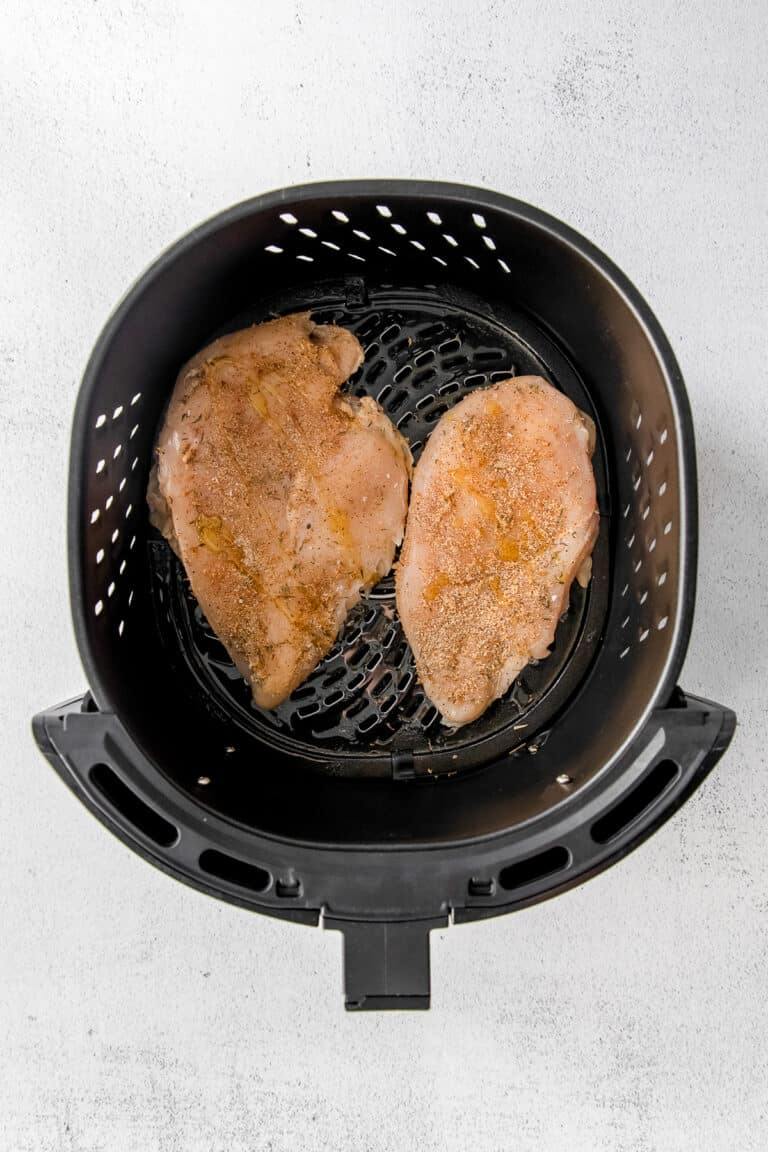 Should I brine my chicken breasts?
Brining chicken can add flavor to your chicken breasts as well as leave you with an exceptionally juicy chicken breast. However, it does add a bit more time to preparing your chicken.
If you have the extra time to brine your chicken, sprinkle 1 teaspoon of kosher salt over your chicken breasts and let the dry brine in the fridge for 30-40 minutes.
Can I marinate my chicken breasts?
Marinating your chicken breasts is another great way to add extra flavor to your chicken breast. You can marinate your chicken breasts for 30 minutes or up to over night depending on how much time you have.
We love our teriyaki chicken marinade or our flavorful balsamic chicken marinade, too. Check out more chicken marinades below!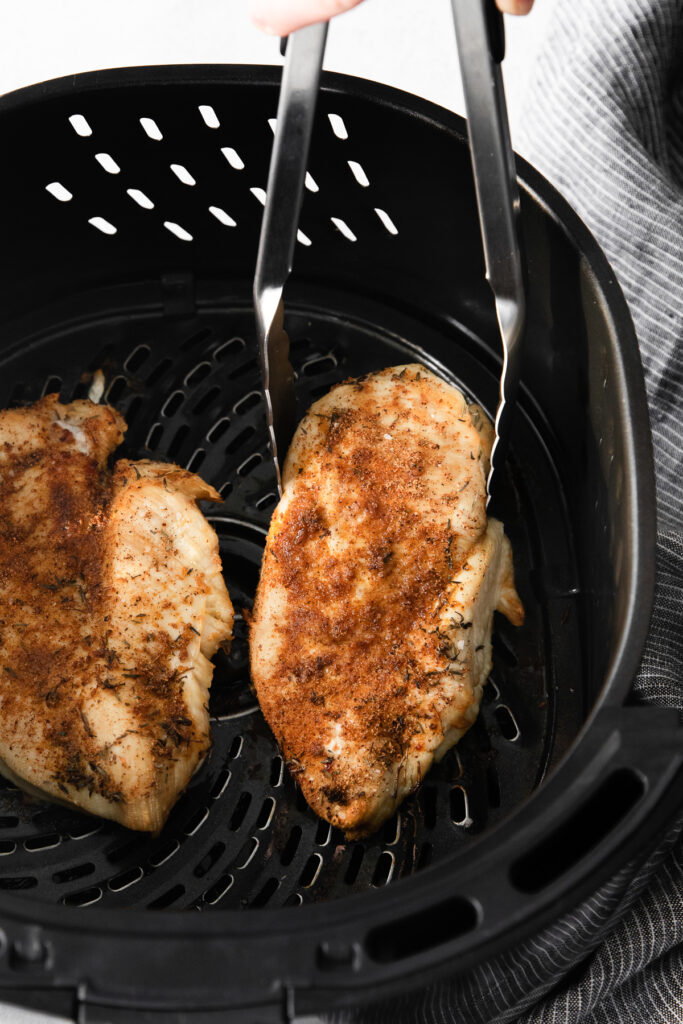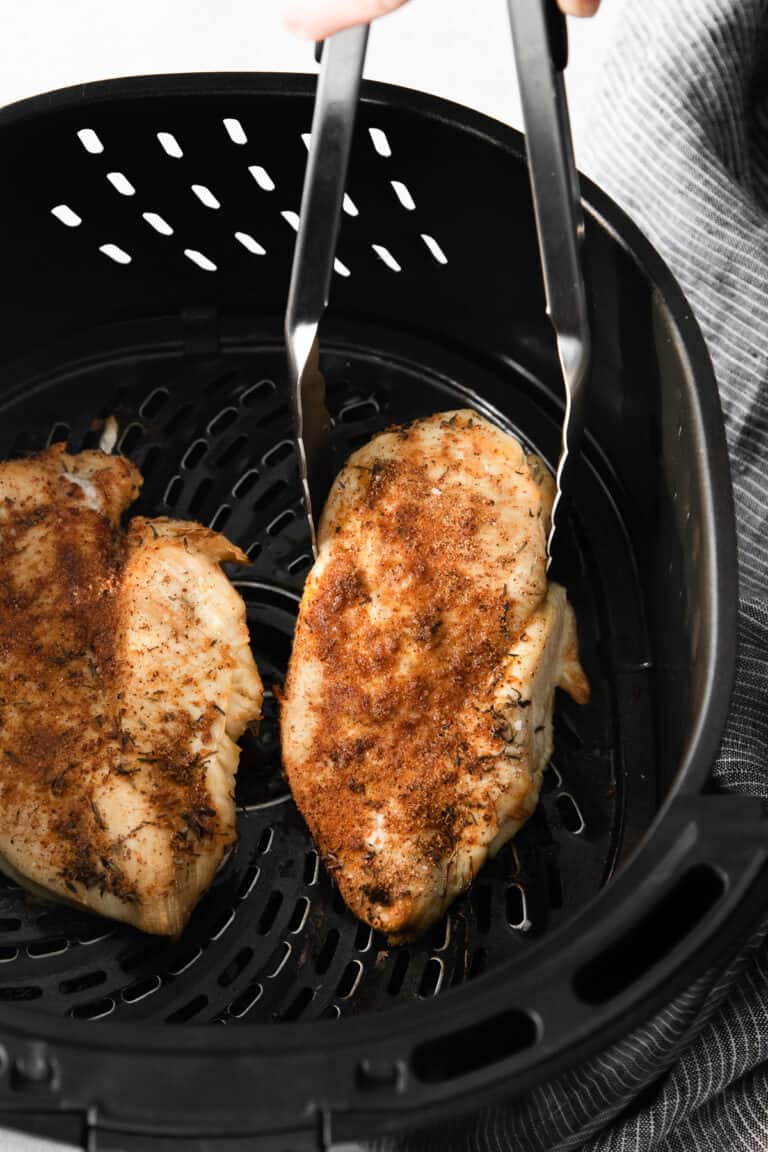 How to Make Air Fryer Chicken
Preheat the air fryer. You have to make sure your air fryer is preheated (just like an oven) before you cook your chicken. Preheat the air fryer to 390ºF and spray the air fryer chicken basket with non-stick cooking spray.
Pound the chicken. Place your chicken on a cutting board and cover it with plastic wrap. Pound the chicken with a meat tenderizer until the chicken is the same thickness. Don't over pound it!
Season the chicken. Sprinkle the dry rub all over the chicken and massage the dry rub into the chicken with your hands. You can let the dry rub sit on the chicken for 15-30 minutes for extra flavor.
Air Fry the chicken. Place the chicken breasts in the air fryer basket and set the timer for 7 minutes. Flip the chicken and cook for another 3 minutes (or more if your chicken breast are bigger).
Enjoy. Once your chicken breasts are golden brown and reach an internal temperature of 165ºF remove them from the air fryer and enjoy with your favorite sides.
recommendation
Meat Thermometer
Looking for a high-quality meat thermometer? The u003ca href=u0022http://www.thermoworks.com/Thermapen-Mk4?tw=FITFOODIEFINDSu0022u003eThermapen Mk4u003c/au003e is great for measuring the internal temperature of any meat.
Buy Now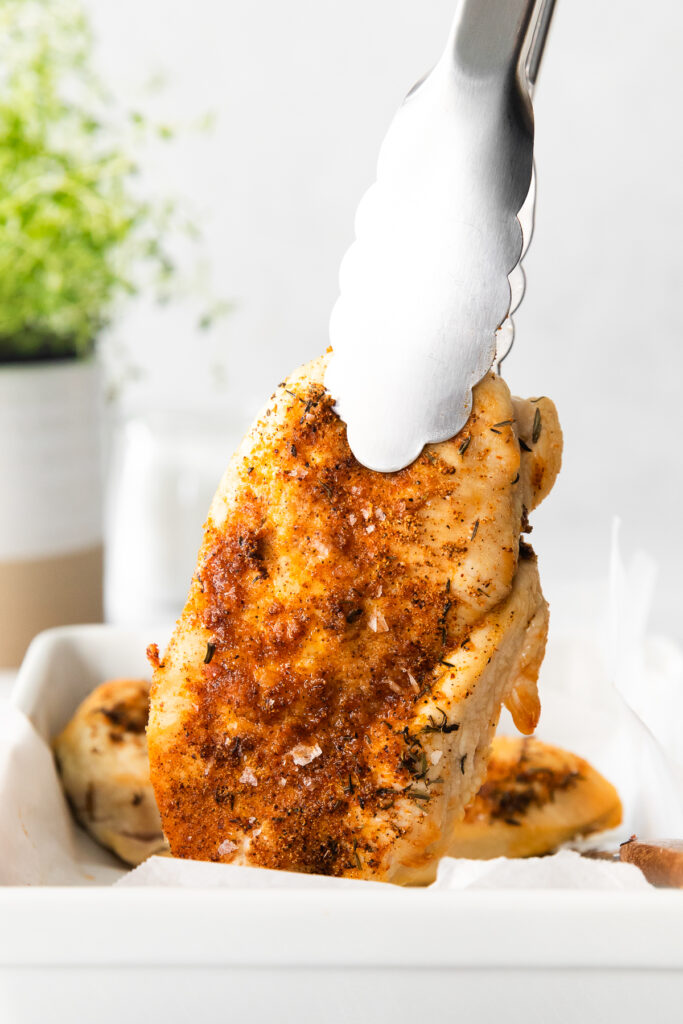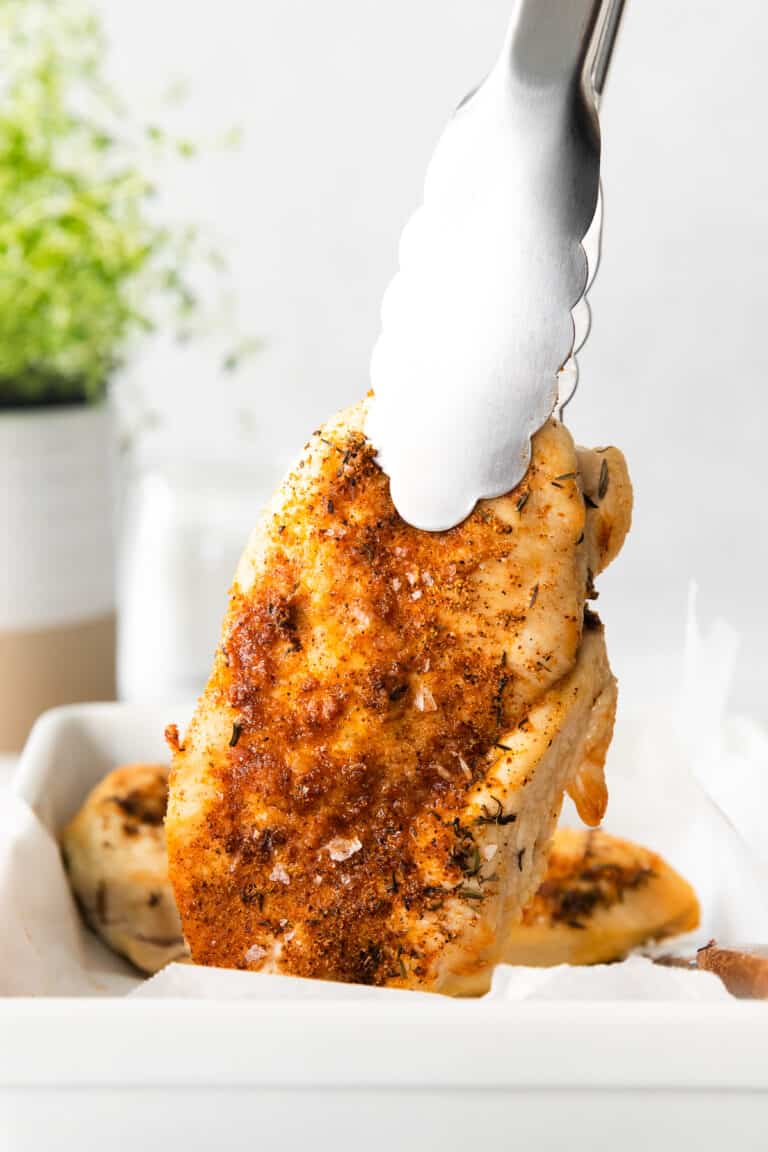 What to Serve with Air Fryer Chicken?
When it comes to sides to serve with your air fryer chicken, we've got you covered. You can serve the chicken breasts along side roasted vegetables or on top of any tasty salad.
Below are some of our favorite sides to serve with this air fryer chicken.
Baked Potato Salad- This baked potato salad is loaded with cheddar cheese, bacon, chives, hard-boiled egg, and a dill pickle sauce! It's the perfect potato salad to serve at your next BBQ or party.
Air Fryer Zucchini- This perfectly cooked Air Fryer Zucchini is tossed in garlic and parmesan cheese and comes out so tasty!
Chicken Cesar Salad- Make a restaurant-quality chicken Caesar salad with a homemade caesar salad dressing in less than 30 minutes.
Mexican Quinoa Salad- Make this light and refreshing Mexican quinoa salad made with cooked quinoa, plump cherry tomatoes, black beans, corn, and a limey vinaigrette.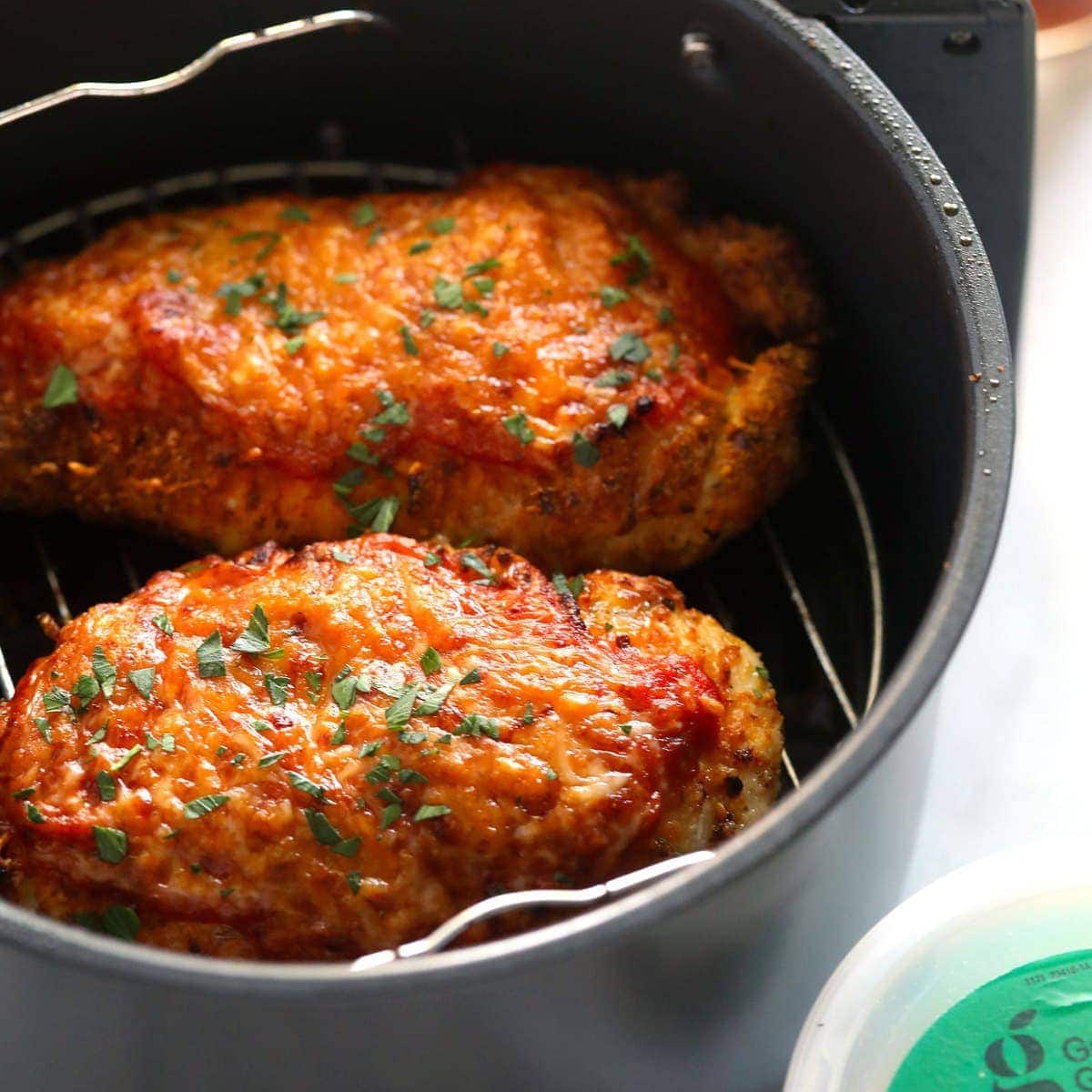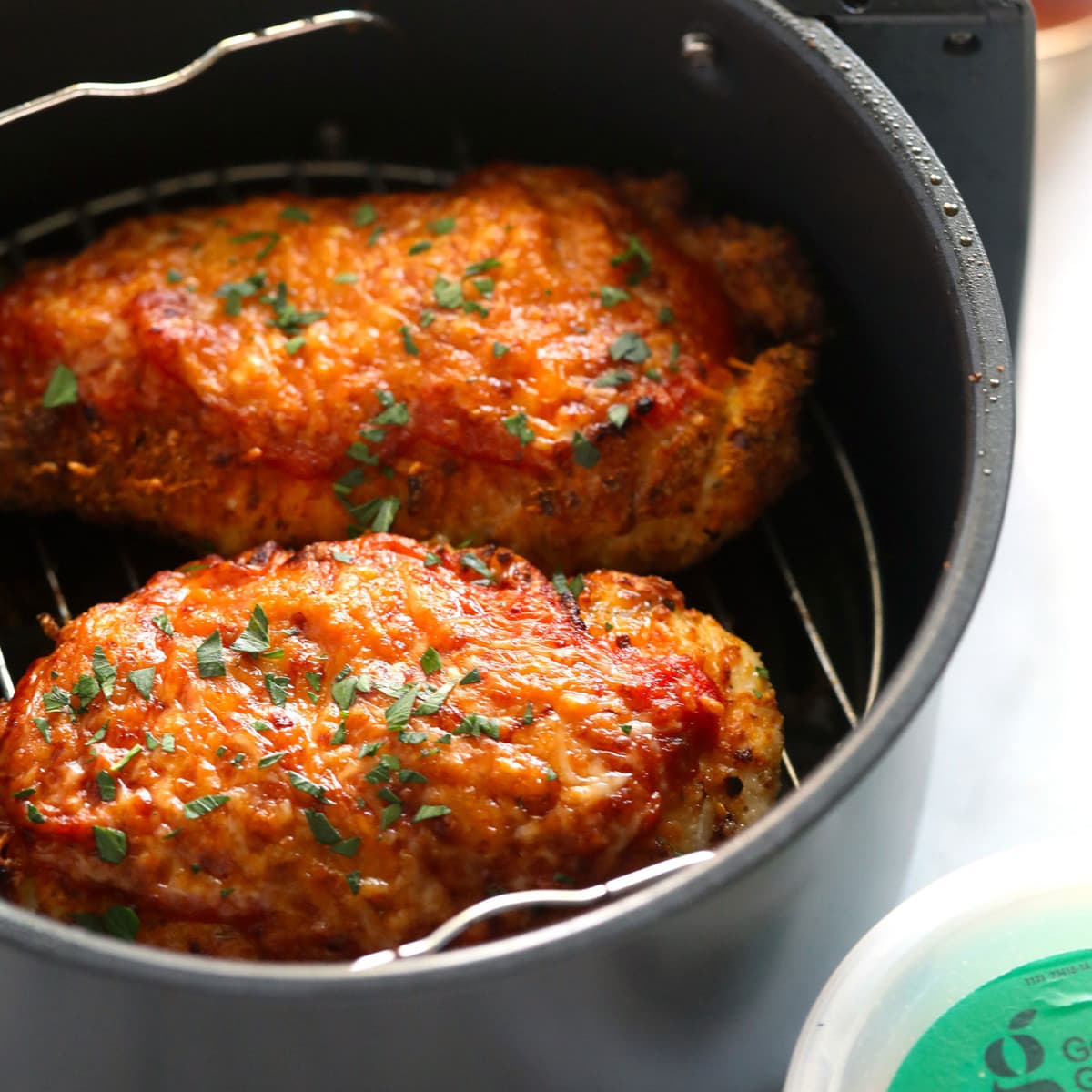 Air Fryer
Chicken Parmesan
If you love your air fryer, you will love this easy air fryer chicken parmesan recipe. It leaves you with crispy chicken that is covered in a delicious marinara sauce and cheese.
Make it!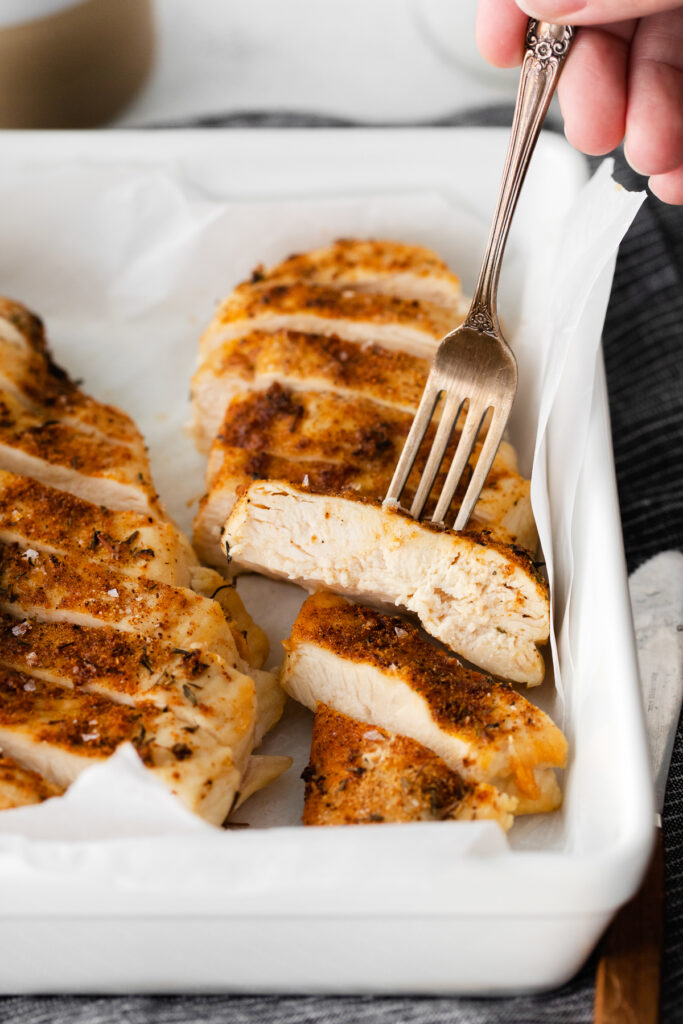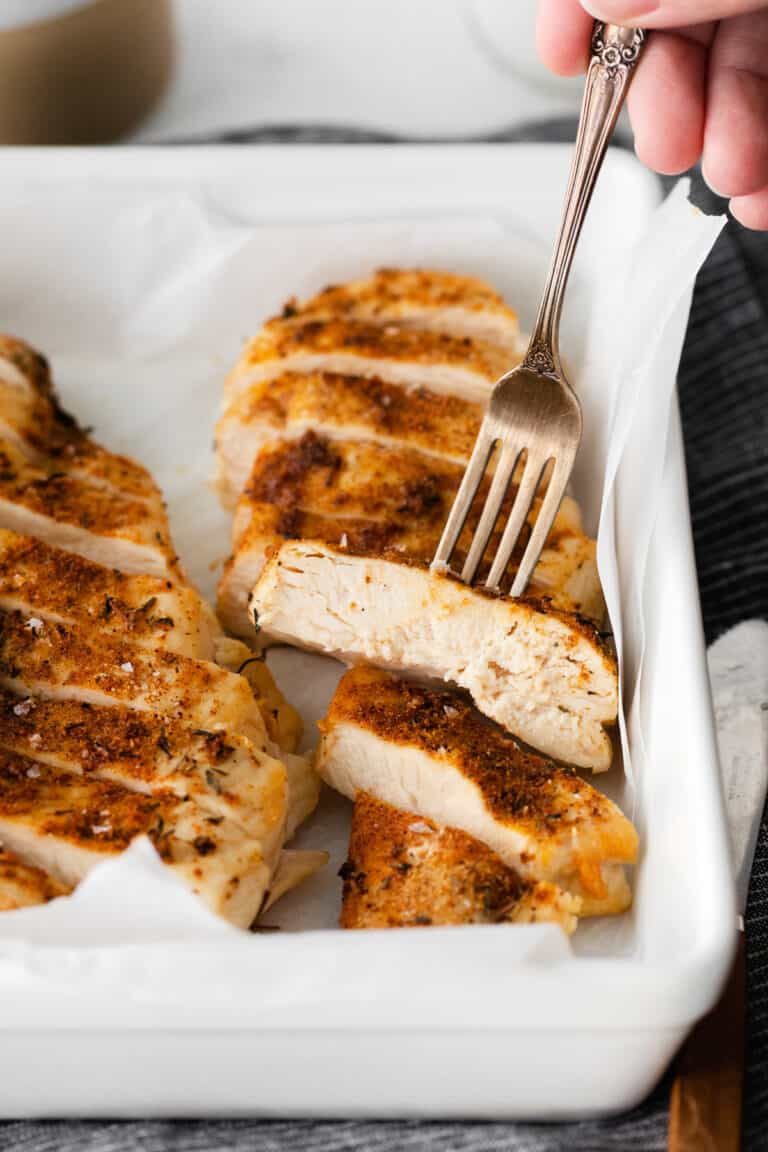 Storage Options
You can store this air fryer chicken in an air tight container for up to 5 days.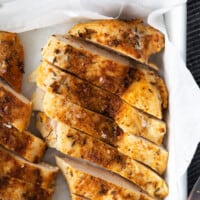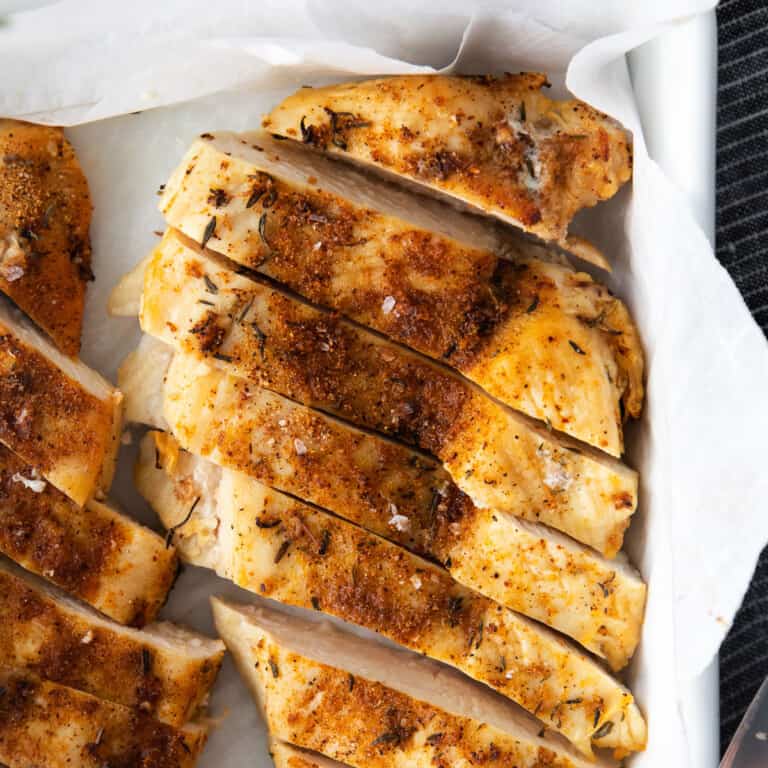 Air Fryer Chicken Breast
This air fryer chicken breast recipe is ready in under 20 minutes. All you need are chicken breasts and a simple dry rub. 
Instructions
Preheat the air fryer to 390ºF and spray the basket with olive oil cooking spray. 

Next, prep chicken breast by placing them on a cutting board. Place a piece of plastic wrap on top and use a meat tenderizer to pound the chicken until it's all the same thickness. 

Combine the garlic powder, dried thyme, chili powder, salt, and pepper into a bowl and mix until combined. 

Season chicken breasts on both sides with the spice mixture.

Place the chicken breasts into the air fryer and drizzle them with olive oil.

Cook for 7 minutes at 390ºF, flip, and cook for an additional 3 minutes. 

Remove the breasts from the air fryer and enjoy.
Tips & Notes
The cook time for these chicken breasts vary by size. If you have larger chicken breasts, check the temperature of the chicken after the 10 minutes, if the internal temperature meets 165ºF you're good. If it needs longer in the air fryer, add 1 or 2 minutes to the cook time. 

If your chicken breasts are smaller, check the internal temperature after 7 minutes to be sure you don't over cook the chicken. 
Nutrition facts
Calories:
239
kcal
Carbohydrates:
1
g
Protein:
39
g
Fat:
9
g
Fiber:
0
g
Sugar:
0
g