Looking to make the perfect crispy chicken breast? Try our pan fried chicken breast recipe. It comes out so crunchy and is perfect for salads, pasta, and more!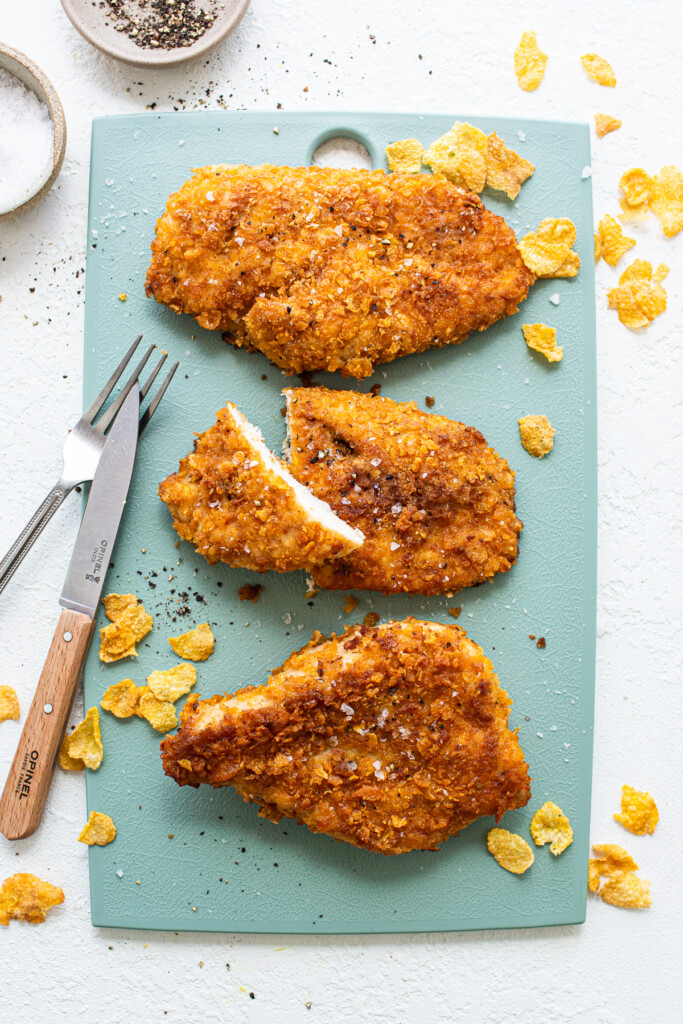 The Most Perfect Crunchy Chicken Breast!
If I had the option to go grilled, baked, or crispy, I'd go crispy all the way! This pan seared chicken breast recipe gets you the perfect crispy chicken breast for any main meal –> insert crispy chicken sandwich, crispy chicken salad, etc.
Our recipe is made with lean chicken breast and a super simple breading made with a secret ingredient –> cornflakes!
Why you'll love it!
Made on the stove-top
Super crunchy!
Perfect salad topper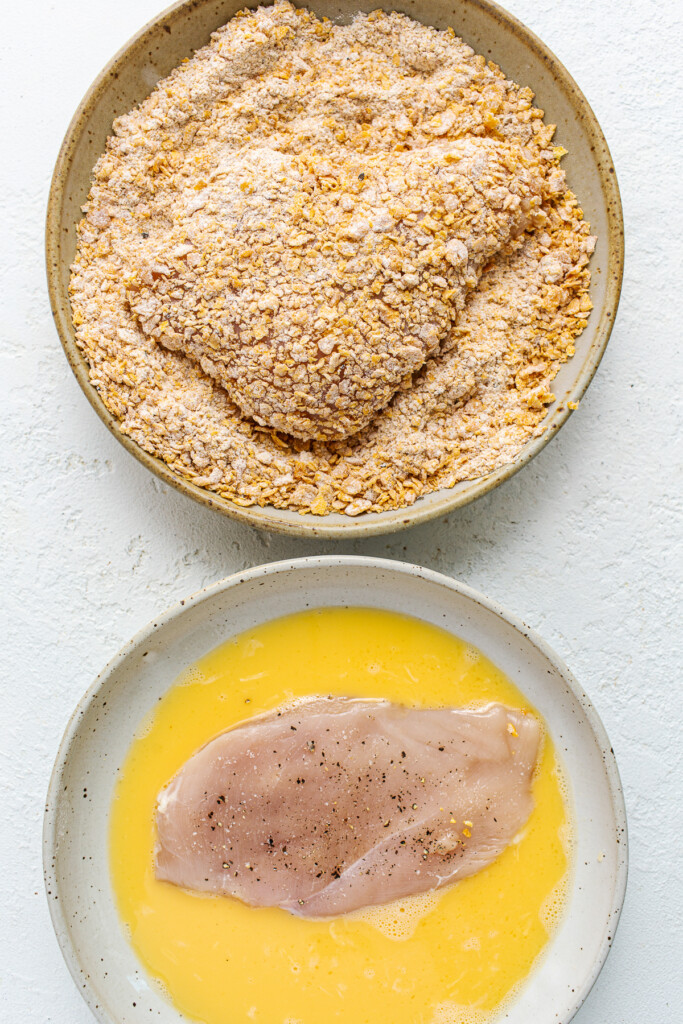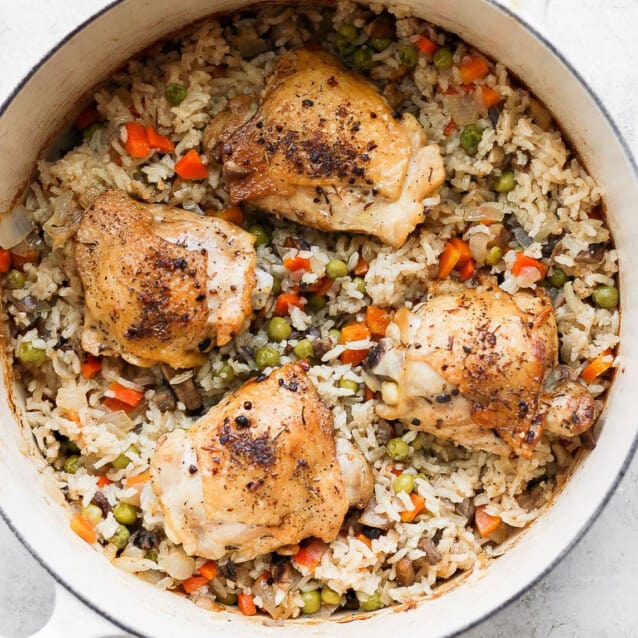 Become a Pro at Cooking Chicken!
We'll teach you everything you need to know on how to cook chicken perfectly every time + we'll share our top chicken recipes when you subscribe to our emails today!
What You Need
Chicken breast: make sure to prepare your chicken breast by using a meat tenderizer to pound it until it's equal throughout.
Egg: egg helps the breading stick to the chicken.
Cornflakes: crushed cornflakes are the secret ingredient for ultra-crispy chicken!
Flour: feel free to use AP flour or a gluten-free flour blend, if need be.
Spices: spices needed include garlic, paprika, and salt.
Oil: we recommend using olive or avocado oil for frying.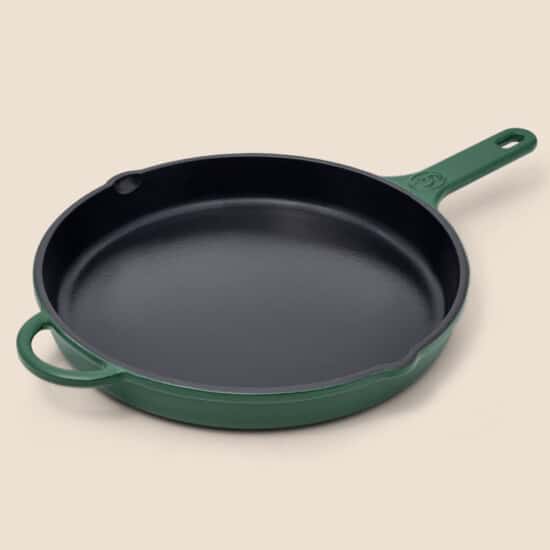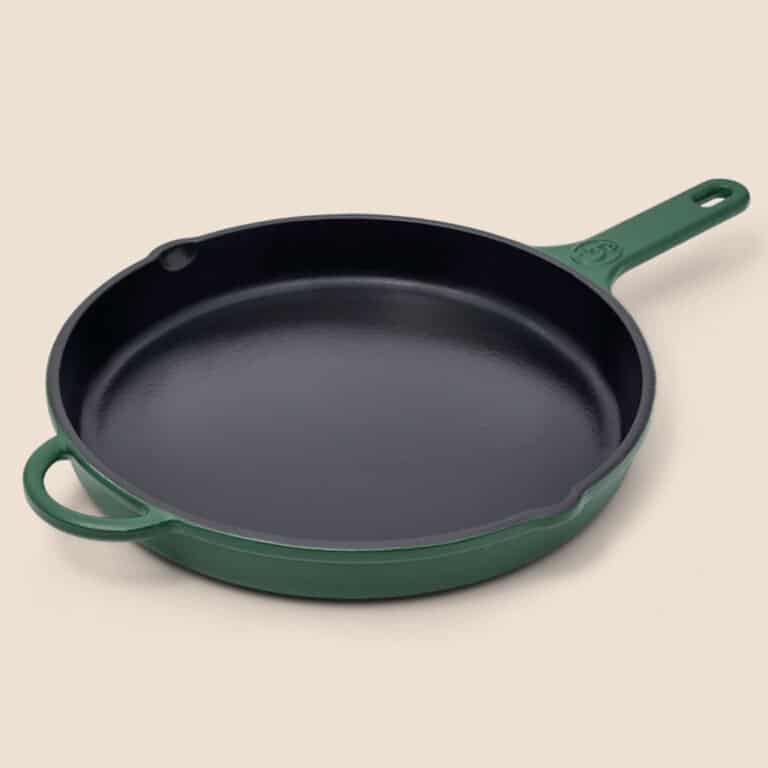 Great Jones
Cast Iron Pan
The Great Jones King Sear is our favorite cast iron pan. It's definitely worth the splurge to add to your kitchen collection!
Buy Now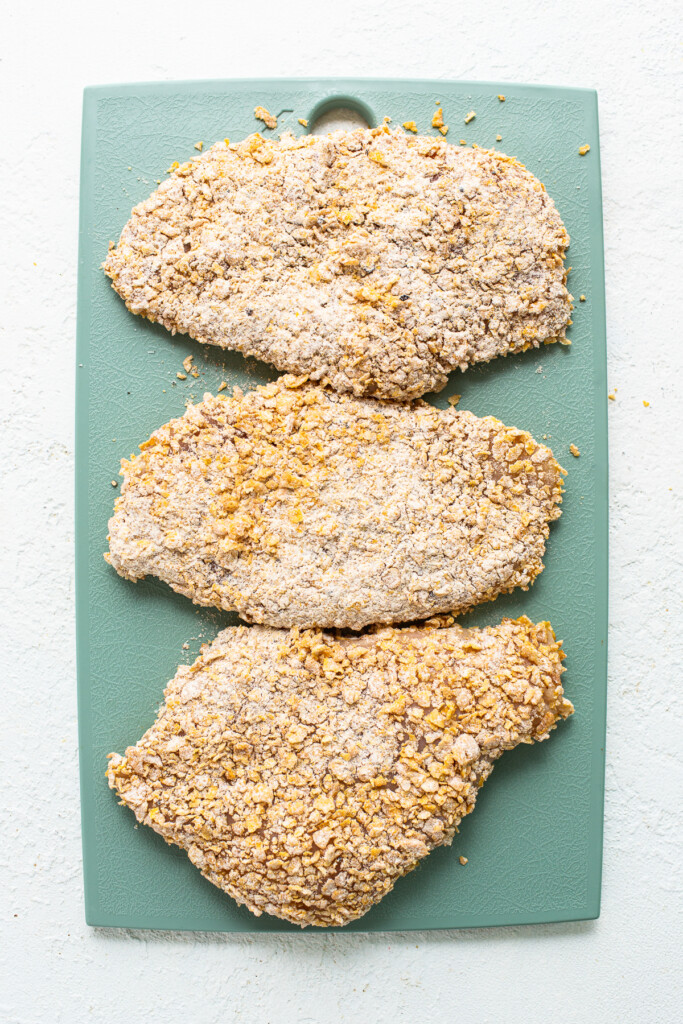 How to Pan Fry Chicken Breast (quick guide)
Tenderize: use a meat tenderizer to pound the chicken until it's about 1-inch thick.
Egg: dredge the chicken in scrambled eggs.
Topping: dredge the chicken in the cornflake topping so that it's fully coated.
Fry: pan fry chicken breasts over medium/high heat for around 4-5 minutes per side or until the internal temperature reaches 165ºF.
quick tip!
Don't skip tenderizing the chicken breast.
It's important to make the chicken breast even by using a meat tenderizer. This will prevent the chicken from over/undercooking in certain areas.
Latest Chicken Recipes
More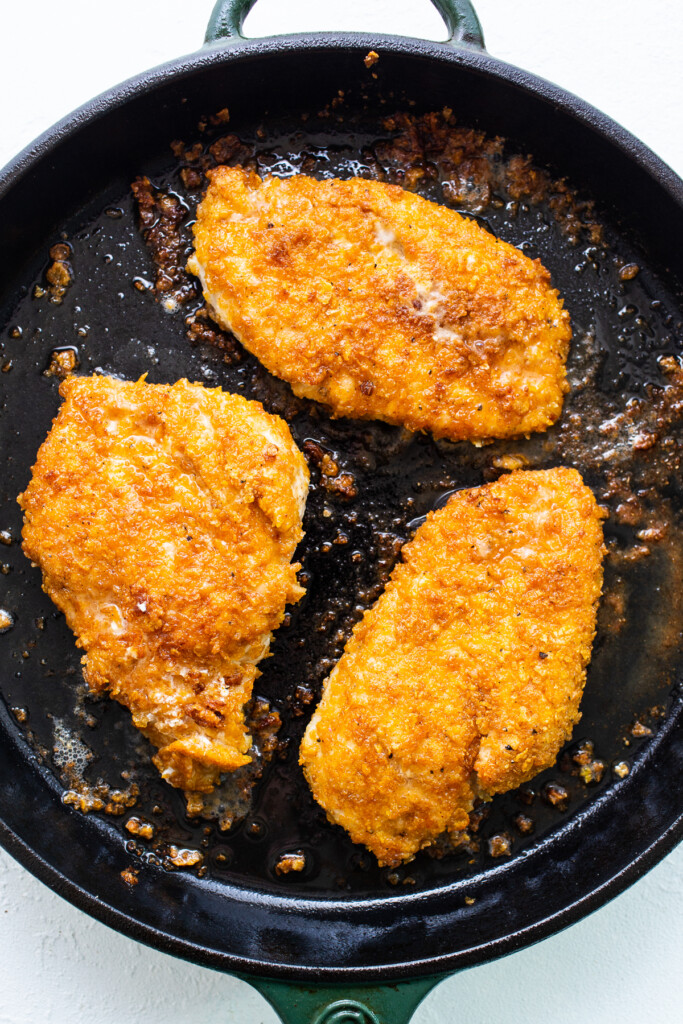 Top Tips for Crispy Chicken
Since this recipe is all about the perfect crispy chicken, we'll share our top tips for getting that crunch in every bite.
Dredge: to get that crispy coating on your chicken, it's important to dredge your chicken breast in egg and a topping. Here's what you need for our topping:
Medium/High Heat: the secret to crispy chicken is pan-frying over medium/high heat until the center reaches 165ºF. We use olive oil, but avocado oil works, too.
Chicken internal temp
According to the USDA, the safe cooking temperature for poultry is 165ºF.
Let rests: Remember that after cooking chicken let it rest for 5 minutes so that the internal temperature can continue to rise around 5ºF.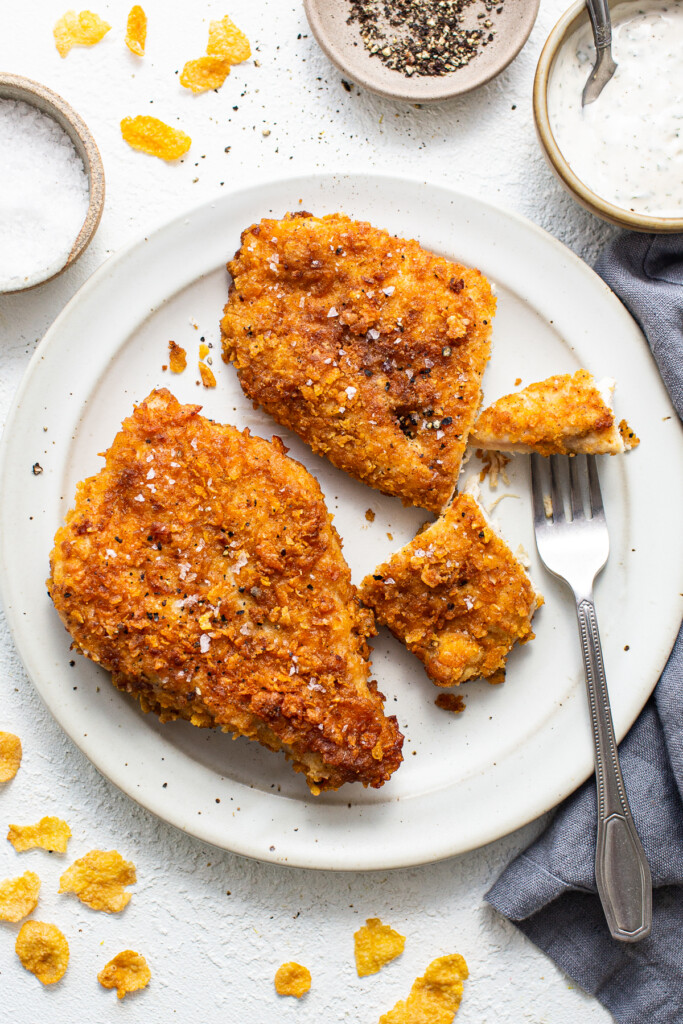 Try it in the air fryer!
We have a pretty stellar air fryer chicken parmesan recipe that uses similar ingredients and the method works for breasts, too!
Preheat air fryer to 375ºF and spray the air fryer basket with nonstick cooking spray.
Next, place one chicken breast on top of the air fryer basket and spray the top of the chicken with nonstick cooking spray. You will likely only be able to fit one chicken breast in your air fryer at a time, but if you can fit 2 without them touching, feel free to cook 2 at a time.
Air fry chicken breasts for 6 minutes. Then, flip the chicken breast over and top with 1/4 cup of marinara sauce and a generous sprinkle of parmesan cheese. Air fry for an additional 5-6 minutes or until the internal temperature of the chicken breast reaches 165ºF.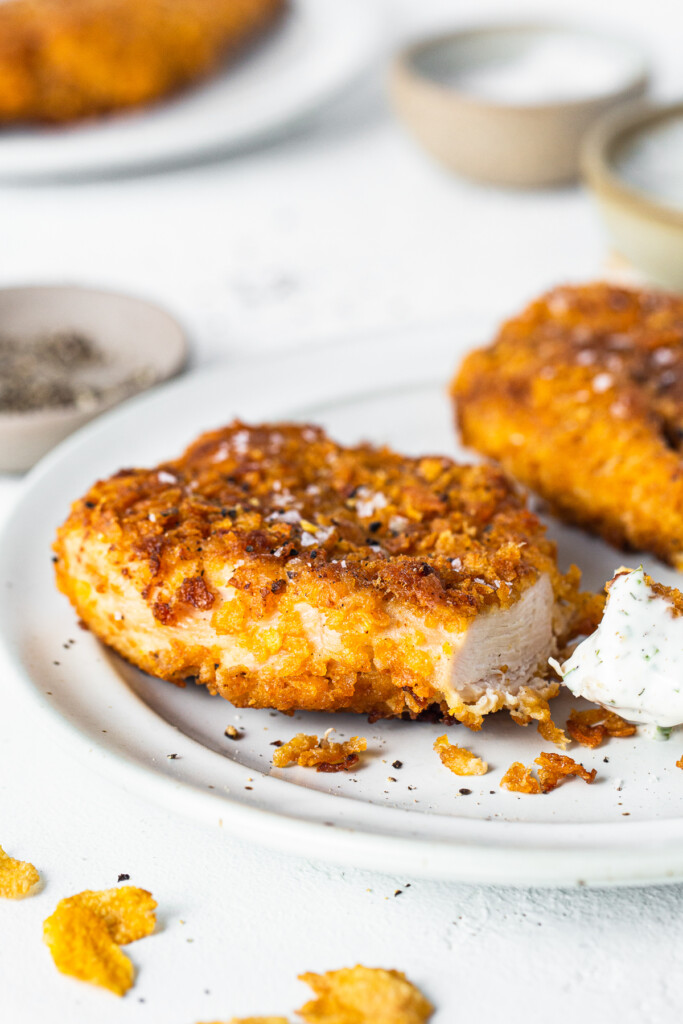 Storage
Store leftover chicken in an airtight container in the fridge for up to 3 days.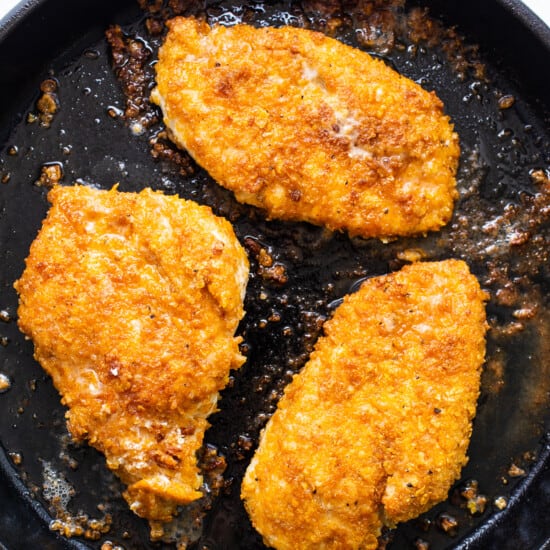 Crunchy Pan Fried Chicken Breast
Perfectly crunchy pan fried chicken breast is ready to go in less than 30 minutes with chicken breast and a cornflake topping!
Instructions
Place the chicken breast on a lined cutting board and then cover it with parchment paper. Use a meat tenderizer and pound the chicken until all the chicken is pounded to about ¾ – 1-inch thick. Season the chicken with ½ teaspoon of salt and ½ teaspoon of pepper.

Crack the eggs into a large bowl and whisk the eggs together.

In a separate bowl, add the cornflakes, flour, garlic powder, paprika, pepper, and kosher salt. Use your hands to crush the cornflakes and mix all the ingredients.*

Dredge a chicken breast through the egg wash, allowing any excess egg to drip from the chicken breast, Next, dredge the chicken through the corn flake mixture. Flip the chicken over in the cornflake mixture and use your hands to firmly press the coating into the chicken breast. Repeat until all the chicken breasts are coated.

Heat the oil in a large skillet over medium/high heat. When the oil is hot, add the chicken breasts to the skillet. Semi-cover the skillet to avoid oil splatter. Do not overcrowd the pan, you may need to cook the chicken in batches. Cook each chicken for 4-5 minutes on each side or until golden brown or the internal temperature of the chicken is 165ºF.

Remove the chicken from the pan and immediately season the chicken with the flakey salt. Let the chicken rest for 5 minutes and serve immediately.
Tips & Notes
If you do not want to use your hands, place all of the ingredients into a food processor and process until it forms a crumble, not a powder.
If you don't have cornflakes you can use rice crispies.
Our chicken breasts were 1.5 lbs. But only three breasts. Sometimes chicken can come in 4 breasts, too.
If you run out of eggs, feel free to crack another egg into the bowl.
Photography: photos taken in this post are by Ashley McGlaughlin from The Edible Perspective.