Love quinoa, but the longer cook time holding you back? Cook quinoa in the microwave in just 8 minutes instead! All you need is quinoa, water, a microwave-safe bowl and a lid, and you'll have perfectly cooked microwave quinoa!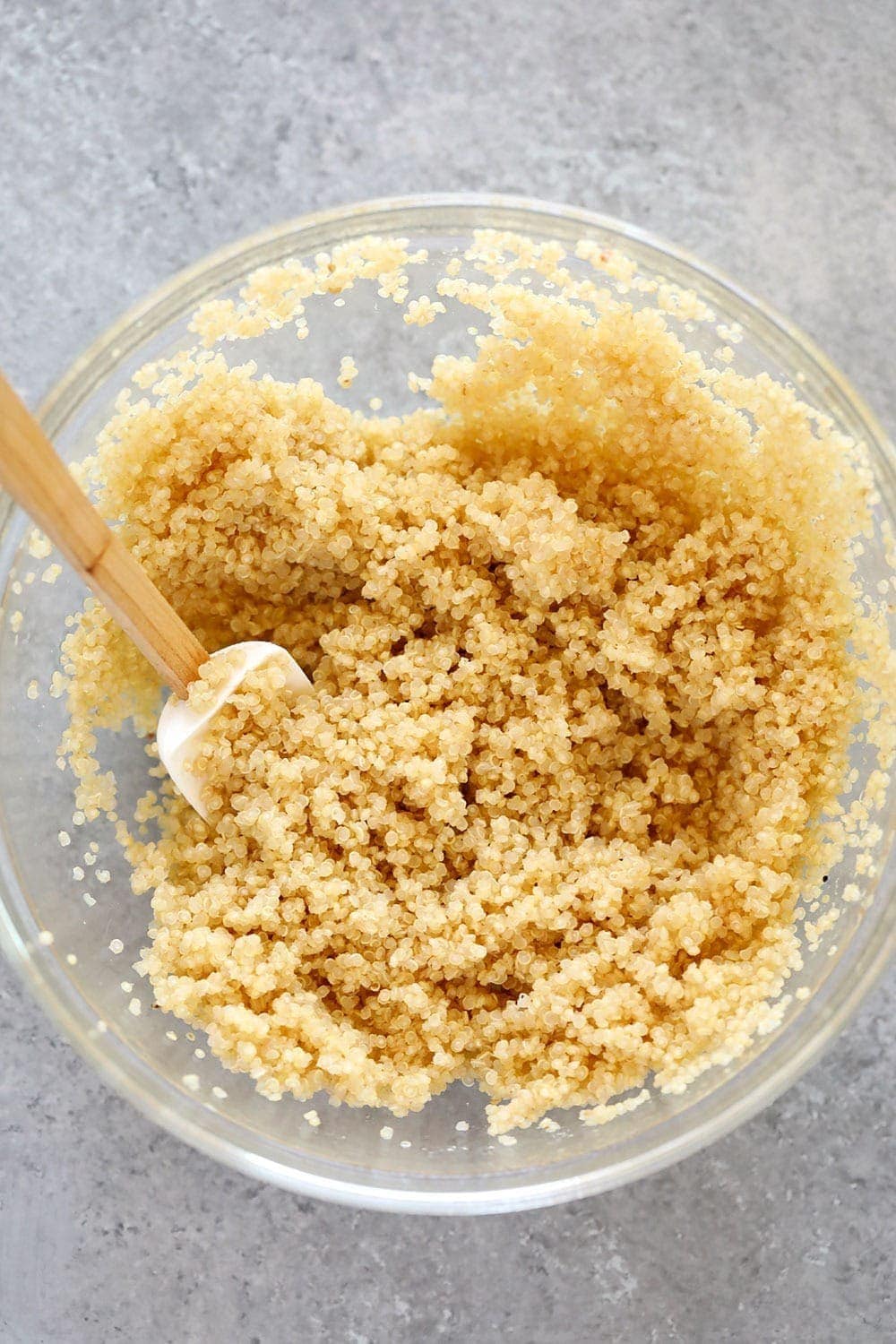 Microwave Quinoa = EASIEST Method Ever
Ahhhhhhhhh if only I would have known this trick in college, my dorm room life would have been complete! I could have steamed my veggies and had it over quinoa
:P. But seriously, cooking  quinoa in the microwave will save your life during busy weeks! It is the EASIEST and (least messy!) way to cook quinoa.
Like I mentioned, this recipe is SUPER SIMPLE. You don't have to be a magnificent chef to get PERFECTLY cooked quinoa every time. Heck, you don't even need a stove top to enjoy perfectly cooked quinoa!
There's nothing worse than spending the time to cook quinoa in your rice cooker or on the stove top only to have a mushy mess at the end. Cooking quinoa in the microwave is our fool-proof, works 100% of the time method.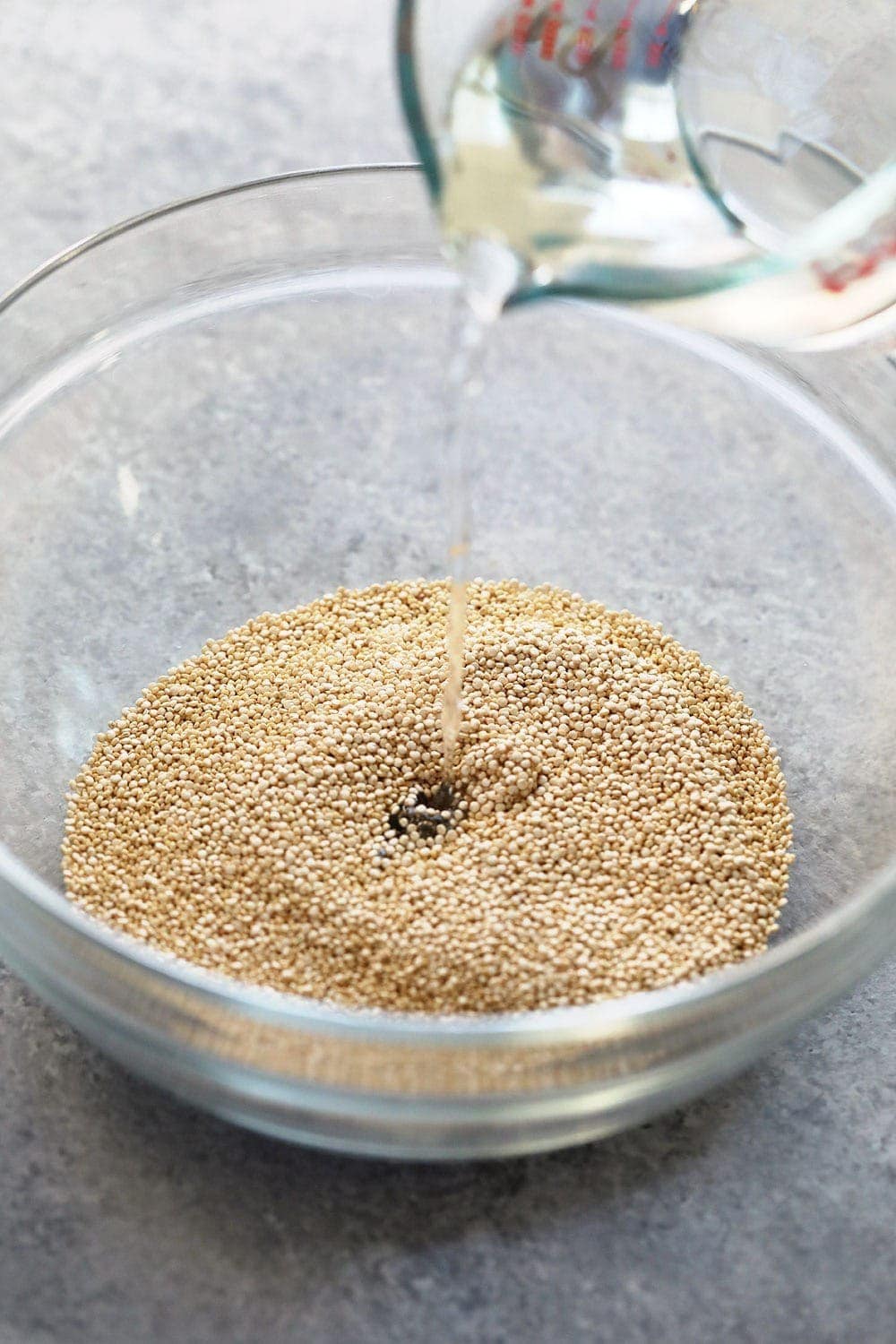 What you Need for Microwave Quinoa:
Uncooked quinoa (any color!)
Water
Microwave-safe bowl (I like using Pyrex nesting bowls)
Microwave-safe top / dish (I used an upside down plate!)
Pro Tip: cover your bowl with something that will create a relative seal. This is why we like using an upside down plate! The weight of the plate prevents the quinoa from spilling over while cooking.
Then, all you need to do is microwave (covered), stir, microwave more, and let steam! It's seriously that simple.
Quinoa FAQs
What is the ratio of quinoa to water for cooking? The standard quinoa to water ratio is 1:2. This ratio can be used regardless of the amount of quinoa you're cooking. But be careful to not overfill your bowl before cooking in the microwave to avoid it spilling over while cooking!
What color quinoa works for this recipe? Any kind! You'll keep the same water to quinoa ratio. White quinoa has the most mild taste, whereas tri-color quinoa or red quinoa packs more of a bite.
How do you know when quinoa is done cooking? You know your quinoa is done cooking when the little seeds of quinoa sprout open, and all of your liquid has absorbed.
Is quinoa better for you than rice? Nutritionally, yes, quinoa is better for you than white rice. Quinoa is a complete protein, so when looking at protein/serving, quinoa packs in 6g protein/1 cup cooked quinoa compared to 4g protein/1 cup cooked white rice.
How long does cooked quinoa last in the fridge? Cooked quinoa will last in the fridge for around 5 days, making it great for meal prep. Make sure to keep it in a glass, airtight container for best results.
Can you freeze cooked quinoa? Yes! Freezing cooked quinoa is easy. First, let quinoa cool completely. This part is important for preventing freezer burn. Then, transfer into a freezer-safe gallon-size bag or glass container. Remove as much air as possible and seal. It will last up to 3 months.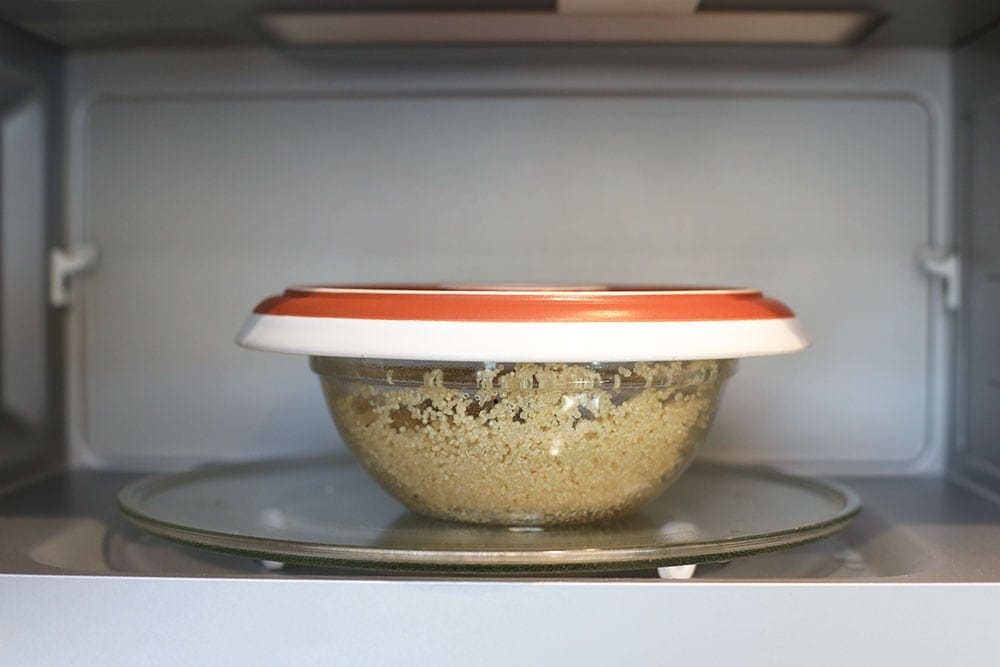 More Ways to Cook Quinoa
Recipes with Quinoa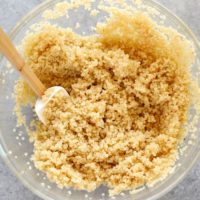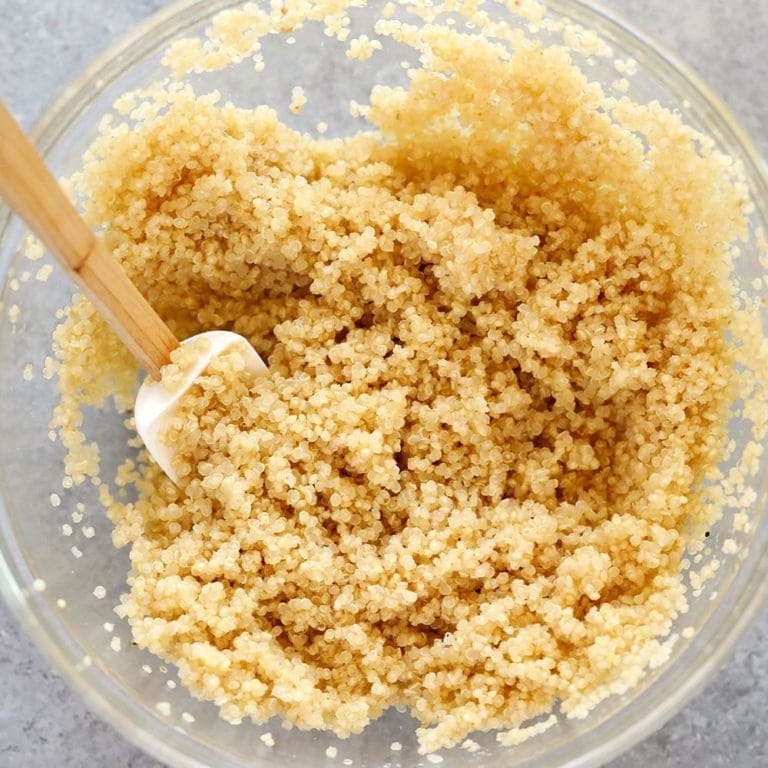 How to Cook Quinoa in the Microwave
Love quinoa, but the longer cook time is holding you back? Perfectly cook quinoa in the microwave in just 8 minutes instead! All you need is quinoa, water, a microwave-safe bowl and a lid.
Ingredients
1

cup

uncooked quinoa

any color, rinsed

2

cups

water

or broth for a more savory option
Instructions
First, begin by rinsing your quinoa under warm water to remove residue.

Then, place quinoa in a microwave-safe bowl or container and add in 2 cups of water. Cover with a

lid

(I used a plate) and microwave on high for 6 minutes.

Remove and stir. At this point, more than half the water should be absorbed. Place back in the microwave, covered, for about 2 more minutes on high. Then, let sit covered for an additional 5-10 minutes, or until all of the water is absorbed.

Enjoy!
Tips & Notes
Quantity: you can make as much or as little quinoa as you want. Just make sure you use a 1:2 ratio of quinoa to water.
Nutrition facts
Serving:
1
/4
Calories:
156
kcal
Carbohydrates:
27
g
Protein:
6
g
Fat:
3
g
Fiber:
3
g
Sugar:
0
g