Make this delicious coconut quinoa with just 4 simple ingredients! It's like your classic coconut rice, but made with a complete protein and so much more love!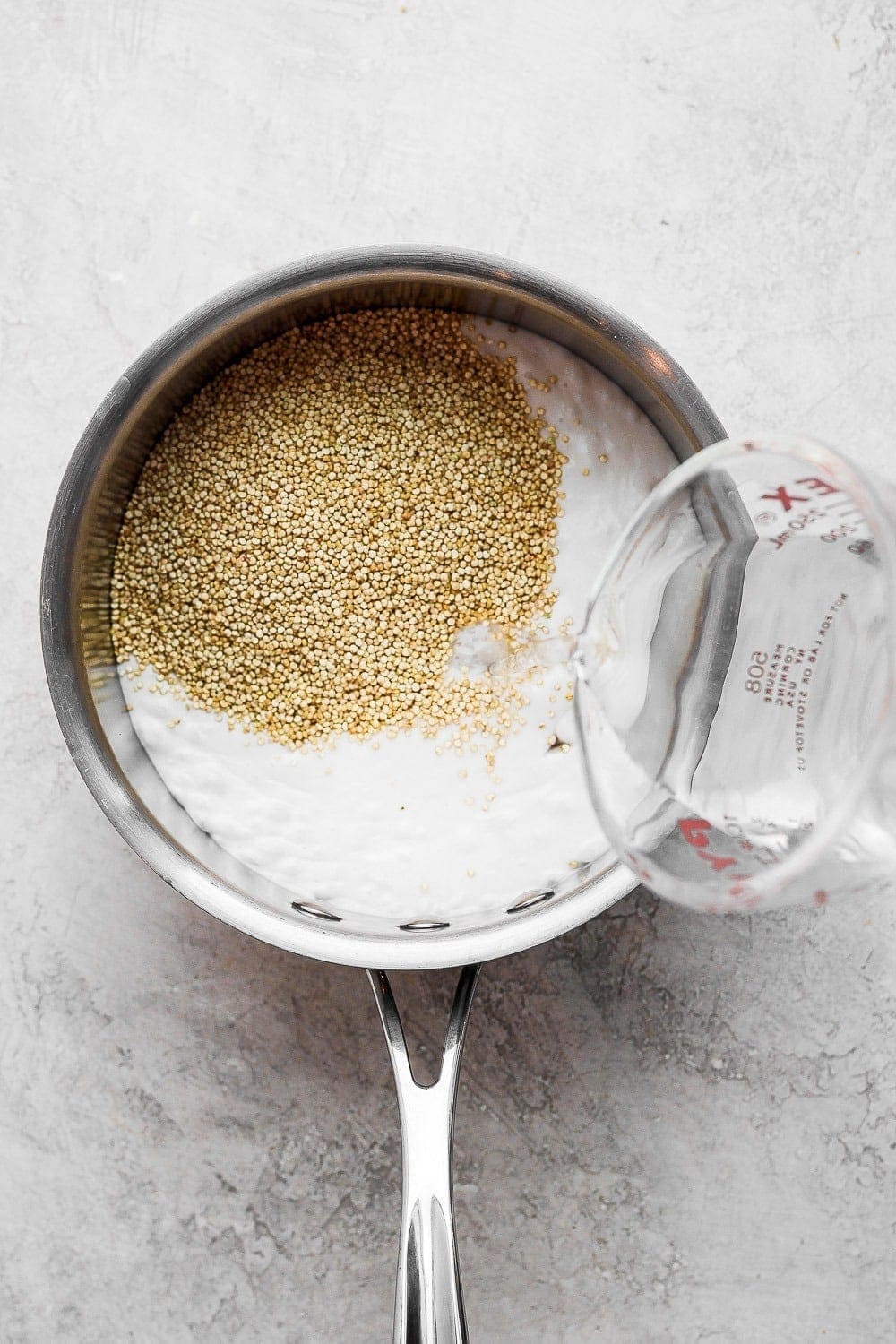 You Can Eat Coconut Quinoa with Everything
The world is quinoa obsessed! Five years ago people were still pronouncing quinoa a thousand different ways and you had to drive to a coop to find quinoa when you were brave enough to prepare it!
Not only can you buy quinoa at any grocery store, you can buy quinoa products, too! Quinoa chips, puffed quinoa granola bars. It's everywhere!
We have plenty of quinoa recipes on FFF, too! We love making big batches of quinoa on the stovetop to use in buddha bowls and other meal prep recipes. Did you know you can make quinoa on the stove, in the microwave, and even in the Instant Pot?
The options are endless! It all depends on what you prefer and what you have access to. We prepare this coconut quinoa on the stovetop! We developed this coconut quinoa recipe for a little something different!
We love coconut rice and thought a healthier spin could be coconut quinoa. Let's talk deets.
How to Make Coconut Quinoa
Coconut Quinoa is SO easy to make! You only need 4 ingredients to create a fluffy and slightly sweet batch of quinoa. The ratio to cook quinoa is generally 1:2 (1 cup of quinoa to 2 cups of coconut milk). We stuck with that ratio!
Step 1: Choose Ingredients
You need quinoa, coconut milk, water, and maple syrup for this recipe!
Coconut Milk: We like to use full-fat coconut milk for our coconut quinoa. It offers the best flavor and the best creamy texture! Other coconut milks that would work are below!
Quinoa: You can use any color of quinoa that you would like! We generally have white quinoa in our house, but any will do! We get the question "Do I need to rinse my quinoa?" a lot.
In all honestly, I haven't rinsed my quinoa in years. It is all about personal preference. I don't notice a difference in flavor, but some people do! If you notice a weird taste when you don't rinse your quinoa, go ahead and rinse it!
Sweetener: Maple syrup is one of our favorite natural sweeteners! We love the flavor the maple gives the coconut quinoa. However, feel free to use honey or agave as a sweetener substitute!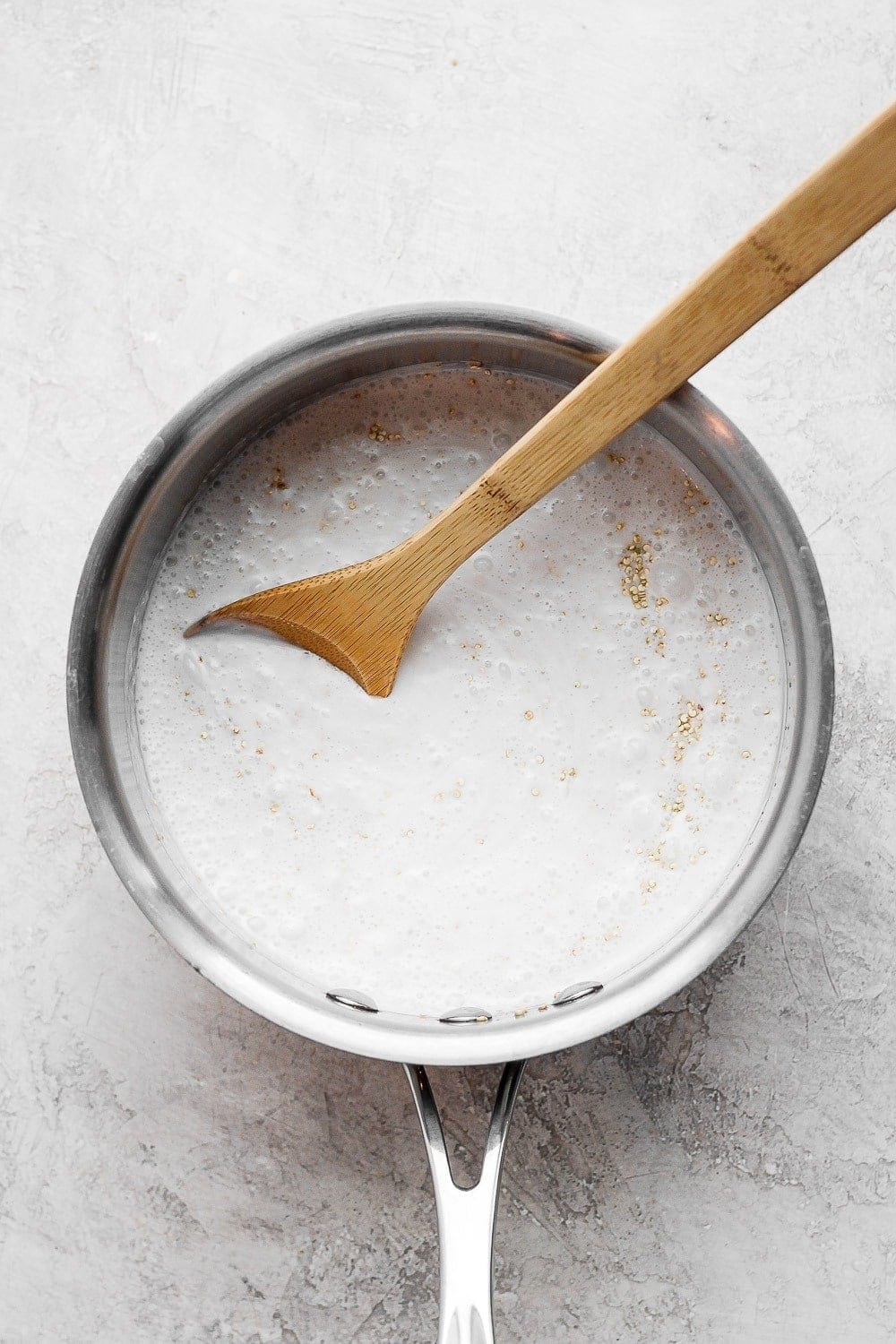 Step 2: Let it Cook
To prepare the quinoa, place coconut milk, water, maple syrup, and quinoa in a sauce pan and bring it to a boil over high heat.
Next, turn the heat to low, cover the saucepan and let the quinoa cook for about 20 minutes or until the quinoa is cooked!
Step 3: Serve
Remove the quinoa from the heat and serve immediately with one of our favorite meals to serve with this coconut quinoa!
Otherwise, let the coconut quinoa cool completely before storing it in a meal prep container in the refrigerator for up to 5 days. It's perfect for meal prep throughout the week!
What do I serve with coconut quinoa?
We love serving our coconut quinoa with Asian inspired dishes that have a little kick (just like our Thai Coconut Quinoa Bowls!). But feel free to serve it with whatever you'd like! Our three favorite dishes to serve with coconut quinoa are below!
Another DELICIOUS way to eat this coconut quinoa is serve it for breakfast or as a dessert! It is slightly sweet and would be scrumptious served with berries and nuts for breakfast. As for dessert, we love serving coconut quinoa with fresh strawberries and coconut cream. OM NOM NOM.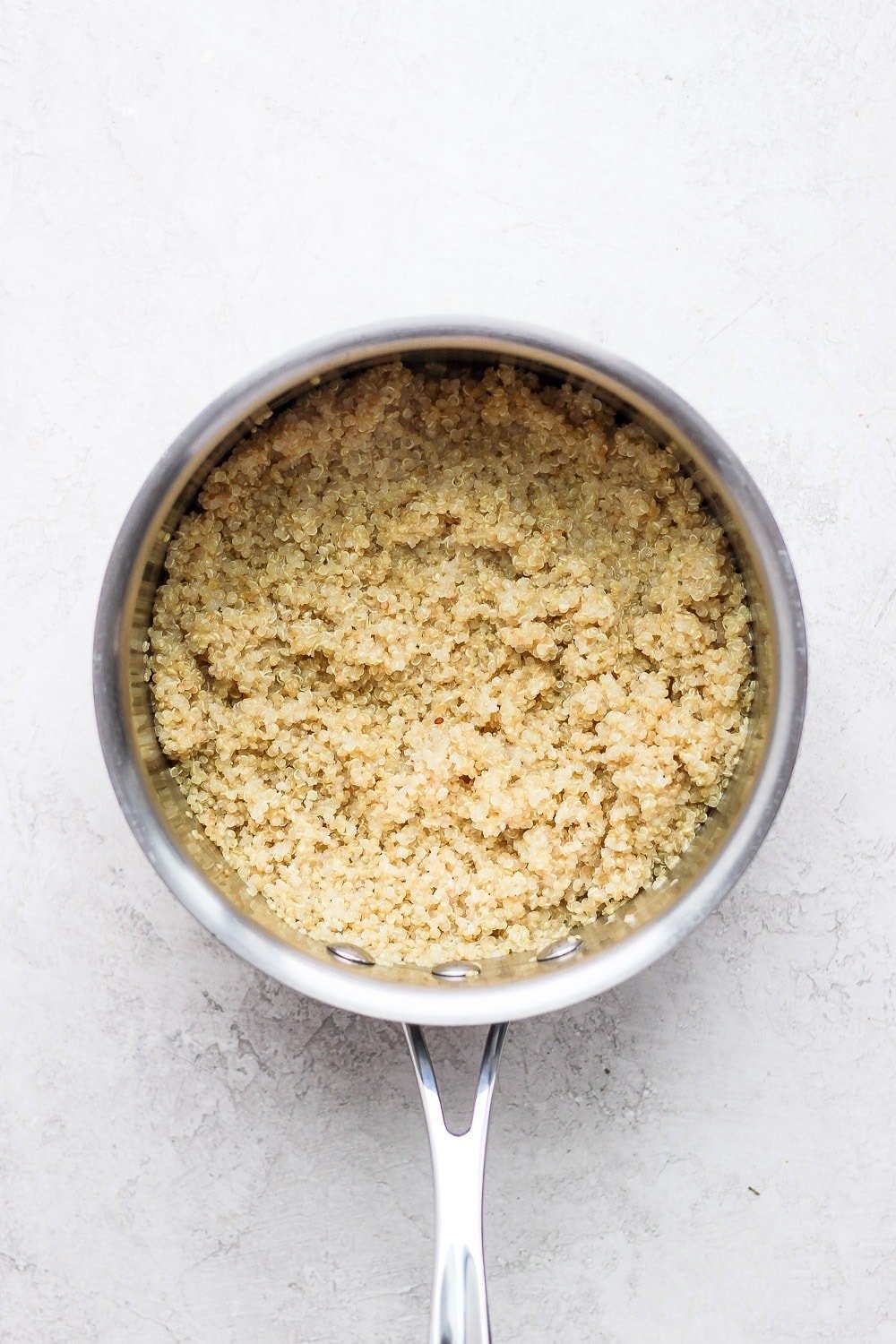 Your Quinoa Should Look like THIS
This is KEY! You quinoa should absorb all of the liquid in the pan! The quinoa should not be watery or soupy. The coconut quinoa should look like the photo below!
There are a couple of reasons your coconut quinoa could be watery…
You didn't measure correctly. Make sure your quinoa:liquid ration is 1 cup:2 cups.
The coconut quinoa isn't done cooking.
Sometimes quinoa doesn't cook correctly if it's old and expired, so be sure to check the expiration date of your quinoa!

Recipes to Eat with Coconut Quinoa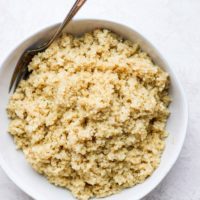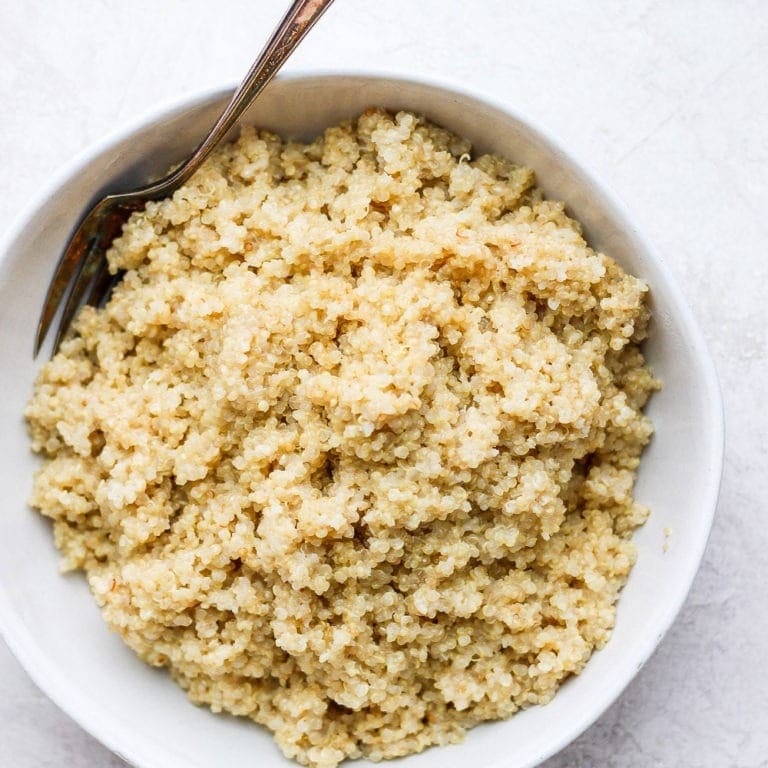 Coconut Quinoa Recipe
Make this delicious coconut quinoa with just 3 simple ingredients! It's like your classic coconut rice, but made with a complete protein and so much more love!
Ingredients
1

cup

uncooked quinoa

15

oz.

canned full-fat coconut milk

1/2

cup

water

1

tablespoon

maple syrup

or more, to taste
Instructions
Place all ingredients in a medium size pot.

Bring to a rolling boil over medium/high heat.

Once boiling, reduce heat to low, cover, and let simmer for around 20 minutes or until the liquid has absorbed and the quinoa has fully cooked.
Tips & Notes
Nutrition Information includes full-fat coconut milk
This recipe was updated on March 6, 2020.
Nutrition facts
Calories:
376
kcal
Carbohydrates:
33
g
Protein:
8
g
Fat:
21
g
Fiber:
3
g
Sugar:
5
g