Get ready for meal prep madness. These Thai Coconut Quinoa Bowls are out of this world- a vegetarian meal packed with protein, veggies, and flavor!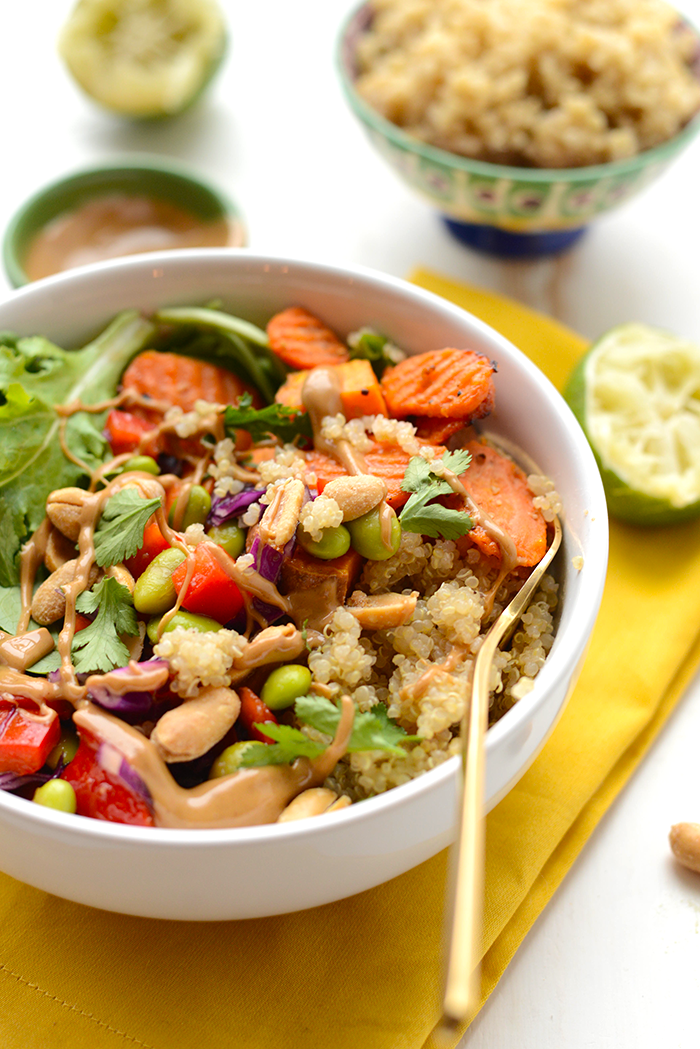 Not sure if it's a good or bad thing that I've lost track of what day and time it is. Not to mention, I'm still going strong writing 2015 on everything. Remember when you were in high school and you had all summer to dick around and it never really mattered what day or time it was? Those were the days. It's the same notion that my days and times are fusing together, but it's real life and I actually have a job. I can safely say that for my job the late winter and spring are just absolutely crazy! Between new partnerships, travel, and prepping for new projects…I've been working a lot. Mucho working.
Good news is- I've learned that hard work deserves hard play. Yes, I said 'learned'. What's the point if you don't play hard after you've worked hard?
Guess where I get to go tomorrow?
NAPA!
I've been to California many times and even lived in Northern California for a bit as a kid, but I have NEVER been to wine country. A SIN, I KNOW, A SIN. I'm leaving at the crack of dawn tomorrow morning to attend The Pulses Culinary Immersion Event. I am super pumped to meet up with some of my favorite blogger friends, some who I have met in real life and others who I haven't. We are all ambassadors in 2016 for the Chick Pea and Lentil Council for the Year of the Pulses (more on this later).
This coming weekend is when working hard and playing hard mix into one thing. Sorrynotsorry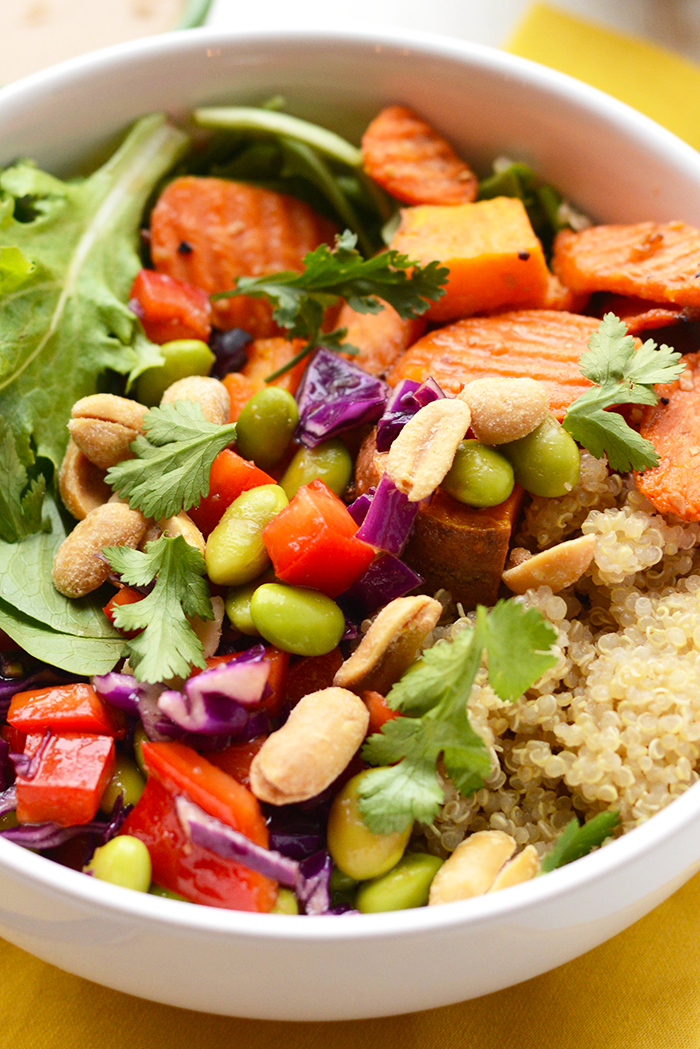 Recipe
Healthy Thai Coconut Quinoa Bowls
Prep Time:

15 mins

Cook Time:

30 mins

Total Time:

45 minutes
Ingredients
Roasted Veggies
2

large sweet potatoes, cut into

1/2

inch cubes

1 tablespoon

minced garlic

2 tablespoon

s EVOO
salt and pepper, to taste
Purple Cabbage Slaw
1 cup

purple cabbage, sliced

1 cup

shelled edamame

1

large red pepper, sliced

1

large carrot, cut into sticks

1 tablespoon

olive oil

1 tablespoon

apple cider vinegar

1 tablespoon

fresh lime juice

1 teaspoon

soy sauce

1 teaspoon

ginger paste

1/8 teaspoon

salt
Peanut Butter Drizzle
2 1/2 tablespoon

s peanut butter

2 1/2 tablespoon

s water

1 teaspoon

soy sauce

1 teaspoon

maple syrup
Instructions
Prepare the coconut quinoa by following these directions!
For the Roasted Sweet Potatoes
Place sweet potatoes on a baking sheet and drizzle with EVOO.
Then, add in minced garlic and season with salt and pepper. Toss.
Roast at 400ºF for 25-30 minutes or until you can pierce the veggies with a fork.
For the Purple Cabbage Slaw
Place purple cabbage, edamame, carrot, and red pepper in a bowl. Set aside.
Make your dressing by whisking together EVOO, lime juice, apple cider vinegar, soy sauce, maple syrup, and ginger. Then, toss veggies in dressing. Set aside.
Assembly
Evenly distribute the coconut quinoa, sweet potatoes, and coleslaw into four bowls or meal prep containers.
Drizzle with peanut butter drizzle if eating immediately. Otherwise keep the drizzle in a separate container until right before serving.
Serve with fresh cilantro and enjoy!
Nutrition
Serving Size:

4

Calories:

250

Sugar:

8

Sodium:

260

Fat:

16

Fiber:

6

Protein:

8
Similar
SO THESE BOWLS.
Remember my Coconut Quinoa from last week? It's the star of this recipe. I'm telling you…I've been digging buddha bowls lately. I just can't get enough. This one, in particular, is just fannnnntastic. If you like Thai flavors, then you need to make this!
Roasted veggies + crunchy veggies + coconut quinoa + greens + peanut butter = VEGETARIAN LOVE.
Can you san Meatless Monday?