Prep your lunch or dinner for the entire week with these Healthy Slow Cooker Coconut Curry Chicken Bowls!
Oh haiiiiiii! Happy Monday. It's actually Thursday right now as I am writing this, but I'm trying to get ahead of the game here before a busy weekend. The last errrrr 6 weeks have been anything BUT that "get ahead" mentality. I'm usually pretty organized with work and life, but with the launch of the Healthy Glow Collective and the holidays and travel…holy man did I feel behind there for a little bit. I finally feel like I've got my bearings back.
I've even had a chance to watch Netflix, AKA finish season 6 of Shameless. Le sigh. There's nothing worse than watching a season finale of a show and NOT REALIZING IT WAS THE SEASON FINALE. To make it worse, season 6 is the latest season of Shameless on Netflix, too! I just love that show. They bring real issues of diversity, gender roles, poverty, etc. into perspective. Another thing I love about Shameless is how the characters have morphed over each season. SO GOOD. Please tell me you've seen it!
It's about 8:30 PM right now and all I want to do is go to bed since I was up at 4:30 AM this morning because I couldn't sleep. However, I try and have a STRICT 9:00 PM rule, where I have to stay up until then :D So? I just started The Parent Trap because it was just added to Netflix. We're talking the 1961 version. Aw yeah.
Okay, let's talk about these bowlz now.
If you are a curry girl, this needs to be added to your meal plan! SO SO SOOOOO good. It's made in the slow cooker because that's what us Minnesota girls do with green curry paste and full-fat coconut milk (for both of these products, I use the brand Thai Kitchen because it's the easiest to find and what I love most!). If you do one thing…please use FULL FAT! The flavor is so much better than that lite stuff and I highly recommend it.
We paired this chicken with some lightly sautéed onions and peppers and a side of brown rice. Don't forget to give a lime wedge a big squeeze, it really makes the flavor of this recipe.
Recipe
Slow Cooker Coconut Curry Shredded Chicken
Prep your lunch or dinner for the entire week with these Healthy Slow Cooker Coconut Curry Chicken Bowls!
Prep Time:

10 mins

Cook Time:

4 hours

Total Time:

4 hours 10 minutes
Ingredients
For the Chicken
For the Peppers
1 large green pepper, sliced
1 large red pepper, sliced
1/2 red onion, sliced
1-2 tablespoons coconut oil
salt and pepper, to taste
For the Brown Rice
1 cup brown rice
2 cups water
Instructions
For the Chicken
Place chicken breast and minced garlic in a slow cooker. Turn to high and let cook on high for 2-4 hours or on low for 6-8 (depending on how strong your slow cooker is).
Once cooked all the way through and tender, remove and shred chicken with 2 forks. Then, place back into slow cooker.
Add the rest of the chicken ingredients and mix until combined. Let cook for 20-30 more minutes to thicken.
For the Peppers
Slice 1 large green pepper and 1 large red pepper into thin slices. Then slice 1/2 a red onion.
Heat 1-2 tablespoons of coconut oil in a large saucepan over medium/high heat. Then, add in sliced veggies and sauté for about 5 minutes, just enough to flash fry them so they aren't soggy. Season with salt and pepper.
For the Brown Rice
Place 1 cup of brown rice and 2 cups of water in a medium pot. Turn to high and bring to a boil. Then, turn heat to low and cover. Let simmer for 20-25 minutes or until all water has evaporated.
Nutrition
Serving Size:

1/4 recipe

Calories:

440

Sugar:

6

Fat:

21

Carbohydrates:

33

Fiber:

4

Protein:

30
Similar
Guess what? This recipe is featured in the Healthy Glow Guide…just another reason for you to purchase one!
The Healthy Glow Guide
is a 6-week balanced food and fitness plan dedicated to providing you with the tools you need to feel and look incredible. We combined take-anywhere workouts with deliciously satisfying recipes to bring you the last plan you'll ever need – one that's flexible to meet the demands of your unique lifestyle and customizable to your personal preferences. At $64, this lifestyle program is a STEAL and a game changer for creating healthy habits in 2017!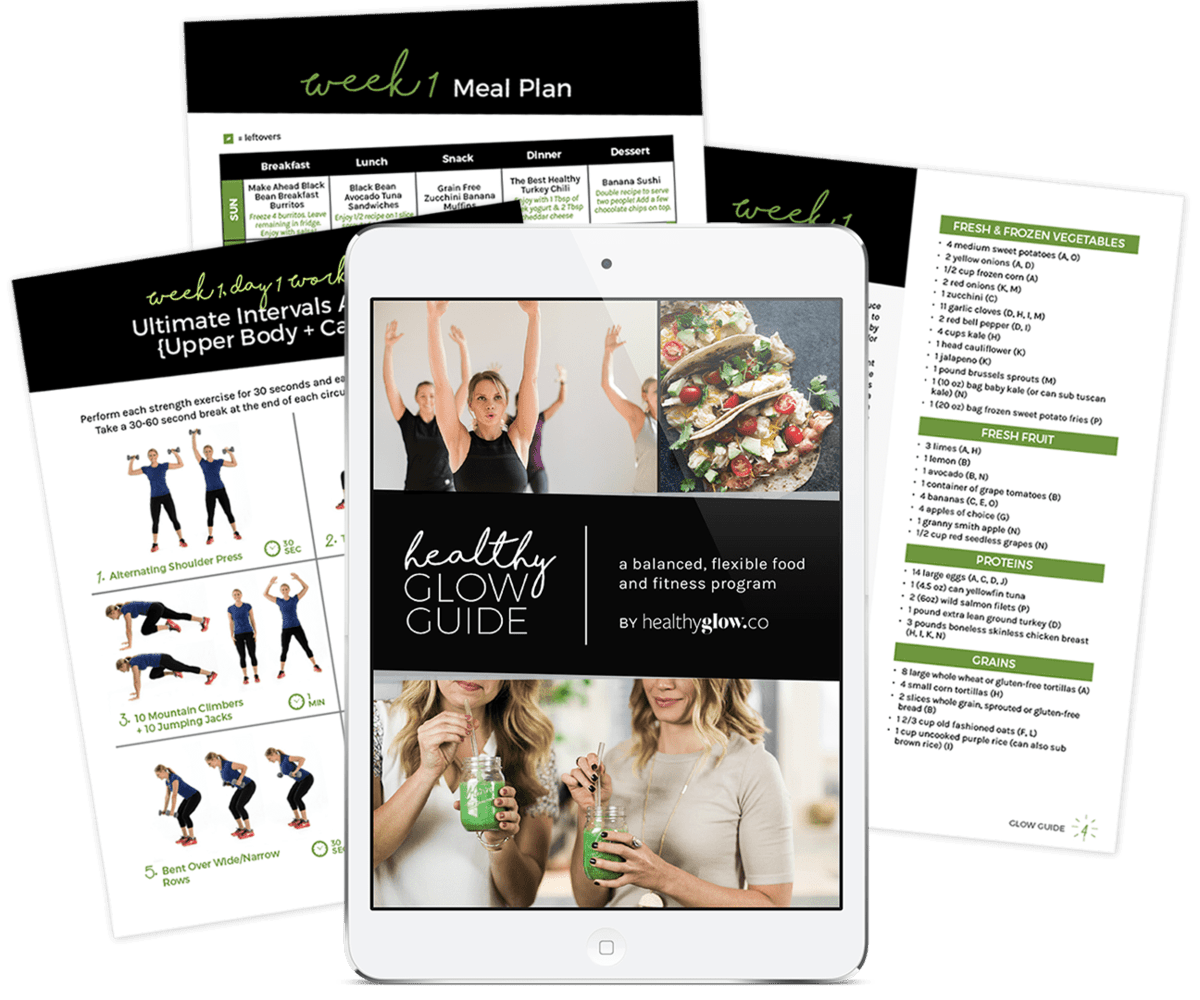 6 weeks of deliciously satisfying, nutritionally balanced meal plans (with daily treats!)
Weekly grocery list organized by recipe
16, 30-minute workouts and weekly workout schedule
All content developed in partnership with a registered dietitian and certified personal trainer
Video demonstrations of each move
Photo demonstrations of each move that can be saved to your phone and taken with you
Private Facebook group to connect with our team and other women completing the program
BONUS: 4 bonus workouts, including yoga, to add to the rotation.
BONUS: A full video library of all 18 workouts in the Healthy Glow Guide, as well as the bonus workouts
At $64, The HGG is a steal! I can't wait for you to join in on the fun because it really does make healthy living easy! CLICK HERE TO BUY NOW!