Add some flare to dinner this week with these Red Coconut Curry Meatballs with Cauliflower Rice. They are packed with protein and great for meal prep throughout the week!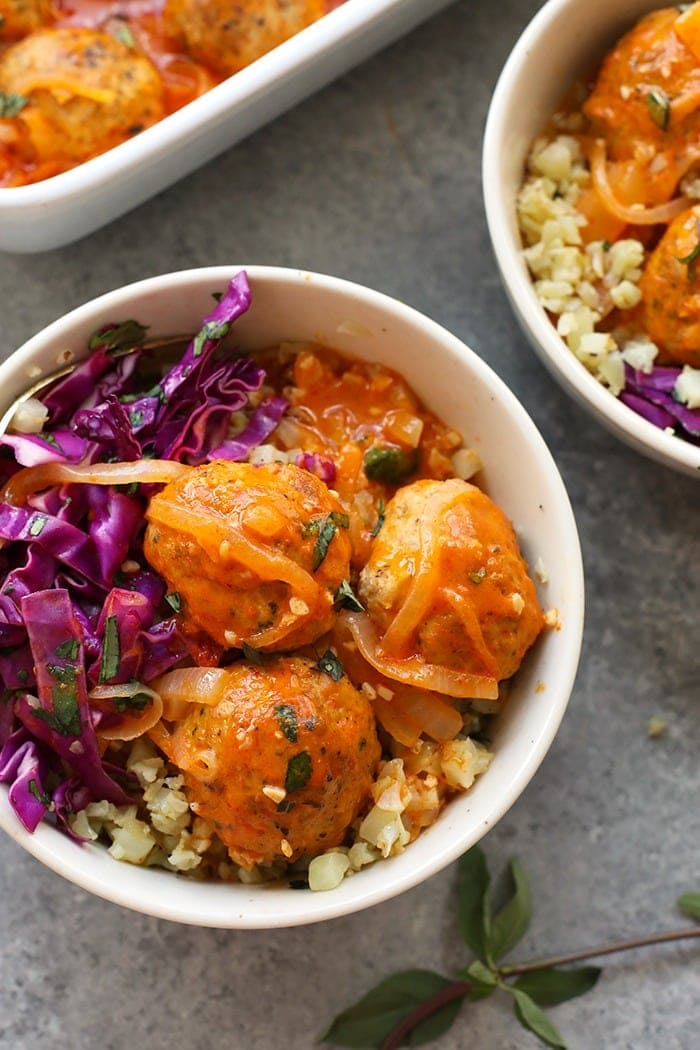 Meal Prep Meatballs
It's been far too long since Fit Foodie has posted a meatball recipe. You guys drooled over FFF's Kung Pao Chicken Meatball recipe (for good reason) and I think I made it every week for a couple months, so I clearly loved it too.
We wanted to create a new meatball recipe that was easy, delicious, and versatile. The answer seemed simple–> CURRY MEATBALLS. We have started to dabble into the curry world on Fit Foodie with our Slow Cooker Curry and Sweet Potato Green Curry Casserole.
We loved breaking out of our box a little bit and thought we should continue to brainstorm tasty curry recipes for spring and summer.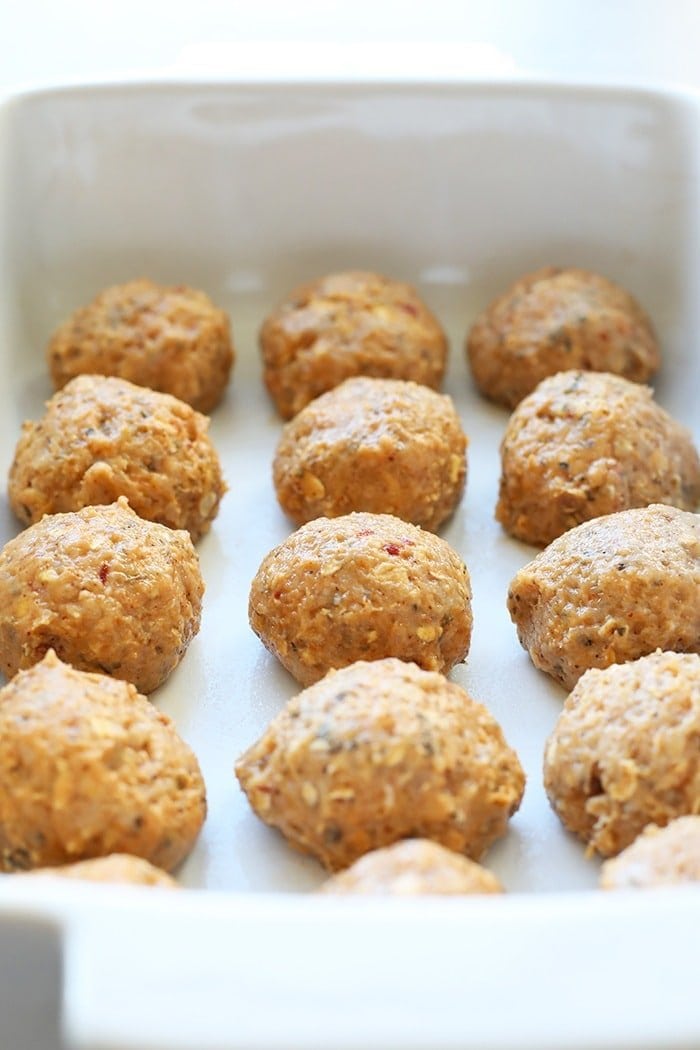 Curry is the BEST
Personally, I LOVE curry. I feel like you can use curry all year round. Slow cooker curry in the fall + winter and delicious cold curry salads and Buddha bowls in the spring + summer. Whether you have always loved curry or are just introducing curry into your diet, there is SO much to learn about all the different kinds of curry and curry dishes all over the world.
Generally, curry contains a mixture of different herbs, spices and chilis mixed together to create a dry spice or a curry paste. What form the curry takes depends on what region and/or country the curry is coming from.
There are curry dishes from India, Great Britain, China, Thailand, and more. So far on FFF, we have stuck to Thai Curry paste, mixing it with coconut milk, fresh basil, and seasonal vegetables.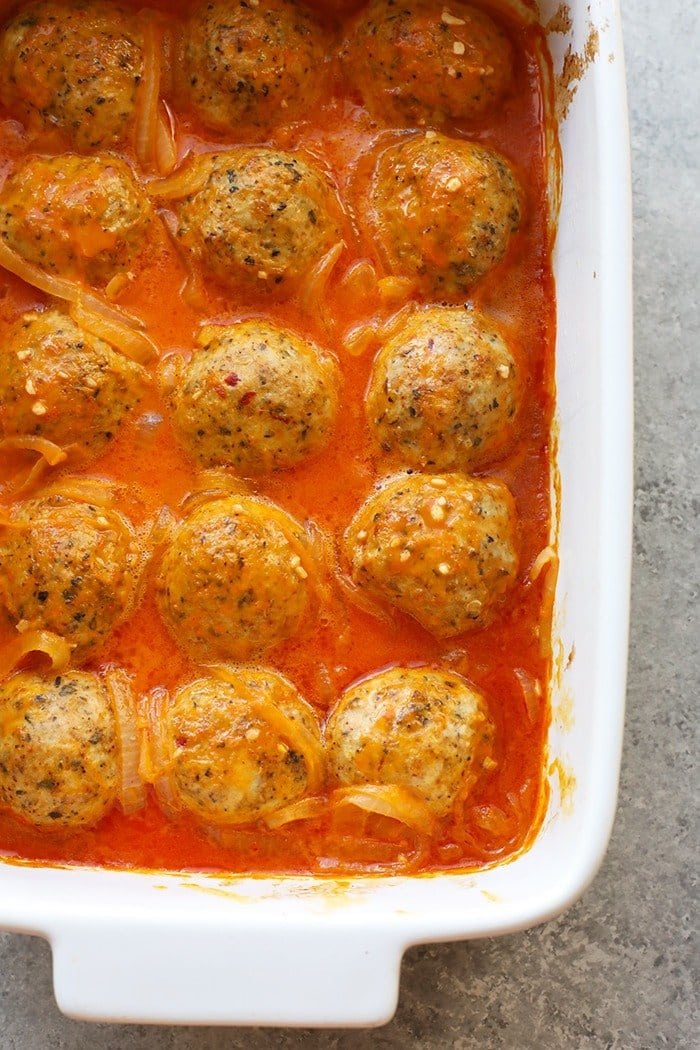 Meatballs + Curry
Who wouldn't love curry meatballs? We decided to use cauliflower rice instead of regular rice to give this meal an extra serving of vegetables and to honor our love of mixing hot + cold ingredients we rounded this recipe out with a tasty + simple cabbage salad.
If you aren't a big cauliflower rice fan, we made this recipe again last week and made a batch of jasmine rice and it was absolutely delicious. Also, feel free to sub any type of green salad for the cabbage salad.
Really, what I'm saying is these meatballs pair well with any rice or vegetable. With fresh veggies coming to town at your local farmers markets, I'm sure you will have plenty of options for the veggie portion of this bowl.
Just a heads up, topping this recipe off with fresh thai basil and squeeze of lime really make this dish a 10/10 recipe. So don't forget limes when you're when you're grocery shopping!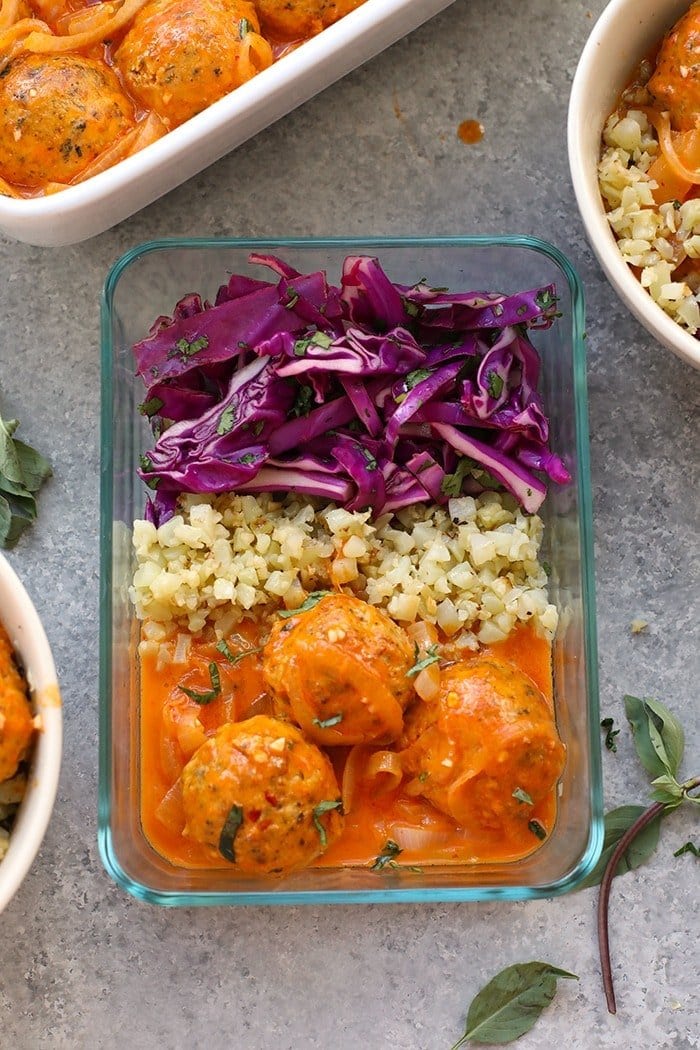 More Meatball Recipes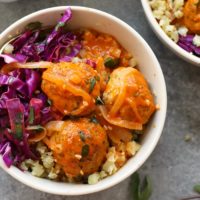 Red Coconut Curry Meatballs with Cauliflower Rice
Add some flare to dinner this week with these Red Coconut Curry Meatballs with Cauliflower Rice. They are packed with protein and great for meal prep throughout the week.
Ingredients
Instructions
First, preheat oven to 400ºF and spray a casserole dish or cake pan with coconut oil cooking spray. Set aside.

Prep your cabbage salad by placing all ingredients in a bowl. Mix well and place in the fridge.

Prep meatball mixture by placing all ingredients into a large bowl and mixing until combined.

Using a tablespoon cookie scoop (note: these are bite-sized, not giant!), scoop out mixture and mold into a ball with your hands. It works best if your hands are slightly moist with water. Place in oiled casserole dish.

Place meatballs in the oven for 10 minutes.

While meatballs are baking, prepare curry sauce by placing olive oil into a medium fry pan. When oil is hot, add onion.

Sauté onion for 2-3 minutes and then add the rest of the curry sauce ingredients. Bring to a boil.

After meatballs have been baking for 10 minutes, add curry sauce to the casserole dish and bake for an additional 7-10 minutes.

Finally, add all ingredients for cauliflower rice into a fry pan and cooked for 5-7 minutes.

When meatballs are done, remove from the oven and place 1/2 cup of cabbage salad, 1/2 cup cauliflower rice, meatballs, and curry sauce in a bowl.

Top with fresh thai basil and a squeeze of lime. Enjoy!
Tips & Notes
*Omit Sriracha if you don't like spice.
* Nutrition is for 4 servings
Nutrition facts
Serving:
4
g
Calories:
548
kcal
Carbohydrates:
23
g
Protein:
27
g
Fat:
42
g
Fiber:
5
g
Sugar:
8
g