This delicious meatball appetizer recipe is a great holiday appetizer recipe or a general recipe for healthy meatballs, these Rosemary Thyme Balsamic Meatballs really are perfect for every occasion!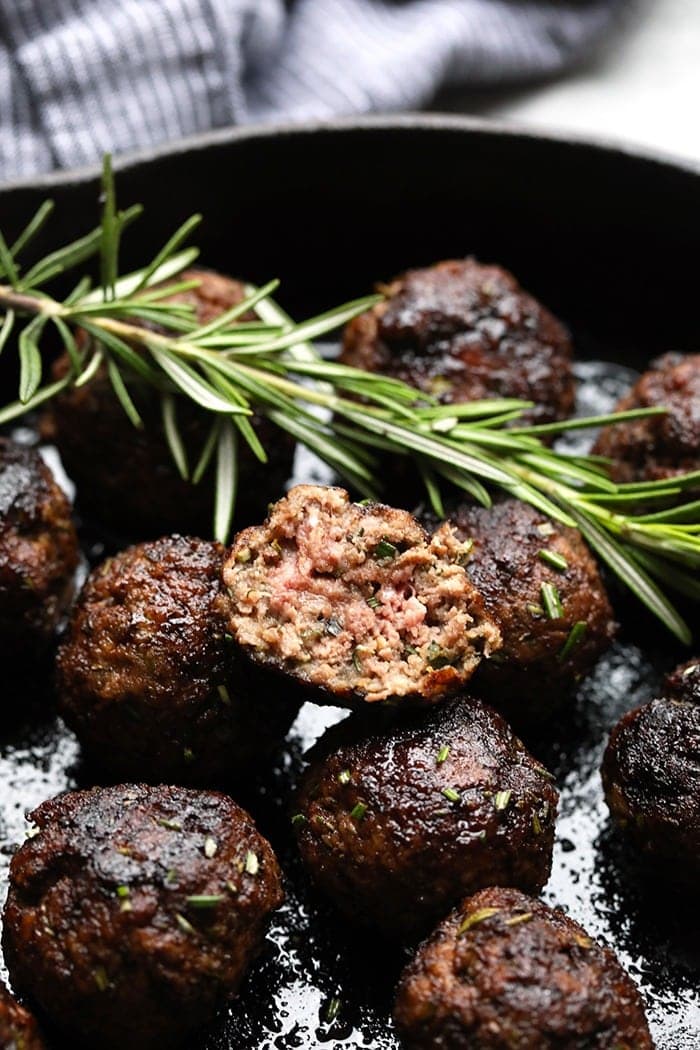 Our Favorite Easy Appetizer
When you think of a classic appetizer that is at every holiday or game day celebration, what comes to mind? MEATBALLS.
Meatballs.
How many homemade meatballs have you eaten as a holiday appetizer? Whether you are a bbq meatball person or a traditional Swedish meatball lover, we can all agree that they are a staple during the holidays.
We have a handful of healthy meatballs on FFF like our Red Coconut Curry Meatballs with Cauliflower Rice and Kung Pao Chicken Meatballs and you guys have made these over and over again. For good reason, they are DELICIOUS.
I do have to say I am in love with everything kung pao, so those meatballs will always have a special place in my heart. However, when we developed this easy meatball recipe, I fell a little bit more in love.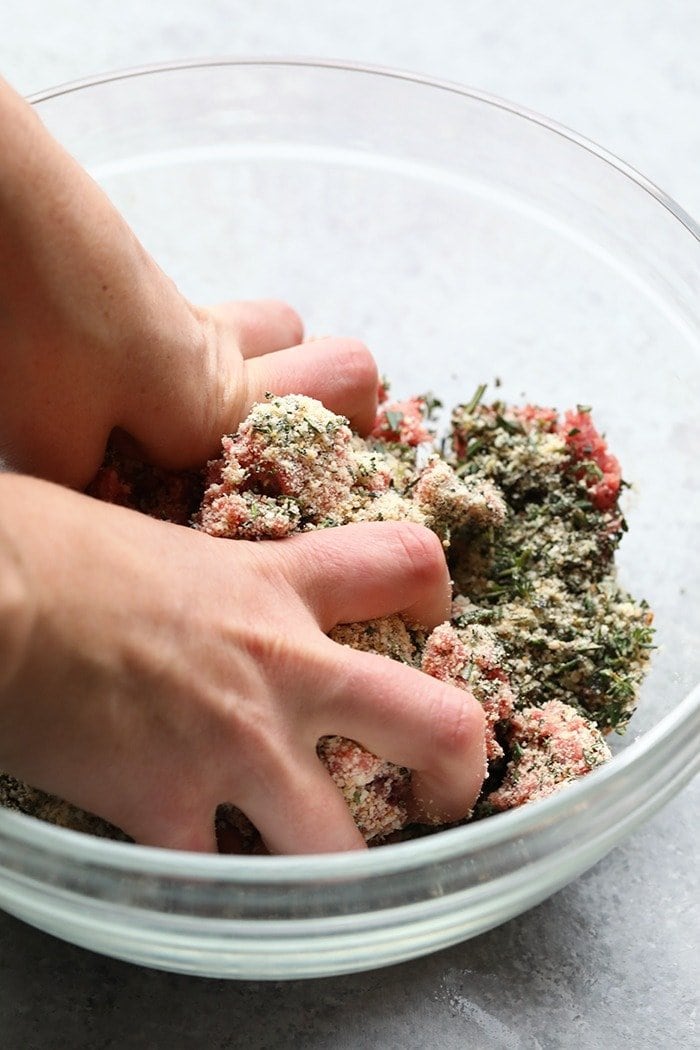 How to Make Meatballs
In this easy meatball recipe, the sweet and savory mixture of the herbs and balsamic are a serious taste-bud pleaser. Even better, these healthy meatballs are ready in 30-minutes or less!
Step 1: Mix all ingredients in a large bowl.
Step 2: Brown them for a short while on the stove-top and then add the balsamic vinegar.
Step 3: Let the balsamic vinegar reduce, and you've got yourself a delicious beef meatball recipe.
The day we made these bad boys we added them to our bowl for lunch and HOLY SMOKES, they were to die for. Not only are these meatballs a great appetizer, but you can make them for dinner and have them as a great meal-prep option for the week.
We loved them in a buddha bowl, but they would be delicious tossed with some sautéed vegetables and pasta! These are some pretty versatile meatballs, don't you think?! Now, add them to your MUST MAKE list.
Healthy Meatballs 101
What is the best meatball recipe?
I might be biased, but I believe this Rosemary Thyme Balsamic Meatball Appetizer recipe is the very best! If these don't fancy your taste buds, check out our other meatball recipes HERE.
How do I cook meatballs in the oven at 350ºF?
Easy! Instead of pan frying these meatballs, you can simply bake them at 400ºF for 25ish minutes or until fully cooked.
What is a good substitute for breadcrumbs?
If you are looking for a gluten free option for bread crumbs or have just ran out of bread crumbs, there are a few different substitution options!
Gluten free bread crumbs

Rolled oats

Ground flax seed
Hemp hearts
Please note that if you do substitute the breadcrumbs in this recipe, they may turn out a little different!
Can I substitute ground turkey or ground meat in these meatballs?
Feel free to substitute the beef in the recipe for ground turkey or ground chicken. Just be sure to add a couple tablespoons of extra fat (olive oil, coconut oil, ghee, etc) to the meat so that you don't end up with dry meatballs.
Another option would be to use part beef, part ground turkey or chicken!
How do you make juicy meatballs in the oven?
If you want to cook these meatballs in the oven you can follow the above step and bake them at around 400ºF for 25 minutes.
The key to juicy meatballs is making sure that you have enough fat in your meat! That's why for this recipe we recommend using beef instead of turkey!
How do you make meatballs tender?
For tender meatballs, make sure you do not overcook them or end they will become tough and harder to eat! This beef meatball recipe is better than any other healthy meatball recipe because of the beef and the fat content it has.
Can I freeze meatballs?
Yes, you can freeze meatballs! Follow the recipe for this easy meatball recipe and then let the meatballs cool completely.
Then, place the meatballs in an airtight container or in a large plastic bag. Write the date the meatballs were made on the container and store them in the freezer for up to three months.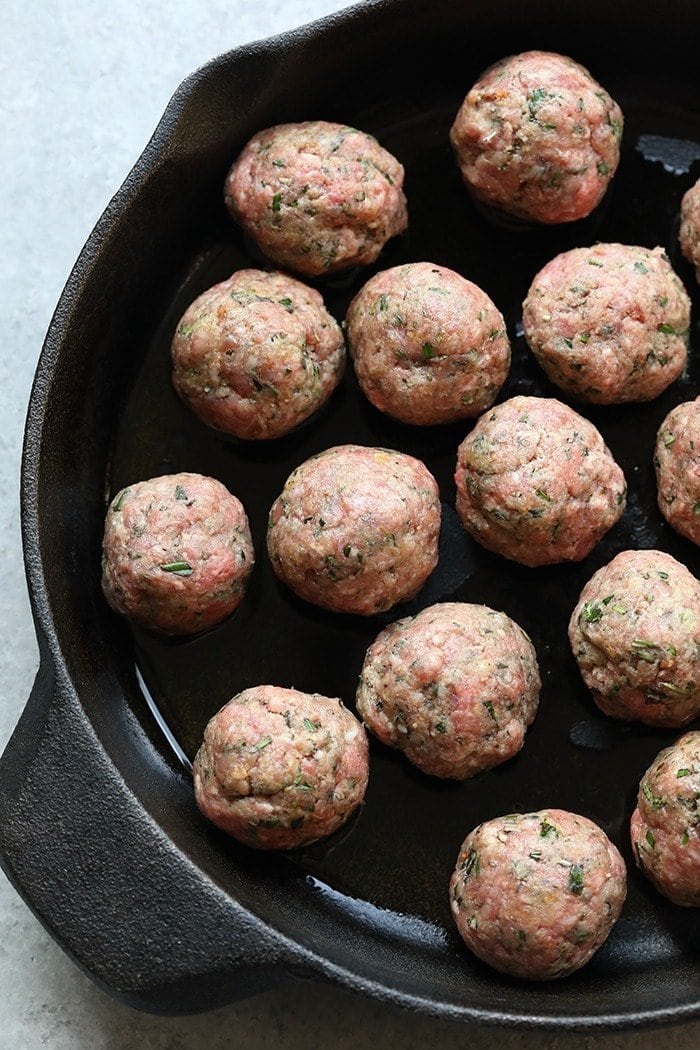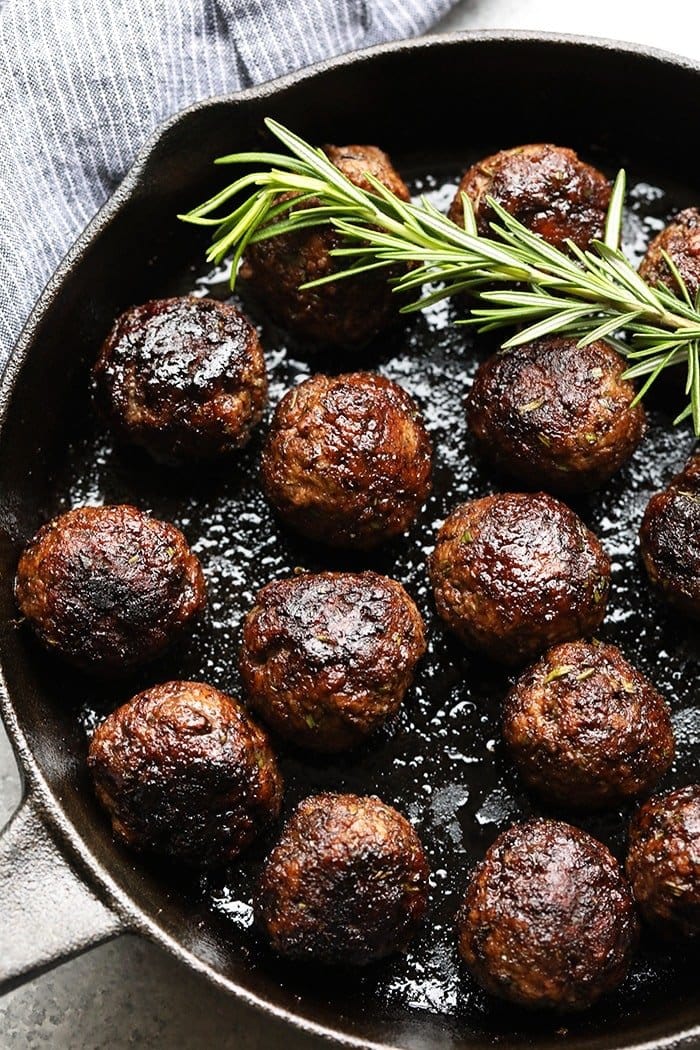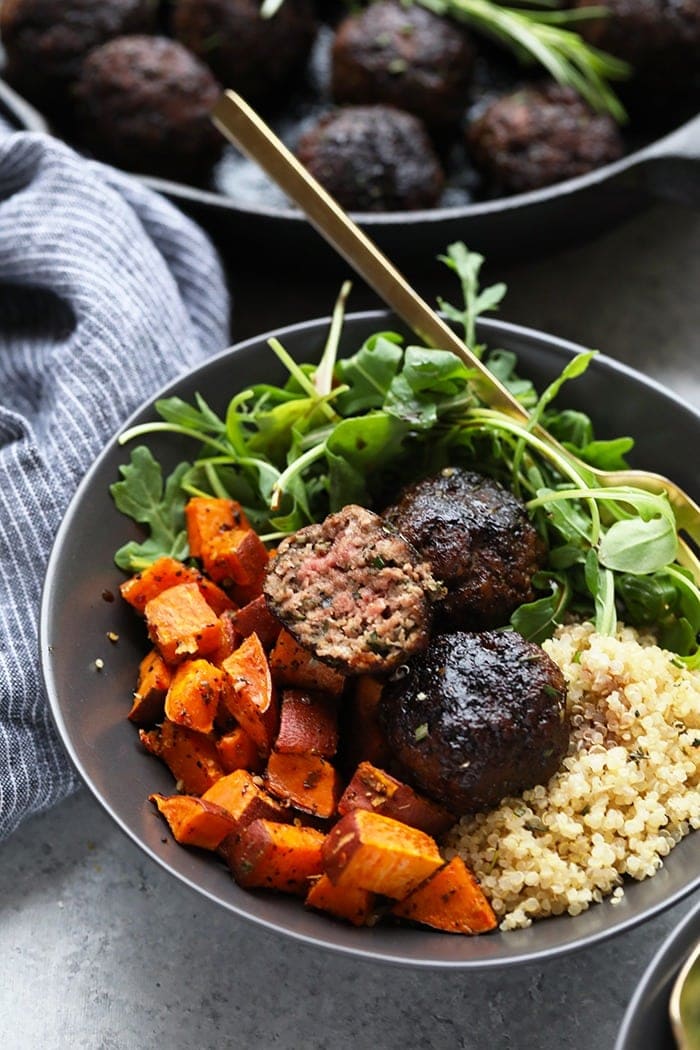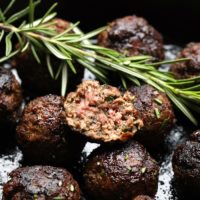 Rosemary Thyme Balsamic Meatballs
This delicious meatball appetizer recipe is a great holiday appetizer recipe or a general recipe for healthy meatballs, these Rosemary Thyme Balsamic Meatballs really are perfect for every occasion!
Prep:
10 minutes
Cook:
15 minutes
Total:
25 minutes
Ingredients
1

lb. lean ground beef

2 tablespoons

olive oil

1

large egg

1/2 cup

whole wheat breadcrumbs

1/4 cup

fresh thyme, minced

1/4 cup

fresh rosemary, minced

2 teaspoon

garlic powder

1/8 teaspoon

salt

2 tablespoons

olive oil

1/2 cup

balsamic vinegar
Instructions
Heat a castiron skillet over medium/high heat and add olive oil.
Then, place beef, egg, breadcrumbs, thyme, rosemary, garlic powder, and salt in a large bowl. Use your hands to mix together so that everything is fully combined.
Use a tablespoon scoop to form meatballs in your palms. Then, place on heated cast iron skillet and repeat until meat mixture is gone.
Use tongs to turn meatballs until all sides have browned. Add balsamic vinegar and turn heat down to medium.
Let meatballs cook in the balsamic vinegar for 6-9 minutes, rotating meatballs every couple minutes.
Remove from heat and serve as an appetizer or for dinner!
Tips & Notes
Make sure you don't overcook your meatballs or they will become tough.
Nutrition Facts
Serving Size:
1/20
Calories:
101
Sugar:
1
Sodium:
315
Fat:
4
Carbohydrates:
10
Fiber:
1
Protein:
7
Category:
Appetizer
Method:
Stove-Top
Cuisine:
American
Keywords: Healthy Meatballs