Italian meatballs and pasta is a crowd-pleasing, kid-friendly dinner idea. This truly is the best meatball recipe and it's simply made with ground beef, breadcrumbs, parmesan, and your favorite marinara sauce!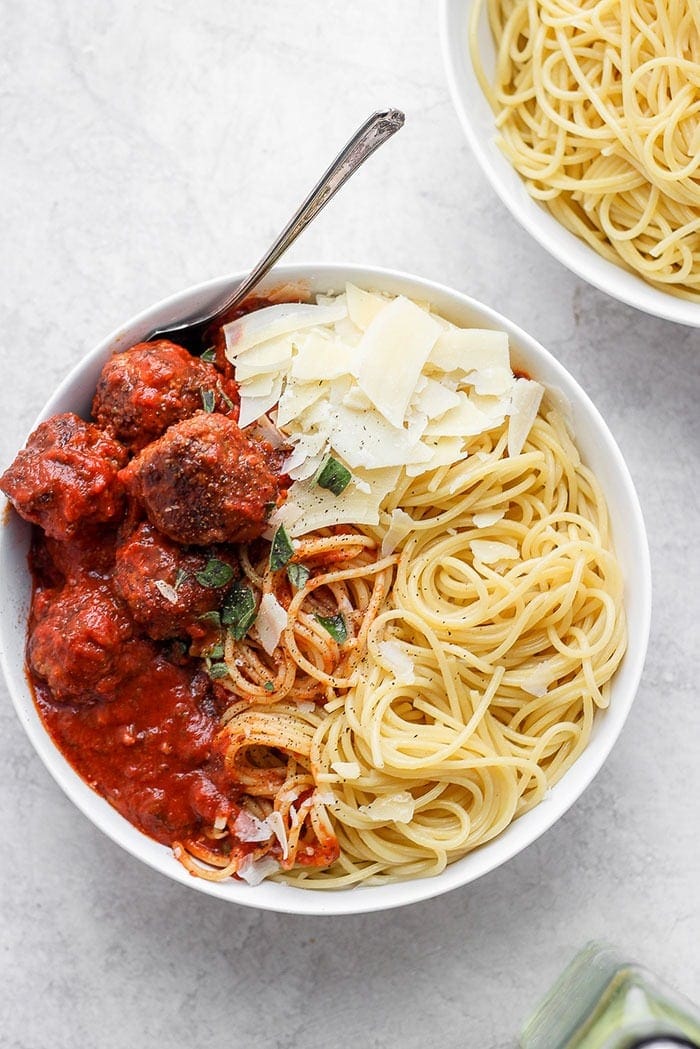 Nonna's Italian Meatballs!
Making homemade Italian meatballs is actually kind of therapeutic for me. It's like making cookies, but the end results are hearty and meaty instead of soft and chewy.
My mom has been making her famous spaghetti and meatball recipe since I can remember. It was a weekly staple at our house…especially the night before soccer games. So? I turned to Mama Hersh for her famous (and easy!) Italian meatball recipe and I can't wait to share!
PS: while this is my mom's recipe, she got it from my Italian Grandma Marie (Nonna), so we have her to thank for these babies, too! If you're big into Italian -inspired recipes, check out my Grandma's pizza recipe, too.
Why you'll love them!
Simple ingredients
Ready in less than an hour
Perfect flavor
So good on spaghetti!
Ingredients for Italian Meatballs
Meat: my mom traditionally uses 80/20 ground beef (20% fat). A little bit of fat really helps the flavor and texture of these meatballs. No one likes a dry meatball, so if you are going to swap for lesser-fat meat, just beware.
I have made similar meatballs that call for both ground beef and ground pork (or Italian sausage), so feel free to do 50/50.
Binder: in order for meatballs to hold their ball texture, it's important to bind them with an egg. All you need is 1 large egg for this recipe!
Breadcrumbs: don't forget the Italian breadcrumbs! They really add a lot of texture and, these are ITALIAN meatballs, after all.
If you can't find Italian breadcrumbs, you can always use plain and/or gluten-free breadcrumbs with a couple of teaspoons of Italian seasoning in them.
Flavors: my mom keeps her Italian meatballs simple with salt, black pepper, and parmesan cheese. That's right, there's parmesan cheese packed into these meatballs and it's oh-so-good. 
If you feel so inclined, you can add any of the following to your meatballs:
crushed garlic
minced onion
fresh herbs such as oregano, basil, parsley, etc.
What are traditional Italian meatballs made of?
Traditional Italian meatballs (that were made in my grandmother's Italian kitchen) are made from ground beef and sometimes a little ground pork. They also include breadcrumbs, eggs, and parmesan cheese.
How to Make the Italian Meatballs (step by step)
Mix
Place ground beef, egg, bread crumbs, parmesan cheese, salt, and pepper in a large bowl. Use a wooden utensil to mix everything together. I prefer to use my hands because it's faster.
pro tip
I recommend using your hands to mix everything together. It's just easier to really get in there with your hands instead of trying to mix it together with a wooden spoon.
Roll into Balls
Place ground beef, egg, bread crumbs, parmesan cheese, salt, and pepper in a large bowl. Use a wooden utensil to mix everything together. I prefer to use my hands because it's faster.
Note: the bigger your meatballs, the longer they will need to simmer to fully cook.
Sear on Stove
Heat olive oil in a large cast-iron pan (nonstick works, too) over medium/high heat. Sear meatballs on all sides for around 8 minutes. The goal here is to brown all of the edges so you get a wonderful crunchy outer shell.
Let simmer
Add marinara sauce and red wine to the skillet and stir. Lower the heat to low and cover. Let simmer for around 20 minutes so that the sauce thickens a bit and the meatballs fully cook.
FAQ
How do I know when my Italian meatballs are fully cooked?

The best way to know that your meatballs are fully cooked is to use a meat thermometer. Stick the thermometer into the center of your meatball and stop about halfway. The reading for a beef meatball should be at least 160ºF.

beef: 160ºF
pork: 165ºF
chicken: 165ºF
turkey: 165ºF
Why are my meatballs tough?

Your meatballs are likely tough because you didn't have enough fat in your meat. Make sure to use 80% fat OR add a few teaspoons of olive oil to your mixture.

Adding some milk to the mixture can also help with this! I do want to note, that my mom and grandma's traditional Italian meatball recipe does NOT call for milk.
If you've ever made a meatloaf that has milk in it, it's the same idea!
Is it better to bake or fry meatballs?

Frying your meatballs is definitely better than baking them. By frying your meatballs and then letting them simmer in the sauce, you give them a delicious outside texture with a super moist inside.

However, you can bake your meatballs in the oven on a baking sheet, if you choose. They just won't come out crispy on the outside and perfect on the inside.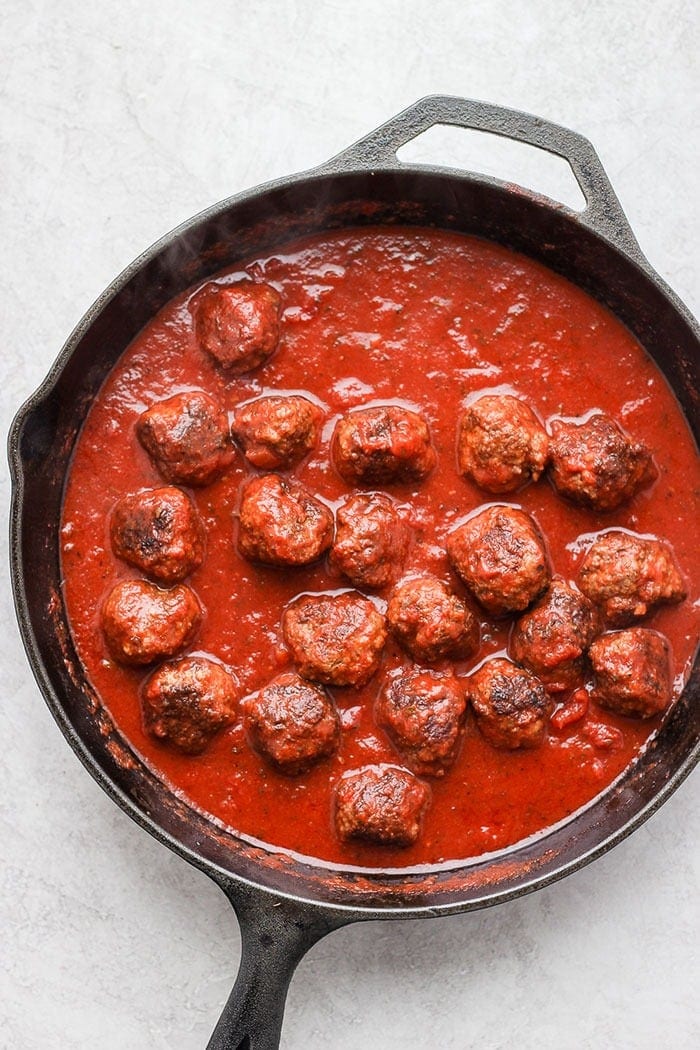 How to Make Meatballs Healthier
Meat: try swapping the beef for a lower in fat beef or even ground turkey. Do beware that the lower in fat you go, the tougher your meatballs will end up.
Breadcrumbs: there are all kinds of breadcrumbs on the market these days – gluten-free, paleo, keto, etc. Pick your poison! PS: I've also made these by swapping out the breadcrumbs entirely for rolled oats. Start with 1/3 cup and go from there.
Noodles: the noodle is totally up to you! I am an angel-hair pasta kind of girl, but you can absolutely make things a lot healthier in this arena. Here are some suggestions:
Gluten-free pasta >> you can find g/f pasta at pretty much every grocery store these days. They do have a slightly different texture but are still great as a substitution.
Zoodles >> ditch the pasta altogether and spiralize a zucchini for a low-carb option!
Spaghetti squash >> swap your pasta out for spaghetti squash. The flavor is slightly sweet, but it's a great way to eat your veggies.
How to Eat Your Italian Meatballs
Don't feel like eating your Italian meatball recipe on a bed of pasta? You're in luck because there are so many different ways you can eat these meatballs.
Appetizer: eat these Italian meatballs on their own. Serve them at a party with a toothpick and you've got a quick and easy app.
Sub/Sandwich: everyone loves a meatball sub! Pop a few meatballs and marinara sauce on your favorite Italian bread, cover it with mozzarella cheese, and bam, you've got a brand new meal to feed the fam.
Bowl: serve your meatballs next to quinoa, your favorite green, and roasted veggies.
Mix Up Your Sauce
Another reason why these are the best meatballs is that they are so versatile. Make your meatballs as directed, but instead of simmering in marinara sauce. Try one of these instead!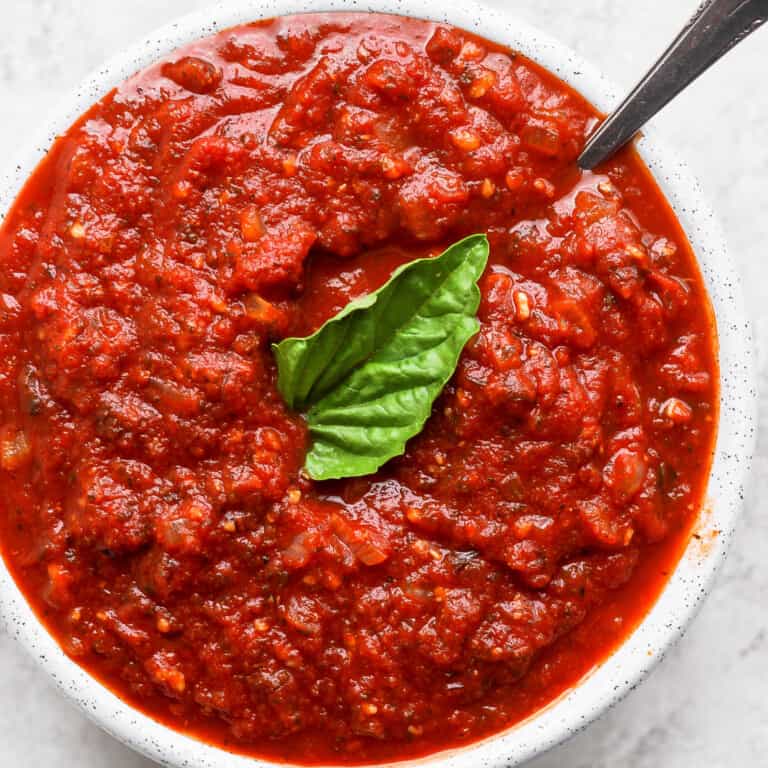 Homemade
Marinara Sauce
Any marinara sauce will work for this recipe but we highly recommend making this homemade marinara sauce.
Make It
How to Store Meatballs
Let your meatballs and marinara sauce cool completely. Then, transfer into an airtight container and store in the refrigerator for up to 3-5 days.
Can you freeze meatballs?
You can easily freeze meatballs and they make for an excellent make-ahead dinner idea. For this recipe, we suggest holding off on the sauce part until thawing and reheating. Sear your meatballs and then continue to cook all the way through.
Let the meatballs cool completely.
Then transfer them into a gallon-size freezer-safe bag.
Remove as much air as possible and then seal.
Freeze for up to 3 months.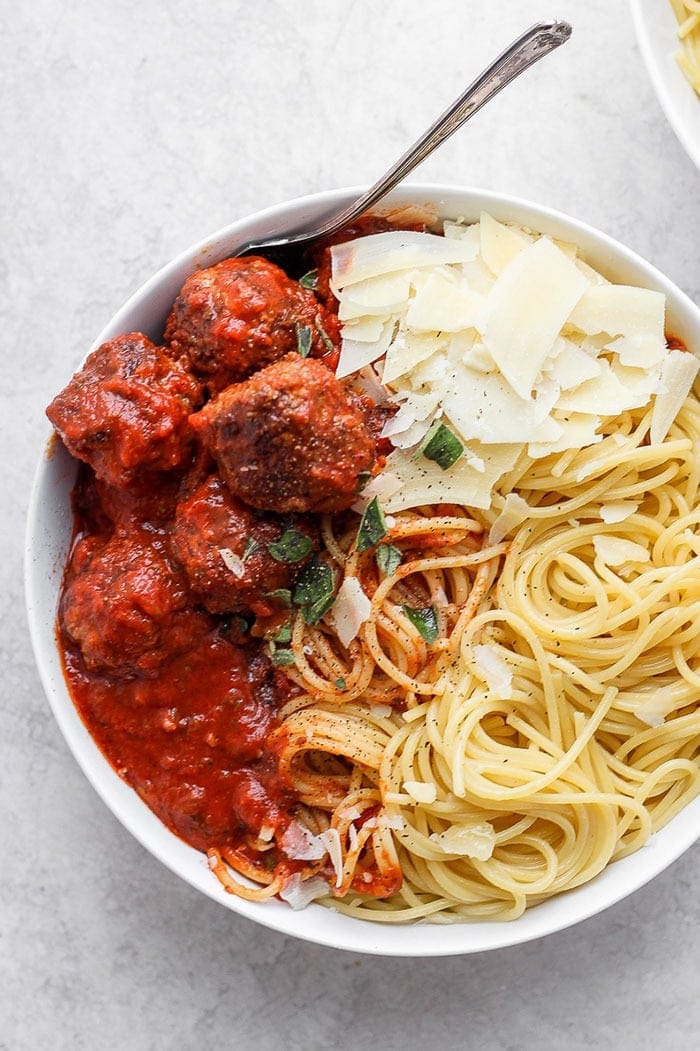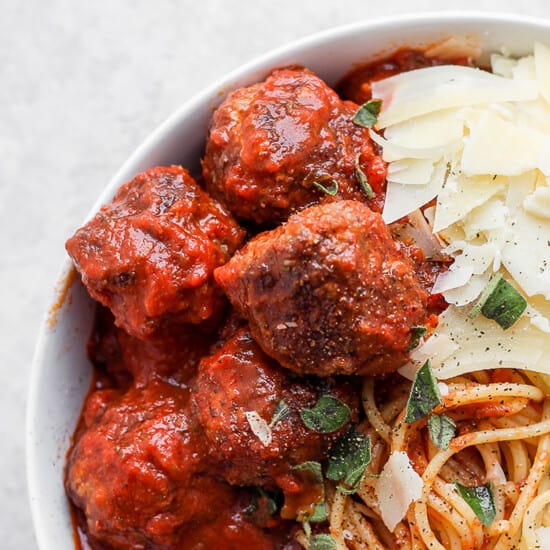 Homemade Italian Meatballs
Italian meatballs are a crowd-pleasing favorite that are best served with marinara and spaghetti. This Italian meatball recipe is simply made with ground beef, breadcrumbs, parmesan, and your favorite marinara!
Ingredients
1

lb.

ground beef

80% lean/20% fat

1

large egg

1/2

cup

Italian bread crumbs

option to sub gluten-free or whole wheat bread crumbs

1/4

cup

parmesan cheese

+ more for topping

1/8

teaspoon

salt

1/8

teaspoon

pepper

1

tablespoon

olive oil

25

oz.

marinara sauce

use our homemade marinara sauce!

1/4

cup

dry red wine

8

oz.

spaghetti noodles

or any kind of noodle!
Instructions
Place ground beef, egg, bread crumbs, parmesan cheese, salt, and pepper in a large bowl.

Then, use a large wooden spoon or your hands to thoroughly mix, combining all ingredients. I recommend using your hands as it's faster and easier.

Once combined, heat olive oil in a large skillet or cast iron over medium heat.

Use a standard-size cookie scoop to scoop meat into your hands. Then, form into a ball and place on the skillet. Repeat until there is no meat left. You should get around 16 medium-size meatballs.

Brown meatballs on all sides for around 8 minutes. Use a pair of tongs to flip each meatball, being careful not to burn the outsides.

Once all sides are brown, pour in marinara sauce and red wine. Toss so that the meatballs are covered in sauce.

Lower heat to low and cover. Let simmer for about 20 minutes, tossing every 5 minutes.

While the meatballs are simmering, prepare your spaghetti of choice by following the directions on your package.

Once your noodles are cooked, strain and serve with meatballs and sauce. Top with a generous amount of parmesan cheese and fresh ground pepper.
Nutrition facts
Calories:
501
kcal
Protein:
29
g
Fat:
19
g
Fiber:
5
g
Sugar:
9
g
Photography: photos taken in this post are by Erin from The Wooden Skillet.