Hello, tikka masala meatballs! Enjoy a bowl of these tikka masala meatballs over a bed of rice, quinoa, or roasted veggies! You can make it for dinner or for a great meal prep dinner for the week!
We have so many delicious meatball recipes from Italian Meatballs to Curry Meatballs, we are all about healthy meatball recipes!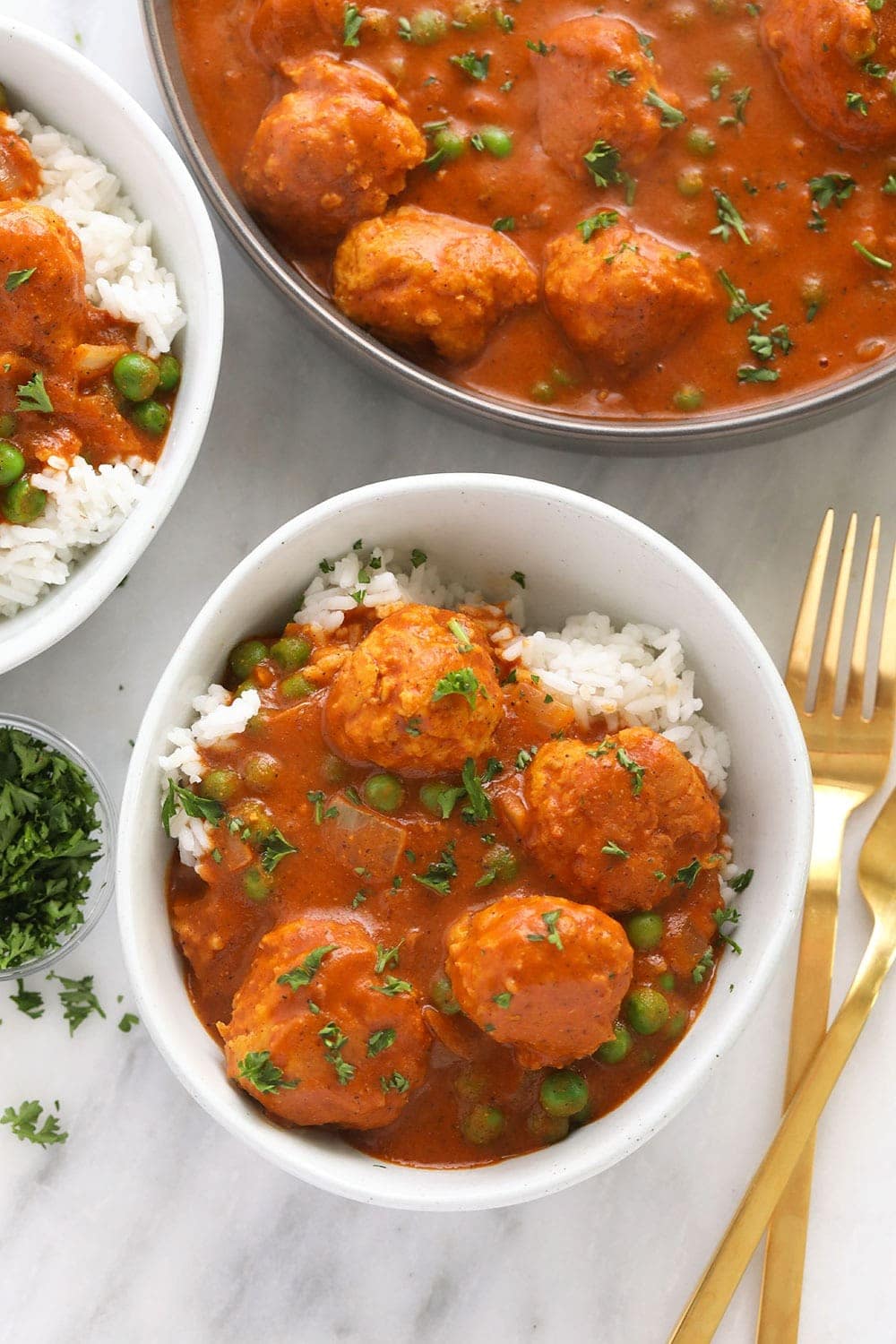 Meatballs for Every Meal
These aren't your grandma's meatballs! We took two of our favorite things (meatballs and tikka masala) and developed a flavorful dinner that will have you making meatballs every week for the next year!
Who knew that meatballs weren't just  appetizers or a great addition to spaghetti?
Over the years Fit Foodie Finds has developed delicious and healthy meatball recipes like this Green Curry Sweet Potato Chicken Meatballs or these Baked Kung Pao Chicken Meatballs! People just can't get enough!
Let's chat about what you need to make these delicious meaty morsels.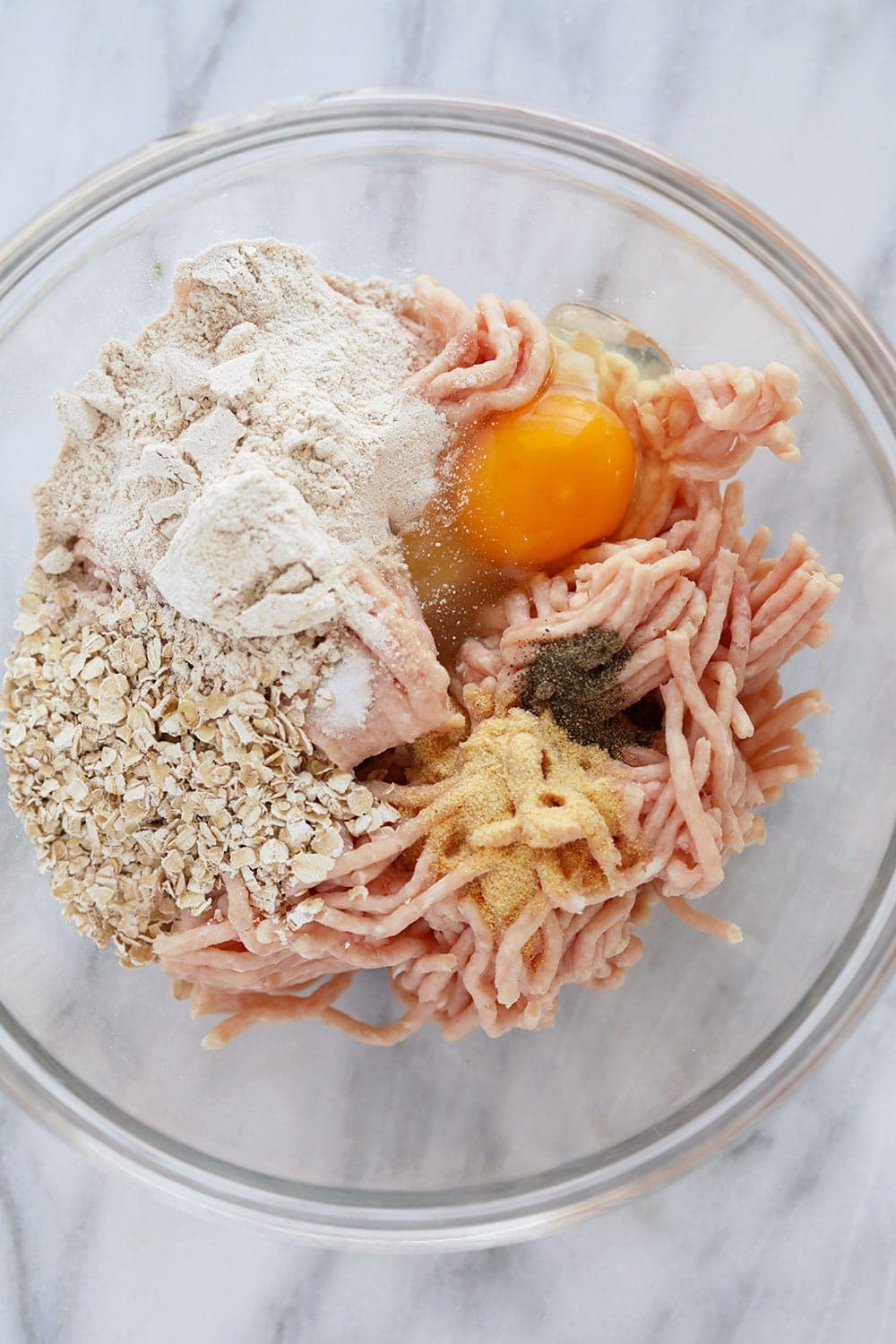 Tikka Meatball Ingredients (+Substitutions)
Full fat coconut milk- We love making tikka masala with a base liquid of coconut milk. It gives the tikka masala a creamy and rich texture that we love!
Substitutions: heavy cream, yogurt, broth
Tomato sauce- Tikka masala usually has a tomato sauce that is mixed with the coconut milk to make a delicious tomato cream sauce. After you simmer the tomato sauce with all the spices and vegetables, the tomato sauce develops an amazing complex flavor.
Substitutions: pureed tomatoes, diced tomatoes
Garam masala- The traditional spice mix that is used in tikka masala is garam masala! We use a similar sauce in our vegetarian cauliflower tikka masala and it's seriously amazing.
The spice mix is a combination of cumin, coriander, cardamom, cinnamon, nutmeg, cloves, fennel, mace, and dried chilis. We use 2 tablespoons of garam masala because we love a flavorful tikka. Feel free to use as much or as little as you would like.
Substitution: a mixture of garam masala spices
Other Spices (ground cumin, ground turmeric, garlic powder, ground ginger, salt)- The meatballs and the tikka sauce have also have delicious spices because WE LOVE FLAVOR.
Ground chicken- These meatballs are made out of ground chicken. We wanted a lean meat that has great flavor. Be sure to try your best to find the highest quality ground chicken you can find!
Substitutions: ground turkey, lean ground beef 
Quick-cooking oats- We opted for quick cooking oats rather than bread crumbs in this recipe. We tend to always have oats on hand and they are a great binder for meatballs.
Substitutions: whole wheat bread crumbs, panko
White whole wheat flour (any kind)- The flour acts as a binder and absorbs the fat for these meatballs!
Substitutions: Any kind of flour will work. Feel free to make this recipe gluten free by using almond flour or oat flour.
Eggs- Adding eggs to things like meatballs and meatloaf adds moisture and a binding agent to the recipe!
Substitution: You can try a flax egg, but the meatballs may not hold together as easily.
Milk (any kind)- Adding a little bit of milk to meatballs helps keep them nice and moist!
Olive oil- Cooking the meatballs in olive oil before simmering them in the tikka sauce helps create a crispy outer layer on the meatballs.
Vegetables (onion + peas)- We opted to keep the vegetables simple in this recipe so the star of the show could be the tikka meatballs. The onion and the peas add great flavor and crunch to the tikka sauce.
Substitutions: Feel free to substitute or add more vegetables to this recipe. Just be sure if you use a root vegetable or a heartier vegetable that you saute them with the onion and simmer the sauce long enough that the vegetables are able to cook.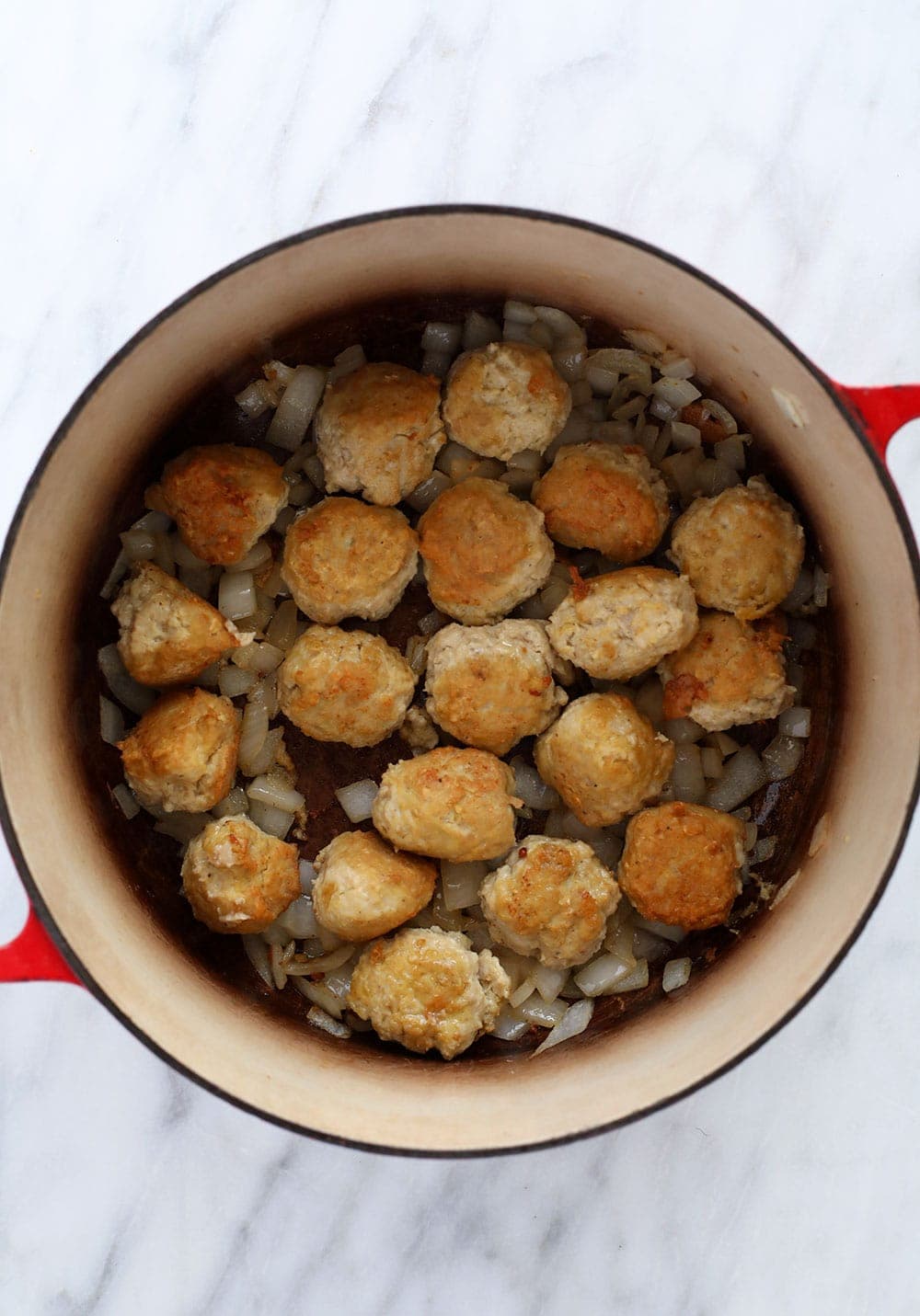 The Secret to Tikka Meatballs
There are actually two steps you don't want to skip when you make these tikka masala meatballs!
Don't skip browning the meatballs! Browning the meatballs in olive oil before simmering them in the tikka masala creates a delicious base flavor for the tikka masala. You also get an amazing brown crust on the meatballs if you brown them first!
The key to browning the meatballs is getting the pot and the oil hot before sauteing int he meatballs!
2. The second secret is be sure to simmer the meatballs in the sauce long enough for all of the delicious spices and meatballs to combine!
Tikka Masala Meatballs 101
How do I make the perfect meatball?
The perfect meatball is a combination of meat, breadcrumbs, fat, and moisture. Some ground meat is more moist then others, so if you find that your meat isn't binding add a little more olive oil to add a bit more fat to the recipe.
If the meatballs are TOO moist, try adding a little more flour or more oats. As long as you can roll the meatball in your hands with out them falling apart of being too sticky, you're golden!
What is tikka masala?
Tikka Masala is a traditional Indian dish that's origins are from the United Kingdom. Tikka masala is a sauce that is traditionally made from tomato sauce, coconut milk, yogurt, and spices and then simmered down into a thick and flavorful sauce.
We have many tikka recipes on our site if you are looking fore more delicious dinner options. Check out our chicken tikka masala casserole or our slow cooker chicken tikka masala!
What kind of rice goes best with tikka masala?
We like to serve our tikka masala with white rice! However, brown rice, quinoa, or any other grain would also be delicious!
How long do tikka masala meatballs last in the refrigerator?
Tikka masala meatballs should last up to 5 days in the refrigerator if they are stored in an airtight container.
Can I freeze these tikka masala meatballs?
Yes, you can freeze tikka masala meatballs in the freezer. You can freeze the meatballs in the sauce in an airtight container if it has cooled. However, we would recommend making the meatballs, freezing them, and then making the sauce when you plan on serving the tikka masala meatballs.
Thaw the meatballs and then follow the directions for making the sauce and simmer away until the meatballs are tender!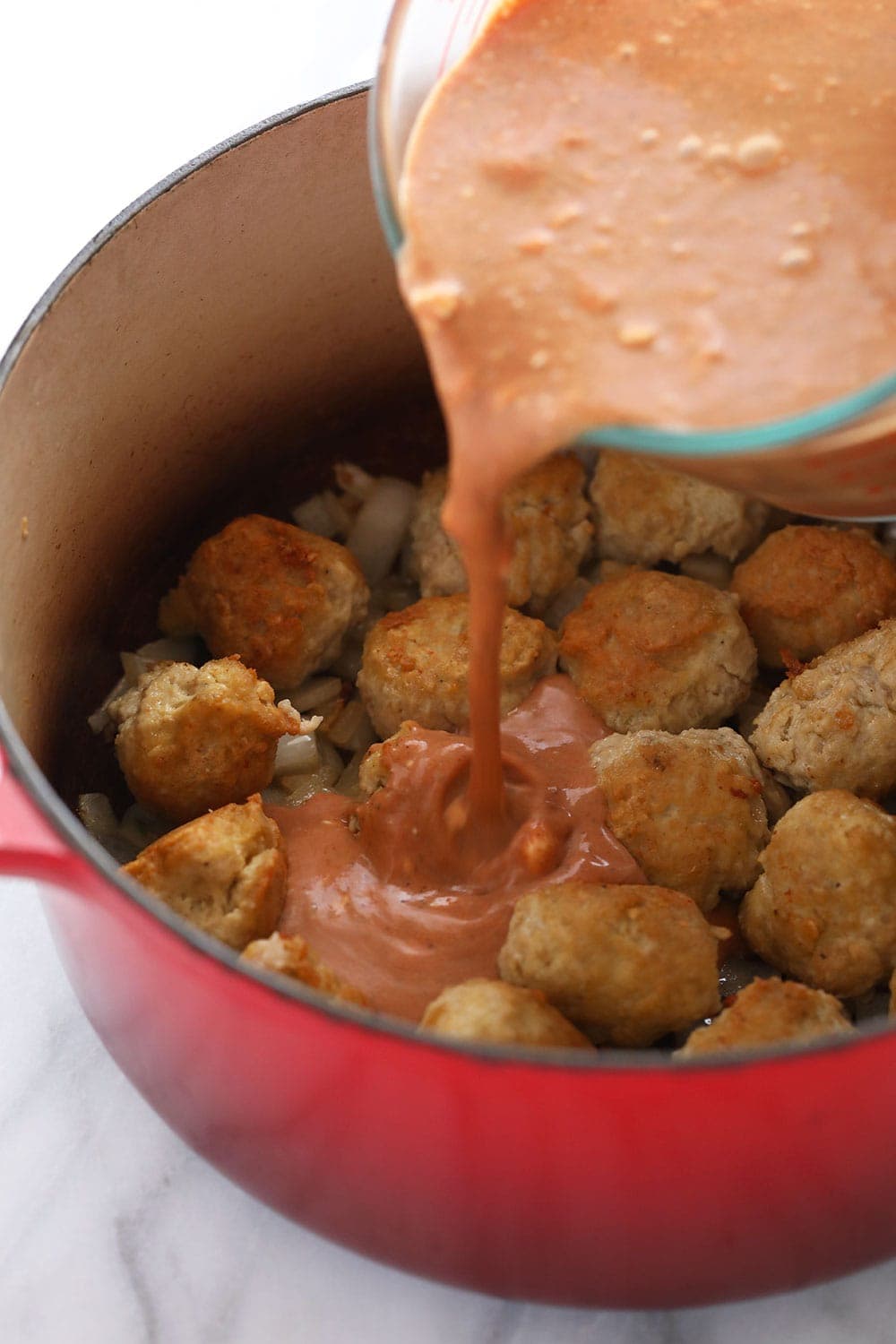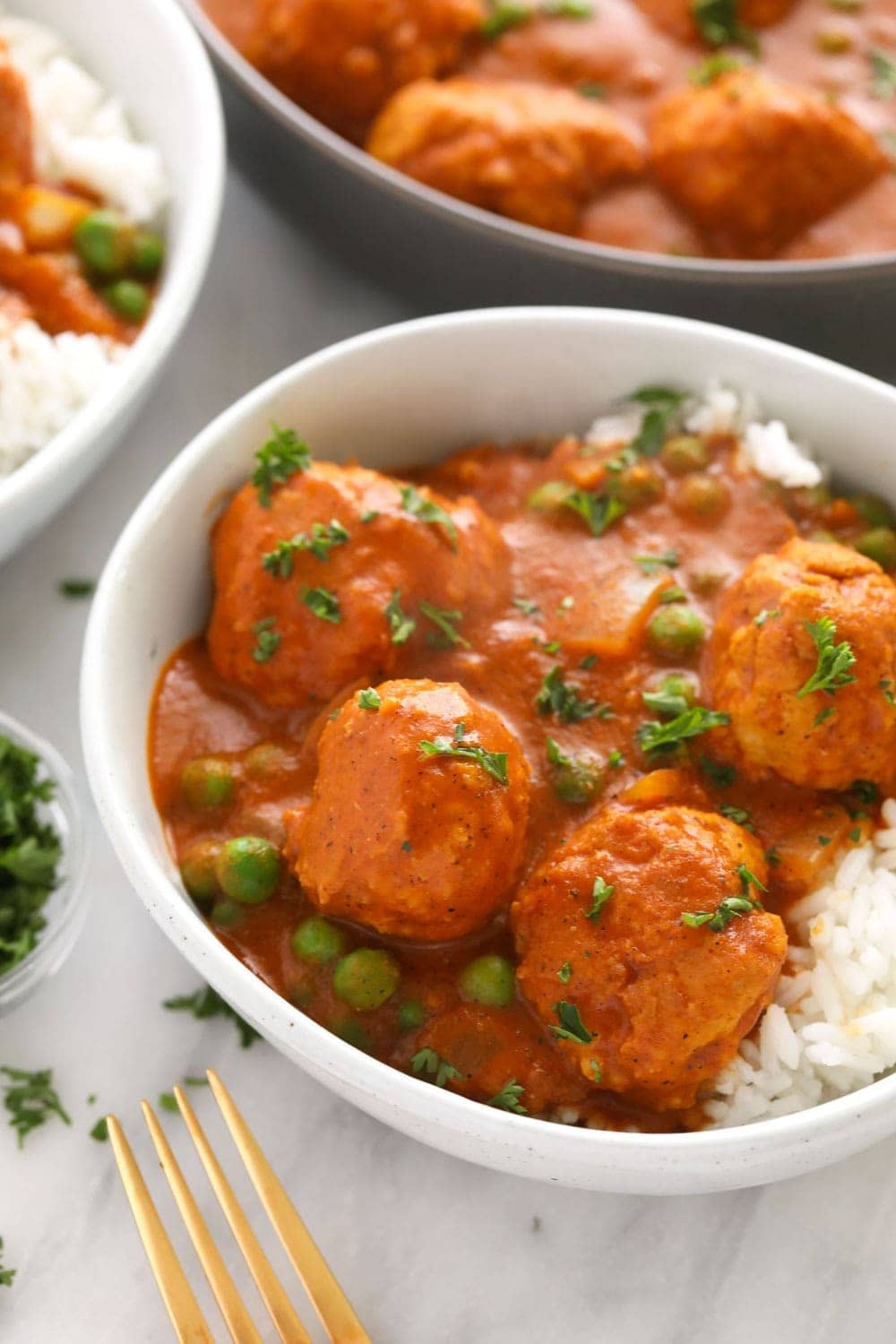 More Meatball Recipes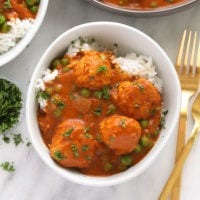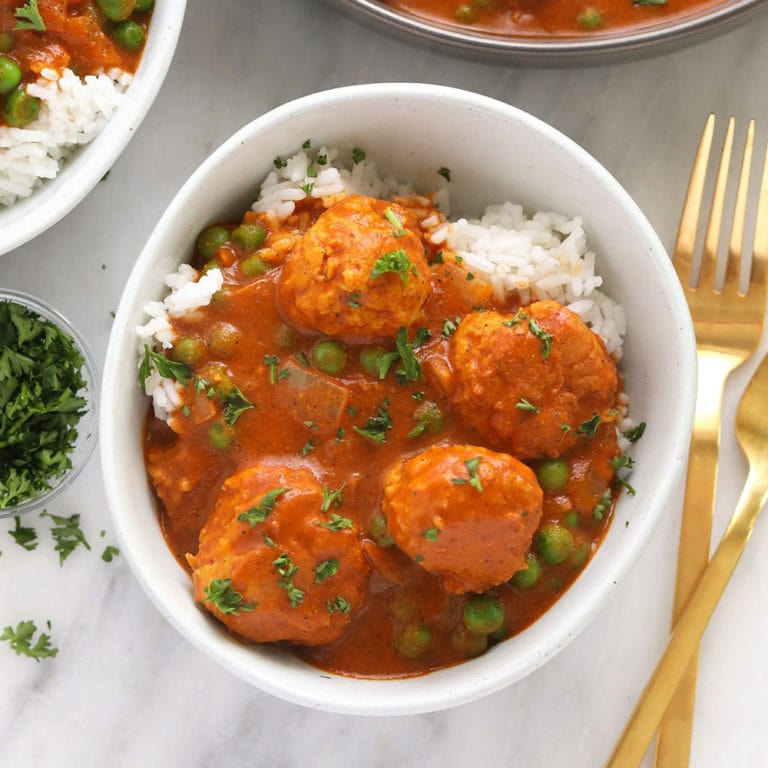 Tikka Masala Meatballs
Hello, tikka masala meatballs! Enjoy a bowl of these tikka masala meatballs over a bed of rice for an easy weeknight meal.
Ingredients
Other
2

tablespoons

olive oil

1/2

medium yellow onion

diced

1

cup

frozen peas

topping: fresh parsley

chopped
Instructions
First, prepare tikka masala sauce. Place all ingredients for the sauce in a large pyrex or bowl and mix until combined. Set aside for later.

Next, prepare meatballs. Place all ingredients for the chicken meatballs in a large bowl.

Then, use a wooden spoon to mix.

Next, heat 2 tablespoons olive oil over medium/high heat in a large stock-pot (nonstick, if you have it!).

When the olive oil is fragrant, add meatballs!

Use a 1-tablespoon cookie scoop, to scoop meat into your hands. Roll into a ball and place into hot oil. Repeat until all meat is gone. You should get around 20 meatballs.

Cook meatballs for around 3-5 minutes and then use a pair of tongs to carefully flip when golden brown. At this point, the meatballs are still pretty tender, so be gentle.

Cook the meatballs for another 3-5 minutes before removing from heat. At this point, the meatballs should be partially cooked.

Add diced onion to the remaining oil and saute on medium/high for 3 minutes.

Then, add meatballs back in and add the tikka masala sauce.

Bring sauce to a boil over medium/high heat and then cover and turn down to low. Let simmer for 15 minutes, or until meatballs are fully cooked.

Add frozen peas and let cook, uncovered for 2-3 minutes. Then, taste sauce and adjust salt, to taste.

Serve over your favorite grain with freshly chopped parsley.
Tips & Notes
Nutrition information does NOT include rice.
Nutrition facts
Calories:
517
kcal
Carbohydrates:
26
g
Protein:
28
g
Fat:
32
g
Fiber:
6
g
Sugar:
7
g