Pack your lunch or dinner with tons of veggies and warm spices. This Cauliflower Tikka Masala Recipe is vegetarian, loaded with hearty ingredients, and the best recipe for fall or winter meal prep!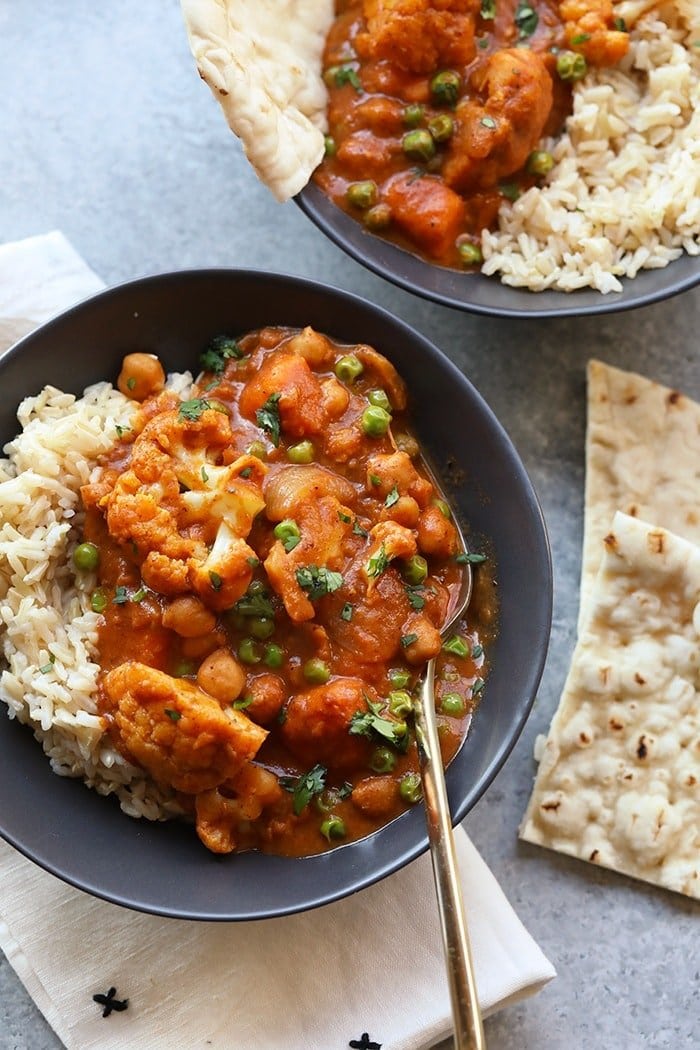 Tikka Masala Made Easy
This is one of those recipes where the day we perfected it at Fit Foodie HQ I wanted to tell EVERYONE about it. Instead of doing that, I've made it about 4 times and every time it got better.
If you've never made tikka masala, you're in for a treat. We have a slow cooker chicken tikka masala and a chicken tikka masala casserole on FFF, but this particular recipe is made with cauliflower, sweet potatoes, garbanzo beans, and peas.
Yes, it's vegetarian and yes it's even vegan! PRAISEEEE THE LAWD.
For some reason, vegan recipes freak people out, but it wasn't actually the intention of this recipe, it just happened.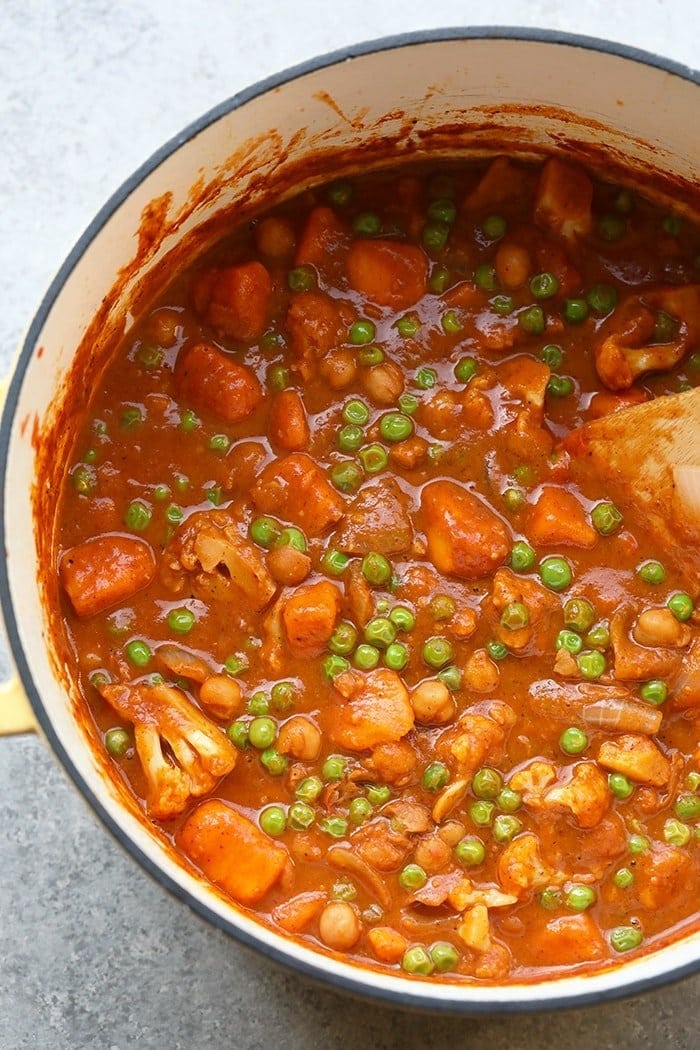 The Easiest One Pot Meal
Lucky for you this is a one-pot meal. That's right, you throw everything into one giant pot and dinner is ready in 30 minutes. Here are some other tips + tricks to keep in mind before you make this tikka masala recipe! 
Let it simmer. The longer you let it simmer the better it is going to be! The flavor is enhanced the longer you let it simmer, baby!
Don't be scared of flavor. Oh, don't go light on the spices. This is supposed to a dance party in your mouth. If you haven't ever worked with a masala spice blend before, don't be nervous!
If you don't want to add as much as we did, start off by adding a teaspoon of spices at a time until you find a spice level you are comfortable with.
We love naan. We served this recipe with sprouted brown rice and naan. Check out TJ's or Whole Foods for naan! I've never made my own, but I hear it's pretty easy. If I did make it, I'd follow Gimme Some Oven's recipe.
Pack it with veggies. Let's talk about the veggies in this dish really quick. We decided to use dense vegetables that would sustain us! Here are the veggies we used!
Cauliflower
Sweet Potatoes
Onion
Peas
If you're not digging our veggie choices, try using normal potatoes, any kind of root vegetable, or squash!
If you insist on adding meat, I'd go with chicken, or maybe even meatballs. OMG TIKKA MEATBALLS WUT.
Everything You Need to Know
What does tikka masala sauce taste like?
Tikka Masala is traditionally a tomato and cream based sauce mixed with traditional Indian spices. We substitute the traditional cream ingredient for coconut milk so this tikka masala recipe has an earthy, slightly spice, coconut flavor.
What is Indian masala spice?
Indian masala spice is a mixture of ground Indian spices such as fennel, black pepper, cloves, cinnamon, mace, cardamom, curry, cumin, and coriander. It is a flavor-packed spice mix that is great to have ready to use in your pantry.
What can I serve with this cauliflower tikka masala recipe?
The options are endless when it comes to what you want to serve with your tikka masala. You can serve your tikka masala recipe with grains, more veggies, your favorite bread, or even a salad! Here are some of our favorite things to serve with this cauliflower tikka masala recipe!
Garlic Naan Bread
Brown or White Rice
Lentils
Quinoa
Cauliflower Rice
Can I make this tikka masala recipe in the slow cooker?
Yes, you can make this tikka masala recipe in the slow cooker! The process would be similar to this slow cooker chicken masala recipe (minus the chicken).
Place all ingredients for this tikka masala (except for the peas) into the slow cooker and cook on high for 3-4 hours. Add the peas with about 30 minutes left in the cook time.
Serve over rice or your favorite accouterments.
How do I store tikka masala?
You can store this tikka masala in the refrigerator in an airtight container for up to 7 days. Just be sure that the tikka masala is completely cool before placing it in the refrigerator.
You can also make this tikka masala and freeze it for later! Let the tikka masala cool completely before placing it in an airtight container. Label the container with the date it was made and store it in the freezer for up to 3 months.
When you are ready to eat the frozen tikka masala, remove it from the freezer and let it thaw out in the refrigerator. Sometimes this can take up to 24 hours.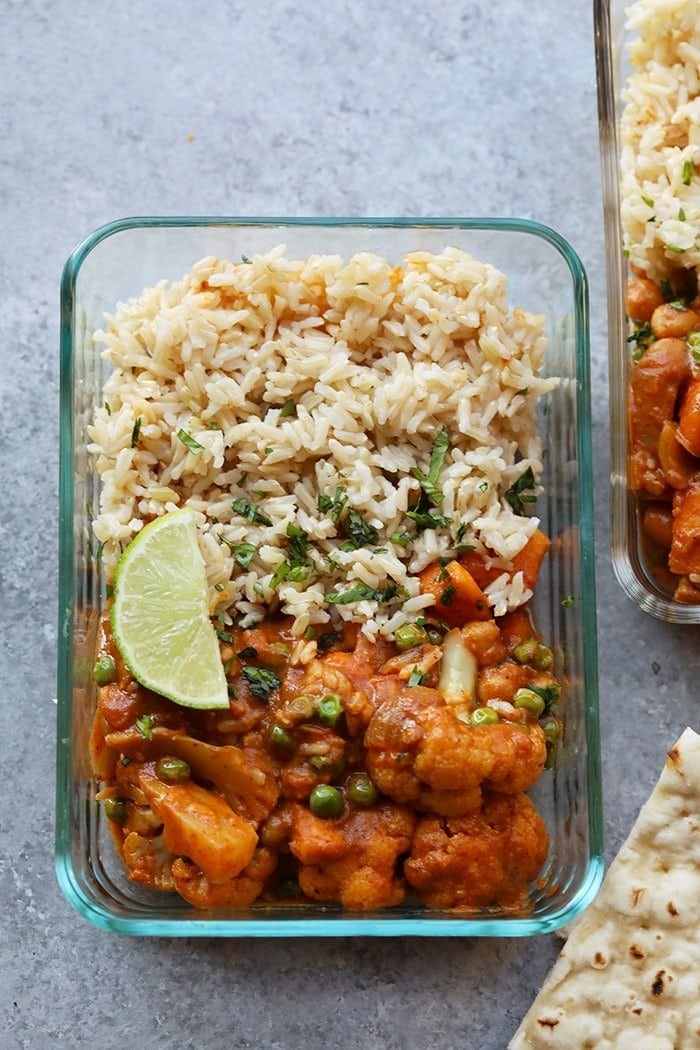 Healthy Vegetarian Dinners
Learn How to Make Cauliflower Tikka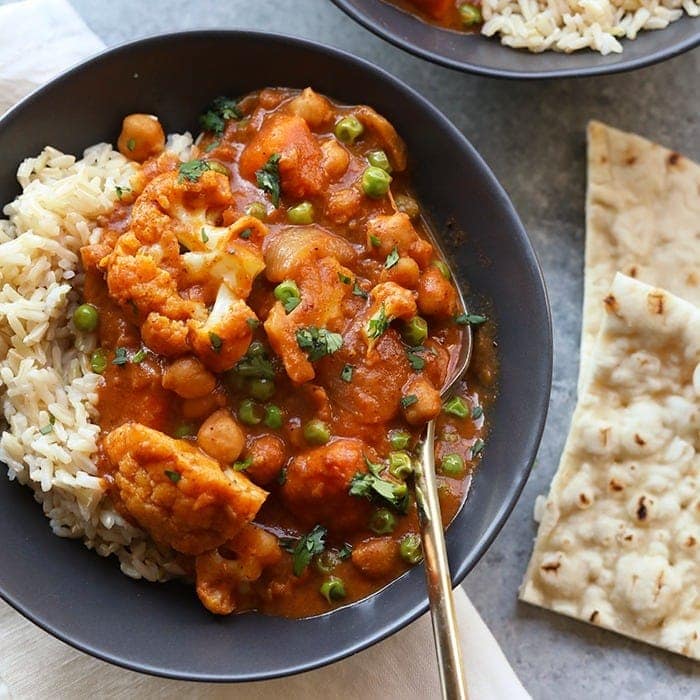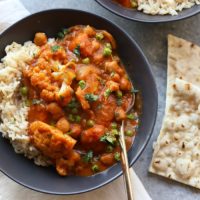 Cauliflower Tikka Masala Recipe
Pack your lunch or dinner with tons of veggies and warm spices. This Cauliflower Tikka Masala Recipe is vegetarian, loaded with hearty ingredients, and the best recipe for fall or winter meal prep!
Prep:
20 minutes
Cook:
30 minutes
Total:
50 minutes
Fat
12
Carbs
38
Protein
9
Ingredients
2 tablespoons

ghee (option to sub olive oil or coconut oil)

2

large sweet potatoes, peeled and chopped

1

medium yellow onion, chopped

1

large head cauliflower, chopped (~

4 cups

)

1

15-oz. can full-fat coconut milk

1

15-oz. can tomato sauce

2 tablespoons

garam masala

1 teaspoon

ground ginger

1 teaspoon

turmeric

1/8 teaspoon

cayenne pepper

1/2 teaspoon

ground nutmeg

1 teaspoon

ground cinnamon

1/4 teaspoon

ground chipotle powder

6

cloves garlic, minced

1 tablespoon

maple syrup

1

15-oz can garbanzo beans

10 oz

. frozen English peas, uncooked (

1.5 cups

)*
Instructions
Place olive oil in a large pot and heat over medium/high heat. When olive oil is fragrant, add the sweet potatoes to the pot.
Cover pot and let sweet potatoes saute for 6-8 minutes, stirring every two minutes.
Add onion and cauliflower to the pot and let cook for 2-3 minutes.
Add the rest of the ingredients to the pot, mix well, and bring to a boil.
Turn heat to low and let simmer for 15-20 minutes.
Serve over brown rice and enjoy!
Tips & Notes
*If using frozen peas, add right at the end.
*Nutrition is for 8 servings and does not include rice.
Nutrition Facts
Serving Size:
1/8
Calories:
292
Sugar:
13
Fat:
12
Carbohydrates:
38
Fiber:
9
Protein:
9
Category:
Dinner
Method:
Stove top
Cuisine:
Indian
Keywords: tikka masala recipe