In this post, we are chatting all things quinoa recipes. We'll share how to make quinoa in a variety of different methods, and teach you how to make our signature quinoa salad recipe, plus we're rounding up all of the best quinoa recipes on Fit Foodie Finds.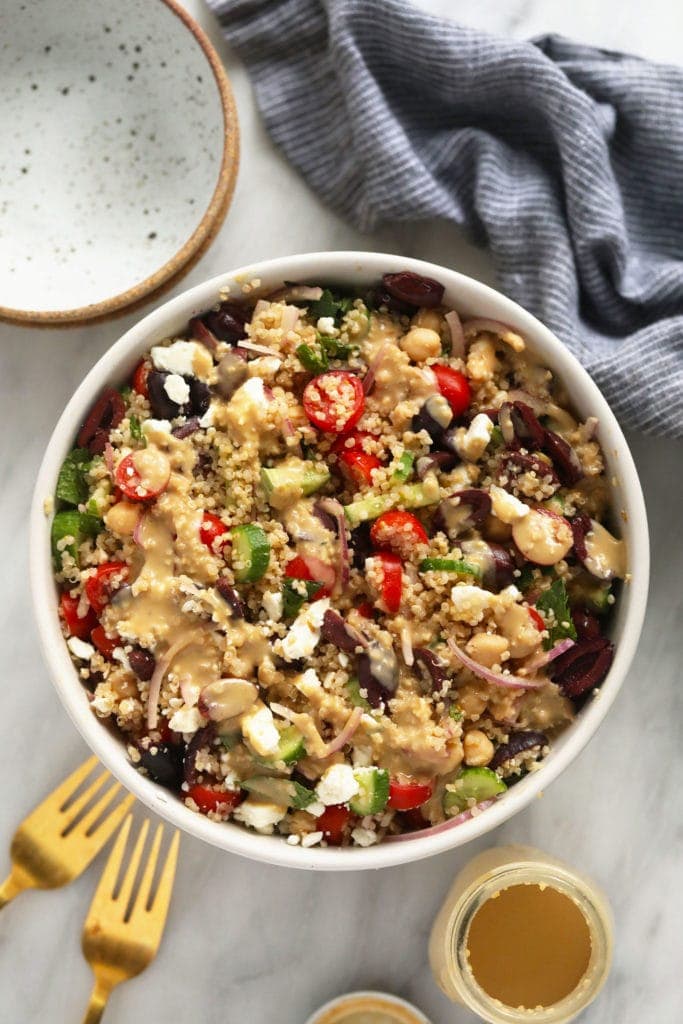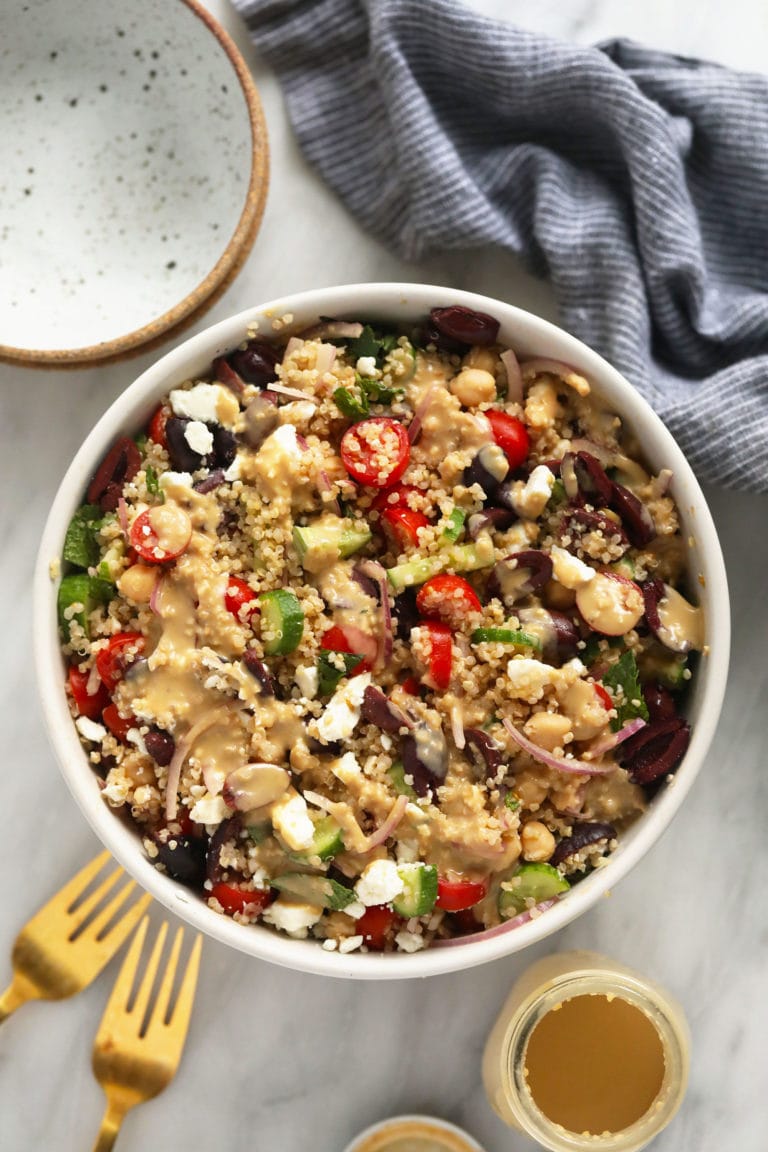 Quinoa has been a staple ingredient in the Fit Foodie Kitchen since the beginning of this website. We use it in salads, casseroles, bowls, and beyond! Today we are sharing all of our best quinoa recipes from FFF and we can't wait for you to make them all!
Why We Love Quinoa
In addition to its fluffy texture and easy preparation, we love quinoa for a variety of different reasons!
Acts as a great alternative to rice and other whole grains and cooks just the same.
Quinoa is a complete protein – it has all essential amino acids.
It can be cooked quickly and easily.
Extremely versatile and can be flavored sweet or savory.
Gluten-free and vegan.
Packed with vitamins and minerals.
High-protein and high-fiber side dish.
6 grams of protein per 1 cup of cooked quinoa.
How To Cook Quinoa
Before learning how to make delicious recipes with quinoa, we figured we'd share a handful of methods on how to cook quinoa. We have a pretty thorough post on Fit Foodie Finds that gives you the low down on quinoa + all the different ways on how to cook with quinoa.
Quinoa is very similar to rice in that you can use a variety of different methods to cook quinoa. Check out some of our tutorials below.
check it out!
So, check out our "How to Cook Perfect Quinoa" post to learn the ins and outs of quinoa + how to make perfect cooked quinoa perfect every time.
Quinoa is very similar to rice in that you can use a variety of different methods to cook quinoa. Check out some of our tutorials below.
Recipes for Quinoa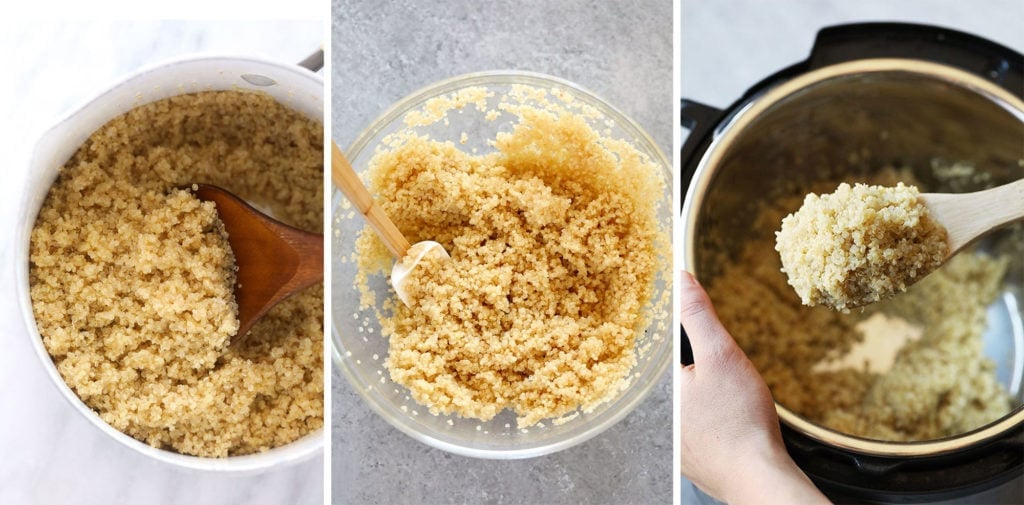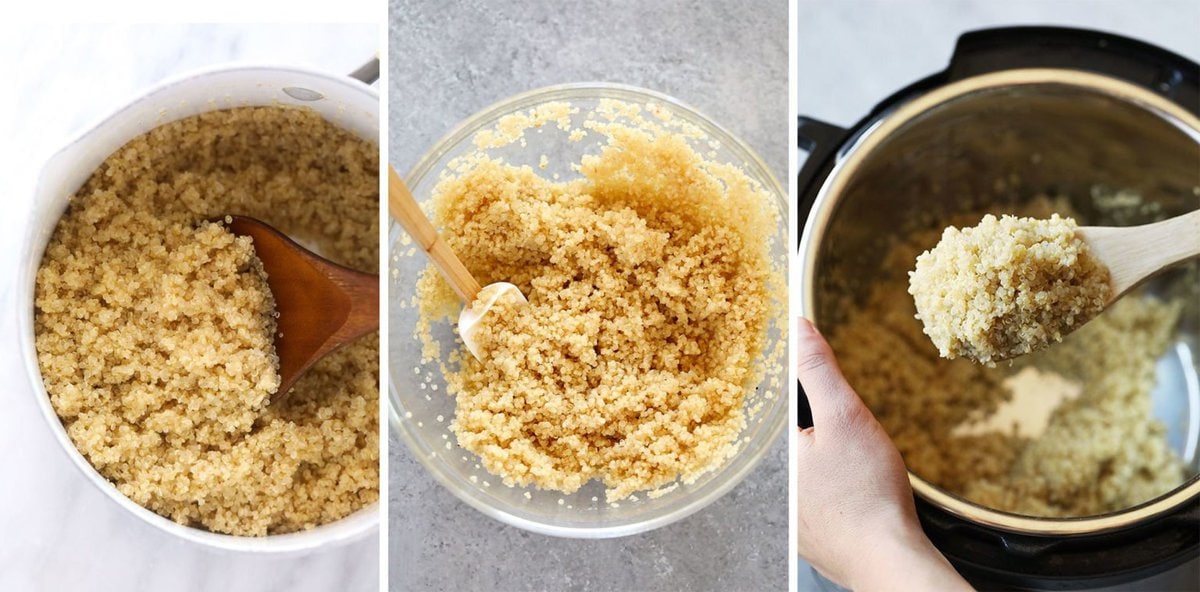 quick tip – quinoa to water ratio
A great rule of thumb for cooking quinoa is 1:2 –> for every 1 cup of quinoa, use 2 cups of water. PS: try using chicken broth instead of water for a bit more flavor!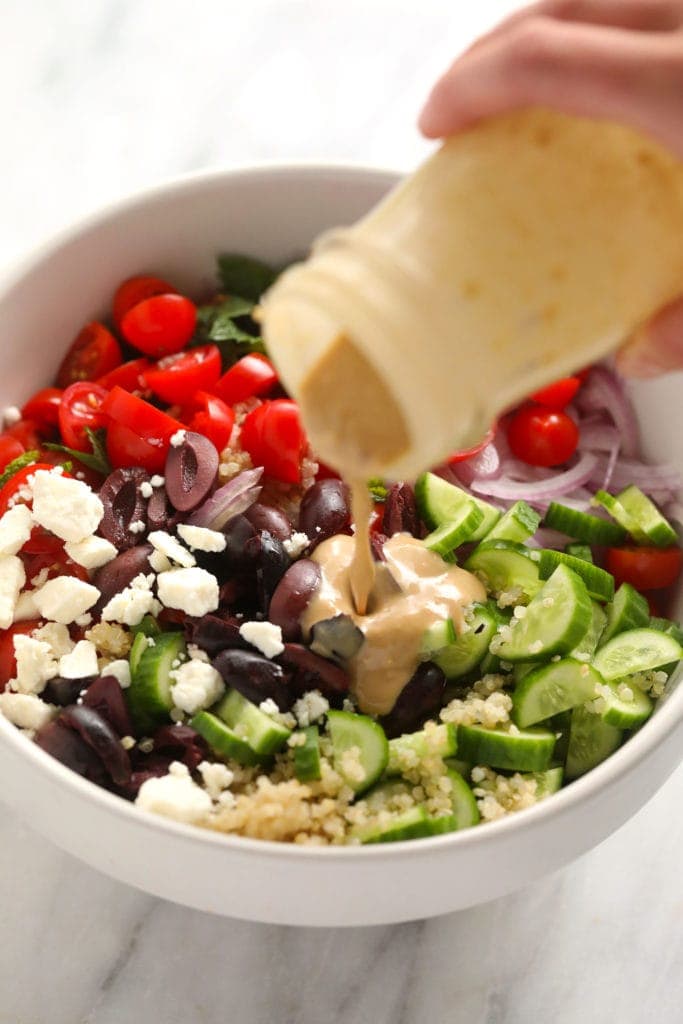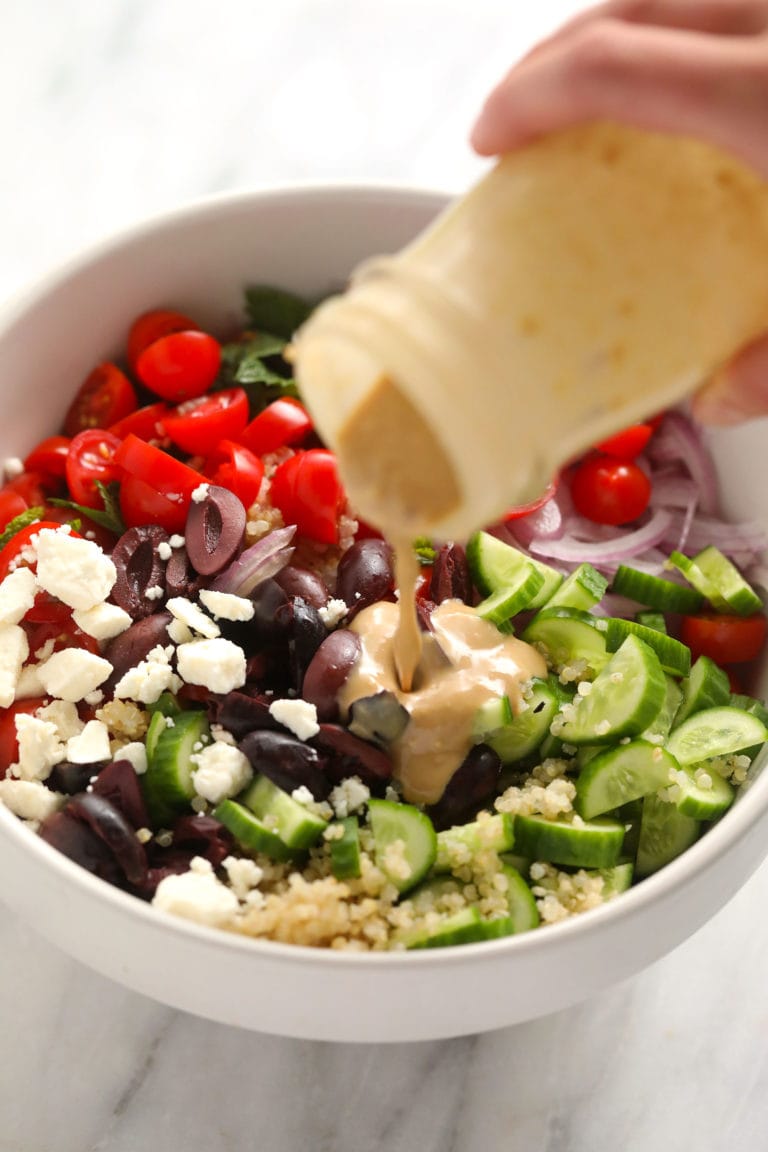 Mediterranean Quinoa Salad
Now that you know how to cook quinoa in a variety of different methods, we wanted to share our favorite quinoa recipe with you.
Quinoa Salad is one of our favorite things to make because they're protein-packed, can be flavored easily, and easy to make. Here's what you need for this Mediterranean-inspired quinoa salad recipe. It's healthy, veggie-packed and made with tons of fresh herbs.
What You Need
Uncooked quinoa – feel free to use any type of quinoa — white quinoa, red quinoa, or tri-color quinoa.
Water – option to also use vegetable or chicken broth.
Garbanzo beans – don't have chickpeas? Use your favorite bean!
Cherry tomatoes – you use any kind of tomato for this recipe.
Red onion – make sure to slice your red onions super thin so you don't get too much in one bite.
English cucumber – normal cucumbers work too!
Kalamata olives – olives add just the right amount of salt to this recipe.
Fresh mint – the addition of mint gives the right amount of freshness in every bite.
Feta cheese crumbles – feel free to use a block of feta and crumble your own cheese! PS: to keep this recipe vegan, omit the cheese.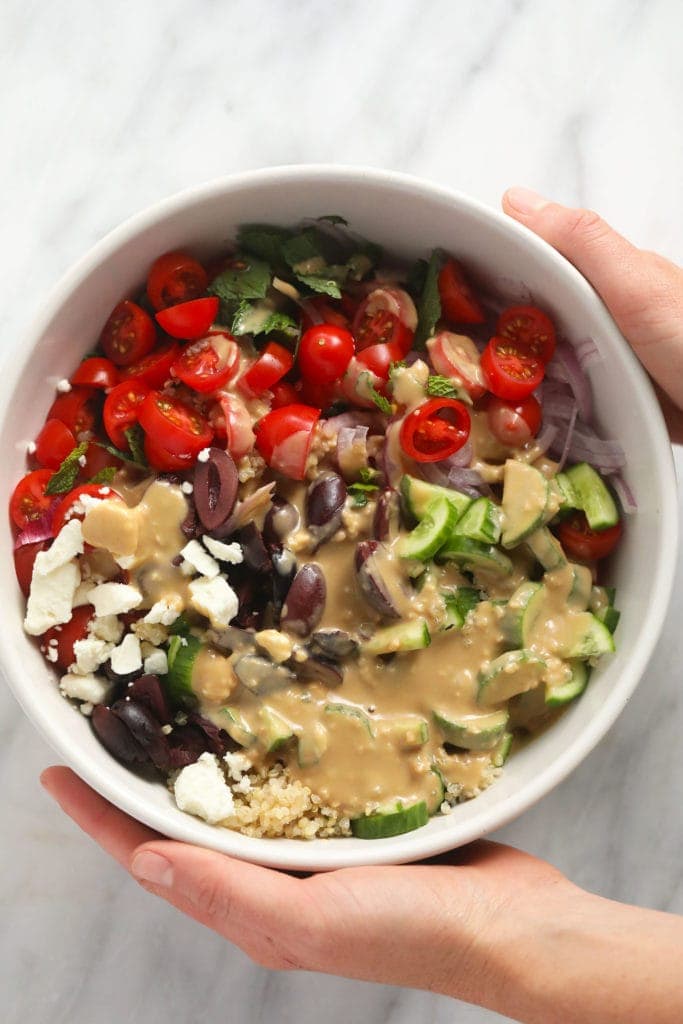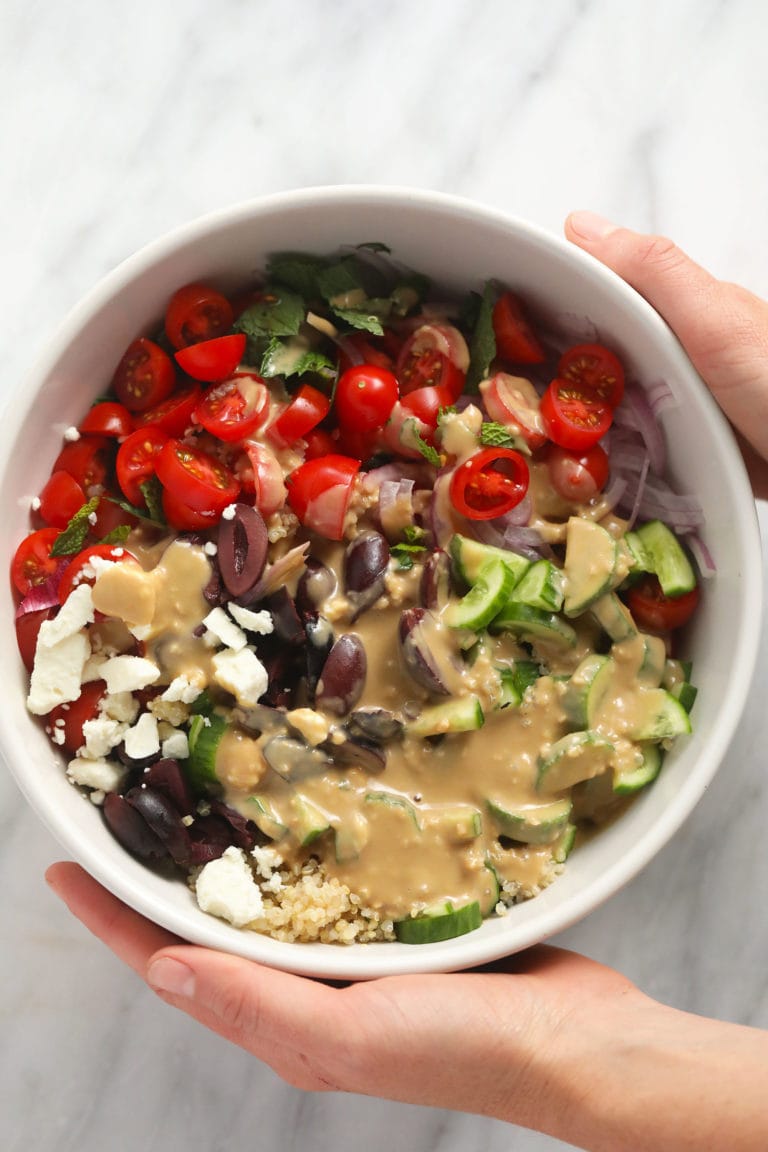 Hummus Dressing
The dressing really makes this salad and the base of it is made with hummus! You really get all the Mediterranean flavors from this dressing and you only need 5 ingredients.
hummus
garlic
balsamic vinegar
lemon juice
kalamata olive juice
Easy Preparation
Once you've cooked your quinoa, sliced your veggies, and made the dressing, all you have to do is mix everything together! It's as easy as pie.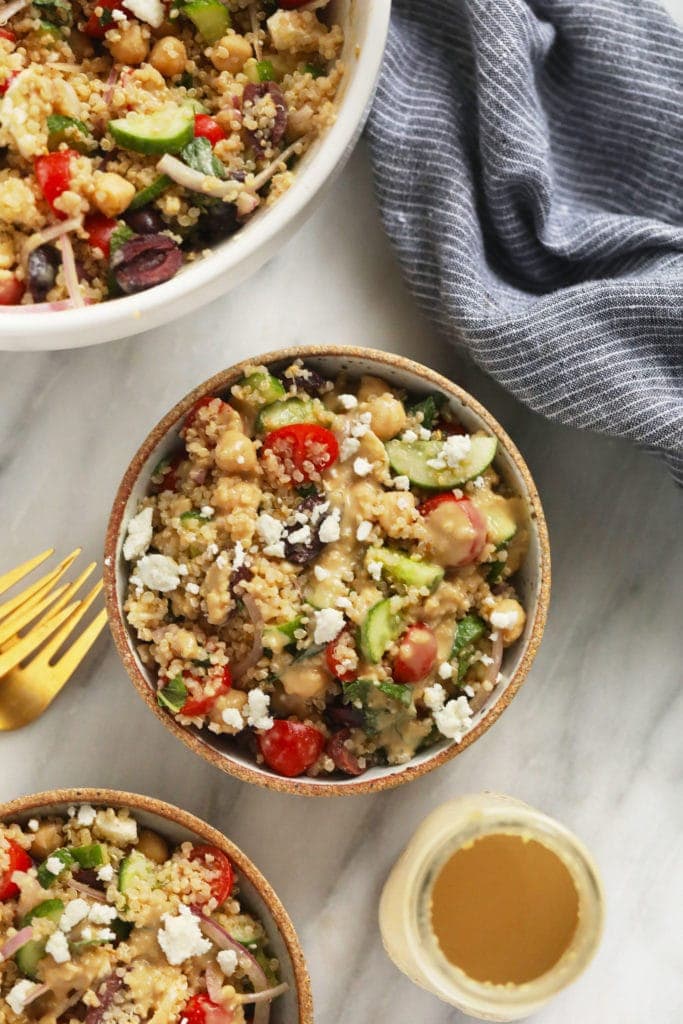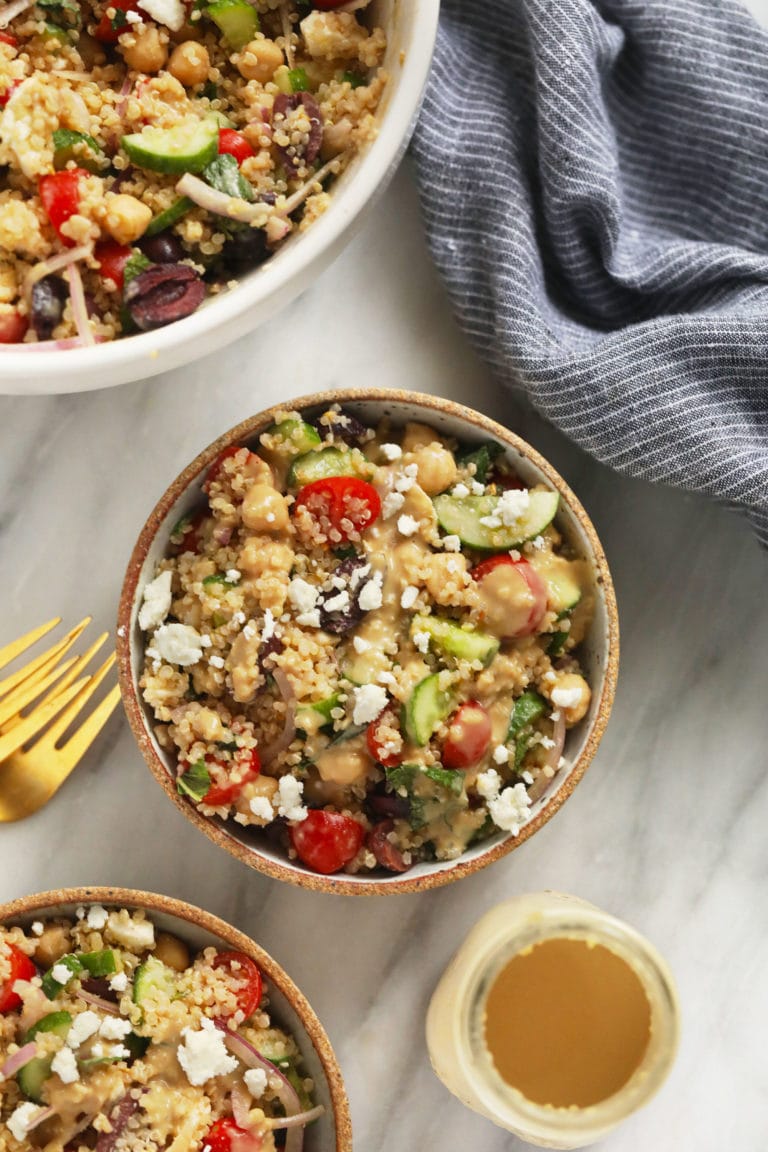 Do you eat this salad cold or hot?
We recommend eating this Mediterranean quinoa salad cold. Make sure to chill your quinoa before mixing it with the rest of the salad ingredients.
Storage
Store quinoa salad in an airtight container in the refrigerator for up to 3-5 days. We suggested portioning your salad out into glass meal-prep containers for an easy grab-and-go option during the week.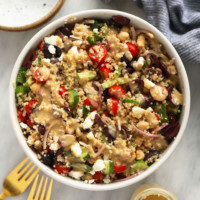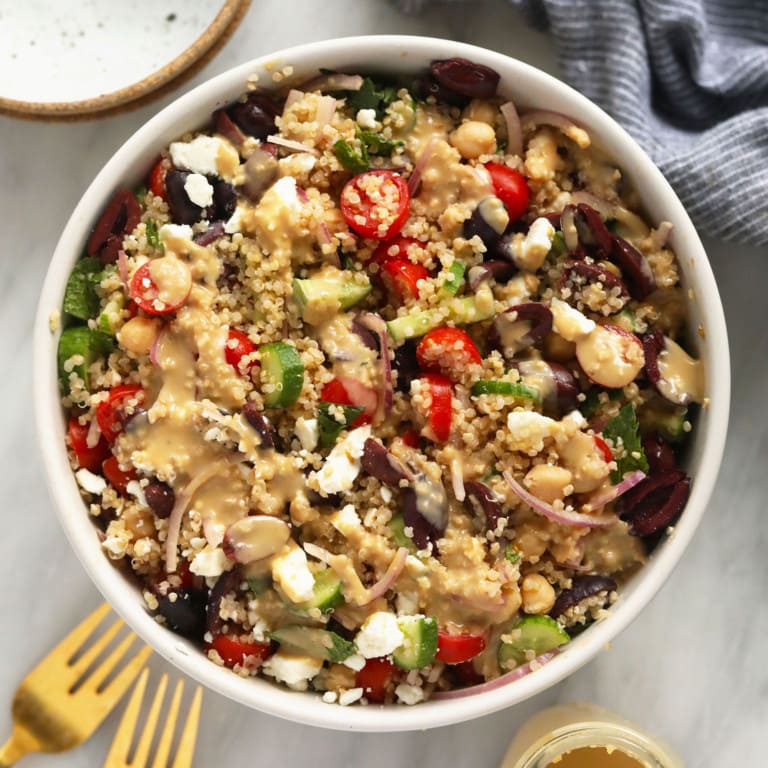 Mediterranean Quinoa Salad Recipe
Looking for quinoa recipes? Look no further than this delicious Mediterranean Quinoa Salad recipe. It's made with white quinoa and all of your favorite Mediterranean veggies plus a homemade hummus dressing!
Ingredients
Quinoa Salad
1

cup

uncooked quinoa

2

cups

water

15

oz.

can garbanzo beans

drained and rinsed

10

oz.

cherry tomatoes

sliced

1

medium red onion

finely sliced

1

cup

chopped English cucumber

halved

3/4

cup

pitted kalamata olives

halved

1/2

cup

chopped fresh mint

4

oz.

feta cheese crumbles
Hummus Dressing
6

tablespoons

hummus

2

teaspoons

minced garlic

2

tablespoon

balsamic

2

tablespoon

lemon juice

1

tablespoon

kalamata olive juice
Instructions
First, prepare quinoa by placing quinoa and water into a medium-sized pot. Bring quinoa to a boil over medium-high heat and then turn the burner down to low, cover, and let simmer for 15 minutes or until water has absorbed. Remove from heat and let cool for 15 minutes before placing in the refrigerator to chill.

Next, prepare the dressing by placing all ingredients into a jar. Place the lid on the jar and shake to combine. Add water to thin the dressing out, if needed.

For the salad, place the chilled quinoa into a large bowl and then add the rest of the salad ingredients. Drizzle on all of the dressing and toss to combine.

Serve chilled.
Tips & Notes
Storage - store quinoa salad in an airtight container in the fridge for 3-5 days.
Nutrition facts
Calories:
461
kcal
Carbohydrates:
49
g
Protein:
16
g
Fat:
23
g
Fiber:
9
g
Sugar:
7
g
BEST Quinoa Recipes
We truly have some of the best quinoa recipes on the internet. We have vegetarian quinoa recipes, vegan quinoa recipes, and then some! So, check out our best quinoa dishes below!
Quinoa Salads
This is the most delicious Strawberry Quinoa Salad made with massaged kale, fresh strawberries, quinoa, cucumber, feta cheese, and a delicious creamy balsamic dressing.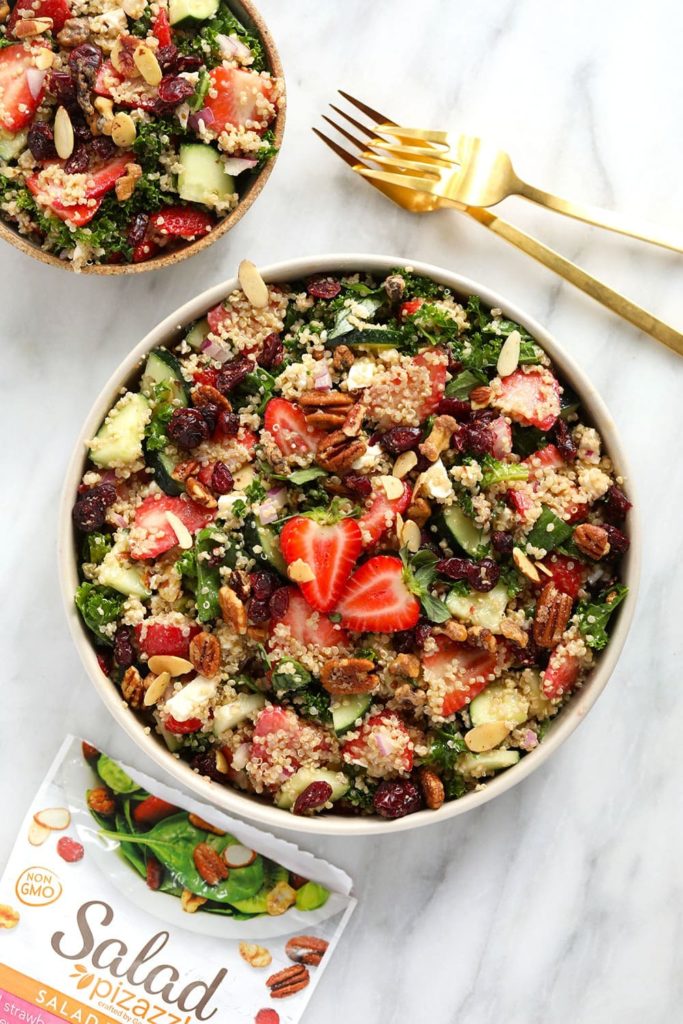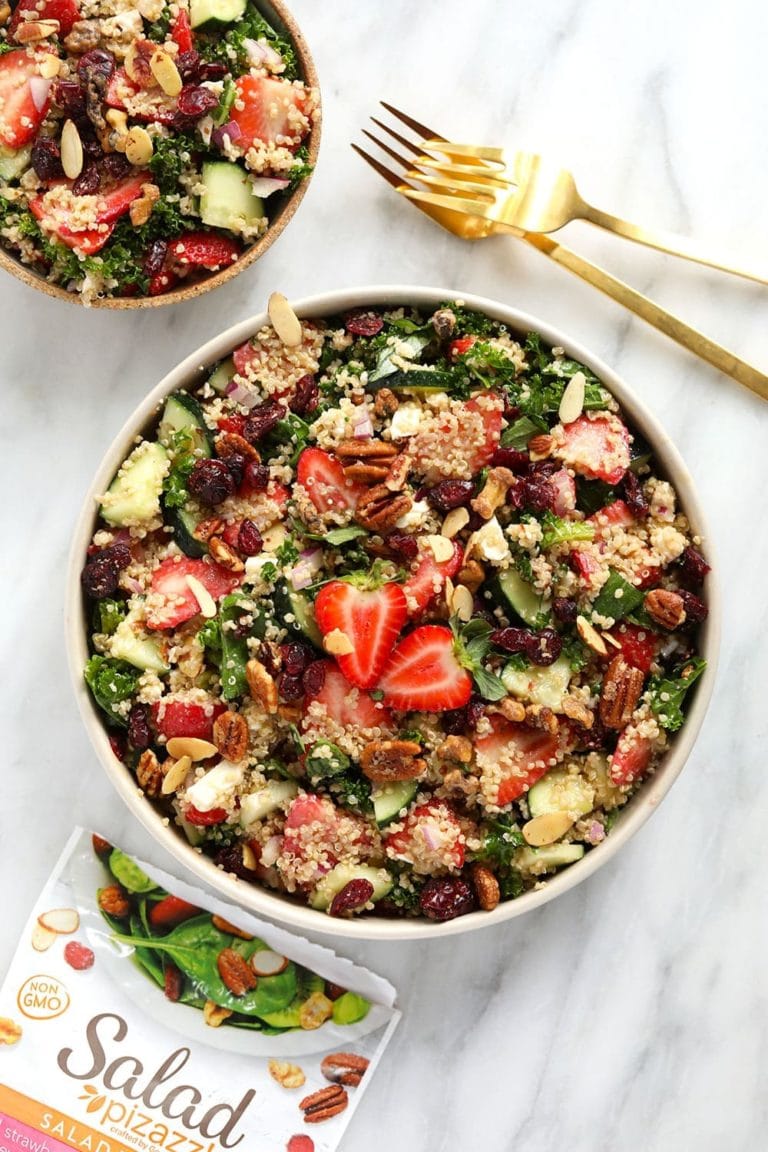 Make this light and refreshing Mexican quinoa salad recipe with ingredients you probably already have on hand! This flavorful Mexican salad is vegan and gluten-free and the perfect vegetarian meal to add to your rotation.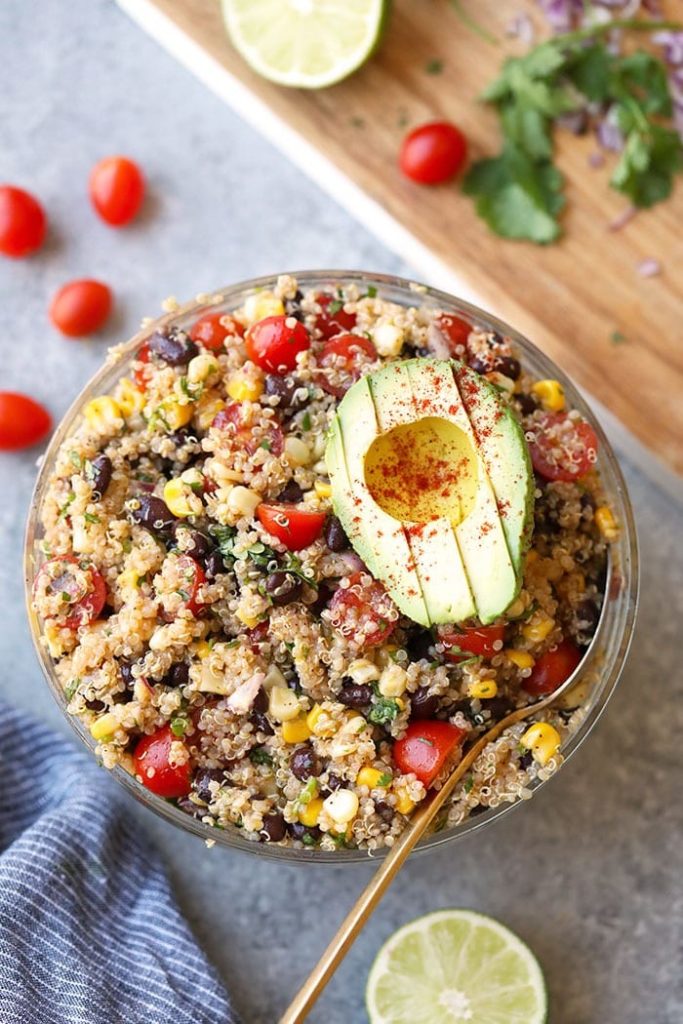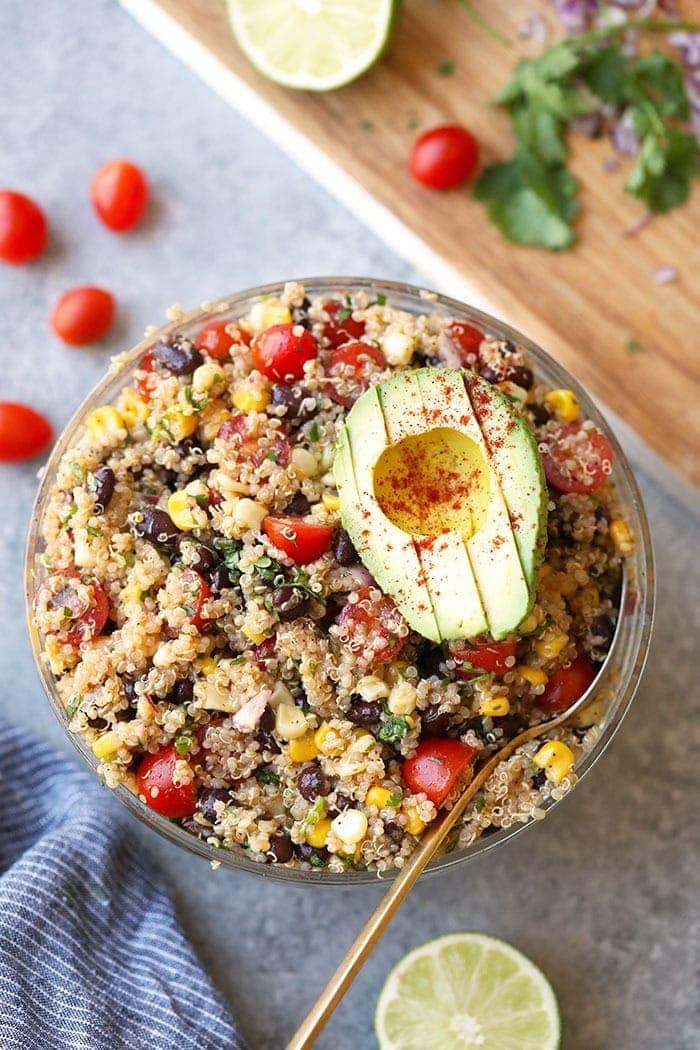 More Quinoa Salads
Quinoa Casseroles
Make this Cashew Chicken Quinoa Bake for a high-protein, one-dish meal that the whole family will love! Meal prep at its finest.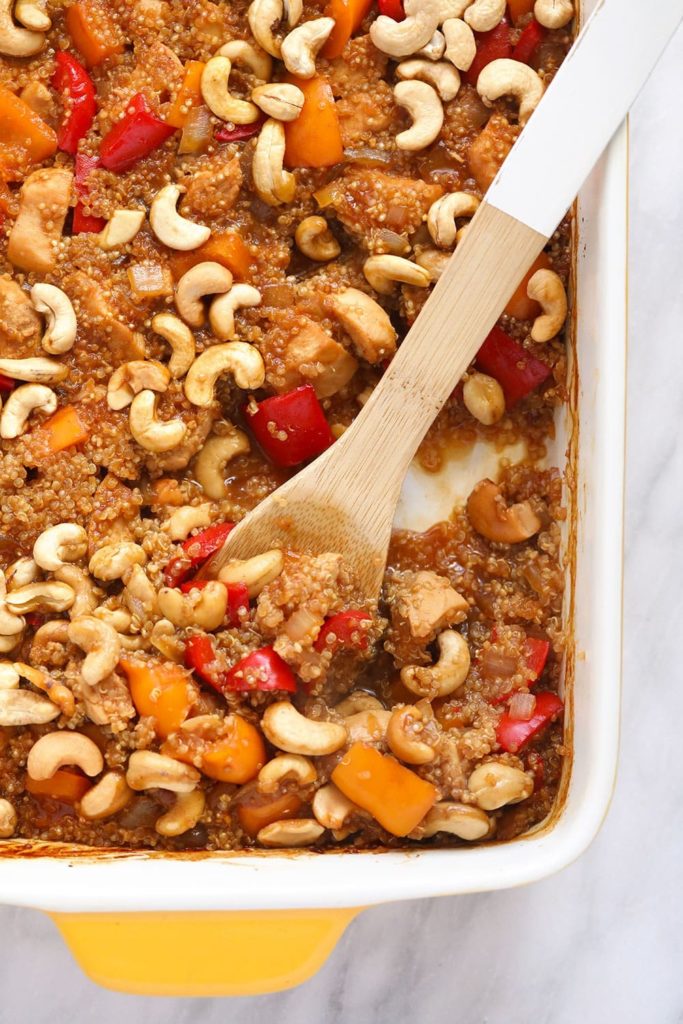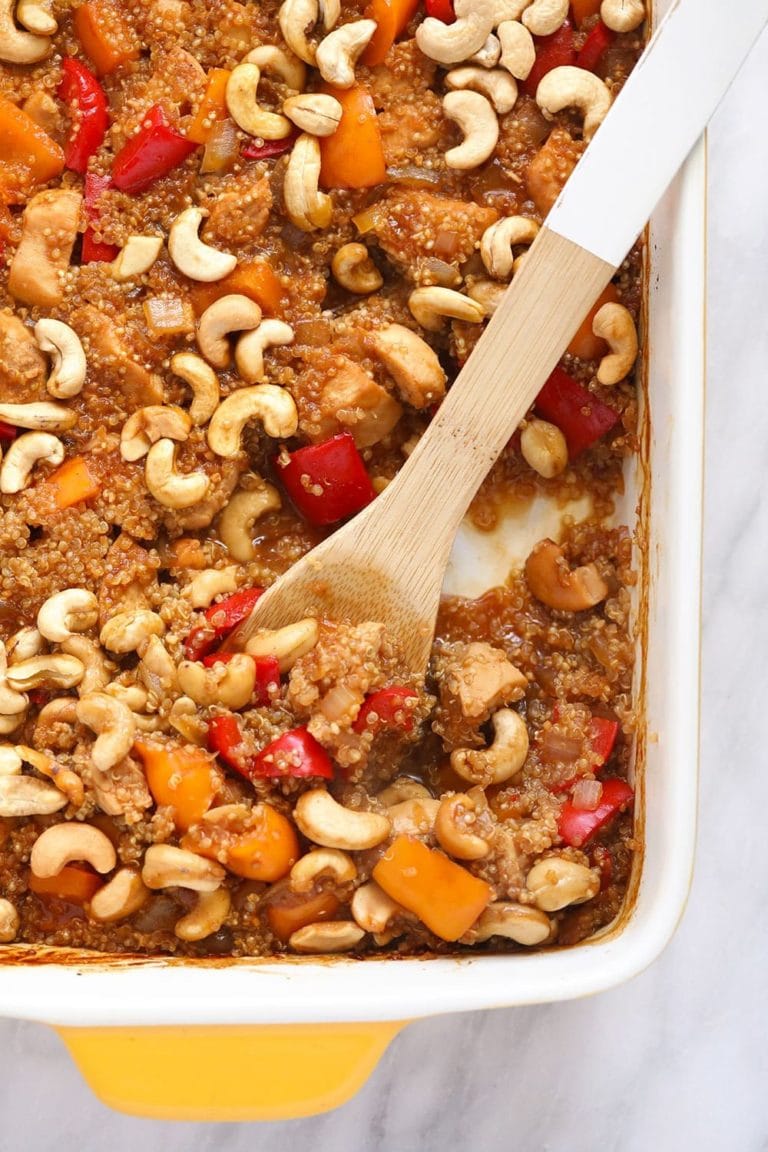 Whip up this healthy vegan Mexican quinoa and sweet potato casserole for the best meal prep recipe that can feed an army! It is made up of pantry staples, root vegetables, and all of our favorite ingredients!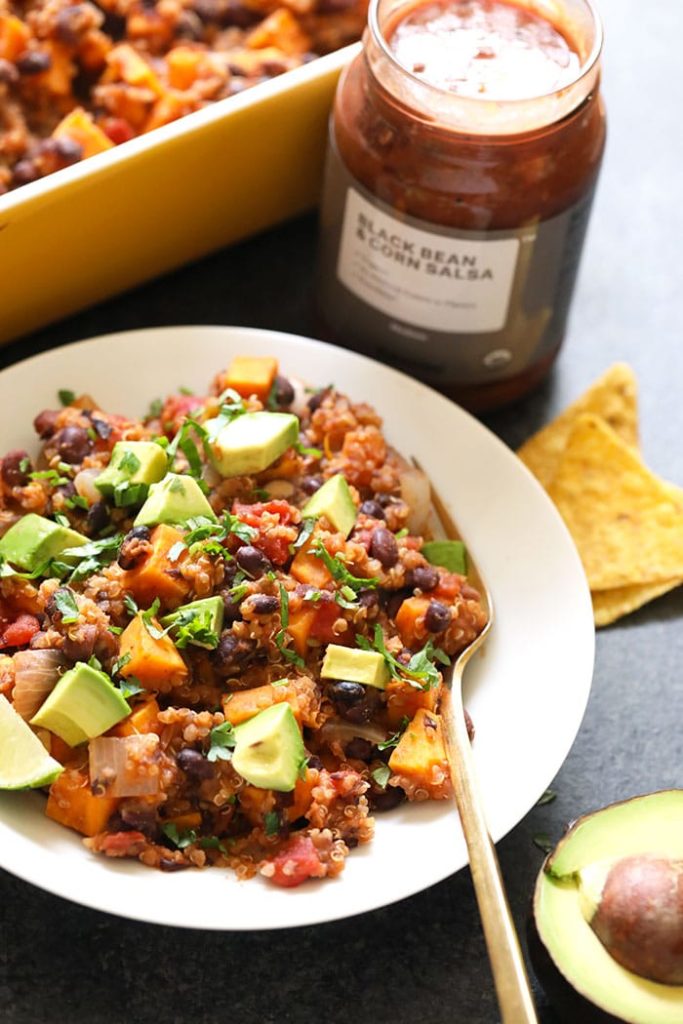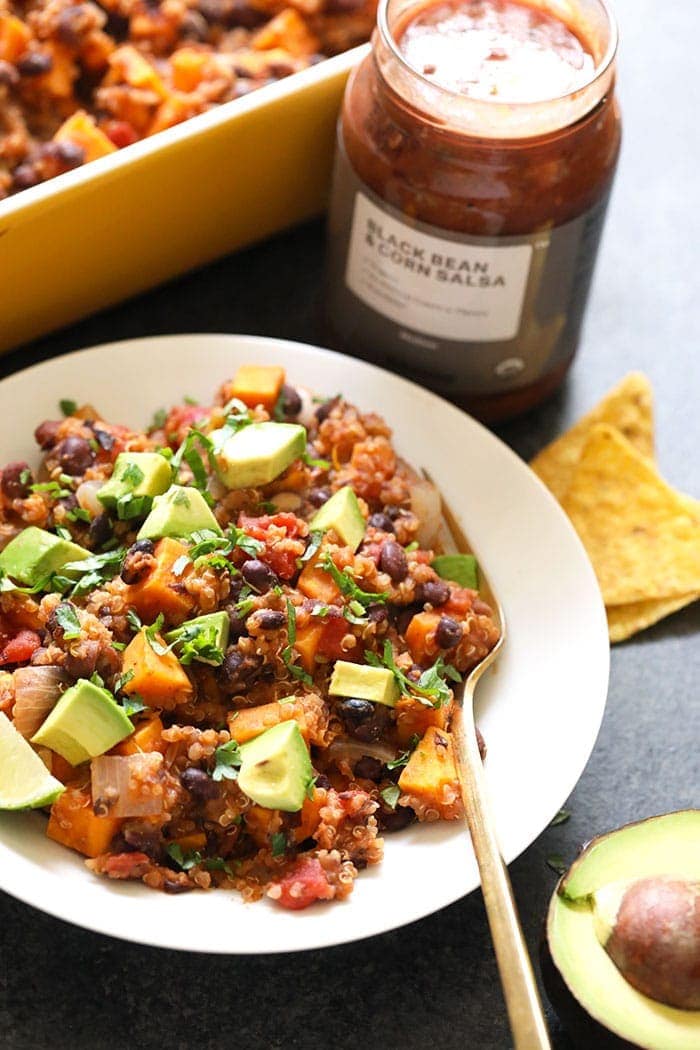 More Quinoa Casseroles
Other Recipes with quinoa
The healthy chicken soup that will make you feel better in an instant. Meet our amazing Chicken Quinoa Soup that's naturally gluten-free, protein-packed, and flavor-filled.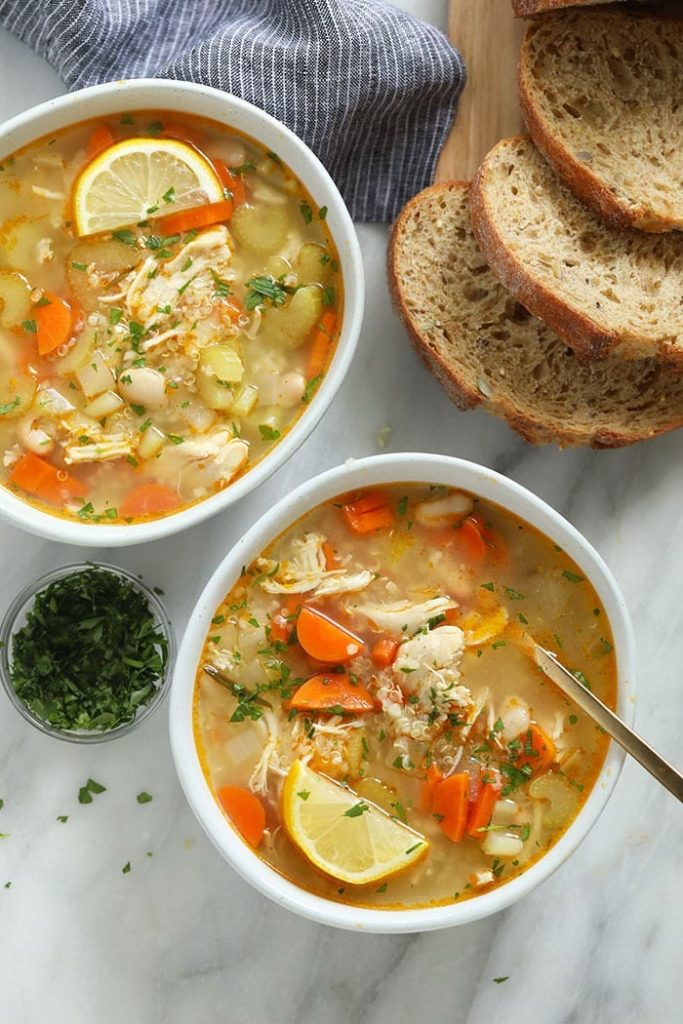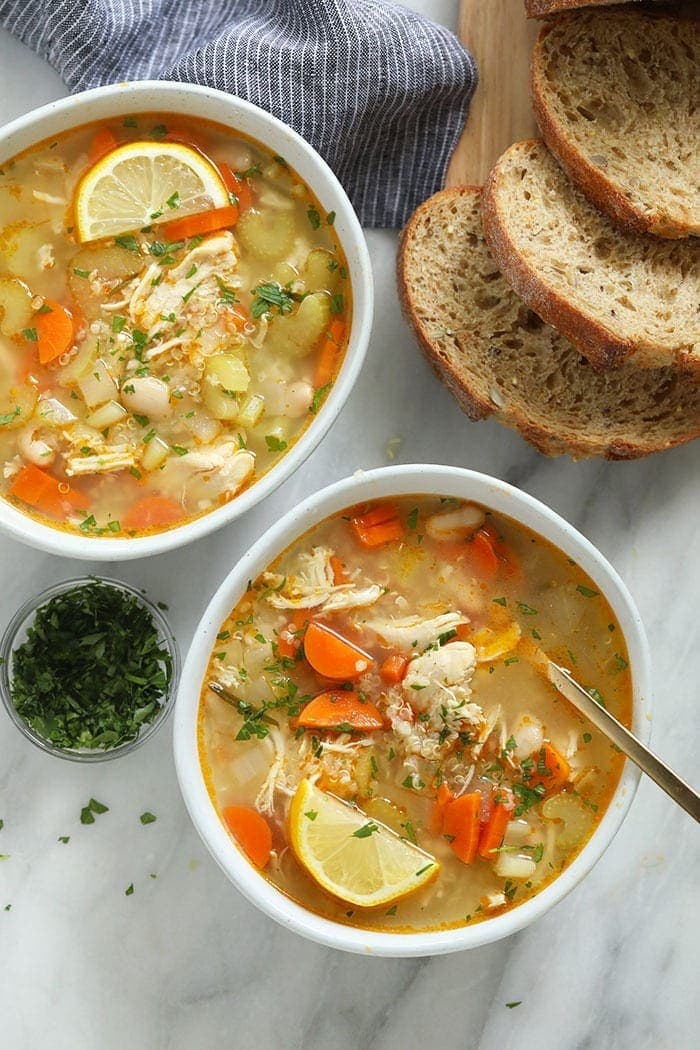 A Thai Coconut Quinoa Bowl recipe that's a vegetarian's delight! They're made with roasted veggies, a delicious slaw, homemade coconut quinoa, and a yummy peanut sauce.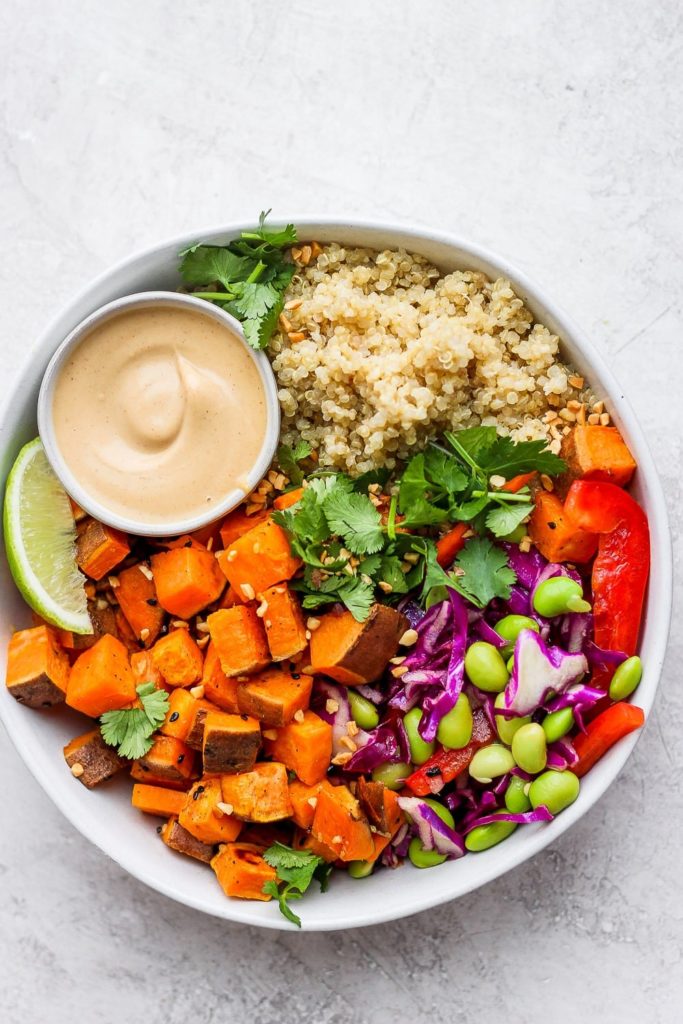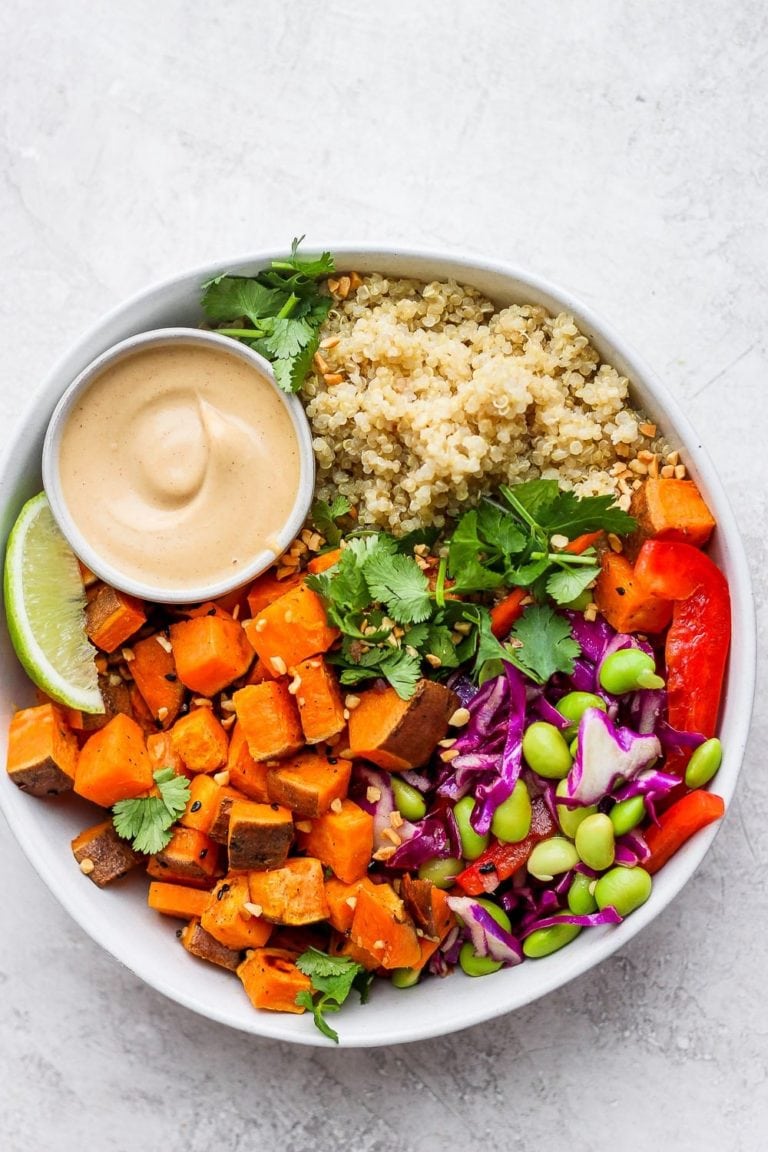 More Healthy Quinoa Recipes