Try this lightened spinach quinoa lasagna casserole for a no-hassle, protein-packed dinner that's sans gluten and filled with so much flavor!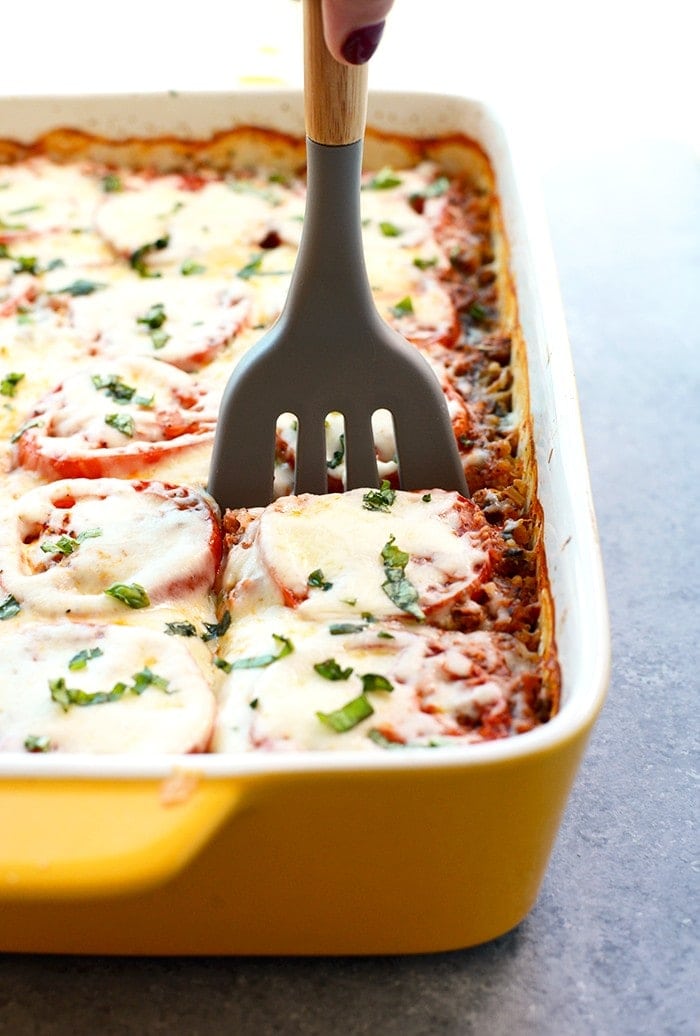 Can we talk about stress for a minute?
Holy man am I feeling it right now. I'm feeling it in my work, in my skin, in my sleep, in my eating…basically in every single crumb of my life. This kind of stress is a bizarre feeling where I have so much going on in my brain that I just can't keep all my thoughts in a straight line. I've already made a bunch of lists – its the first thing I do when I'm feeling stressed. The second thing I usually do is nap. I try and nap it off to see if it will calm me down, but I just haven't had the time. You see, I think that is part of the problem. I'm not carving out enough time to do non stressful things like nap and get my toes done (which actually really does help!). I'm hoping that my weekend away in Milwaukee with Man Candy will bring me down a few notches. I put way too much pressure on myself to do too much at once and when I am with him it all sort of just goes away…until I land back in Minneapolis on Monday, then it starts all over again 😛
So…cheers to the almost freakin' weekend, frands! First- let's talk casserole —> Naked Spinach Quinoa Lasagna Casserole.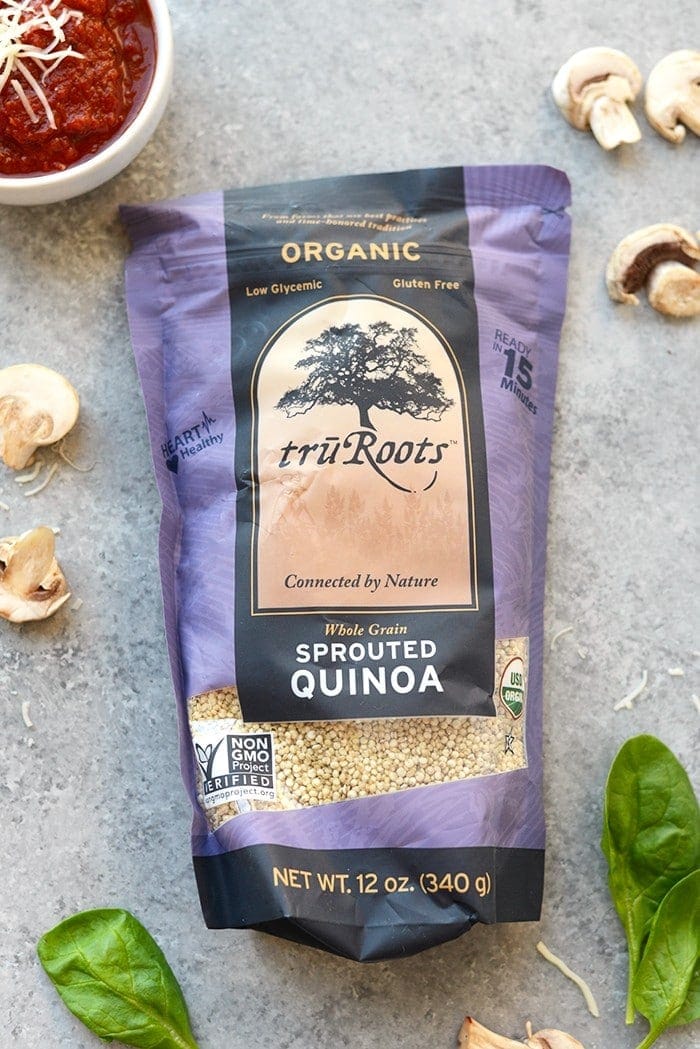 Why the word naked, you ask? Whelp- we didn't use any lasagna noodles however we did use all other classic lasagna ingredients such as marinara, ricotta, and mozzarella….hence naked! We subbed the noodles for quinoa for a gluten free better-for-you grain…er seed. I can't say enough good things about truRoots' quinoa. Once you go sprouted you will never go back…just saying. I truly feel like sprouted quinoa cooks and tastes better.
The sauce in this casserole rocks. We lightened up the cheese portion by using part 1% cottage cheese. I went for the full-fat ricotta because the nonfat kind tastes really bad…and that just isn't the point. My personal opinion. If you don't mind nonfat ricotta…go for it!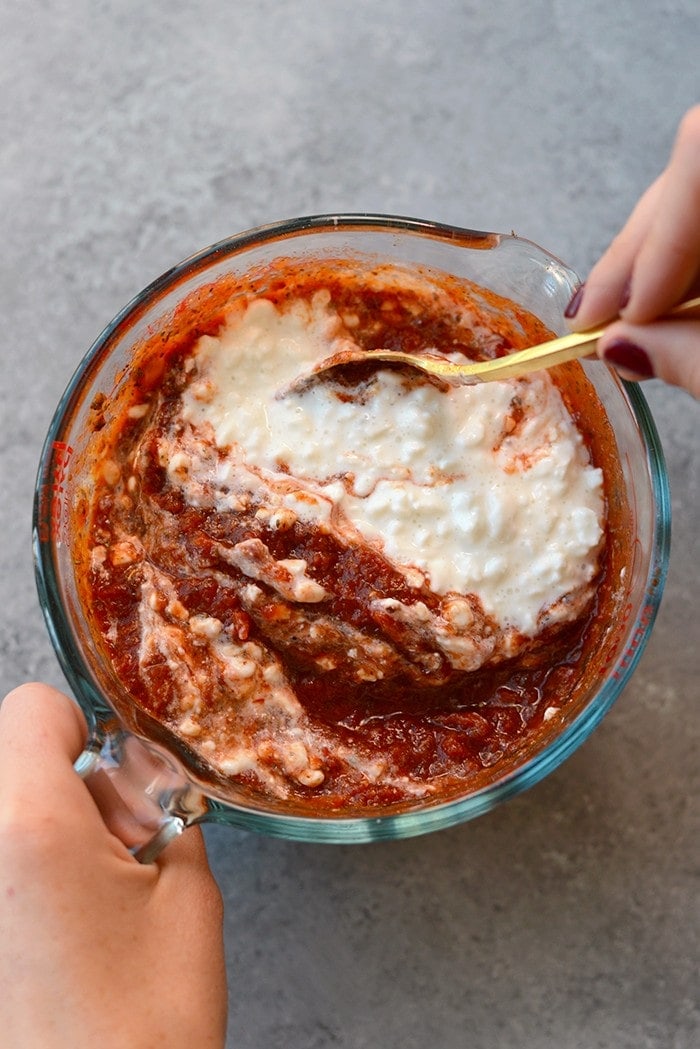 One reason why I love using quinoa in casseroles is because there's no precooking involved. Ain't nobody got time to precook quinoa for a casserole…I don't, anyways.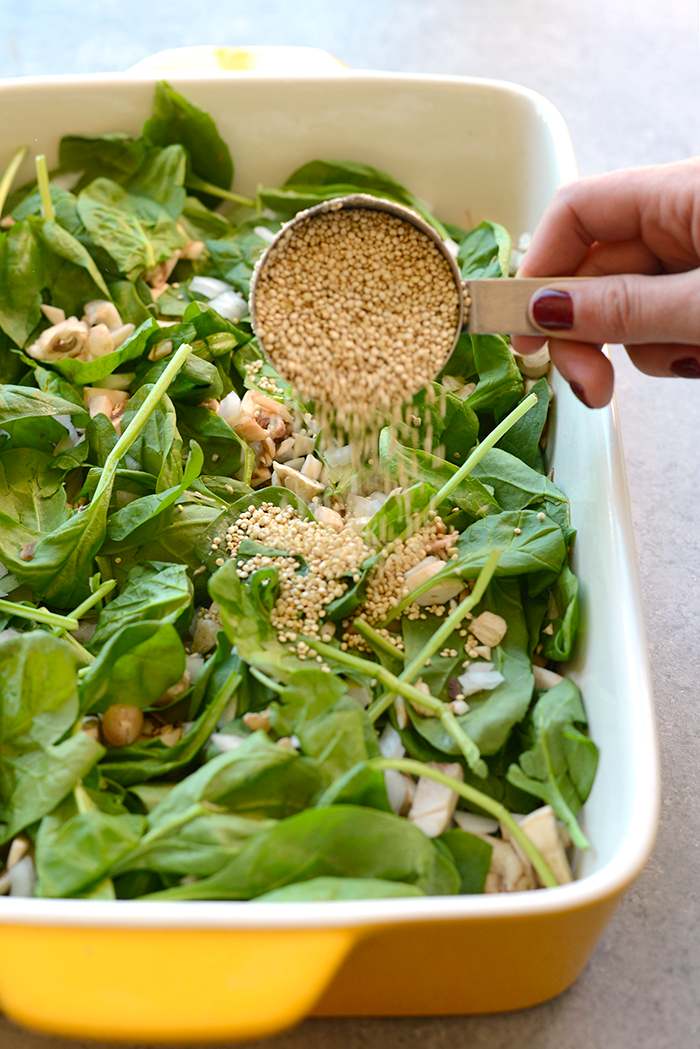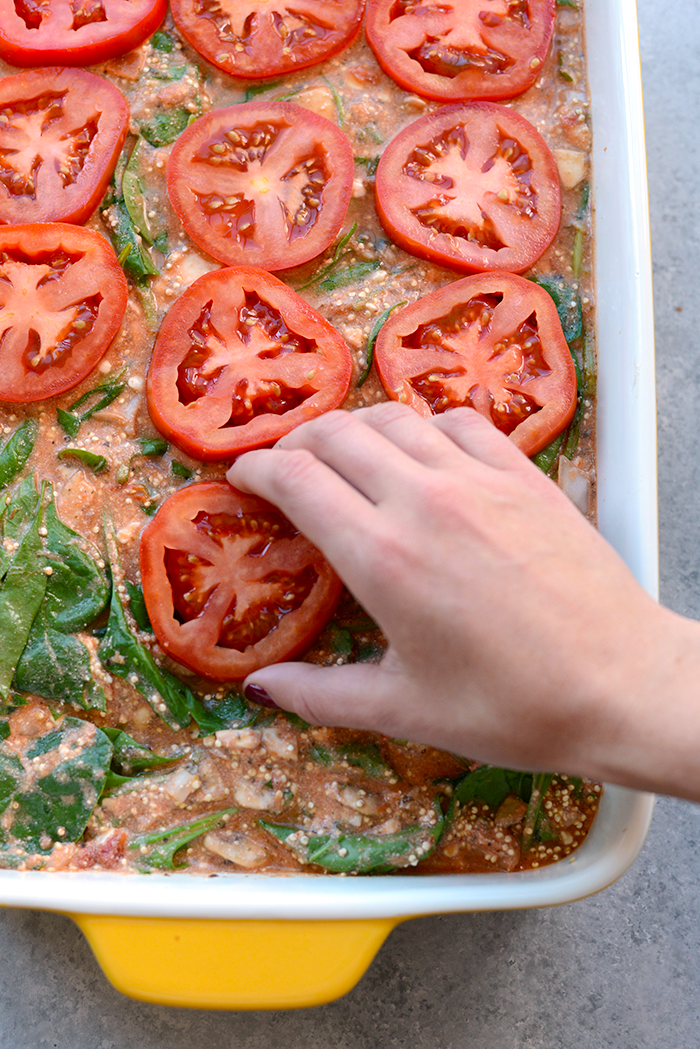 We decided that this casserole serves about 6 HUNGRY people. That's what we did the nutrition information breakdown for, anyways.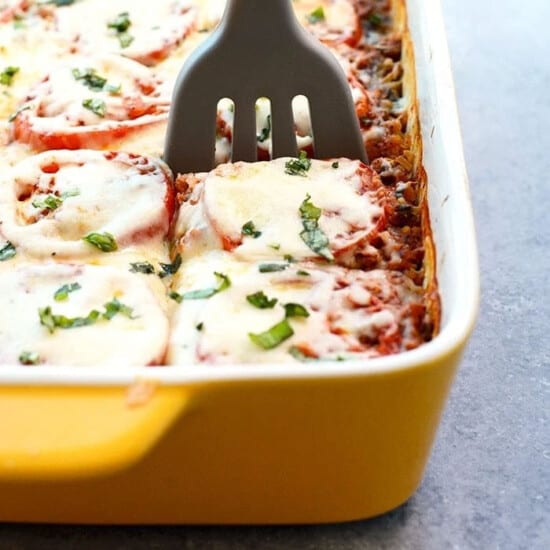 Spinach Lasagna Quinoa Casserole
No noodles no problem! Make this vegetarian spianch lasagna quinoa casserole for a veggie and protein-packed meal.
Ingredients
For the Top
4

medium tomatoes

sliced

1.5

cups

shredded mozzarella
Instructions
Preheat oven to 375ºF and spray your casserole dish with coconut oil cooking spray (be generous!).

Next, prep veggies by chopping the mushrooms and finely dicing the onions. Place the veggies (including the spinach) into the greased casserole dish.

Next, add truRoots Whole Grain Sprouted Quinoa into the casserole dish. Set aside.

In a medium size bowl, mix together all ingredients for the marinara mixture.

Add the marinara mixture to the casserole dish. Use a large spoon to mix all ingredients together, making sure everything is (mostly) covered.

Cover with tin foil and bake for 30 minutes. Then, remove and stir. It will still be a little soupy, but don't worry this is how it's supposed to be! Place back in oven for 30 minutes, covered.

Remove, add sliced tomatoes and mozzarella to the top and place it back in the oven for 2 minutes.

Remove and let cool for 10 minutes before serving. Serve with fresh basil and a glass of red wine for best results 🙂
Nutrition facts
Calories:
401
kcal
Carbohydrates:
45
g
Protein:
22
g
Fat:
15
g
Fiber:
6
g
Sugar:
10
g

STORAGE
Refrigerator: Store in an air tight container, such as a glass pyrex
, for  up to 5 days in the refrigerator.
Freezer: If you plan to freeze, we suggest baking this in a disposable/aluminum casserole dish
. Place a piece of plastic wrap on top of cooked, cooled casserole and press out all of the air. Then, wrap the entire casserole in tin foil and place in the freezer. Write the name and date of casserole on the tin foil. To reheat, take the frozen casserole out of the freezer and let thaw in the fridge over night. Either reheat single servings of the casserole in the microwave, or reheat the entire thing in the oven.
PRODUCT FINDER
Looking for a specific truRoots product? Use their product finder feature on truRoots.com!
Casserole Week 2016 is in partnership with truRoots. I was compensated and all opinions are my own. Thank you so much for supporting Fit Foodie Finds and making this website (and my job!) possible! Don't forget to check out day 1, day 2, day 3, and day 4.