This protein packed meal is made with all your favorite meat lovers pizza flavors and has a quinoa base for the most delicious and healthy casserole ever!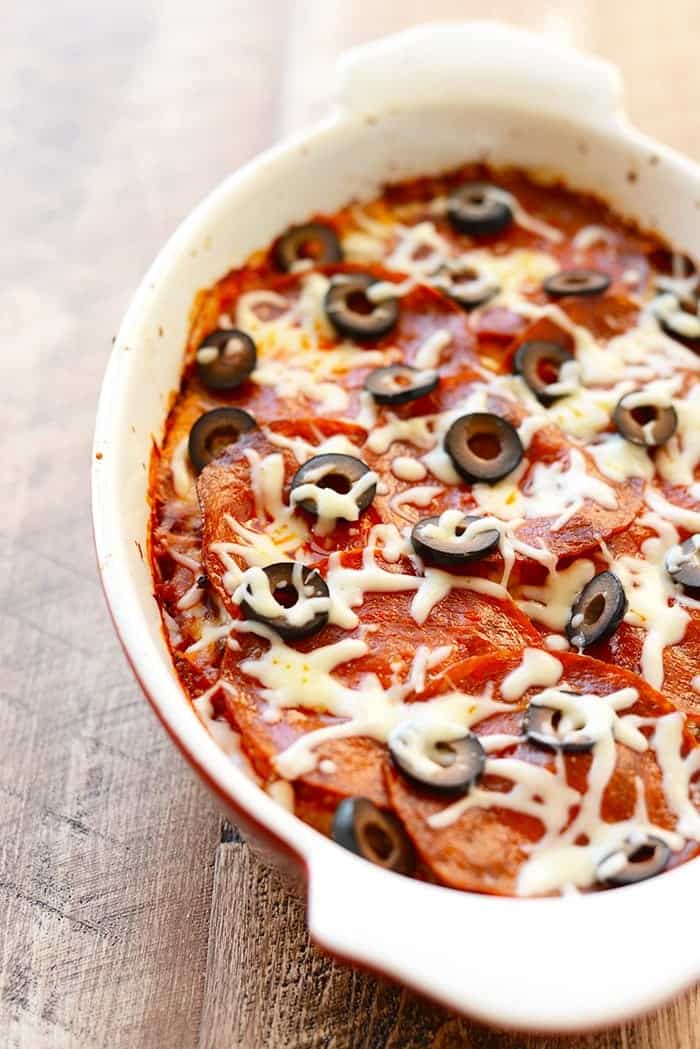 Did you know that I LOVE Mondays? I love starting the week fresh with a blank slate in front of me! Lately I've been really focusing on planning out my week hour by hour. I know that probably sounds like a normal thing to do, but when you do what I do it's really easy to lose track of time, put things off, and procrastinate. Like this post for example. I'm usually at least a week ahead of the game when it comes to scheduling out FFF posts, but it's Sunday morning and I'm just writing this now! #oopsididitagain
Speaking of being ahead of the game. I just did some major planning for holiday and am superrrrrr excited for a few things that Davida and I have planned. Blogging is so much more fun when you can partner with your Canadian bestie.
So I made this recipe 2 weeks ago and I've been dreaming about it ever since. I wanted to create a quinoa casserole that epitomized a pizza. Whenever I get pizza I go for the meat lovers because…I'm a meat lover? I also wanted to keep things gluten-free for my gfree friends! Sometimes it's hard for gluten intolerant people to enjoy a good slice of pizza. Well- I've got you covered, frands!
MEATTTTTT.
QUINOAAAA.
CHEESEEEE.
Speaking of quinoa. I used my all time favorite product in the Ancient Harvest line up – Traditional White Quinoa. It's readily available at most supermarkets, a gluten free free, and a complete protein. Insert dancing girls emoji here.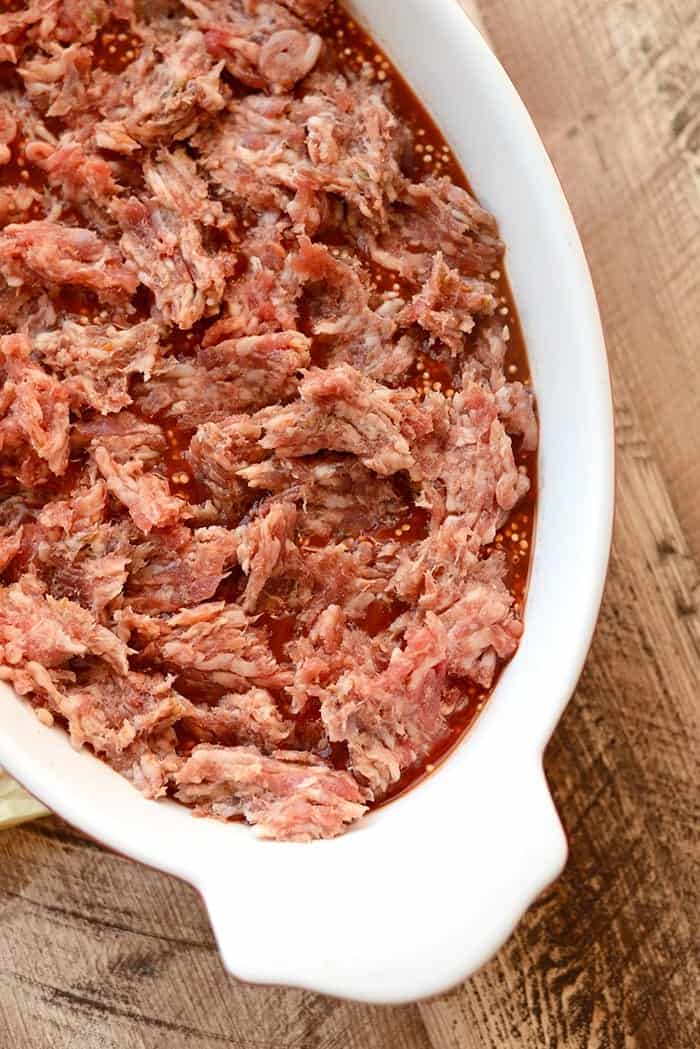 Really, this is the EASIEST dinner you will ever make. You throw everything into a casserole dish, UNCOOKED (meat and quinoa included) and then you bake it. Folks- that is the beauty of making QUINOA casseroles. There's no precooking of the quinoa involved. Straight into the casserole dish it goes, uncooked.
Add some cheese and a few diced olives and call it a day.
PS: I hate olives. I just wanted to share that I purely added olives for the contrast in the photos. Linley told me they tasted great in this recipe, so at least I have her word. If it sucks- blame her 😛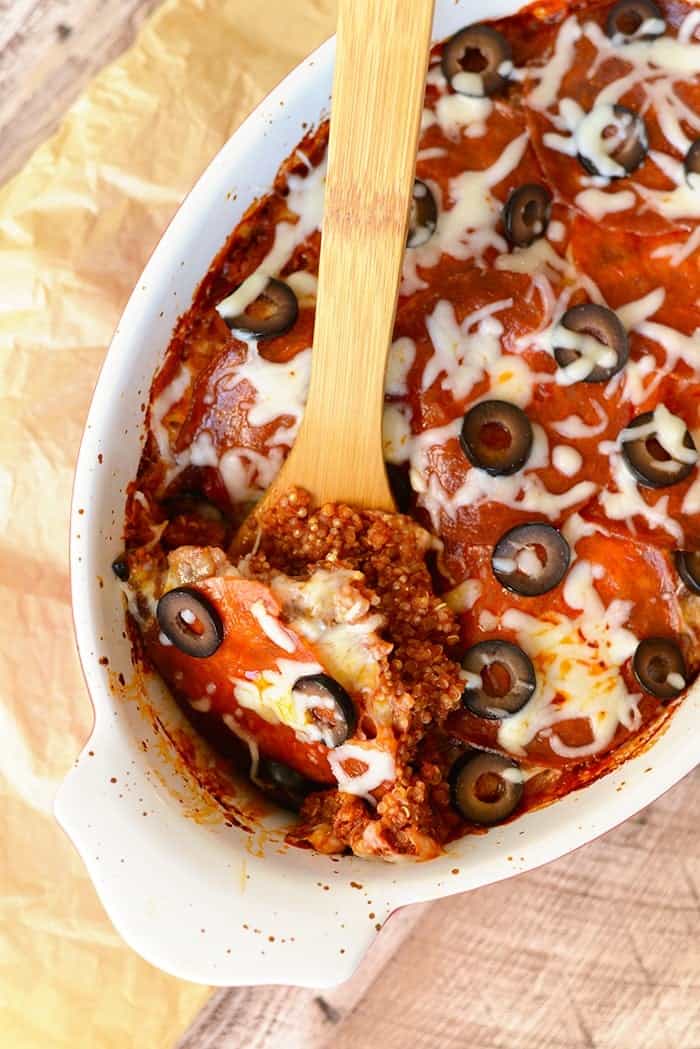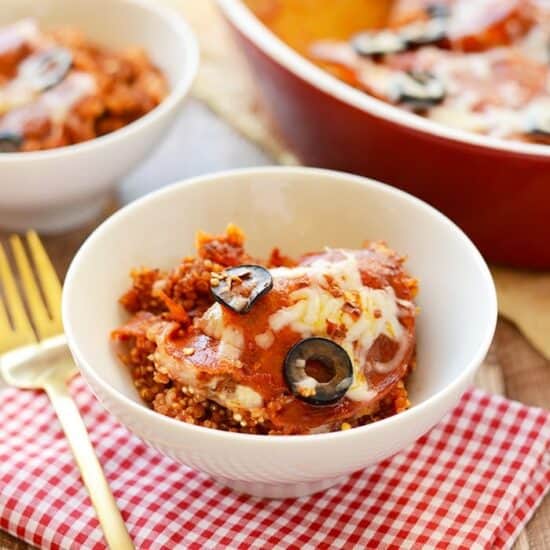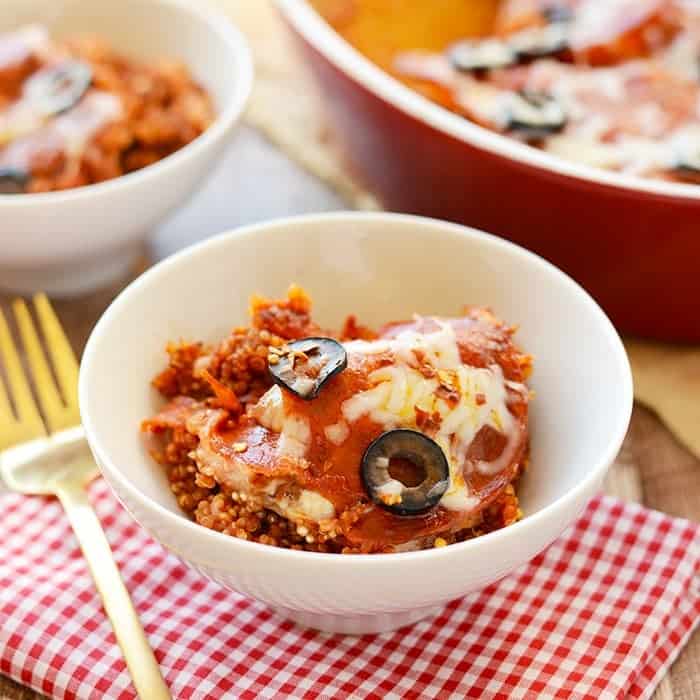 Meat Lovers Pizza Quinoa Bake
This protein packed meal is made with all your favorite meat lovers pizza flavors and has a quinoa base for the most delicious and healthy casserole ever! 
Prep:
10 minutes
Cook:
60 minutes
Total:
1 hour 10 minutes
Fat
29
Carbs
40
Protein
25
Ingredients
1 cup

quinoa, uncooked

1 cup

water

1.5 cups

pizza sauce (1

15 oz

. can)

1/2

pound pork sausage, uncooked

9

pepperonis, large

1 cup

mozzarella cheese

1/3 cup

black olives, diced
Instructions
Preheat oven to 375ºF and spray a casserole dish with nonstick cooking spray.
Place quinoa, water, and pizza sauce in the casserole dish and mix. Then, break off bite-sized pieces of pork sausage and spread all over the top of the casserole.
Bake for 45 minutes, then remove from oven.
Sprinkle on cheese cheese, pepperoni slices, and olives.
Place back in oven and bake for an additional 15 minutes.
Nutrition Facts
Serving Size:
1/4
Calories:
519
Sugar:
5
Sodium:
1394
Fat:
29
Carbohydrates:
40
Fiber:
4
Protein:
25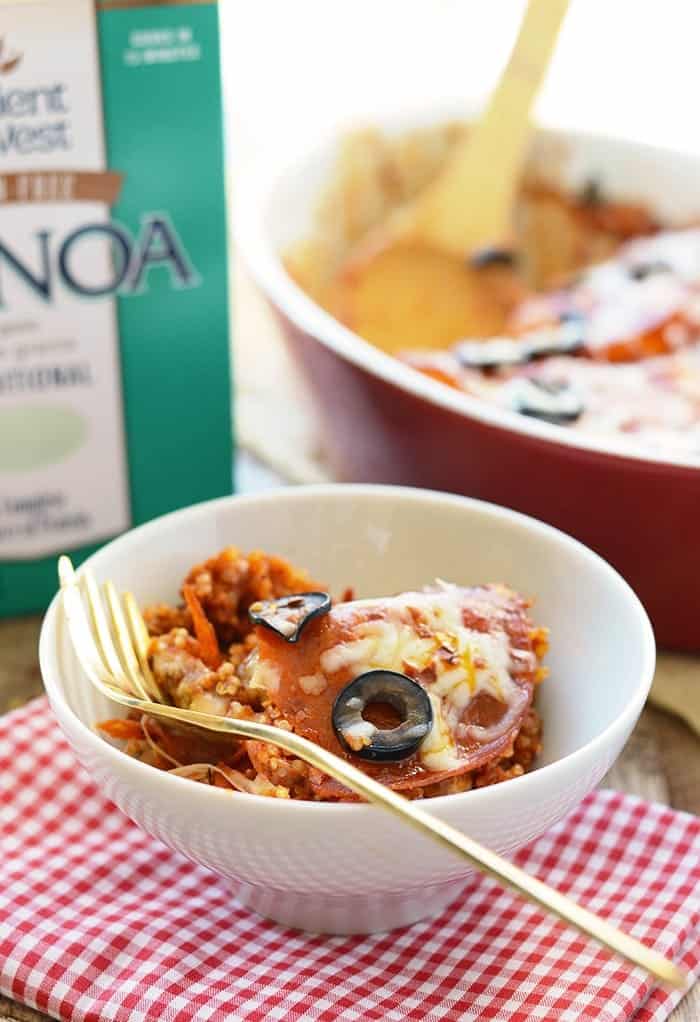 Love quinoa casseroles? Check out some of FFF's most popular!
This post is sponsored by Ancient Harvest Quinoa. I was compensated and all opinions are my own. Thank you for supporting Fit Foodie Finds!