This Tuscan Chicken Quinoa Bake is packed with Italian flavors, kid-friendly, and has  a whopping 27g protein per serving!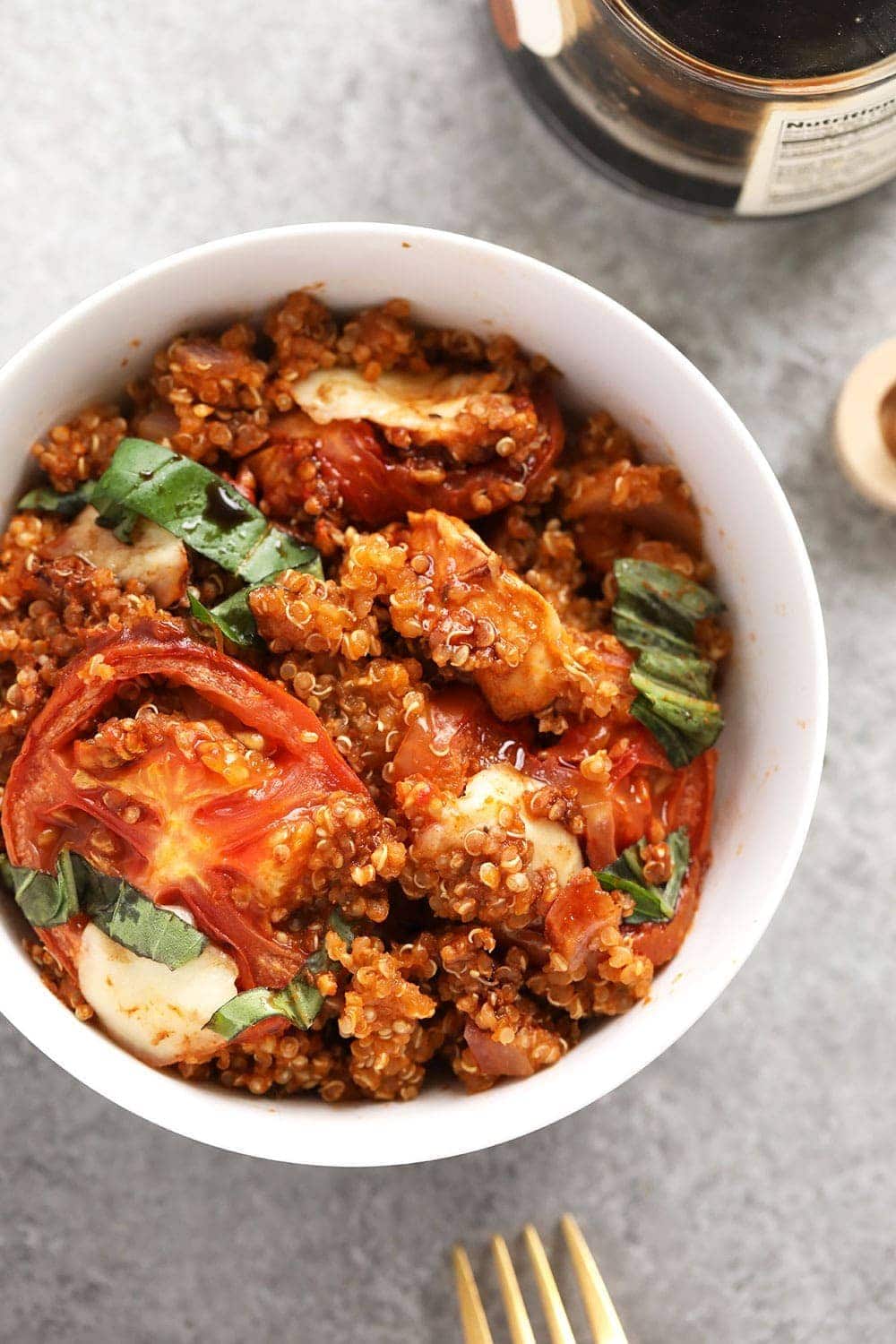 We are BIG fans of quinoa casseroles! We love that they are easy meals to make but are still flavor-packed and healthy. Healthy quinoa casseroles are protein packed whether they have meat in them or not.
After you add this Tuscan chicken quinoa casserole to the menu, add this healthy cashew chicken casserole and this quinoa broccoli and cheese casserole to the list, too!
What's So Great About this Casserole
Guess what we use as the liquid in this casserole- TOMATO SOUP! That's right, using a box or a can of your favorite tomato soup adds so much flavor to this casserole!
Sure, you can still use tomato sauce and spices to add flavor if you don't have tomato soup, but using tomato soup will seriously add the best flavor ever! The best part is that you can get creative and use regular tomato soup or tomato soup with fun flavors, too!
You can use whatever your favorite tomato soup you prefer, but here are some of our favorites!
Don't Forget to Do THESE Things
When it comes to quinoa casseroles there are a couple steps that are very important to ensure your casserole cooks correctly and isn't a complete mess after it bakes.
Make sure that the chicken is cut into small and equally sized pieces. You want the chicken to be the same size so that all the pieces have the same cook time.
You also want to make sure that the chicken and quinoa are covered by liquid (see below).
Spray your casserole dish with non-stick cooking spray before adding all of the ingredients to the dish. It will help keep the casserole dish from browning.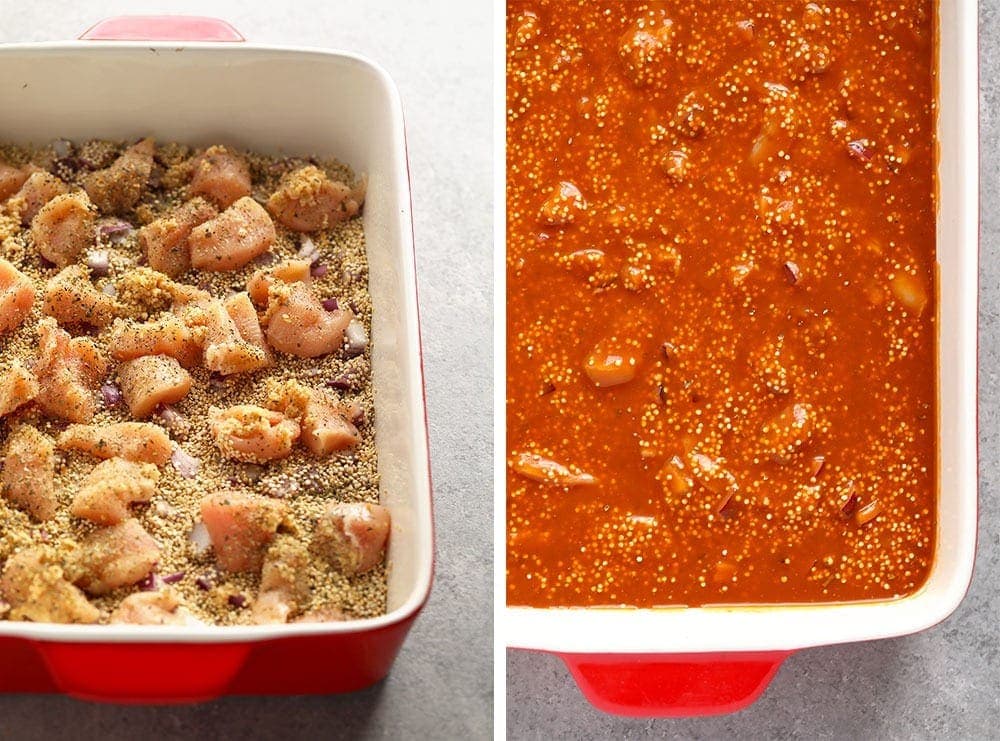 A Few More Things..
Whole + Healthy Ingredients
This tuscan chicken quinoa casserole is made with classic Italian ingredients with a healthy twist! Here are the ingredients you'll need and some substitution options if you are running low on a few things!
Quinoa
Tomato Soup (sub marinara sauce)
Red Onion (sub white or yellow onion)
Chicken Breast
Italian Seasoning (sub dried basil, dried oregano, and dried parsley)
Garlic Power (sub with fresh garlic or onion powder)
Salt + Pepper
Water (sub with broth for more flavor)
Fresh Tomatoes
Mozzarella Balls (sub shredded mozzarella)
Meal Prep + Freeze
We love using this casserole as a meal prep meal! It is super easy to prep for the week because it is easy to reheat and top with more delicious cheese!
If you want to freeze this casserole, wait to add the cheese and fresh basil until after the casserole is thawed and ready to bake!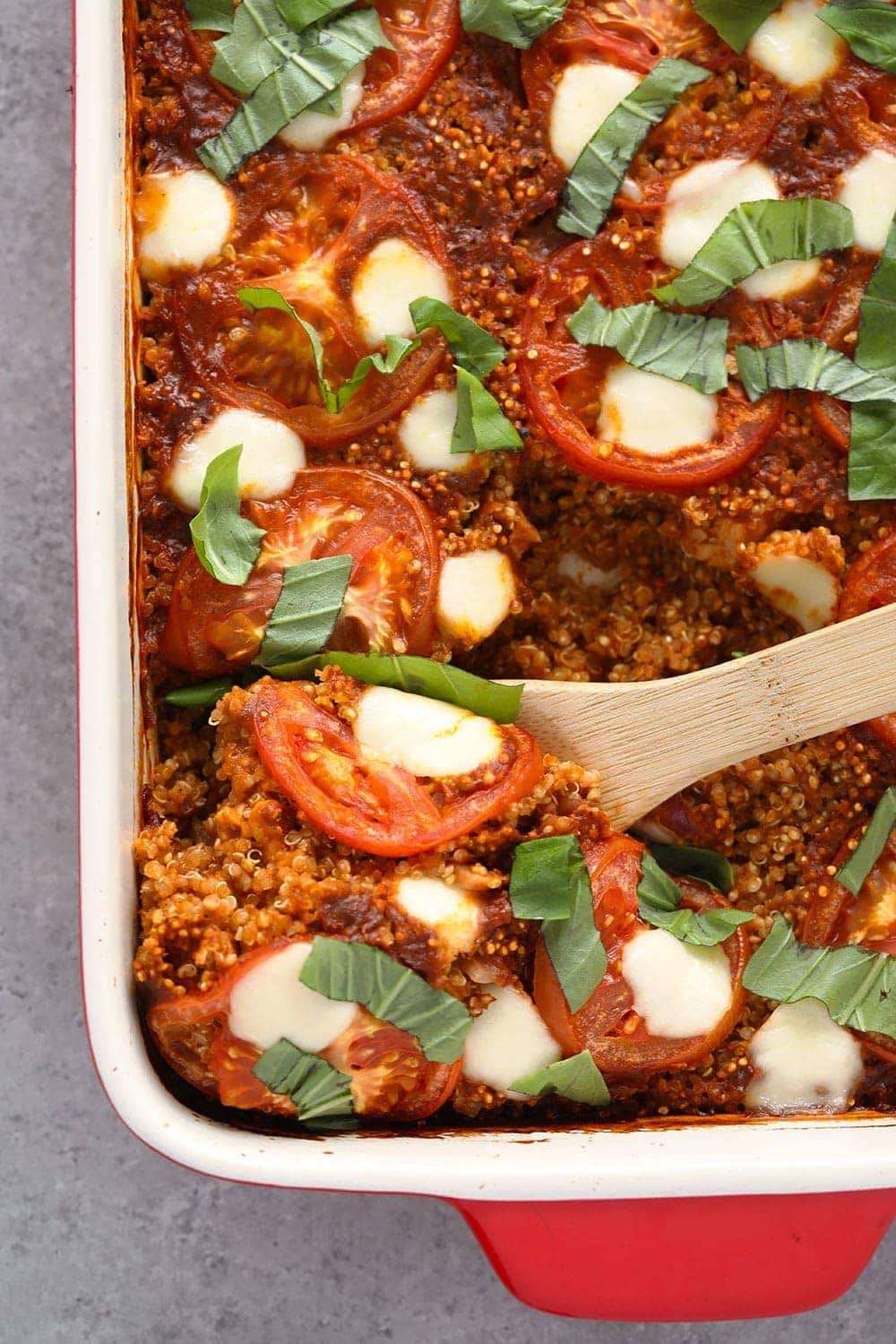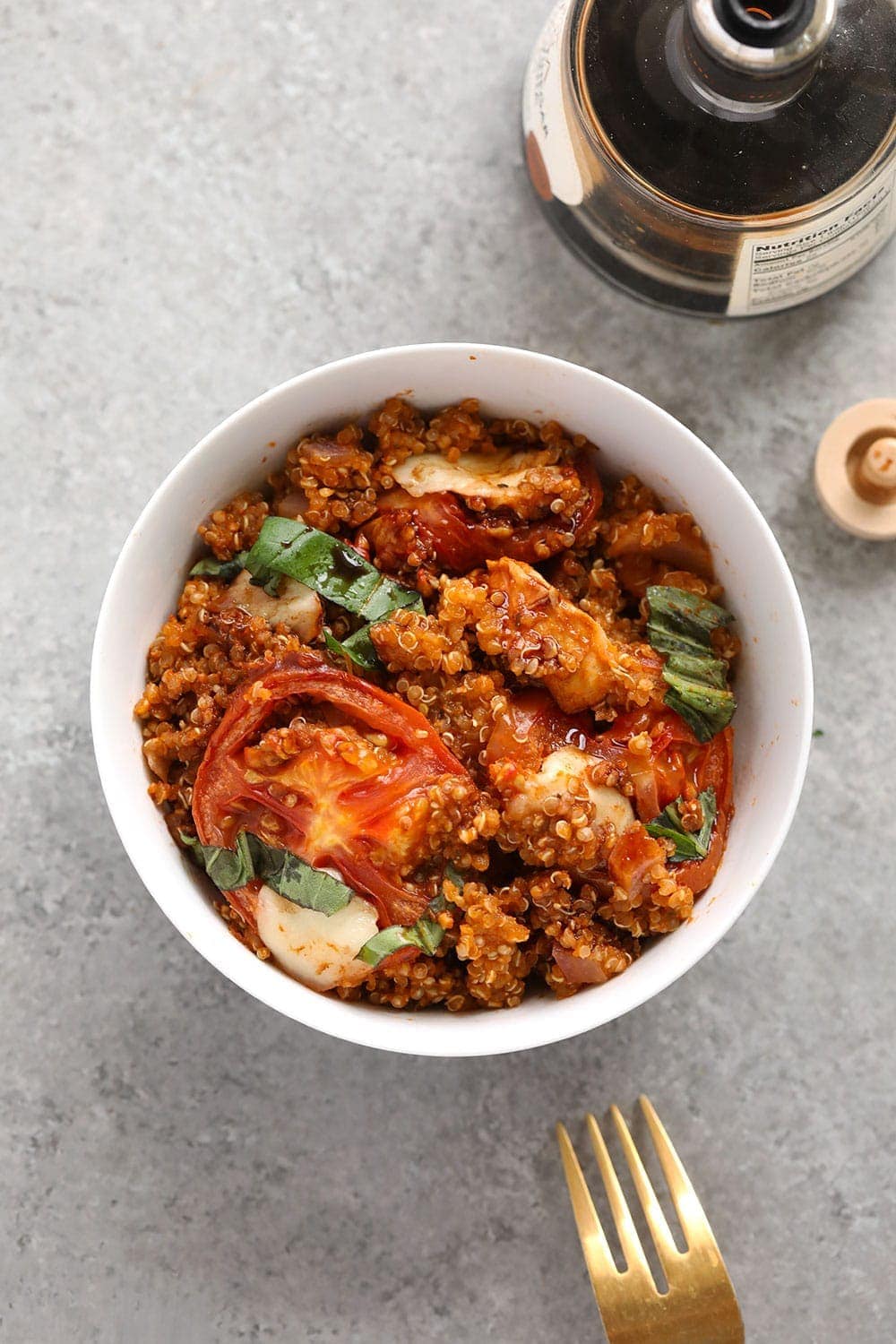 Chicken Casserole Recipes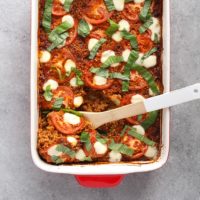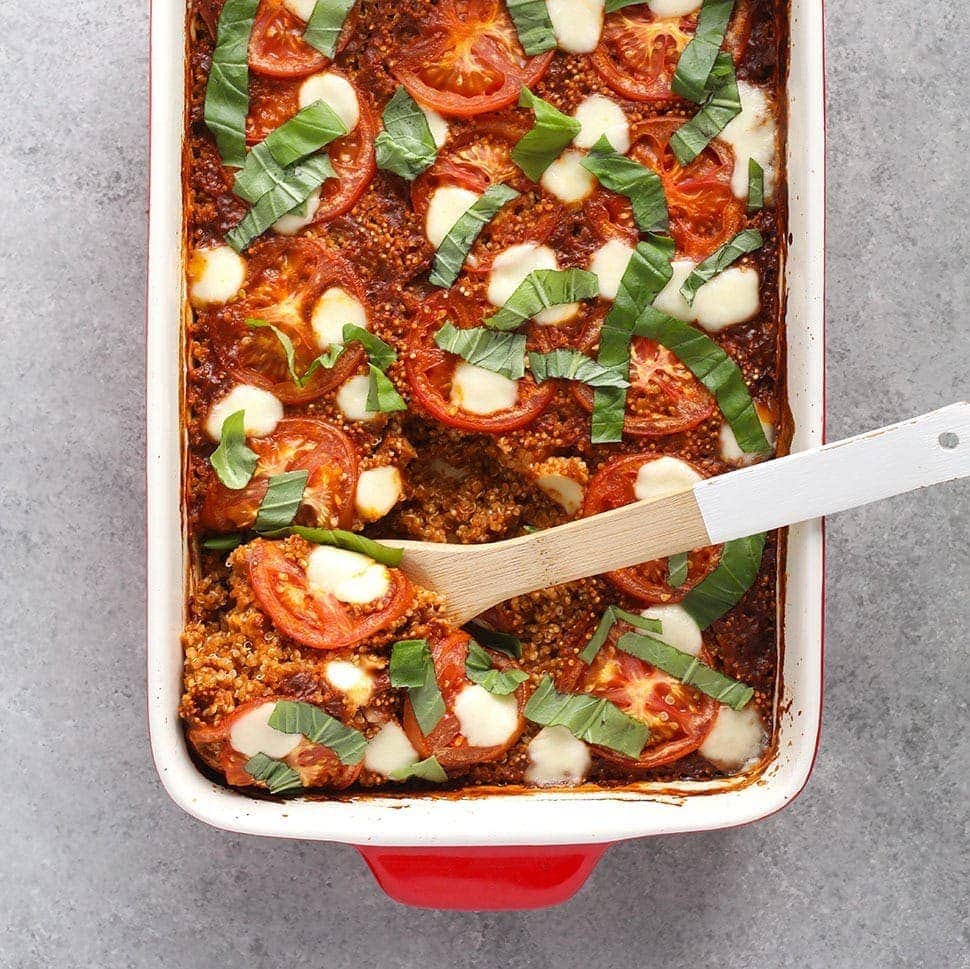 Tuscan Chicken Quinoa Casserole
This Tuscan Chicken Quinoa Bake is packed with Italian flavors, kid-friendly, and has  a whopping 27g protein per serving!
Ingredients
1.5

cup

uncooked quinoa

1/2

medium red onion

finely diced

1

lb.

boneless skinless chicken breast

cut into bite-sized pieces

1

tablespoon

minced garlic

2

teaspoons

Italian seasoning

1

teaspoon

garlic powder

1/8

teaspoon

salt

1/8

teaspoon

pepper

3

cups

creamy tomato soup

We used the Imagine brand*

1

cup

water*

4

medium-sized tomatoes

sliced into rounds

4

oz.

pearled Mozzarella balls

1/3

cup

chopped fresh basil

optional drizzle: aged balsamic/balsamic reduction
Instructions
First, preheat oven to 375ºF and spray a casserole dish with nonstick cooking spray.

Next place 1.5 cups uncooked quinoa on the bottom of the casserole dish.

Then, finely dice onion and cut chicken breast into bite-sized pieces. Transfer into casserole dish.

Season chicken with minced garlic, Italian seasoning, garlic powder, salt, and pepper.

Next, mix together around 3 cups of tomato soup with 1 cup of water. If you buy tomato soup in a carton, you will get anywhere from 3-4 cups of tomato soup, so you can use all of the soup, but substitute the rest with water.

Pour soup mixture on top of chicken and quinoa and use a spoon to mix, making sure that the chicken and quinoa are submerged.

Cover casserole dish with tin foil and bake at 375ºF for 30 minutes.

While the casserole is baking, slice 5-6 medium tomatoes.

Once the 30 minutes is up, remove the casserole from the oven and stir. Add sliced tomatoes and bake for an additional 20 minutes, uncovered.

Finally, remove casserole one more time, add mozzarella cheese and bake for an additional 10 minutes.

Remove casserole dish from oven and let sit for 10 additional minutes to thicken.

Serve with fresh basil.
Tips & Notes
This recipe was upated on April 8, 2020. The original recipe can be found HERE. The reason this recipe was updarted was to increase the serving size to 6 so that no soup is wasted. We also simplfied this recipe to remove the "saute" step so that it is much easier to make.
water/soup: each soup container will have anywhere from 3 to 4 cups of soup in it. Ours had 3.5 cups soup, so we only used about 1/2 cup of water. The goal is to get 4 cups of liquid between the soup and water.
Nutrition facts
Calories:
336
kcal
Carbohydrates:
39
g
Protein:
27
g
Fat:
8
g
Fiber:
4
g
Sugar:
4
g