One of our most popular quinoa casserole recipes is this Italian Chicken Sausage Quinoa Casserole. It's protein-packed and made with sun-dried tomatoes and kale!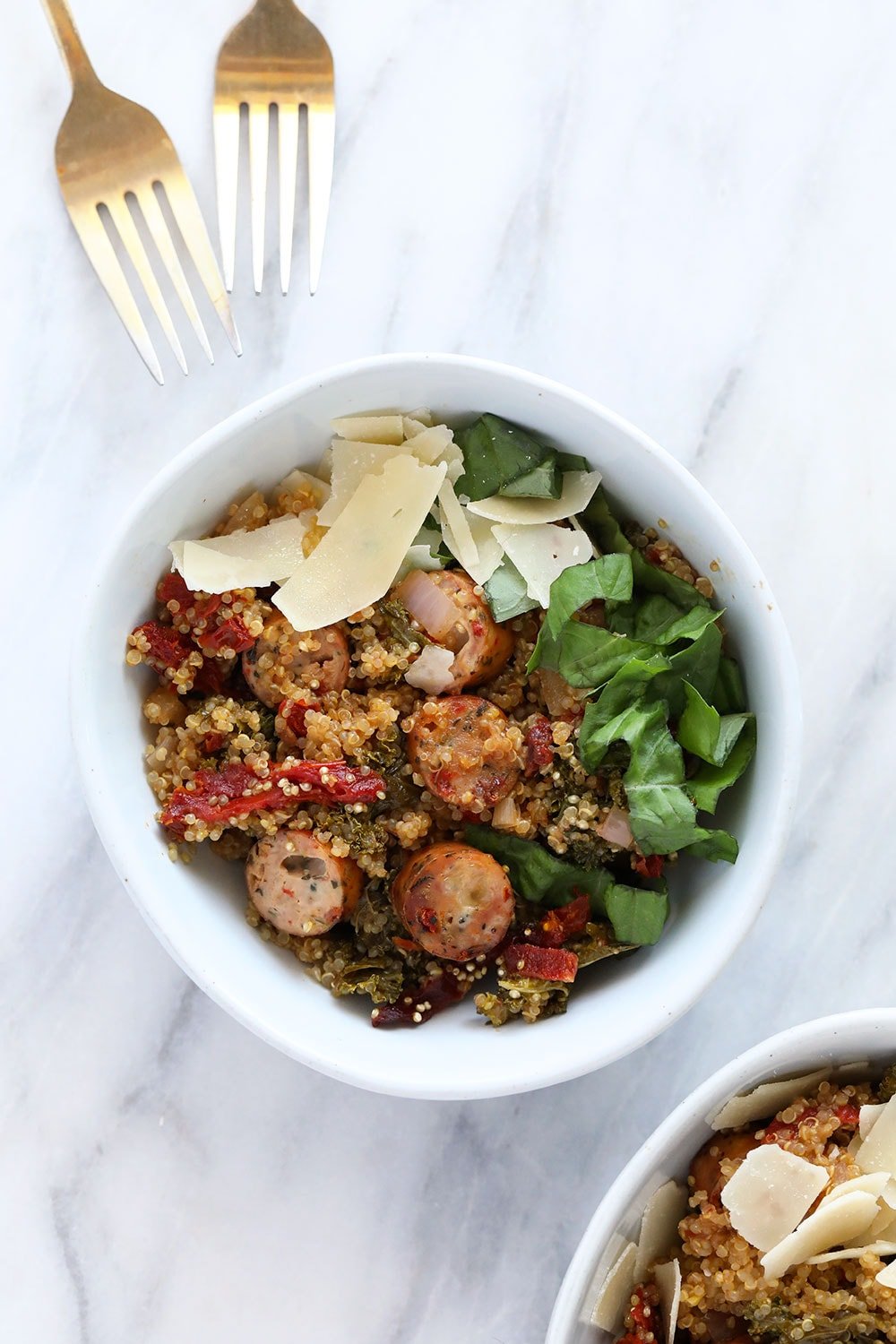 Note: This recipe was formerly called: Sun-Dried Tomato, Kale, and Chicken Sausage Quinoa Bake.
There really is nothing better than throwing everything into a casserole dish raw and baking it to perfection in under 60 minutes!
This Chicken Sausage Quinoa bake packs in the Italian flavors while also packing in veggies and protein. You need minimal ingredients for a maximum amount of flavor!
Key Ingredients
Quinoa – uncooked red or white quinoa will work just fine!
Broth/Water – any kind of broth or water is perfect for this.
Chicken Sausage – we used pre-cooked chicken sausage. Choose your favorite flavor!
Onion – Adds the perfect amount of flavor.
Kale – Spinach would also work!
Sun-Dred Tomatoes – make sure to use the kind that is jarred in olive oil for maximum flavor.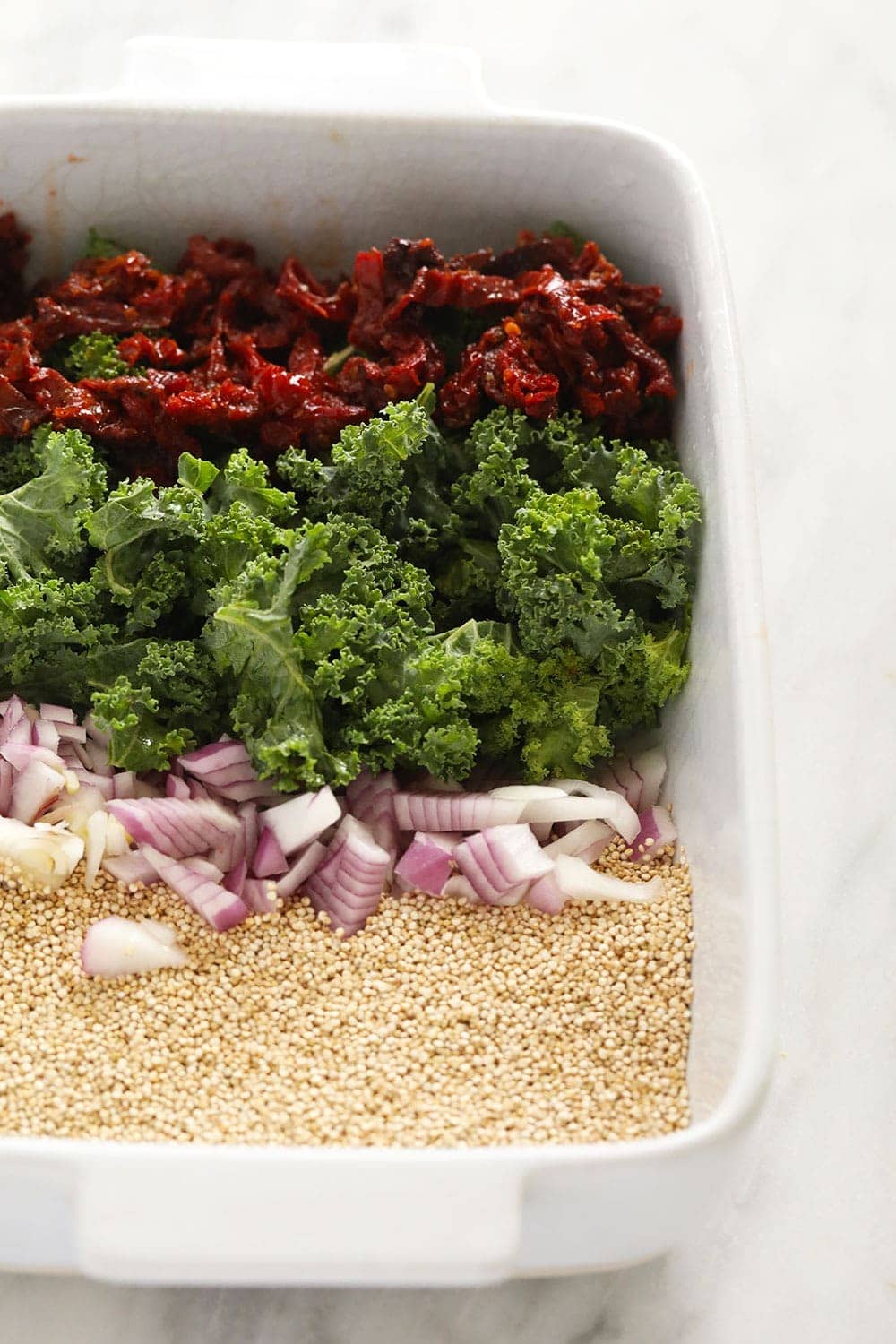 Can you use uncooked sausage?
The short answer here is YES. If you are using uncooked sausage, we suggest that you still slice it into chunks so that it cooks easier. We also recommend you increase the cook-time to a full 60 minutes to ensure your sausage is fully cooked.
Can you use precooked quinoa?
We don't recommend using precooked quinoa as the quinoa to liquid ratio would change!
How to make this vegetarian/vegan?
To make this dish vegan/vegetarian, simply remove the chicken sausage and replace it for a different protein such as tofu or garbanzo beans.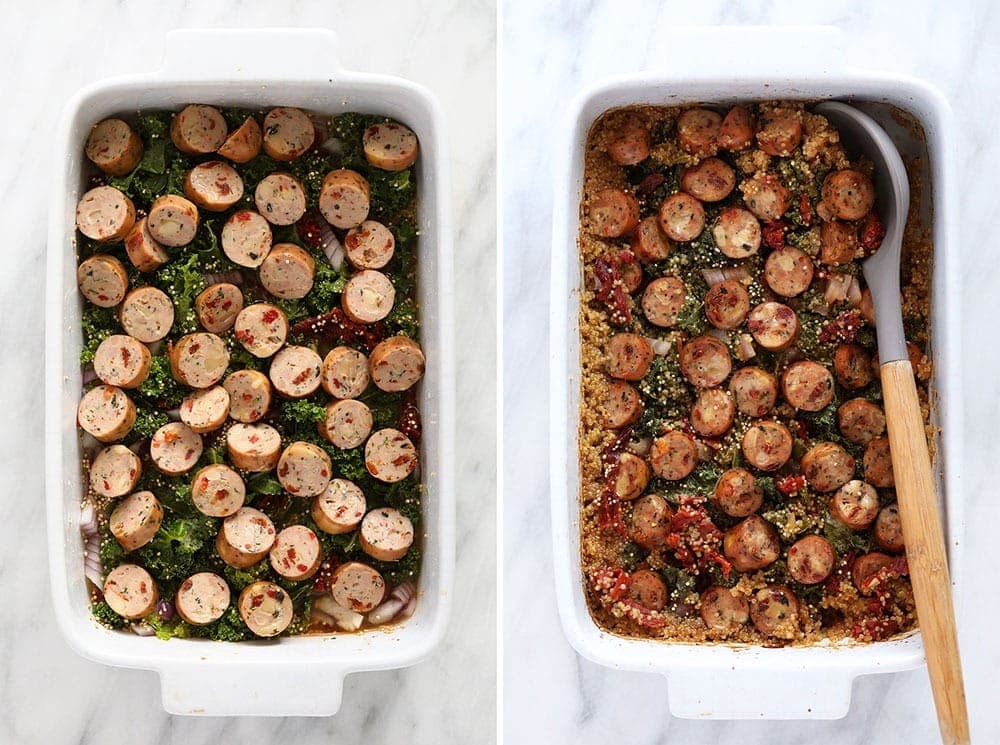 Baking Instructions
Once you have everything in your casserole dish, make sure that the veggies and quinoa are pressed into the liquid.
Place a piece of tin foil over the casserole dish and bake at 375ºF for 30 minutes. Uncover and bake for another 20 minutes or until the quinoa is fully cooked.
Serve with fresh basil and parmesan cheese.
Storage
Store in an airtight container in the refrigerator for up to 5 days. You can get strategic and separate out the 6 servings into meal prep containers for an easy grab-and-go lunch!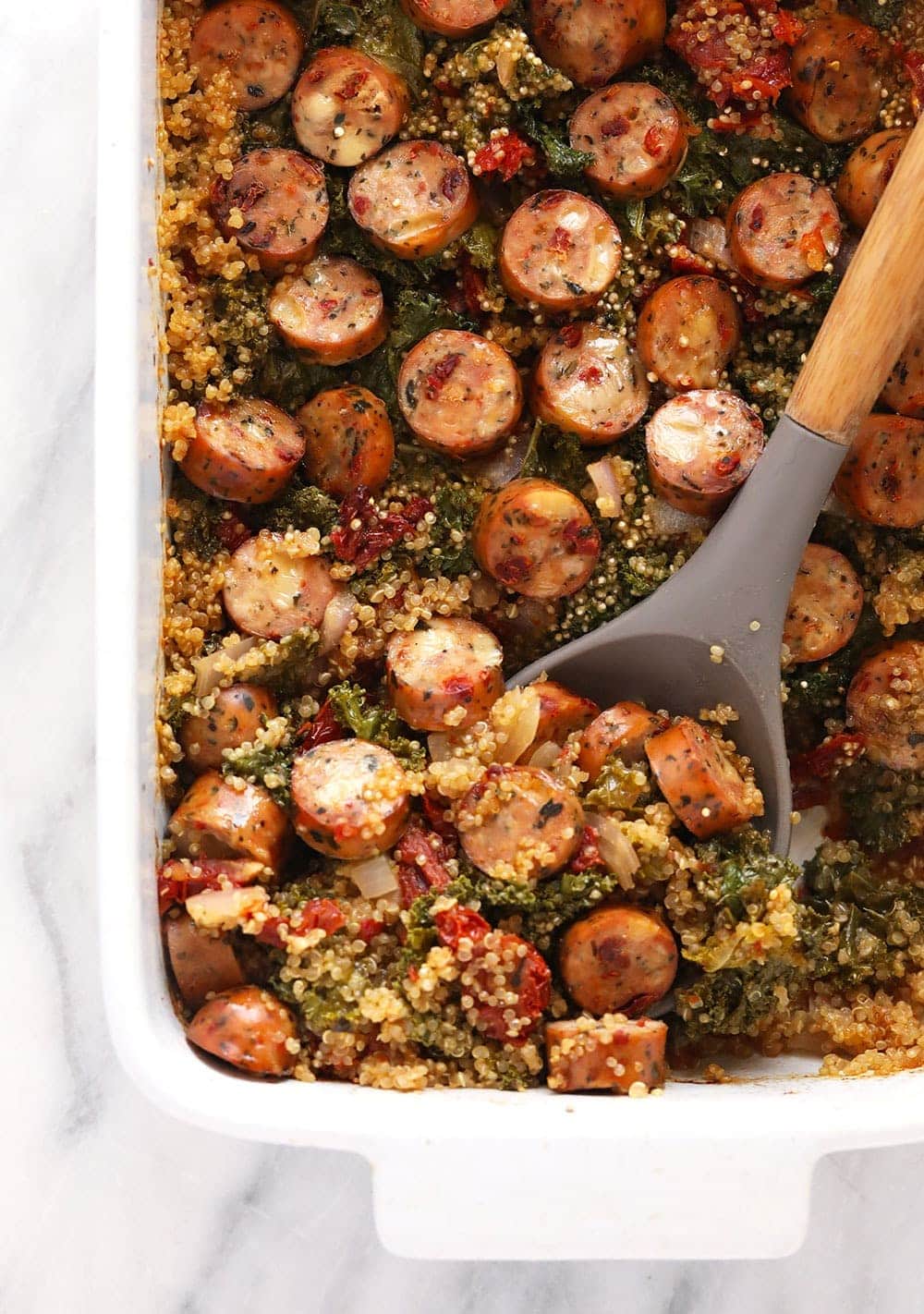 More Quinoa Casserole Recipes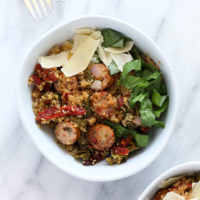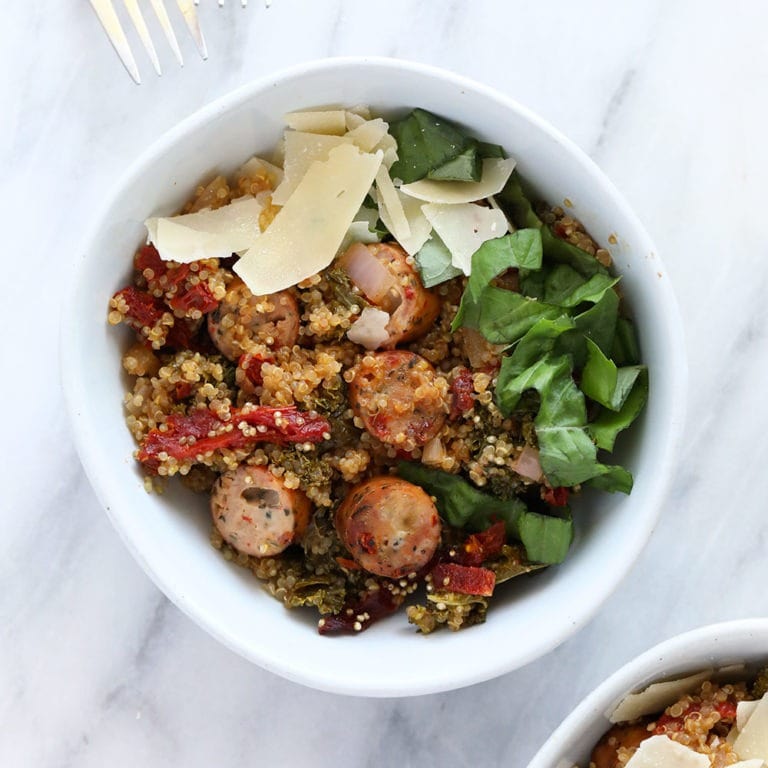 Italian Chicken Sausage Quinoa Casserole
This healthy, superfood-packed dinner only requires 1 dish and 60 minutes of your time. No need to pre-cook the quinoa or sauté any veggies! 
Ingredients
1

cup

uncooked quinoa

2

cups

chicken broth

or any kind of broth

2

cups

chopped kale

packed

1/2

cup

julienne-cut sun-dried tomatoes

we used the kind in olive oil

1/4

large red onion

finely diced

1

tablespoon

olive oil

I used the olive oil from the sun-dried tomato jar

1/8

teaspoon

salt

1/8

teaspoon

ground pepper

1

teaspoon

garlic powder

5

fully-cooked chicken sausages

sliced (use your favorite!)
Optional
fresh basil

parmesan cheese
Instructions
First, preheat oven to 375ºF. Then, spray a large casserole dish with nonstick cooking spray.

Place quinoa and chicken broth on the bottom of your casserole dish.

Then, prep kale by de-stalking and chopping into bite-sized pieces. Pack kale into your 1 cup measuring cup by pressing it down. Add 2 cups into the casserole dish.

Use a fork to remove 1/2 cup sun-dried tomatoes from the jar and add to the casserole dish.

Finely dice 1/4 large red onion and add that to the dish as well.

Season with salt, pepper, and garlic powder. Then drizzle on about 1 tablespoon of olive oil. Pro tip: you can use olive oil straight from the sun-dried tomato jar!

Mix together everything in the casserole dish so that that's it's evenly spread out. Use your hands to press the veggies down to submerge it into the broth.

Finally, slice 5 fully-cooked chicken sausages into bite-sized pieces and spread evenly on top of casserole.

Cover casserole dish with a piece of tin foil and bake at 375ºF for 30 minutes. Remove tin foil after 30 minutes and continue baking for another 20 minutes or until quinoa is fully cooked.

Let cool for 5-10 minutes and serve with fresh basil and parmesan cheese.
Tips & Notes
This recipe was slightly updated on 3/31/2020. The only thing that changed was the baking instructions!
Nutrition facts
Calories:
318
kcal
Carbohydrates:
31
g
Protein:
22
g
Fat:
11
g
Fiber:
3
g
Sugar:
3
g