This spinach artichoke quinoa casserole is veggie filled, easy to make, and perfectly creamy! It takes the classic flavors of spinach artichoke dip and makes it into dinner. Make it tonight for dinner or for an easy meal prep recipe all week!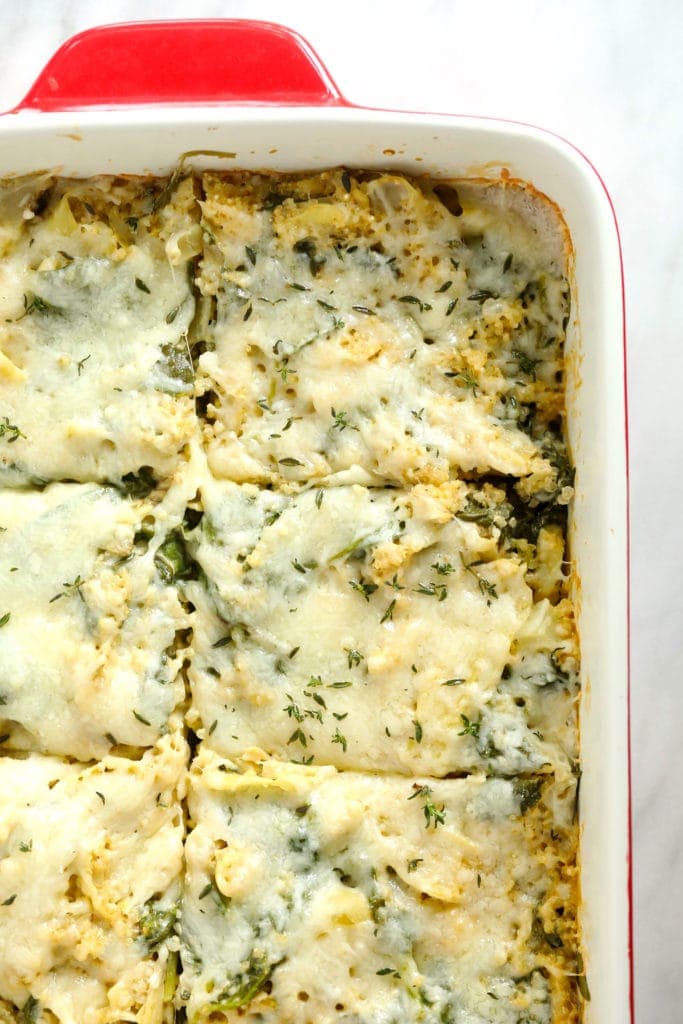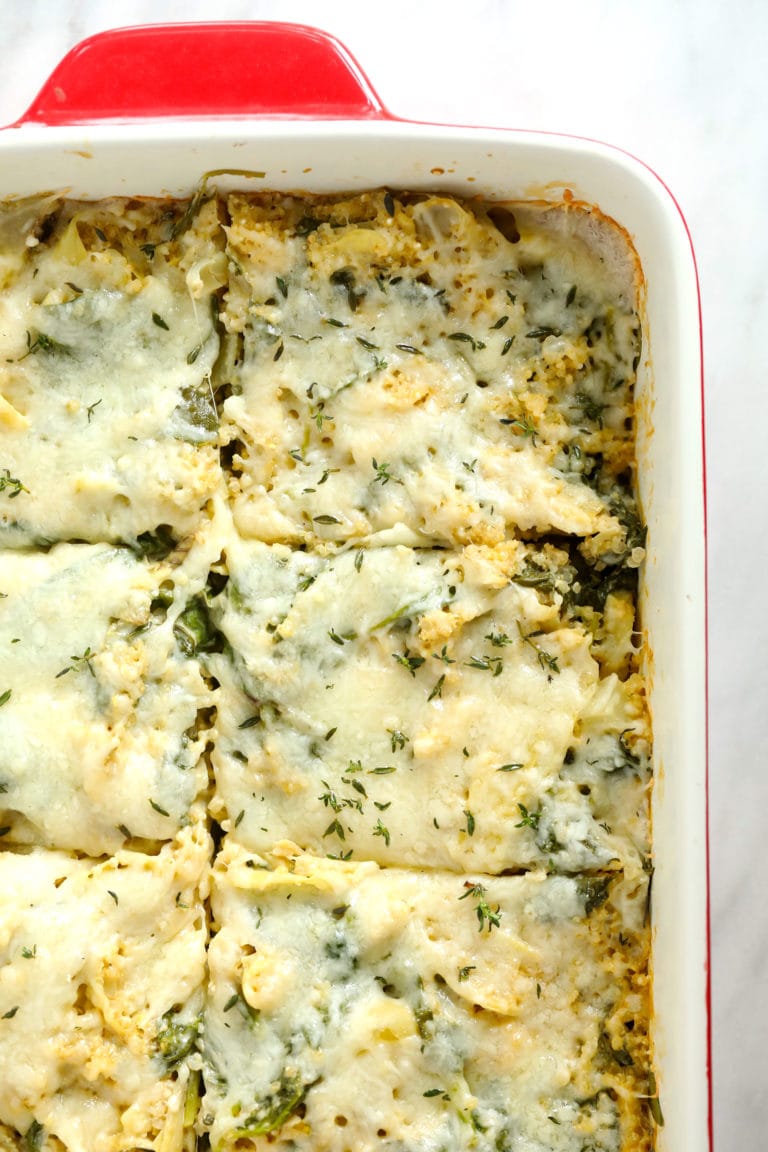 Spinach Artichoke Dip or Casserole?
Do you love a warm and cheesy spinach casserole dip? So do we! We have this delicious baked spinach artichoke dip that we just love! We took the spinach artichoke combination and took it up a notch and made a delicious spinach artichoke casserole.
All we did was add some extra vegetables and quinoa (because we love quinoa recipes on FFF) and it morphed an average healthy appetizer into a delicious healthy dinner! We are obsessed!
Everything You Need
The beauty of this recipe is that you throw all of your ingredients in a greased casserole dish, cover it with a delicious sauce, and bake! Here is what you need.
Quinoa
White onion
Spinach
Potatoes
Artichokes
Cream cheese
Broth
Milk
Garlic powder
Salt
Mozzarella
Parmesan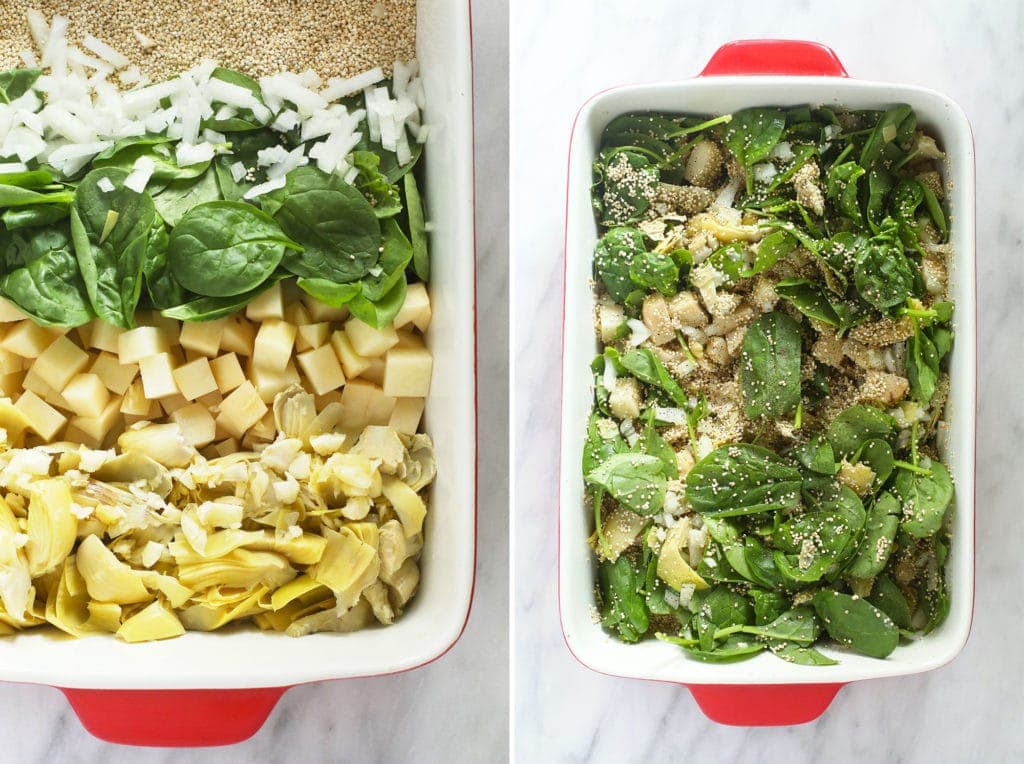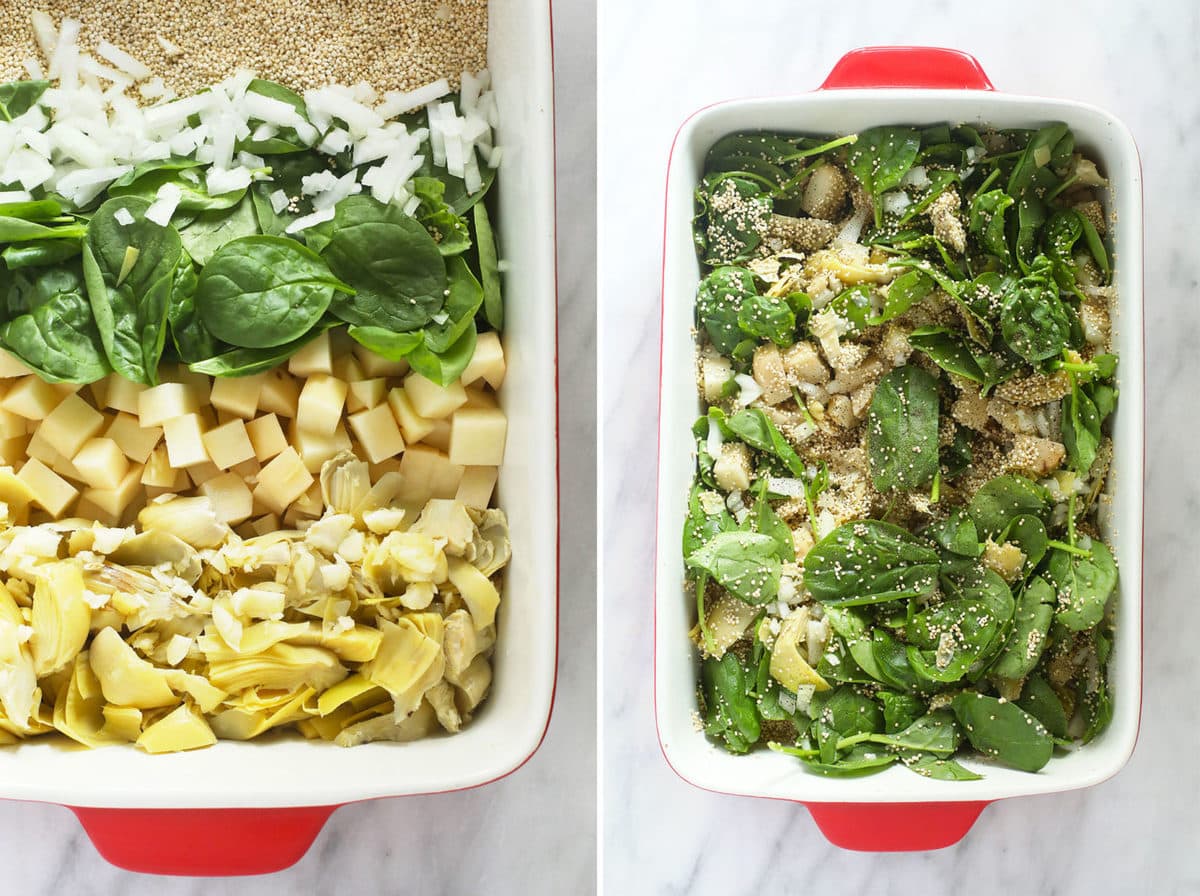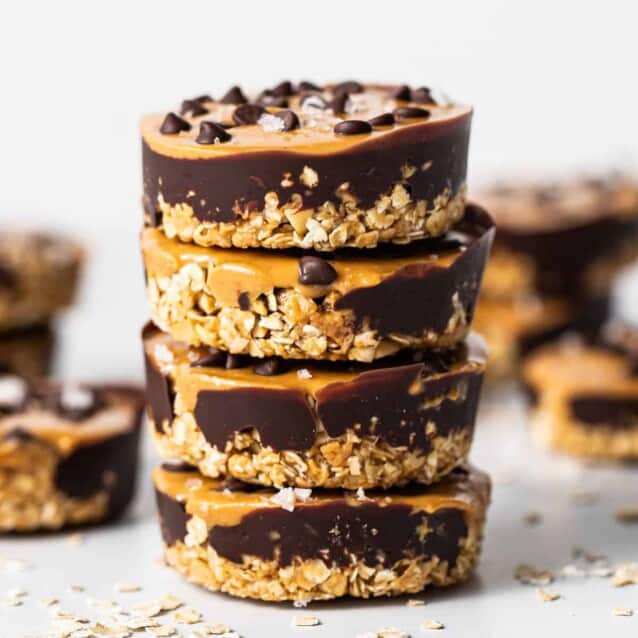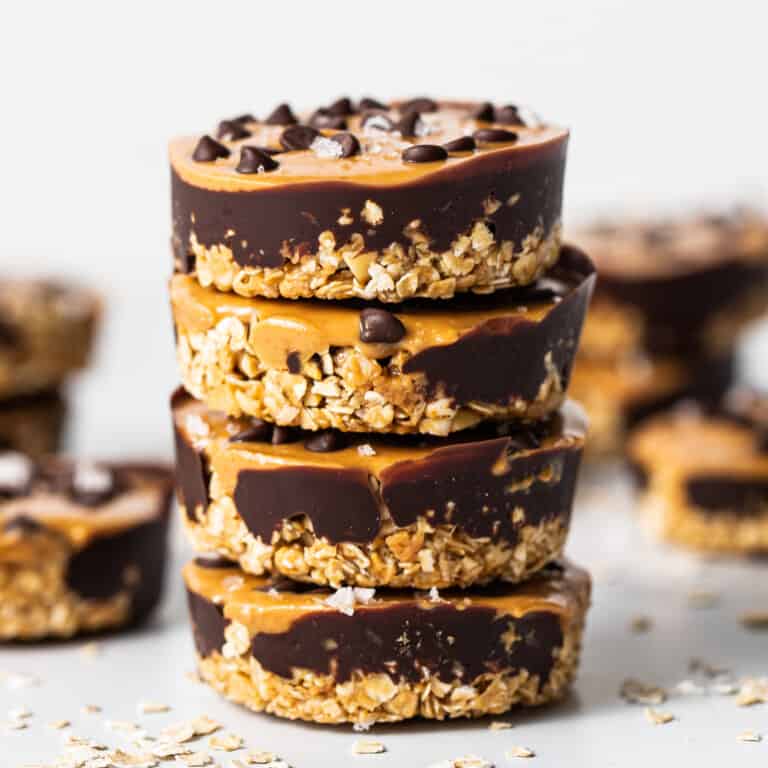 Get our Top 10 5-Star Recipes!
Join our email list for new recipes and BONUS: get our top 10 ⭐️⭐️⭐️⭐️⭐️ recipes e-book!
It's All About the Cheese Sauce
What makes this quinoa casserole creamy? The cheese sauce of course! It's as easy as 1-2-3 to make, too!
Sometimes you thicken sauces with corn starch or a roux, but this casserole is thickened with a cheese sauce and the starch from the potatoes.
All you have to do is make a quick and delicious roux to pour mix with all the ingredients. As the casserole bakes, the starch from the potatoes and the cheese sauce will thicken to deliciousness!
Pro tip
You have to stir this casserole halfway through it's bake time, if you want your casserole a bit saucier, feel free to add a little extra broth to the casserole at this time!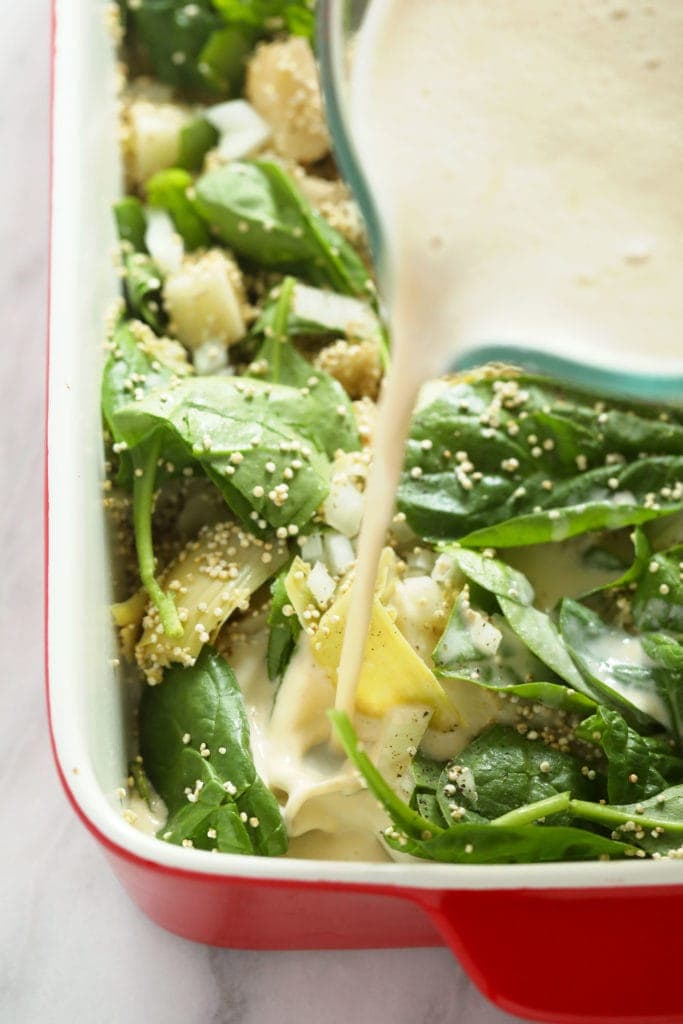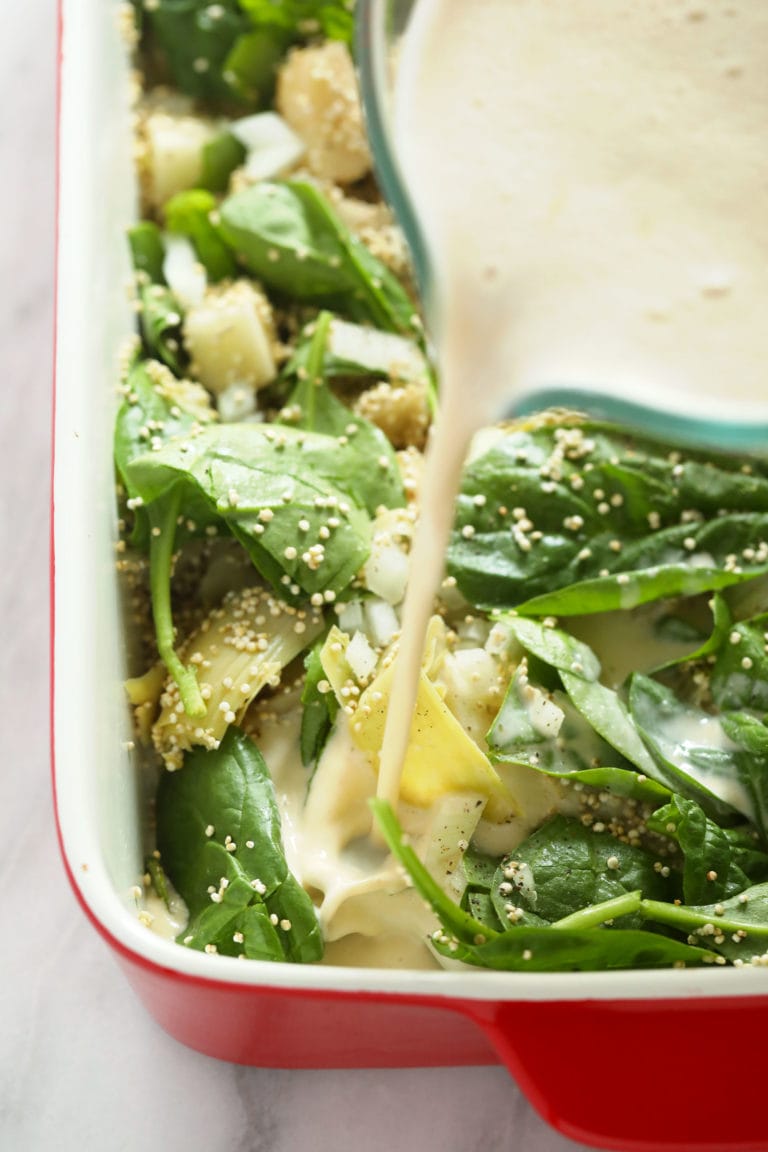 Tips + Tricks for the Perfect Quinoa Casserole
Spray the Dish
Before putting any of the ingredients in the casserole dish, make sure you spray the dish! Why? Because sometimes the cheese and quinoa can get a bit sticky and make for hard clean up!
Liquid:Quinoa Ratio
The liquid to quinoa ratio is usually 1:3.5. In this recipe we use 1 1/2 cups quinoa and 3 cups liquid (broth and milk). However, you can always add more liquid to your casserole if you want it a bit saucier!
Cover the Casserole
Covering the casserole with aluminum foil or a casserole cover is very important. It traps the heat in the casserole dish and allows the quinoa to cook perfectly! We remove the cover from the casserole dish at 30 minutes.
Let it Sit
When you remove the casserole from the oven it is very important that you let it rest for at least 10 minutes. It gives the access liquid time to set up in the casserole dish. So, if your casserole seems too watery, give it some time to sit and that will change!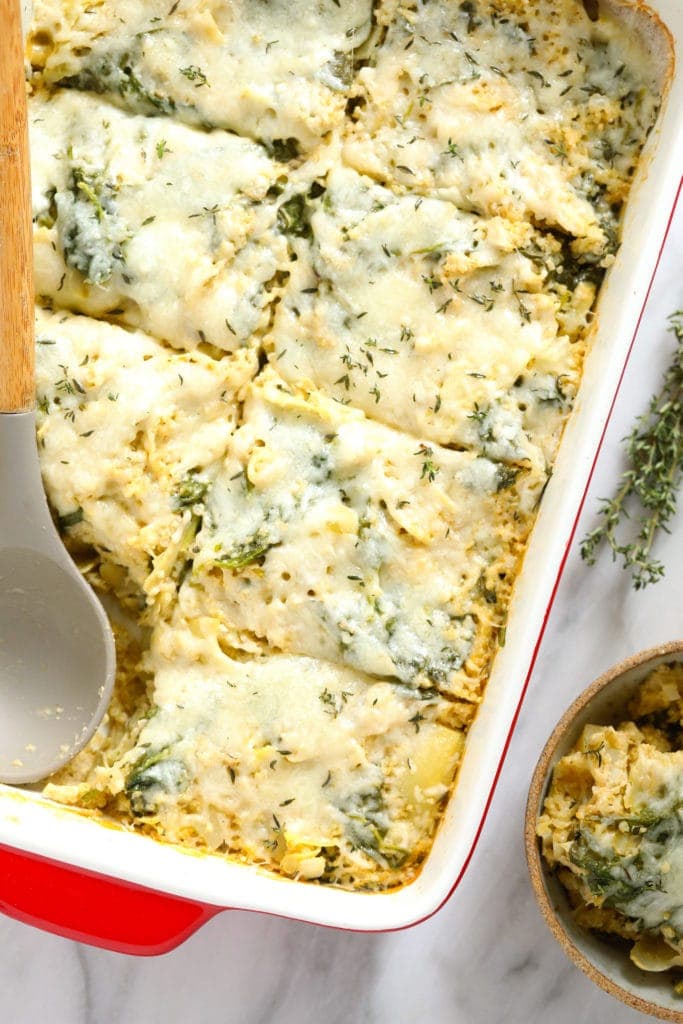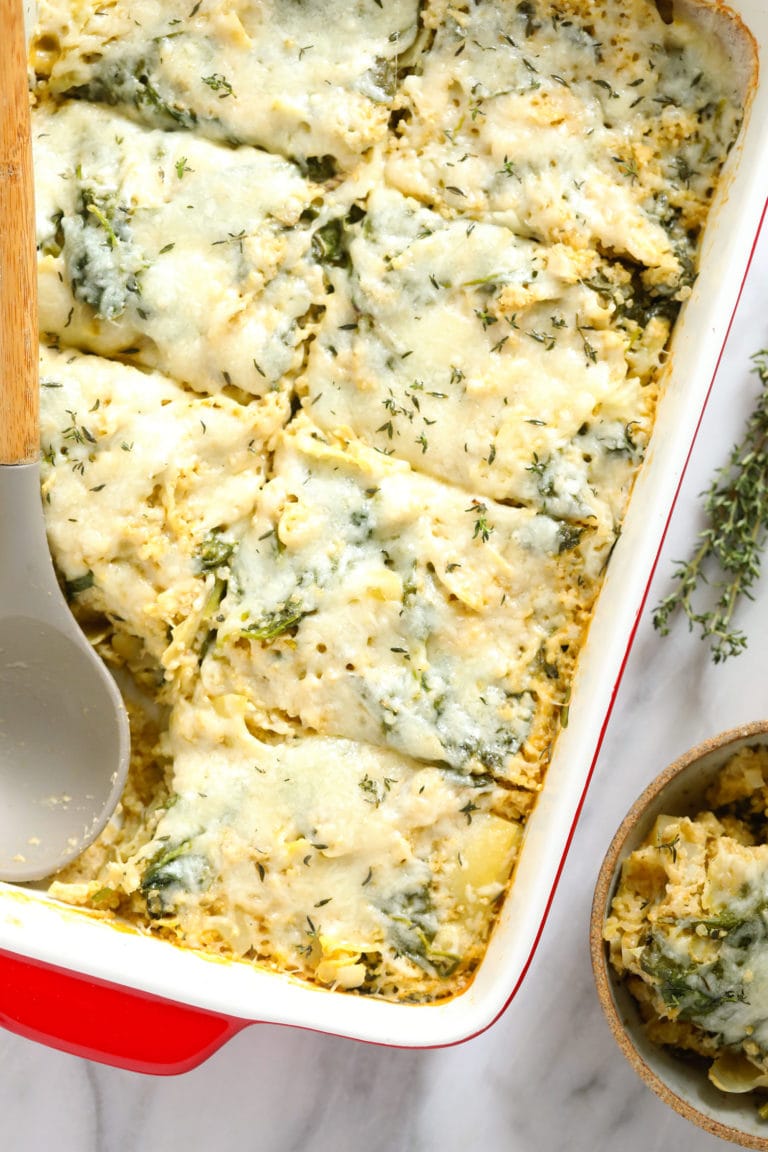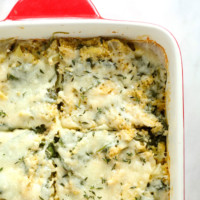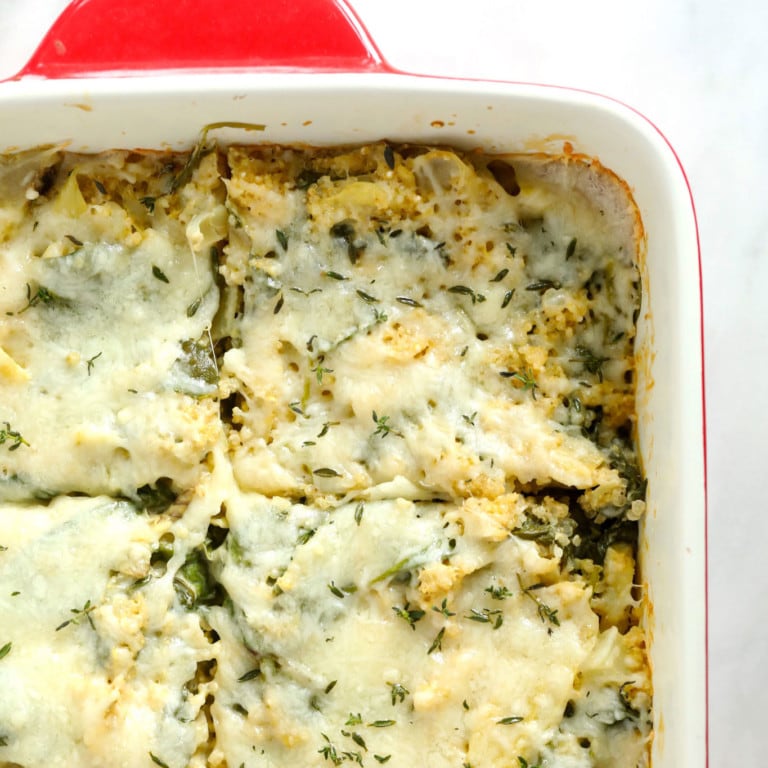 Spinach Artichoke Quinoa Casserole
This spinach artichoke quinoa casserole is veggie filled, easy to make, and perfectly creamy! It takes the classic flavors of spinach artichoke dip and makes it into dinner. Make it tonight for dinner or for an easy meal prep recipe all week!
Ingredients
Roux
2

cups

2% milk

2

tablespoons

salted butter

1/4

cup

white whole wheat flour

4-oz.

cream cheese

softened

1/4

cup

fat-free greek yogurt

1/4

teaspoon

salt

1/4

teaspoon

pepper

1

teaspoon

garlic powder

1/2

cup

shredded mozzarella
Casserole 
1.5

cups

uncooked white quinoa

1

cup

vegetable broth

4

cloves

garlic

minced

1

large russet potato

diced into small cubes

1/2

medium yellow onion

finely diced

2

15-oz.

cans artichoke hearts

drained and diced

5-oz.

fresh spinach

1/2

cup

shredded mozzarella cheese

1/4

cup

grated parmesan cheese
Instructions
First, preheat oven to 375ºF and spray a large casserole dish with nonstick cooking spray.

Next, add quinoa, garlic, potato, onion, chopped artichoke hearts, spinach, and broth to the bottom of your casserole dish and mix. Set aside. 

Prepare the roux. Heat a medium sauce pan over medium heat. Add butter.

When butter is melted add flour to the saucepan and whisk together. When the butter and flour form a paste or crumble, slowly pour the milk into the saucepan, whisking consistently while pouring. 

Whisk the mixture over medium heat until the milk mixture begins to thicken (about 4-5 minutes). 

Turn heat to low and whisk the cream cheese, Greek yogurt, salt, pepper, and garlic into the milk mixture until smooth.

Remove from heat and add the cheese and salt to the saucepan. Whisk until the cheese sauce is thick and creamy. 

Pour sauce on top of veggies and then mix, making sure everything is submerged.

Cover casserole dish with a piece of tin foil and then bake at 375ºF for 30 minutes. Remove from oven and mix. Cover and bake for an additional 15 minutes or until you can easily pierce your potatoes with a fork and the quinoa has sprouted.

Remove from oven, top with the mozzarella cheese and parmesan cheese and place back into the oven, uncovered, for another 5 minutes to melt the cheese.
Tips & Notes
*This recipe was changed on October 18th 2020. 
Nutrition facts
Calories:
284
kcal
Carbohydrates:
36
g
Protein:
19
g
Fat:
9
g
Fiber:
6
g
Sugar:
5
g