Chicken Friend Quinoa Stuffed Peppers are a protein-packed stuffed pepper recipe that's made with delicious chicken fried quinoa with a baked egg on top!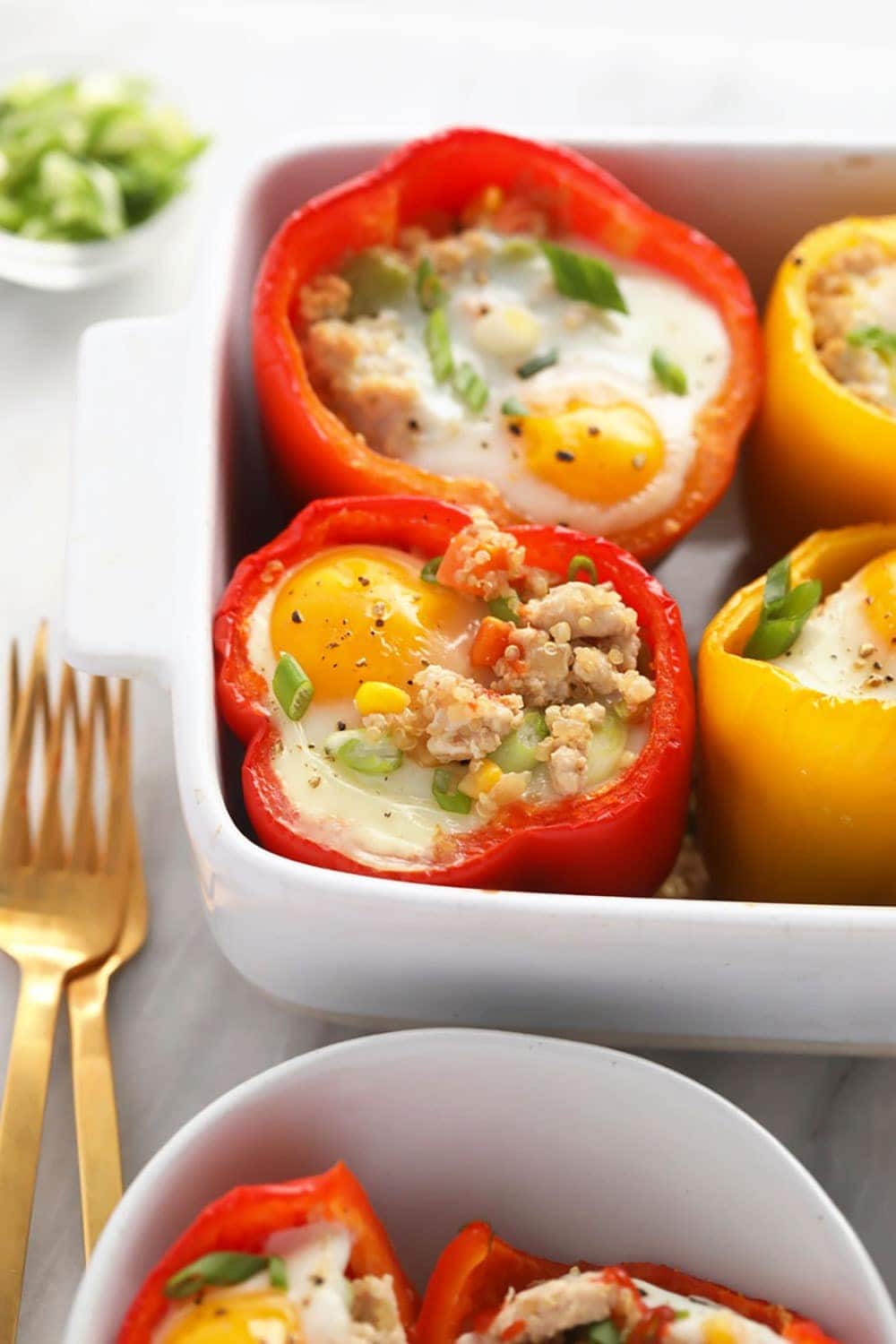 Why stuffed peppers?
We are all about stuffing food. Stuffed spaghetti squash. Stuffed chicken. Stuffed steak. Stuffed French toast. BUT, stuffed peppers have a solid place in our hearts.
More veg: We love that peppers are a vegetable. Even if you stuff them with all meat or all grains, you still get a veggie!
Easy leftovers: Stuffed peppers are delicious when reheated and you can pack them up and take them to school or work for lunch.
Great for freezing: Make a double batch and freeze your stuffed peppers for a quick dinner when you "don't have anything to eat."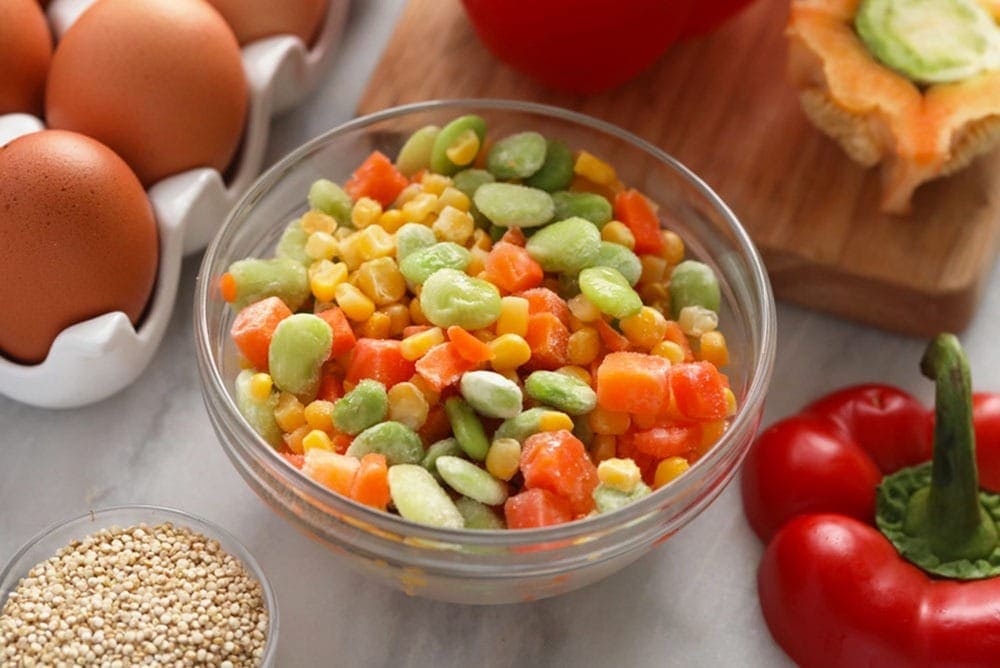 Chicken Fried Quinoa
What is chicken fried quinoa? It's exactly what it sounds like! Instead of making fried rice, we decided to make fried quinoa! Why? Well, quinoa is a complete protein and offers a great alternative to rice.
Ingredients
The main ingredients in this fried quinoa are just like classic chicken fried rice. Let's check it:
quinoa: we love how much protein quinoa has in it, but if you're a rice fan, feel free to swap 1:1.
ground chicken: we thought about using actual chicken breast, but ground chicken just seemed way easier and it totally was!
frozen veggies: any mixture of frozen veggies will work for this recipe!
The Sauce
When in doubt, keep it light and simple. You don't need much for fried rice sauce…only 4 ingredients, in fact!
soy sauce (or tamari)
maple syrup
sesame oil
garlic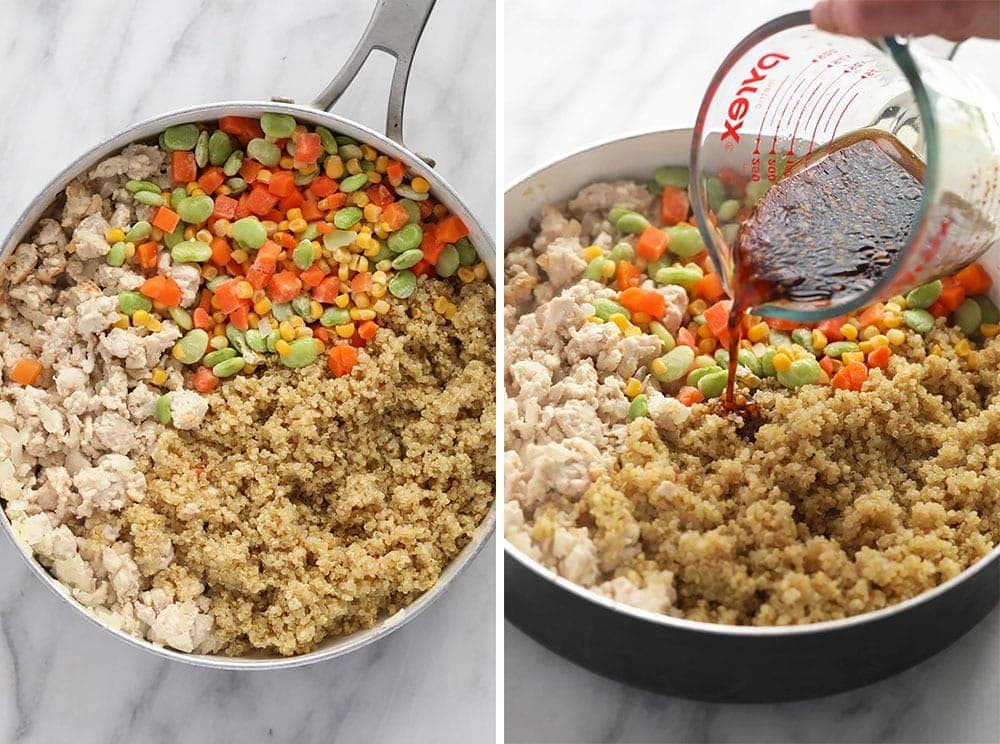 Baking Instructions
Baking stuffed peppers is easy and only takes 3 steps. Check it–
Bake: The peppers will need to get pre-cooked a little bit, so cut the tops off of each pepper and remove the innards and seeds. Then, spray them with nonstick cooking spray on the inside and outside and bake at 375ºF for 15 minutes.
Stuff & Crack: Remove the peppers from the oven and stuff them with your chicken friend quinoa. Fill each pepper around 3/4 of the way full and then crack an egg right on top!
Quick tip: Make sure that the peppers are positioned as straight up as possible or your eggs might slide right off! You can kind of lean then against each other so this doesn't happen.
Bake: Bake stuffed peppers at 375ºF for around 25 minutes or until your eggs are as runny as you like!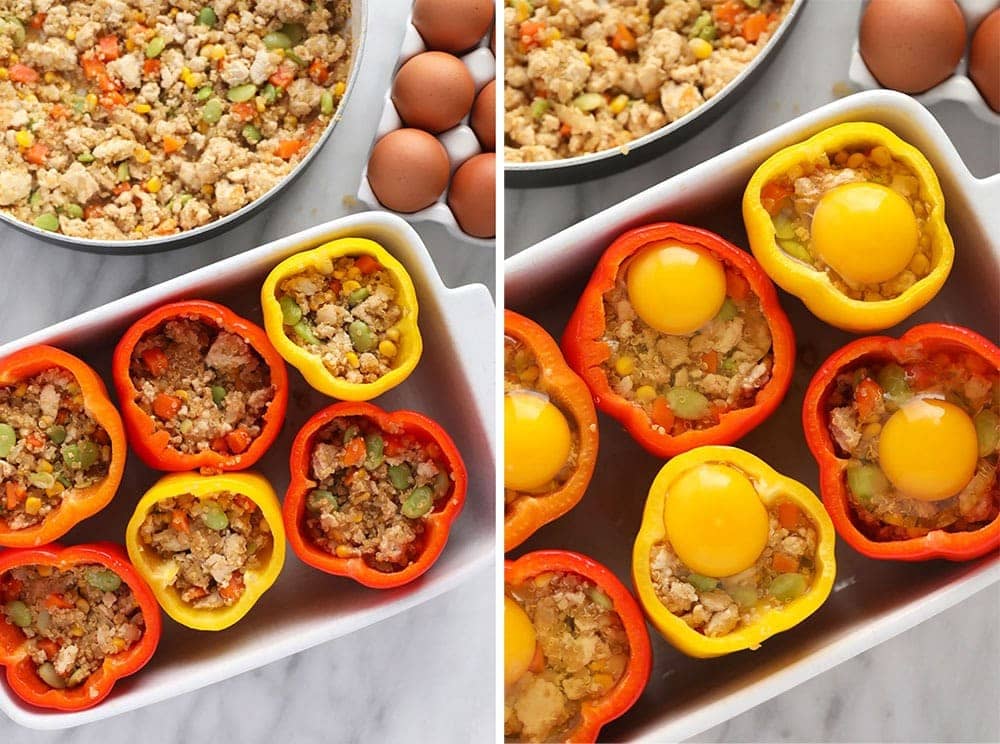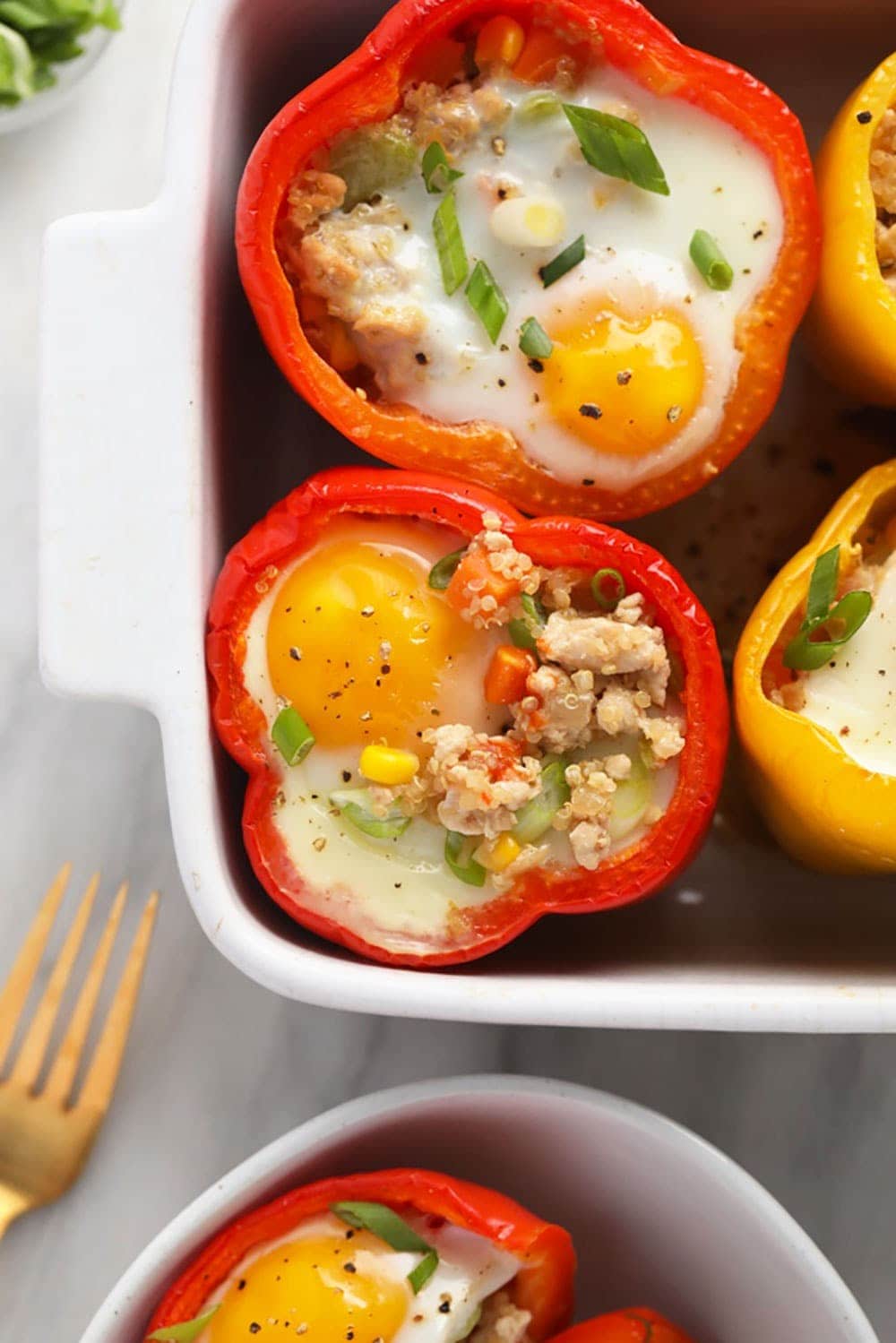 Storage Information
We suggest storing your stuffed peppers in an airtight container in the refrigerator for up to 5 days.
To reheat: simply place stuffed pepper on a microwave-safe plate and microwave for around 90 seconds.
How to Freeze
These chicken fried quinoa stuffed peppers would make an excellent freezer meal. Our number 1 tip for freezing these is: wait to crack the egg! Follow the directions in the recipe card, but do not crack the eggs on top before baking. Wait to do this after you thaw and reheat!
To freeze: let your fully cooked stuffed peppers completely cool. Then, tightly wrap each one in a piece of tin foil and remove as much air as possible. Write the name of the recipe on it and a "best by date" that is 3 months from the time you made it. Freeze for up to 3 months.
To reheat: Let stuffed peppers completely thaw. Then, you can reheat them in the oven still wrapped in tin foil at 375ºF for around 20 minutes OR in the microwave on high for around 90 seconds.
As for the egg: if you plan to freeze this recipe, we suggest cooking the egg completely separate, the day of! You can make a fried egg, hard-boiled egg, or even a scrambled egg!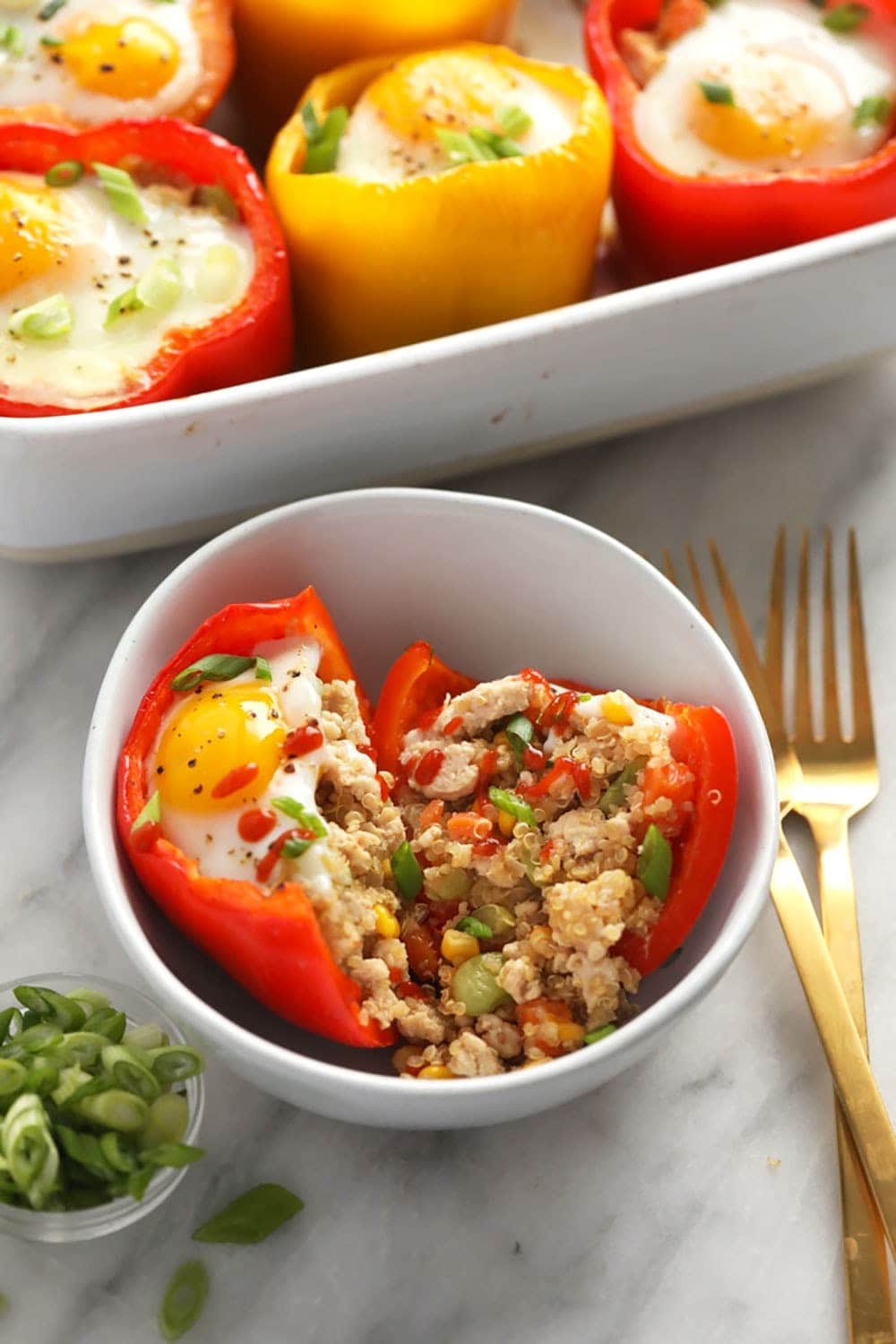 More Stuffed Pepper Recipes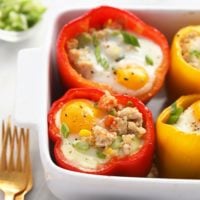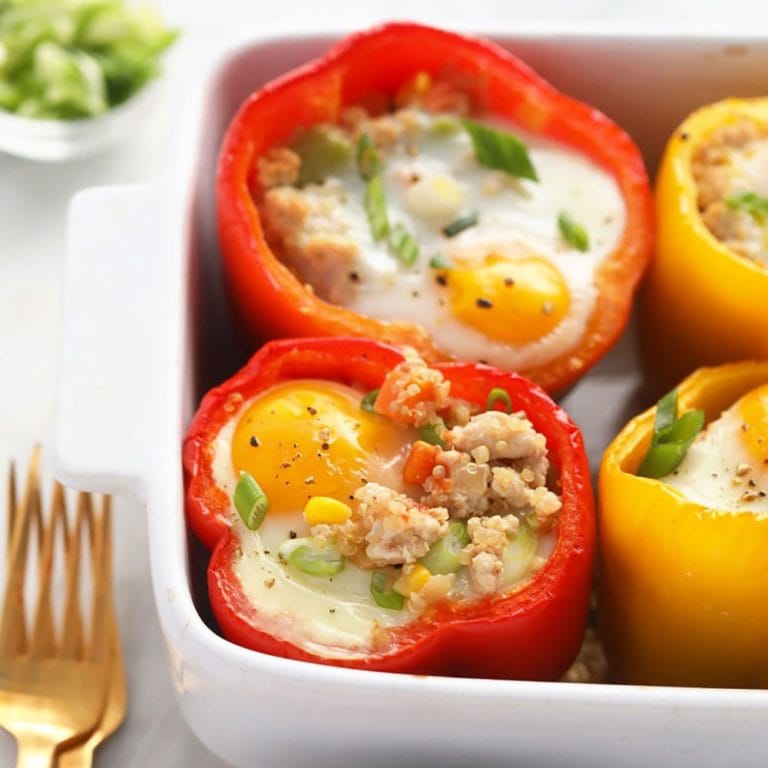 Chicken Fried Quinoa Stuffed Peppers
Stuff your peppers with chicken fried quinoa and top it with an egg for a yummy, nutritious meal!
Ingredients
8

large bell peppers

any color, tops cut off and seeded*

3/4

cup

uncooked quinoa

1.5

cups

water

2

tablespoons

olive oil

1/2

large white onion

minced

1

lb.

ground chicken

2

cups

mixed frozen vegetables

1/4

cup

low sodium soy sauce

or tamari

1

teaspoon

maple syrup

1

teaspoon

sesame oil

1

teaspoon

minced garlic

8

large eggs

salt

to taste

pepper

to taste
Instructions
First, preheat oven to 375ºF and spray a 9x13-inch baking dish with cooking spray.

Next, cut the tops off of 8 large sweet bell peppers and remove the seeds and ribs from the insides. Then, place them inside of the baking dish and spray each of them on the inside and outside with nonstick cooking spray. Bake peppers at 375ºF for 15 minutes.

Prepare quinoa by bringing 3/4 cup uncooked quinoa and 1.5 cups of water to a rolling boil over high heat. Once boiling, cover and turn down to low. Continue cooking for around 15 minutes or until all water has absorbed.

While the peppers are baking and the quinoa is cooking, prepare quinoa fried rice. Heat 2 tablespoons of olive oil in a large sauce pan over medium/high heat. Then add onion and saute for a few minutes. Add ground chicken and cook for 7-10 minutes to completely cook.

While the chicken is browning, prepare sauce by mixing together soy sauce, maple syrup, sesame oil, and minced garlic. Set aside.

Move the meat to one side of the pan and add in 2 cups of frozen veggies and the cooked quinoa. Saute for a few minutes and then mix in the sauce.

Now it's time to assemble the stuffed peppers. Your peppers should be done baking by now. Spoon in enough filling to fill each pepper around 3/4 of the way full. You can really pack the quinoa fried rice in there, so use your spoon to press it down so you can fit as much as possible. Depending on the size of your peppers, you may have enough filling for 8-10 peppers or have some quinoa fried rice leftover. This is okay!

Position the peppers so that they are standing as straight up as possible. If they are leaning in any way shape or form, the egg might slide off them. Crack a large egg on top of each pepper and then season with salt and pepper, to taste.

Bake peppers at 375ºF for around 25 minutes for a medium-runny egg or longer for a harder egg.

Serve with sriracha.
Tips & Notes
Bell Peppers: this recipe will make anywhere from 8-10 stuffed peppers depending on how big your peppers are. You may have some leftover chicken fried quinoa!
Nutrition facts
Calories:
301
kcal
Carbohydrates:
24
g
Protein:
21
g
Fat:
14
g
Fiber:
5
g
Sugar:
4
g