Get out your pressure cooker and make this Instant Pot Stuffed Pepper Soup. This one pot meal is easy to make and packed with flavor! You can make this stuffed pepper soup recipe for the entire week for an easy healthy lunch and/or dinner.
Make this stuffed pepper soup for your family or when you need to feed a big group of people.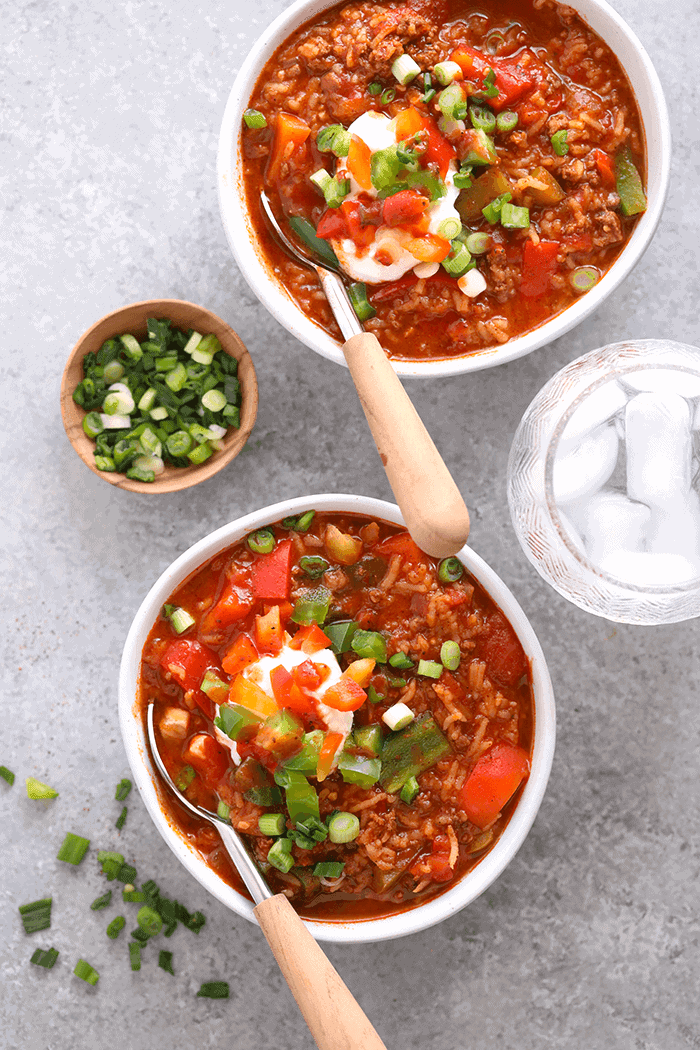 The Most Delicious Stuffed Pepper Soup
Looking for a veggie packed soup that is ready in no time? This stuffed pepper soup has all the delicious flavors and textures that you love about stuffed peppers. You've got your bell peppers, rice, and delicious tomato sauce.
Best blenders for smoothies
We highly recommend investing in a high-speed blender such as a Vitamix or Kitchen Ninja because it will make blending anything (not just smoothies!) so much easier.
Both the Vitamix and the Ninja are high-powered enough that you can drop all your smoothie ingredients in at once, and never have large chunks of kale (or other hearty ingredients) infiltrating your green smoothies again.
Ingredients You Need
This soup is a deconstruction of a traditional stuffed pepper recipe. It's everything you love about stuffed peppers made into a delicious soup for a cold fall or winter day.
Olive oil– a little oil is needed to cook down your veggies. Feel free to use any oil that you'd like.
Ground beef- stuffed peppers traditionally use ground beef and ground beef adds so much depth and flavor to this soup. Feel free to substitute the ground beef with ground turkey, ground chicken, or even Italian sausage.
Onion- onion is used as a tasty base flavor for the soup. Don't skip it.
Garlic – garlic is another flavor base for this soup, but it can also add a little bit of a bite if you'd like to add a bit more, you can. If you don't have fresh garlic you can also use garlic powder.
Spice (chili powder, smoked paprika, cumin, red pepper flakes, pepper, and salt)– the spice mixture in this soup is a delicious mixture of different flavors. Be sure to taste the soup and add any additional salt at the end.
Hot sauce– we add a bit of hot sauce to this soup to add a bite of vinegar and a little spice. You can use your favorite hot sauce, we used Franks.
Red bell pepper + green bell pepper– stuffed pepper soup needs bell peppers. You can use any color of bell pepper that you can find. Heck, use all green peppers if you'd like.
Long grain rice (white)- the beautiful part of this soup is that you don't have to cook the rice separately. It cooks in the soup itself and absorbs all of the delicious flavors. Though we used white rice you could try brown rice, too.
Beef broth– oh baby, beef broth adds richness and flavor to any soup. Again, you can substitute the beef broth with chicken broth of vegetable broth as well.
Tomato sauce + tomato based soup– you use a combination of tomato sauce and diced tomatoes for this tomato based soup
Green chiles- these green chilis add a bit of spice and tasty flavor.
Topping Suggestions
The toppings for any soup give you a little creative liberty to make it your own recipe. Below are some delicious topping suggestions for your bowl of soup.
shredded cheddar cheese
sliced jalapeños (for a little kick)
Greek yogurt
fresh herbs (fresh parsley or fresh cilantro)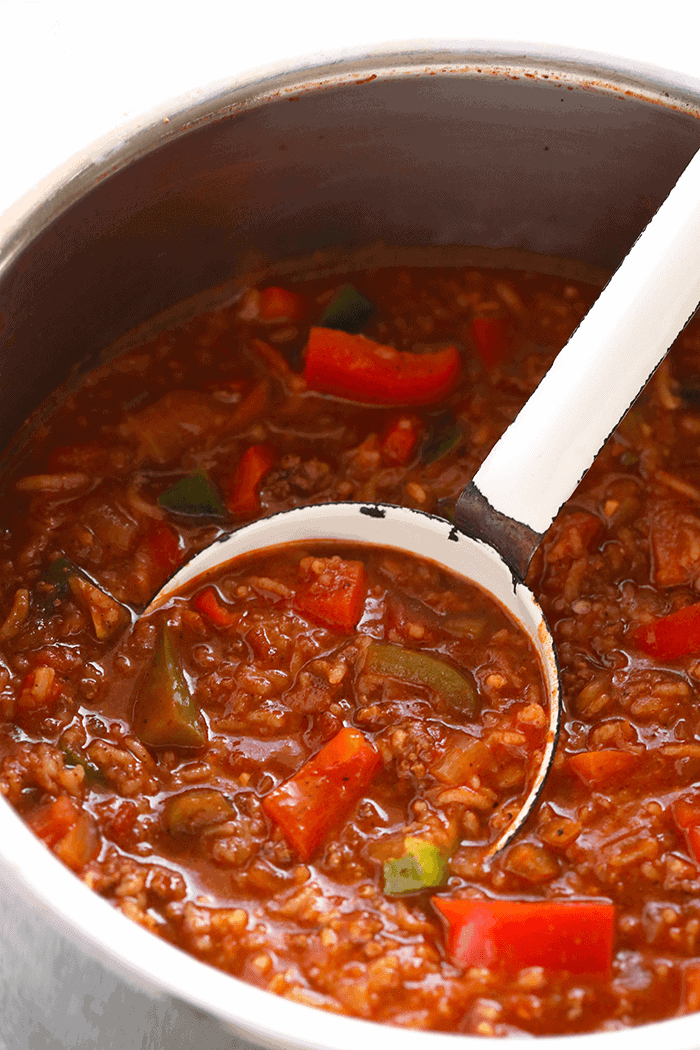 How to Make Stuffed Pepper Soup
In total, you're going to need around 45 minutes for this recipe. Although the cook time is technically only 3 minutes, most of the time is allocated to letting your Instant Pot build pressure. Follow these 4 steps and have dinner ready in no time!
Brown the Meat
Turn on your Instant Pot's saute feature. Brown ground beef for 3-4 minutes. Don't worry about cooking it all the way as it will cook more when yo pressure cook.
Add rest of Ingredients
Turn off the saute feature and add the rest of the ingredients (minus 1 cup of broth…you'll add this later). Give your soup a good stir making sure all of your spices dissolve into the broth.
Seal and Pressure Cook
Seal your instant pot and turn your Instant Pot on to high pressure and set the timer for 3 minutes.
Since there is a lot of contents inside of your Instant Pot, it will take at least 10 minutes to fully build up pressure to start counting down. Once your Instant Pot beeps, you know the 3 minutes has officially started.
Finish it up
When the timer runs out, quick release the valve and let the steam out.
Make sure to wear an oven mitt so you don't burn yourself, the steam is hot! Once the steam has fully released, open your Instant Pot, add 1 more cup of broth, and stir. Serve Stuffed Pepper Soup with Greek yogurt and green onions.
A Couple Common Questions
Does the rice get mushy in the left overs?
The rice does tend to absorb the liquid in the soup. If you eat the leftovers a day after you should be ok. If you are eating the soup later in the week, prepare cooked rice separately and add the rice to the soup as you eat it.
Can I use cauliflower rice?
Yes, you can use cauliflower rice, but add the cauliflower rice to the soup when the soup is done cooking in the Instant Pot.
Can I make this soup in a crockpot?
We don't recommend making this specific recipe in the crockpot, but our crockpot chicken chili recipe is very similar!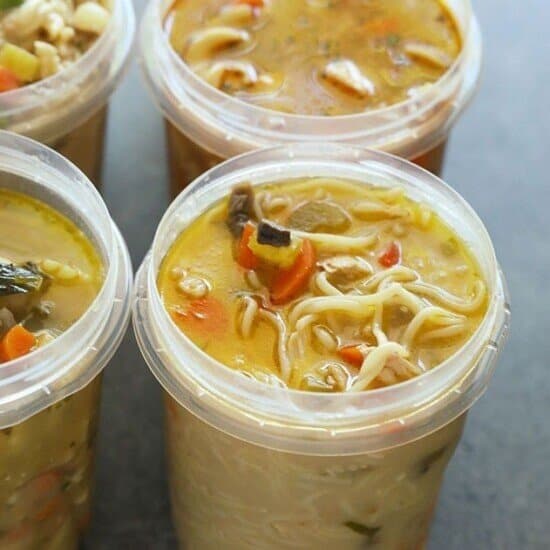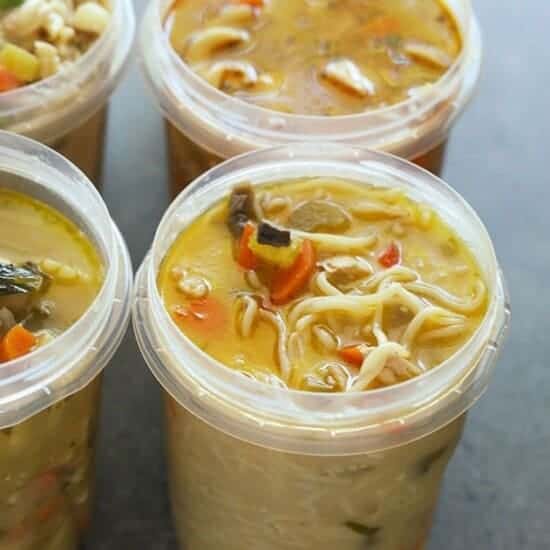 Tutorial
How to Freeze Soup & Chili
Learn how to freeze soup and chili with this easy How to Freeze Soup tutorial. We'll share all of our tips and tricks to perfect freezer soup.
Get Recipe
Storage
Let this soup cool completely before placing it in an airtight container and storing in the fridge fro 3-4 days.
Can I freeze this soup?
We recommend freezing this soup without the rice. So freeze the rice and soup separately!
To freeze this soup, let the soup cool completely before placing it in a freezer safe container and freezing it for up to 3 months.
Reheating Instructions
I wanted to make a quick note about reheating this soup. Once you put this stuffed pepper soup in the refrigerator it will, I repeat, IT WILL thicken.
White rice makes up the base of this soup and it will suck up a lot of the moisture in the fridge. So? Just add a little bit more beef broth before heating back up and serving. This is normal!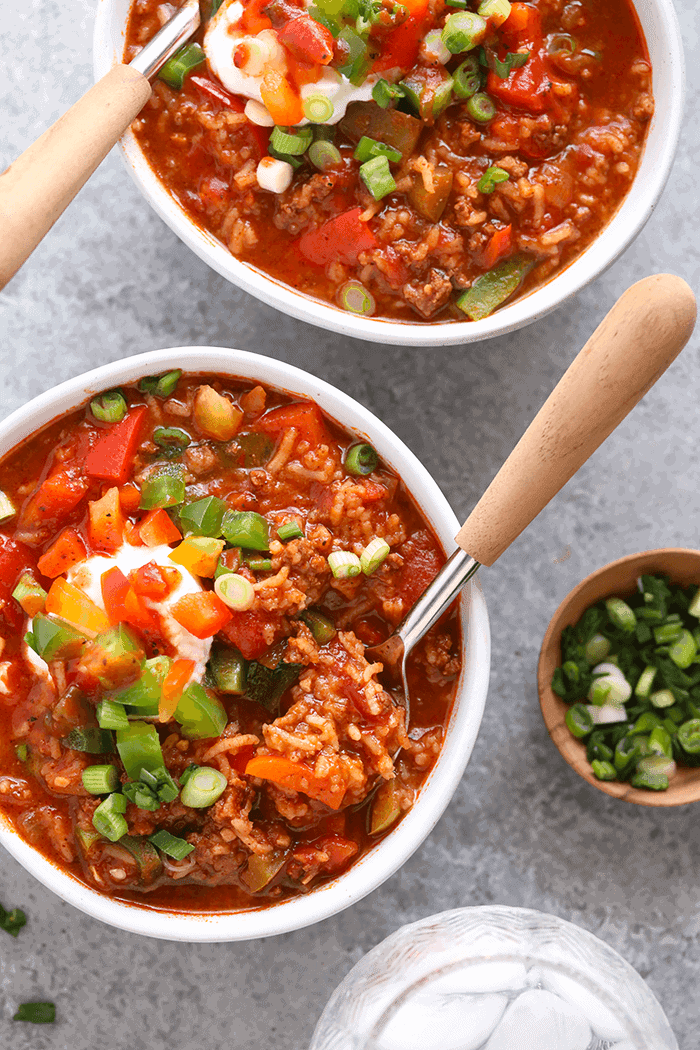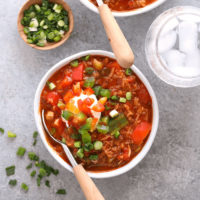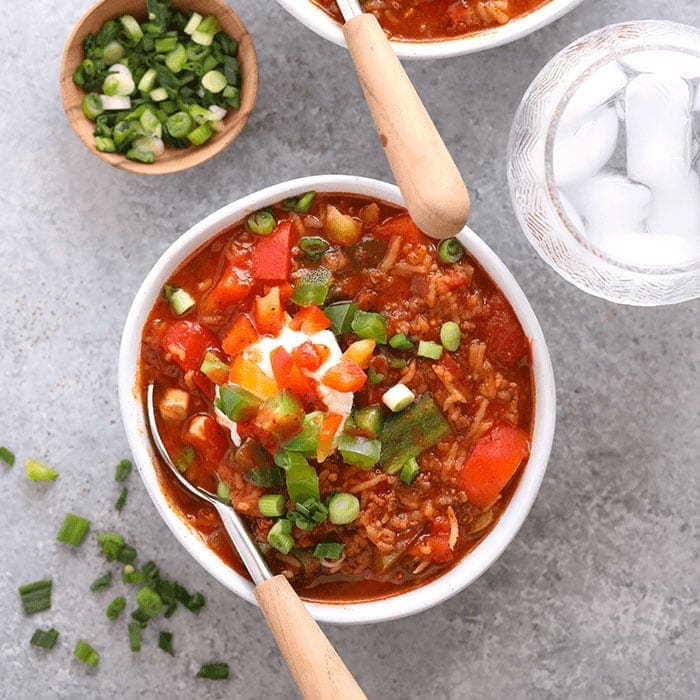 Instant Pot Stuffed Pepper Soup
Get out your pressure cooker and make this Instant Pot Stuffed Pepper Soup. This one pot meal is easy to make and packed with flavor! You can make this stuffed pepper soup recipe for the entire week for an easy healthy lunch and/or dinner.
Ingredients
2

tablespoons

olive oil

1

lb.

ground beef

any kind of ground meat will work

1

medium onion

diced

1

tablespoon

minced garlic

2

tablespoons

chili powder

1/2

teaspoon

smoked paprika

1

teaspoon

ground cumin

1/2

teaspoon

red pepper flakes

1/4

teaspoon

pepper

1/4

teaspoon

salt

2

tablespoons

hot sauce

1

large red pepper

diced

1

large green pepper

diced

1

cup

uncooked long grain white rice

5

cups

beef broth

divided

1

15-oz.

can tomato sauce

1

15-oz.

can diced tomatoes

1

4-oz.

can green chiles
Instructions
Turn on the Instant Pot's saute function and add olive oil.

When olive oil is fragrant, add onion and garlic. Cook for one minute and then add ground beef.

Saute beef for 3-4 minutes, partially browning.

Turn saute function off and add the rest of the ingredients (only 4 cups of broth) to the Instant Pot and stir until all ingredients are combined.

Cover Instant Pot, seal valve, and cook for 3 minutes on high pressure.

When your Instant Pot beeps, quick release and let out the steam. Then, open Instant Pot.

Add the last cup of broth (or more if desired) and stir.

Serve stuffed pepper soup with Greek yogurt and green onions.
Tips & Notes
Storage: Store soup in the refrigerator in an air-tight container for up to 5 days.
Reheating: The soup will thicken in the fridge, so add a little more beef broth before, heating back up, and serving.
Freezer Directions: Let soup cool completely before transferring into a freezer-safe gallon-size bag. Seal bag tightly and then freeze for up to 3 months.
Nutrition facts
Calories:
413
kcal
Carbohydrates:
58
g
Protein:
18
g
Fat:
10
g
Fiber:
7
g
Sugar:
10
g
Shop This Post
Pressure Cooker
Instant Brown Rice
Beef Broth