This massaged fennel and kale salad with lemon vinaigrette is the absolute perfect salad. All you have to do is massage your kale, chop your ingredients, and toss it with your vinegarette! It is a great salad for meal-prep throughout the week. Trust me, you'll never look at kale the same way again!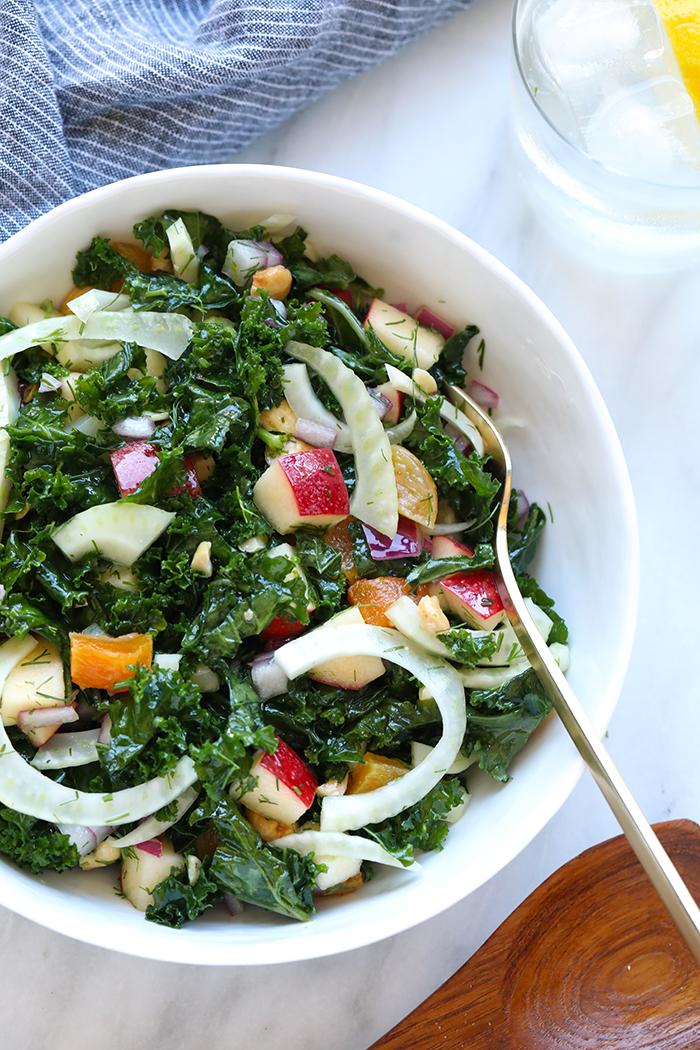 MASSAGES. Do you love them or do you hate them?
There are two kinds of people in this world. People who like massages and people who don't. I am here today to tell you that I am the kind of person that LOVES massages. It's Linley here and we are going to chat all about massages, including massaging KALE. But first, massaging humans. WOOO
I have always been a physical touch person. Hand holding, snuggling and massaging—> I'll take all of it. I love getting massages from friends and going in and getting massages from talented masseuses. I have not yet found "my masseuse", where Lee has an amazing masseuse she swears by at Elements Massage. I am on the prowl for a masseuse that I can rely on, but for now, I get massages when I can.
My boyfriend Cole has the great honor of being my go-to when I have a sore neck or shoulder. Unfortunately, Cole does not like massages himself and in turn doesn't completely understand why the heck my shoulders need to be massaged every night. LOL. To each their own, so I usually turn to Lee when I need a good neck rub. Another thing you guys should know about me is that I absolutely LOVE giving massages. My secret dream is to become a masseuse myself and bring Fit Foodie Finds on the road a couple times a year and put @linleyshands to work! One step at a time, right?
In all seriousness, I know that massages are luxury here in the US, but I truly wish they were considered preventative care. There was a time when I only thought of massages as being a special treat that you get once a year. As I've gotten older I've learned how important massage is for my physical and mental health. As I change the way I move my body and workout, my body evolves and changes what it needs from me. I have been nursing an IT band injury for almost 4 years and massage has played an integral part of my recovery. I also suffer from anxiety and there is nothing like a massage to ease my nerves. WOO.
You know what else I love to massage? KALE.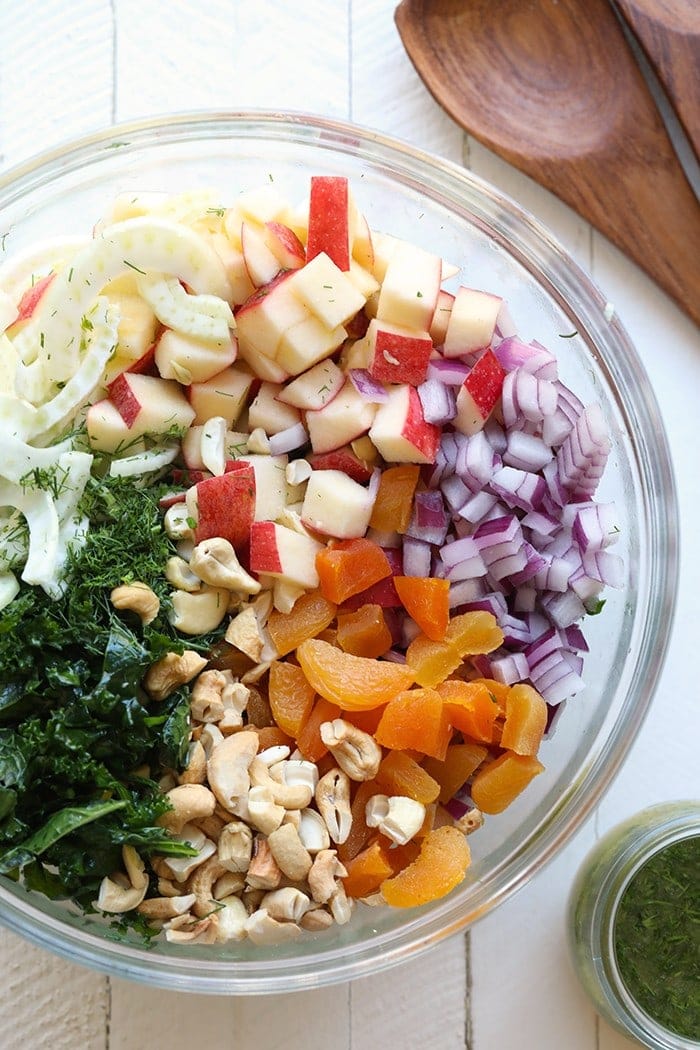 We have been SO excited to share this massaged kale salad recipe with all of you! If you follow Fit Foodie Finds and @linleyshands on Instagram, then you have seen this salad multiple times! You have pinged us everytime we have made it and now it's finally HERE!
First and foremost, don't be scared of kale salad. Yes, it's roughage and it is very hard to enjoy raw. Once you mix it with a little oil and salt and give it a nice massage for 2-3 minutes, you're golden. This massaged kale salad is going to seriously change your life.
Let's talk about everything that is in this salad. Fennel is the star of the show. If you aren't familiar with fennel, it is part of the carrot family and you will most likely see it in the grocery store under the name 'fennel bulb'. It looks kind of crazy, as it has a bulb, stalks, and flowery herbs at the top. Guess what, you can eat the whole dang thing and we definitely use every part of the fennel bulb in this salad!
Along with your fennel and kale, you've got apples, dried apricots, onion, cashews, and a super simple lemon vinegarette! The key to this salad is chopping everything the same size! I love that this salad is not a bowl of lettuce with some toppings. This salad is a perfect mixture of crunchy, sweet and savory with a nice tartness from the vinegarette. This salad is also very easy to modify. If you don't have dried apricots, use raisins. If you don't have kale, use arugula. If you can't find fennel in the grocery store, use cabbage or carrots! It's as easy as 1-2-3.
Now, get your kale on and enjoy this delicious and refreshing salad!
Commonly asked questions about KALE:
How long do you massage kale? Massaging kale is easy! All you have to do is drizzle your kale with an oil of your choice (we use olive oil) and sprinkle your kale with a pinch of salt. Then, you massage the kale with your hands for 2-3 minutes until your kale breaks down. You'll know when it's done because it will reduce in size and it will be easy to eat.
How do you prepare kale for a salad? After you remove the kale stock from your kale you can prepare your kale salad many different ways. Or two favorite ways to prepare kale are to massage the kale or saute the kale. We rarely eat kale raw.
Can you eat kale as a salad? YES, kale salad is delicious!
Is raw kale good for you? Yes, raw kale can be good for you. Life is all about balance and you need to listen to your body. With that in mind, you should never eat too much of anything all the time. If raw kale makes your stomach hurt, don't eat it! If you get sick from eating kale, you should chat with a doctor.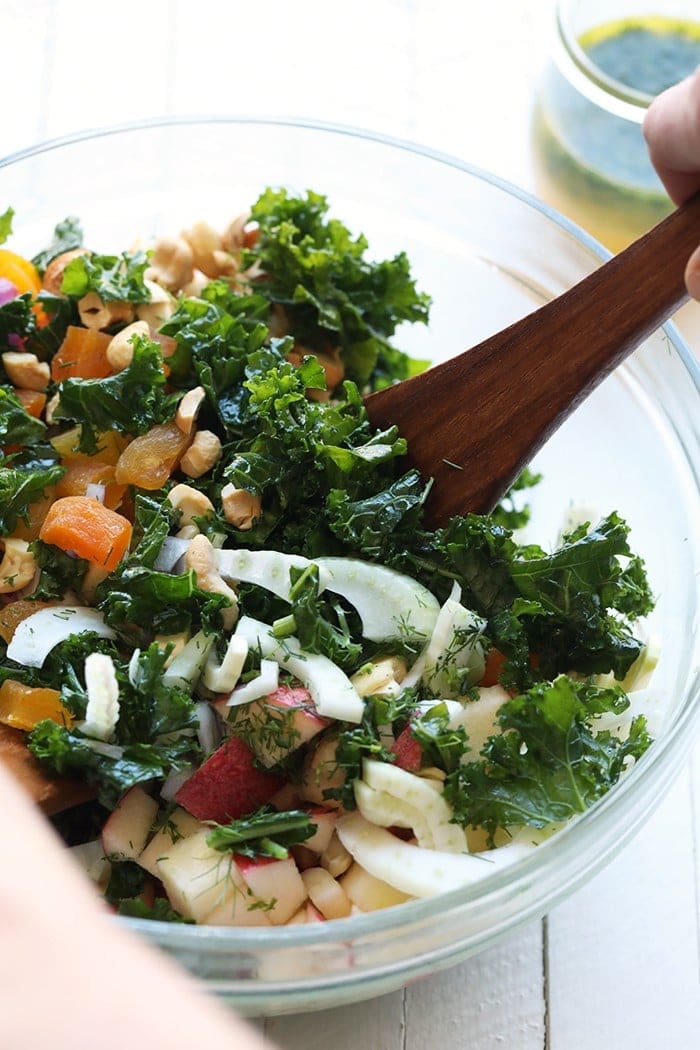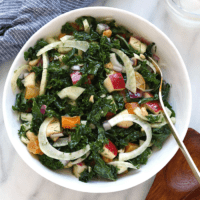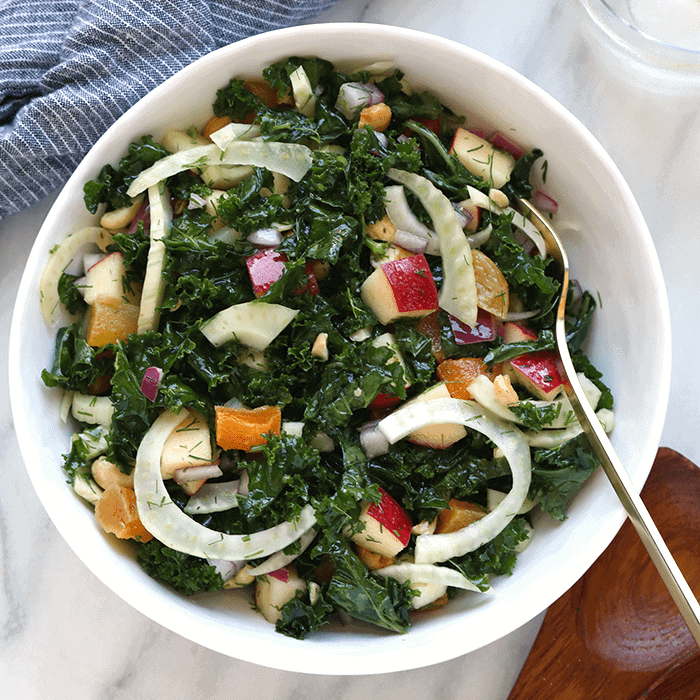 Massaged Kale and Fennel Salad with Lemon Vinaigrette
This massaged fennel and kale salad with lemon vinaigrette is the absolute perfect salad. All you have to do is massage your kale, chop your ingredients, and toss it with your vinegarette! It is a great salad for meal-prep throughout the week. Trust me, you'll never look at kale the same way again!
Prep:
15 minutes
Total:
15 minutes
Fat
24
Carbs
38
Protein
11
Ingredients
Salad
4 cups

kale, chopped

1

fennel bulb, sliced (~

1 cup

)

3

fennel stalks, chopped

1/4 cup

fennel fronds, chopped

1

apple, finely sliced

1/2

purple onion, finely diced

1/2 cup

dried apricots, chopped

1/2 cup

cashews, chopped

1/4

–

1/2

cup crumbled goat cheese*
Lemon Vinegarette
1/4 cup

olive oil

2 tablespoons

dill, chopped

2.5 tablespoon

apple cider vinegar

2 tablespoons

lemon juice

1/2 tablespoon

honey (or

1

depending on sweetness level)

1/4 teaspoon

salt
Instructions
Prepare your salad dressing by adding all of the lemon vinegarette ingredients into a mason jar. Tightly close the jar and shake it until all ingredients are well combined. Set aside.
Next, place chopped kale into a large bowl and drizzle two tablespoons of dressing onto the kale. Massage the kale with your hands for 2-3 minutes. When kale is ready it will have reduced by half and will be soft, rather than tough.
Add the rest of your salad ingredients to the kale and toss salad. Add your dressing and mix until all salad ingredients are coated in dressing.
Tips & Notes
*goat cheese is optional and the nutrition information reflects 1/4 cup of goat cheese.
Nutrition Facts
Serving Size:
1/6
Calories:
393
Sugar:
23
Fat:
24
Carbohydrates:
38
Fiber:
9
Protein:
11