You guys.
The high was in the 50's here this past week. THAT SHIZ CRAY. It's September and it already feels like October. Sigh.
Good thing I've been waiting to post this baby since…err, last April when I made it!
I visited my parents in Ohio over my birthday and Grandma Marie and Papa Ray drove to Cleveland from Chicago over the same weekend so we could all see each other. Insert <happy dance>.
My grandma is like a genie in the kitchen. Her pizza is to die for. So is this roasted chicken that her and I made together!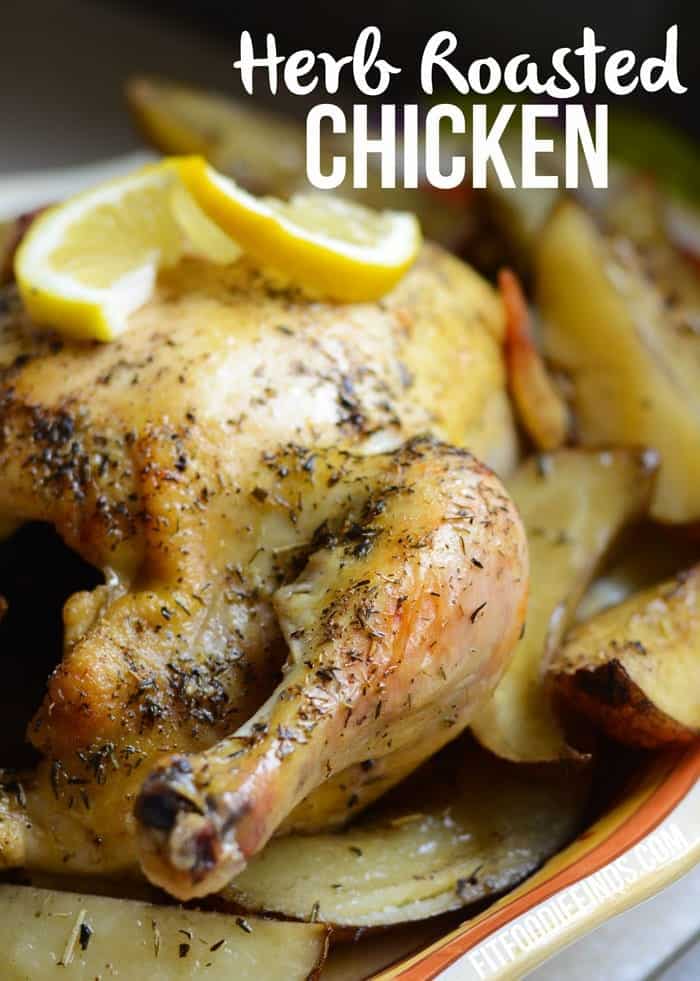 Guys- roasting your own chicken is way easier than it looks! It definitely takes time, but it's SO NUMMY!
A dash of this and a dash of that. That's how we roll in this household.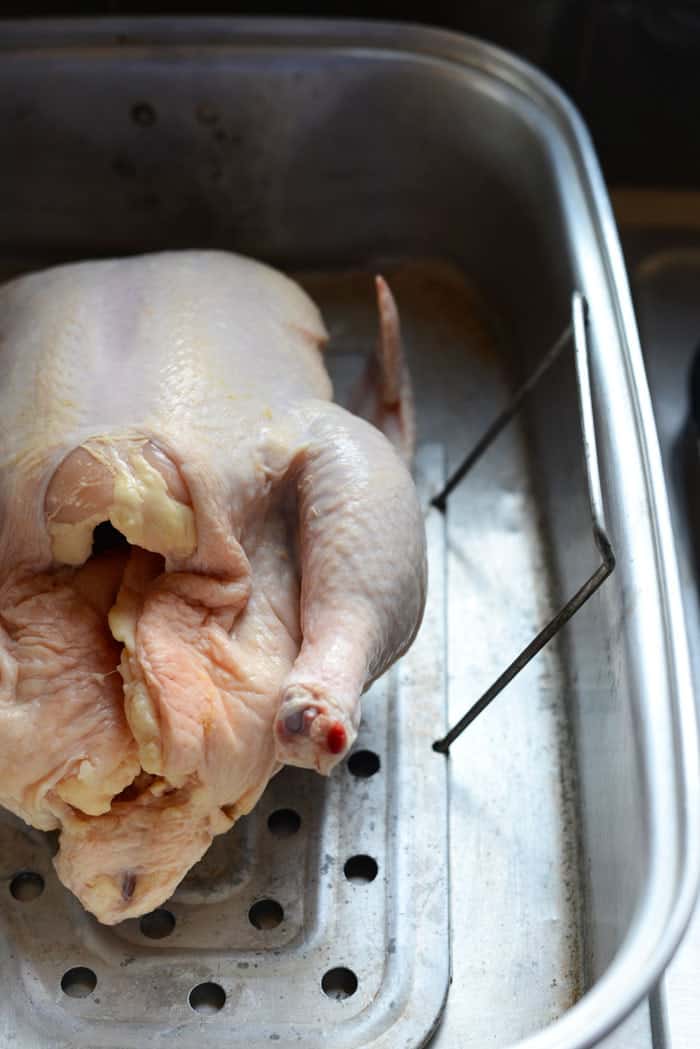 Because grandma didn't measure, I didn't measure. We just sprinkled? I'd say we used ~ a teaspoon of each.
Here's a list of the spices we used:
Salt
Pepper
Thyme
Rosemary
Basil
The great thing about roasting your own whole chicken, is that you can use your favorite flavors. Maybe add some garlic or onion powder?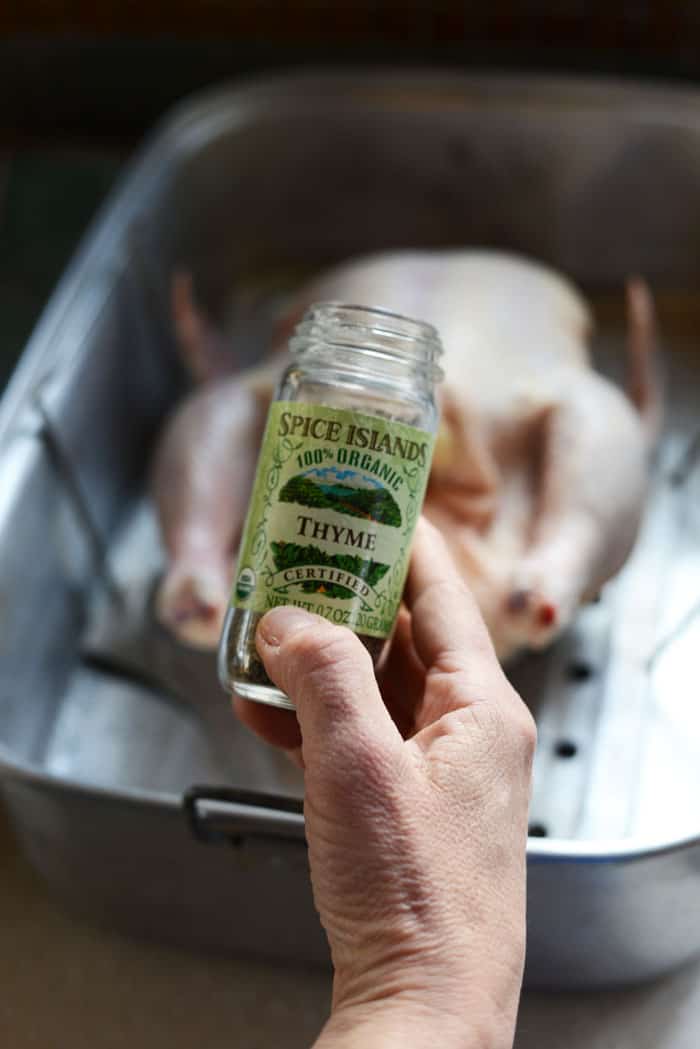 I think I need to hire Grandma Marie as a part time Fit Foodie.
I sure could use a hand model at my beckon' call.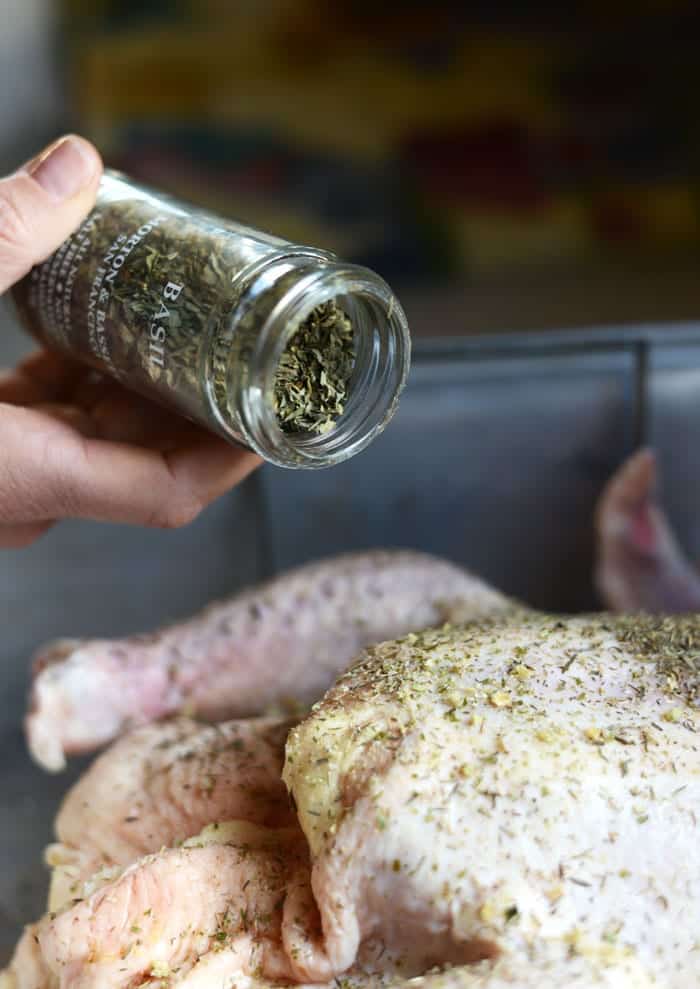 Want to know the secret to a golden brown chicken?
Butter + EVOO.
Just a little. Enough to give it that beautify color!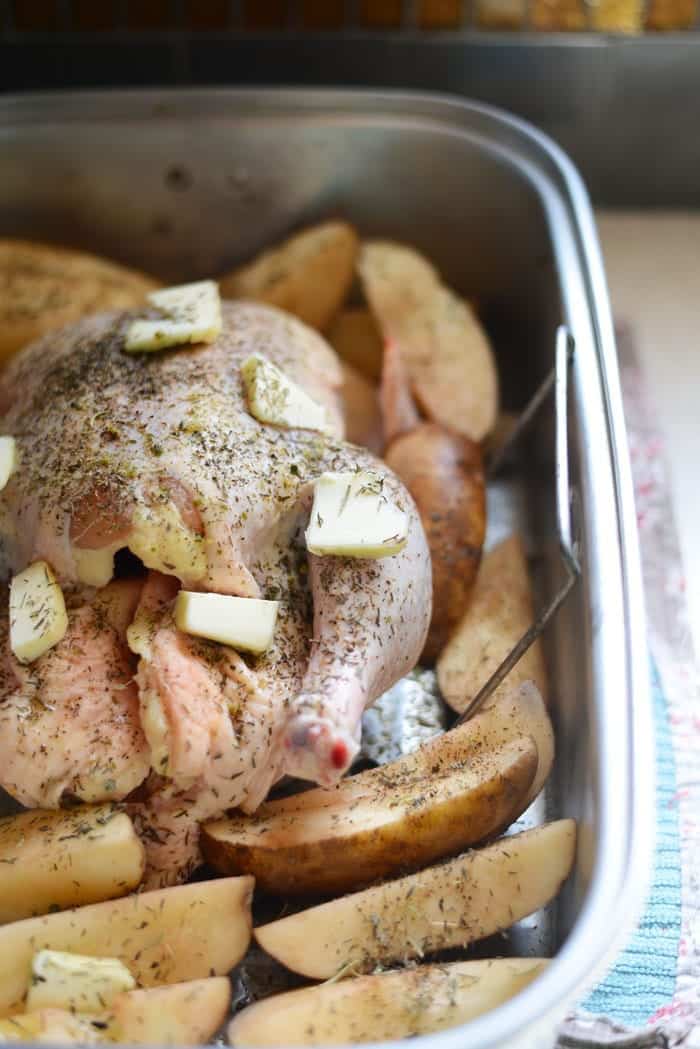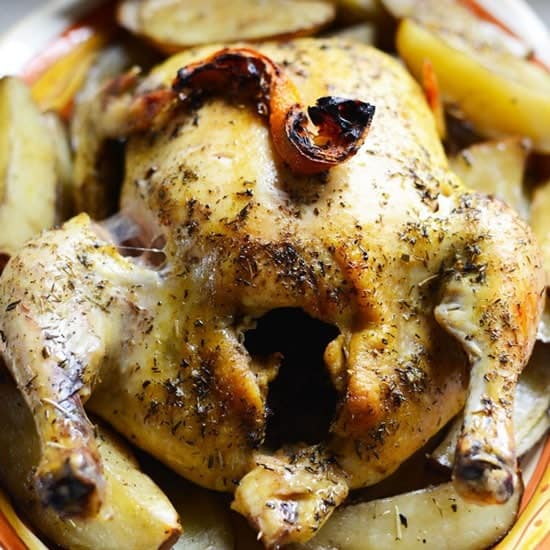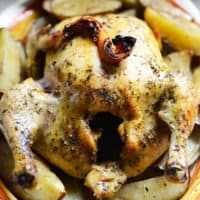 Herb Roasted Chicken
Prep:
20 minutes
Cook:
1 hour 30 minutes
Total:
1 hour 50 minutes
Ingredients
-Roasting Chicken (Approx 4 lbs)
-1 Tablespoon of olive oil (for brushing)
-salt and pepper, to taste
~ 1 teaspoon thyme
~ 1 teaspoon rosemary
~ 1 teaspoon basil
-1/2 lemon (juice)
-2 cups chicken stock
-2 tablespoons of grass fed butter, thinly sliced
-1 cup white wine
-4 medium potatoes
What you'll need
-roasting pan
-meat thermometer
-chicken baster
Instructions
Begin by preheating oven to 400ºF.
Next, prep roasting chicken, by removing the innards from the cavity (usually it's in a bag inside the cavity).
Place the chicken on a roasting pan with rack. You are more than welcome to trim the fat at this point, but it creates delicious flavor if you leave it on. Prep potatoes, by cutting them into quarters and placing on the bottom of the pan around the chicken.
Next, rub chicken with about a tablespoon of olive oil. Then, season chicken (and potato wedges) with salt and pepper (to taste), thyme, rosemary, and basil. Again- all of these spices are to taste. I used about 1/2 teaspoon – 1 teaspoon of each spice. Take a half a lemon and squeeze juice over the top of chicken. And, places 2 tablespoons of butter (thinly sliced, see photo) and a wedge of lemon on top.
Pour about 2 cups of chicken stock on the bottom of your roasting pan. This will be used for basting later.
Place chicken in oven at 400ºF and let roast for about 60 minutes. At this point, baste chicken with chicken stock from the bottom of pan. Place back in oven and let cook for 15-30 minutes longer.
Instert meat thermometer in one of the chicken breasts. It should read ~180. If it has not reached this temperature, baste again and place back in oven to continue cooking until done.
For those that don't know- this is what basting looks like. You literally squeeze the juice from the bottom of your pan, into the baster, and squeeze it on top of the chicken. It's like a chicken shower.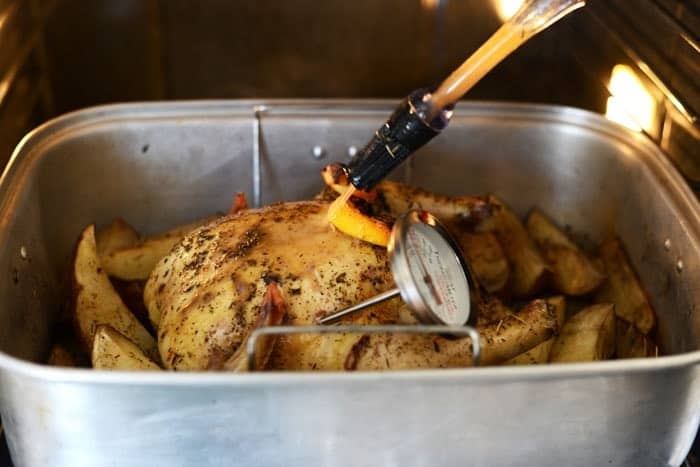 This is definitely a show stoppin' recipe and perfect for a dinner party or small get together!
Obsessed with how golden brown the lemon wedge got 😀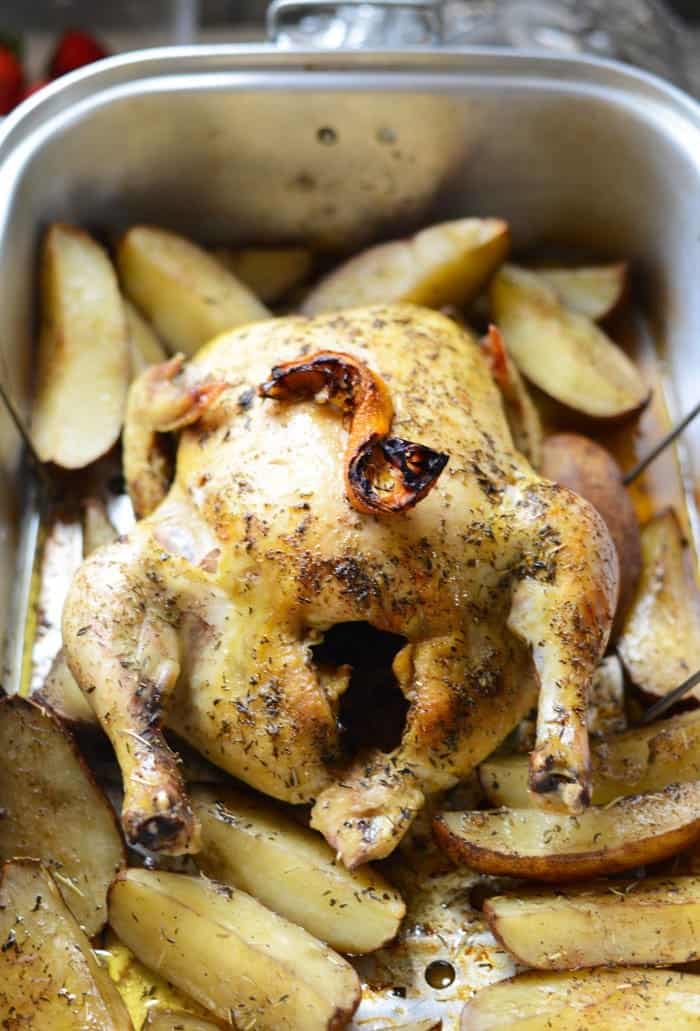 And how could I forget about the potatoes. Uhm. No words.
You guys know my love for potatoes…I mean my second name is Fit Foodie Spud…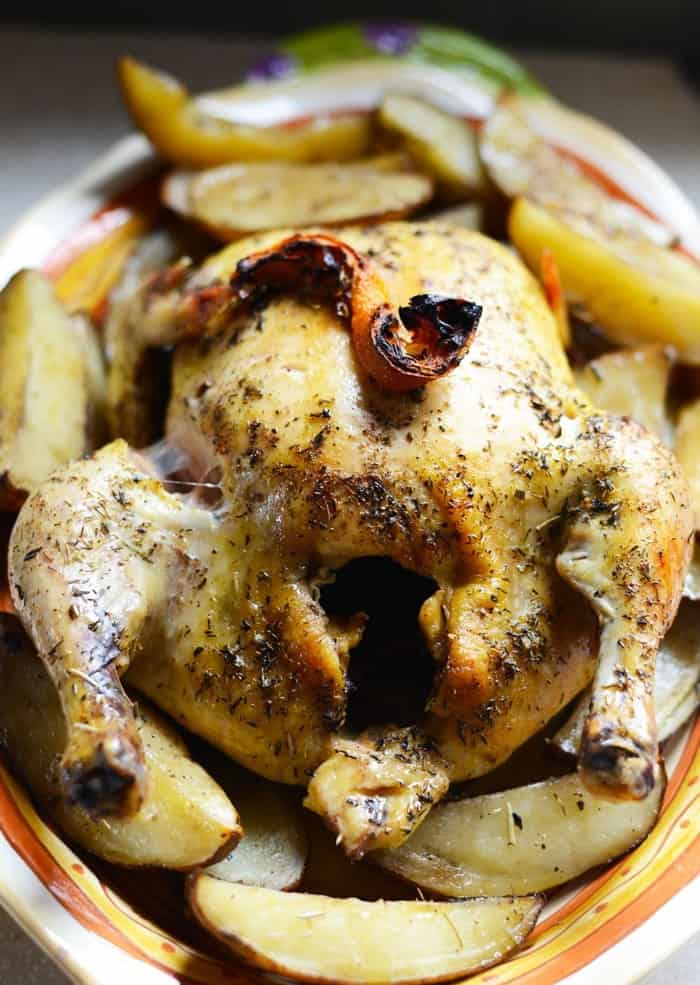 And if you made it this far down (so many photos)…The best part of this whole recipe is that…YOU ONLY NEED TO GET ONE PAN DIRTY. Yup, everything is made in a single pan.
It is One Pot Sunday, after all.