Make this homemade chicken broth and use it in your favorite soup recipe! This broth is the most flavorful chicken broth on the internet. You can use it in soups, chilis, sauces, and more!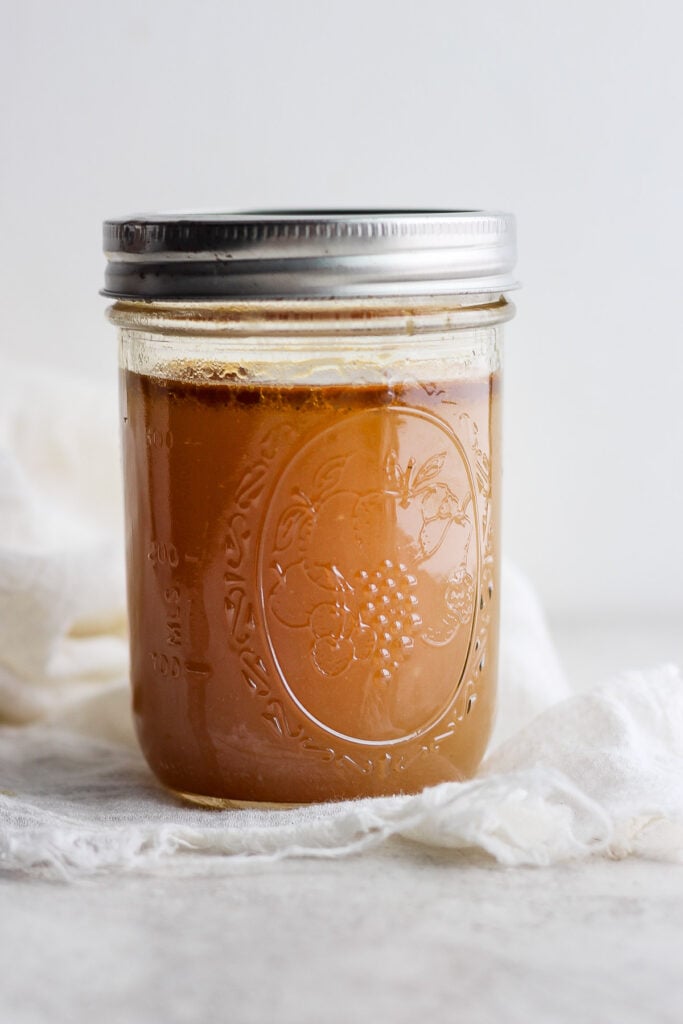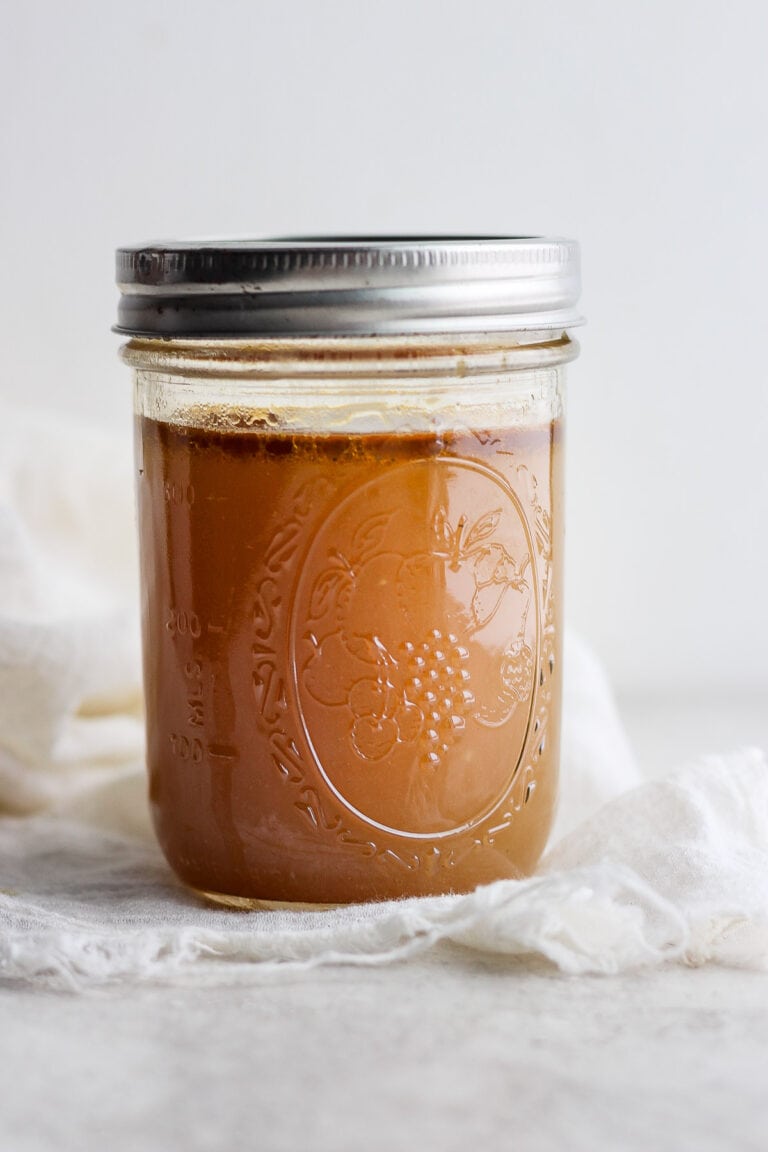 How Do You Make Chicken Broth From Scratch?
Have no fear, making homemade chicken broth is super easy to make. It's no secret that homemade chicken broth is so much more flavorful than the store-bought stuff and we're here to show you how to make it!
Making homemade chicken broth from scratch is a bit time consuming, but it's worth it. All you need vegetables (or vegetable scraps), chicken, herbs, and salt! After that you simmer all day long and BOOM, you're ready.
Why should you make this chicken broth recipe?
You can use this broth in any soup or chili recipe. It will make any recipe super flavorful!
Chicken broth is easy to make and store in the refrigerator or freezer!
This chicken broth recipe is easy to make your own! You can use whatever vegetables or herbs that you want!
Chicken Stock vs Broth
This is the age old question. What is the difference between chicken stock and chicken broth?
Chicken stock tends to be made with more bones and simmers for more than 2 hours. Stock also is made with chicken and vegetables.
Chicken broth tends to be made with chicken meat and bones, vegetables, and seasonings. It can have a lower simmer time. Broth generally has more flavor because it is seasoned!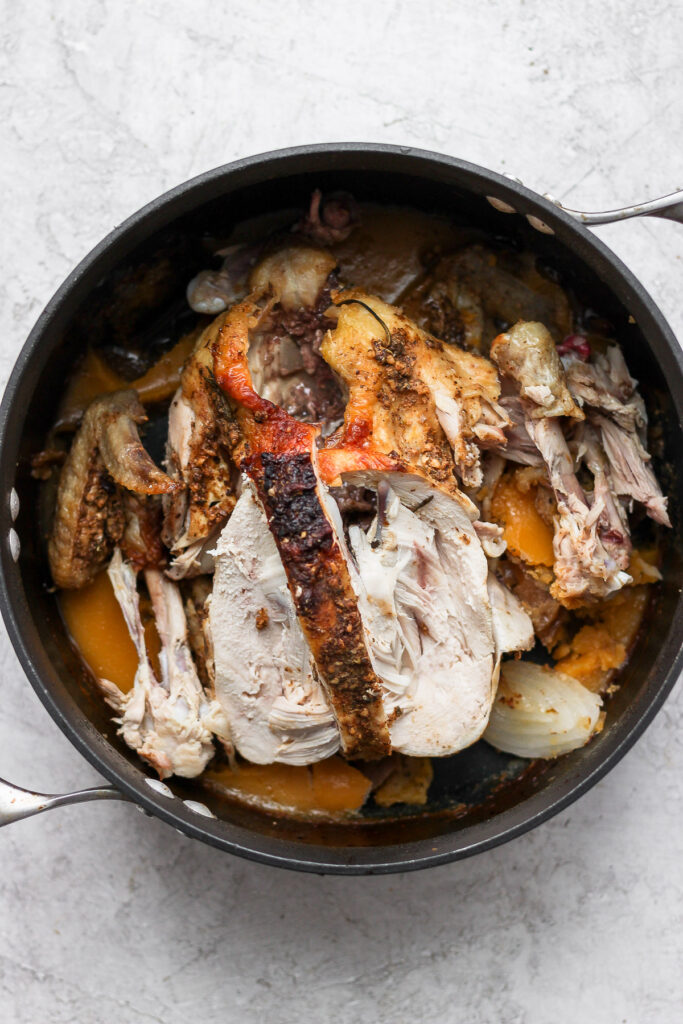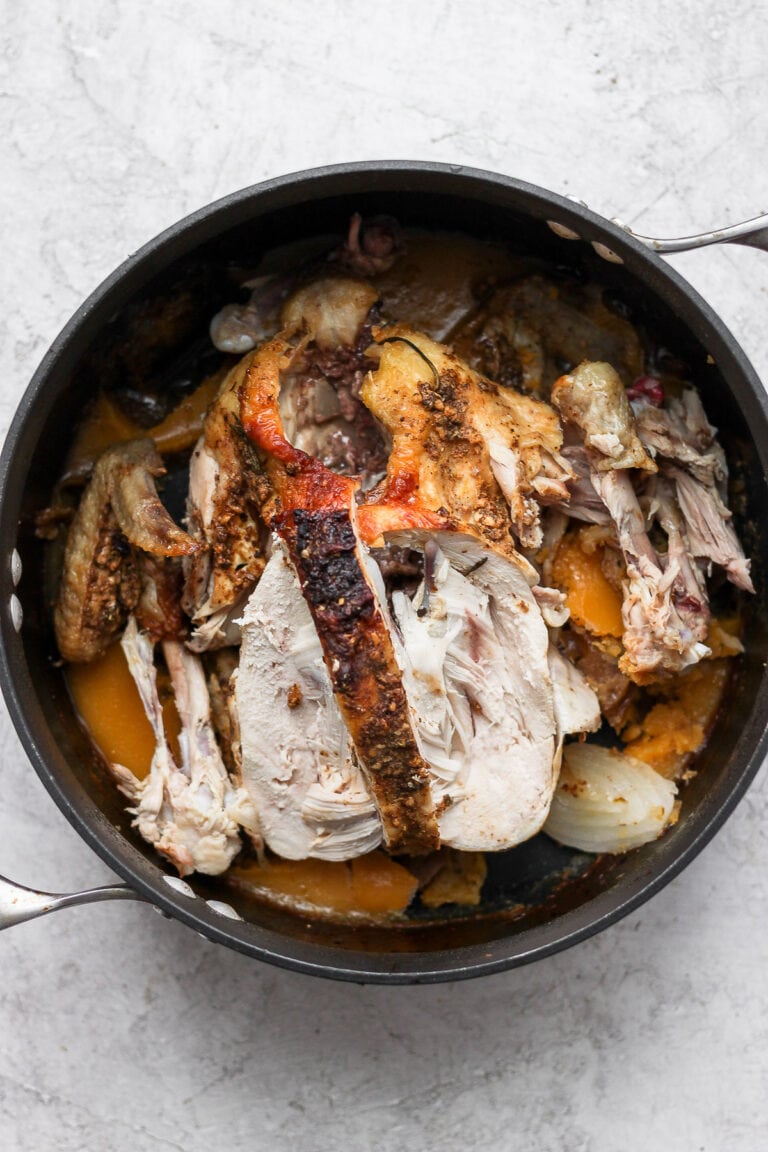 Everything You Need to Make Chicken Broth
Chicken Carcass-
For this chicken broth recipe we used the carcass and meat from our herby whole roasted chicken. It is already flavored with a delicious dry rub and some butter. We scraped all of the herbs, fat, and left over chicken pieces into the pot for this chicken broth.
If you don't have a whole chicken, use any chicken meat that you have around the house! You could also use a rotisserie chicken that you can buy at the store!
Vegetables and Vegetable scraps
Most chicken broth and chicken stock has mirepoix as a base which is a mixture of onion, carrot, and celery! We use mirepoix and red pepper for extra sweetness!
As for the vegetable scraps, you can use whatever scraps or even fresh vegetables that you have on hand! We put old vegetables scraps in the freezer to use in broths and sauces! Below is an example of scraps that you can save and use in broth or stock!
Garlic paper
Onion peel
Bell pepper core and seeds
Any rind or skin from any vegetable
Carrot shavings
Salt
We recommend that you do not skimp on the salt for this chicken broth recipe! The salt in this recipe helps bring out all the delicious falvors!
If you are hoping to make a lower sodium broth feel free to salt to taste!
Water
Water is the base liquid for this recipe! All the flavor from the meat, vegetables, and herbs will simmer in the water and make it so tasty.
Herbs
We simmered this chicken broth with parsley, thyme, and rosemary. We also used a chicken carcass that had some tasty flavors on it already (chili powder, salt, paprika, sugar).
If you want to add extra flavor to you chicken broth feel free to add chili powder, paprika, dried oregano, dried basil, dried Italian seasoning, or a few teaspoons of your favorite spice mix!
How to Make Chicken Broth
Here we go, people, let's dive into everything you need to do to end up with the most delicious chicken broth, ever!
Step ONE
Add all of the ingredients for this chicken broth to a large pot.
How big of a pot do I need for this chicken broth? We recommend using a deep 12 quart stalk pot or bigger. You want enough room for all of the ingredients and water. It is important that everything has space to simmer.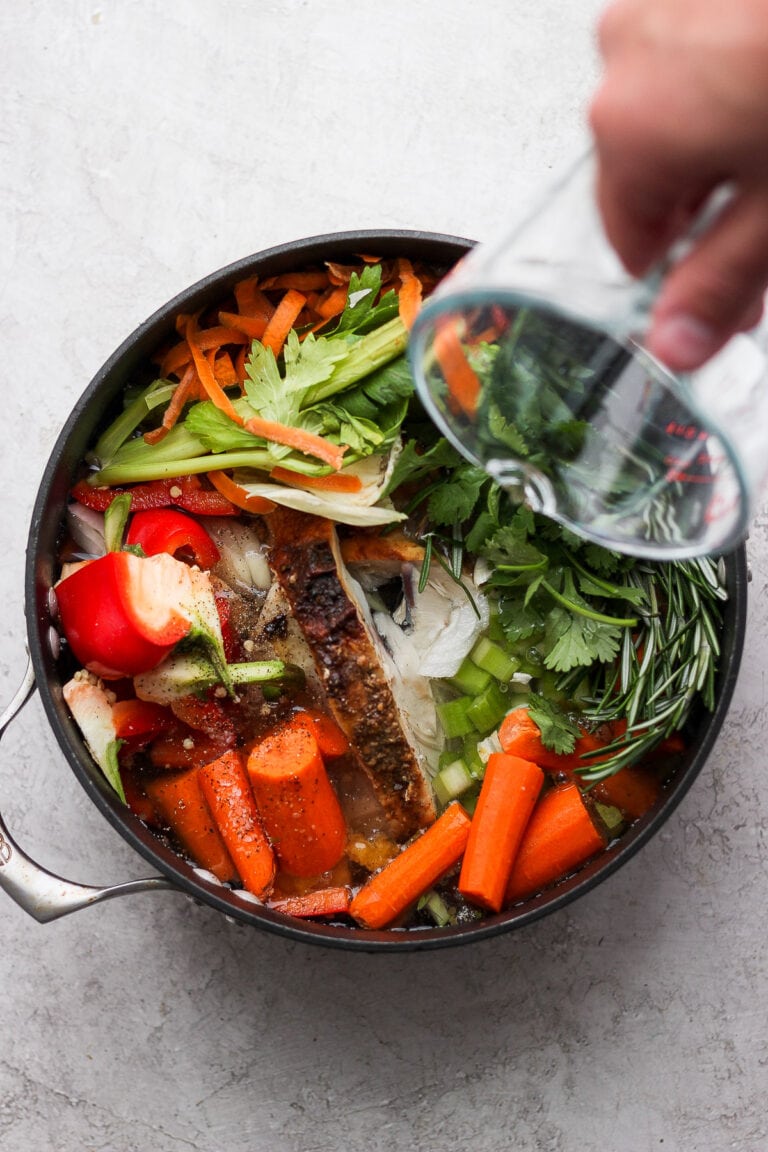 Step TWO
After everything is in the pot be sure that everything is mixed together and combined. Bring the water to a boil over high heat and then turn the heat to low and simmer for at least 4 hours.
The longer you simmer the broth, the more flavorful it will be!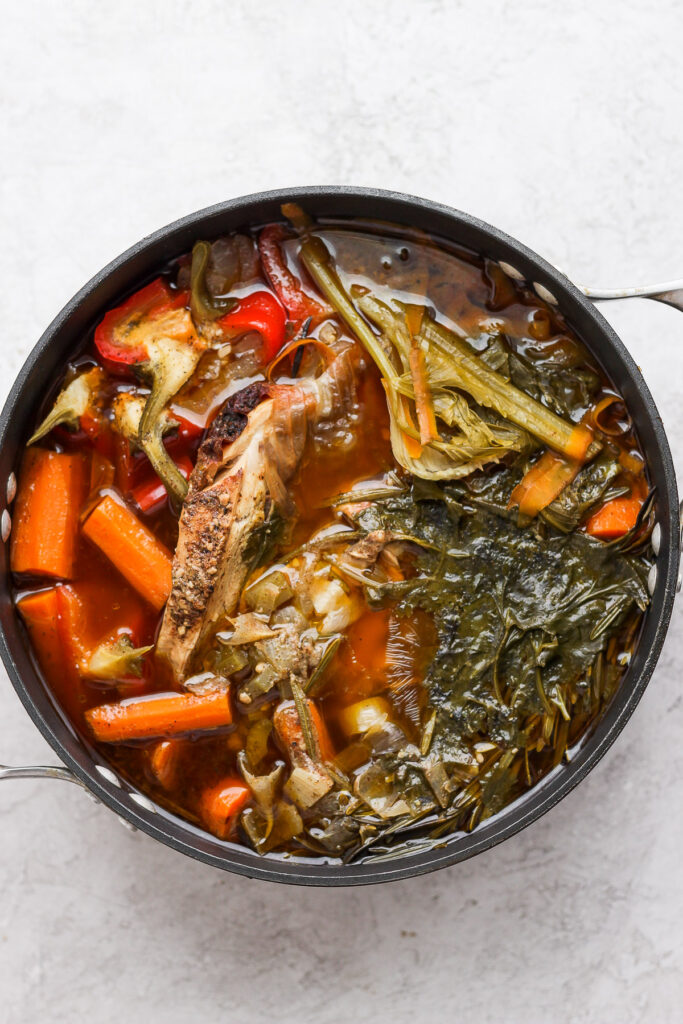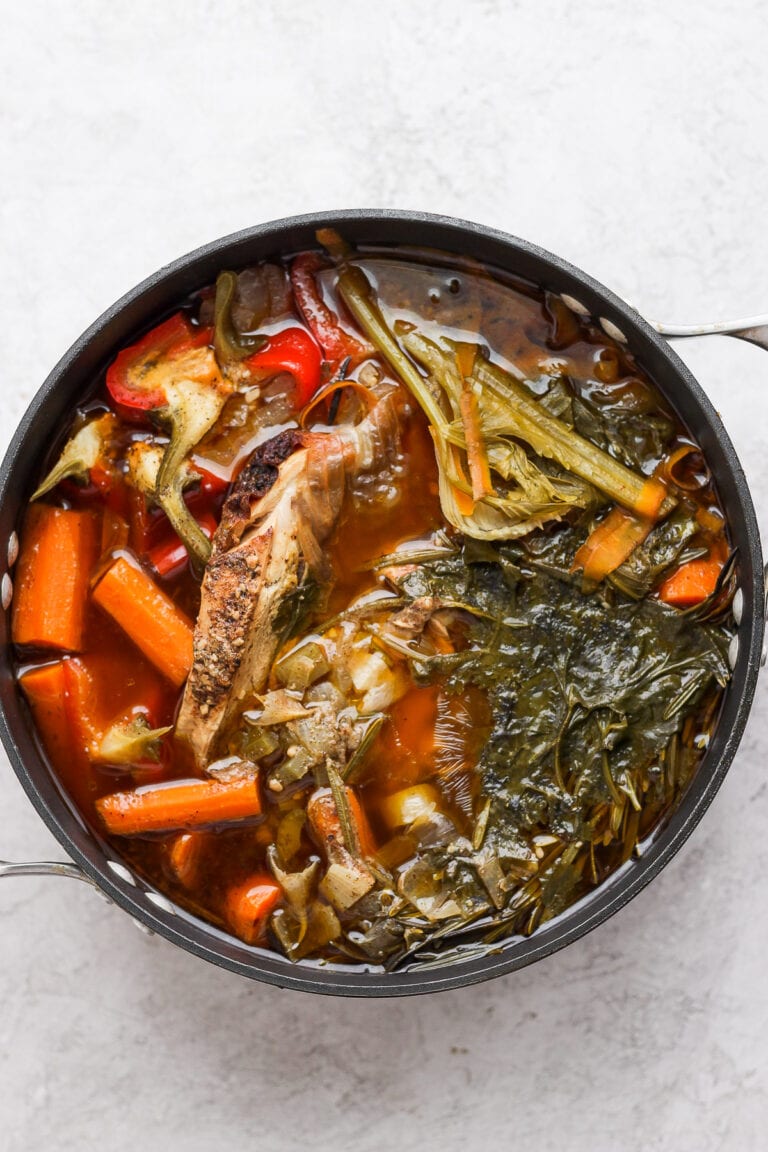 Step THREE
After the broth has simmer, remove all of the large chunks (chicken carcass and large chunks of vegetables) from the pot and discard them.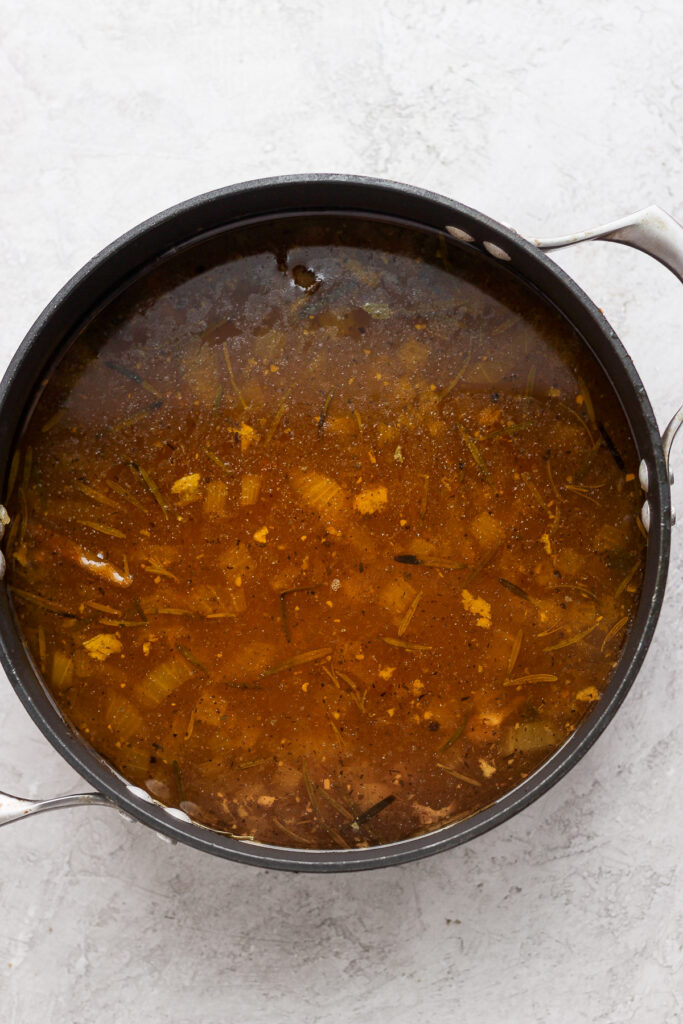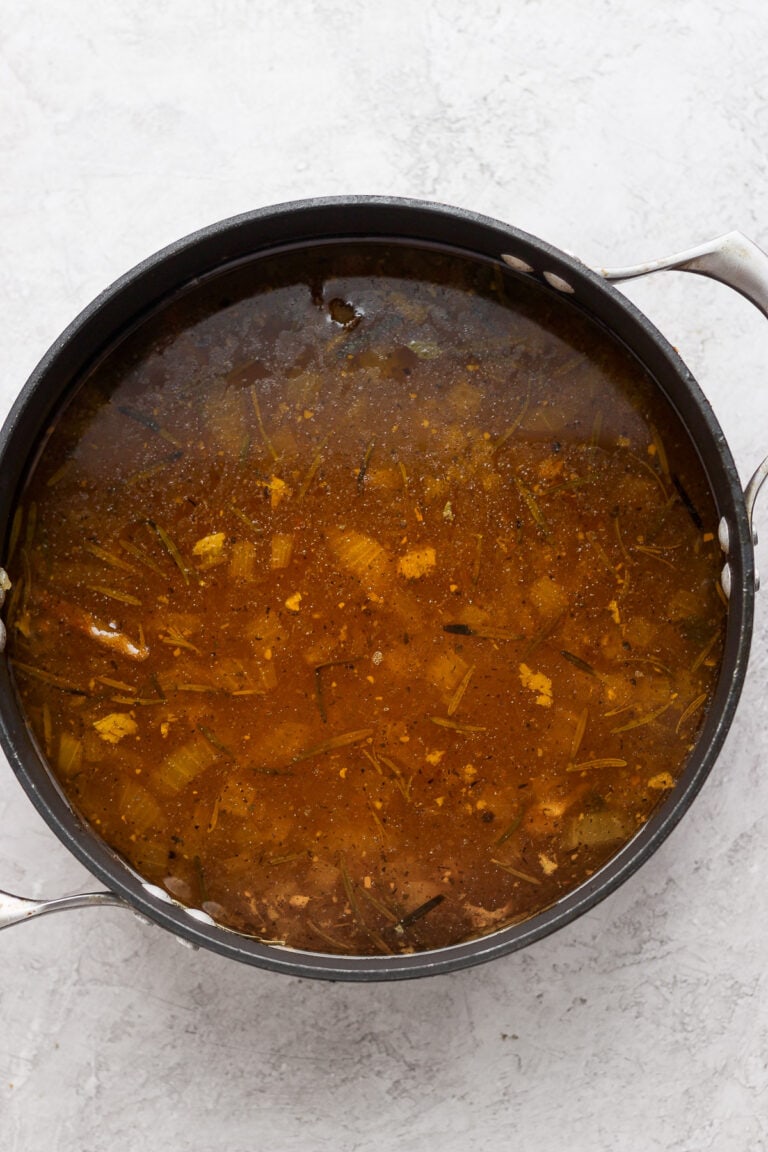 Step FOUR
The last step is to take the chicken broth and pour it through a fine sieve to separate the chicken broth liquid from the smaller chunks of herbs and vegetables!
Storage
To store the chicken broth, let the broth cool completely before pouring it into mason jars. Tightly seal the mason jars and place them in the refrigerator for 1-2 weeks or in the freezer for up to 3 months!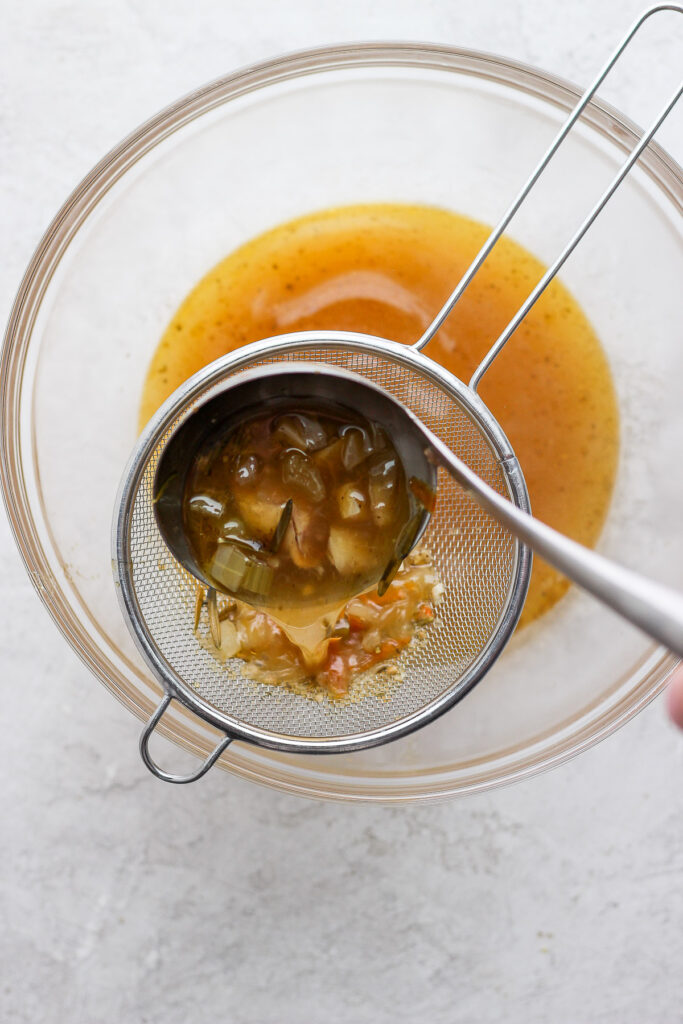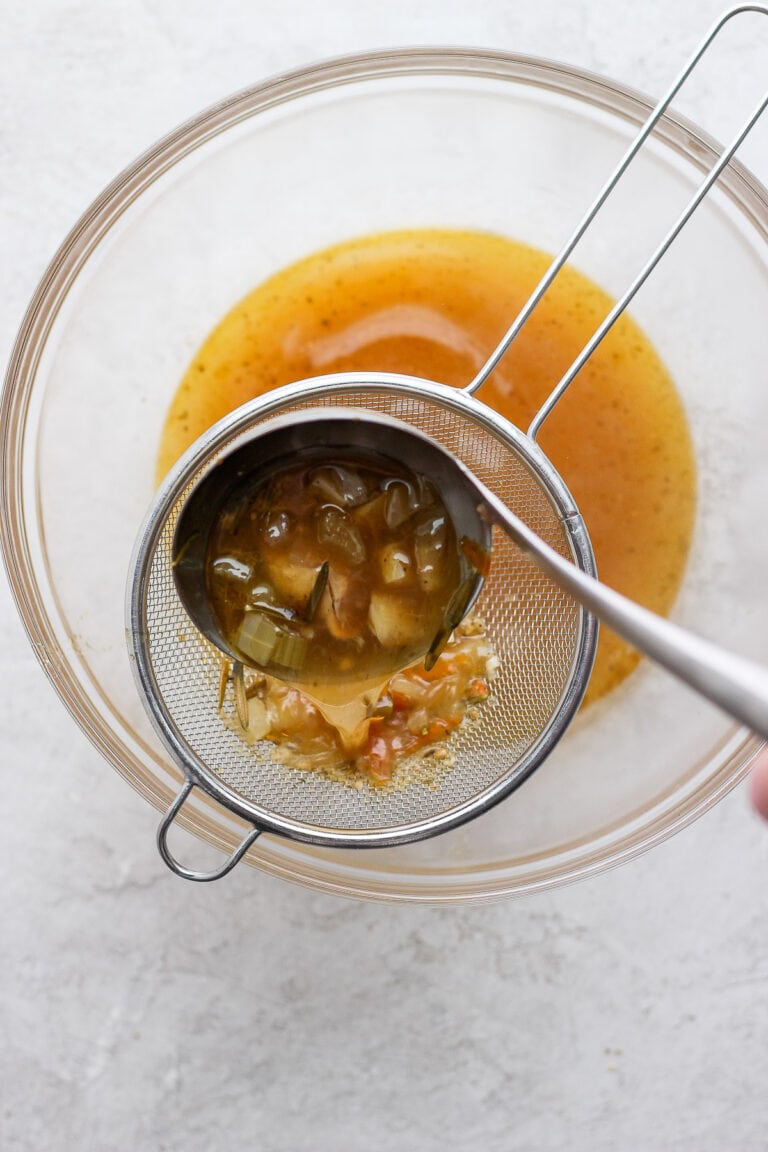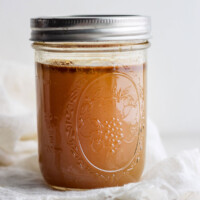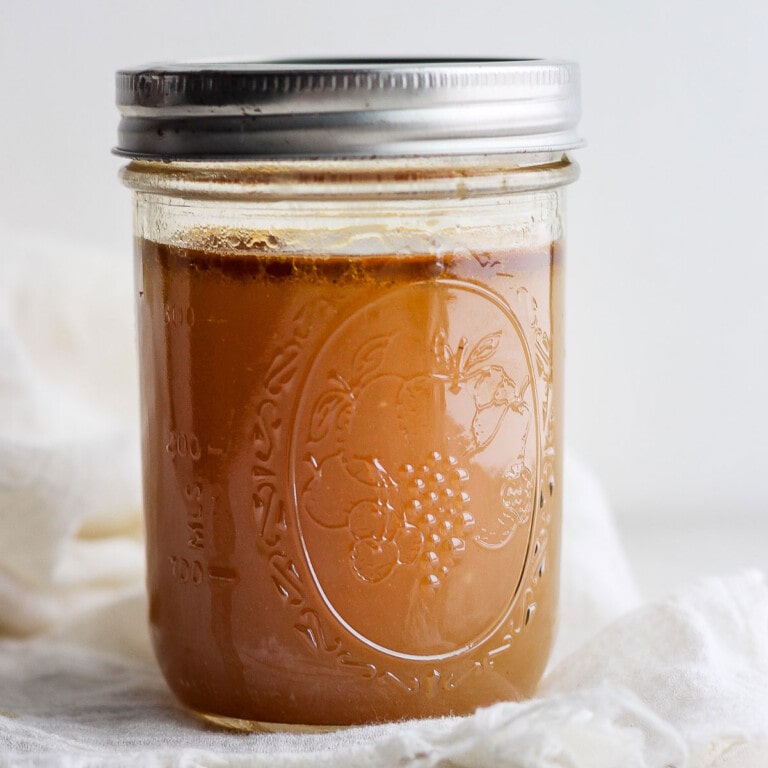 How to Make Chicken Broth
Ingredients
Leftover bones

meat, skin, and juices from a raw or cooked full chicken

1

head of garlic

with the paper and peels, roughly chopped

1

large yellow onion

chopped

3

medium celery stalks

chopped

3

medium carrots

chopped

1

large red pepper

with the stem and seeds, chopped

1-2

cups

veggie scraps

2

teaspoons

salt

or more, to taste

1

teaspoon

ground pepper

6

cups

water

1

bunch of fresh parsley

5-7

sprigs of thyme or rosemary
Instructions
Begin by placing the leftover chicken, skin, juices, and chicken carcass into a large dutch oven. 

Place the rest of the ingredients into the dutch oven and cover.

Heat the dutch oven over high heat and bring to a boil.

When the water comes to a rolling boil, turn the heat to low and let the chicken broth simmer on low for 4-6 hours (the longer the simmer the more flavorful the broth). 

Check the chicken broth every 1 ½ hours and scrape any foam or fat that gathers at the top of the dutch oven. 

When the chicken broth is done, remove the dutch oven from the heat and discard the larger chunks of vegetables and the chicken carcass. 

Finally, pour the remainder of the chicken broth through a sieve and into a large jar or bowl. Discard any chunks in the sieve. 

Use the chicken broth for a soup or let the chicken broth cool completely before pouring the broth into mason jars or any other airtight container. 

Place the broth in the refrigerator for up to 7 days or in the freezer for up to 3 months. 
Nutrition facts
Calories:
221
kcal
Carbohydrates:
6
g
Protein:
25
g
Fat:
13
g
Fiber:
2
g
Sugar:
2
g