Simple Mediterranean Salmon Meal Prep made with an amazing arugula mint pesto, a chunky Greek salad, and a side of couscous!
Did I mention this lemony salmon is ready to go in less than 10 minutes using our favorite broil method?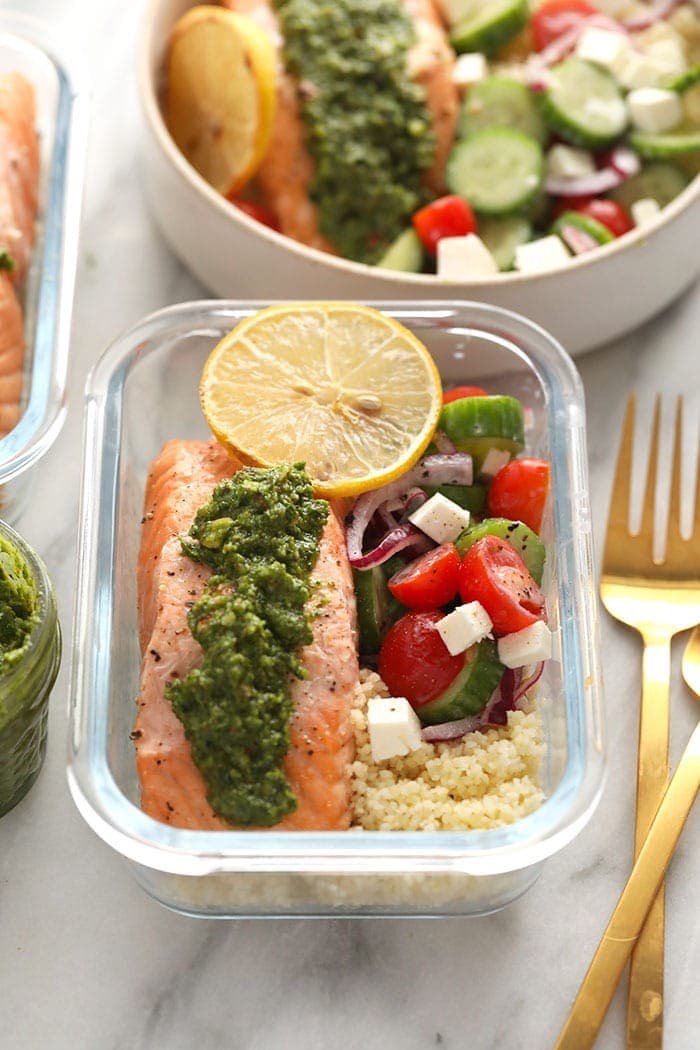 All About the Salmon Meal Prep
Salmon is one of my all-time favorite proteins to meal-prep for the week because it's one of the only fish that tastes good reheated! We have many salmon recipes on Fit Foodie Finds and all my favorites include lemon: Lemon Butter Seared Salmon, Lemon Pepper Salmon, and Sous Vide Salmon.
Today's recipe is all about the ability to bring this salmon with you to work, school, or wherever you go during the day. This Mediterranean-inspired meal is composed of 3 parts >> protein, grain, veggies.
Salmon: simply seasoned, quick-broiled, and topped with pesto, this salmon is fresh and delightful.
Salad: toss together a quick and chunky side salad made with tomatoes, cucumber, onion, and feta.
Couscous: keep it simple with 5-minute couscous or swap it for another grain!
Perfect Broiled Salmon
The broil-method is hands-down the easiest way to cook salmon. Pop your salmon filets under your broiler and in less than 10 minutes you have perfect flakey salmon ready to eat!
Tips for the perfect broiled salmon:
Season lightly: Keep things simple with salt, pepper, and lemon. It's fool-proof!
Watch Your Salmon: Everyone's broiler temp is different, which is why you need to be extremely careful. Make sure to check your salmon every couple of minutes!
Don't Over Cook: Last but not least, don't overcook your salmon. You know it's done when it's lighter in color and easily flaked.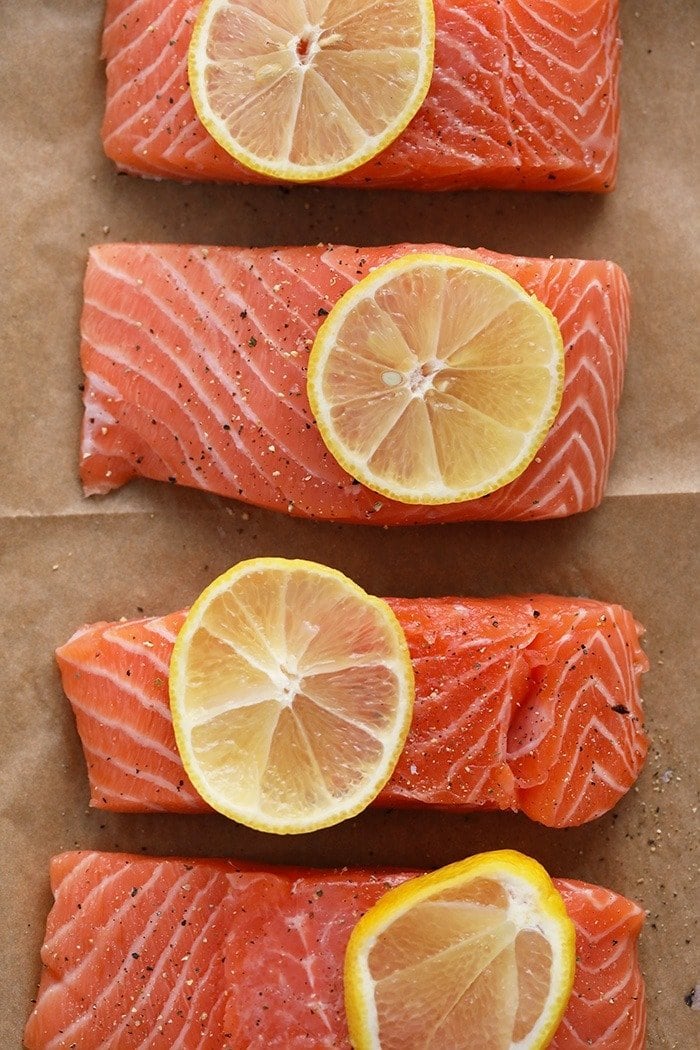 Arugula Mint Pesto
This salmon would not be complete without its amazing topping –> arugula mint pesto! Pesto is such a fun addition to any protein, but especially salmon. We're upping the anty with a unique arugula mint pesto and the flavor is to die for.
Here's what you need:
arugula
fresh mint
whole almonds
olive oil
lemon juice
water
salt
Blend it all together and BAM, you've got a flavorful topping for any salmon filet. These flavors too much for you? Make our basic homemade pesto, instead!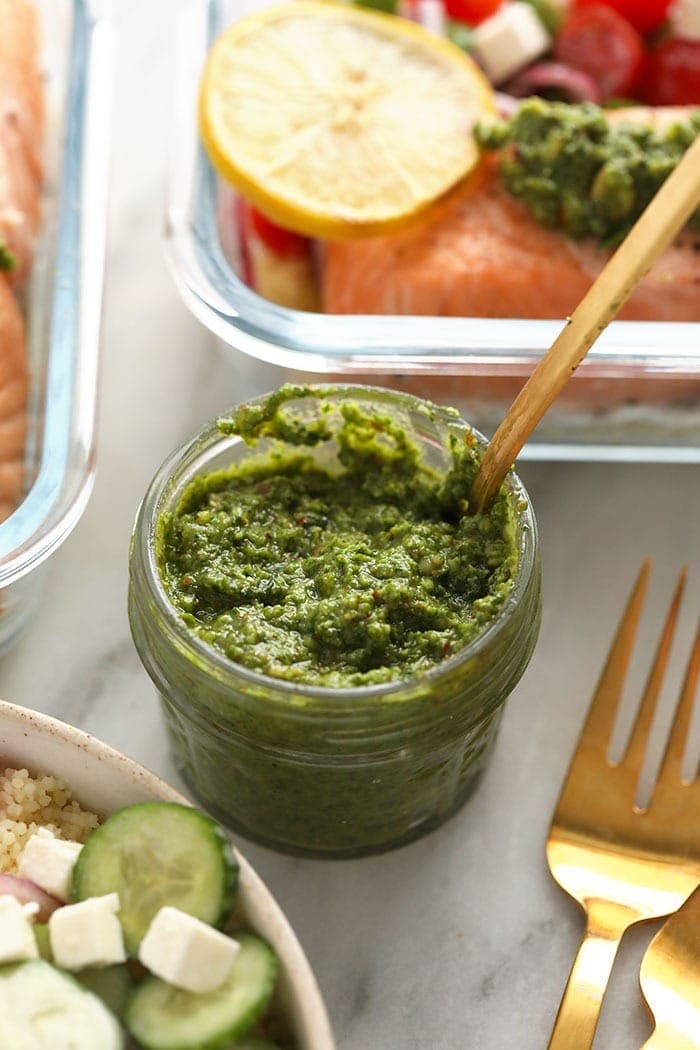 Mediterranean Salad
Cucumbers + tomatoes + onions + feta = one of my all-time favorite cold salads. It's fresh, citrusy, and pairs perfectly with this salmon meal prep!
Not only can you mix up this salad for this recipe, but having this on hand in the fridge "just because" isn't a bad idea either! Who doesn't like feta cubes?
Cous Cous
The last part of this meal is simple but adds a lot. Couscous is ready in under 5 minutes and is actually a tiny pasta ball, not rice!
You can, however, substitute any grain for the couscous. Here are some of my favs:
brown rice
cauliflower rice
farro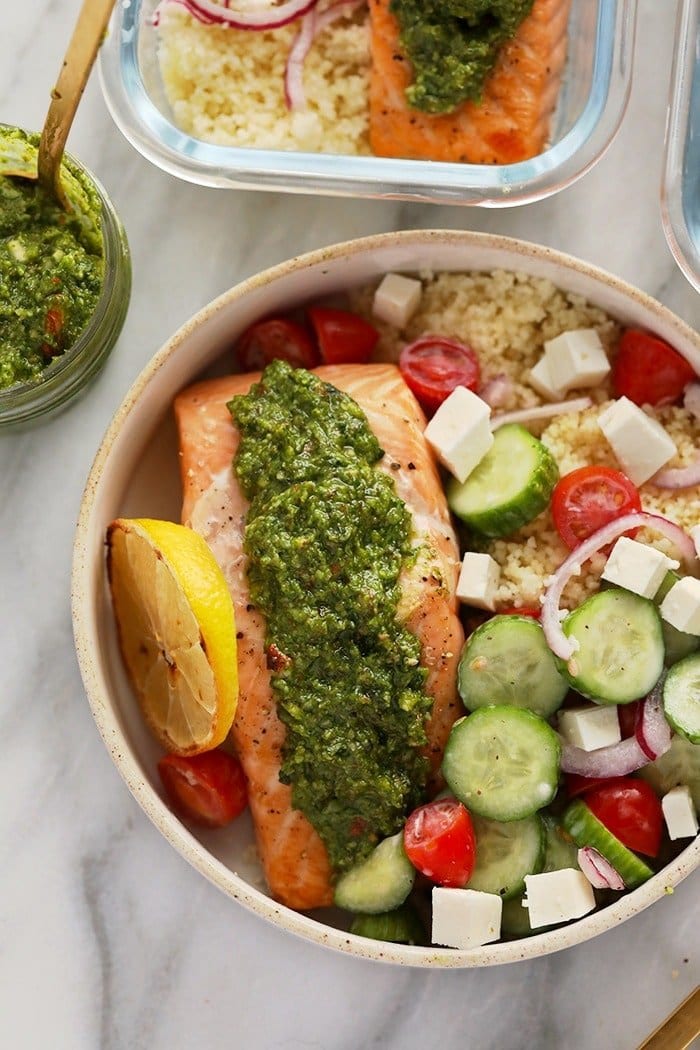 Q's and A's
How long does salmon last in the fridge? Cooked salmon will last in the refrigerator for 3-5 days. You know it has gone bad if it starts to smell funny or there is mold.
Is salmon healthy? Salmon is a healthy protein source that is packed with omega-3 fatty acids, healthy fats, and protein. In a 4 oz. serving of salmon there is 23g protein.
What should I serve with salmon? The easiest thing to serve with salmon is a grain such as couscous or rice and a vegetable such as broccoli or green beans.
How do I reheat my salmon meal prep? The glorious thing about this salmon meal prep is that it can be eaten cold or warm. We suggest warming up your salmon meal prep in the microwave. Cook on high for 60-90 seconds.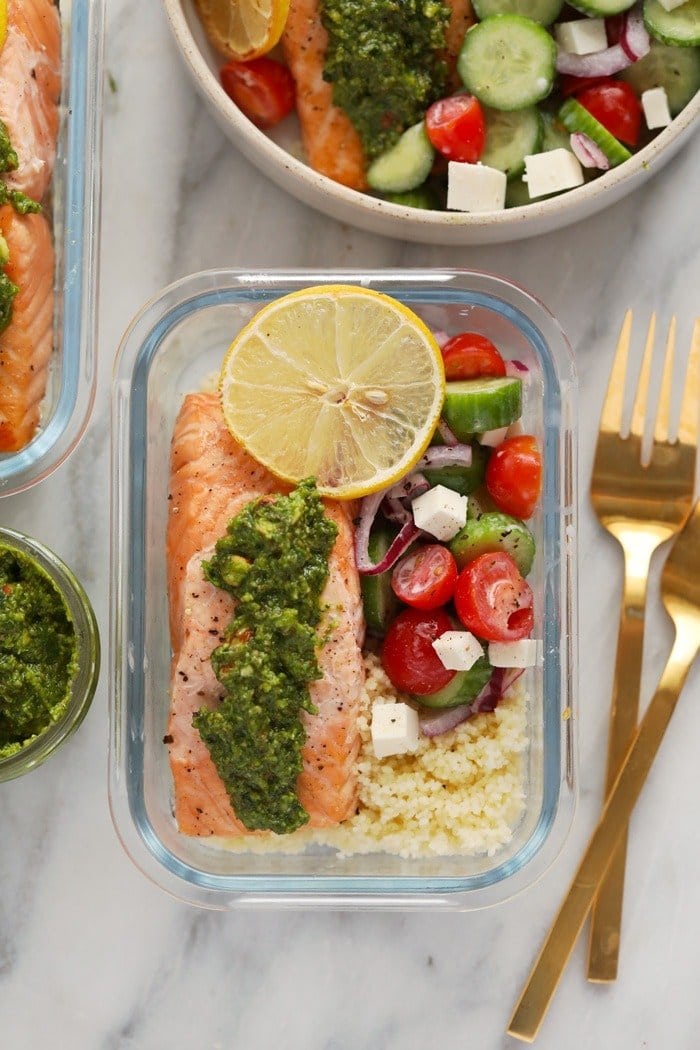 More Salmon Meal Prep Recipes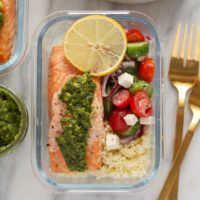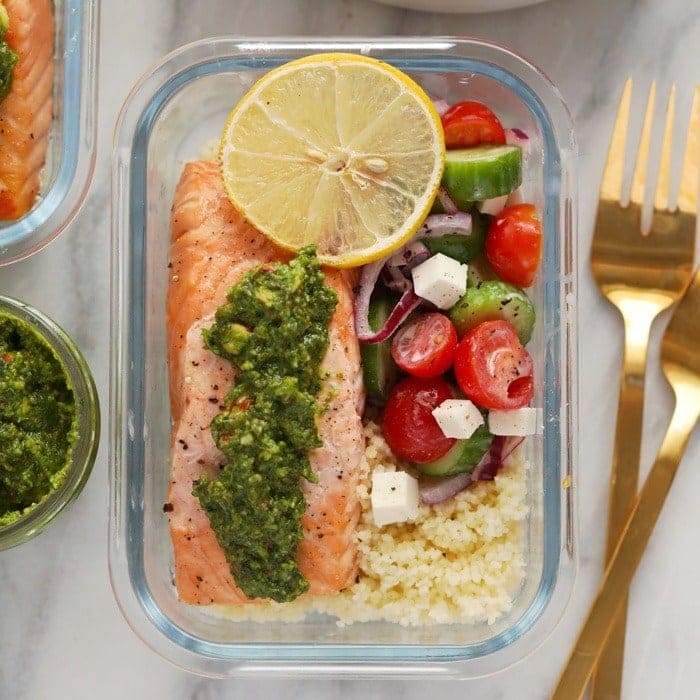 Mediterranean Salmon Meal Prep
Simple Mediterranean Salmon Meal Prep made with an amazing arugula mint pesto, a chunky Greek salad, and a side of couscous!
Ingredients
Arugula Mint Pesto
Greek Salad
3

cups

sliced English cucumbers

1

cup

cherry tomatoes

halved

1/2

small red onion

thinly sliced

1

tablespoon

apple cider vinegar

1

teaspoon

lemon juice

2

tablespoons

Greek yogurt

1/8

teaspoon

salt

1/8

teaspoon

pepper

4

oz

feta

cubed or crumbled
Couscous
1.25

cups

water

1

cup

couscous
Salmon
4

6-oz.

salmon filets

salt

to taste

pepper

to taste

1

medium lemon

sliced
Instructions
Arugula Mint Pesto
Place all ingredients for the pesto into a small food processor.

Blend on high until smooth. If needed, add more water to thin out the pesto, however it should be thick and delish.

Remove the pesto from the blender and set aside for later.
Greek Salad
Place sliced cucumbers into a medium-sized bowl and sprinkle cucumbers with salt and mix. Let sit for 10 minutes to extract moisture. After 10 minutes, discard moisture.

Next, add cherry tomatoes and red onion to the same bowl as the cucumbers.

Then, add the apple cider vinegar, lemon juice, Greek yogurt, salt, and pepper. Mix well and set aside.
Couscous
Add water to a small saucepan and bring to a boil.

Then, add couscous to the saucepan, stir, cover, and remove from heat.

Let couscous sit for at least 5 minutes to fully absorb the liquid.

Fluff couscous with a fork and set aside.
Salmon
First, take the salmon out of the refrigerator and pat each fillet with a paper towel to remove moisture.

Cover a baking sheet with parchment paper and place the salmon fillets on the parchment paper.

Sprinkle each fillet with salt and pepper and then place a lemon slice on top of each fillet.

Broil on high for 8-14 minutes* or until salmon is light pink in color and flakey. We suggest checking your salmon every 3 minutes because everyone's broiler is so different.
Meal Prep
Evenly distribute couscous and salad to four separate meal prep containers.

Place a salmon fillet on top of the couscous and slather each fillet with pesto.

Eat immediately or place in the refrigerator for later!
Tips & Notes
Salmon cook time: We've used this method on multiple different ovens and since everyone's broil function is so different, we suggest just keeping an eye on your salmon and checking every 3 minutes.
Nutrition information fincludes all of the arugula mint pesto, but you will likey have leftovers AKA it serves more than 4.
Nutrition facts
Calories:
625
kcal
Carbohydrates:
19
g
Protein:
45
g
Fat:
41
g
Fiber:
4
g
Sugar:
4
g