Wow the fam with these amazing grilled sweet potato pizzas! All you need is sweet potatoes, your favorite marinara sauce or pesto, mozzarella, and your favorite pizza toppings for this healthy 30 minute meal.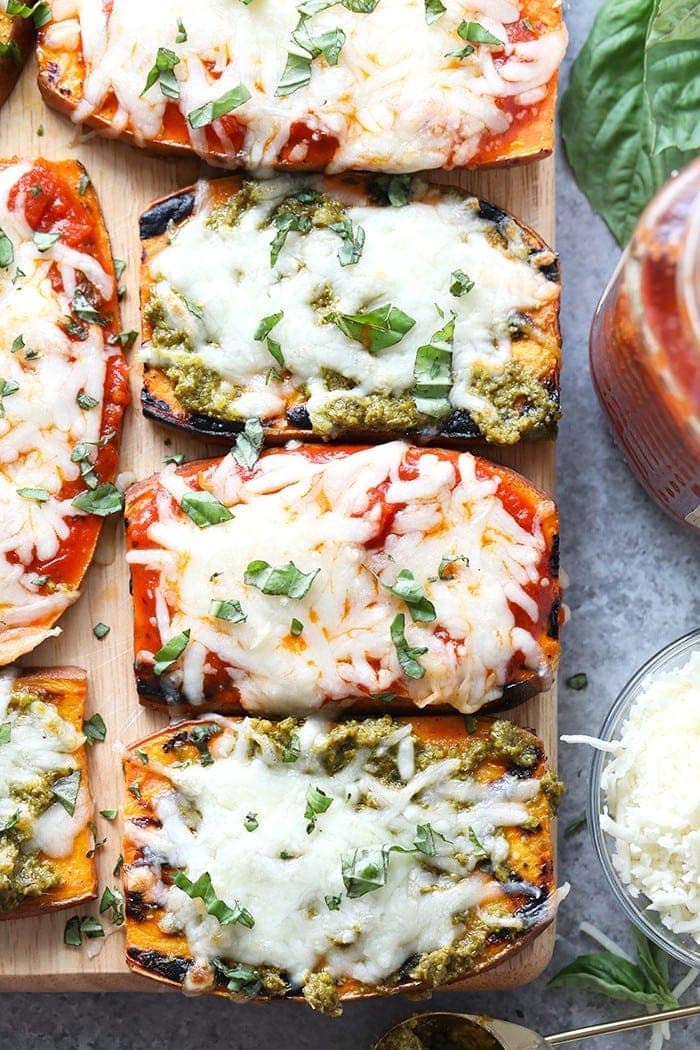 I think we just invented the most amazing grilled pizza of our lifetime. I actually got inspired from my girl Kelsey from Little Bits Of, the inventor of sweet potato toast. What a genius idea to pop a sweet potato slice into a toaster, eh? As you know, sweet potatoes are a staple food in the Fit Foodie diet, so we decided to slice our taters like Kelsey did and take things to the grill.
I'D LIKE TO INTRODUCE YOU TO SWEET POTATO PIZZA.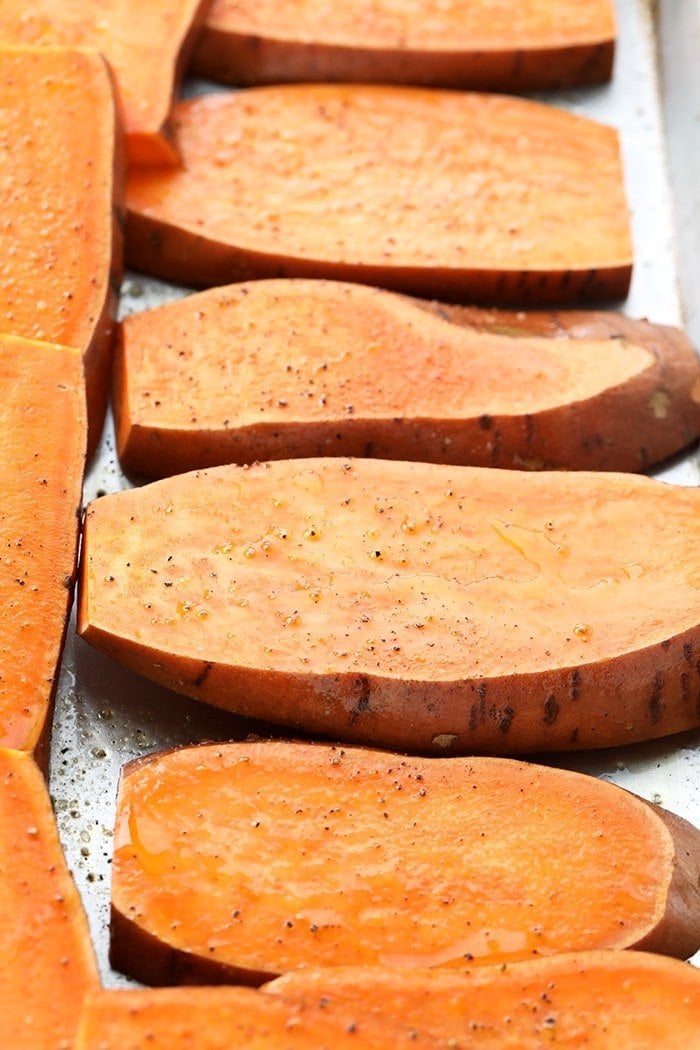 No pizza crust is needed because you just replace it with a grilled sweet potato slice. Oh, and it only takes 15 minutes to make. Buh bye 30 minute meal…hello 15! Don't be afraid of the grill, ladies. It's actually really easy to do and there's so much more flavor. A little bit of char goes a long way.
We kept these little pizzas very basic knowing that there is about a million different ways you can top them. We did go back and forth between a marinara and pesto. Both equally as amazing and full of flavor. On top of your sauce you have a sprinkle of mozzarella and some fresh basil. Finger lickin' good shit right there.
😀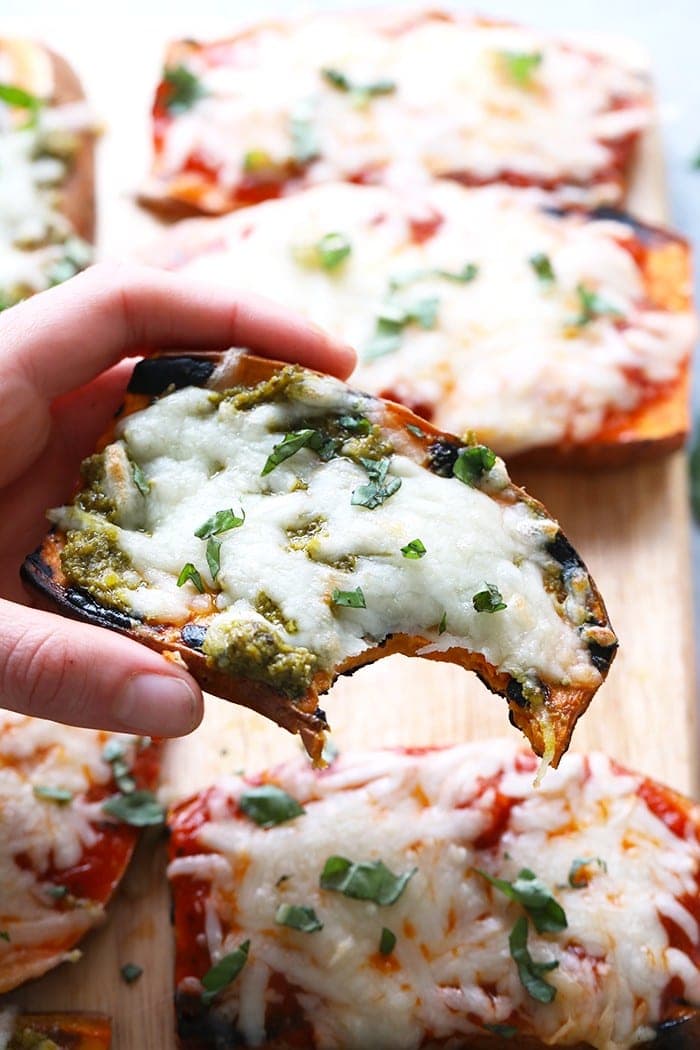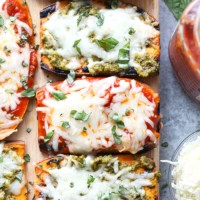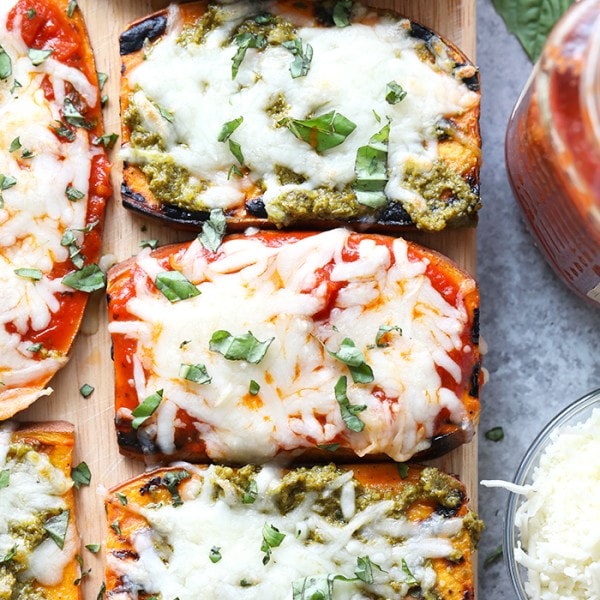 Easy Grilled Sweet Potato Pizzas
Prep:
10 mins
Cook:
15 mins
Total:
25 minutes
Ingredients
1

large sweet potato

1/3 cup

organic marinara sauce (OR

1/4 cup

pesto)*

1/3 cup

mozzarella cheese

1 tablespoon

olive oil
salt and pepper to taste
fresh basil
Instructions
Preheat grill to 375ºF (alternatively you can use your oven).
Slice sweet potatoes length wise (about 1/4 of an inch thick), rub with olive oil (or spray with olive oil cooking spray) and season with salt and pepper to taste.
Lay a piece of tin foil onto the grill and spray with olive oil cooking spray.
Place sweet potatoes onto tin foil and grill for 10 minutes or until you've created beautiful grill marks on your sweet potato slices. Then, flip.
Add 1 tablespoon of marinara sauce (or 1/2 tablespoon of pesto) and one tablespoon mozzarella cheese to each sweet potato slice and grill for an additional 3-5 minutes or until cheese is melted.
Remove from grill and top with fresh basil.
Tips & Notes
*Nutrition information includes marinara sauce, not pesto!
*We wrote the recipe to serve 2, but know that you can easily double or triple this to serve more.
Nutrition Facts
Serving Size:
2
Calories:
183
Sugar:
7
Sodium:
299
Fat:
8
Carbohydrates:
21
Fiber:
3
Protein:
7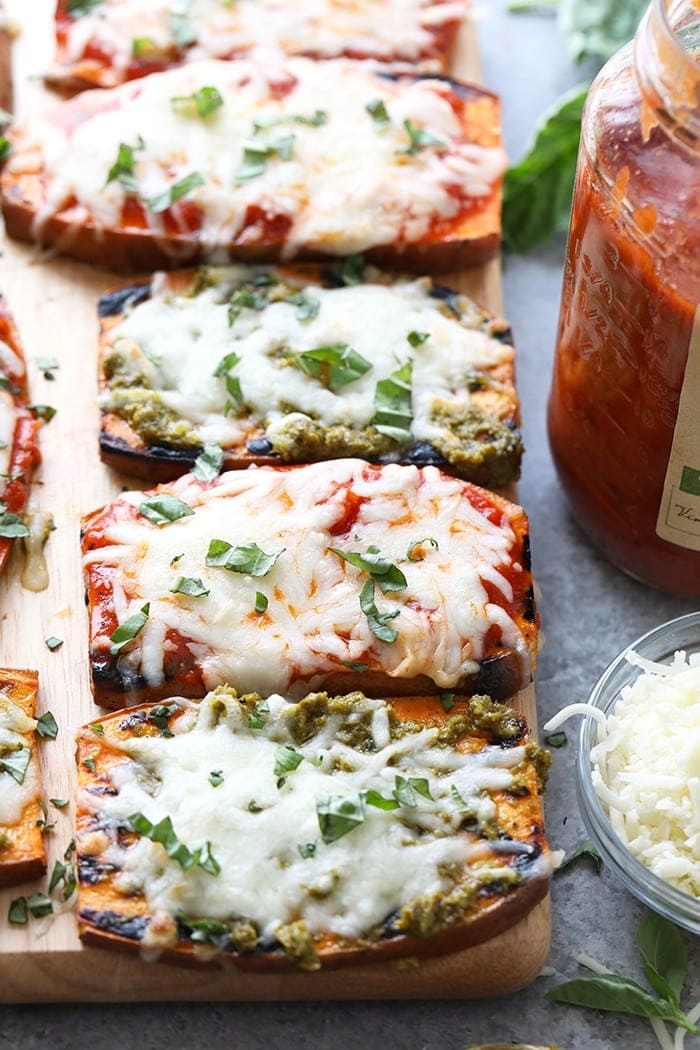 If you make this recipe don't forget to tag us and use the #FitFoodieFinds hashtag. I hope this becomes a summer staple for you. I know it's going to at Fit Foodie HQ.