This mushroom gravy recipe is our go-to gravy recipe because it is both delicious and super easy to make you don't need any turkey drippings to make it. Our recipe features assorted mushrooms, onion, garlic, broth, and red wine.
We love serving it with any vegetable side or with main dishes like this harvest grain bowl or this sous vide turkey!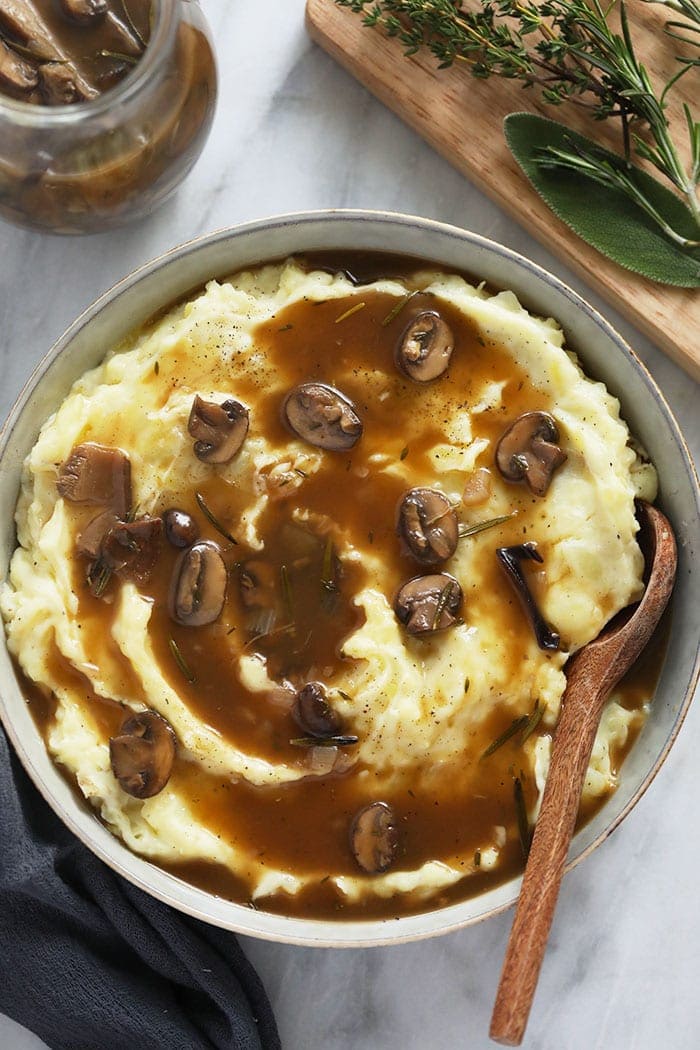 Did you know that you can make gravy even when it's not Thanksgiving? Well, IT'S TRUE! You can make homemade gravy any time throughout the year. Although gravy is a must on the Thanksgiving table, you can make gravy to accompany all of your favorite dishes.
I've made this exact recipe for the last couple of Thanksgiving and all of my guests absolutely adored it. The savory, umami flavor compliments any Thanksgiving recipe, turkey or not!
One thing that stands out about this mushroom gravy is that it does NOT call for turkey drippings. So, if you're vegetarian, this recipe is for you!
What You Need for Mushroom Gravy?
Olive Oil: The olive oil in this dish adds a deliciously deep and complex flavor. Cooking all the vegetables and aromatics in olive oil will create a great base for this mushroom gravy.
Mushrooms: Obviously, mushrooms are the star of the show for this vegan mushroom gravy. It has a delicious umami flavor that will leave you scraping your bowl for every last drop.
Onion + Shallot + Garlic: These delicious vegetables are a great flavor base for this mushroom gravy. Be sure that you cook the onion, shallot, and garlic down enough. It's even ok to create a fond at the bottom of your pot (the little brown bits at the bottom of the pot), it leaves great flavor.
Red Wine: The red wine is in this mushroom gravy serves as a delicious de-glazer of your pot and adds another level of flavor to the gravy.
Vegetable Broth: We use broth rather than water in this recipe because it adds a bit more flavor and depth.
Fresh Rosemary + Thyme + Sage: The herb bundle in this gravy adds the earthy and traditional gravy flavor that you'd expect in any gravy. Be sure to tie the bundle rather than just throwing the herbs loosely into the gravy. This will ensure you won't have rouge herb stems on the loose!
Tapioca Flour: We used tapioca flour to thicken up the herb bundle. We like that tapioca flour doesn't leave any aftertaste as well as it is gluten-free.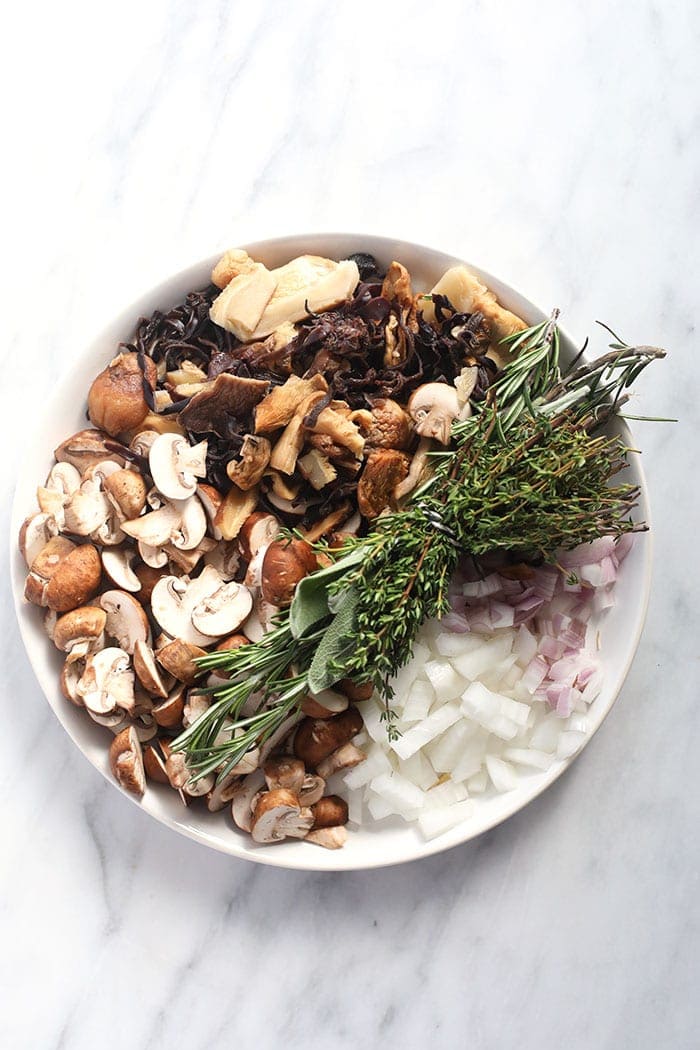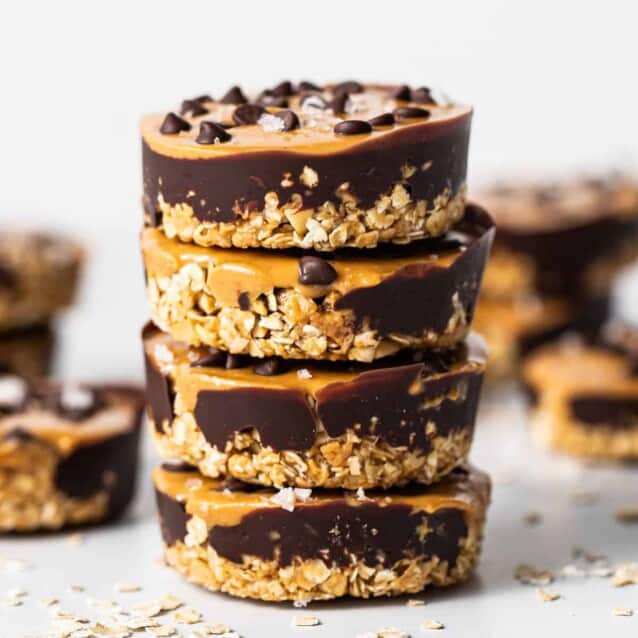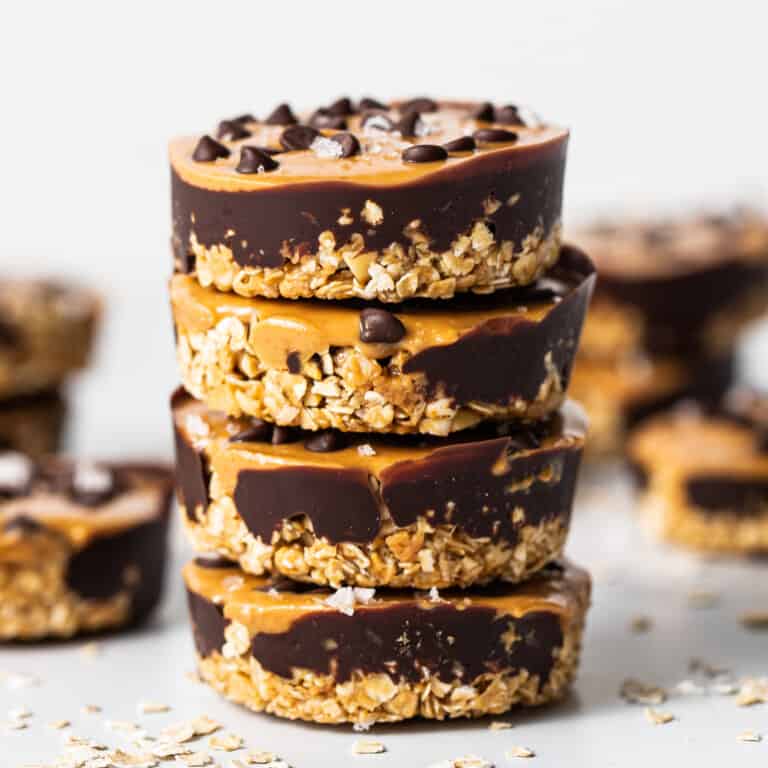 Get our Top 10 5-Star Recipes!
Join our email list for new recipes and BONUS: get our top 10 ⭐️⭐️⭐️⭐️⭐️ recipes e-book!
Substitutions & Variations
If you don't have olive oil in the house, feel free to substitute the olive oil for butter or avocado oil.
We used an assortment of mushrooms for this vegan gravy recipe! Feel free to use what you have on hand. We recommend crimini, Bella, or portabella mushrooms. However, even dried mushrooms will work if you're in a pinch.
Just be sure to soak your dried mushrooms in water for about an hour. Then, discard the excess liquid and use mushrooms as is for the recipe.
If you are out of onion, shallot, or garlic, feel free to add more of one of these three ingredients to replace the other. It will taste a bit different, but will ultimately taste delicious.
If you don't have vegetable broth on hand, feel free to use a bouillon cube or mushroom broth.
If you don't have tapioca flour, feel free to use cornstarch or arrowroot powder.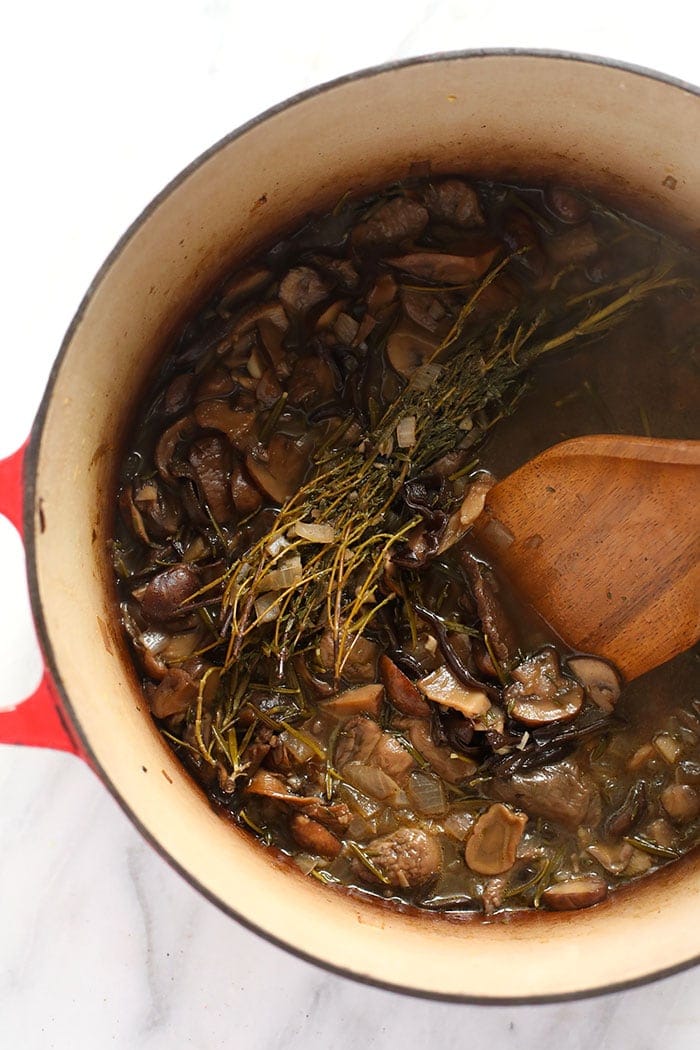 FAQ
Can I add other vegetables to mushroom gravy?

Yes, you can add other vegetables to this mushroom gravy recipe! If you are planning on using a root vegetable (potato, carrot, parsnip, celery) in the mushroom gravy, be sure to cook them in olive oil before adding the onion, shallot, and garlic to the pot.

You want to make sure the vegetables cook down enough before cooking up the mushrooms. Adding other vegetables will also change the flavor of the gravy a bit, but would also be delicious.
Can you add meat drippings to mushroom gravy?

Yes, you can use meat drippings in mushroom gravy! It will no longer be vegetarian or vegan, but if you like the flavor of meat drippings in your gravy, substitute a portion of the broth that the recipe calls for, for the amount of meat drippings that you have!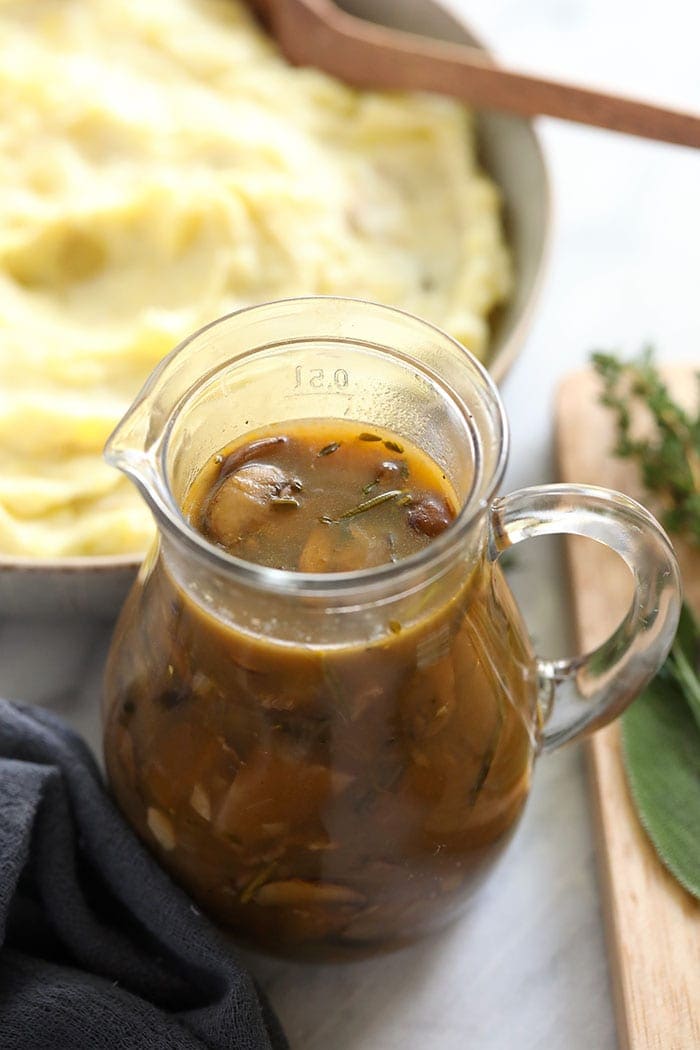 Storage Suggestions
We recommend storing mushroom gravy in the refrigerator for up to 7 days in an air-tight container.
To freeze: You can also freeze this mushroom gravy to save for later! Simply let the gravy cool completely before placing in an air-tight container in the freezer for up to 3 months.
Reheat Instructions
Reheat refrigerated mushroom gravy in a small saucepan over medium heat on the stovetop until warm.
If your gravy is frozen either allow to fully thaw before reheating on the stovetop, or reheat frozen gravy over low heat until thawed to avoid uneven reheating.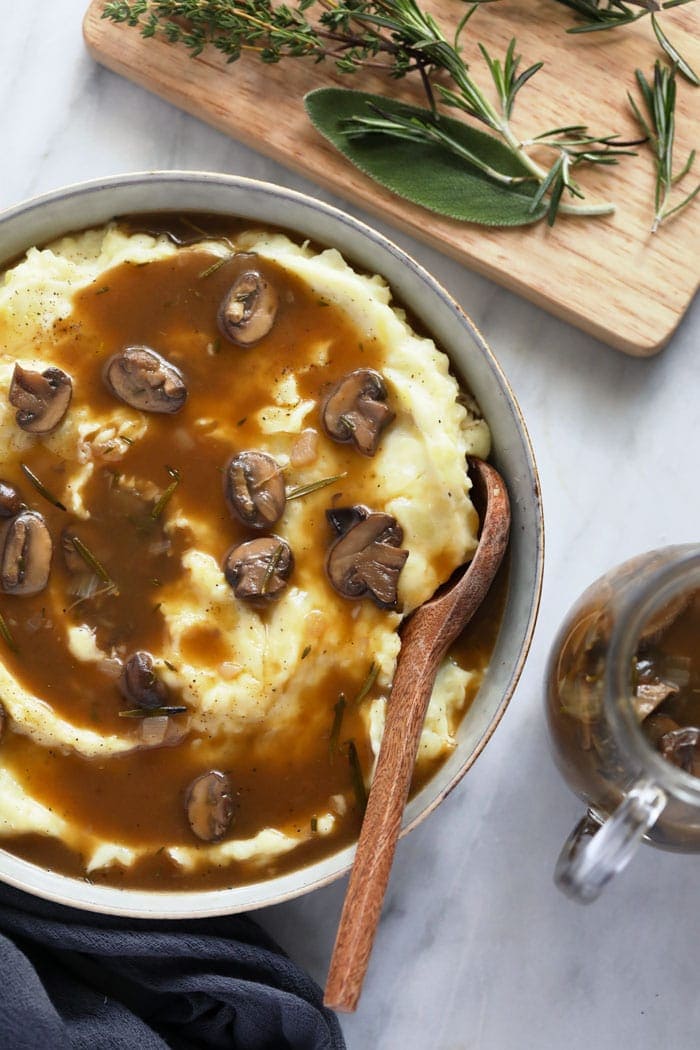 What to Serve Your Mushroom Gravy On
There are so many options of main dishes and sides to serve with mushroom gravy!
If you are a carnivore, here are some dishes that would be great smothered in mushroom gravy!
Here are other vegetarian options you could serve this mushroom gravy over!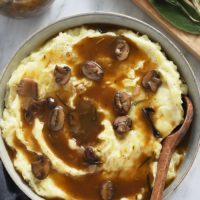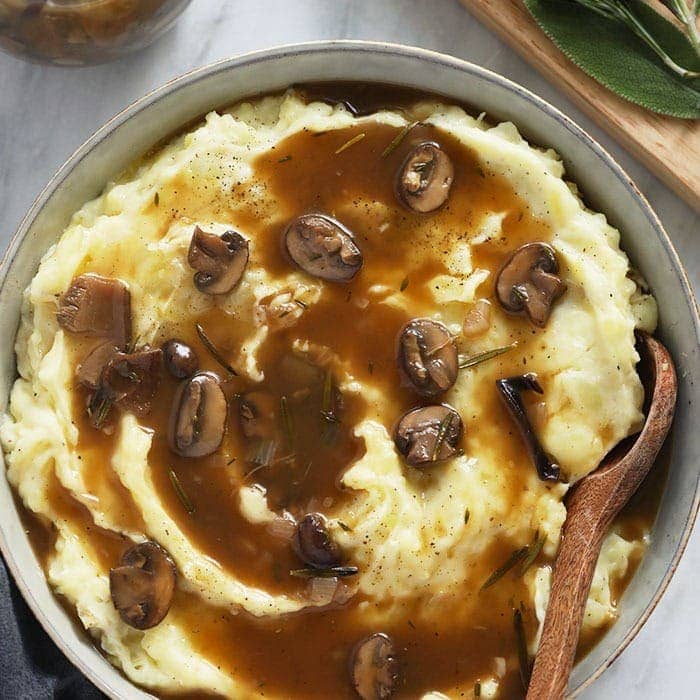 Mushroom Gravy Recipe
Our mushroom gravy recipe is a favorite of ours for Thanksgiving. It's made with mushrooms, onion, garlic, vegetable broth, a little red wine, and olive oil.
Ingredients
1/4

cup

olive oil

4

cups

sliced assorted mushrooms

bella, crimini, portabella, button, etc.

1/2

medium white onion

minced

1/2

small shallot

minced

4

cloves

garlic

mashed and minced

1/2

cup

red wine

5

cups

vegetable broth

1/4

teaspoon

salt

separated

1/8

teaspoon

pepper

herb bundle of rosemary

thyme, and sage

1.5

tablespoons

tapioca flour
Instructions
Heat a large dutch oven over medium/high heat and add olive oil.

When the olive oil is fragrant, add the mushrooms and a 1/8 teaspoon of salt to the pot and turn heat down to medium heat.

Let the mushrooms cook for 7-9 minutes in order to sweat out their liquid, stirring occasionally.

Next, add white onion, shallot and garlic to the pot and let saute for 3-4 minutes.

After cooking the vegetables down, deglaze the pot with red wine and add vegetable broth, salt, pepper, and herb bundle to the pot.

Mix, and turn heat to high and bring to a boil.

Once boiling, turn heat down to low and let simmer for 30 minutes, uncovered.

Once the mushroom gravy has reduced after 30 minutes, remove herb bundle and discard.

Then, add the tapioca flour to the gravy by slowly sprinkling into the pot while whisking consistently.

Once thickened, remove from heat and serve over vegetables or any protein.
Tips & Notes
To elevate this recipe even more (and if you're a meat-eater), feel free to replace one cup of the vegetable broth with 1 cup of turkey drippings.
Nutrition facts
Calories:
96
kcal
Carbohydrates:
7
g
Protein:
1
g
Fat:
7
g
Fiber:
1
g
Sugar:
2
g