Make these cauliflower mashed potatoes for your next dinner party! They make a great low carb side dish for the holidays! Not only are they healthy, but they are insanely delicious!
Looking for more healthy side dishes? Give any of these healthy side dishes a try, you won't be disappointed!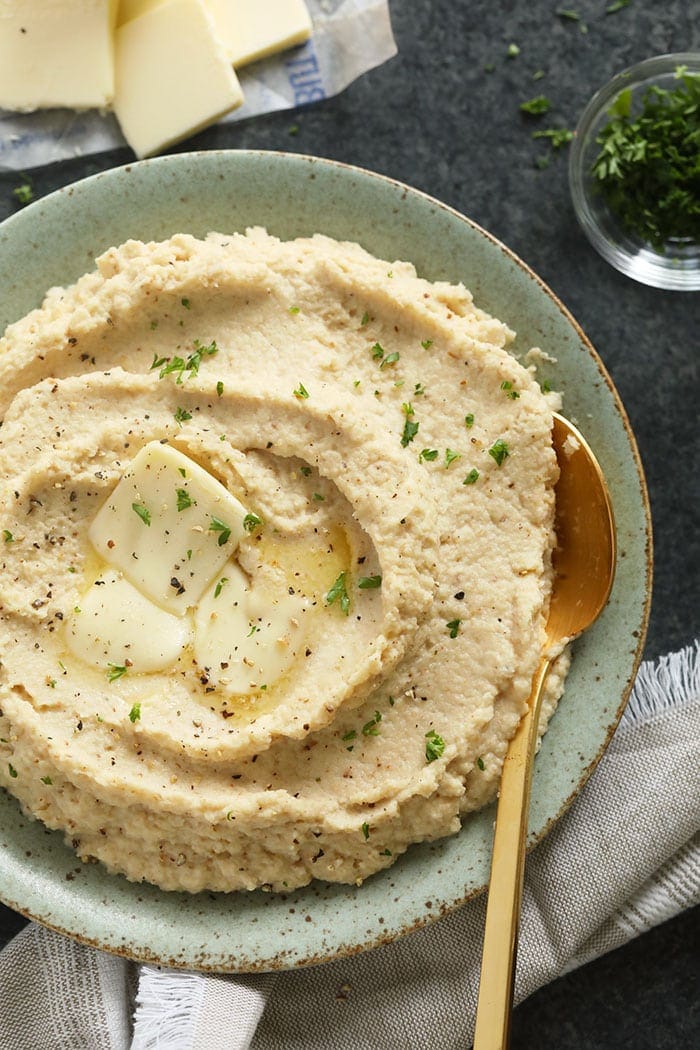 What are cauliflower mashed potatoes?
Say hello to the most popular side dish in town–> cauliflower mashed potatoes. Cauliflower mashed potatoes are a mixture of cauliflower, onion, garlic, and your favorite dairy of choice all blended up into creamy deliciousness.
Now, we understand that cauliflower isn't the most exciting vegetable in the world. However, it tends to take on any flavor you pair it with and there are so many ways to prepare it. That makes it the perfect candidate for creamy recipes like this mashed cauliflower.
We have loved to experiment with cauliflower over the last couple of years and these cauliflower mashed potatoes may take the cake!
Here are a few of our favorite cauliflower recipes if you end up being obsessed with cauliflower after making this recipe.
Now, let's talk about why we love these cauliflower mashed potatoes so much!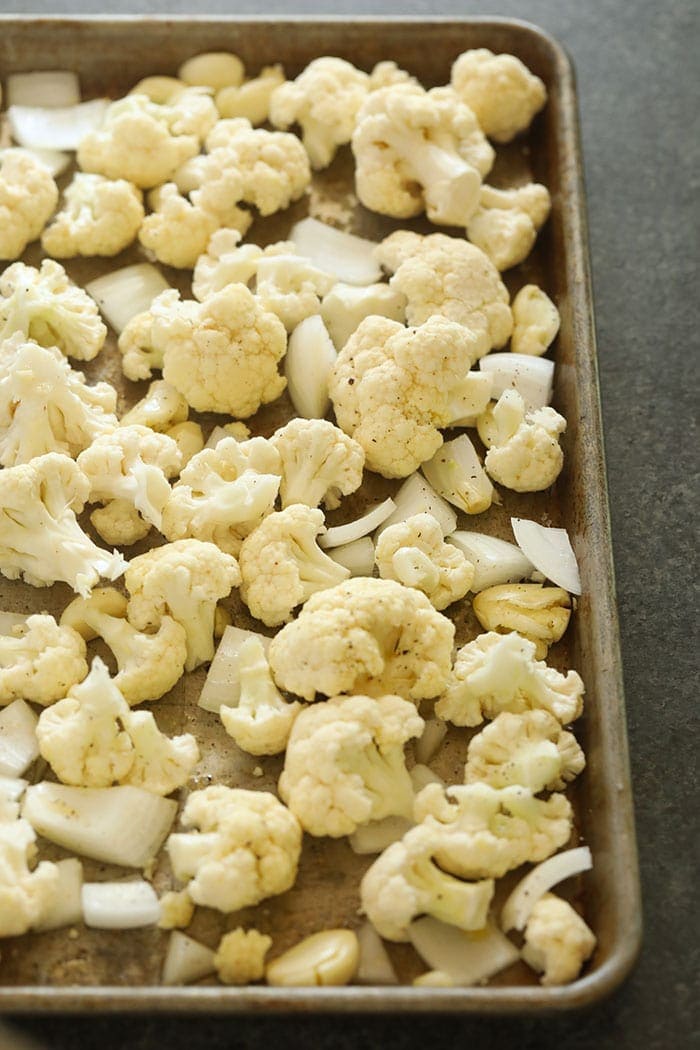 Mashed Cauliflower FAQS
Are there potatoes in cauliflower mashed potatoes?
No, there are no potatoes in these cauliflower mashed potatoes! So, why is the word potato in the title? Because these cauliflower mashed potatoes taste like your classic mashed potatoes!
Why wouldn't I just make normal mashed potatoes you ask? We still love normal mashed potatoes (like these lighted up mashed potatoes), but this cauliflower mash is a great alternative to mashed potatoes for a few reasons.
Maybe you can't have potatoes or you don't like them! Make mashed cauliflower.
Perhaps you are on a low carb diet and need a low carb side option (only 11 grams per serving in this cauliflower mash).
You could just serve these cauliflower mashed potatoes AND mashed potatoes at your next dinner party or Thanksgiving meal because both are delicious!
How do I cook cauliflower for mashed cauliflower?
There are a couple of different ways that people cook their cauliflower before blending it up into cauliflower mashed potatoes.
Boiled on the stove
Steamed in the Instant Pot
Roasted in the oven
We are 100% on the roasted cauliflower train! We like to roast the cauliflower with olive oil, salt, pepper, onions, and garlic because it gives the mashed cauliflower amazing flavor!
Roasting also draws the moisture out of the cauliflower so you don't end up with watery cauliflower mashed potatoes!
here's a tip
If you do decide to boil our cauliflower, be sure you remove any excess moisture from your cauliflower by placing the cauliflower in a tea towel and squeezing out the moisture.
Is cauliflower mash healthy?
Yes, cauliflower mashed potatoes are healthy! Again, everything in moderation!
Don't eat the whole bowl of cauliflower mash because you'd probably get the toots or a stomach ache. hehe.
You can also make this cauliflower healthier by tailoring it to your specific diet needs. If you can't have dairy, you can use a dairy-free cheese and yogurt.
If you want to skip the cheese altogether, go for it! Make these cauliflower mashed potatoes your own!
Can you freeze cauliflower mashed potatoes?
We would not suggest freezing these cauliflower mashed potatoes! The texture after freezing is not pleasant! Plus, you probably won't have any to freeze because you will eat them because they are so delicious!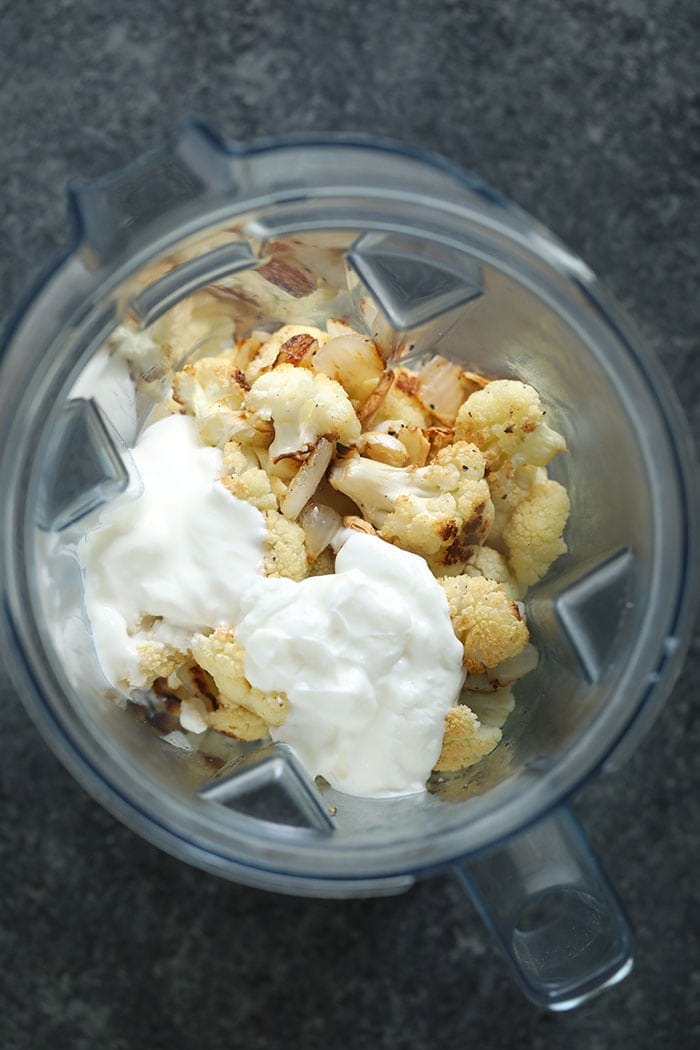 Tips + Tricks
Before diving into this recipe, check out some tips + tricks we learned while testing this cauliflower mashed potato recipe!
Roast vs. Boil
You can roast or boil the cauliflower before you blend them up. We recommend roasting the cauliflower-like in the recipe because the flavor you get from roasting will be amazing.
Thick vs. Thin
Some people like their cauliflower mashed potatoes thin and some like it thick! Here are a couple of tips for both ways!
For thicker mash- Add less broth if you are looking for a thicker mash! Also, when you are blending up the mashed cauliflower try pulsing rather then straight blending so that you are left with a chunkier mash! It's quite delightful!
For thinner mash- If you are looking for a thinner mash, add a tablespoon of broth (on top of the 1/3 cup that is called for) at a time while blending up the cauliflower mashed potatoes. When it reaches your desired consistency, stop blending!
Dairy
One thing that makes this cauliflower mashed potato recipe thick and creamy is the dairy! We add a little cream cheese, sour cream, and greek yogurt. A little bit of each makes this the perfect tangy and creamy side dish!
Feel free to change the proportions to any of the dairy products in this recipe to make it your own!
More Greek- Adding more greek yogurt to this recipe or replacing the other dairy with all greek yogurt will make your cauliflower mashed potatoes tangier!
More sour cream- If you are a sour cream fan, go ahead and add more sour cream or replace the other dairy with sour cream! It will add a little tang and a lot of richness!
More cream cheese- Cream cheese is a gift from the dairy gods. Adding more cream cheese will make your cauliflower mash thicker and richer!
How to make cauliflower mashed potatoes?
It's pretty simple, people! All you have to do is roast the cauliflower, onion, garlic, olive oil, salt, and pepper on a pan at 400ºF until the vegetables are browned and cooked.
Next, you add everything to a high-speed blender and blend to your desired consistency! THAT IS IT!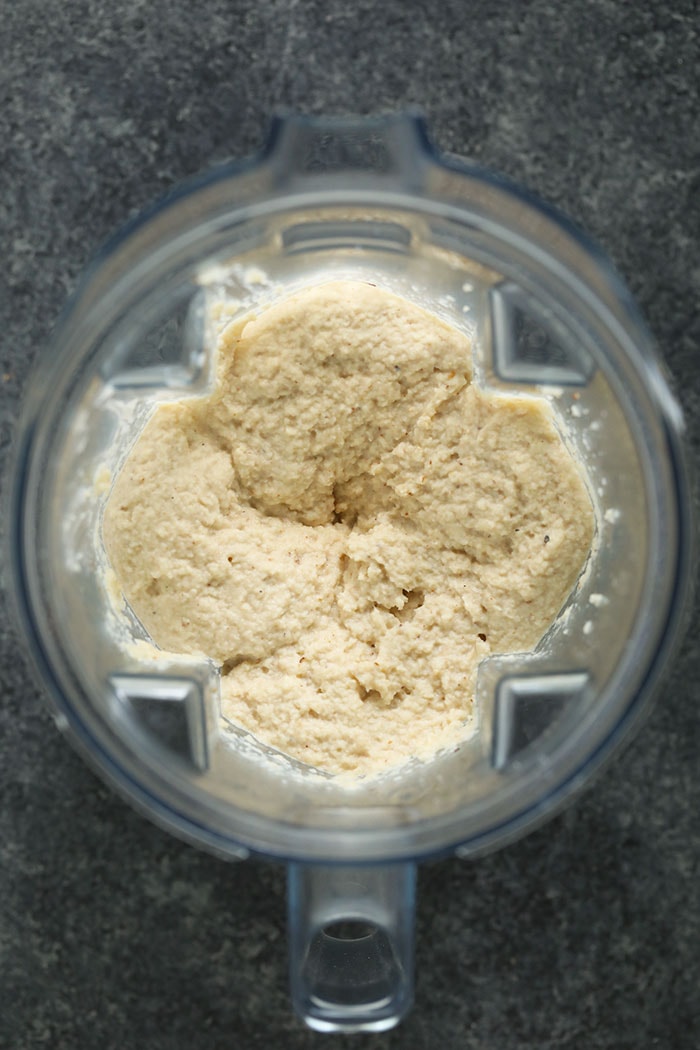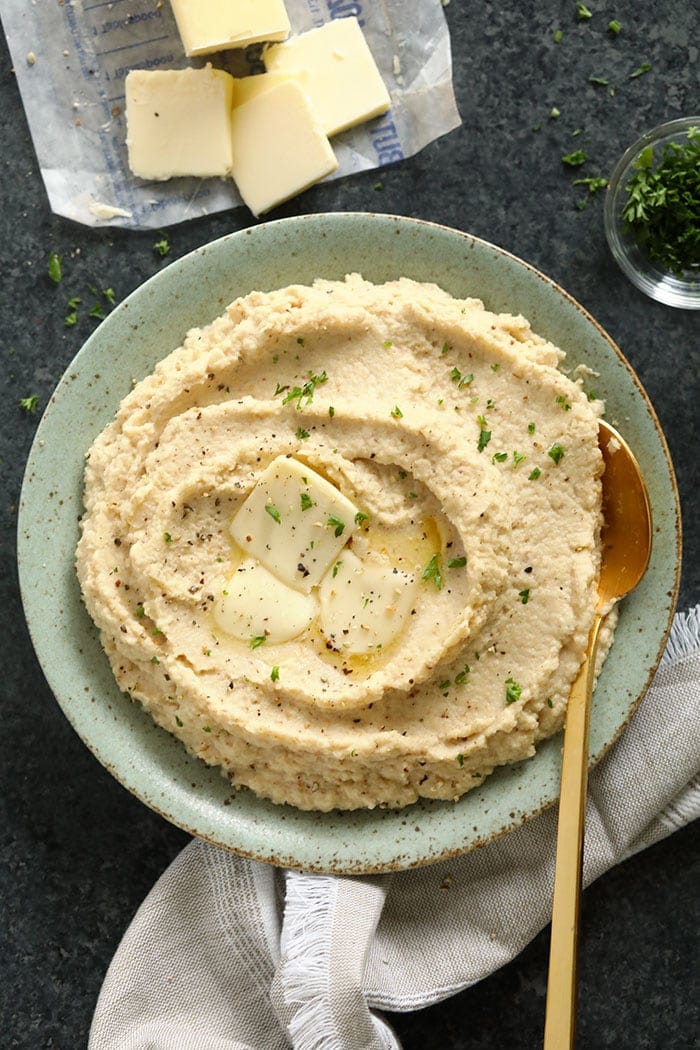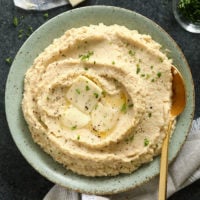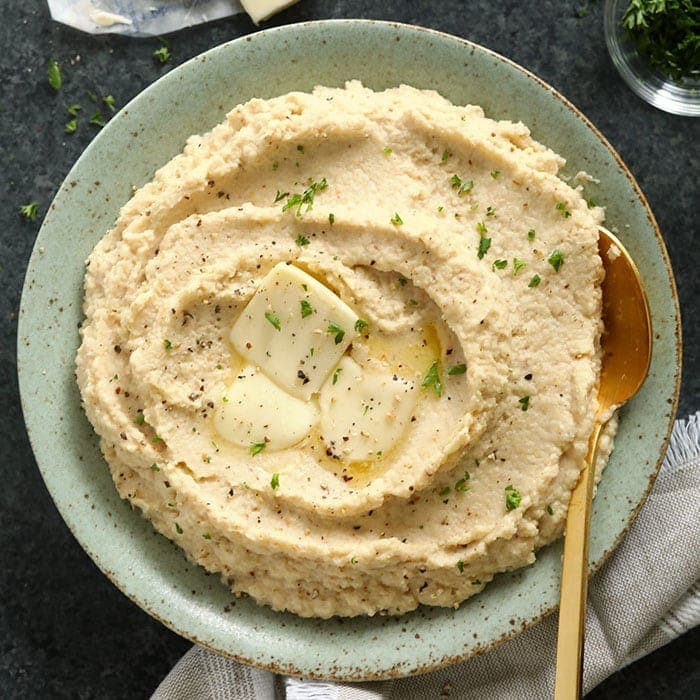 Cauliflower Mashed Potatoes
Make these cauliflower mashed potatoes for your next dinner party! They make a great low carb side dish for the holidays! Not only are they healthy, but they are insanely delicious!
Ingredients
Instructions
Preheat the oven to 400ºF.

Next, spread cauliflower, onion, and garlic onto the baking sheet. Drizzle with olive oil and season with salt and pepper and toss until all vegetables are covered.

Bake at 400ºF for 35-40 minutes, tossing halfway. You want to make sure that the cauliflower is tender and golden brown.

Remove from the oven and transfer cauliflower, onion, and garlic into a high-speed blender (we use a Vitamix).

Add broth, sour cream, Greek yogurt, and butter to the Vitamix and blend until smooth.

You may need to add a little bit more broth depending on how thick your cauliflower mashed potatoes are. Add broth by the tablespoon until you've reached the desired consistency.

Top with more butter as desired, cracked black pepper, and fresh parsley.
Nutrition facts
Calories:
165
kcal
Carbohydrates:
11
g
Protein:
7
g
Fat:
11
g
Fiber:
4
g
Sugar:
5
g