Make this ratatouille recipe for dinner this week! Ratatouille is fun to make and it isn't as hard to make as you think! We use zucchini, potatoes, eggplant, and delicious sauce to make this delicious ratatouille that's equally as beautiful!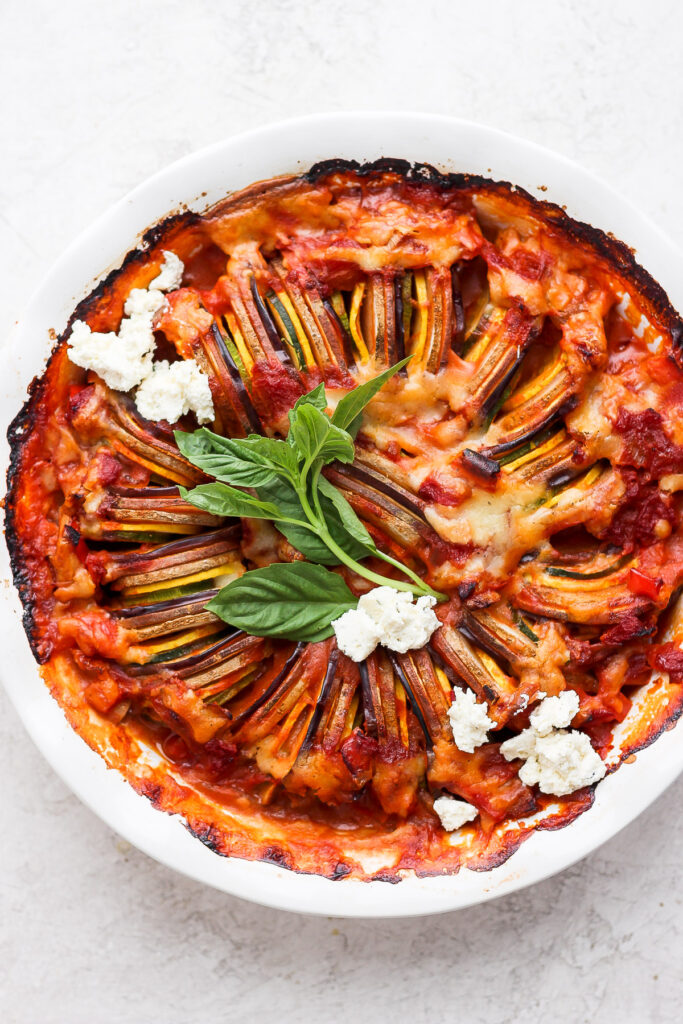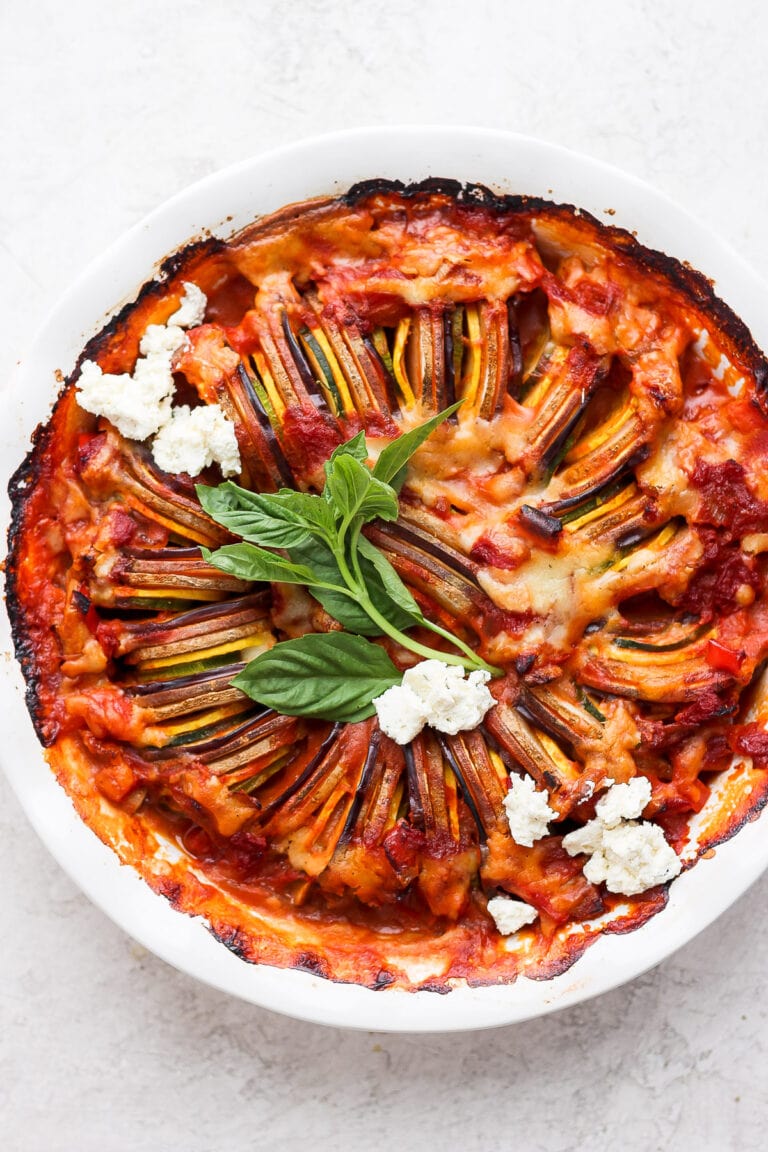 What is Ratatouille?
Is ratatouille a dish or a movie! It's both!
The dish ratatouille is a french dish that is a mixture of stewed vegetables that usually consists of vegetables like eggplant, yellow or green squash, onions, and a tomato sauce!
Some people make ratatouille into an actual stew (or soup) dish and some people bake it in a casserole dish! We went the casserole dish route and OMG is it delicious!
This easy ratatouille recipe is a fusion of a traditional ratatouille recipe with a couple FFF variations!
All the Vegetables in this Ratatouille
Traditional ratatouille is made up of mostly eggplant and squash! We wanted to give our ratatouille a bit more texture so we added sweet potatoes and idaho potatoes to our ratatouille! Check out the list!
Yellow Squash
Zucchini
Eggplant
Sweet Potato
Idaho Potato
Onion
vegetable tips!
If you find that you are out of any of these vegetables, you can double up on any of the veggies, replace a veggie, or just omit!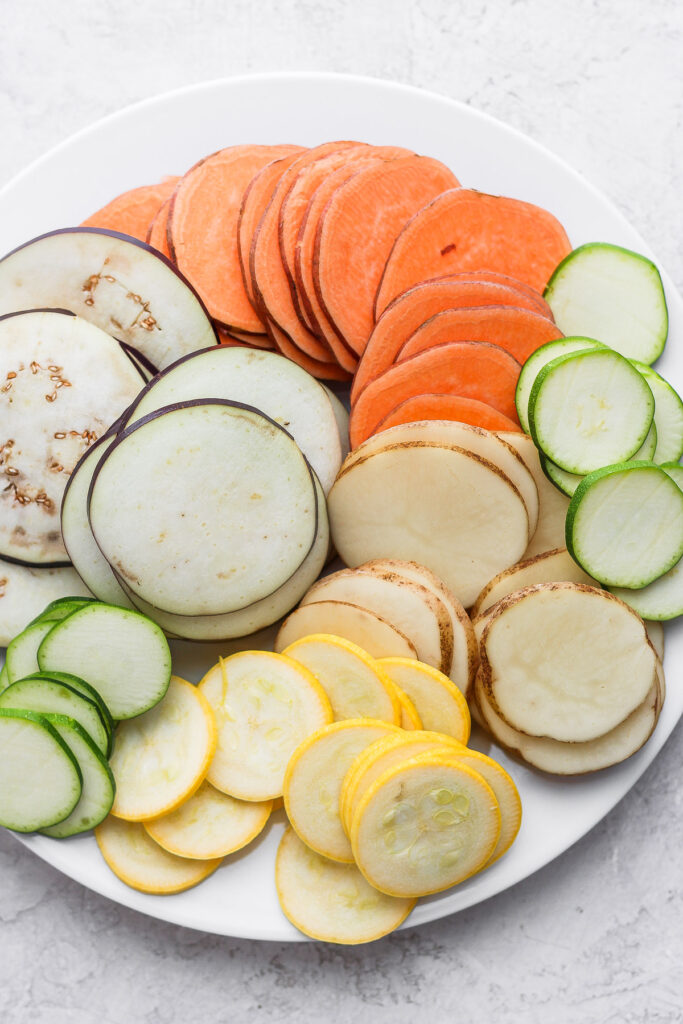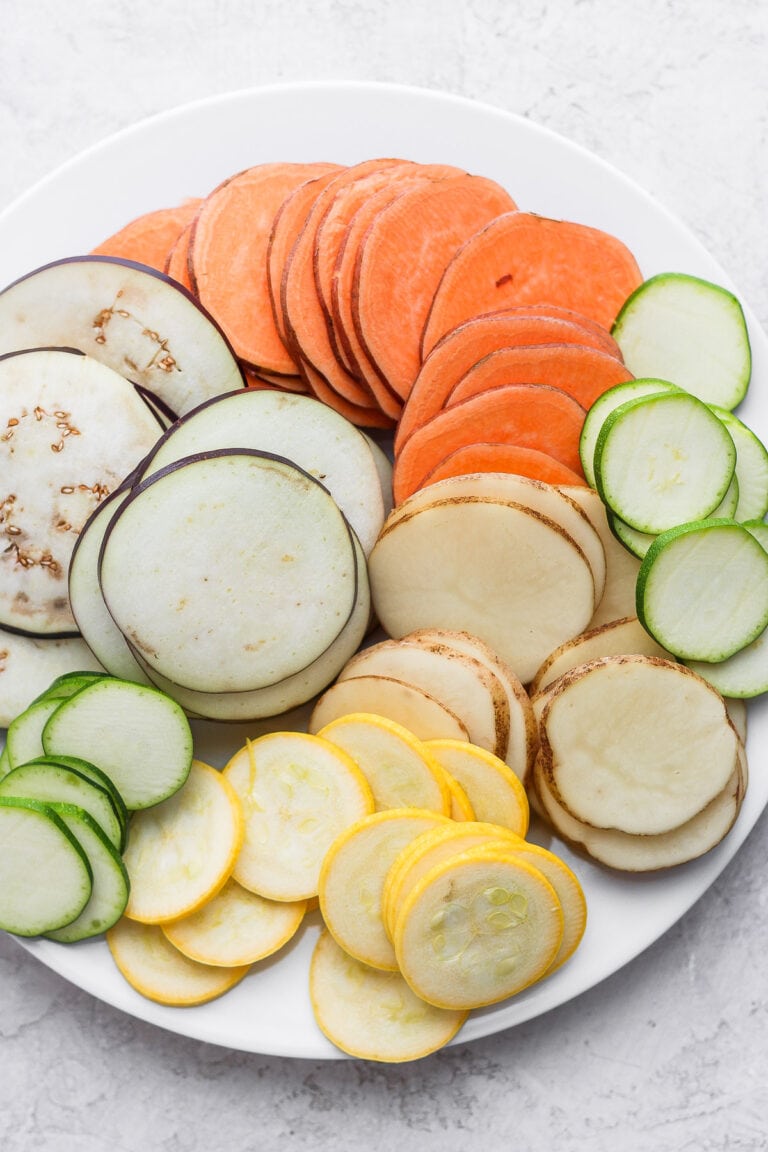 How to Make Ratatouille
There are only a few steps you have to do before you pop your ratatouille in the oven! Before we hope into each step, check out what tools you'll need.
Things You'll Need for Ratatouille
Step ONE: Slice the Vegetables
One of the most important steps when making ratatouille is slicing the vegetables. You want to make sure all of your vegetable rounds are all about the same size. How do you do this? There are two different ways you can do that!
Mandolin – A mandolin cutter is a kitchen utensil that slices things perfectly and all the same size (simply put). You can buy a really fancy mandolin cutter or you can buy a simple handheld mandolin (which is what we have!).
When using a mandolin, be sure to read the instructions and slice your vegetables slowly, mandolins are SO sharp.
Sharp Knife – If you don't have a mandolin, don't worry! You just need a very sharp knife and a steady hand.
Once you have sliced all the vegetables, go ahead and set them aside for later!
Do you peel eggplant for ratatouille?
It all depends how you are going to prepare your ratatouille. If you are going to cut your egg plant into chunks for a stew, we recommend peeling your eggplant.
If you are slicing the eggplant into thin rounds (like in this recipe) you do not need to peel the eggplant.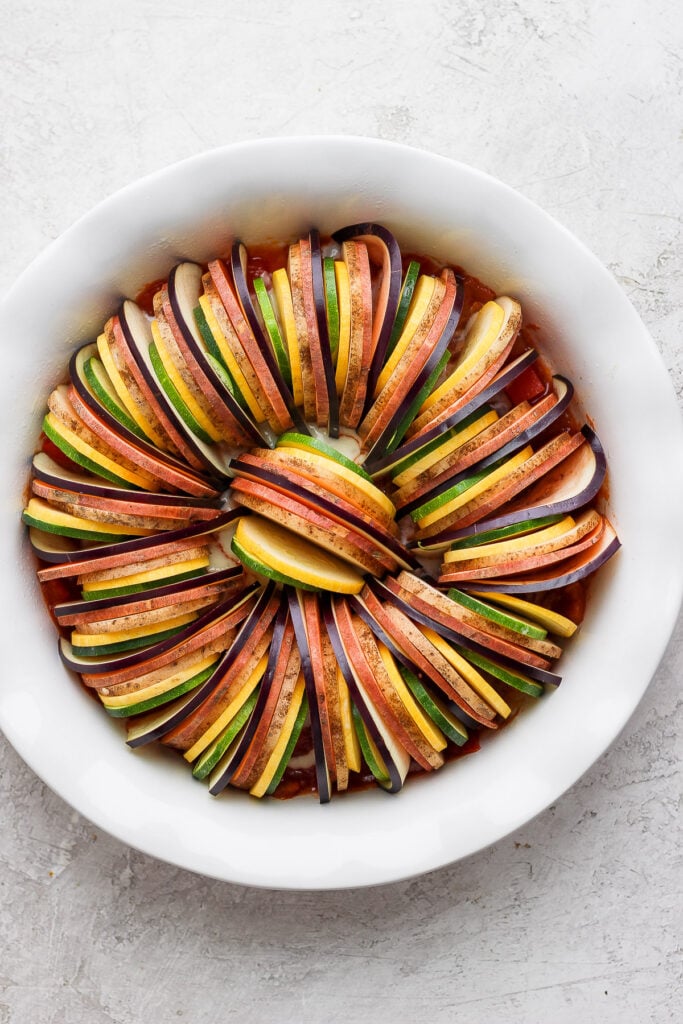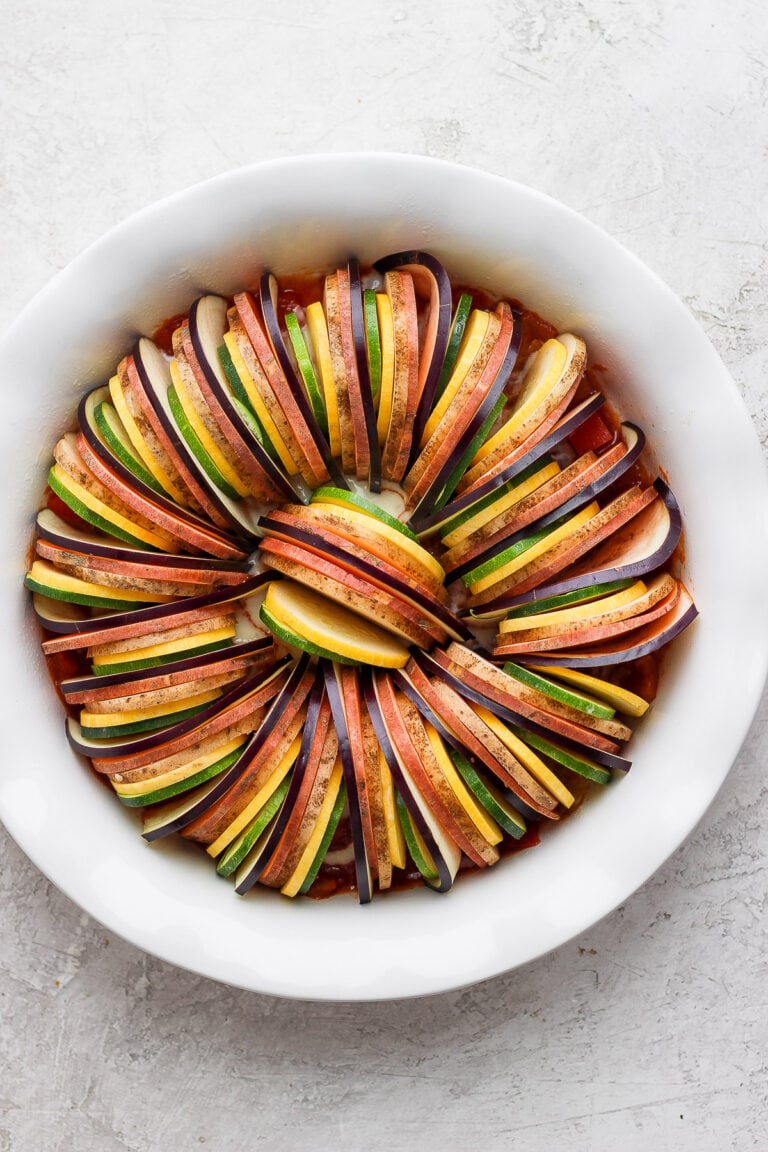 Step TWO: Make the Sauces (there are two!)
Two sauces?! There are two sauce for this recipe? Why yes there are and they are so delicious! First things, first, do not skip either one of these sauces.
We recommend starting the red sauce first. You want to give it time to simmer before adding it to the ratatouille. The red sauce is a delicious combination of onions, peppers, tomatoes, and wine!
For the béchamel sauce (it's a fancy word, but don't be scared!). You are just making a very simple roux to add a delicious creaminess to the ratatouille!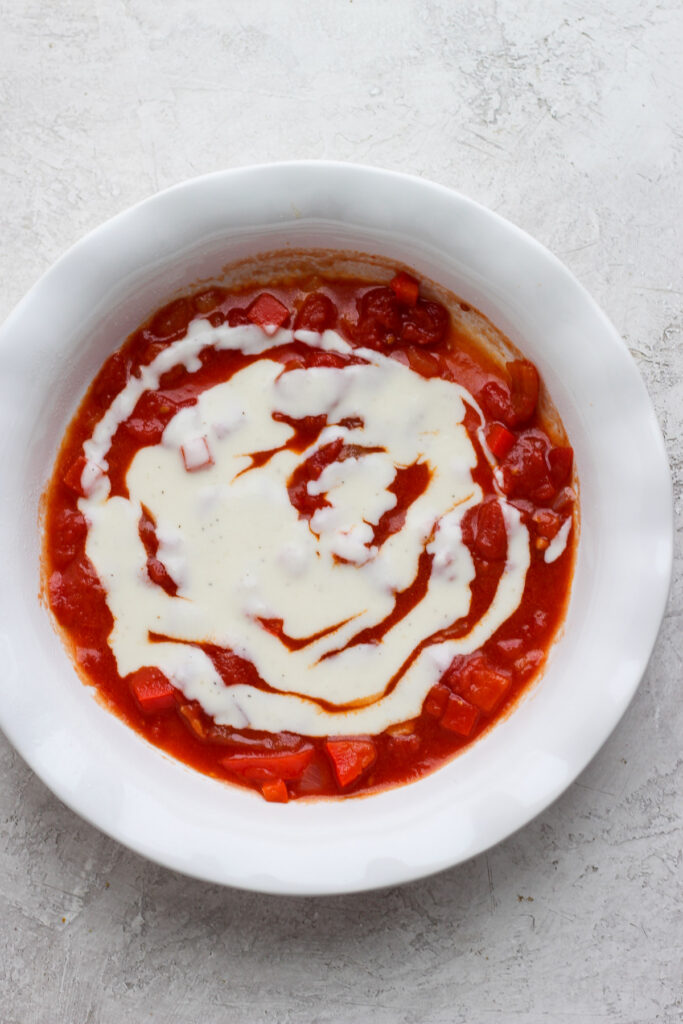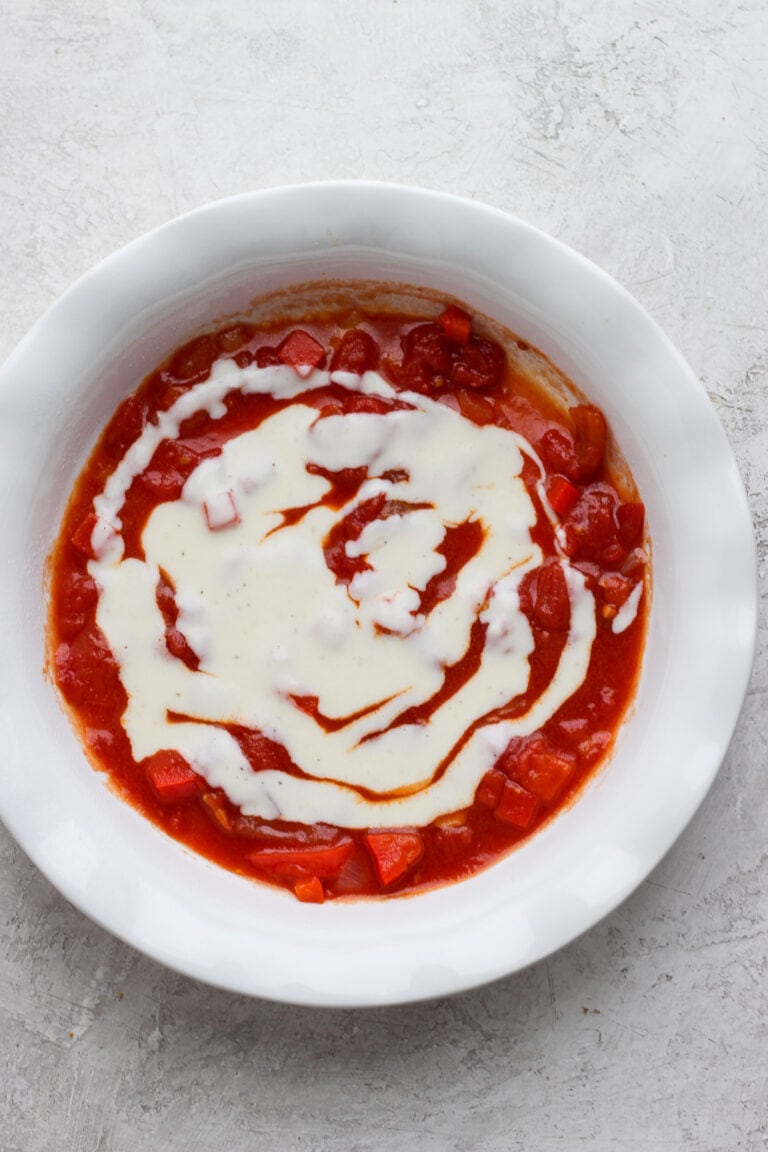 Step THREE: Layer it Up + Bake!
The last step is to prep the dish and make it!
We use a round dish because it is really easy to make a beautiful swirl of the vegetables! If you don't have a round baking dish, use an 8×8-inch square pan and set the vegetable rounds up in a row instead.
Before you add the vegetables to the pan, you want to add a little red and white sauce to the bottom of the pan to keep your vegetables from sticking to the bottom of the pan.
From there, layer your vegetables in a spiral shape and then pour the red sauce and white sauce over the vegetables and bake!
Don't Forget This!
Top this ratatouille with a delicious soft cheese! We topped ours with goat cheese or boursin cheese!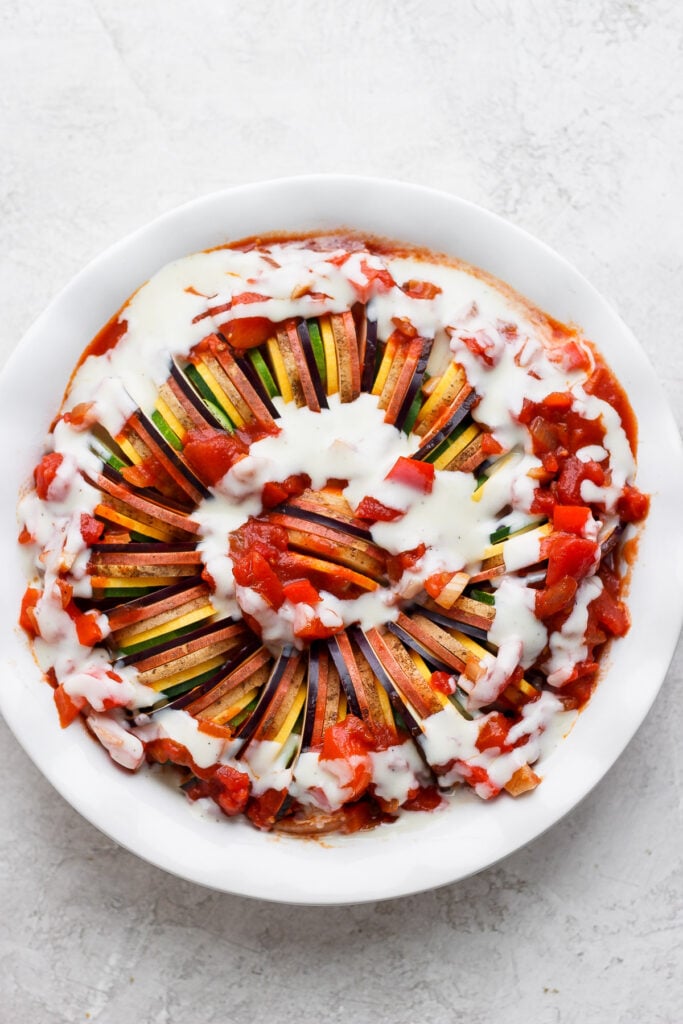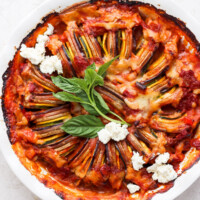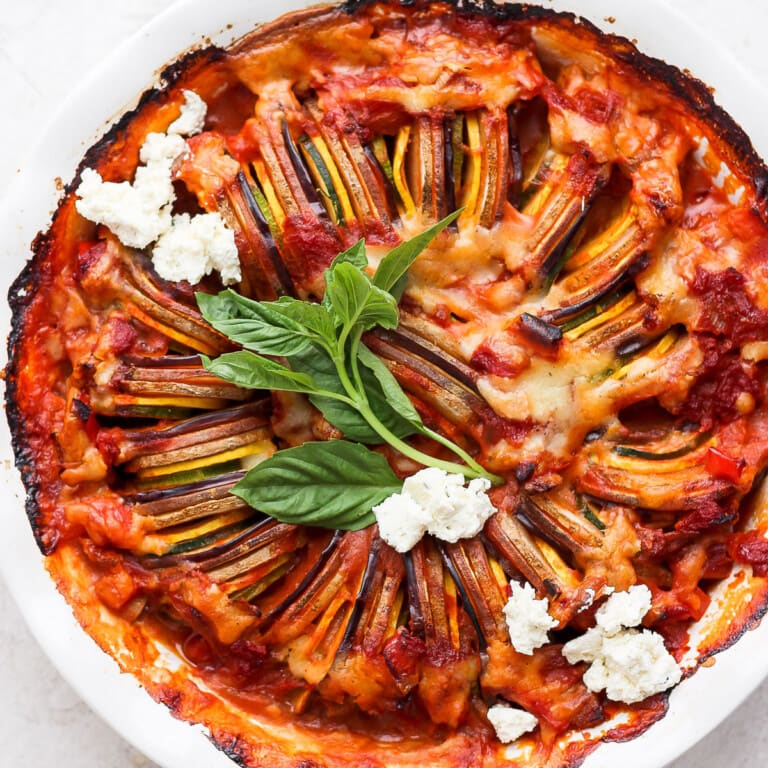 Homemade Ratatouille
Make this ratatouille recipe for dinner this week! Ratatouille is fun to make and it isn't as hard to make as you think! We use zucchini, potatoes, eggplant, and delicious sauce to make this delicious ratatouille that's equally as beautiful!
Ingredients
Vegetables
1

large eggplant

1

large zucchini

1

large yellow squash

1

large Idaho potato

1

large sweet potato

Tomato Sauce

2

tablespoons

olive oil

1/2

white onion

diced

5

cloves

garlic

minced

1/4

cup

red wine

1

large red pepper

diced

1/4

teaspoon

sea salt

24-

oz

can diced tomatoes

15-

oz

can tomato sauce

1/2

tablespoon

maple syrup

1/8

teaspoon

cayenne pepper
Béchamel Sauce
3

tablespoons

salted butter

1/4

cup

all-purpose flour

1/2

cup

2% milk

1/4

teaspoon

salt

1/4

teaspoon

ground pepper
Toppings
1/4

cup

Boursin or goat cheese

1/4

cup

chopped fresh basil
Instructions
Prepare the vegetables by using a mandolin. Carefully slice the eggplant, zucchini, squash, and potatoes into ⅛ inch thick rounds with the mandolin. Be sure the vegetables are all sliced into the same size. Set aside.  

Prepare the red sauce by heating a large pot over medium/high heat. Add olive oil.  When olive oil is fragrant add the onion and saute for 2-3 minutes or until the onion is translucent. Add the garlic to the onion and saute for an additional 2 minutes. 

Deglaze the pot by pouring in the red wine. Scrape any onions or garlic from the pan and then add the rest of the ingredients for the red sauce into the pot. 

Bring the tomato sauce to a boil. Once boiling, cover the pot and turn the heat to low and simmer the red sauce for 15 minutes and then remove from heat. 

Prepare the bechamel sauce.vHeat a separate medium pan over medium/high heat. Add butter to the pan and when the butter is melted add flour to the butter and whisk.  When the butter and flour mixture turns into a crumble or a paste turn the heat to low/medium heat. Slowly add the milk to the pot and whisk consistently until the mixture thickens. Remove from heat and add salt and pepper. Mix and set aside. 

Preheat the oven to 375ºF.

Assemble the ratatouille by first greasing a 10-12 inch round casserole dish or pie tin.  Add ½ cup of the tomato sauce onto the bottom of the dish and spread it around. Then, add ¼ cup of the bechamel sauce onto the bottom of the dish and spread that around. 

Next, place the sliced vegetables on top of the sauce mixture. Arrange the vegetables on their sides, alternating every other vegetable in a spiral arrangement until there are no more vegetables. 

Pour the remaining red sauce and bechamel sauces evenly over the vegetables. 

Place the ratatouille in the oven and bake for 60-75 minutes. 

Remove from the oven and top with cheese and fresh basil. 
Nutrition facts
Calories:
282
kcal
Carbohydrates:
35
g
Protein:
7
g
Fat:
13
g
Fiber:
8
g
Sugar:
10
g