Looking for a high-protein vegetarian chili recipe that's packed with flavor and easy to make? Use one single pot and make our flavorful Roasted Red Pepper Vegan Chili fully equipped with quinoa and beans.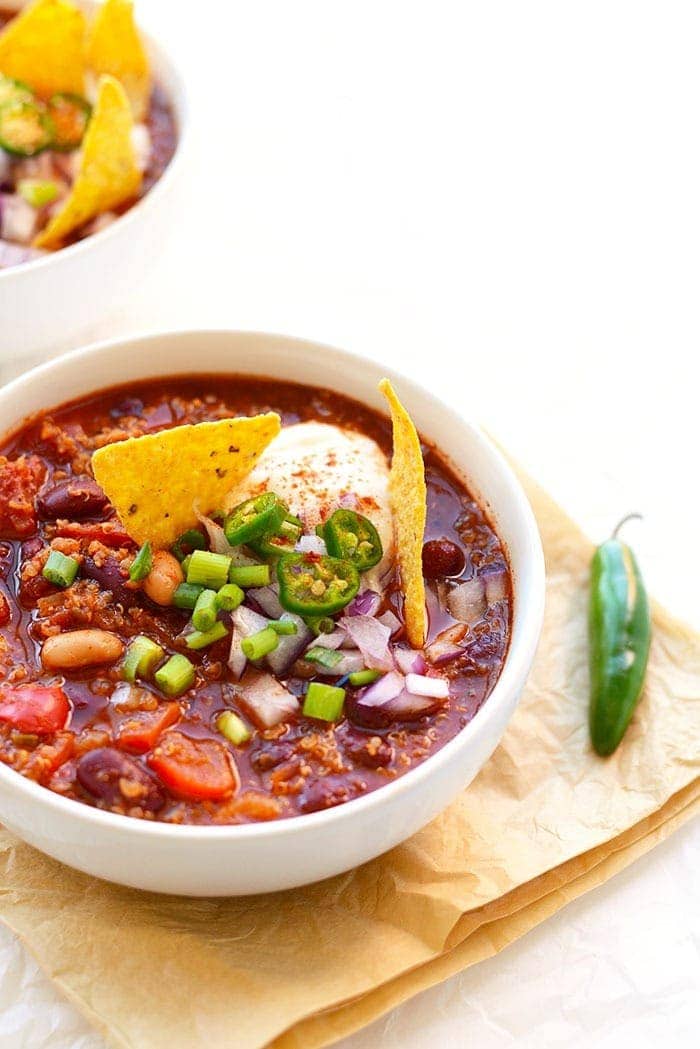 A couple of years ago we posted a Black Bean Quinoa Chili, which is one of my all-time favorite vegan chili recipes. The internet wild for it so we de decided to create a spin-off recipe that was made from a similar base, but slightly different flavors.
Vegan Chili made with Roasted Red Pepper & Quinoa
Lately, I've been really into sun-dried tomatoes and roasted red peppers. They add so much great flavor to everything. We thought we'd use a base of pureed roasted red peppers, beans, and quinoa for a hearty, flavorful meal that is still packed with protein and fiber sans the meat. That's why this really is the ultimate vegetarian chili recipe! You won't miss the meat at all, I promise.
Let's go back to the roasted red peppers for a second. In this vegetarian chili, we used store-bought, jarred roasted red peppers, however you can totally make your own if you're into that. In order to get them saucy and creamy, you need to use a high-speed food processor. We dumped the entire contents of the jar including the liquid right into my food processor and gave it a whirl for a good minute until everything was pureed.
Reasons to Make This Vegetarian Chili
If the roasted red pepper x quinoa combo hasn't convinced you to whip up this amazing chili. Here are a few more reasons why you should make it.
You only need to use one pot for this entire meal. Start off by bringing quinoa and water to a boil and then add the rest of the ingredients to the same pot and let that baby simmer.
Dinner is ready in less than 45 minutes.
Leftovers for days. This recipe serves 6!
Get a serving of protein, fiber, and veggies!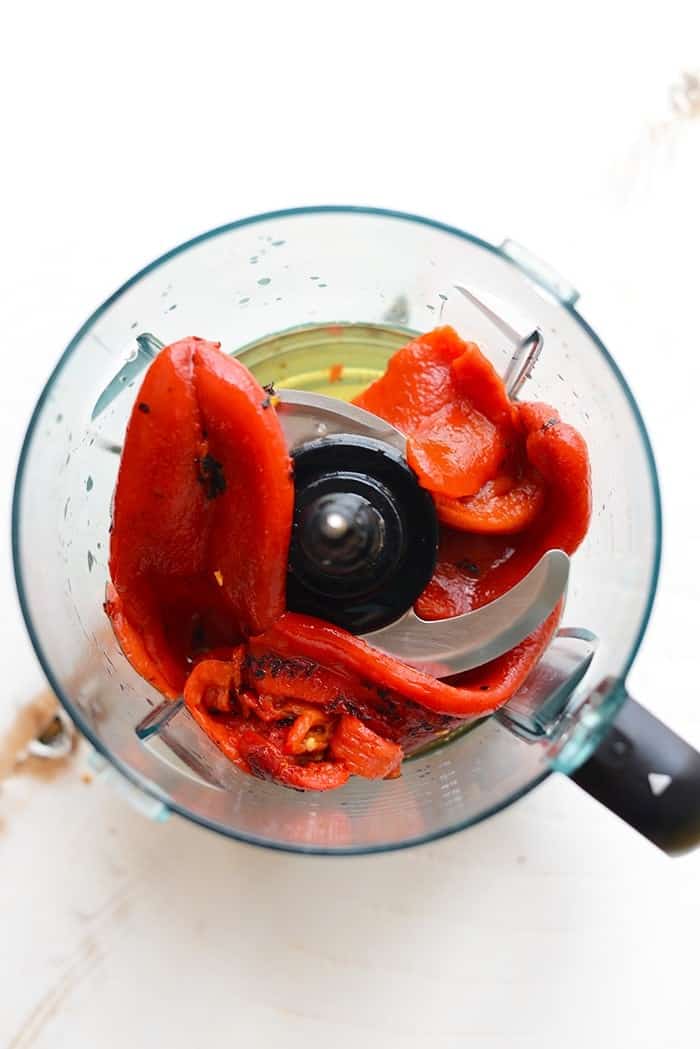 Secret Ingredient
In almost all of our chili recipes, we use the same secret ingredient. Can you guess what we used in this quino chili recipe?
Maple syrup!
That's right. I added a few tablespoons of maple syrup to really bring out the flavor. It might sound a little weird, but I promise it does such great things for this chili.
Vegetarian Chili Add-In Ideas
If you're thinking about getting extra fancy with this vegan chili, feel free to add other veggies such as sweet potatoes, peppers, or any kind of bean your heart desires. It's one of those recipes where you could just keep adding things to it and it just get better and better. Do note that the more things you add to this vegetarian chili recipe, the more spices you're likely going to need to add to balance things out. Start with a little bit more chili and garlic powder and go from there. Here are a few more add-in ideas:
sweet potatoes
russet potatoes
leek
squash
peppers
shallot
Lastly, don't forget to go wild with your toppings. Every bowl of chili deserves a bit of crunch. We served ours with some dairy-free yogurt, green onions, and purple onions.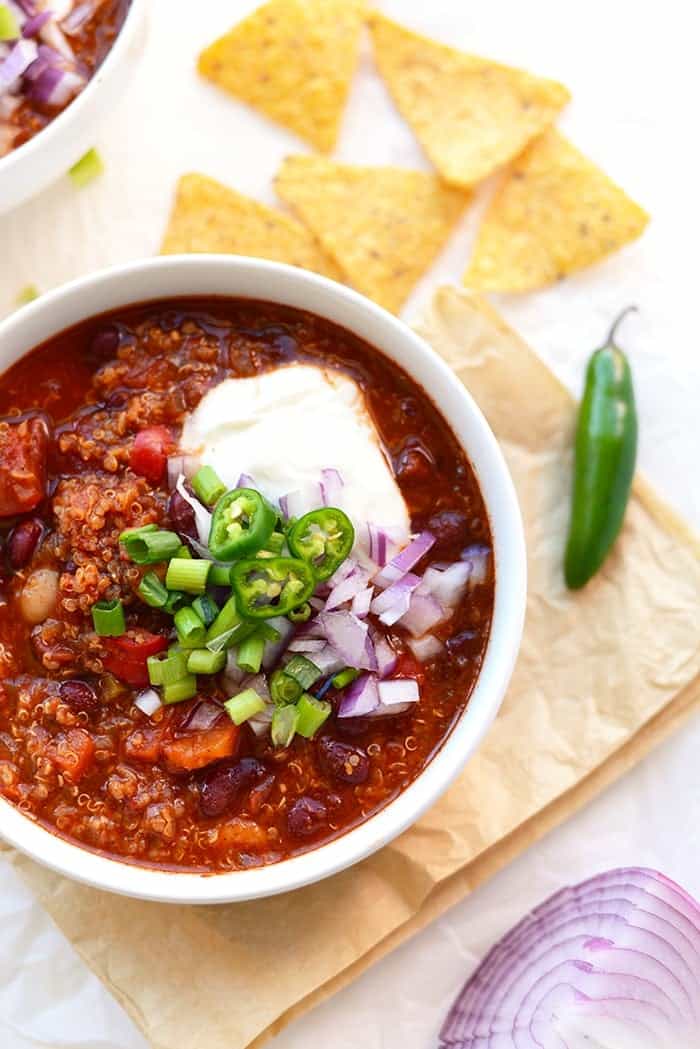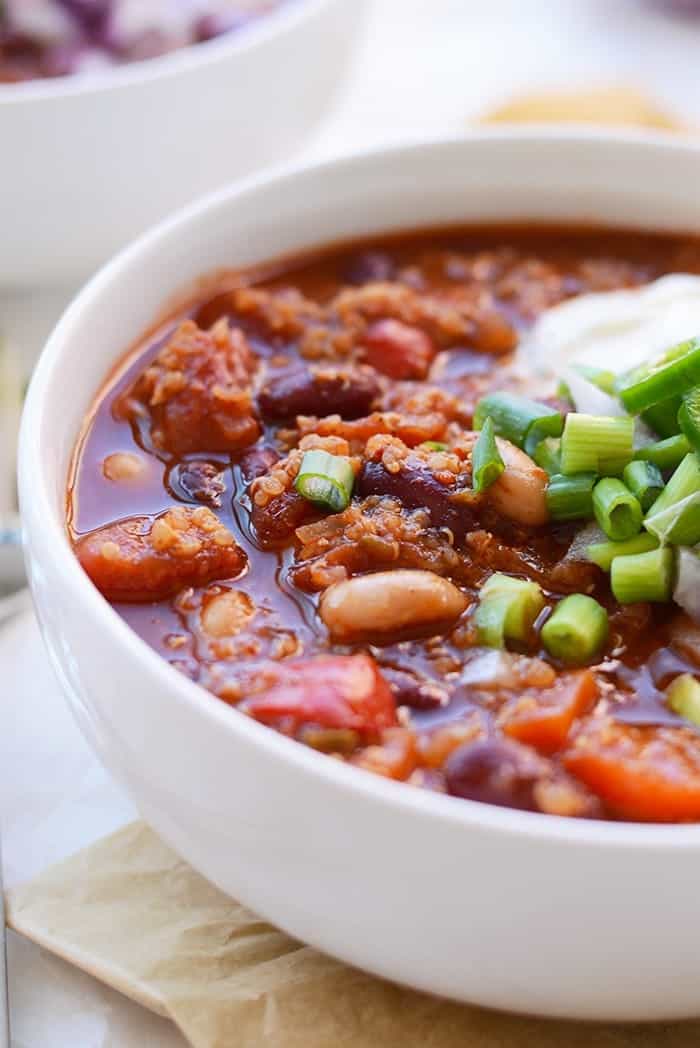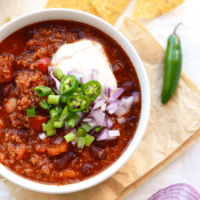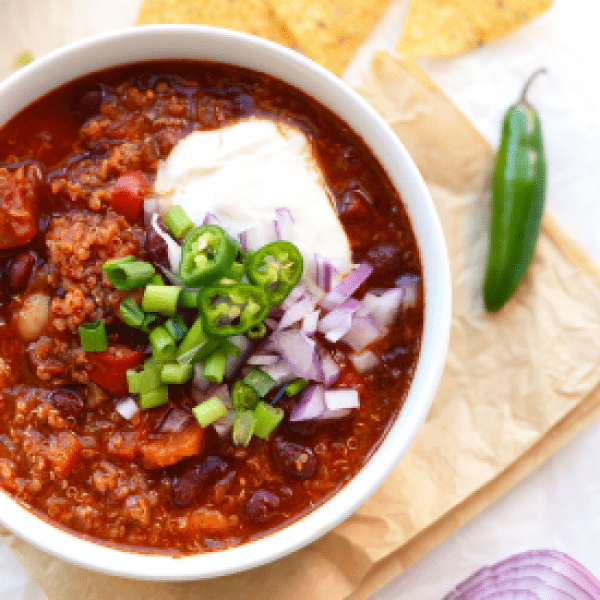 Roasted Red Pepper Vegan Chili with Quinoa
Looking for a high-protein vegetarian chili recipe that's packed with flavor and easy to make? Use one single pot and make our flavorful Roasted Red Pepper Vegan Chili fully equipped with quinoa and beans.
Prep:
15 minutes
Cook:
45 minutes
Total:
1 hour
Fat
2
Carbs
56
Protein
14
Ingredients
1 cup

quinoa, uncooked

2 cups

water

1

12-oz. jar roasted red peppers, pureed

1

red pepper, chopped into bite-sized pieces

1/2

large red onion, finely diced

1

serrano pepper, finely diced

1 tablespoon

minced garlic

1

28-oz. can crushed tomatoes

1

15-oz. can northern white beans, rinsed and drained

1

15-oz. can kidney beans, rinsed and drained

4 tablespoons

chili powder

1 teaspoon

ground cumin

2 teaspoons

garlic powder

1/4 teaspoon

sea salt (or more to taste)

2 tablespoons

maple syrup
Instructions
Place quinoa and water in a large stock pot and turn to high heat. Bring to a boil.
While the quinoa is heating up, prep roasted red peppers. Place entire jar (including liquid) into a food processor and process on high for about a minute or until pureed. Set aside.
Once the quinoa is boiling, reduce to medium heat and add the rest of the ingredients. Cover and let boil for about 10 minutes.
Then, turn down to low and let simmer, covered, for an additional 15 minutes.
Serve with plain dairy-free yogurt, diced red onion, green onion, and tortilla chips!
Tips & Notes
When reheating, you will likely need to add a splash of liquid to loosen things up. We suggest water or vegetable broth.
Nutrition Facts
Serving Size:
1/6
Calories:
295
Sugar:
15
Fat:
2
Carbohydrates:
56
Fiber:
12
Protein:
14
Category:
Dinner
Method:
Stove Top
Cuisine:
American
Keywords: quinoa chili, vegetarian chili, vegan chili