This recipe makes healthy comfort food a real thing! Make this Cauliflower Mac n' Chicken Casserole with ancient grain pasta for the most epic meal the entire family will love!
Are you sick of casseroles yet? I am too…NOT. Clearly I am casserole obsessed because I make them all year round and in all shapes and sizes. I don't abide by the Google norms of only eating casseroles during the fall/winter because I love them so much.
Fun fact: In Minnesota, we call casseroles >> hot dishes. Makes a lot of sense…these casseroles come out of the oven screamin' hot! Maybe next year I will rename this week Hot Dish Week 2017 :P No one would get it other than my Minnesota peeps! Speaking of hot dish…one of my favorite restaurants in the twin cities is called Haute Dish. Just a fun play on words! They have a super eclectic menu and their drink list isn't half bad either! Their lobster mac is just NOMMMMM.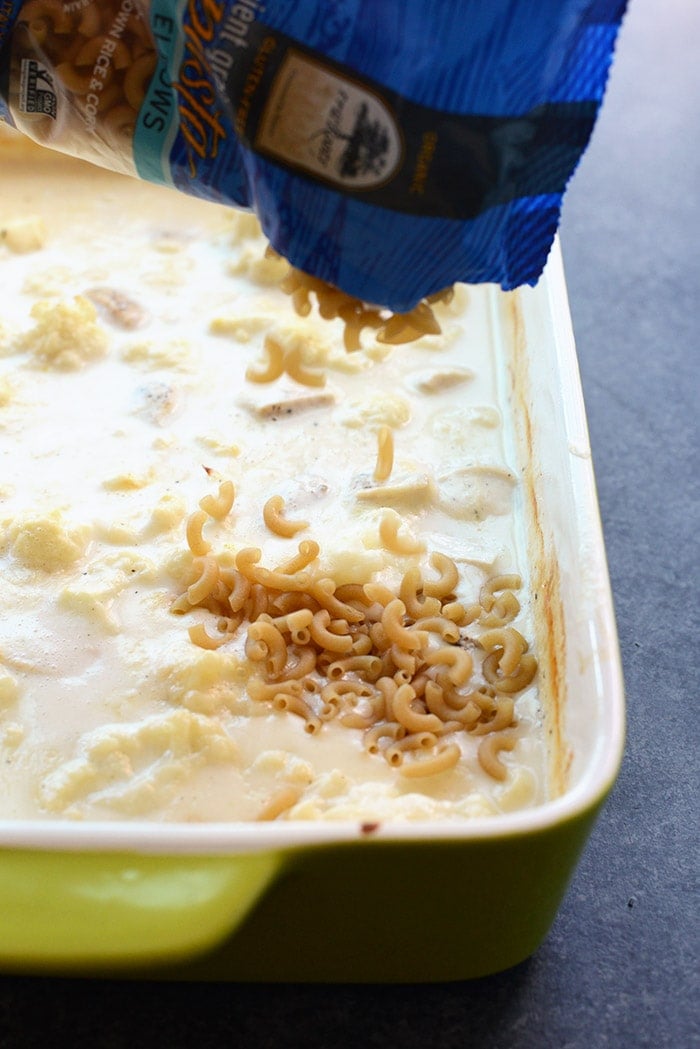 Alright let's chat about this casserole. The one thing Linley and I wanted to make sure of was making this casserole as easy as possible by reducing as many steps as we could. That's why we wanted a recipe that would work WITHOUT precooking the noodles. That's right…there is no boiling noodles involved.
This guy is made up of truRoot's Ancient Grain Pasta. Their pastas are by far my favorite gluten free pasta on the market. It doesn't get super sticky and mushy, which almost always happens with other brands. It's a blend of brown rice, quinoa, amaranth, and corn which is why it's able to keep its al dente texture! Um yes. I need.
Like the rest of the casseroles in Casserole Week, we followed our equation: vegetables + protein + whole grains. Other ingredients include:
chicken breast
cauliflower
cheese sauce
optional toppings: whole wheat bread crumbs and BACON
Make sure you follow all of our baking tips and directions in the written recipe. They're essential to make sure your noodles don't come out mushy from over baking!
Recipe
Cauliflower Mac n' Chicken Casserole
Prep Time:

20 mins

Cook Time:

40 mins

Total Time:

1 hour
Ingredients
For the Sauce
3 cup

s 1% milk (or any kind, even dairy free)

3 tablespoon

s tapioca flour

8 oz

cheddar cheese
Optional Toppings
Bread Crumbs
Bacon
Green Onion
Instructions
Preheat the oven to 375ºF and spray casserole dish with non-stick cooking spray. Set aside.
Chop cauliflower into 1 1/2 inch chunks. Place in casserole dish.
Heat a tablespoon of olive oil over high heat. Season chicken with salt and pepper and brown for a minute to a minute and a half on each side. Then, slice chicken into chunks and place in casserole dish. Set aside.
Make cheese sauce by heating 3 cups of 1% milk over medium/high heat while stirring consistently. Once simmering, add in tapioca flour one tablespoon at a time and continue whisk so that milk does not burn.
Once milk starts to thicken (8-10 minutes in), turn down to low heat and slowly add in 8 ounces of shredded white cheddar cheese. Don't forget to continue whisking! Add salt, pepper, and garlic powder into cheese sauce.
Pour cheese sauce over the top of chicken/cauliflower and then add 1/2 cup of chicken broth. Mix until everything is combined.
Place in oven at 375ºF for 30 minutes (uncovered). Remove and add in noodles. *Bake for 5 minutes. Remove and stir. Place back in and bake for 5 more minutes.
Remove casserole from oven and let sit for 5-10 minutes. Continue to to stir often to release heat so that the noodles do not continue to cook.
Once casserole is cooled, top with optional bread crumbs, bacon, and green onions.
Enjoy!
Notes
*truRoots Ancient Grain Elbow Pasta cooks quickly and will continue to cook when taken out of the oven. Be conscious of this as you check the noodles after 5 minutes. Everyone's oven is a little bit different, so watch out that your noodles don't turn to mush!
Nutrition
Serving Size:

1/6

Calories:

485

Sugar:

7

Sodium:

446

Fat:

24

Carbohydrates:

41

Fiber:

3

Protein:

31
Similar
STORAGE
Refrigerator: Store in an air tight container, such as a glass pyrex
, for up to 5 days in the refrigerator.
Freezer: If you plan to freeze, we suggest baking this in a disposable/aluminum casserole dish
. Place a piece of plastic wrap on top of cooked, cooled casserole and press out all of the air. Then, wrap the entire casserole in tin foil and place in the freezer. Write the name and date of casserole on the tin foil. To reheat, take the frozen casserole out of the freezer and let thaw in the fridge over night. Either reheat single servings of the casserole in the microwave, or reheat the entire thing in the oven (we suggest 40 for 20 minutes).
PRODUCT FINDER
Looking for a specific truRoots product? Use their product finder feature on truRoots.com!
Casserole Week 2016 is in partnership with truRoots. I was compensated and all opinions are my own. Thank you so much for supporting Fit Foodie Finds and making this website (and my job!) possible!