I think I finally created my new favorite Asian dish. It calls for simple ingredients, a whole lotta flava, and a double thumbs up from Blake! …I got the "THIS IS THE BEST THING YOU'VE EVERY MADE" statement from him. #winnerwinnerchickendinner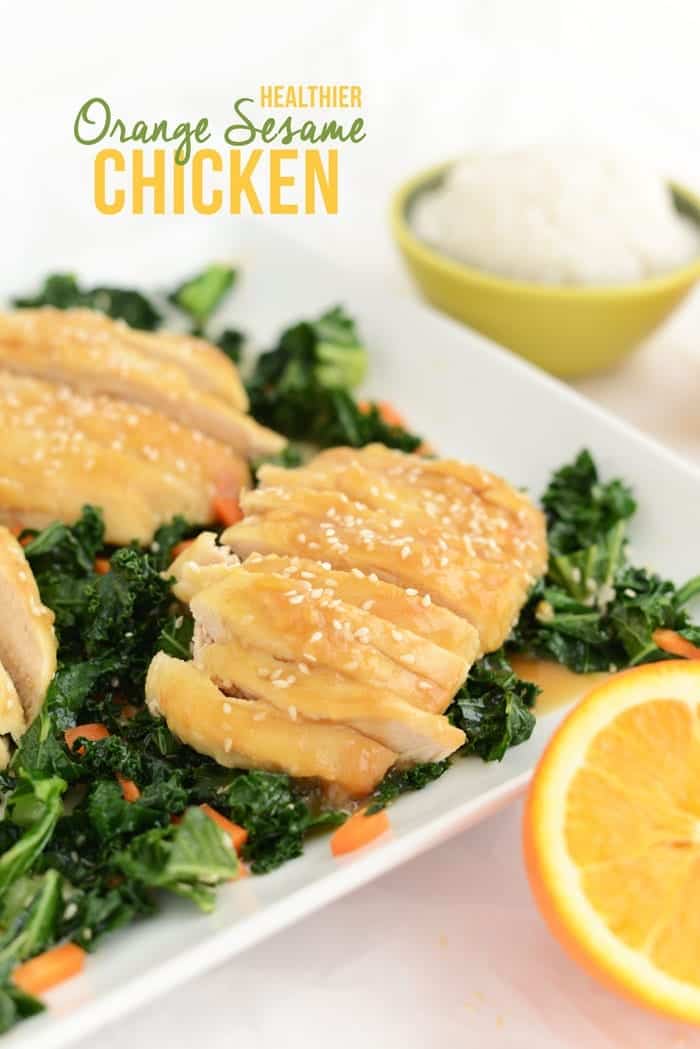 The sauce has SO MUCH FLAVOR and I can't even believe how little ingredients were involved. I had a little OMG moment when I realized I didn't have cornstarch to thicken the sauce(which I ended up finding in my cabinet 2 days later), but was able to substitute flour just fine. I felt like a scientist.
The base of the sauce is fresh squeezed orange juice. Freshly squeezed out of the oranges is kind of necessary. Plus- then you get to eat the pulp for a snack while your making dinner :D The sauce also calls for a few tablespoons of soy sauce (gluten free), white rice vinegar, ginger, and honey.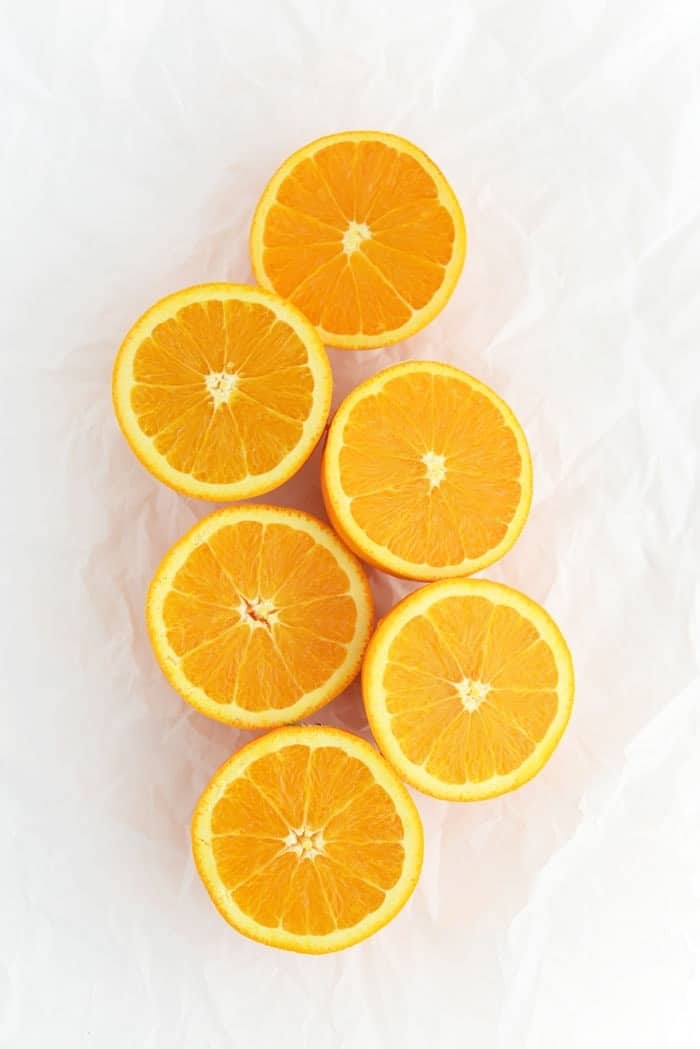 I've never tossed my chicken breast in flour before browning and baking, but I love the texture it created. It also helped the chicken absorb the sauce better. I used Bob's Red Mill Gluten Free Flour Mix, but feel free to use any kind or brand. You just need a light coating on the chicken before browning both sides on the stove.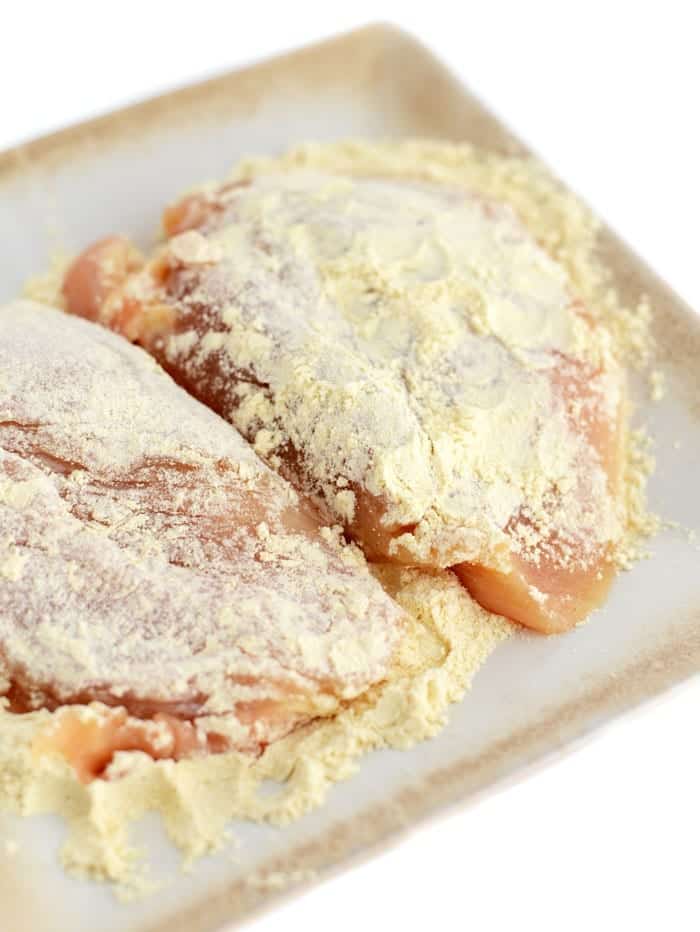 To brown- you just heat a tablespoon or two of EVOO to medium/high heat and cook both sides for about 4 minutes or until golden brown. Then they go into a square baking dish, topped with your fresh orange sauce, and into the oven for about 20 minutes.
It will look like there is a whole lot of sauce…almost like your chicken breasts are taking a bath. But this is going make your chicken extremely flavorful. You may also notice that your sauce is pretty runny, things will thicken up in the oven, I promise!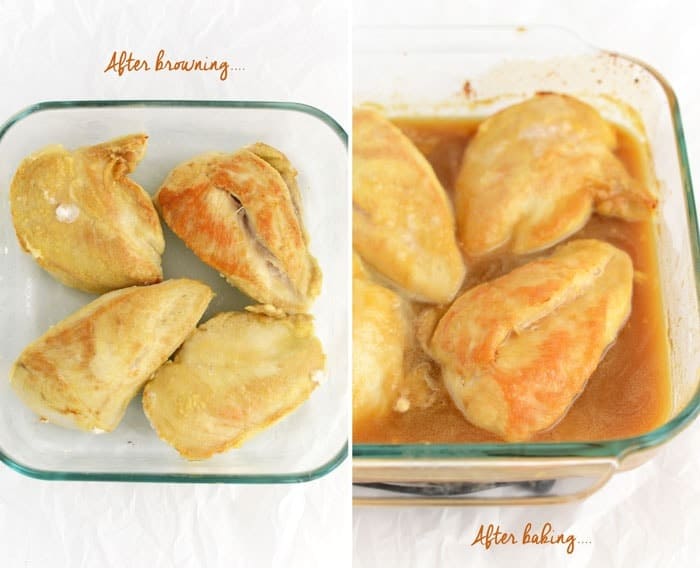 Once your chicken is done. Let sit for a few minutes, slice, and top with additional sauce (which should thicken even more if you let it sit after baking), then sprinkle on some sesame seeds.
I paired my chicken with a a simple Orange Sesame Kale Salad and Coconut Sticky Rice —> both of these recipes are below.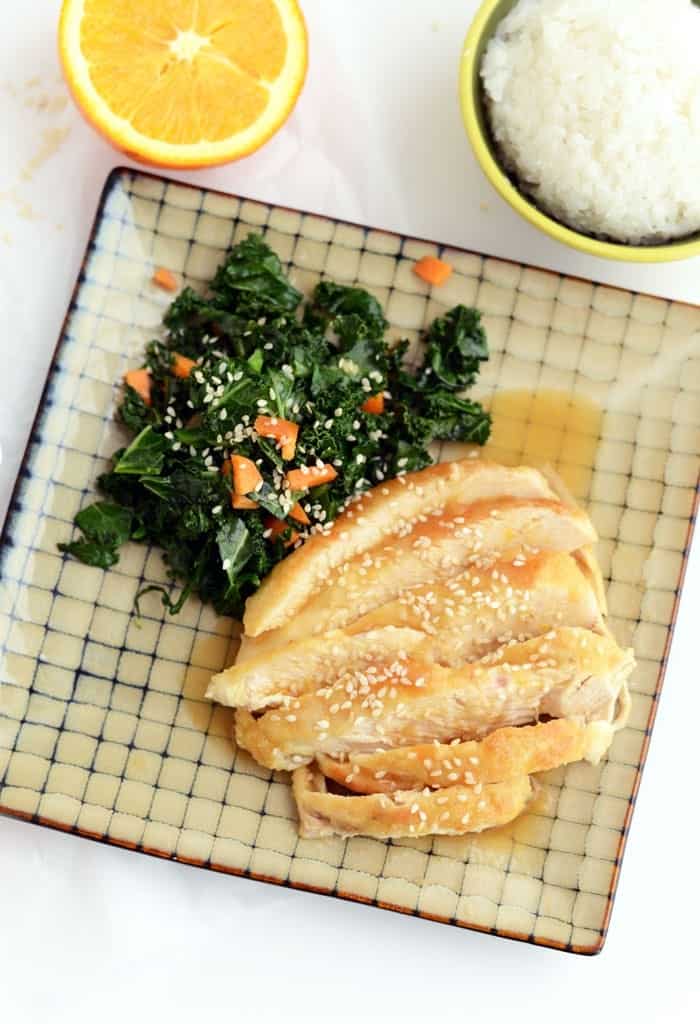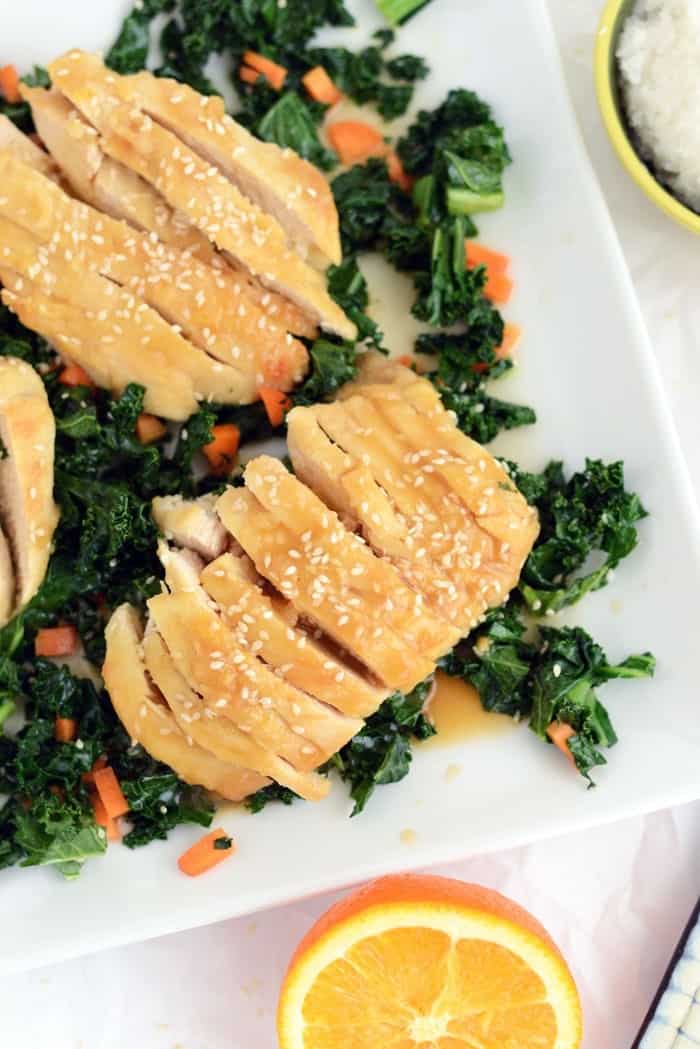 Recipe
Gluten Free Healthy Orange Sesame Chicken
Prep Time:

10 minutes

Cook Time:

45 minutes

Total Time:

55 minutes
Ingredients
-3 oranges (juiced)
-3T soy sauce (gluten free)
-2T white rice vinegar
-2T honey
-1/2 teaspoon ground ginger
-4 large chicken breast
-1/4 cup flour (I used gluten free)
-1 tablespoon corn starch or flour (to thicken sauce, I used flour)
-1 tablespoon EVOO
1 tablespoon sesame seeds
Instructions
First, preheat oven to 375F. Next, in a large sauce pan, heat 1 tablespoon of EVOO to medium heat.
Prep chicken breast by rubbing both sides with gluten free flour. Once the oil is hot, place chicken breast into pan and brown both sides. I cooked each side for about 4-5 minutes (covered), just enough so that the chicken breasts turned golden brown.
While the chicken is browning, prepare sauce. Mix the juice from 3 oranges (or 1/2 to 2/3 cup orange juice), soy sauce, white rice vinegar, honey, and ginger. Then, add in about one tablespoon of flour (or cornstarch), and dissolve with a fork (note: it WILL thicken up as it heats in the oven).
Once the chicken is done browning. Transfer to an oven safe dish. Then, pour sauce over chicken and bake at 375 for about 20 minutes.
When the chicken is done cooking, remove from baking dish onto a plate. Let sauce sit for about 5 minutes (so it can cool) and pour additional sauce on top of chicken. Sprinkle on sesame seeds. Serve with coconut rice and citrus kale salad (recipe below).
Similar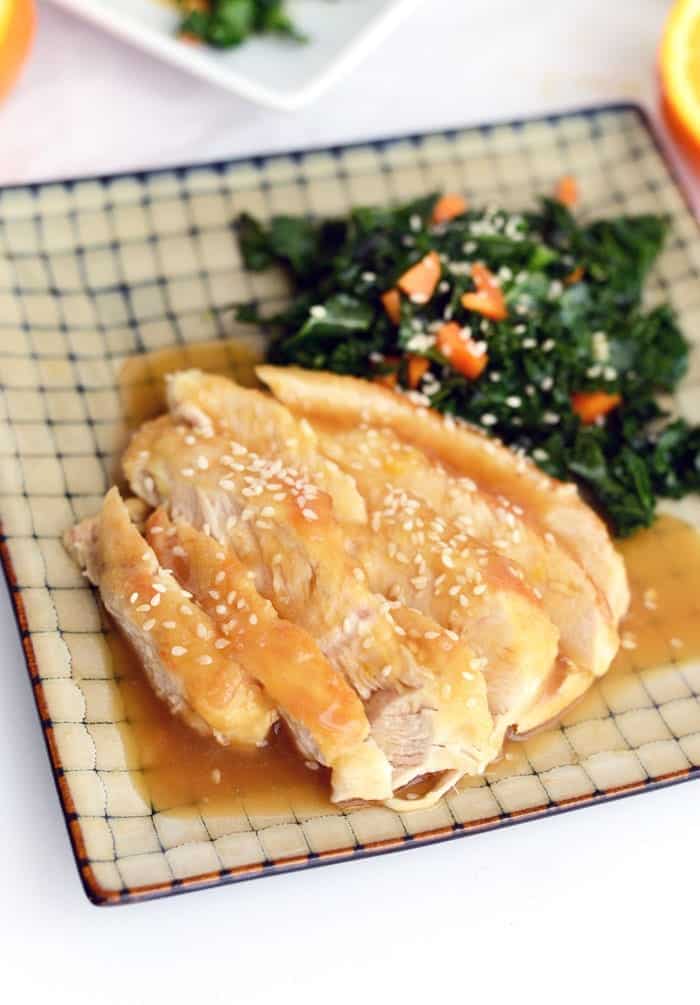 I took your advice from the last time I used kale in a recipe, and cooked my kale in EVOO for a few minutes, and then massaged the rest of the dressing into it in order to get some of the tartness out and make it more digestible.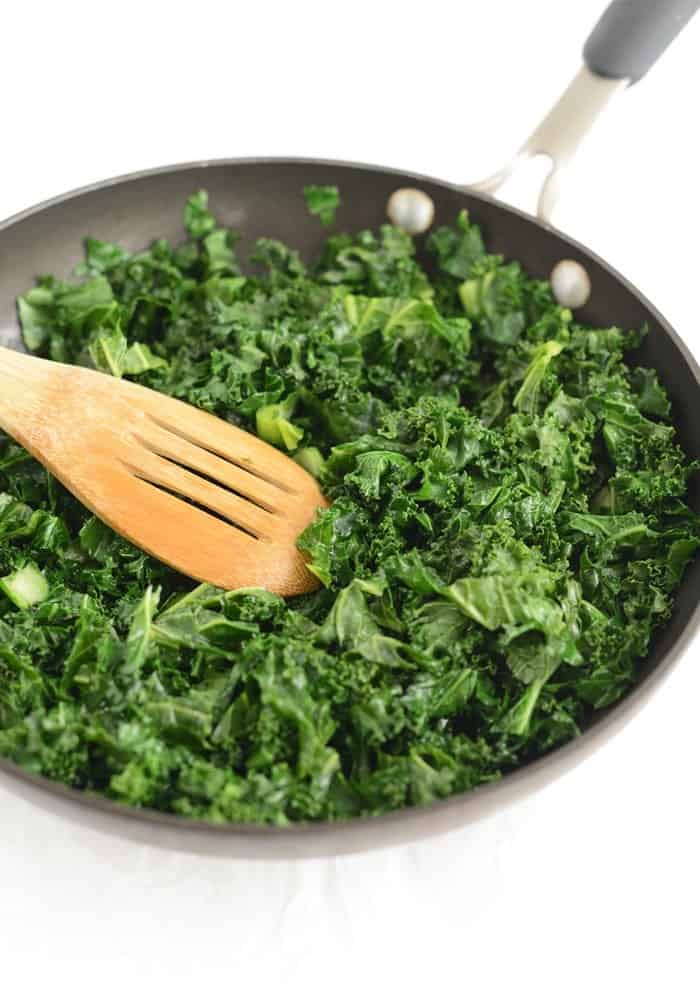 The kale salad was inspired by the sauce from the Sesame Orange Chicken.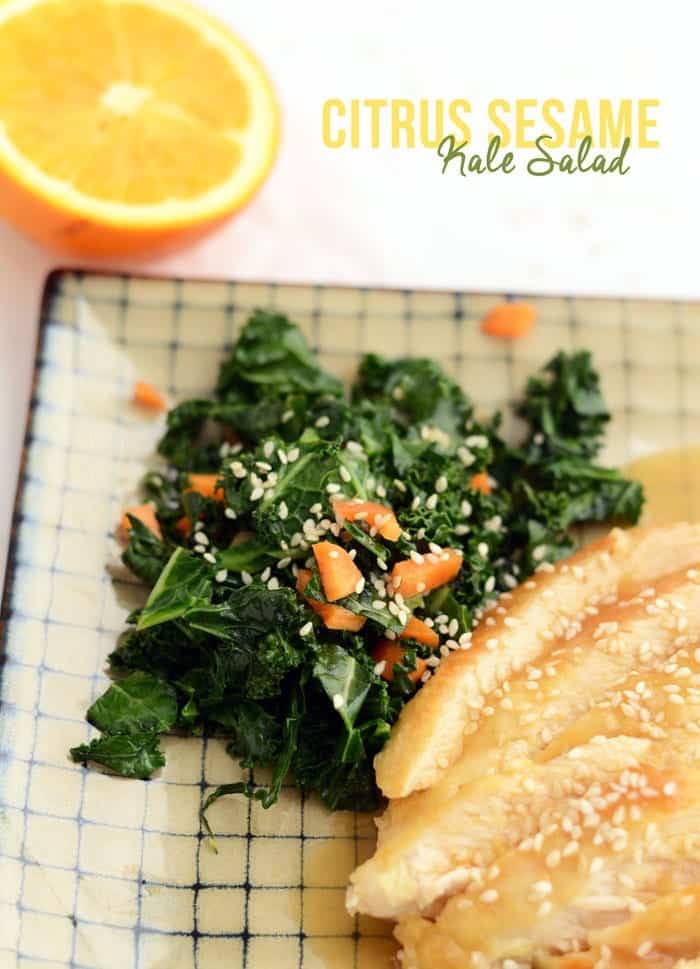 Recipe
Citrus Sesame Kale Salad
Ingredients
-5 cups of chopped kale (washed and patted dry)
-juice from 1/2 orange or about 1/4 cup
-2 tablespoons EVOO
-1/2 cup carrots, minced and raw
-1 tablespoon sesame seeds
Instructions
Begin by washing and patting dry kale. Next, finely chop the kale, removing the stem if desired. Set aside.
In a large sauce pan, heat 1 tablespoon EVOO to medium heat. Place chopped kale on pan and sauté for about 2-3 minutes, just enough so that the kale because a darker green and is more flexible. Remove from heat, place in a large bowl and into the refrigerator to cool for about 30 minutes.
Once the kale is cooled, add in about 1/4 cup of orange juice, a tablespoon of EVOO, and 1/2 cup minced, raw carrots. Toss lightly. Finish off with a tablespoon of sesame seeds.
Similar
As for the Coconut Sticky Rice. SO SIMPLE! 1 cup of rice + 1 cup of coconut water (I used a full fat can and used only the liquid part) + 1 cup water + 1/4 cup unsweetened dried coconut. Really perfected this entire dish.
– – – – – – – – –
Not to change the subject abruptly, but Blake and I are actually headed to Texas tomorrow for "Spring Break." Blakester works full time, but is also in a part time MBA program and has a week off of school. Coincidentally, so do his little sisters. So? We are going to Lake Texoma (on the Texas/Oklahoma border) for the week! Blake grew up in Kansas and will fish/hunt at any chance he gets. Well- we are going to have a full 6 days of fishing and sunshine. The weather is suppose to be in the mid/upper 60's and we will be near a National Preserve with lots of trails. I am just pumped to be away from work for a bit and to get some Vitamin D!
So my question for you is- has anyone ever been to or near Lake Texoma? Texans- I'd love some foodie recommendations!
Happy Sunday!