Make your takeout dreams come true any night of the week with this epic Instant Pot Beef and Broccoli recipe.
This will give your favorite slow cooker beef and broccoli stir fry recipe a run for its money…and time because it's made with a cook time of just 9 total minutes!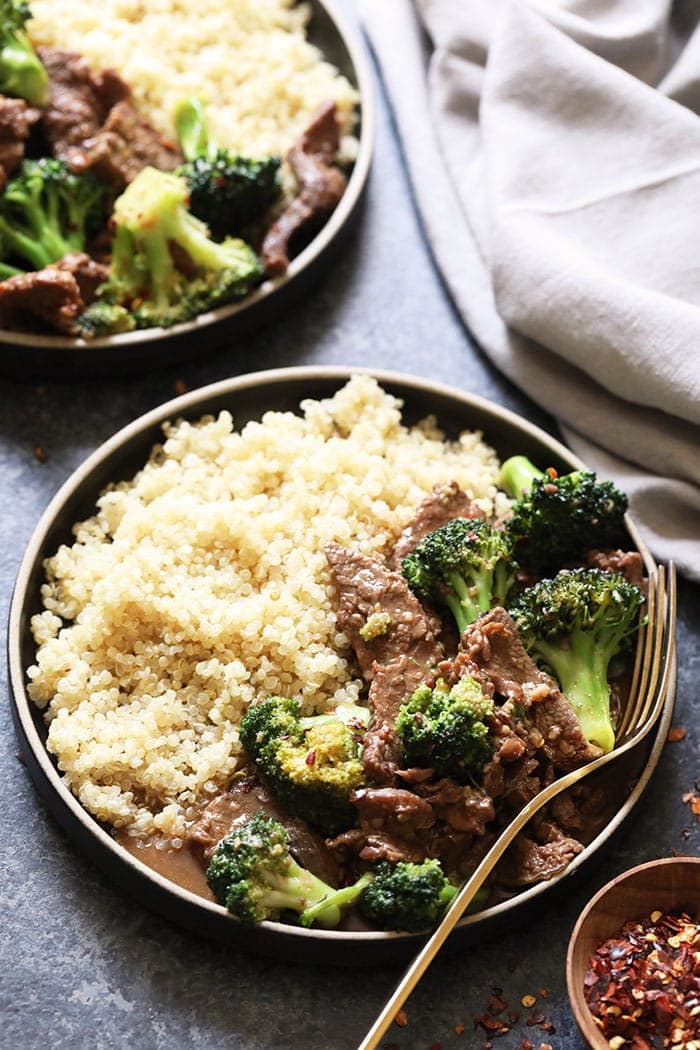 My #1 Takeout Meal
GUYS. I don't actually know how I made it 8 whole years without a single beef and broccoli recipe on FFF. When we were in the Boundary Waters last month, we were talking about what our last meal would be. Mine would 100% be beef and broccoli over and over again.
So we're finally bringing you the most epic, better than slow cooker beef and broccoli…INSTANT POT BEEF AND BROCCOLI. With this recipe, you'll find that your beef is tender as can be WITHOUT having over-cooked broccoli. How did we make this work?! Well, LOTS of trial and error. We tested this recipe 6 times. YES, 6…to get the most perfect beef with broccoli on the planet. How did we do it? We're sharing the secrets below!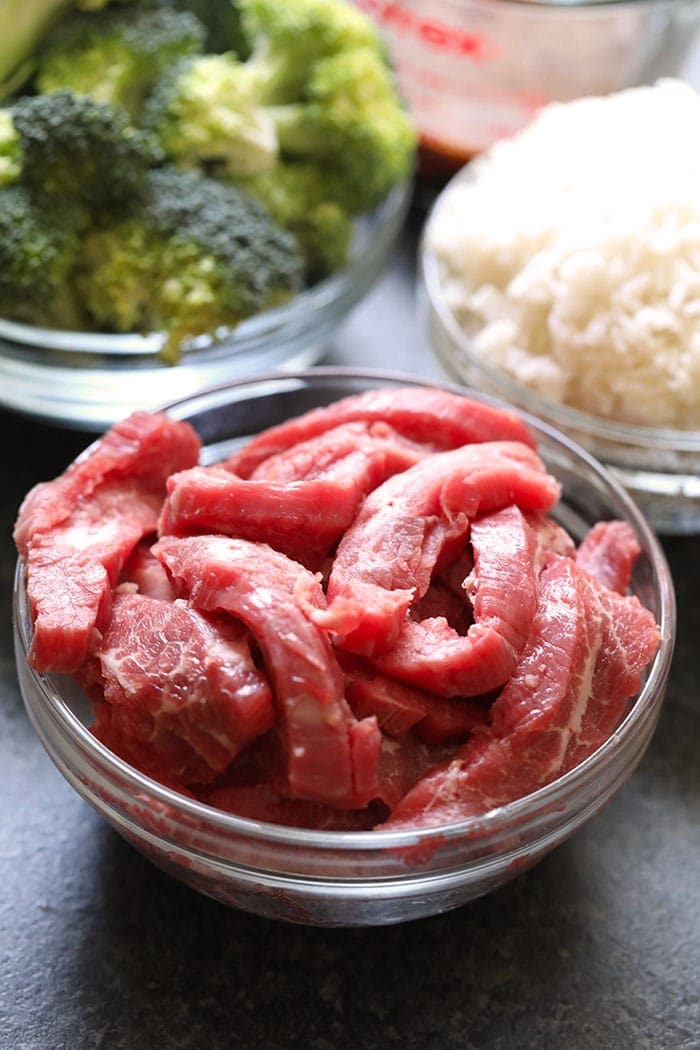 Step 1: Tenderize and Slice
Time to whip out your meat tenderizer. Flank steak is ALWAYS better with a little tenderization. Lay a piece of parchment paper over your flanks teak and give her some love. Then, cut her down the long way and slice her up. Try and get them as thin as possible.
Step 2: Make Beef and Broccoli Sauce
Beef and broccoli sauce is super easy to make. Here's what you need:
low-sodium soy sauce or tamari
hoisin sauce
minced garlic
red chili sauce
cornstarch
Step 3: Sear and Cook Beef
Turn on the Instant Pot's sauté function, and give your beef a quick sear, but don't cook it all the way! Then, pour in your sauce, close and seal the Instant Pot, and cook on high for 8 total minutes.
*SECRET* Step 4: Add broccoli + cook for 0 minutes
Once the timer goes off, quick release the Instant Pot and open it up. Add in your broccoli, close, and seal. Cook on high for 0 minutes. Yes, 0 minutes. This will allow your Instant Pot to build pressure and then be done cooking once it's at max pressure.
If you cook it any longer than 0 minutes, I promise you, your broccoli will be mushy. So? Once that timer goes off, open the vent to quick release immediately!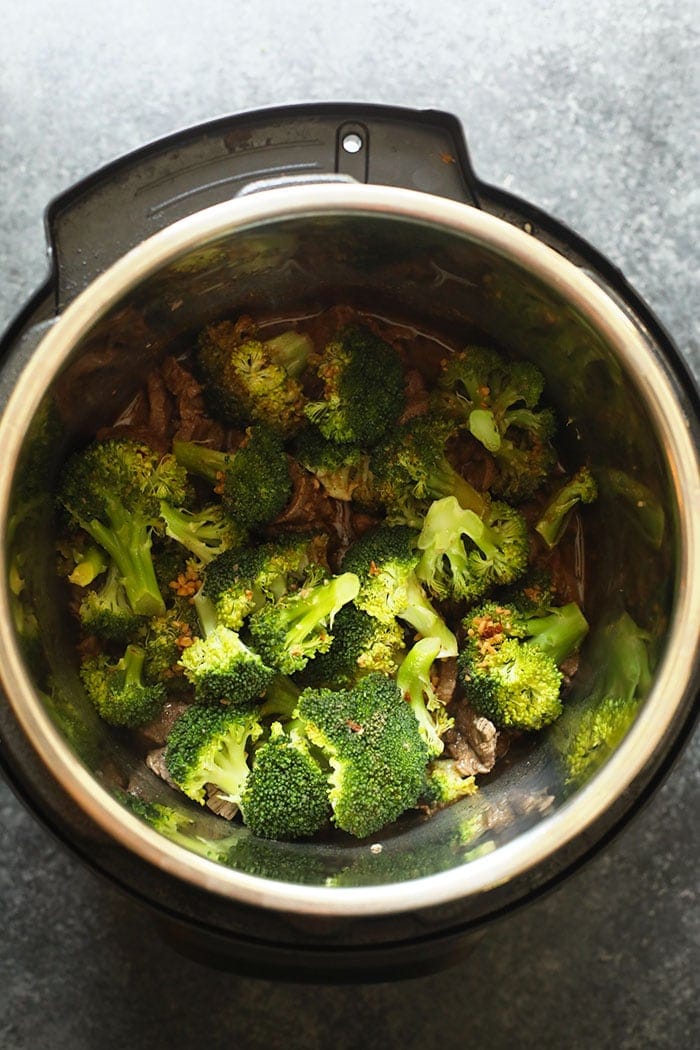 Step 5: Thicken Sauce
Immediately remove the beef and broccoli from the Instant Pot, keeping the sauce at the bottom of the pot. Add in your cornstarch and whisk away. Then, place the beef and broccoli back into the Instant Pot and give everything a stir.
You should be ready to go with perfectly tender beef and crunchy, yet cooked broccoli, just the way a beef and broccoli stir fry should taste.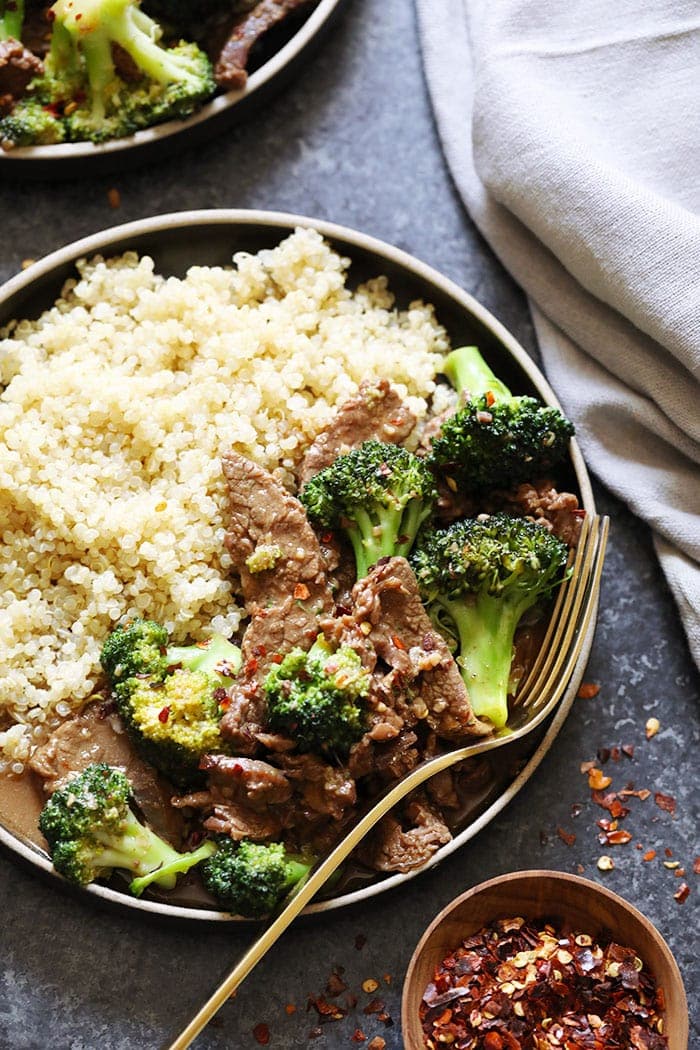 Beef and broccoli stir fry is traditionally served with a white sticky rice, but it's absolutely delicious with quinoa as well. Check out some other nummy stir fry and Instant Pot recipes you might like, too:
Instant Pot Recipes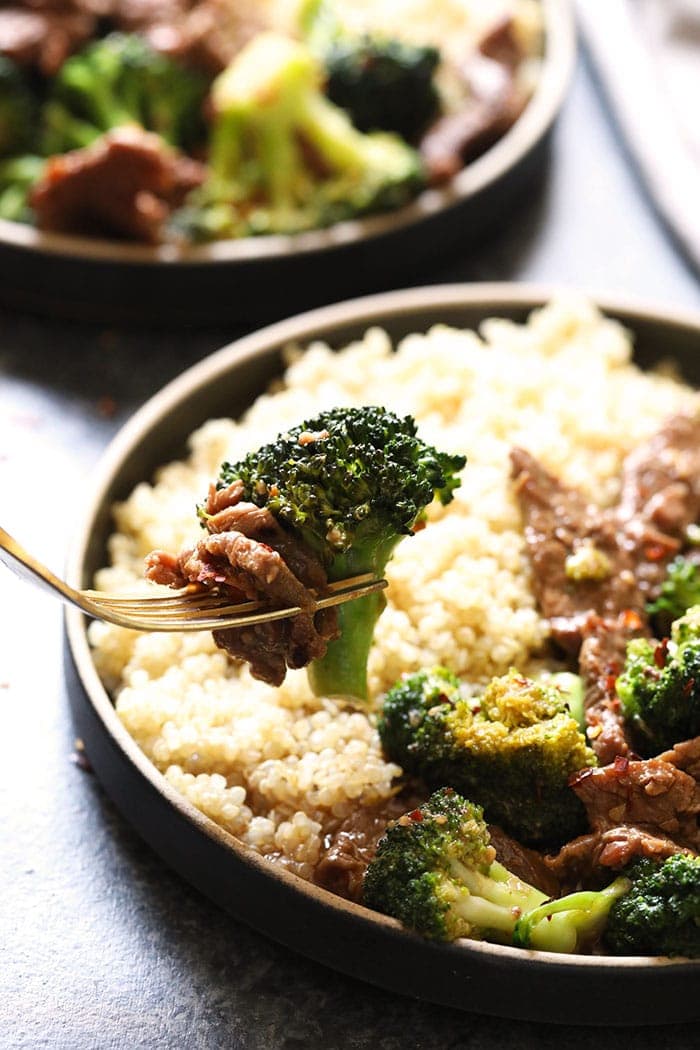 Stir Fry Recipes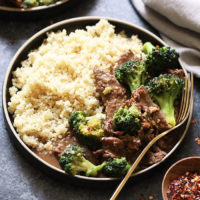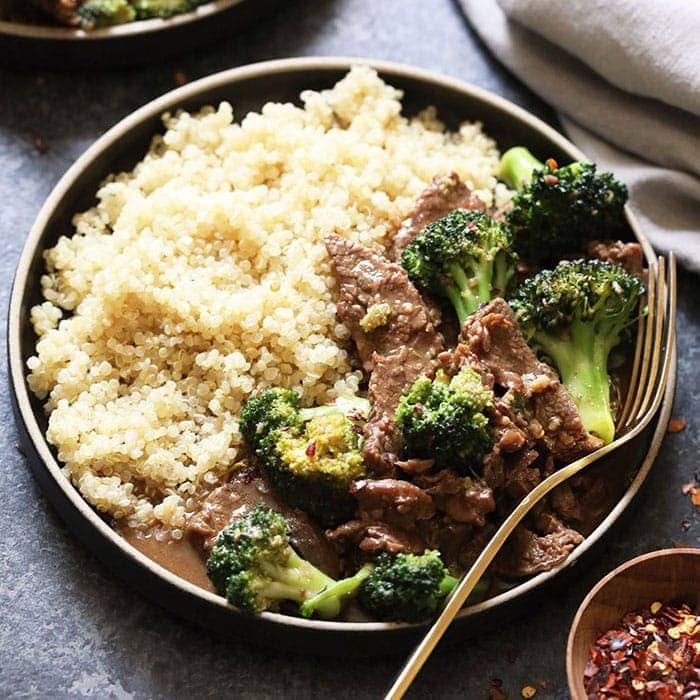 Instant Pot Beef and Broccoli
Make your takeout dreams come true any night of the week with this epic Instant Pot Beef and Broccoli recipe.
Ingredients
2

tablespoons

olive oil

1.5

lbs.

flank steak

8

cups

broccoli florets

cut into chunks

1/3

cup

low sodium cup soy sauce

or tamari

1/4

cup

hoisin sauce

1

tablespoon

minced garlic

2

teaspoons

red chili sauce

or more if you like it spicy

1.5

tablespoons

cornstarch
Instructions
First, create the sauce by mixing together soy sauce, hoisin, minced garlic, and red chili sauce. Set aside.

Next, place flank steak out on a cutting board and cover with parchment paper. Use a meat tenderizer to tenderize the flank steak. Pound each side of the flank steak for 1-2 minutes and until it is 1/2 inch thick.

Then, slice your flank steak in half (hot dog way) and cut each half into thin strips.

Turn on the Instant Pot's saute function and add olive oil to the pot. When olive oil is fragrant, add flank steak and cook for 2 minutes, stirring occasionally.

Next, turn off Instant Pot. Add sauce to the flank steak. Mix well and cover Instant Pot.

Turn the pressure valve to seal and cook meat on high pressure for 8 minutes.

Quick release pressure and uncover Instant Pot. Then, place broccoli on top of the flank steak.

Place lid back on the Instant Pot, turn pressure valve to seal, and set the timer '0' minutes. The pressure will build and beep when it reaches full pressure. This is when you quick release.

Remove lid and remove beef and broccoli from the Instant Pot, leaving the sauce. Add cornstarch to sauce and whisk.

Add beef and broccoli back into the Instant Pot and mix so all ingredients are coated with sauce.

Serve with quinoa or rice.
Nutrition facts
Calories:
395
kcal
Carbohydrates:
11
g
Protein:
42
g
Fat:
20
g
Fiber:
3
g
Sugar:
0
g
PS: learn how to make quinoa in your Instant Pot HERE.