Pad Krapow (AKA Thai basil stir fry) is flavor-packed with garlic, lemongrass, Thai chili peppers, and tons of fresh Thai basil.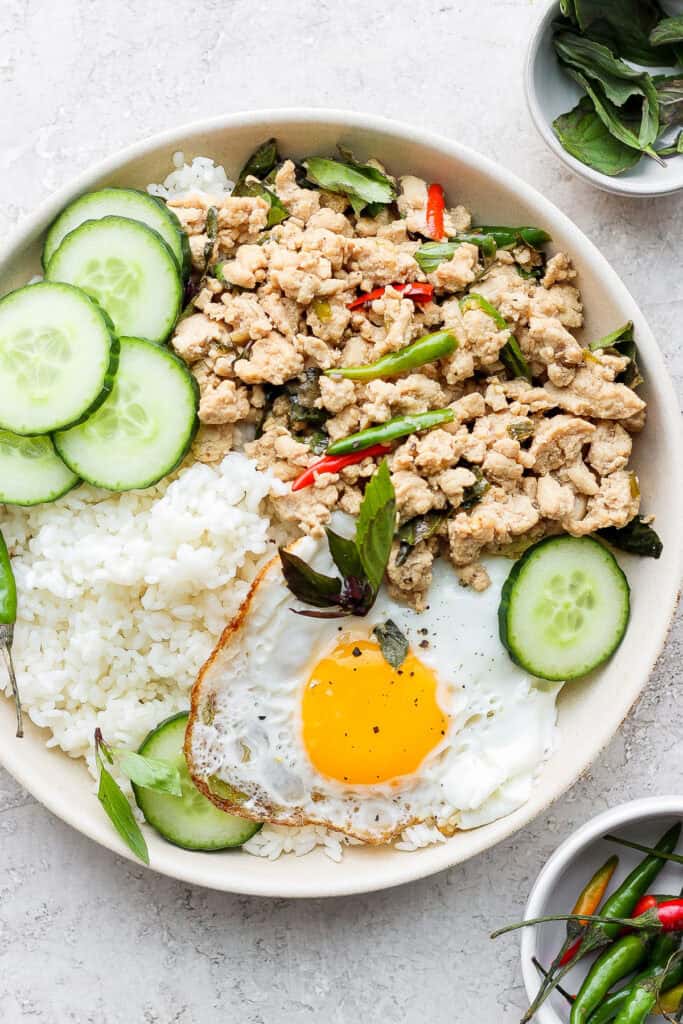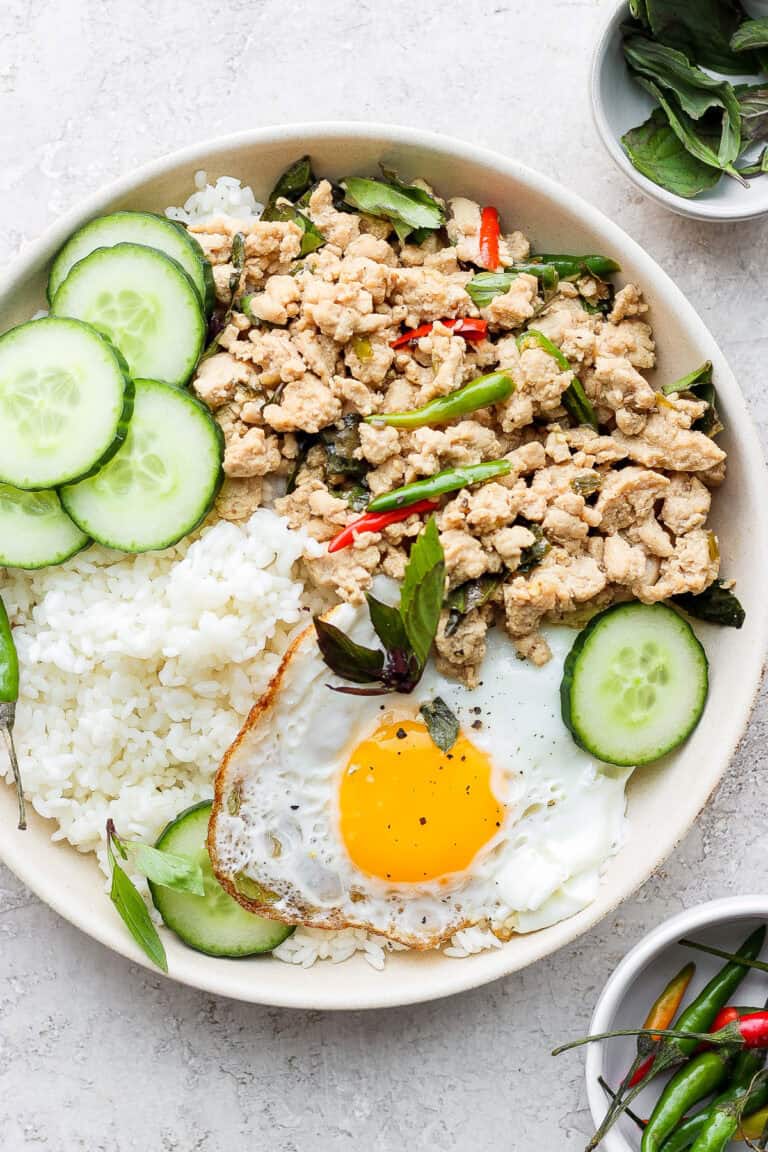 This Pad Krapow recipe is a family recipe of our video producer, Pachee. We're grateful to be able to learn authentic Hmong/Thai cooking from one of our very own!
Pachee's Pad Krapow AKA Thai Basil Stir Fry
From Pachee: This recipe is dedicated to my mother who came to the United States as a refugee to escape the Vietnam War. As the oldest of 5, she taught herself how to cook and looked after her younger siblings.
To this day, she takes care of her family, cooking Southeast Asian staples all from memory. One of my favorites is my mother's Pad Krapow. It's so comforting.
While Pad Thai is the "official" national dish of Thailand, Pad Krapow is my family's favorite Thai dish; and I think it deserves a moment in the spotlight!
What is Pad Krapow?
Pad Krapow is made with ground pork or ground chicken and traditionally uses holy basil, but oftentimes uses Thai basil (like this recipe).
Pad Krapow is traditionally served on a bed of jasmine rice and topped with a runny egg.
Pad Krapow Translation
The literal English translation of Pad Krapow is "Stir-Fried Holy Basil."
Is this Thai basil stir fry spicy?
Thai basil stir fry is a spicier stir fry. It features Thai chili peppers, which are very spicy.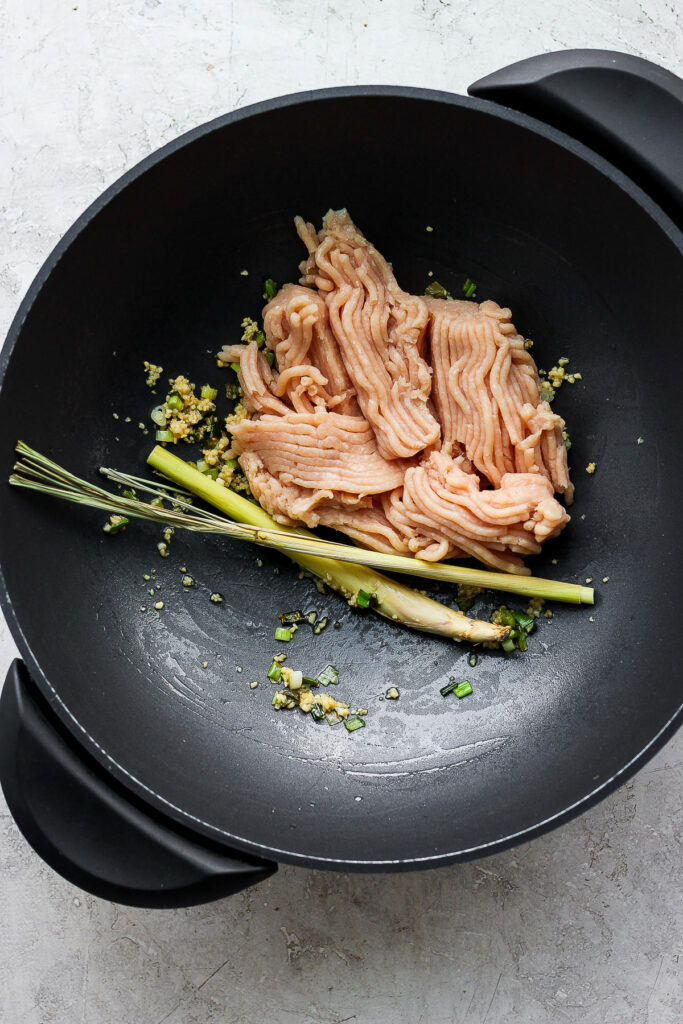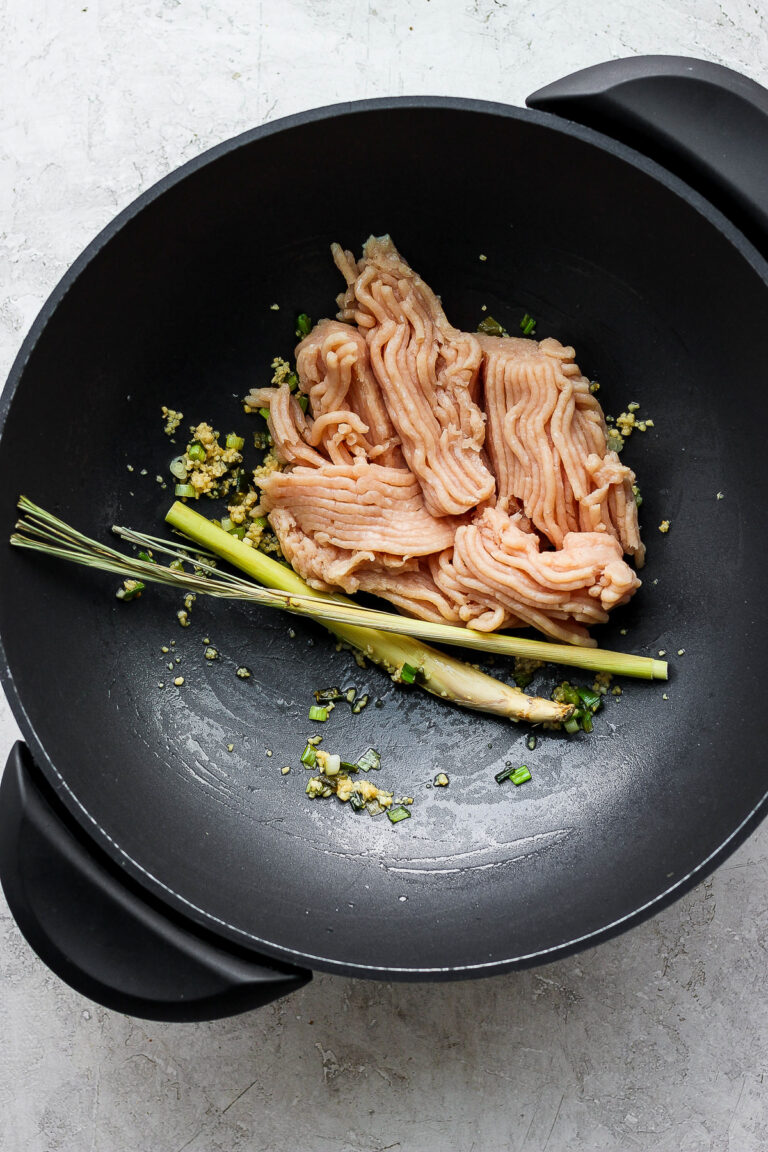 Support your local Asian grocery store!
Whenever making an Asian-inspired recipe like this one, we like to support our local Asian grocery store and we hope you'll do the same thing!
Simple Ingredients
Sauce
Fish sauce: fish sauce is savory and earthy and a great add to this sauce.
Soy sauce: soy sauce adds a nice amount of salt to this stir fry.
Oyster sauce: oyster sauce is sweet and salty at the same time.
Sugar: we used white sugar as the sweetener.
Lime juice: the stir fry is finished off with fresh lime juice and it really balances out all of the flavors.
Thai chili peppers: Thai chili peppers are a spicy pepper. You can make them less spicy by removing their seeds or choosing a different pepper.
Stir Fry
Ground chicken: we chose to use ground chicken, but pork works too.
Shallots: shallots add a nice savory base to this recipe.
Garlic: use fresh garlic!
Thai basil: Traditional Pad Krapow uses holy basil, but in America Thai basil is easier to find. It can be found at your local Asian grocery store.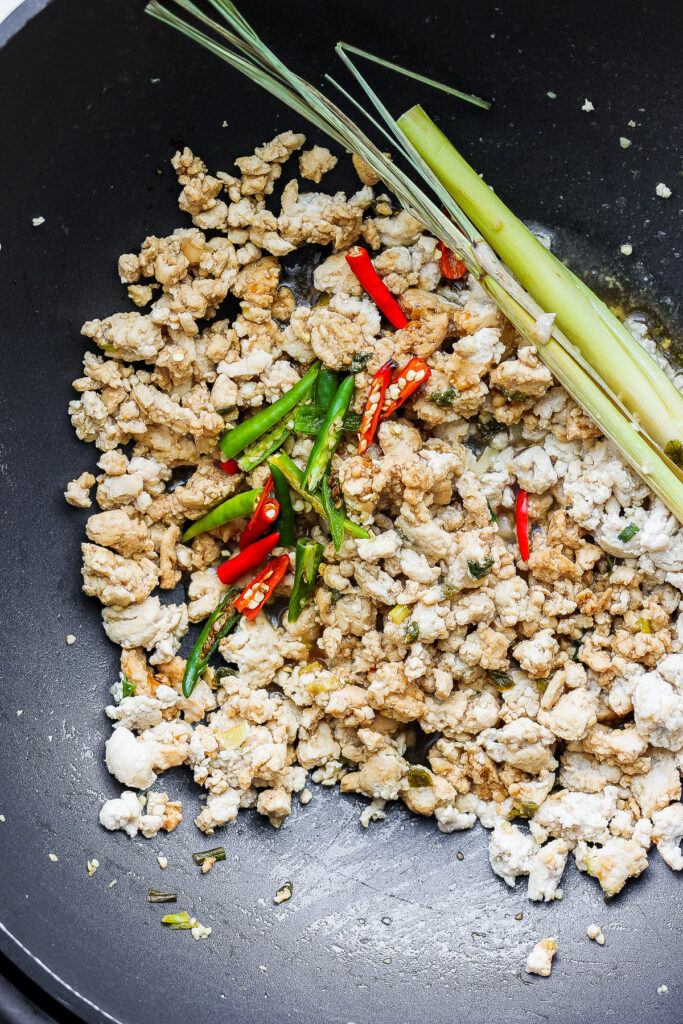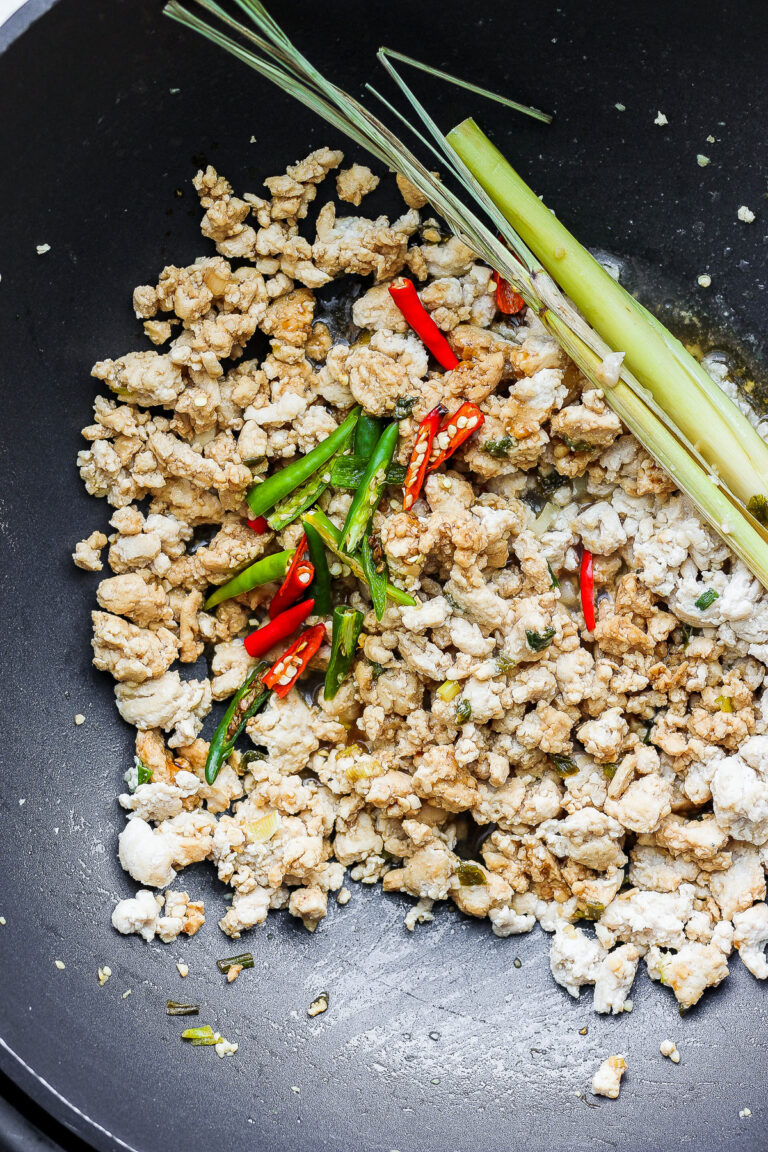 Ingredient Swaps
Ground chicken –> we've made this recipe with ground pork and it's delicious. You can also use ground turkey or plant-based ground, too.
Fresh Lemongrass –> grocery store out of fresh lemongrass? We love keeping a tube of fresh lemongrass paste in the fridge at all times.
Thai Chili Peppers –> Thai chili peppers are a spicier pepper, so you could always swap them for green/red jalapeños or even a Serano.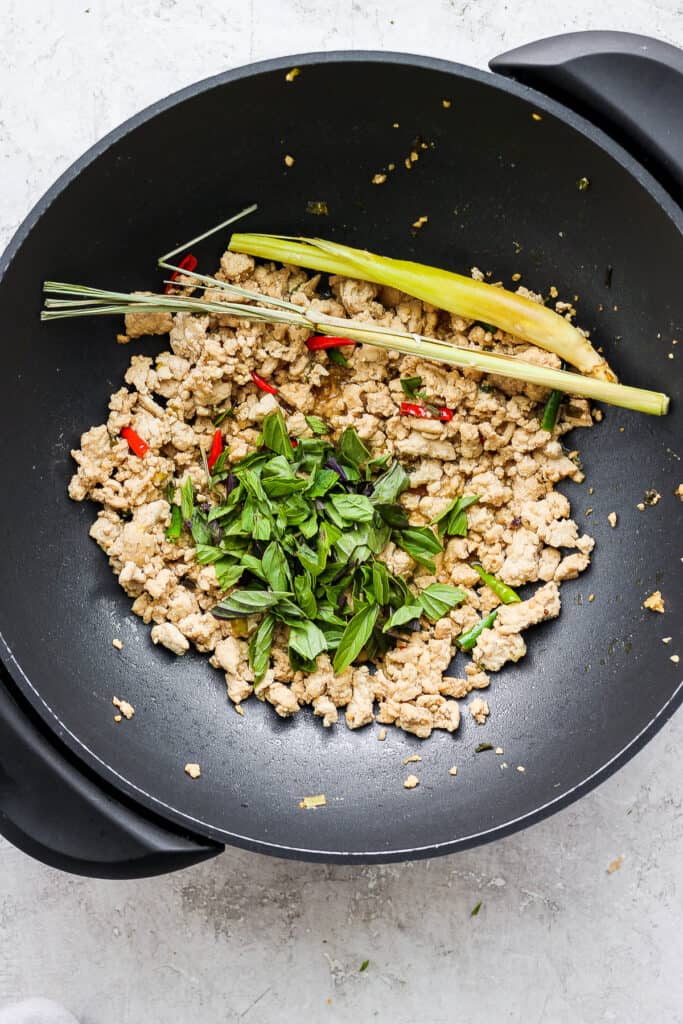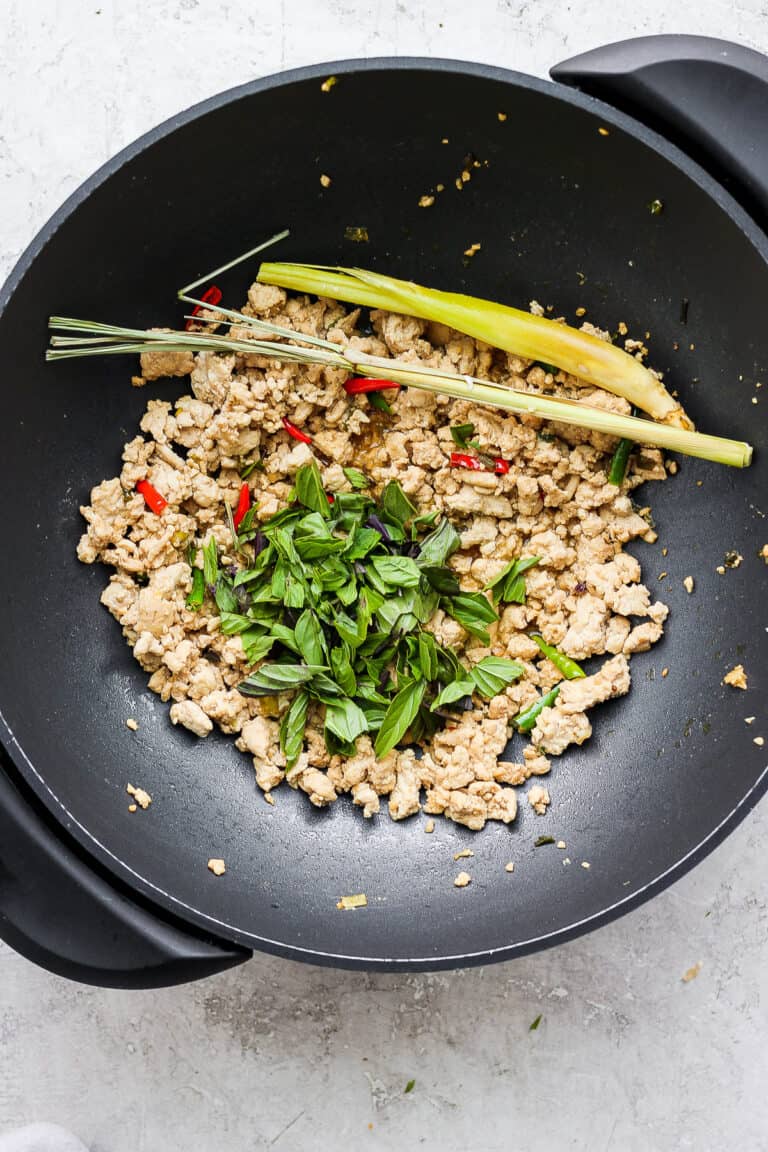 How to Make Pad Krapow
Cook ground chicken: cook scallion, garlic, and lemongrass in a frying pan or Wok until fragrant. Add the ground chicken and continue to cook until browned.
Add sauces: add in the fish sauce, soy sauce, oyster sauce, and sugar and mix to combine.
Add chili peppers: add chili peppers and lime juice and cook for a few more minutes,
Add fresh Thai basil: finally, add in the fresh chopped Thai basil and toss.
Serve: remove the lemongrass and serve!
Serving Suggestions
You'll notice that we turned our Thai basil chicken stir fry into a bowl by serving it with homemade sticky rice, sliced cucumbers, and a fried egg. Here are some other serving options.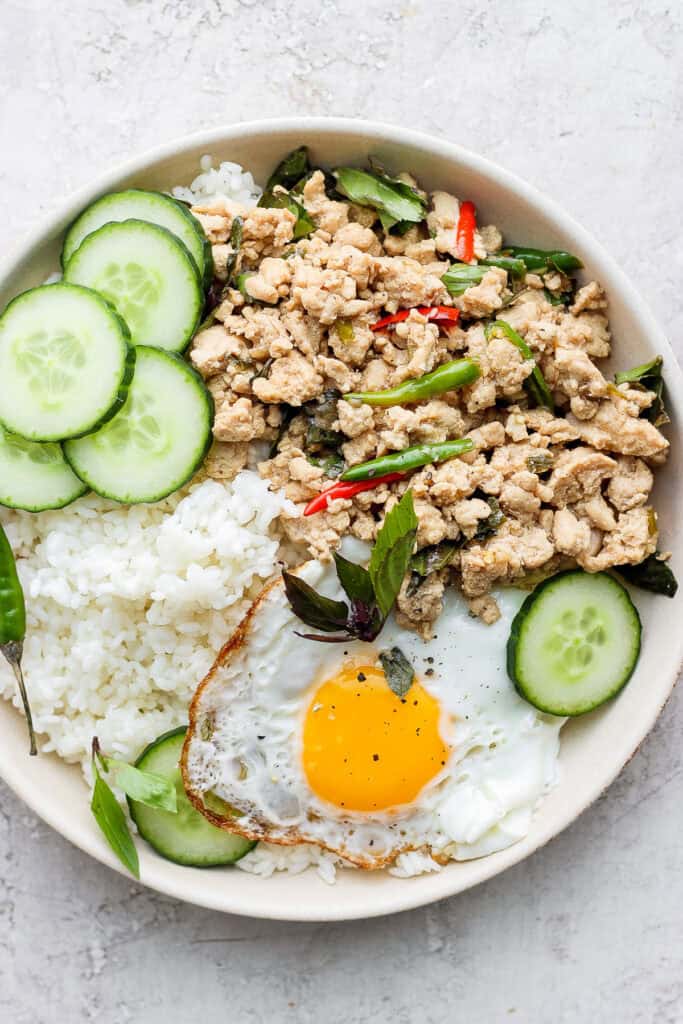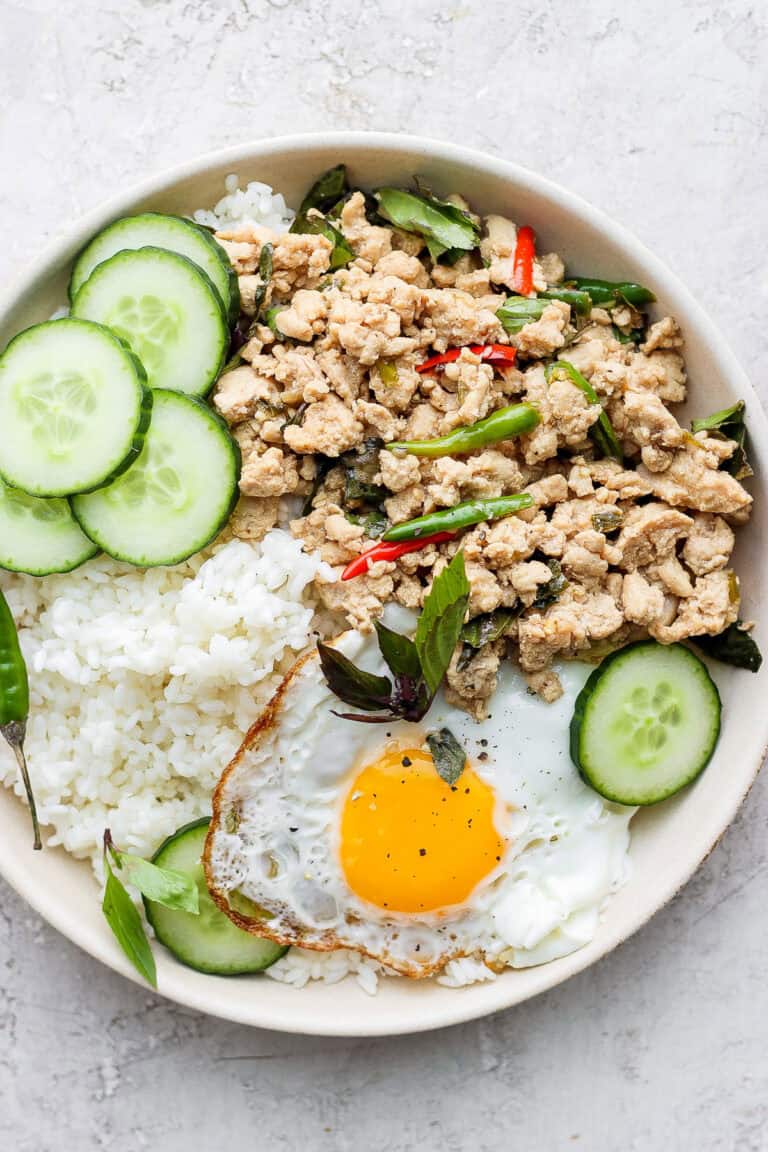 Storage
Got leftovers? Transfer the cooked stir fry into an airtight container and store it in the fridge for up to 3-5 days.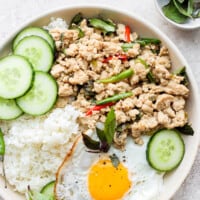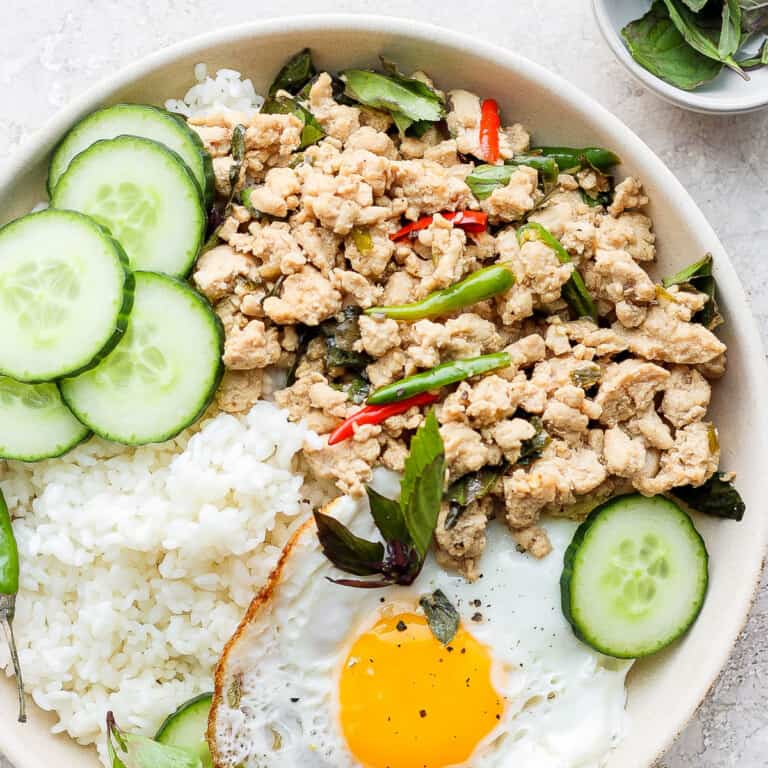 Pad Krapow (Thai Basil Stir Fry)
This simple Thai Basil Chicken Stir Fry is made with a delicious sauce, Thai chili peppers, and fresh Thai basil. It's delicious served next to sticky rice and a fried egg.
Ingredients
2

tablespoons

olive oil

2

shallots

thinly sliced

5

garlic cloves

peeled and minced

1

stalk lemongrass

broken in half (or 1 teaspoon fresh lemongrass paste)

1

lb.

ground chicken

or pork

1

tablespoon

fish sauce

1

tablespoon

soy sauce

2

tablespoons

oyster sauce

½

teaspoon

sugar

½

large lime

juiced (~2 tablespoons)

1-3

Thai chili peppers

sliced into matchsticks (the amount of chili pepper you use will determine how spicy the stir fry is)

2

bushels fresh Thai basil

de-stemmed and roughly chopped
Instructions
Heat 2 tablespoons of olive oil in a pan or wok over medium/high heat. 

When oil is fragrant, add scallions, garlic, and lemongrass to the pan and sauté until fragrant — about 5 minutes. 

Add ground chicken to the pan and break the meat up with a spatula. Sauté the ingredients together until fully cooked — about 7-10 minutes.

Add fish sauce, soy sauce, oyster sauce, and sugar to the pan and mix all of the ingredients together.

Add lime juice and chili peppers and continue cooking for 2 more minutes. Finally, add in the fresh chopped Thai basil and toss.

Remove the lemongrass and enjoy with your favorite grai. We served ours over white rice and with an over-easy fried egg and cucumbers.
Tips & Notes
You can use ground pork in place of ground chicken or a combination of the two. 

All of the ingredients for this recipe can be found at your local Asian grocery store (including the Thai basil) Go support them! 

Nutrition information is just for the Thai basil chicken stir fry.
Nutrition facts
Calories:
187
kcal
Carbohydrates:
5
g
Protein:
25
g
Fat:
8
g
Fiber:
1
g
Sugar:
1
g
Photography: photos taken in this post are by Erin from The Wooden Skillet.