If you're here to get inspiration for pork recipes then you've come to the right place. In this post, we're going to give you the down-low when it comes to cooking with pork along with share tons of pork recipes that you love.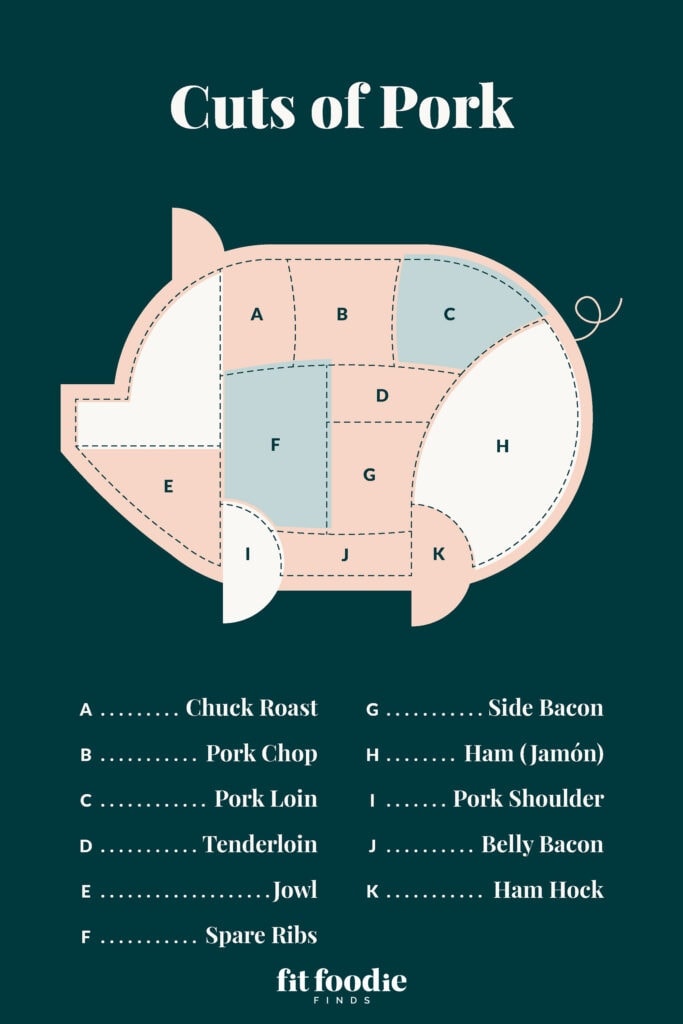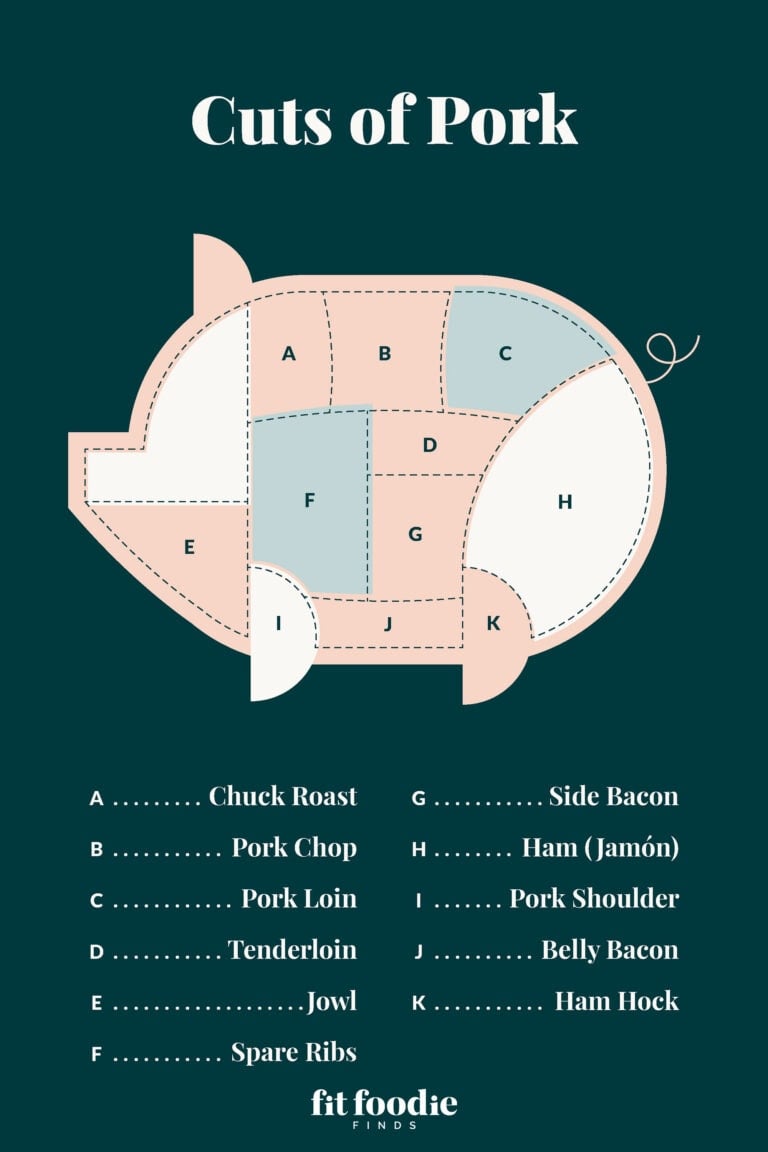 I can't tell you how many times I've Googled: what is the difference between pork tenderloin and pork loin. Or, Can I use a chuck roast in place of a pork shoulder?
We are here to give you a rundown of all things cooking with pork. Pork recipes are some of our most popular here on Fit Foodie Finds such as our Slow Cooker Pork Roast and Juicy Grilled Pork Tenderloin. We thought we'd lay everything out for you so you can become a pork expert too!
What is pork?
Pork is referred to as the meat from the domesticated pig. It's actually the most consumed meat out of any worldwide. There are many different cuts of pork and methods for cooking pork.
The most common cuts of pork include: pork chops, pork shoulder, ground pork, ham, and bacon.
Pork Cooking Temp
Another question I find myself Googling e is "pork cooking temp. Why? Because it's important to cook our meat to a safe temperature to prevent food-borne illnesses.
According to FoodSaftey.gov, pork's safe minimum internal temperature is at least 145ºF.
The easiest and most precise way to tell if your pork is safe to eat is a meat thermometer. Make sure to insert the thermometer in the thickest part of the meat for the most accurate reading.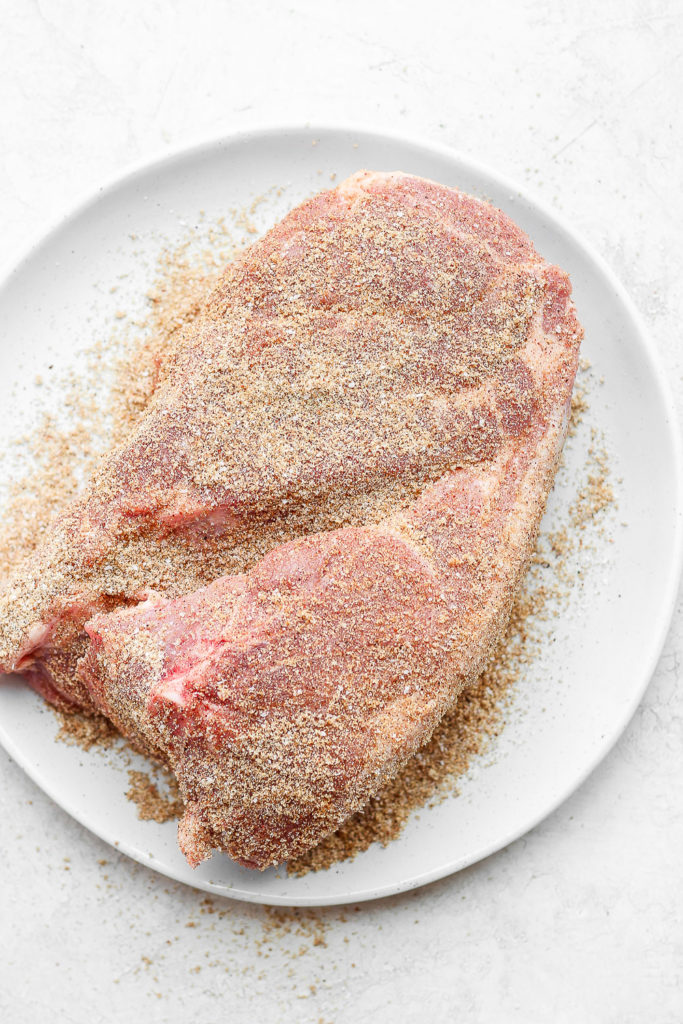 How do you make pork soft and tender?
Some cuts of pork are naturally more tender than others. Typically, cuts that have more fat are going to be more tender than leaner cuts.
To make pork soft and tender, we suggest a few things:
Salt: Salt is a really great and cheap way to not only add flavor but help break down the pork to make it easier to chew and digest.
Tenderize: tenderizing pork with a meat mallet is another great way to break down tough fibers inside certain cuts of pork. Make sure to do this before you cook it, not after.
Cook low and slow: When in doubt, cook it low and slow.
Don't overcook: if you overcook your pork, you risk making it tough and hard to chew. So, keep an eye on that internal temperature.
How do you make pork more flavorful?
Bland pork no more! No one likes tasteless pork recipes and we're here to share our 2 favorite ways to make pork more flavorful!
Dry Rubs: dry rubs are a great way to add flavor externally on your pork. Pork does a really nice job taking to just about anything you flavor it with. Here are some favorites:
Marinades: marinades are like a flavor bath for meat. They both tenderize and infuse flavor in the entire cut of meat.
We have an amazing chicken marinades post on Fit Foodie Finds that would work perfectly for pretty much any cut of meat…especially a pork tenderloin!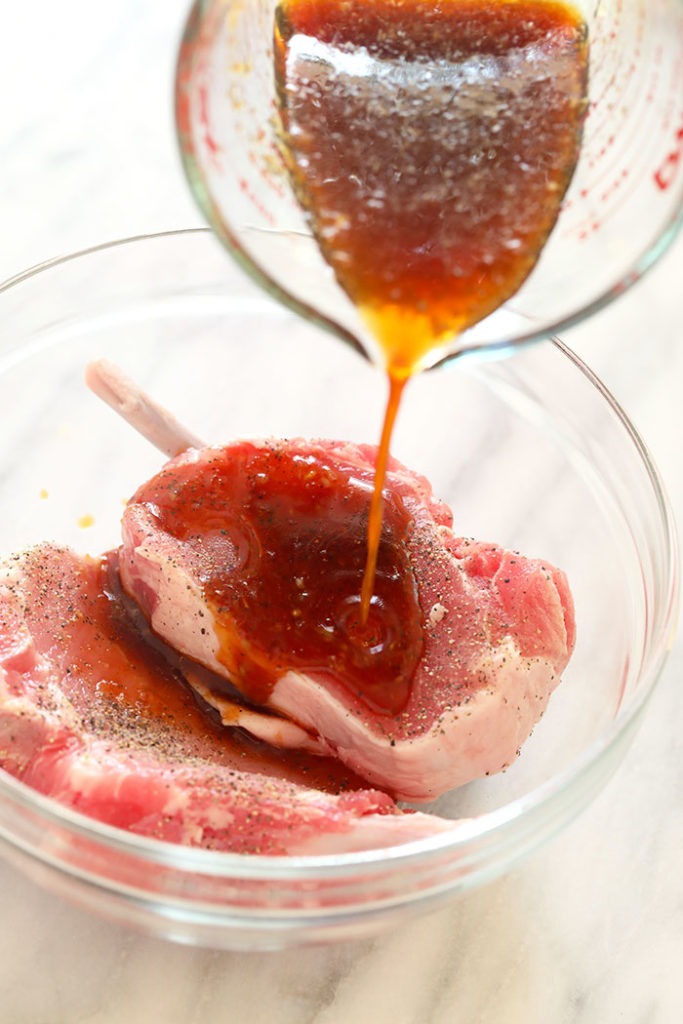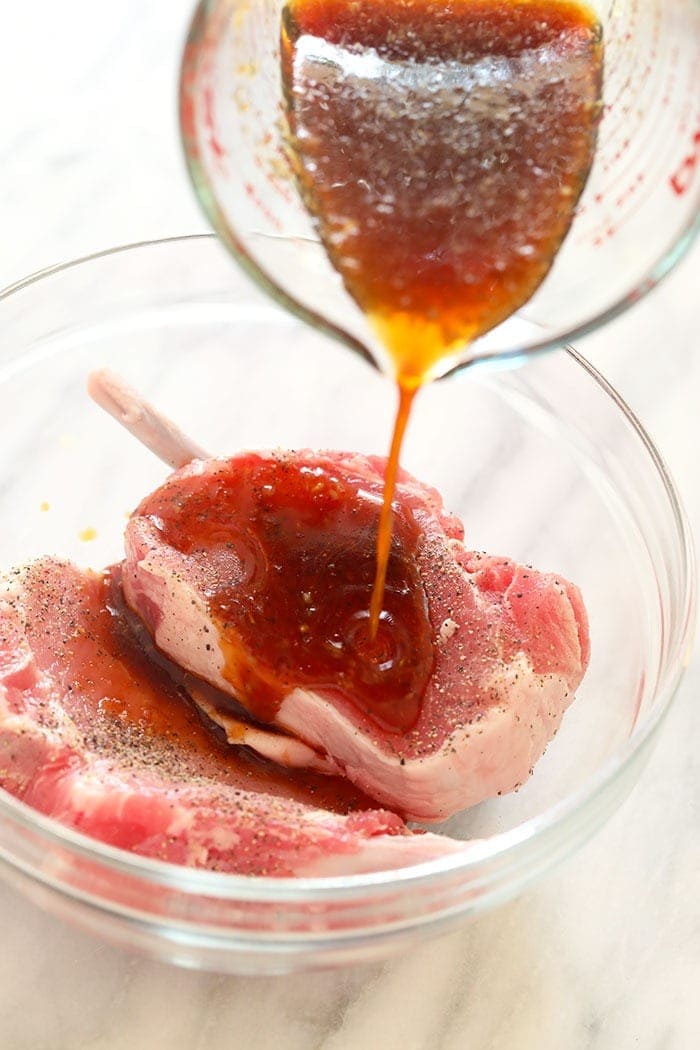 Top 5 Pork Recipes
Okay, we'll cut to the chase with our top 5 best Pork Recipes! Read on below + get tons of recipe inspo for all cuts of pork!
Best Pork Rub
This 7-ingredient Pork Rub recipe will quickly become your go-to pork dry rub. Whether you're making chops, ribs, loins or a roast, you'll love this savory and sweet dry rub. Mix up a batch today!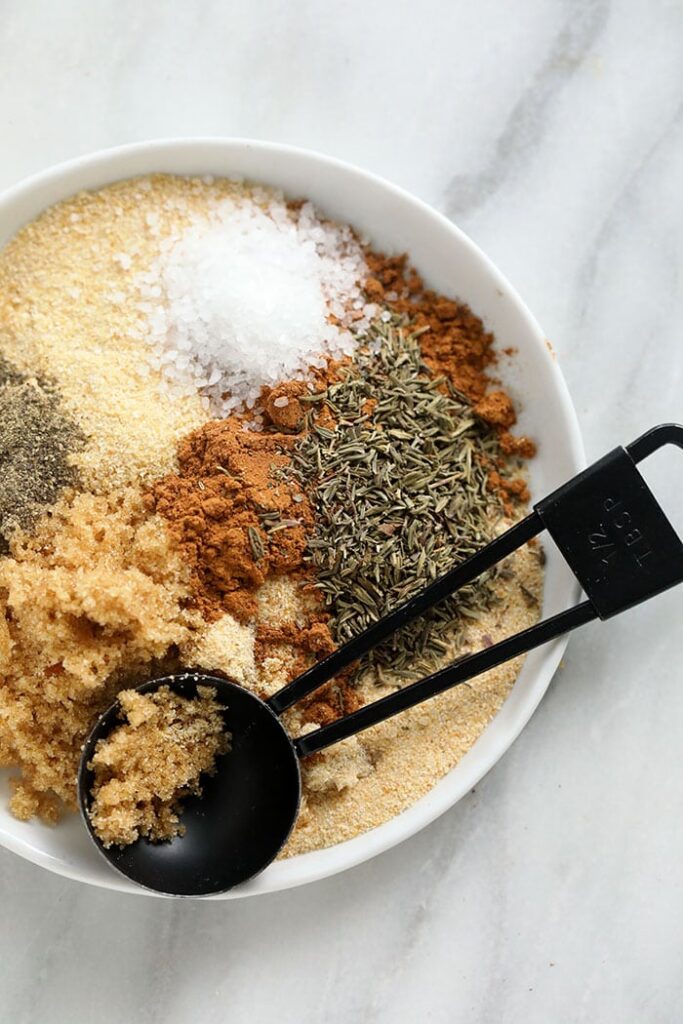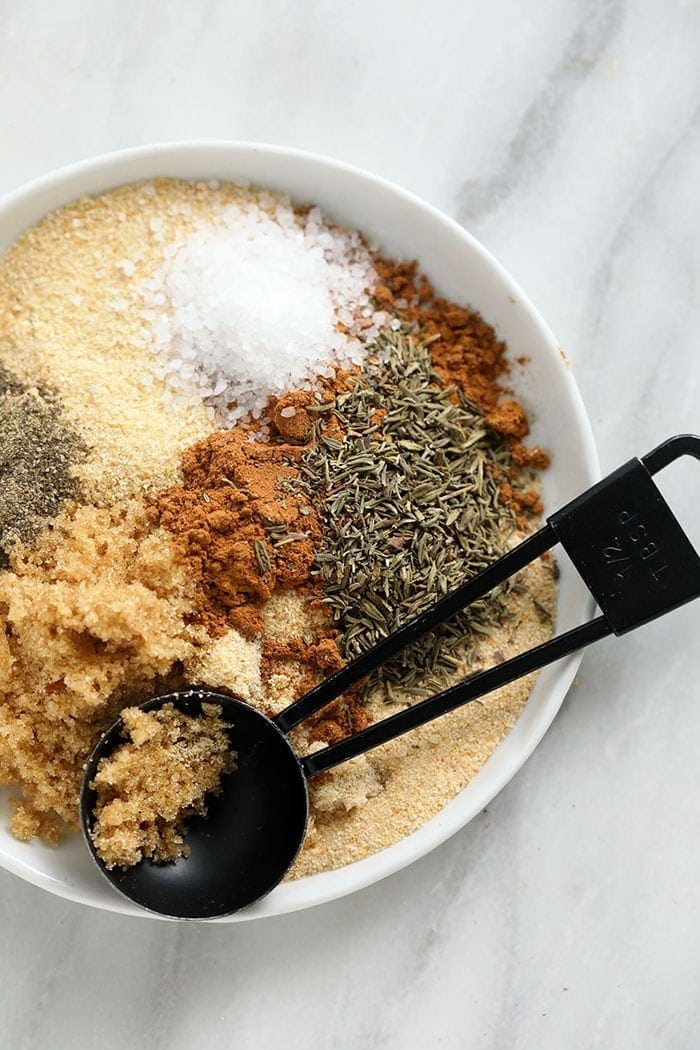 Instant Pot Pork Roast
When in doubt, make a pork roast! This Instant Pot Pork Roast recipe has saved the day multiple times when I've been in a pinch.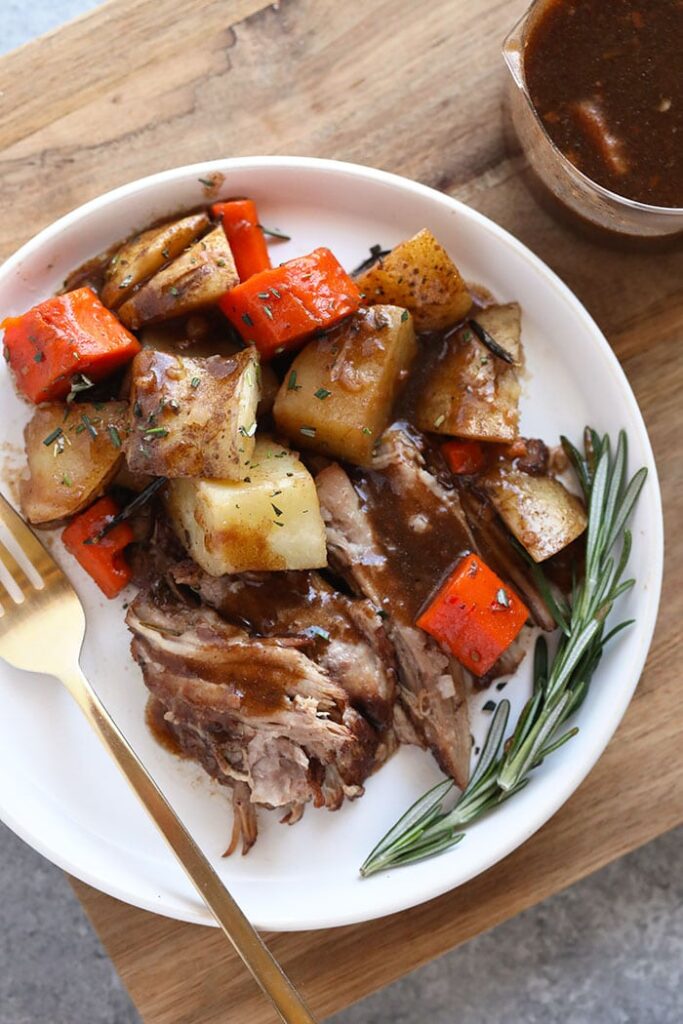 Juicy Grilled Pork Tenderloin
Say hello to this juicy grilled pork tenderloin! Rubbed with a delicious spice blend and then soaked in a grilled pork tenderloin marinade, this piece of pork is charred to perfection.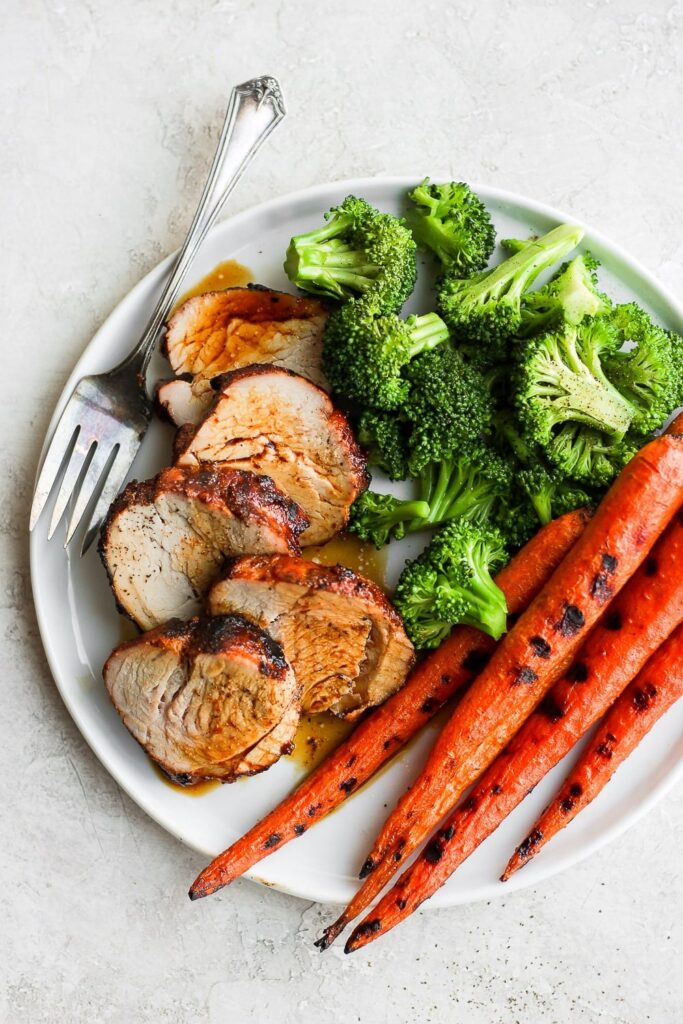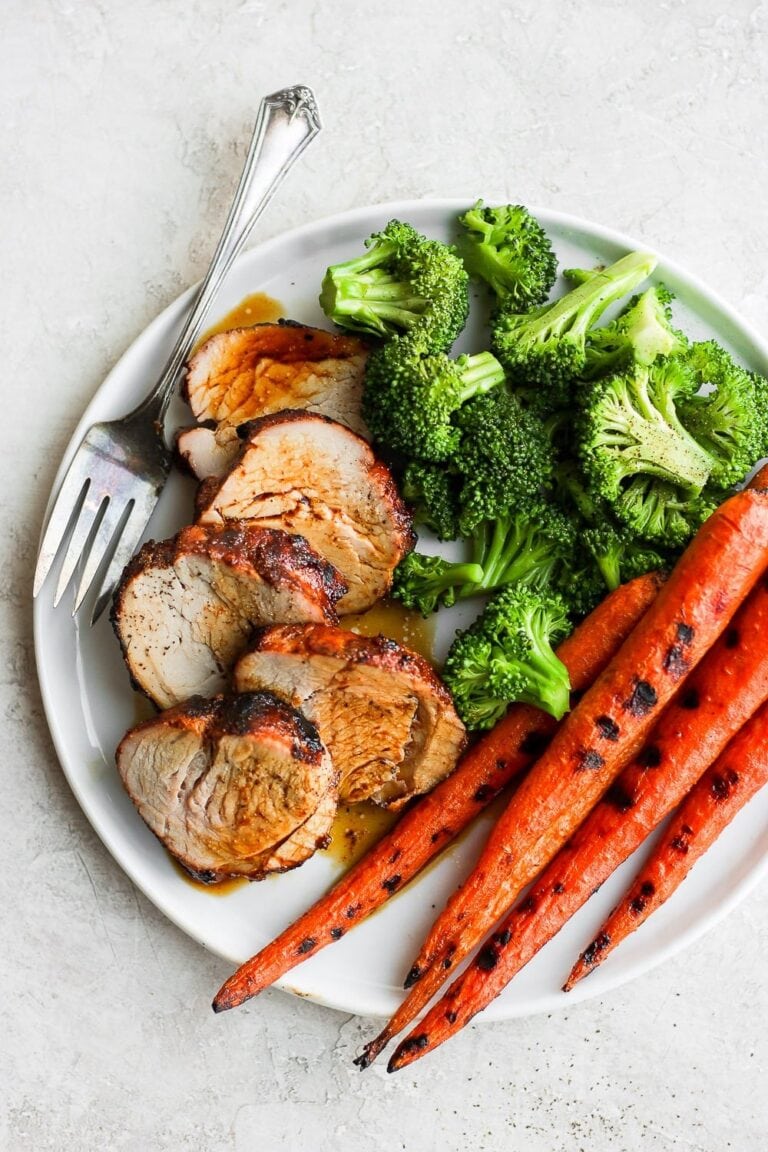 24-Hour Sous Vide Ribs
It's time for you to make our 24-hour, ultra-tender, fall-off-the-bone sous vide ribs! These bbq ribs are rubbed with a smokey dry rub, cooked in a sous vide bath for 24 hours, slathered with BBQ sauce, and then grilled to perfection.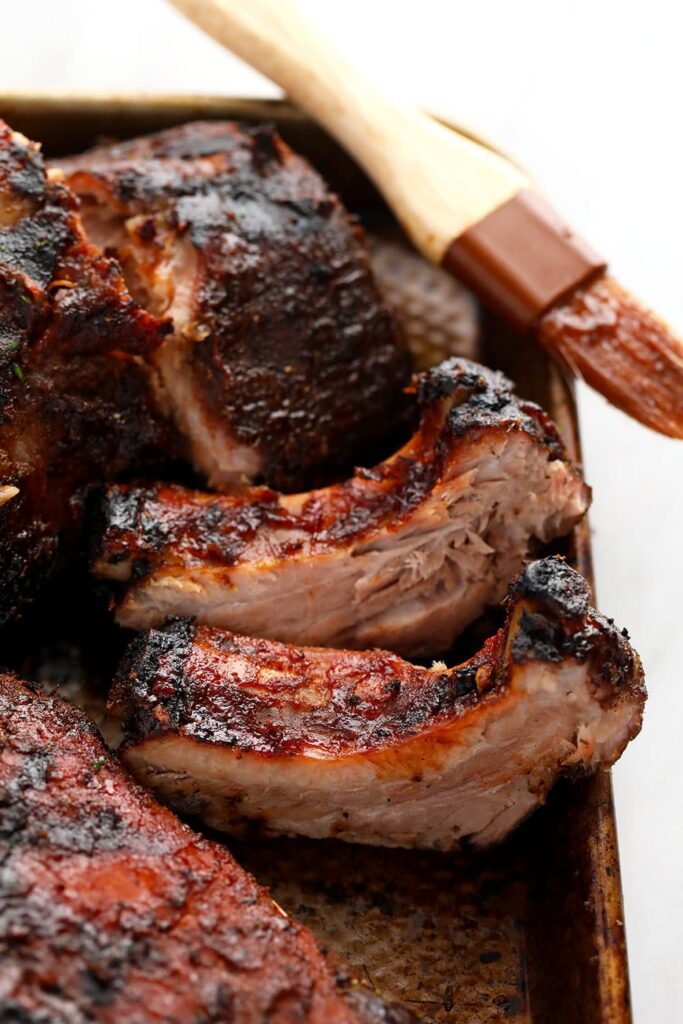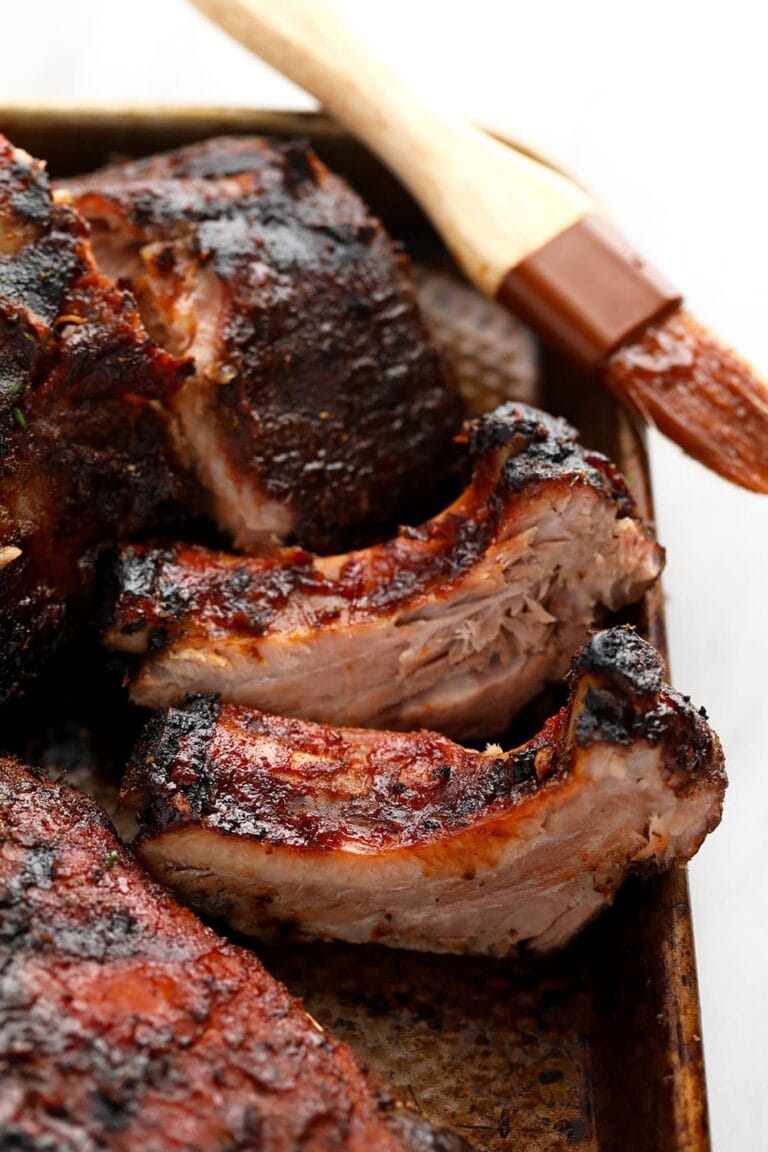 Instant Pot Pulled Pork
The most tender and juicy The most tender and juicy Instant Pot Pulled Pork made with a delicious dry rub and your favorite bbq sauce! made with a delicious dry rub and your favorite bbq sauce!
Pork Shoulder + Pork Butt
Pork Shoulder: Pork shoulder is located on the bottom part of the shoulder (under the pork butt) and is a tougher piece of meat.
Pork Butt: Pork butt is located on the top of the shoulder and this cut of pork has lots of fat, making it great for cooking low and slow.
What is the difference between pork should and pork butt? Pork shoulder and pork butt both come from the shoulder area of the pig. Pork butt has more fat than pork shoulder.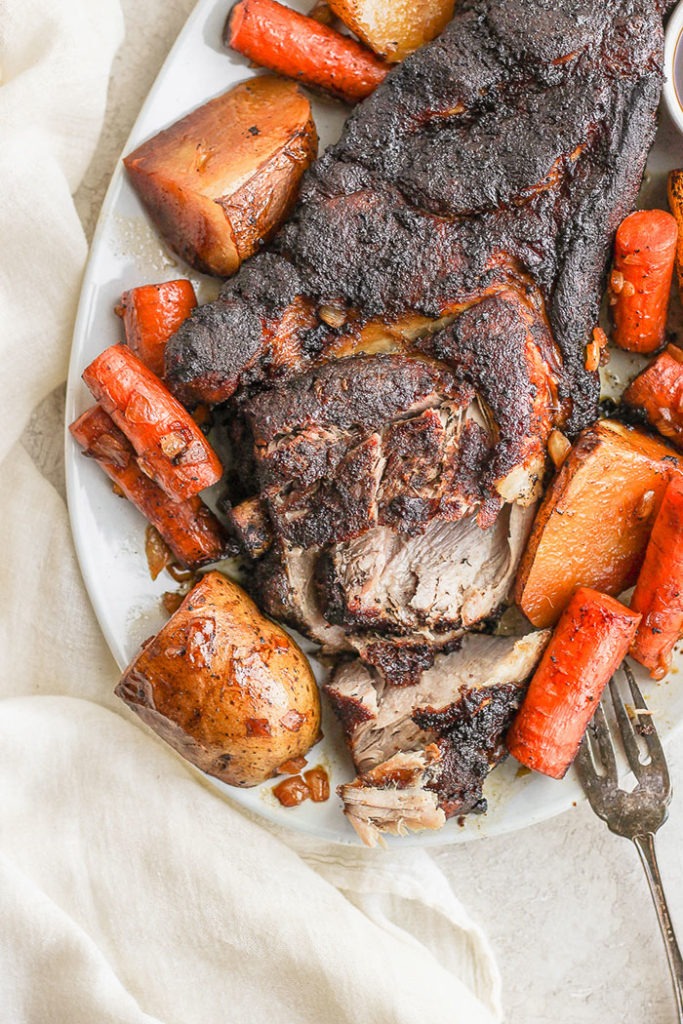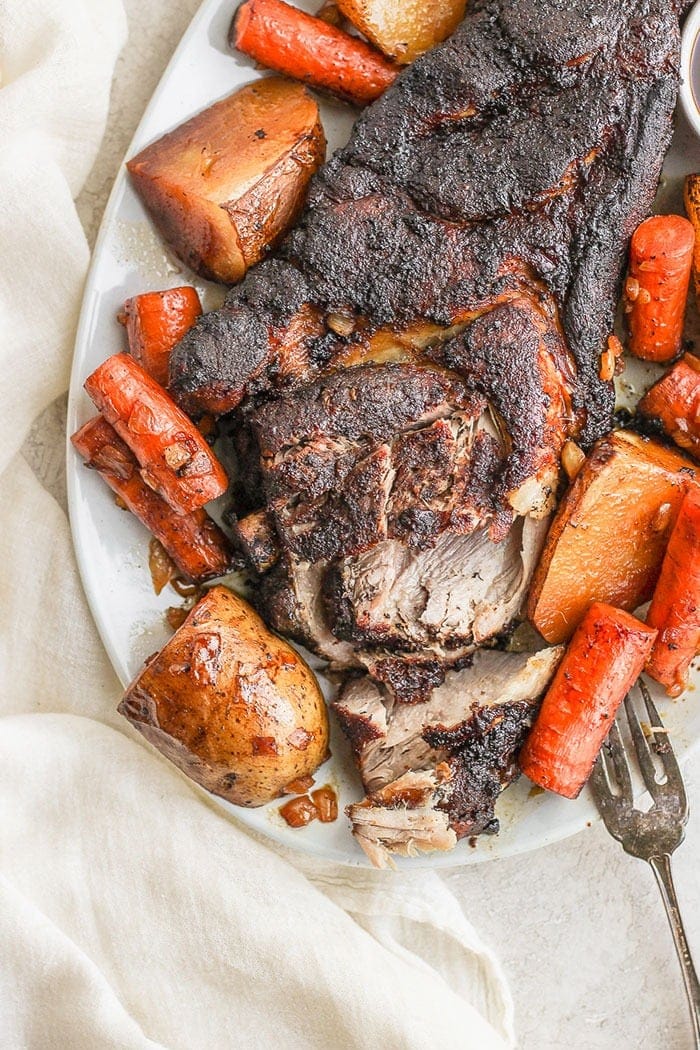 Ground Pork
Ground Pork: ground pork is usually made from ground pork butt or shoulder. Ground pork is a favorite of ours for meatballs, meatloaf, pasta, and breakfast sausage! It has great flavor and a decent amount of fat so it will make your recipe so tasty.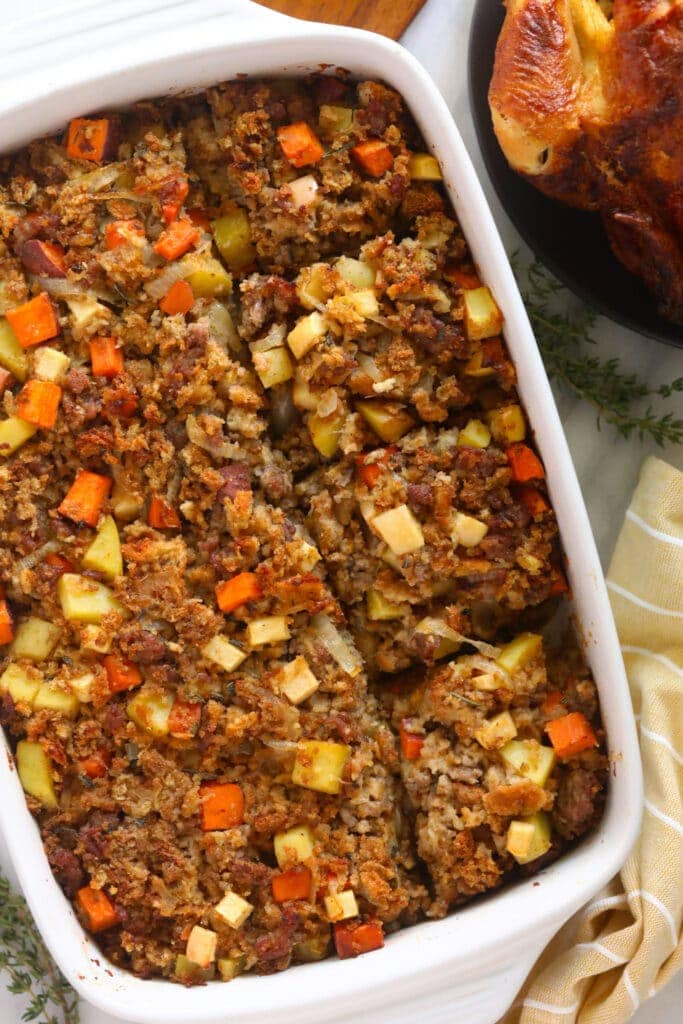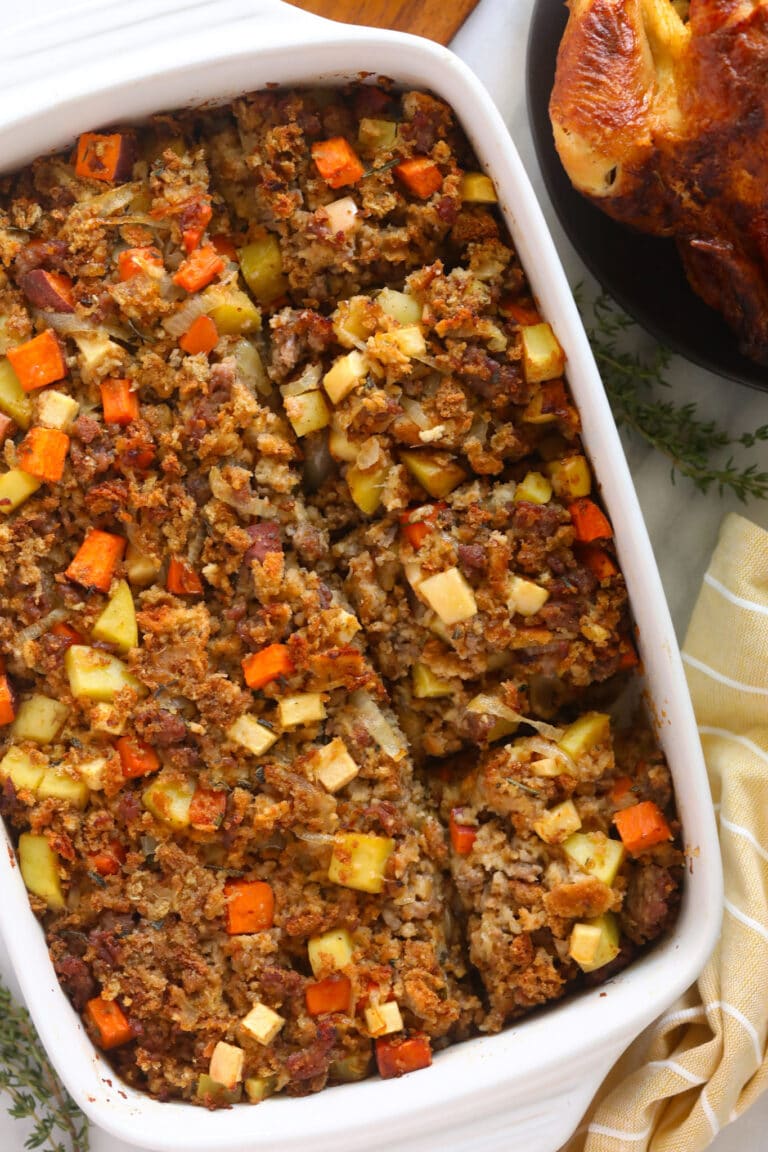 Bacon
Bacon: Bacon comes from the belly of the pig. It's extremely fatty, but such a delicious breakfast side. It also makes for the perfect "wrapping" agent for things like dates, Brussels sprouts, and asparagus.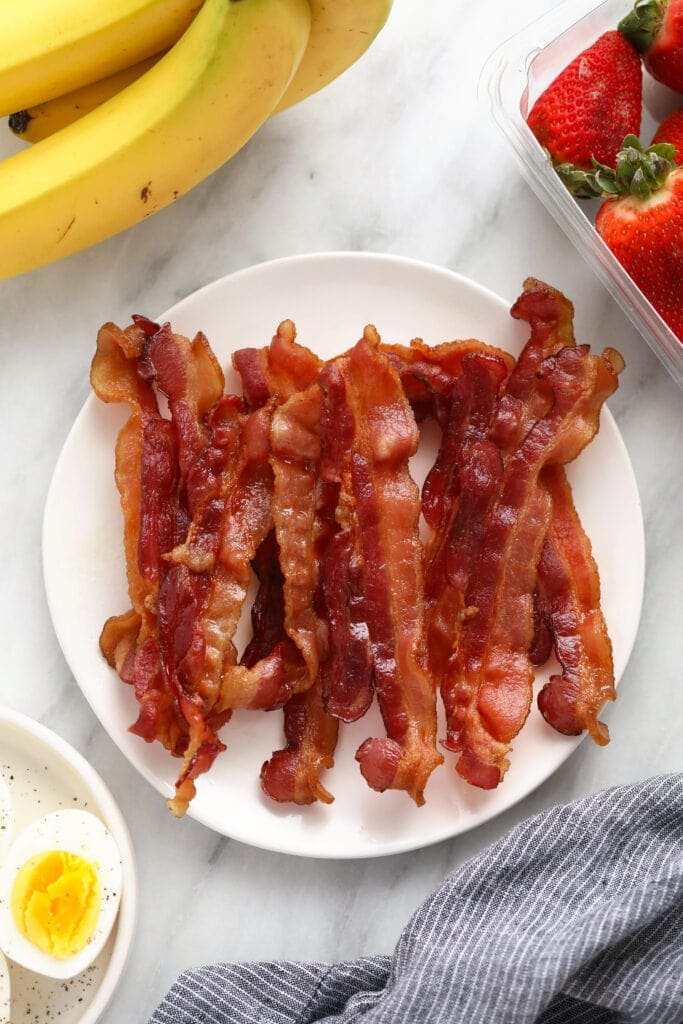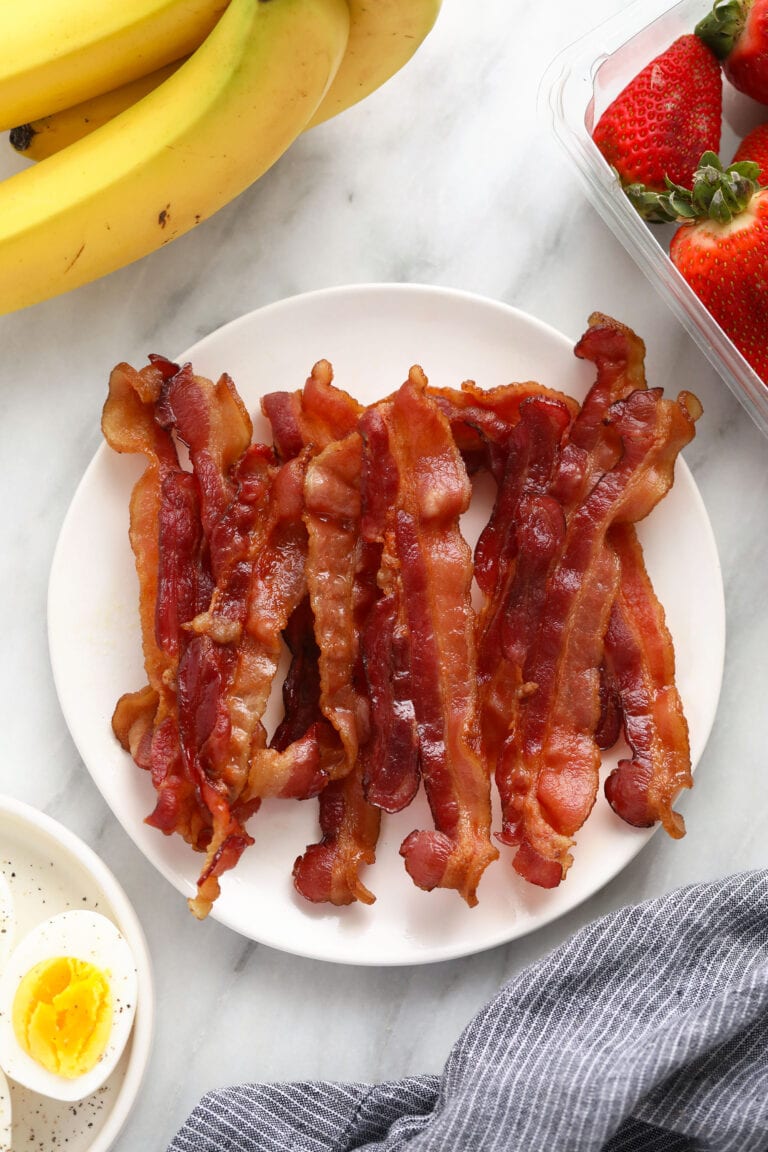 Pork Loin + Pork Tenderloin
Pork Loin: pork loin is a wide, flat cut of pork that is very lean. Pork loin gets more tender the longer and slower you cook it.
Pork Tenderloin: Pork tenderloin is long, slender, and very lean. It cooks similar to chicken breast in that it benefits from higher temps and a quicker cook time.
What is the difference between pork loin and pork tenderloin? Pork tenderloin is skinnier and longer. They are both very lean cuts of pork.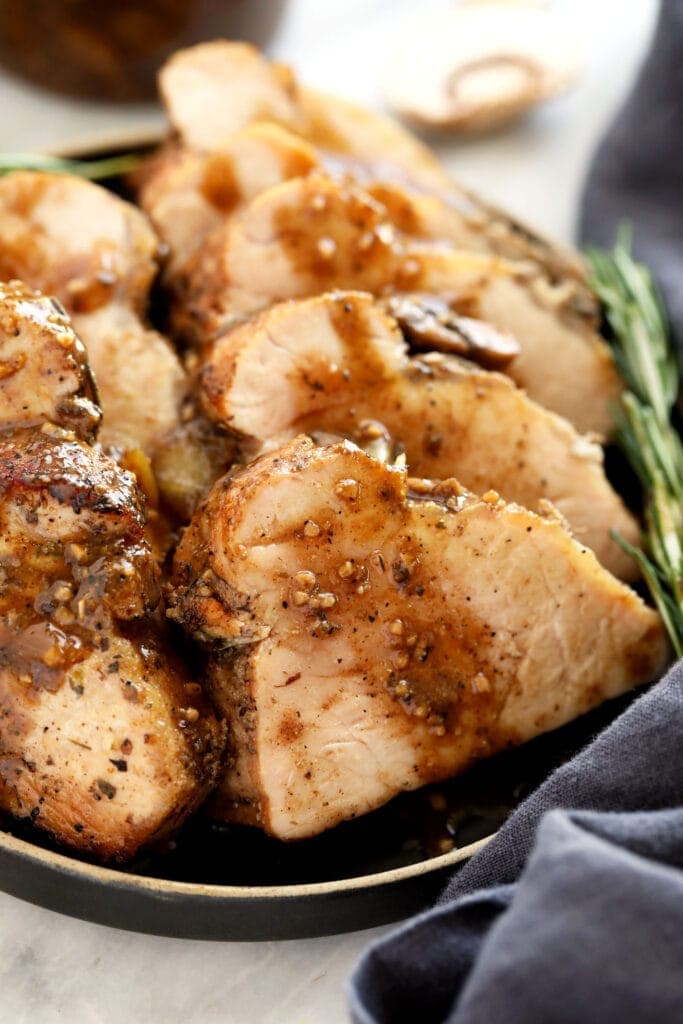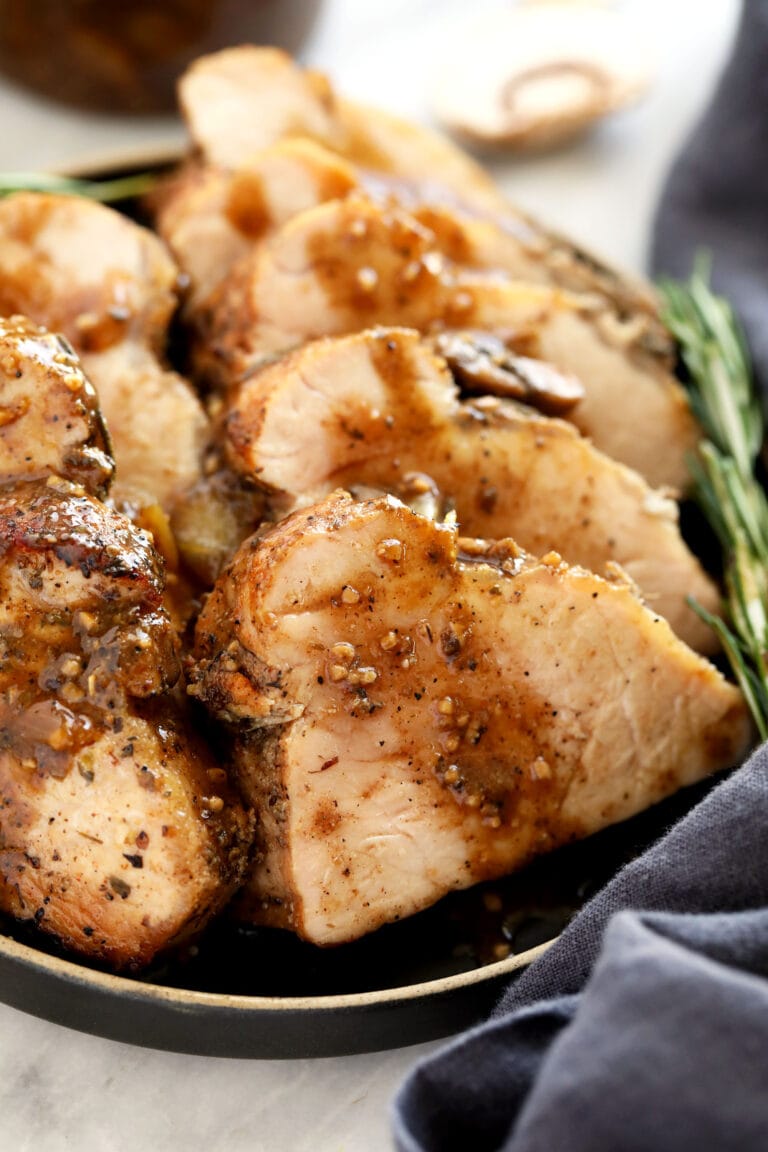 Ribs + Pork Chops
Pork Ribs: Is there anything better than a rack of ribs? There are two common types of pork ribs – baby back and spareribs.
Pork Chops: pork chops are actually sliced cutlets from pork loin. You can either buy them bone-in or bone-out.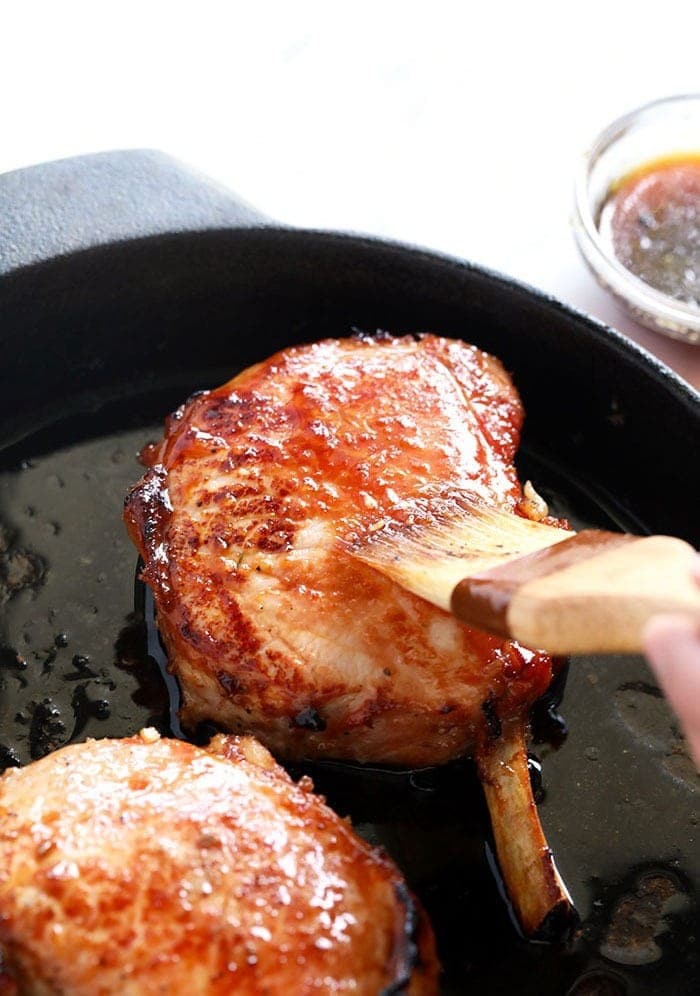 Sticky Honey Pork – Easy Pork Recipe
And because we couldn't leave you hanging without a new pork recipe, feast your eyes on This fast and simple Sticky Honey Pork recipe!
What is sticky honey pork?
Think of this sticky honey pork like a pork stir fry. We sliced boneless pork chops into small, bite-sized pieces and stir-fried it in a bit of olive oil and cornstarch to give them texture and tenderness.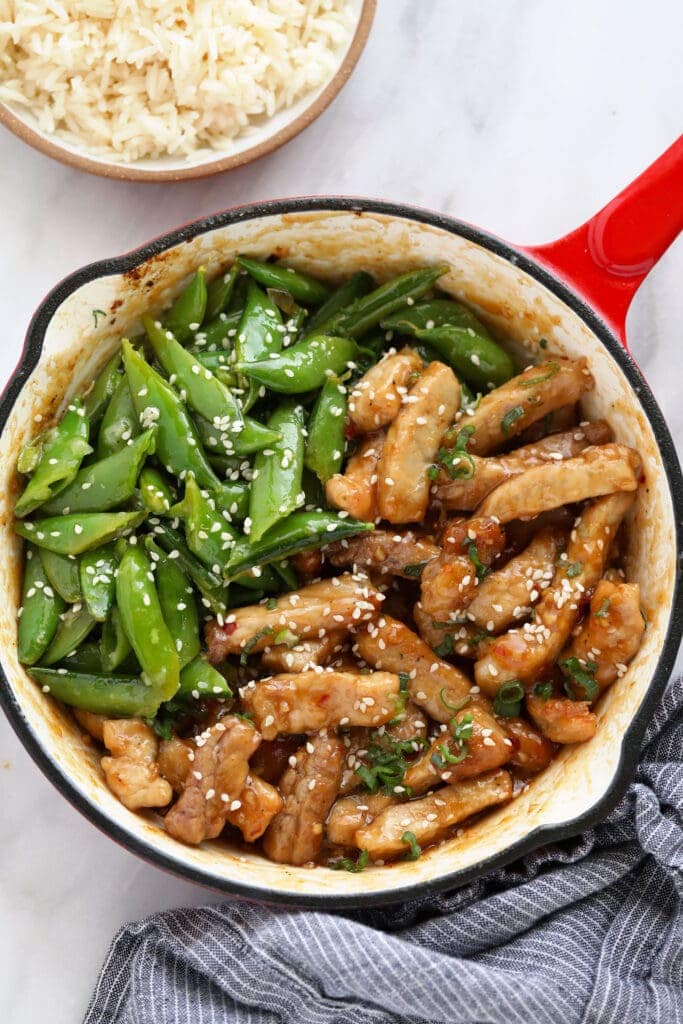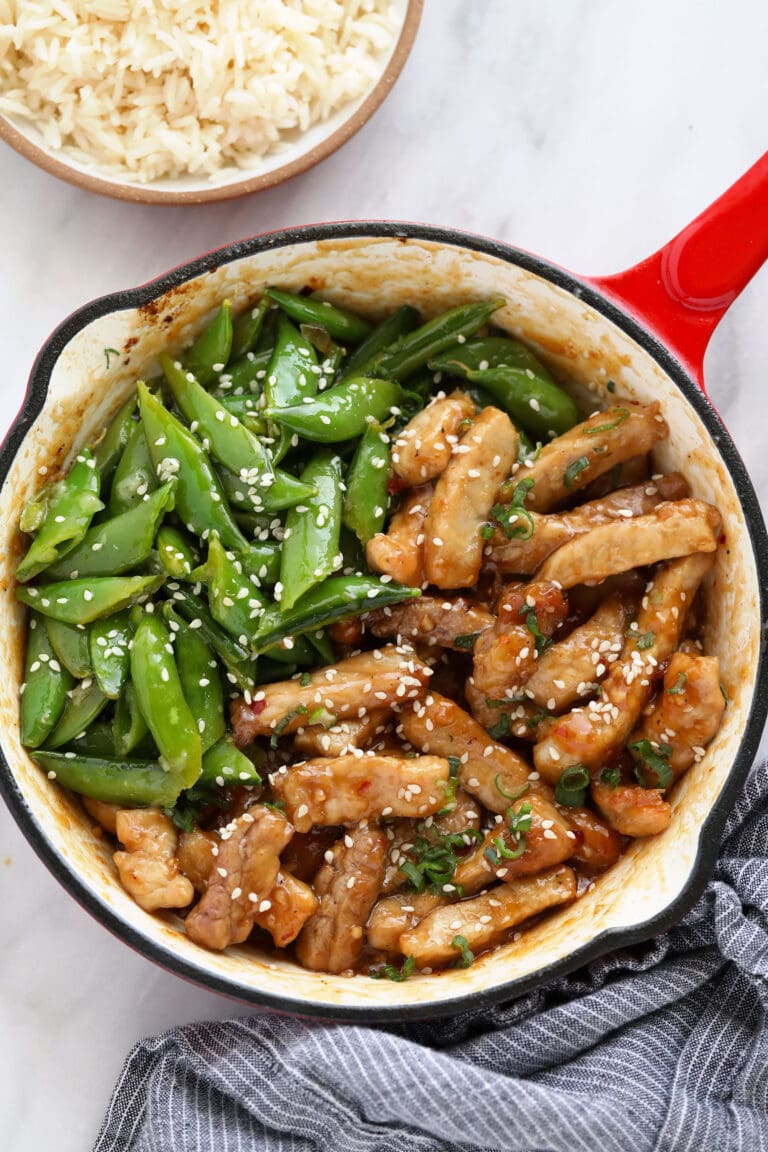 What You Need
The great this about this easy pork recipe is that you probably already have the ingredients needed in your kitchen right now. Also, pork chops are inexpensive and super accessible at most grocery stores.
for the sauce
honey
soy sauce
garlic chili sauce
rice vinegar
for the pork
boneless pork chops
corn starch
garlic powder
salt and pepper
olive oil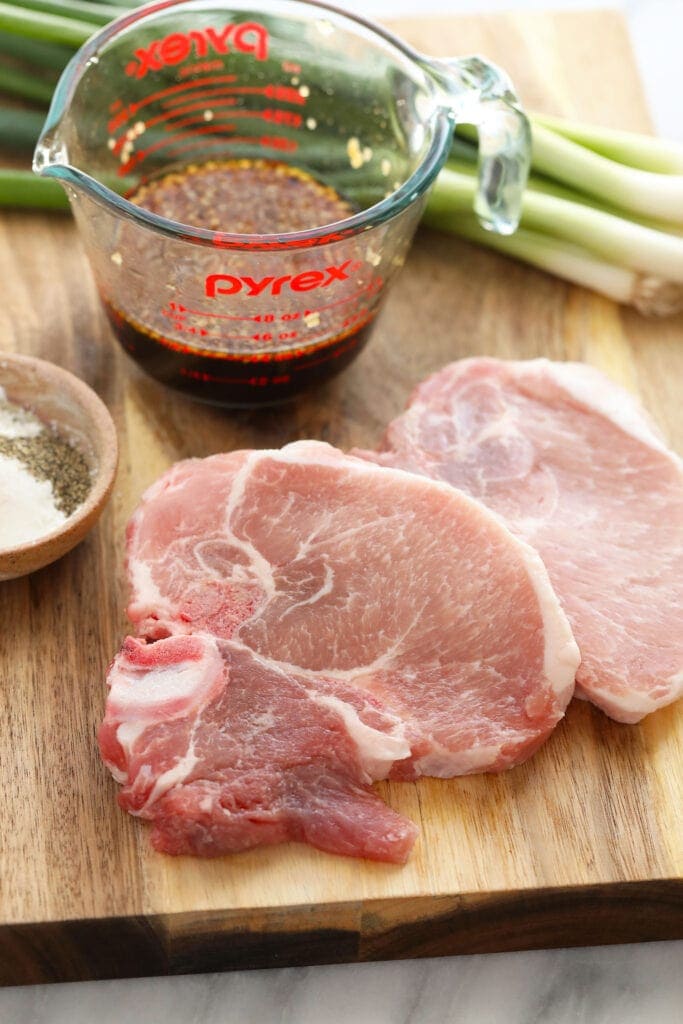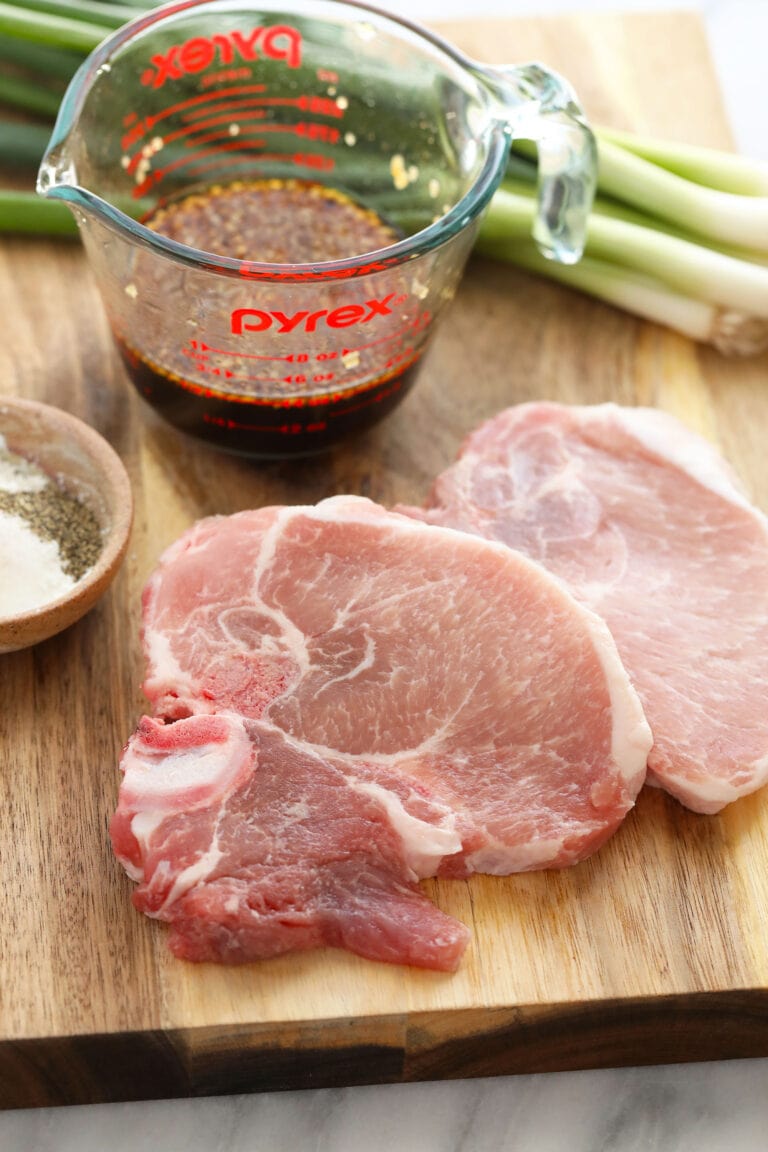 Do I have to use cornstarch?
Are you wondering why you need to use cornstarch in this recipe? It's used for 2 reasons:
It helps crisp up the pork to give them a bit of a bite.
Cornstarch ultimately helps thicken your sticky honey sauce!
So, yes we recommend always using cornstarch for this recipe.
Serving Suggestions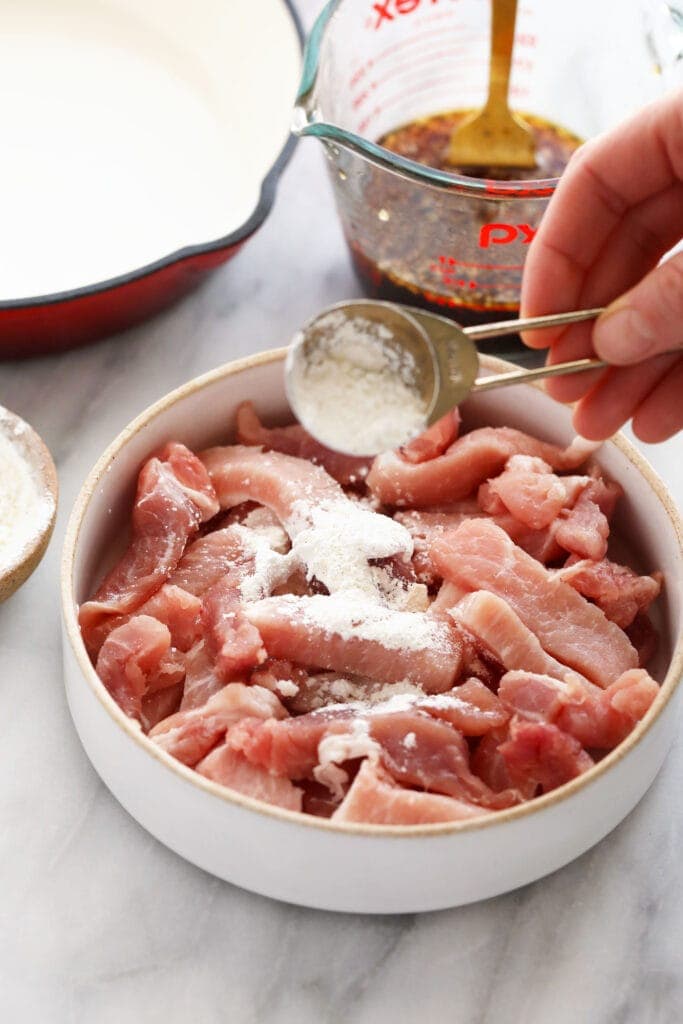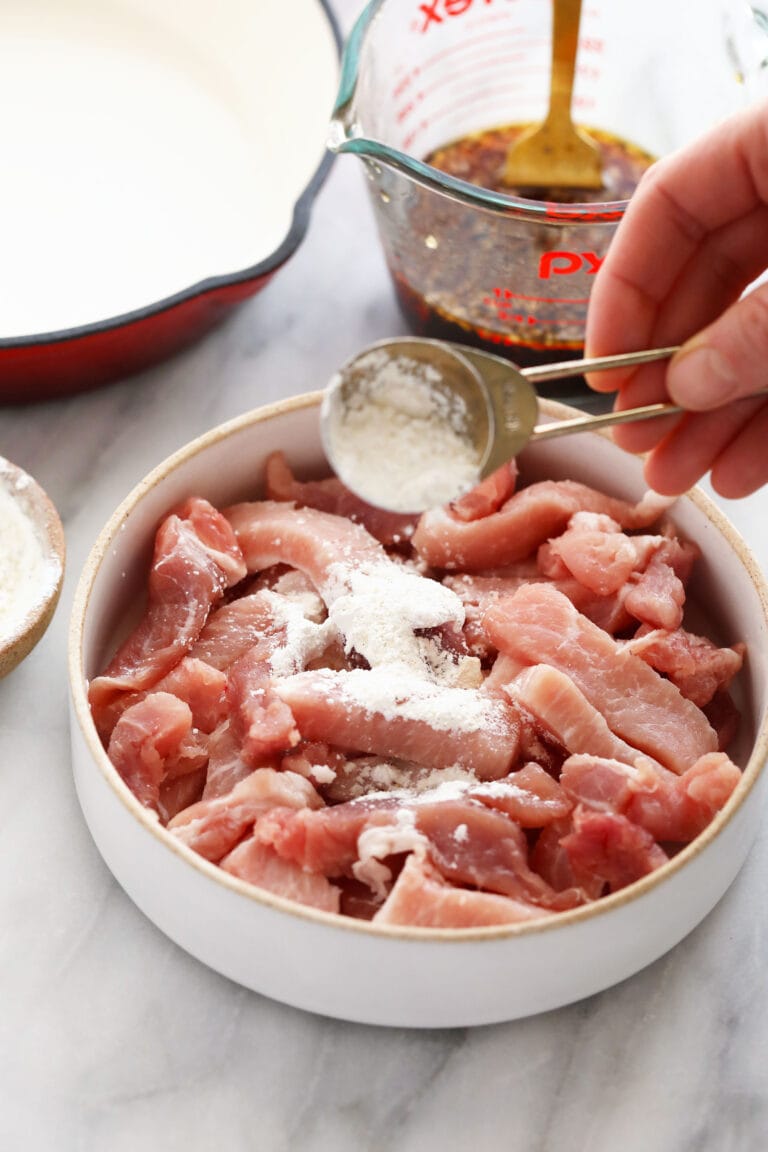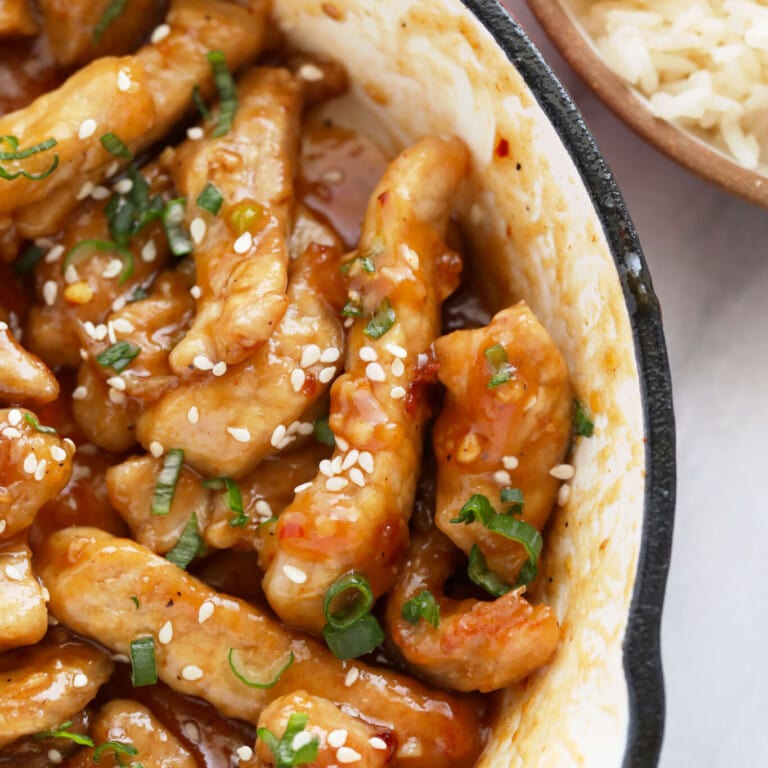 Sticky Honey Pork (+20 Easy Pork Recipes)
This sticky honey pork is one of our favorite pork recipes. It's easy to whip up, inexpensive, and so delicious served next to your favorite veggie and rice.
Prep:
15 minutes
Cook:
15 minutes
Total:
30 minutes
Fat
3
Carbs
19
Protein
32
Ingredients
Sauce
1/3 cup

honey

2 tablespoons

soy sauce

1 teaspoon

garlic chili sauce

2 teaspoons

rice vinegar 
Pork 
2

-lbs. thin boneless pork chops

1 tablespoon

corn starch 

1 teaspoon

garlic powder

1/2 teaspoon

salt

1/8 teaspoon

pepper

2

–

4

tablespoons olive oil 
Toppings
3

green onions, minced

2 teaspoons

sesame seeds
Instructions
First, prepare the honey garlic sauce. Add the honey, soy sauce, chili sauce, and rice vinegar into a bowl and whisk all the ingredients together until the honey dissolves into the sauce. Set aside. 
In a separate bowl, add the corn starch, garlic powder, salt, and pepper. Mix until combined.  
Next, thin the pork chops into 2 and 3-inch long strips that are about 1/2 inch thick. 
Toss each pork strip in the corn starch mixture so that each piece of pork is covered. 
Heat a large skillet over medium/high heat. Add olive oil. 
When olive oil is fragrant, add one layer of pork strips to the pan. Be sure not to crowd the pan, depending on the size of the pan, you may need to cook the pork in two batches. 
Sear the pork strips for 2-3 minutes on the first side and then remove the pork from the pan and place it on a plate (the pork will be cooked more later). 
Repeat steps 6 and 7 until all of the pork is seared on one side. 
Place all pork back into the skillet and then add the honey garlic sauce to the pan. 
Bring the sauce to simmer over medium heat, stirring periodically. Let the sauce simmer with the pork for 3-5 minutes until the sauce thickens. 
Remove from heat, toss the pork, and sprinkle the pork with green onions and sesame seeds. 
Serve alone, with rice, or with a vegetable side dish. 
 
Nutrition Facts
Serving Size:
1/6
Calories:
302
Sugar:
17
Fat:
3
Carbohydrates:
19
Fiber:
0
Protein:
32
Category:
Pork
Method:
Stovetop
Cuisine:
Asian