Ditch the bread and make these amazing BLT Quinoa Lettuce Wraps with a piece of bib lettuce and homemade healthy ranch instead!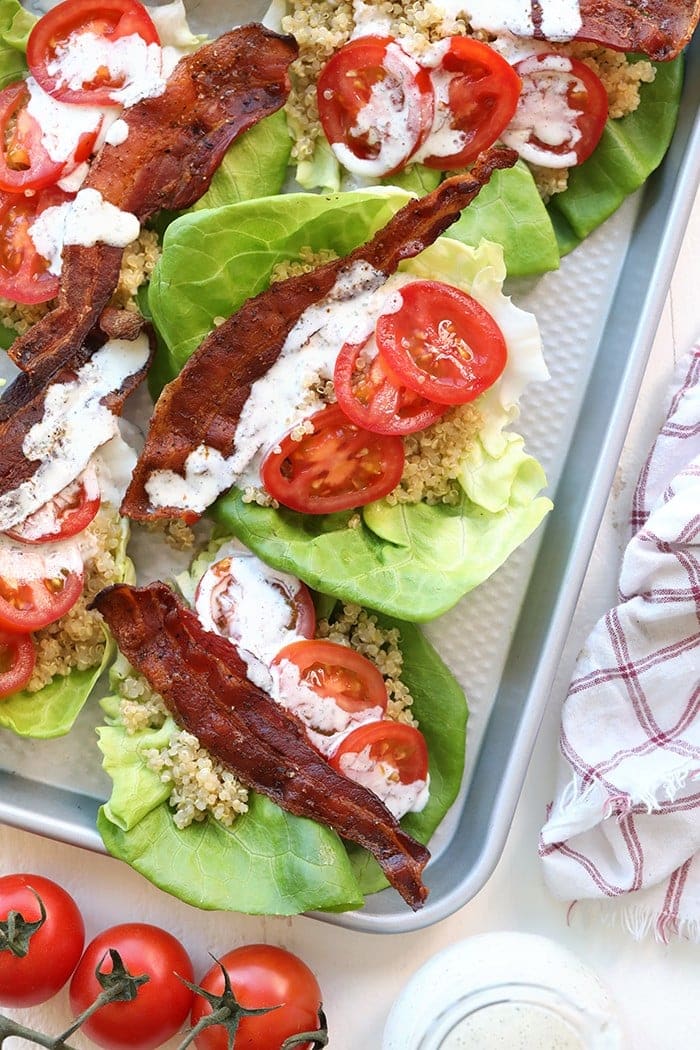 I feel like I was literally just having a conversation the other day where I said, "oh em gee I have like no plans this summer." Then, in a blink of an eye my calendar completely filled. CLASSIC. So many fun things are on the docket for this summer, but I am most excited to start life with Mark in the Cities! In less than a month we'll finally be roommates. Aw yeahhhhh.
Here's what we've got planned so far:
4th of July in Lutsen, MN with the family
AVP Volleyball tourney (to support Lindsey's hubs!) in Hermosa Beach, CA
Healthy Glow Co. retreat in Colorado (more on this soon)
Labor Day in Banff (HOPEFULLY)
Last year Mark and I took a 3 week trip to Europe and thought about doing something similar this year, but I think we're going to do smaller trips instead of one big one and save another big one for next summer. We figured it might be nice to spend some quality time in Minneapolis so Mark can explore his new home. AKA go to every brewery within a 20-mile radius of Minneapolis. Sounds like a pretty attainable goal if you ask me 😀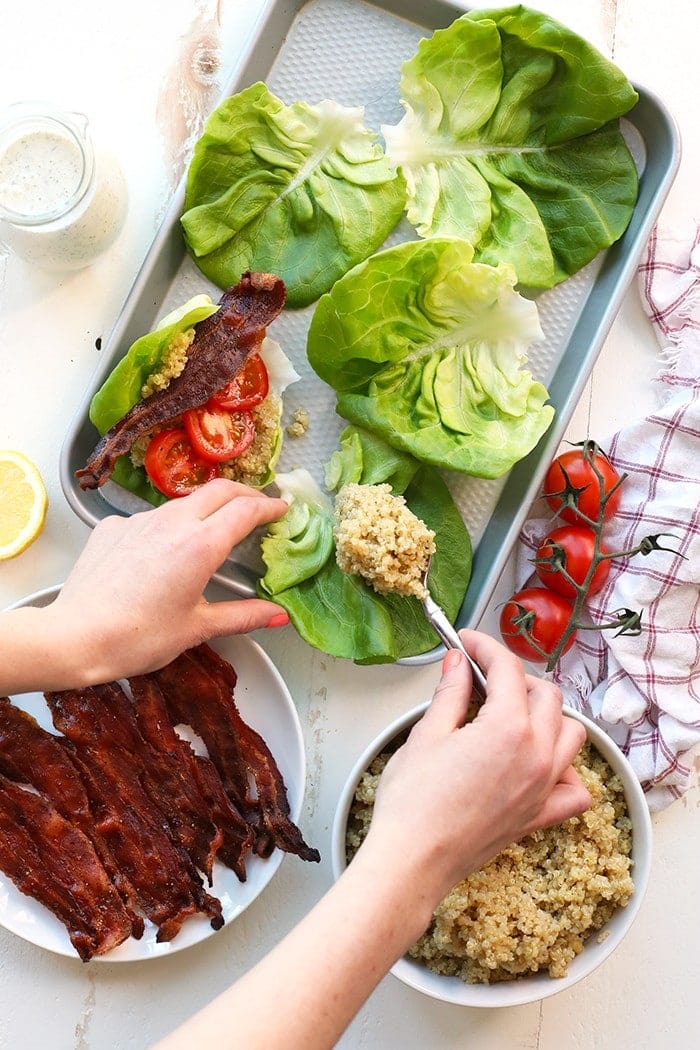 Otay, BLT time. We nixed the bread, added some quinoa, and used lettuce as a wrap to create a healthy take on a BLT —
BLT QUINOA LETTUCE WRAPS.
And because we all know how to make Homemade Healthy Ranch now, we topped them with that stuff. Super simple and so tasty! If you haven't tried baking your bacon yet, now is the time. Way less clean up and PERFECT bacon every time! I learned from the best. These wraps make for a great starter or even a main meal…whatever your little heart desires, BUT- don't skimp on the ranch.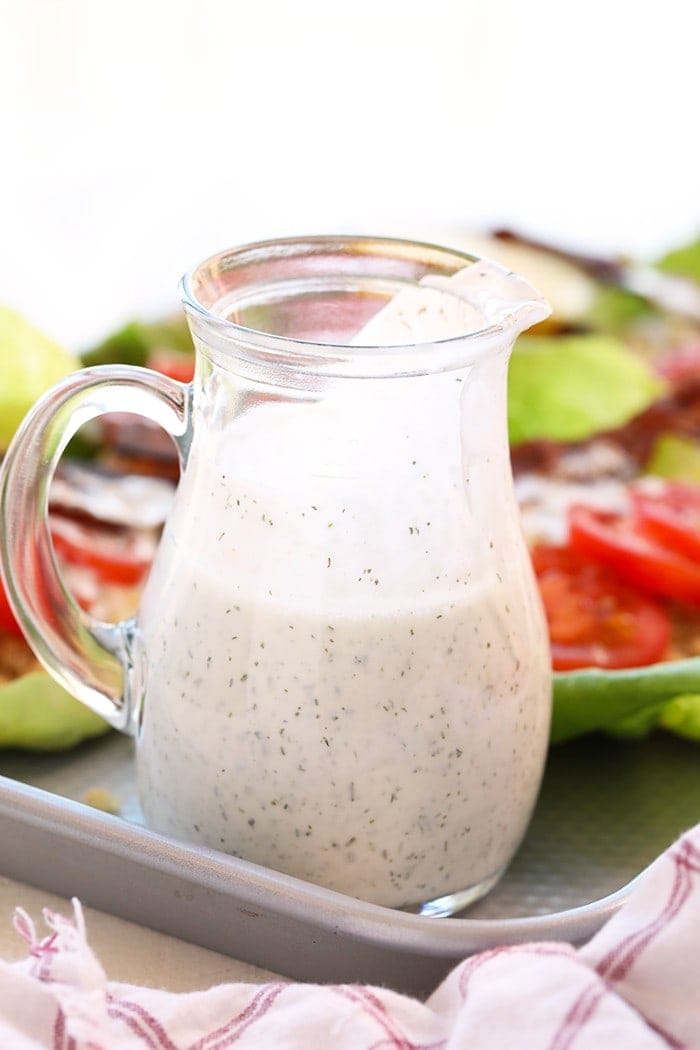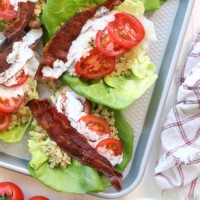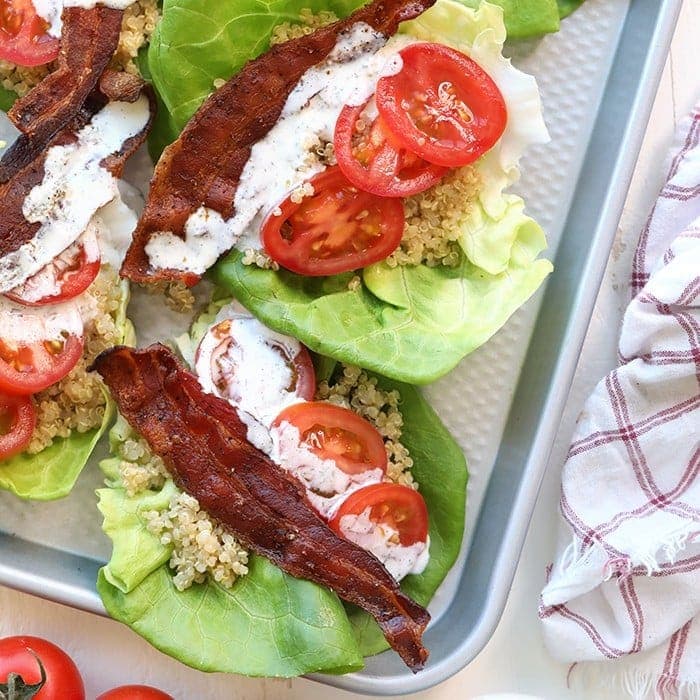 BLT Lettuce Wraps with Homemade Healthy Ranch
Ditch the bread and make these amazing BLT Quinoa Lettuce Wraps with a piece of bib lettuce and homemade healthy ranch instead!
Prep:
10 mins
Cook:
20 mins
Total:
30 minutes
Ingredients
8

strips of bacon

8

butter lettuce cups

4

–

6

medium tomatoes, sliced

1/2 cup

quinoa, uncooked

1 cup

water

1/2 cup

homemade healthy ranch
Instructions
Preheat oven to 425ºF and line a cookie sheet with tin foil.
Prepare bacon by placing all 8 strips on cookie sheet. Season with pepper and place in oven at 425ºF for 15-20 minutes depending on how thick your bacon is and how crispy you like it!
Prepare quinoa by placing 1/2 cup of quinoa and 1 cup of water in a small pot. Bring to a boil then reduce heat to low, cover, and let simmer for about 10 minutes or until all water has absorbed. Let cool.
Assemble BLT Lettuce Wraps by placing a few tablespoons of quinoa, 1 strip of bacon, and 3 or 4 slices of tomato on top. Last, finish off with a few teaspoons of homemade healthy ranch!
Tips & Notes
*Nutrition information without ranch
* Nutrition with ranch included: Calories 332g | Sugar 18g | Sodium 709g | Fat 8g | Carbohydrates 31g | Fiber 3g | Protein 21g |
Nutrition Facts
Serving Size:
1
Calories:
228
Sugar:
4
Sodium:
355
Fat:
8
Carbohydrates:
22
Fiber:
3
Protein:
9