Fajita Breakfast Burritos never tasted so good, especially when you don't want to make breakfast! These make ahead breakfast burritos are an easy meal prep breakfast to make any time of year.
Give yourself a break this week and prepare some make ahead breakfast recipes! We love these peanut butter chocolate chip oatmeal cups and these apple cinnamon overnight oats.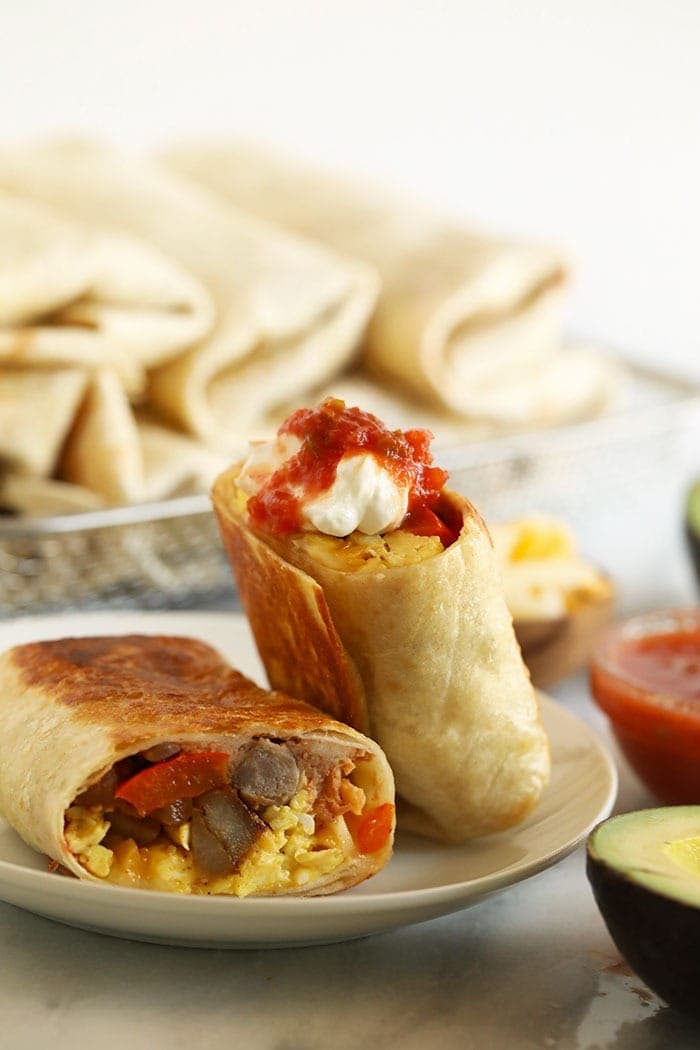 Breakfast Is Life
There is nothing better than waking up hungry in the morning and already having something prepared in the fridge or freezer! Don't get me wrong I love cooking breakfast in the morning, but sometimes there is just no time.
We are big fans of make-ahead breakfast recipes on FFF and these fajita breakfast burritos are made with our homemade fajita seasoning, delicious fajita vegetables, and protein!
If you are an active individual, are you getting enough protein? Active females out there tend not to get enough protein, so these fajita breakfast burritos are for you! They pack a whopping 23 grams of protein. YOU CAN'T BEAT THAT.
If you are a vegetarian, skip the breakfast sausage and use a meatless alternative! The protein count would still be up there and you'll be set for the day!
Freezer Burrito Q + A
The reality of life is that things get busy! Don't let eating food that is delicious and healthy head to the wayside when life gets busy. Prepare food for yourself and your family so you can have the best of both worlds!
Before we take a deep dive into how to make these fajita breakfast burritos, below are some of the most commonly asked questions when it comes to freezer burritos.
What do I put in breakfast burritos?
The beauty of make ahead breakfast burritos is that you can pack them with whatever ingredients you have in the refrigerator.
Sometimes it is fun to choose a theme like these fajita breakfast burritos so that all the flavors and ingredients go well together! It is also fun and gives you something to look forward to!
No matter what you decide to put in your freezer breakfast burrito, here are the main categories we like to choose from.
Protein- pork sausage, bacon, vegetarian sausage links, beans
Vegetables- peppers, onions, squash, potatoes, sweet potatoes, shallots
Spices- taco seasoning, fajita seasoning, ground cumin, chili powder
Cheese- shredded cheddar, cotija, mozzarella, feta, goat cheese
Fresh herbs (add right before serving)- cilantro, basil, green onions
How do you keep burritos from getting soggy?
Soggy burritos are the worst! There are a couple of things you can do to make sure your burritos won't be soggy.
Make sure the burritos are completely cool before wrapping them in plastic and tin foil and placing them in the freezer.
When you are ready to eat the burrito, remove it from the freezer and let it thaw. To reduce the sogginess of the burrito, baking it gives the best results! Bake the burrito at 350ºF for 20 minutes.
What is the best store-bought frozen burrito?
If we don't feel like making homemade burritos we love our local coop breakfast burrito! If you are looking for a frozen burrito you can buy anywhere, Annie's Frozen Burritos are delicious!
How do you reheat breakfast burritos?
You have a couple of options when it comes to reheating a breakfast burrito! You can reheat a burrito in the microwave, oven, or on the stovetop.
What type of tortilla do I use for breakfast burritos?
We recommend using large 10-inch flour tortillas for breakfast burritos. Corn tortillas tend to break apart too easily when being reheated!
How to Make Freezer Breakfast Burritos
Step One: Prepare
Feel free to use whatever breakfast fixings you would like! We stuck with a fajita themed burrito for this freezer breakfast burrito. Check out all of our different fajita breakfast burrito fixing below.
Fajita Veggies (potatoes, peppers, onions, fajita seasoning)
Breakfast Sausage (pork sausage, veggie sausage, turkey sausage)
Cheese
Refried Beans
Scrambled Eggs
Flour tortilla
Prepare each portion of the breakfast burrito according to the recipe below before assembling the breakfast burritos.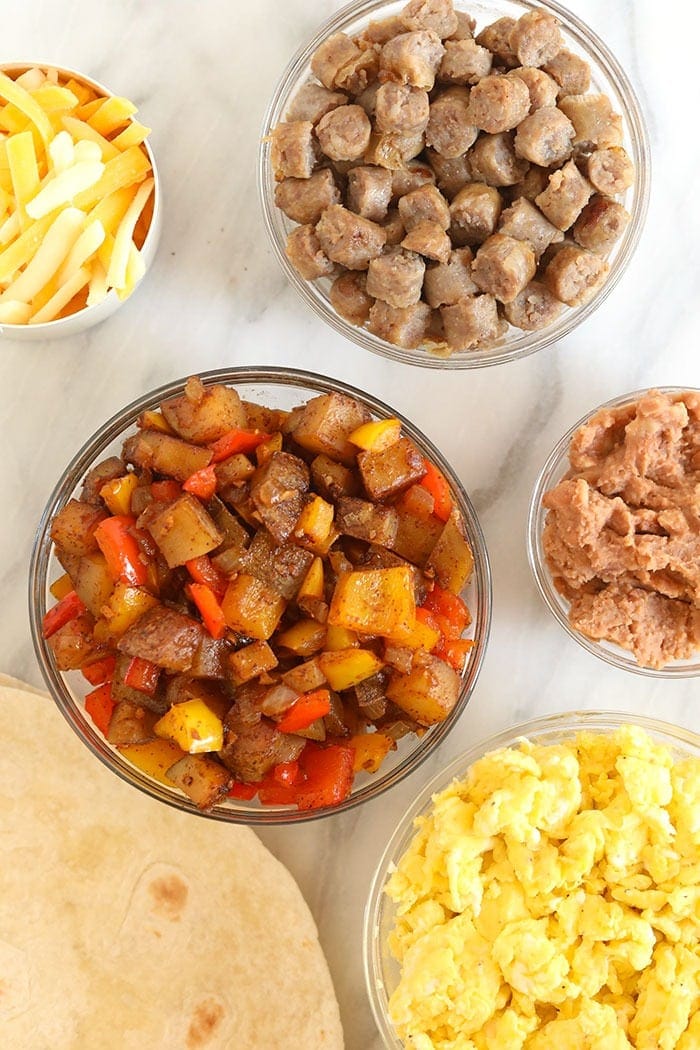 Step 2 : Assemble
When all fixings for the breakfast burritos are prepared it's time to assemble the burritos. First things, first–> make sure you have a large enough tortilla. We use 10-inch flour tortillas.
Sometimes rolling the burritos can be the hardest part! Evenly distribute the veggies, beans, scrambled eggs, cheese, and breakfast sausage over each tortilla. The trick is to place the ingredients in a line closer to one side (not in the middle of the tortilla.
Then, fold in the side of the tortilla and start rolling from the side where the ingredients are placed. Repeat until all burritos are rolled.
Here's a tip–> If you are using older tortillas or if your tortillas aren't rolling, warm them up in the microwave or oven first, it's easier to roll a tortilla if they are warm!
After each burrito is rolled, wrap each one in plastic wrap and then aluminum and mark each one with the date it was made.
We wrap each burrito in plastic and aluminum to prevent freezer burn. If you have a system that works for you, that works too!
Place burritos in the freezer for up to 3 months.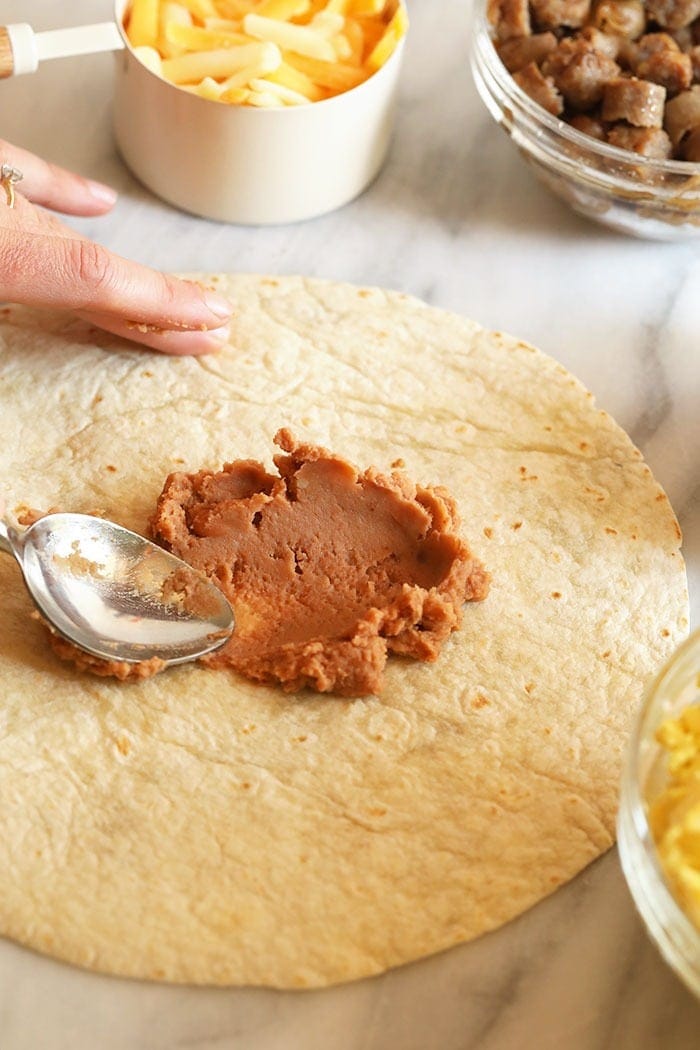 Step 4 : Reheat
When you are ready to eat your breakfast burrito, there are multiple ways you can heat them up. You can heat them up in the microwave, oven, or on the stovetop.
Microwave
To reheat a burrito in a microwave, simply remove the burrito from the plastic wrap and tin foil.
Place the burrito on a microwave-safe plate and place it in the microwave on high for 3-4 minutes (timing depends on microwave power), flipping the burrito halfway through.
Oven
To reheat a burrito in the oven, preheat the oven to 350ºF. Remove the burrito from the plastic wrap and tin foil and place on a cookie sheet.
Drizzle the burrito with olive oil and place in the oven for 15-20 minutes.
Stovetop
To reheat a burrito on the stovetop, remove the burrito from the plastic wrap and tin foil.
Heat a medium skillet pan over medium/high heat. Add a tablespoon of olive oil. When olive oil is fragrant, add burrito to the pan. Place a heave castiron skillet on top of the burrito and let it cook for 2-3 minutes.
Flip the burrito and place the castiron skillet over the second side. Cook for an additional 2-3 minutes.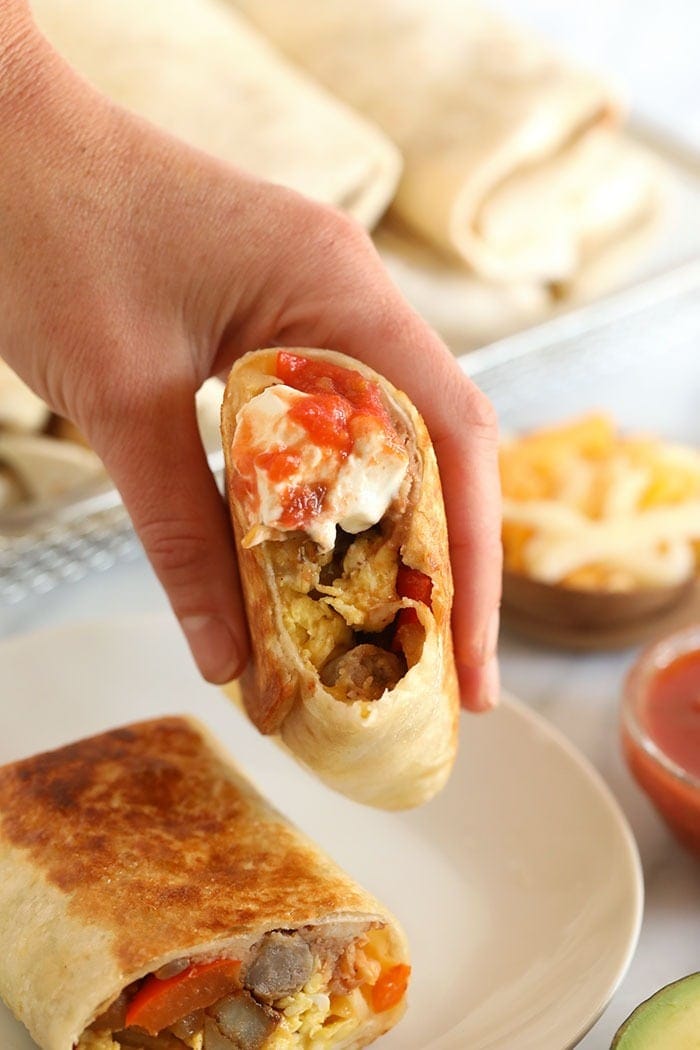 Healthy Burrito Recipes
PS: learn how to freeze and thaw these fajita breakfast burritos for later in this Make-Ahead Breakfast Recipes Freezer Meal Prep post!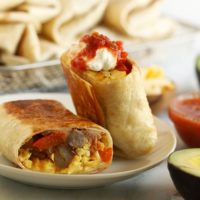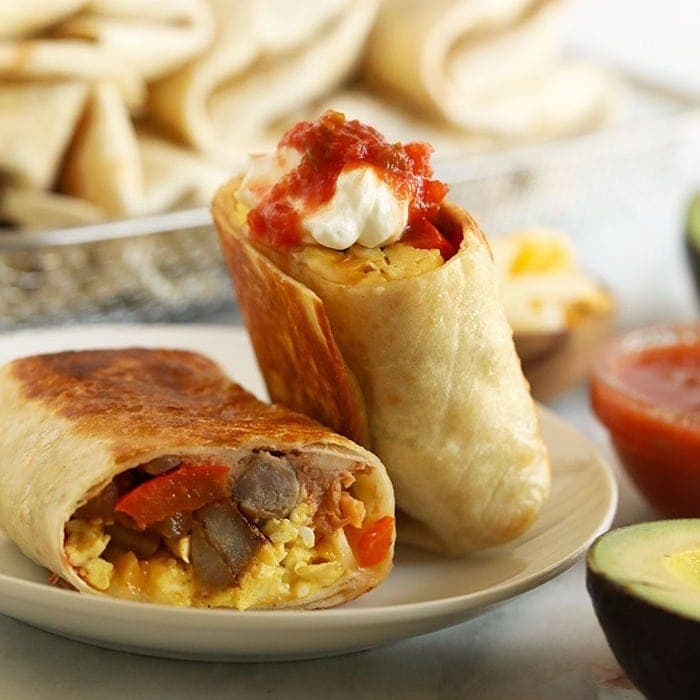 Fajita Breakfast Burritos
Fajita Breakfast Burritos never tasted so good, especially when you don't want to make breakfast! These make ahead breakfast burritos are an easy meal prep breakfast to make any time of year.
Prep:
30 minutes
Cook:
10 minutes
Total:
40 minutes
Fat
16
Carbs
41
Protein
23
Ingredients
Fajita Veggies
2 tablespoons

olive oil

2

medium russet potatoes, cut into half-inch cubes (~

2 cups

cubed)

1 tablespoon

minced garlic

1 teaspoon

chili powder

1/2 teaspoon

ground cumin

1/4 teaspoon

paprika

1/8 teaspoon

salt

1

large yellow pepper, diced

1

large red pepper, diced

1/2

yellow onion, minced
Eggs
8

large eggs

2 tablespoons

unsweetened almond milk
salt and pepper, to taste

2 tablespoons

olive oil
Other
12 oz

. uncooked breakfast sausage (any kind will work and option to use pre-cooked)

1 cup

shredded cheddar cheese

1

15-oz. can refried beans

8

large flour tortillas
Instructions
Fajita Veggies
Heat a large skillet over medium/high heat. Add olive oil.
When olive oil is fragrant add potatoes and saute for about 5 minutes. Stir every couple of minutes.
Next, add garlic, chili powder, cumin, paprika, and salt to the potatoes. Mix until they are covered with spices and cook for an additional 3-4 minutes.
Finally, add yellow pepper, red pepper, and onion to the potatoes and mix until all veggies are covered in spices. Cover and cook for an additional 5 minutes, stirring every couple minutes. Remove from heat and set aside.
Eggs
Whisk 8 large eggs in a large bowl. Add almond milk, salt and, pepper and whisk until ingredients are combined.
Next, heat a large skillet over medium/high heat. Add olive oil to the pan. When olive oil is fragrant add eggs to the skillet.
Move eggs around consistently until eggs are scrambled. Remove from heat.
Other
In a large skillet, cook uncooked breakfast sausage. Saute over medium-high heat for 7-10 minutes, moving the sausages around consistently so they don't burn.* Remove from heat once fully cooked in the middle.
When the breakfast sausage is cool, chop them into bite-size pieces and set aside.
Measure out 1 cup of cheese, 15 oz. refried beans, and 8 large flour tortillas and set aside.
Now it's time to assemble your breakfast burritos! Place 8 tortillas on a flat surface and smear 2-3 tablespoons of refried beans onto the bottom of each tortilla. Then, evenly distribute the fajita veggies, breakfast sausage, cheese, and eggs to each burrito.
Create burritos by tightly wrap each tortilla.
Option to eat immediately or make them crispy!
To give them a crunch, heat 1/2 tablespoon of olive oil in a large skillet. When olive oil is fragrant, fry burritos for 30 seconds to 1 minute on each side or until golden brown.
Serve with your favorite salsa and plain Greek yogurt.
Tips & Notes
Breakfast sausage: if you are using anything other than pork sausage, add a tablespoon of water to the pan when cooking.


 

Storage

After rolling each burrito, tightly wrap in a piece of plastic wrap and then again in a piece of tin foil. Remove as much air as possible.
Write the name of the burrito and the "best eaten by date" (3 months from when you made them) on each burrito.
Nutrition Facts
Serving Size:
1/8
Calories:
396
Sugar:
2
Fat:
16
Carbohydrates:
41
Fiber:
4
Protein:
23
Category:
Breakfast
Method:
Stovetop
Cuisine:
American
Keywords: breakfast burritos