Whip up this shrimp stir fry in less than 30 minutes for a protein and veggie-packed meal. This shrimp stir fry recipe is made with our homemade stir fry sauce. Enjoy!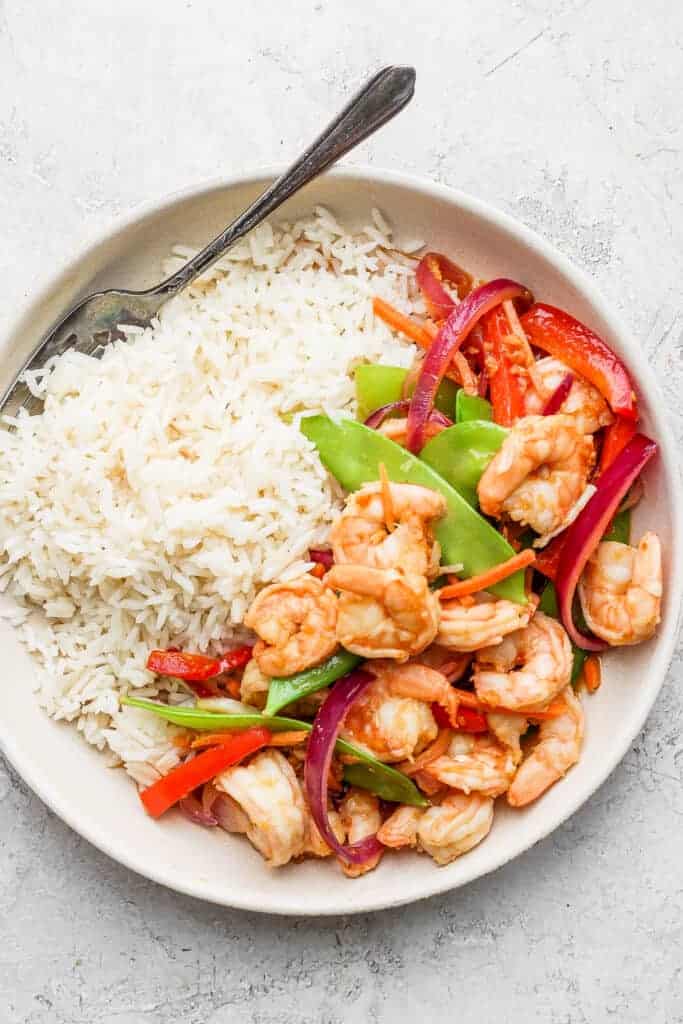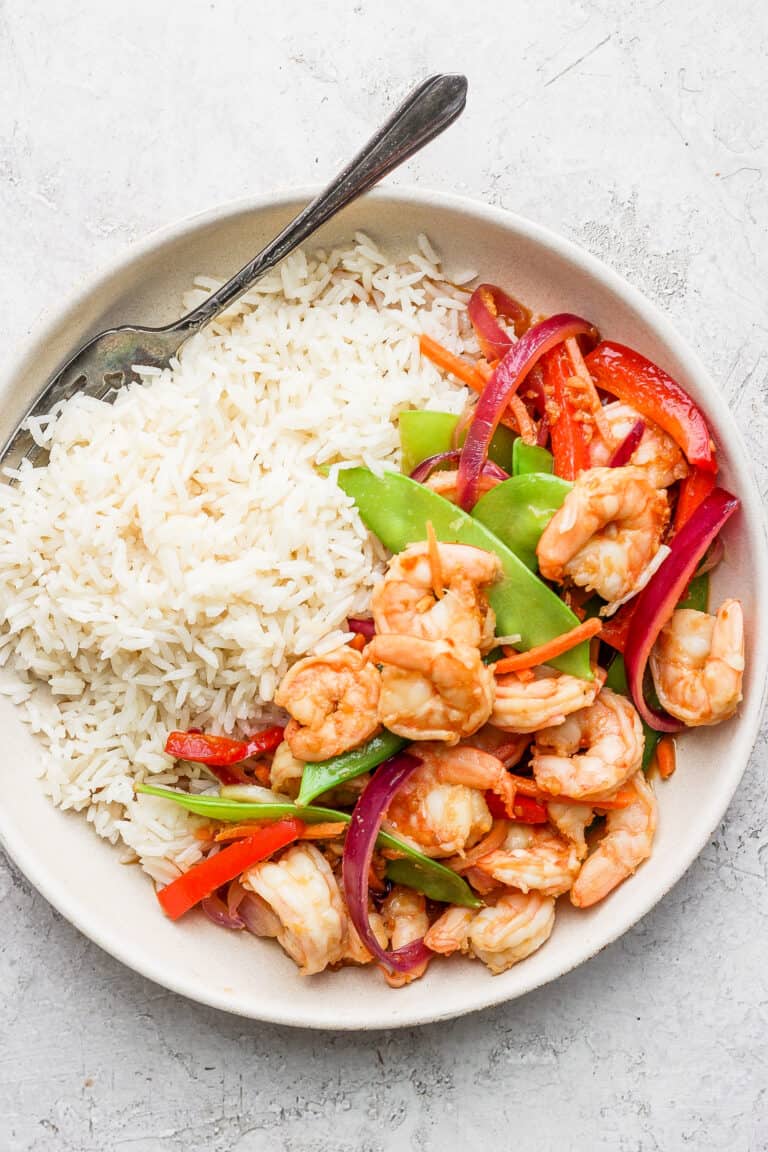 Shrimp stir fry is a classic dinner choice in our household. It comes together quickly and is packed with veggies and protein. Plus, I'll do anything to eat white rice, my all-time favorite food.
Easy Shrimp Stir Fry!
Stir fry is the way to go during busy work weeks because it's fast, better for you, and so delicious. I love our chicken stir fry and Instant Pot cashew chicken recipes because you get the perfect balance of protein and veggies.
This shrimp stir fry isn't any different. It's packed with veggies and shrimp, which is low carb and high protein, so it'll keep you fuller longer.
Why you'll love it!
Ready in 30-minutes
High-protein
Better than takeout
Easily customizable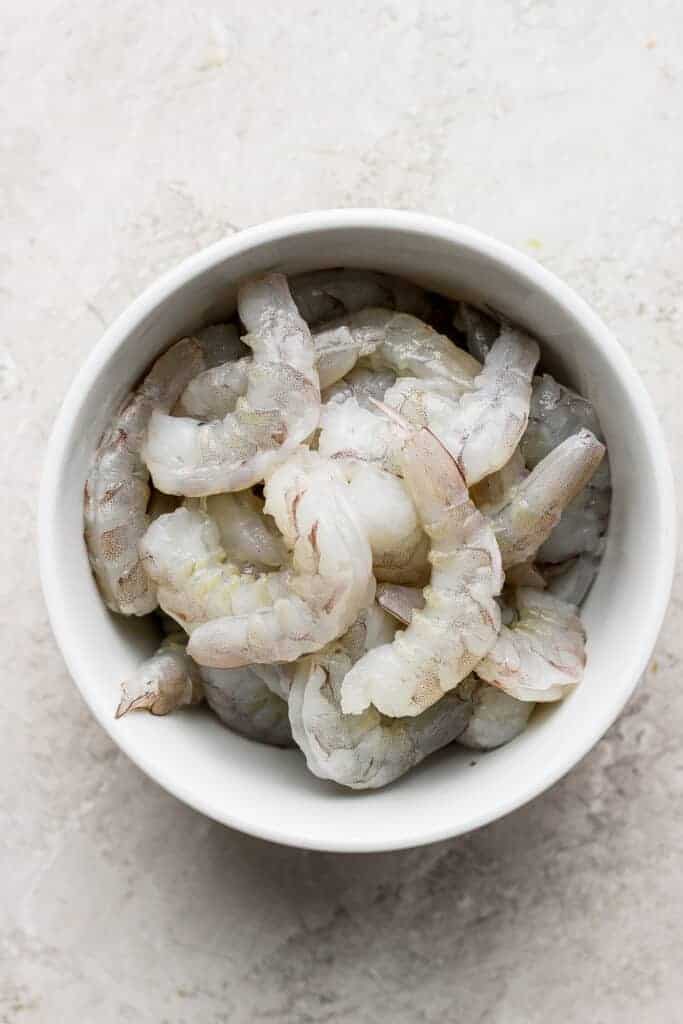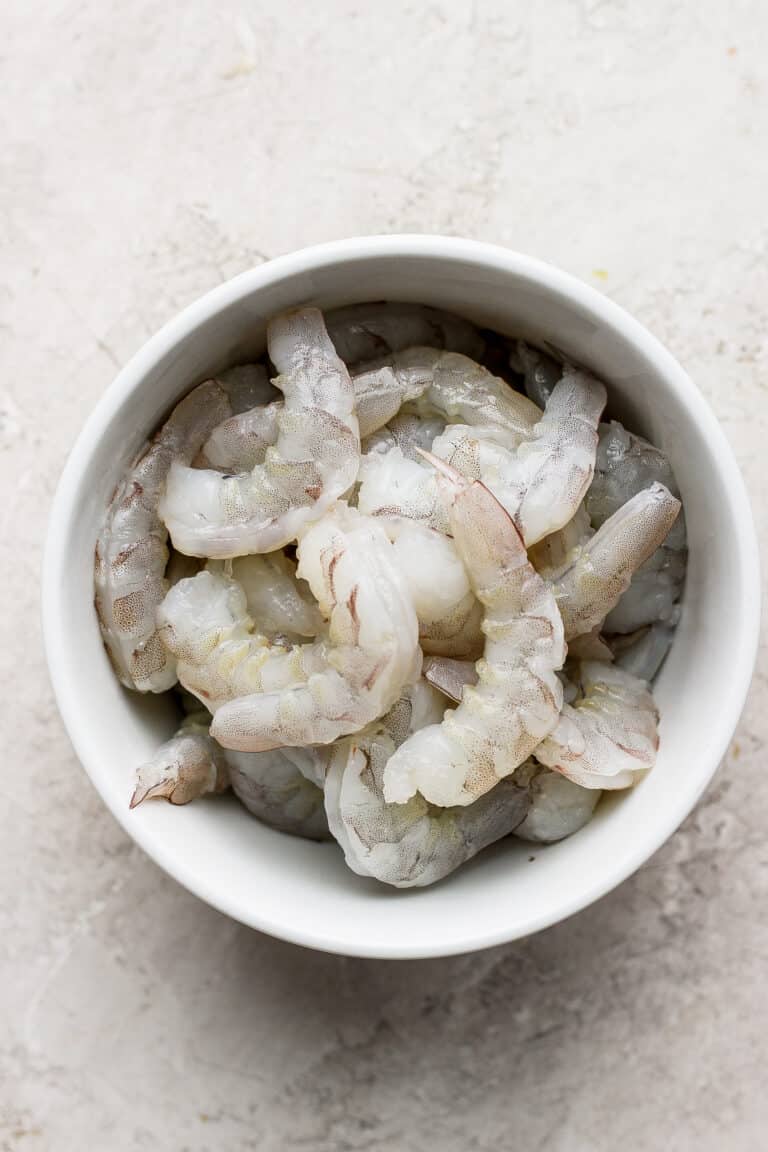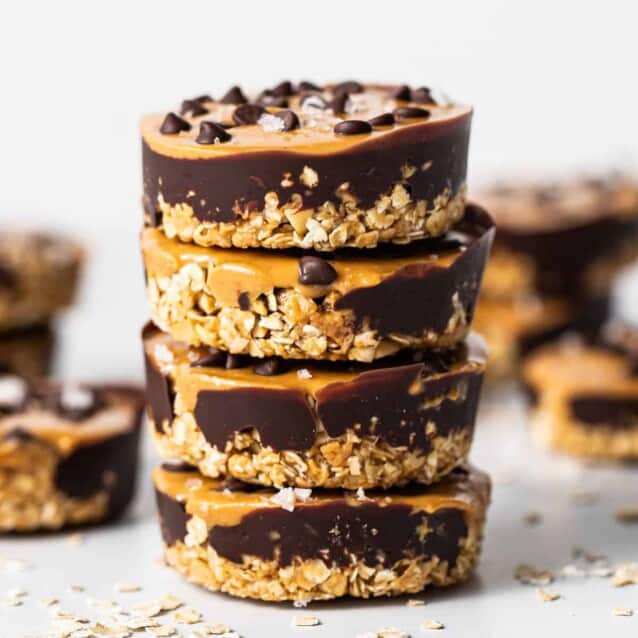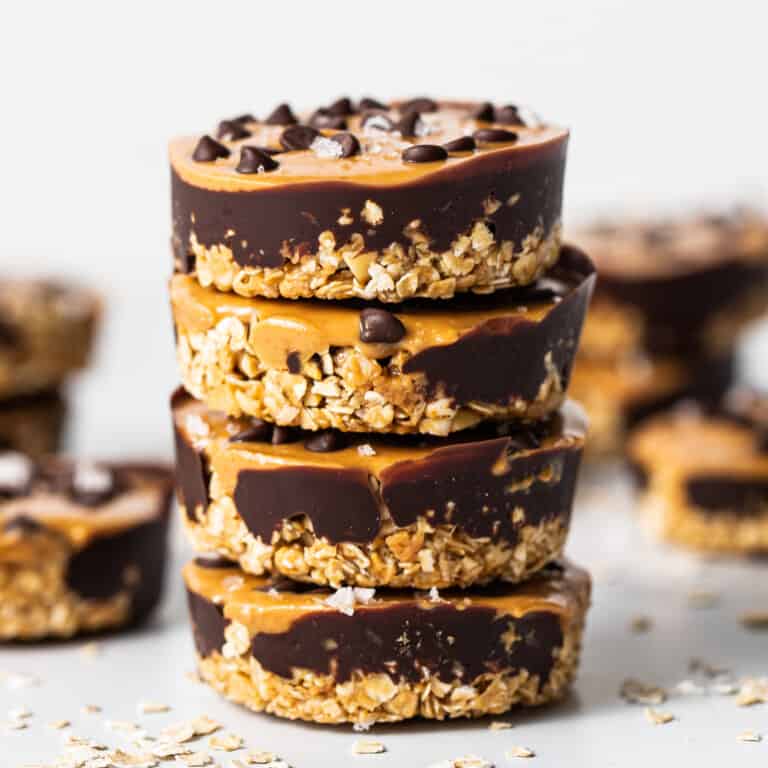 Get our Top 10 5-Star Recipes!
Join our email list for new recipes and BONUS: get our top 10 ⭐️⭐️⭐️⭐️⭐️ recipes e-book!
What kind of shrimp should I use for shrimp stir fry?
The best kind of shrimp to use for shrimp stir fry is uncooked large or jumbo shrimp. If you can get your shrimp peeled and deveined, that's even better because it takes any of the preparation work out of the equation. Tail on or off is your preference.
Often times you can find uncooked, deveined shrimp in the frozen meat or seafood section of most grocery stores. If you buy it in bulk, it will be cheaper!
Use fresh shrimp!
We recommend purchasing your shrimp the day-of from your local butcher. They typically sell shrimp by the pound.
We don't recommend waiting more than 2 days once you've purchased your shrimp from the butcher because it's just so much better when it's fresh.
What are the best veggies to use in stir fry?
Pretty much any and all veggies work in stir fry. It's just all about preference. In this shrimp stir fry we are using:
Red onion
Pea pods
Red pepper
Carrts
Garlic
We recommend using vegetables that are around the same size so that they cook evenly. Other veggies we recommend include broccoli, cabbage, cauliflower, green onion, broccolini, and mushrooms.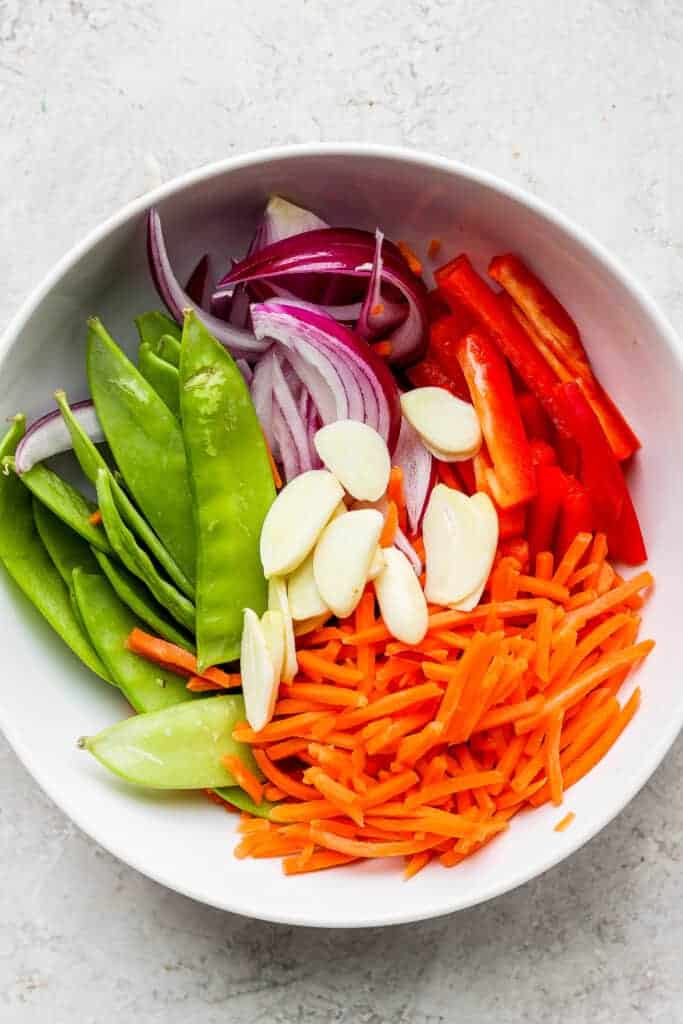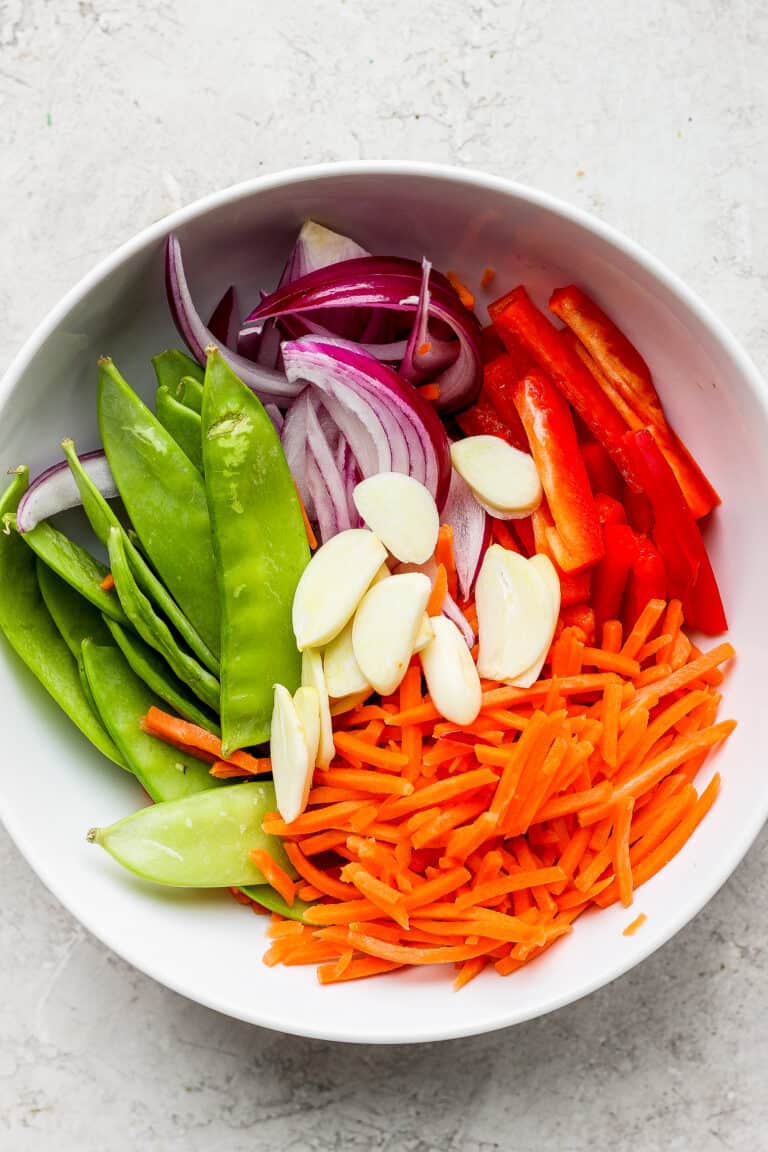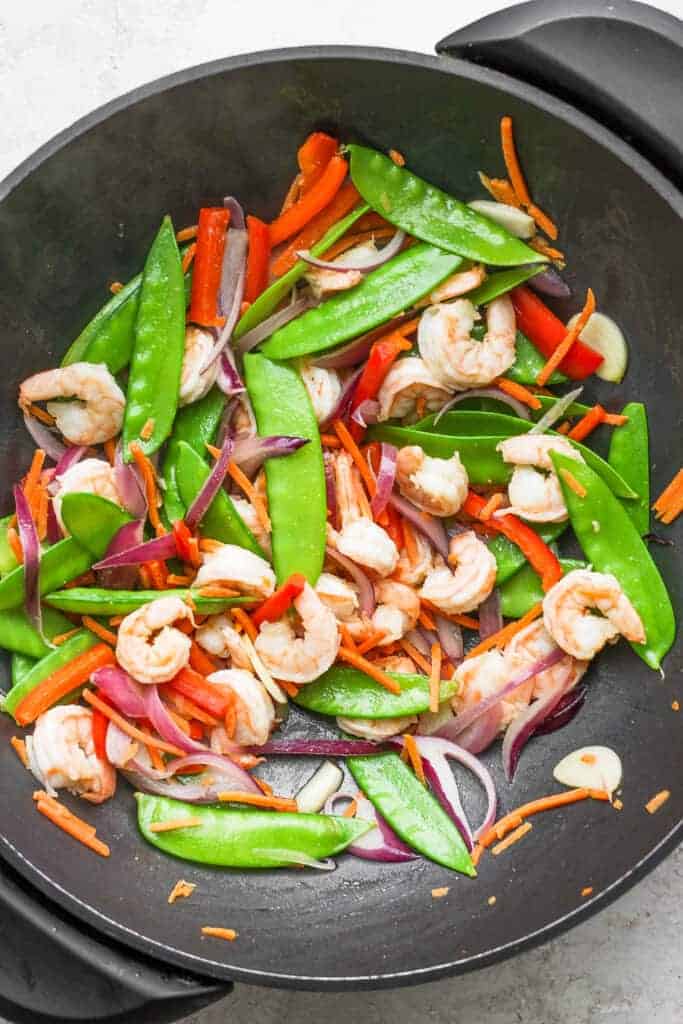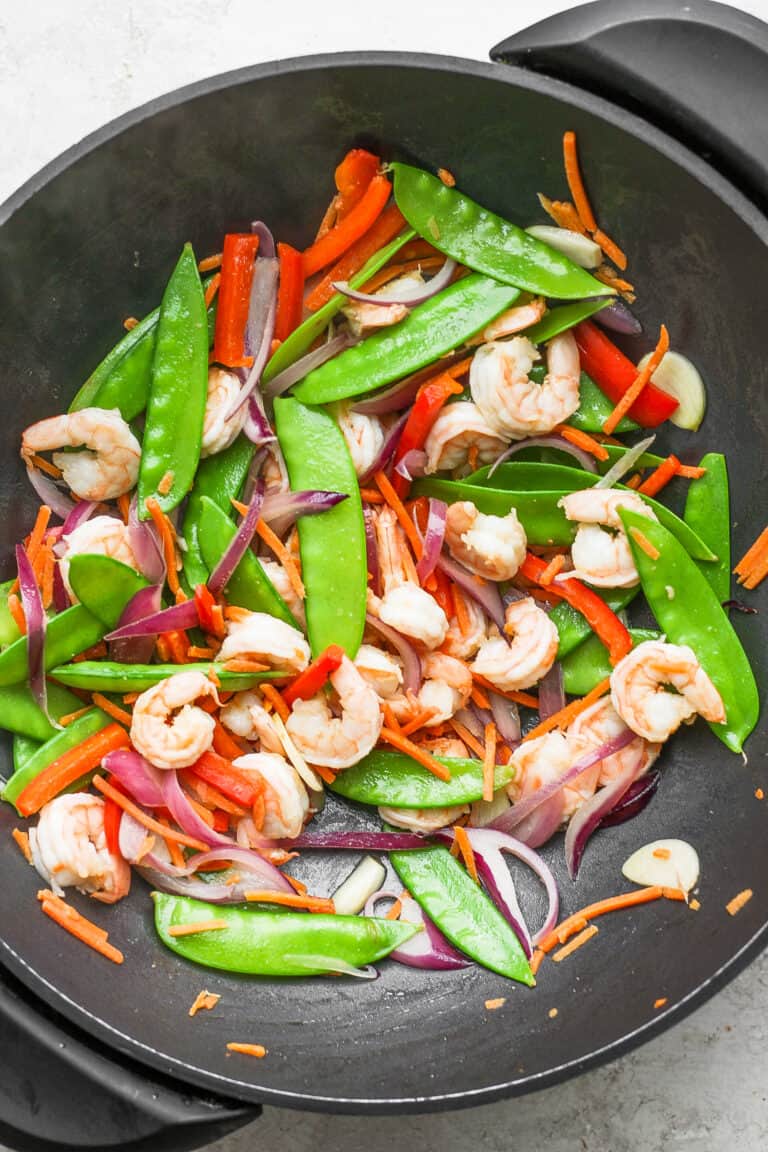 Ultimate Stir Fry Sauce
For this yummy shrimp and veggetable stir fry, we're using our signature stir fry sauce that we recently published on the blog. It's our basic, go-to stir fry sauce that works with pretty much every protein and veggie combination.
What You Need
soy sauce: the basis of the stir fry sauce is soy sauce. It's savory, salty, and so delicious.
rice vinegar: rice vinegar is more mild than other vinegars and it goes perfectly in this stir fry sauce.
chili garlic sauce: this adds a little heat to your sauce.
grated ginger: the fresh and tangy flavor of grated ginger is so yummy in this.
fish sauce: don't be afraid of fish sauce. Trust us!
minced garlic: garlic is a must in stir fry sauce. You can mince your own or use mionced garlic.
optional sweetener: depending on if you like a sweet or savory stir fry sauce, you can add an optional sweetener such as brown sugar or maple syrup.
How to thicken stir fry sauce?
Whether you're making chicken stir fry, a veggie stir fry, or this shrimp stir fry, the sauce can easily get watery.
To thicken your sauce, we recommend using cornstarch. You can either whisk the cornstarch right into the whole sauce OR make a cornstarch slurry.
If you scroll down to our recipe card, we'll show you how we're doing it in this post!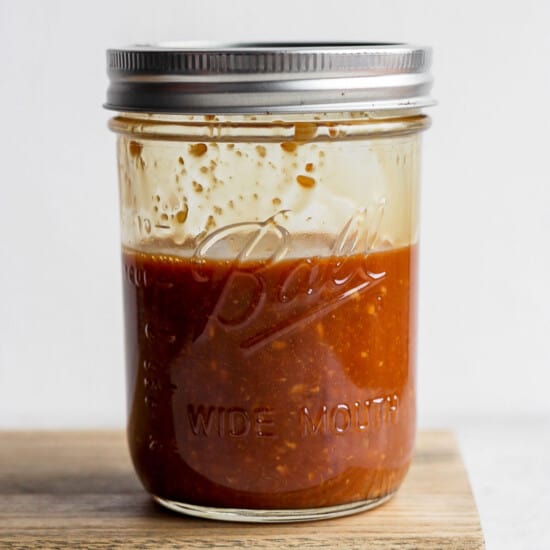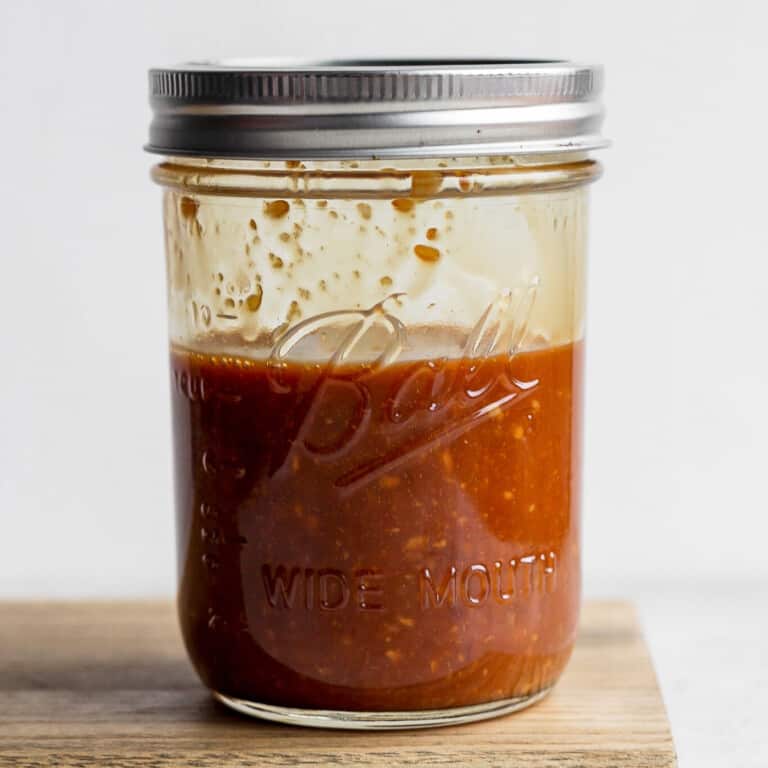 Try it!
Stir Fry Sauce
Keep this simple recipe for u003ca href=u0022https://fitfoodiefinds.com/stir-fry-sauce-recipe/u0022u003estir fry sauceu003c/au003e in your back pocket to use for a quick and easy stir fry recipe!
Get Recipe
Try teriyaki sauce instead!
If you'd rather use teriyaki sauce in this stir fry, you should defnitely check-out our homemade teriyaki sauce. It's sweeter, but equally delicious.
Is this shrimp stir fry gluten-free?
Because this stir fry uses soy sauce, it is not gluten-free. However, you can sub the soy sauce for tamari to make this gluten-free.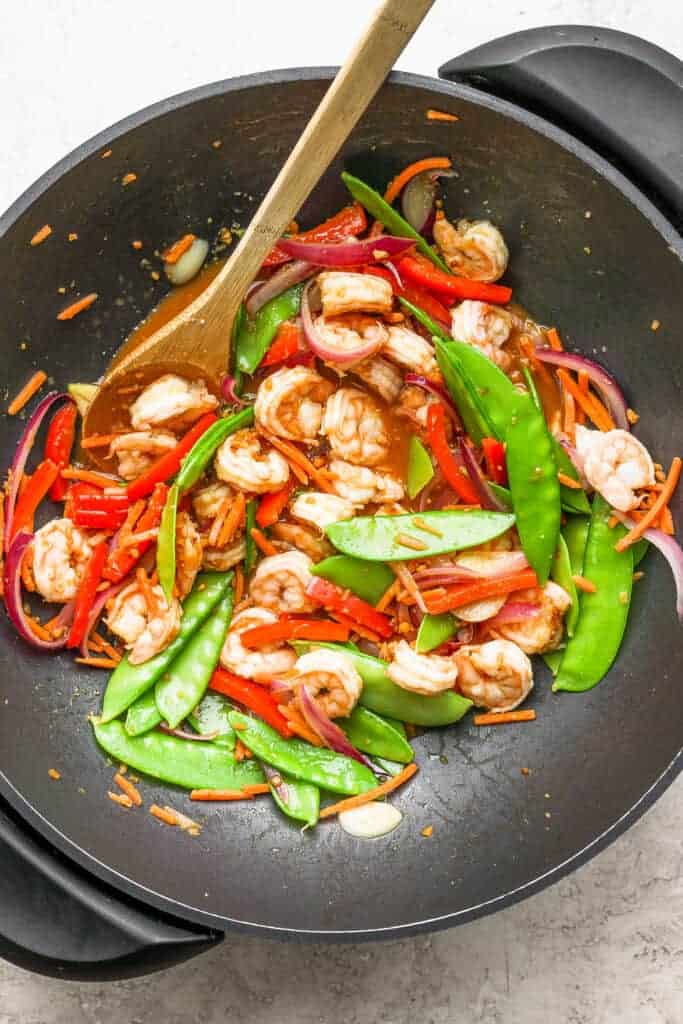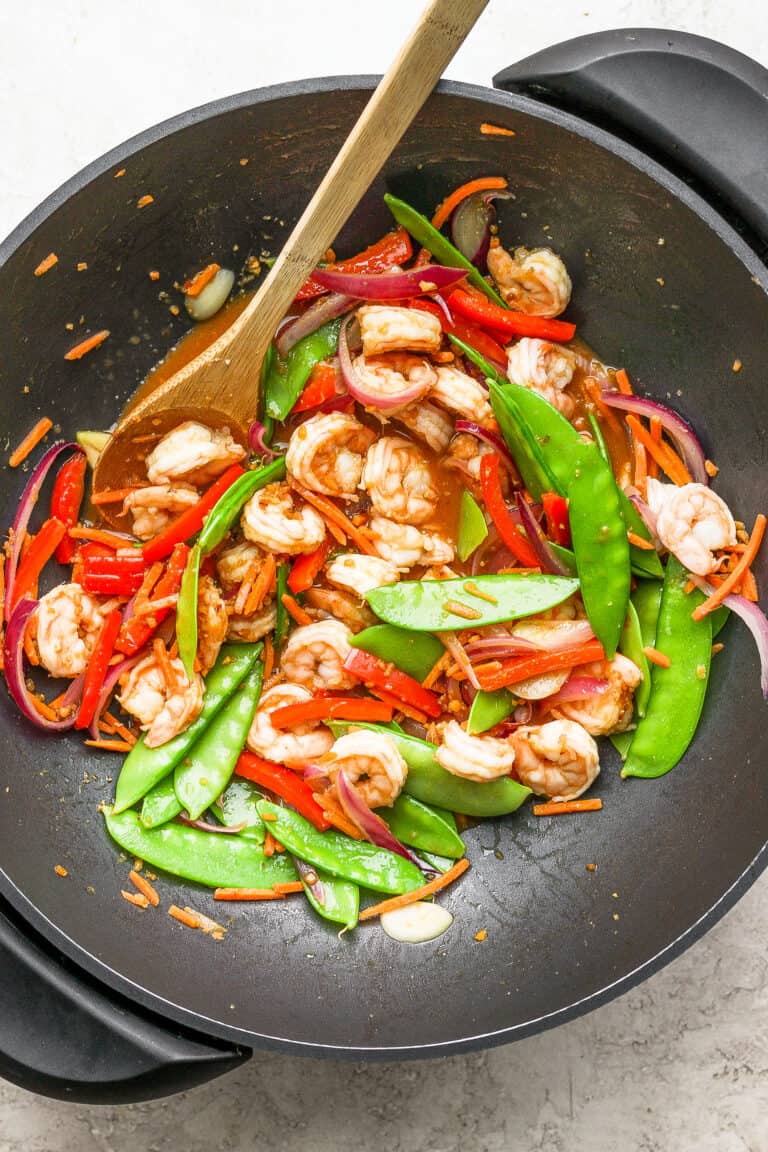 Serving Suggestions
Feel free to keep things super simple and serve this stir fry recipe with either white rice or brown rice. Or, you can jazz things up and ser it next to one of the following:
Chicken Fried Rice: This easy chicken fried rice recipe makes takeout a breeze in your own kitchen. In this post, we'll teach you how to make chicken fried rice and share some alternate variations as well.
Cauliflower Rice: This Cauliflower Fried Rice recipe is a delicious low-carb alternative to traditional fried rice. Packed with veggies and a super flavorful sauce, plus it's easy to make. Enjoy!
Instant Pot Fried Rice: This Instant Pot Fried Rice is quick, easy, and made completely in the pressure cooker! Bonus, it's made with brown rice and actually healthy!
Vegetarian Fried Rice: This vegetable fried rice recipe is made with short grain brown rice, tons of veggies, and a protein boost of eggs for a delicious 30-minute meal!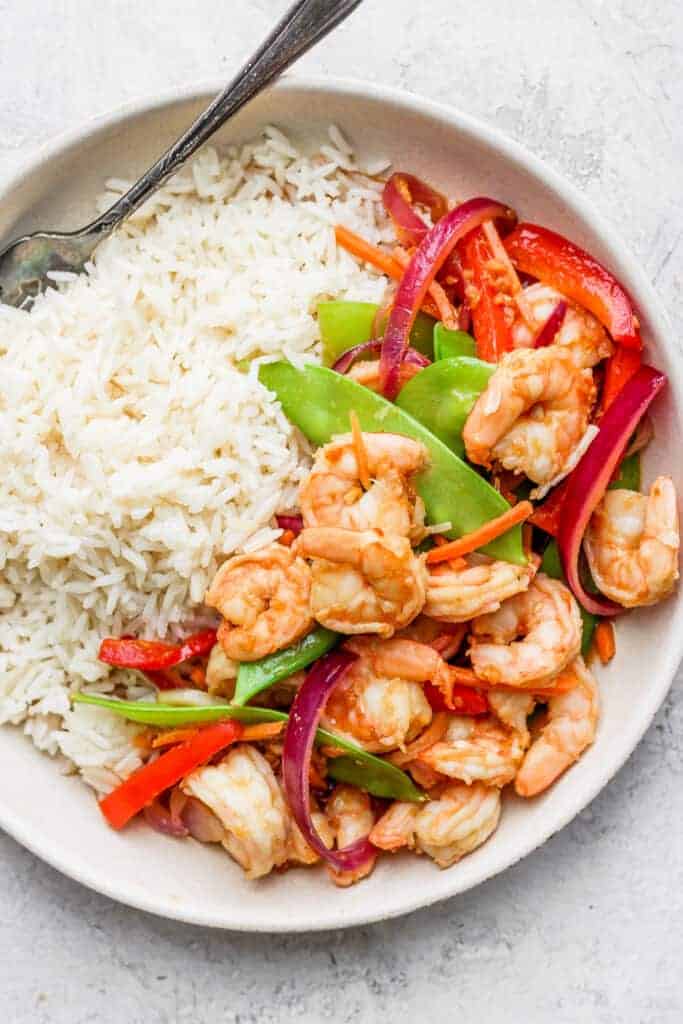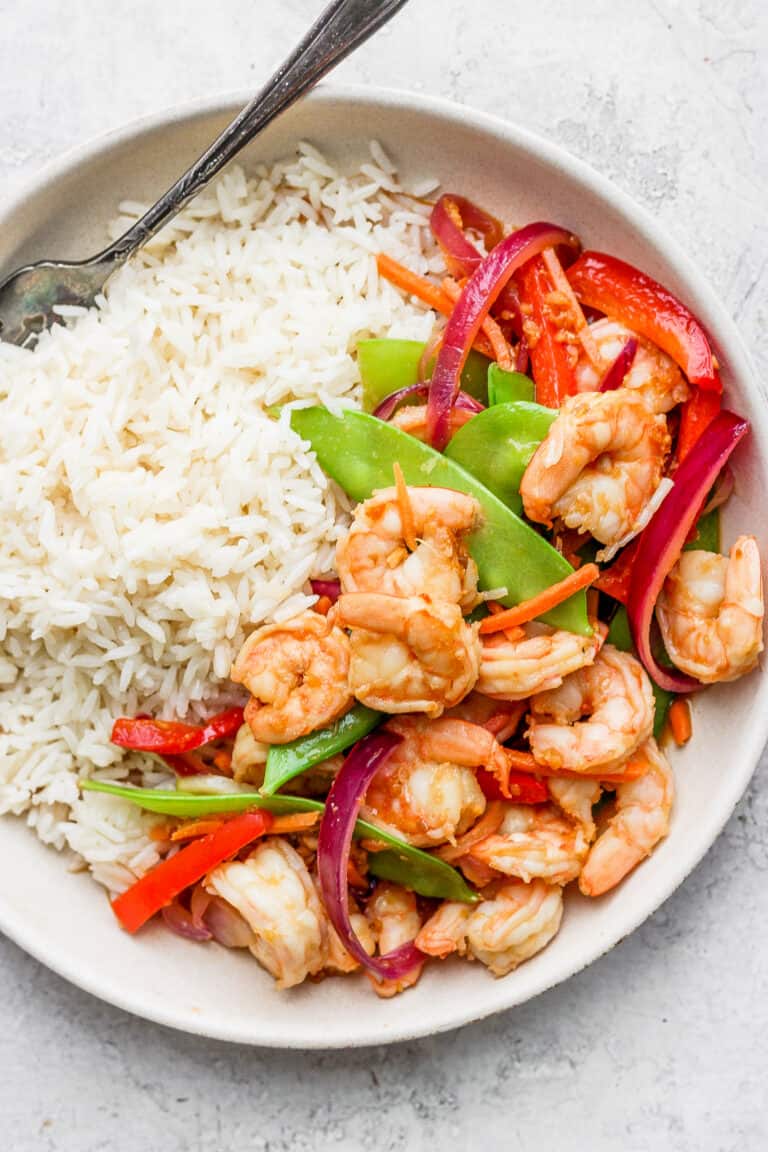 Storage
Let your stir fry cool completely. Then, transfer it into an airtight container and refrigerate for up to 3 days.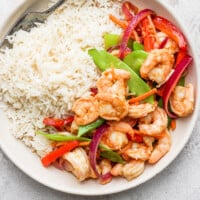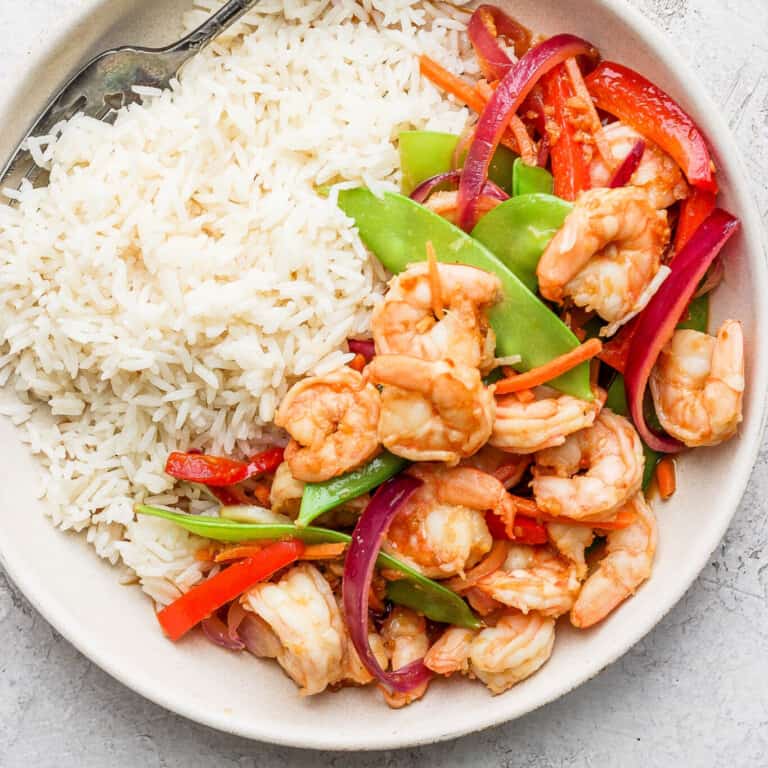 Easy Shrimp Stir Fry
This delicious shrimp stir fry recipe is made with homemade stir fry sauce, juicy shrimp, and tons of veggies for a balanced meal!
Ingredients
Stir Fry
1

tablespoon

olive oil

½

tablespoon

sesame oil

1

large red bell pepper

sliced into strips

½

medium red onion

sliced into strips

6

oz.

snow peas

1

cup

matchstick carrots

2

large garlic cloves

sliced

1

lb.

raw large/jumbo shrimp

deveined and tails removed
Instructions
Place all of the ingredients for the stir fry sauce into a mason jar and cover. 

Shake the mason jar until the corn starch dissolves and all the ingredients are combined. Set aside. 

Heat a large skillet with tall sides or a wok over medium/high heat. Add the olive oil and sesame oil to the pan. 

When the oil is fragrant, add the bell pepper, red onion, snow peas, and carrots to the pan. Sauté the vegetables for 2-3 minutes constantly stirring the vegetables the whole time. 

Next, add the garlic slices and shrimp to the pan and stir the shrimp and garlic in with the vegetables and cook over medium/high heat for an additional 1 minute (don't forget to keep stirring the ingredients around while they cook). 

Finally, shake up the stir fry sauce one last time to be sure the corn starch hasn't settled at the bottom. 

Pour the stirfry sauce over the vegetables and shrimp. Stir everything together so they are coated in stir fry sauce.

Let the vegetables cook in the stir fry sauce for an additional 2 minutes to thicken the sauce.

Remove from heat and serve over rice. 
Tips & Notes
This is a savory stir fry sauce. If you like a sweeter stir fry sauce, feel free to add 1-2 tablespoons of your favorite sweetener such as maple syrup or brown sugar.
Nutrition facts
Calories:
223
kcal
Carbohydrates:
14
g
Protein:
28
g
Fat:
6
g
Fiber:
3
g
Sugar:
6
g
Photography: photos taken in this post are by Erin from The Wooden Skillet.