This lighter-fare Chicken Pot Pie Casserole is jam-packed with veggies, chicken and that amazing creamy pop pie flavor!
We're sharing tons of easy swaps to make this creamy chicken pot pie casserole recipe gluten-free and how to add more veggies to make it even heartier!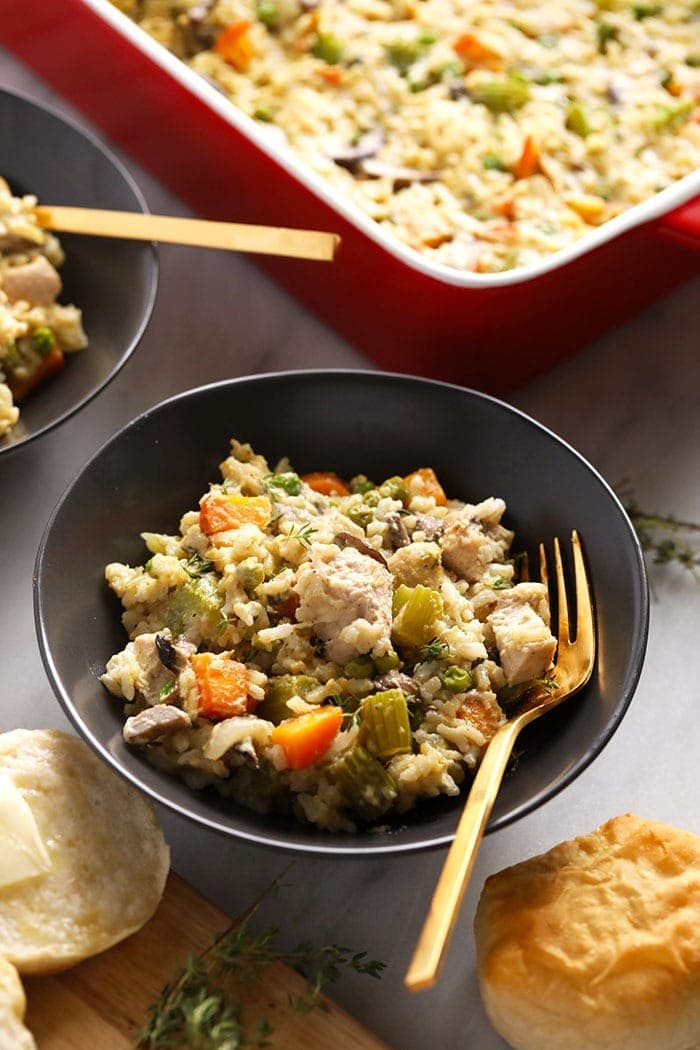 What is Chicken Pot Pie Casserole?
Chicken pot pie casserole is just like classic chicken pot pie made with chicken, carrots, celery, peas, mushrooms, and a creamy sauce, but made in a giant casserole dish with a rice base instead of biscuits.
The reason we love this recipe so much is that it's actually easier to make than classic pot pie which is classically made with a homemade biscuit topping of some sort.
why you'll love this casserole
Meal prep: this pot pie will either feed a crowd or stock you up for a few days of lunch and dinner.
Serve a crowd: looking to serve your whole family? This recipe is just perfect for that because It serves 6-8 and is as hearty as can be.
Balanced meal: get your protein, veggies, and grains all in one dish!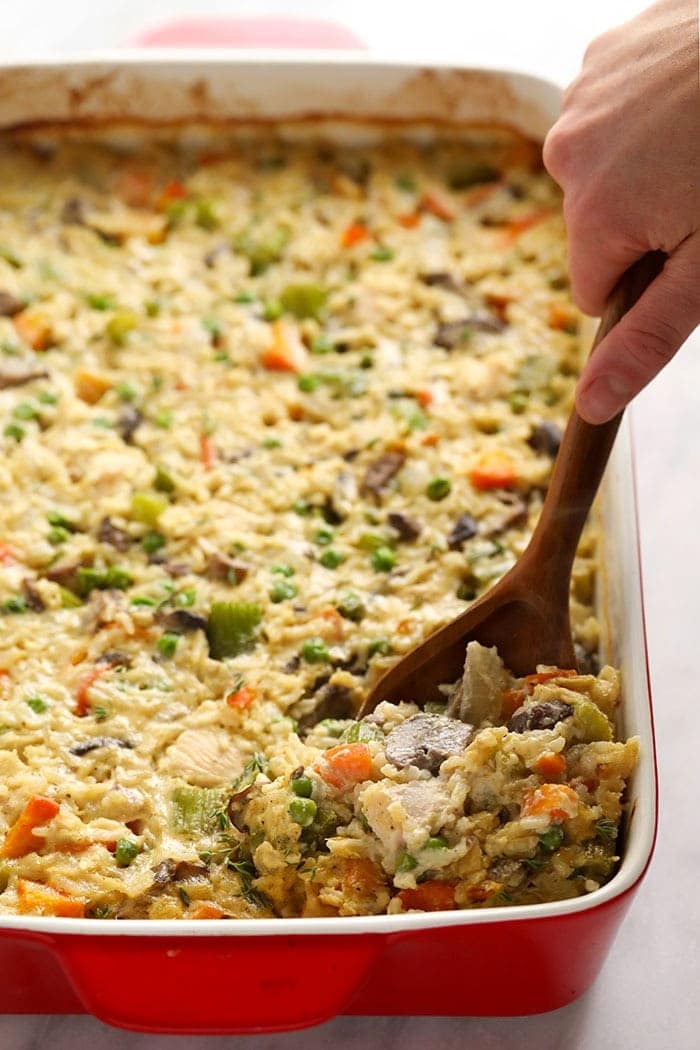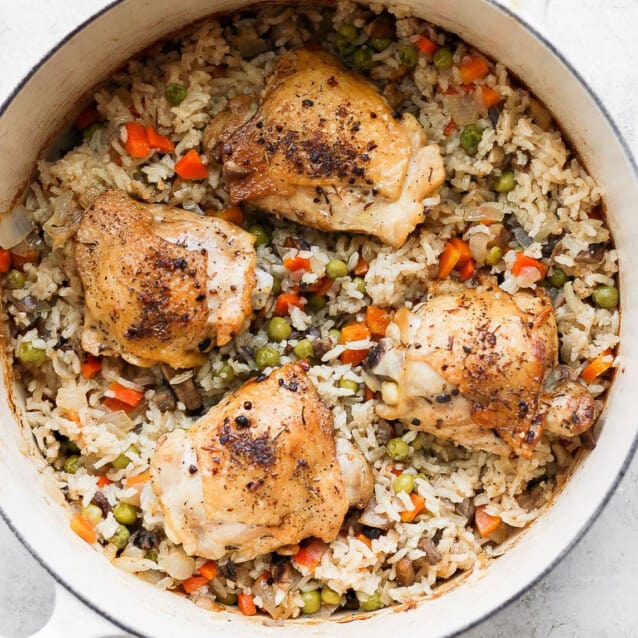 Become a Pro at Cooking Chicken!
We'll teach you everything you need to know on how to cook chicken perfectly every time + we'll share our top chicken recipes when you subscribe to our emails today!
What veggies are in this casserole?
If you're hoping to pack in the veggies, you're in luck because this chicken casserole is packed full of them!
carrot
celery
peas
onion
mushrooms
What about the biscuit?
Just because this recipe doesn't call for biscuits, doesn't mean you can't serve them with it! We decided to omit the biscuit and replace it with a grain — either white or brown rice for a truer casserole vibe.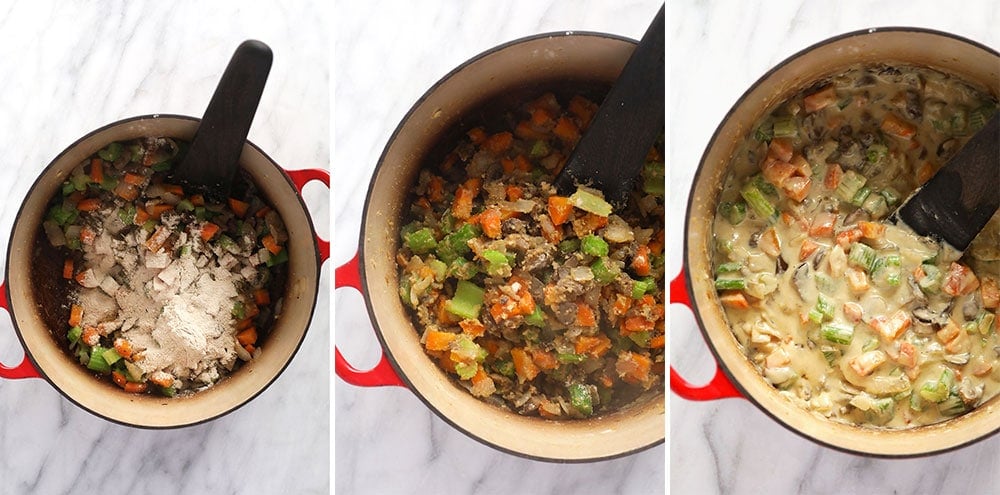 Easy Ingredient Swaps
As you know, we strive to take classic midwestern meals and make them a bit healthier by doing some easy swaps. For instance, in this recipe, we made a homemade roux with white whole wheat flour instead of all-purpose. Amp up the nutrition in this casserole by making any of the following easy swaps:
Extra veggies: the more veggies the better! Try adding more classic pot pie veggies or get creative with other veggies such as:
broccoli

cauliflower
kale
bell pepper
green beans
potato
sweet potato
Brown rice: option to swap the quick-cooking white rice for quick-cooking brown rice. It will work just the same and the liquid ratio does not need to change!
Gluten-free: if you're hoping to keep this gluten-free, just use an all-purpose gluten-free flour in the roux. We've tested it and it works just the same!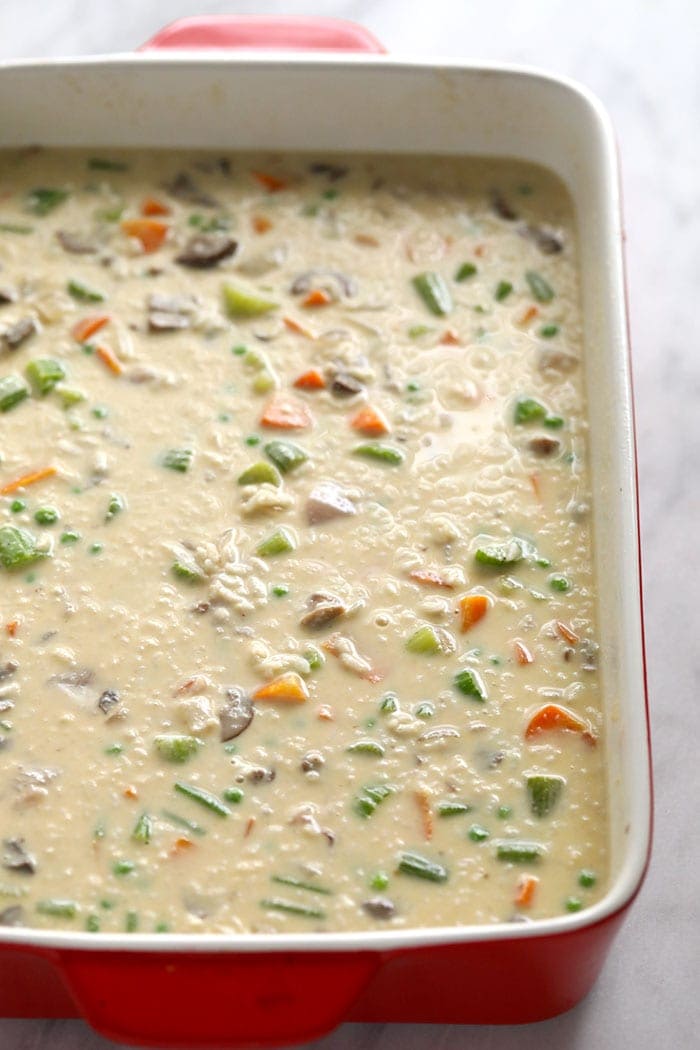 Chicken Pot Pie Casserole Q&A
Can you make this gluten-free?
You can easily make this chicken pot pie casserole gluten-free by swapping the white whole wheat flour in the roux for gluten-free all-purpose flour. We tested this method and it works perfectly!
Can you use a different kind of rice?
The only other kind of rice we recommend using is quick-cooking brown rice. If you use a standard white or brown rice, the liquid ratio will change and we have not tested this method.
Can you freeze chicken pot pie casserole?
We don't recommend freezing this casserole only because it uses dairy and often times when you freeze dairy you risk seizing.
How do you reheat this casserole?
To reheat this casserole you can either microwave a serving on high for around 90 seconds or place a serving or two in a medium pot and reheat on the stovetop.
Can I use cornstarch to thicken?
While you can probably use cornstarch or tapioca starch to thicken this recipe, we recommend sticking with a roux. We have not tested any other thickening method and find that starches leave a weird taste!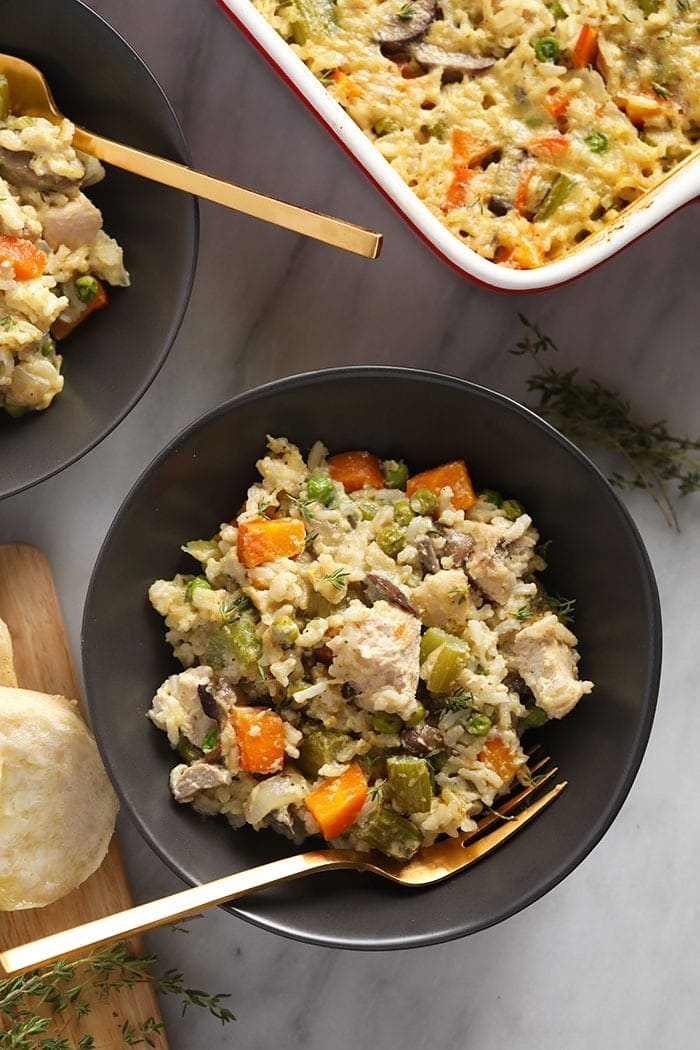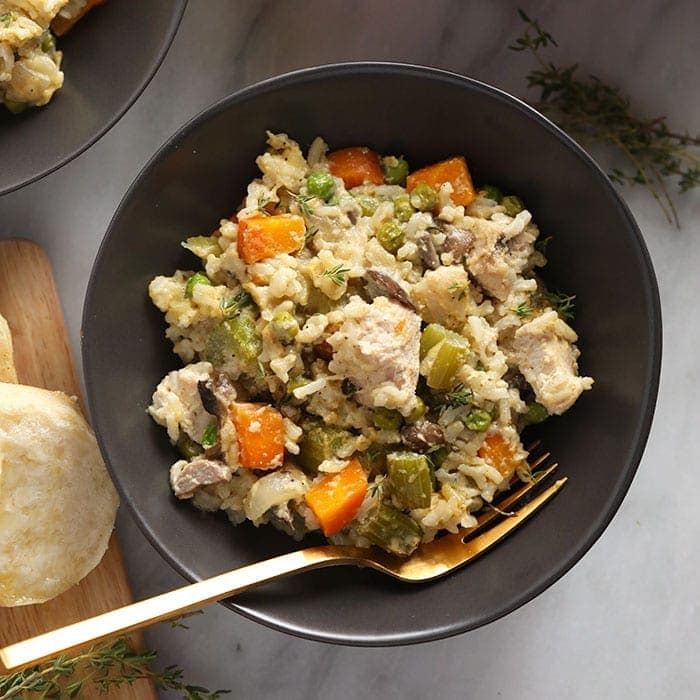 Easy Chicken Pot Pie Casserole
This Creamy Chicken Pot Pie Casserole recipe is jam-packed with veggies, lean chicken, and that amazing creamy pop pie flavor!
Ingredients
2

tablespoons

olive oil

2

tablespoons

butter

8

oz.

crimini mushrooms

chopped (~3 cups)

1

small yellow onion

diced

4

cloves

garlic

smashed and minced

3

medium celery stalks

chopped into 1/2-inch thick pieces

3

medium carrots

chopped into 1/2-inch thick pieces

1

tablespoon

garlic powder

1

tablespoon

onion powder

1/4

cup

white whole wheat flour

1.5

cups

2% milk

any kind of milk

1.5

cups

minute white rice

minute brown rice works too!

1

cups

frozen green peas

1.5

lbs.

boneless skinless chicken breast

cut into 1-inch chunks

3

cups

chicken broth

1/8

teaspoon

black pepper

+ more for serving

1/4

teaspoon

salt

or more to taste
Instructions
Preheat the oven to 375ºF and spray a 9x13-inch casserole dish with non-stick cooking spray.

Then, heat a large dutch oven over medium/high heat. Add olive oil and butter.

When olive oil and butter are fragrant add the mushrooms to the dutch oven to give them time to cook down before adding the other vegetables. Saute mushrooms for 3-4 minutes.

Add onion, garlic, celery, carrots, garlic powder, and onion powder to the dutch oven and cook for an additional 3-4 minutes.

Next, make the roux. Sprinkle flour over the vegetables and use a wooden spoon to mix the flour with all of the vegetables until the flour absorbs all of the excess liquid in the pot. It should form a brown paste on the vegetables.

Turn heat to medium and slowly add the milk to the pot, stirring constantly until milk thickens. Remove from heat and set aside.

Add minute rice, frozen peas, and diced chicken to the greased casserole dish and mix.

Then, add the contents of the dutch oven to the casserole dish and mix again.

Add the chicken broth, black pepper, and salt to the casserole dish and mix until everything is combined.

Cover the casserole dish with tin foil and place in the oven. Bake at 375ºF for 30 minutes.

At 30 minutes, remove the tin foil and bake for an additional 20-25 minutes or until all of the liquid is absorbed.

Remove casserole dish from the oven and let sit for at least 10 minutes to fully thicken.

Serve with a biscuit and freshly ground black pepper and enjoy!
Nutrition facts
Calories:
307
kcal
Carbohydrates:
30
g
Protein:
26
g
Fat:
9
g
Fiber:
3
g
Sugar:
5
g