This post is sponsored by Gold'n Plump Chicken. I was compensated, but, as always, all opinions are 100% my own!
This healthy chicken burrito bowl casserole is made with sponsor, Gold'n Plump Ground Chicken, beans, rice, Mexican spices, and all the topping for a delicious one-pot dinner the entire family will enjoy!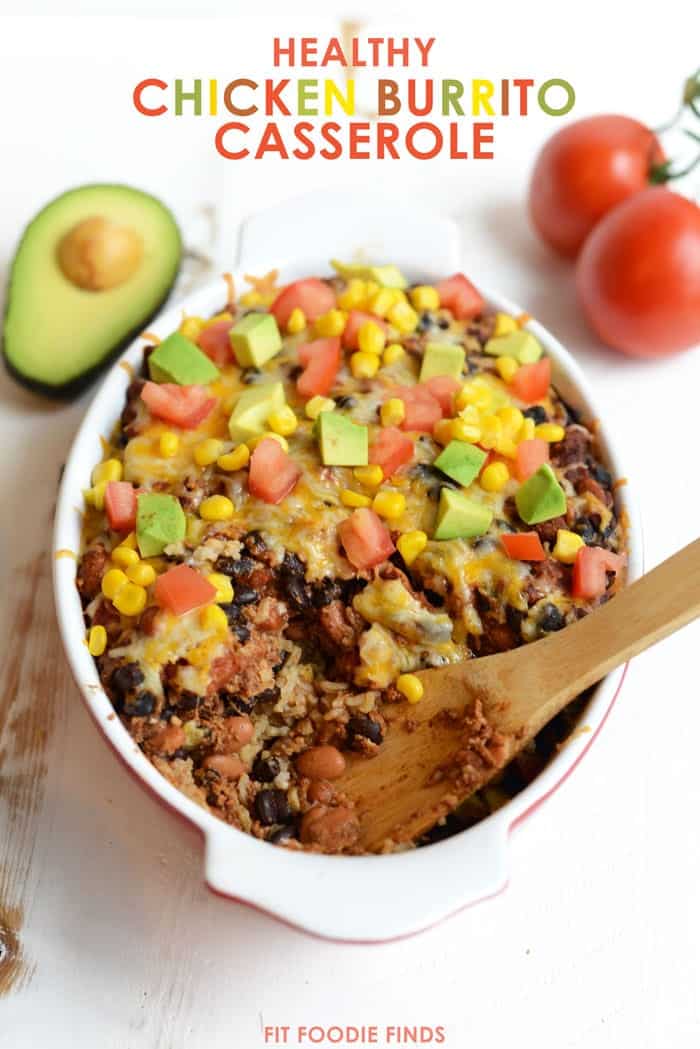 While I am sad that summer is over and fall is in full swing…I am definitely glad that one-pot meals are back in my life. For some reason, I don't make them during the warmer months, but totally crave them in the colder months. I've made at least one a week since late August.
Raise your hand if you LOVE Chipotle and their burrito bowls?
You are in luck because this is a homemade, EASY version of just that! All the nummy burrito bowl flavors jam-packed into one casserole. Best part is, you just mix everything together, throw it in your casserole dish and call it a go. This recipe features Gold'n Plump Lean Ground Chicken, which can be found in your local grocer's fresh meat or freezer section, packaged in a tray or in round chub package, like my photo. I prefer using ground chicken over chicken breasts because it cooks much more evenly.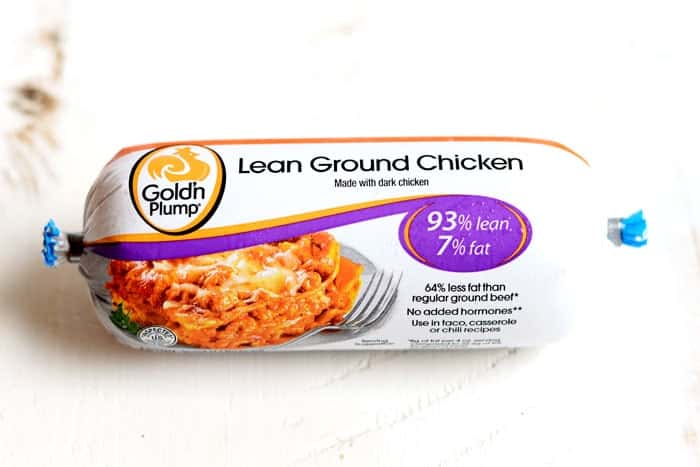 I used a mixture of pinto and black beans…because that's usually what I do when ordering a bowl.
On the bottom of the casserole dish is rice. I used quick cooking white rice, but I am sure it would work with quick cooking brown rice as well. *Note: I have not tried this with regular white/brown rice, only the quick cooking kind!
On top of the rice is a mixture of beans, ground chicken, and lots of spices!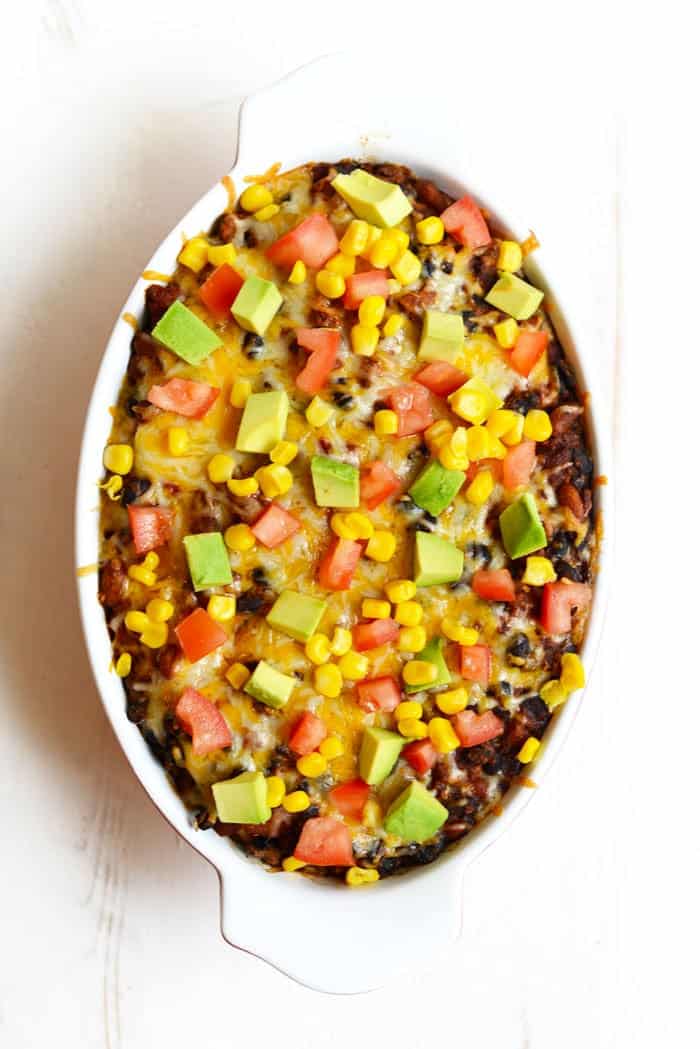 For toppings, I went with the classics: fresh diced tomatoes, avocado, and some corn kernels. As clean as you can get! A delicious pico de gallo would have been heavenly and/or homemade guacamole.
I am a huge fan of ground chicken because it's so lean! There's less fat than beef and TONS of protein. It's easy to cook/bake with and SO versatile. I literally had like 14 ideas for this recipe post and narrowed it down to a casserole :D
The best part about this whole dish is that you can prep it in the morning, and when you get home from work just pop it right into the oven. If you've got burrito lovers (tortilla included) in your house…wrap up some of the casserole in a tortilla and you can make everyone happy!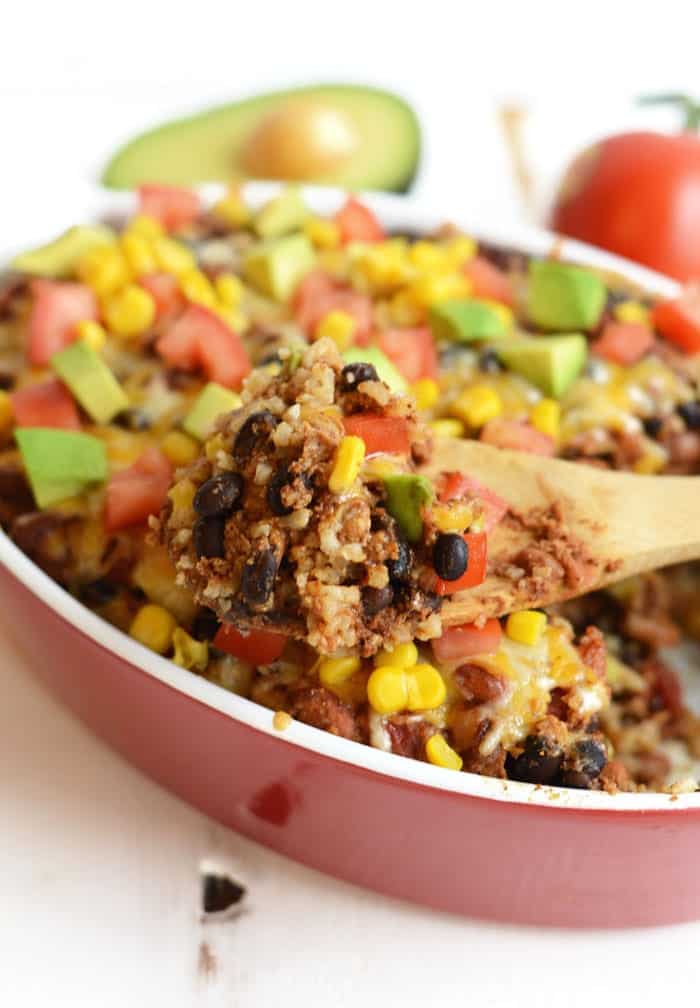 Recipe
Healthy Chicken Burrito Bowl Casserole
Prep Time:

10 mins

Cook Time:

55 mins

Total Time:

1 hour 5 minutes
Ingredients
1

pound Gold'n Plump Ground Chicken

1.5 cup

s quick cooking white (or brown rice) rice

1 cup

water or chicken broth

1

15 oz. can diced tomatoes

1

15 oz canpinto beans, rinsed

1

15 oz can black beans, rinsed

2 tablespoon

s jalapeños, diced

1 tablespoon

minced garlic

2 tablespoon

s chili powder

1 teaspoon

cumin

1 teaspoon

paprika
salt and pepper, to taste
~3/4 cup shredded cheese (I used colby jack)
Toppings: avocado, diced tomato, corn, more cheese, etc.
Instructions
First, preheat oven to 350ºF. Then, spray a large casserole dish with nonstick cooking spray. On the bottom of your dish, pour in 1.5 cups of quick cooking rice and 1 cup of water. Set aside.
Next, in a large bowl, mix together diced tomatoes (keep liquid), pinto beans, black beans, jalapeño, minced garlic, and all of the spices. Then, add in ground chicken (uncooked), and mix again. Pour on top of rice and spread evenly. Cover casserole dish with tin foil.
Bake the casserole for 40 minutes at 350ºF. Then sprinkle on cheese, increase heat to 375ºF and bake for an additional 15 minutes.
Top with more cheese, avocado, diced tomato, salsa, guac (options are endless!).
Nutrition
Calories:

417

Sugar:

2

Fat:

12

Carbohydrates:

44

Fiber:

12

Protein:

35
Similar