This Healthy Chicken Burrito Bowl Casserole is made with chicken breasts, peppers, beans, rice, Mexican spices, and all the toppings you love for a delicious one pot dinner the entire family will enjoy!
Can't get enough of our delicious chicken casserole recipes? Check out this easy orange chicken casserole or this easy southwestern chicken casserole!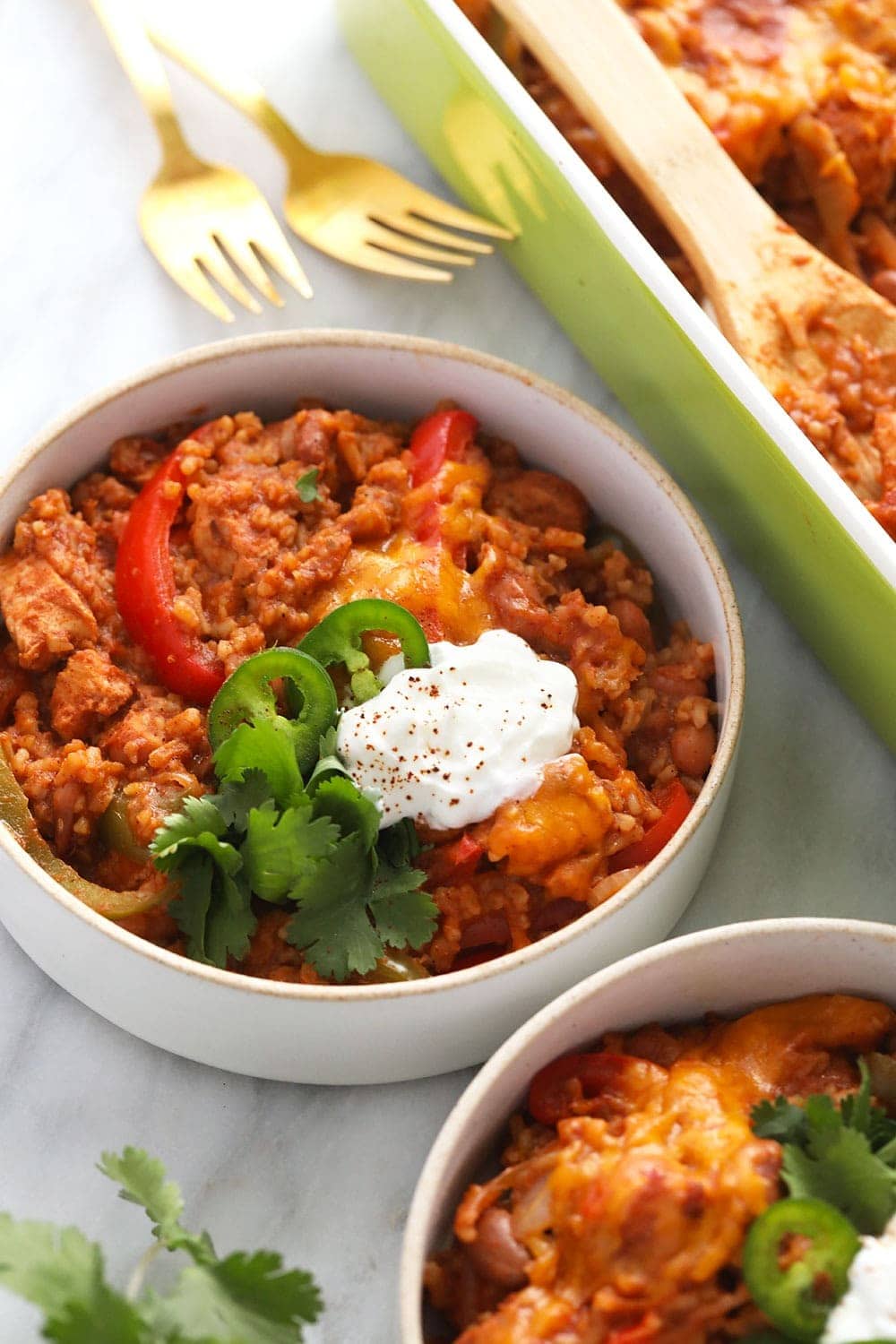 One Pot Meals = Weeknight Meal Success!
Once winter comes around, I am always gravitating toward one-pot meals — especially hearty and healthy one pot meals. For some reason, I don't make them during the warmer months, but totally crave them in the colder months. I've made at least one a week since late August. Anyone else?!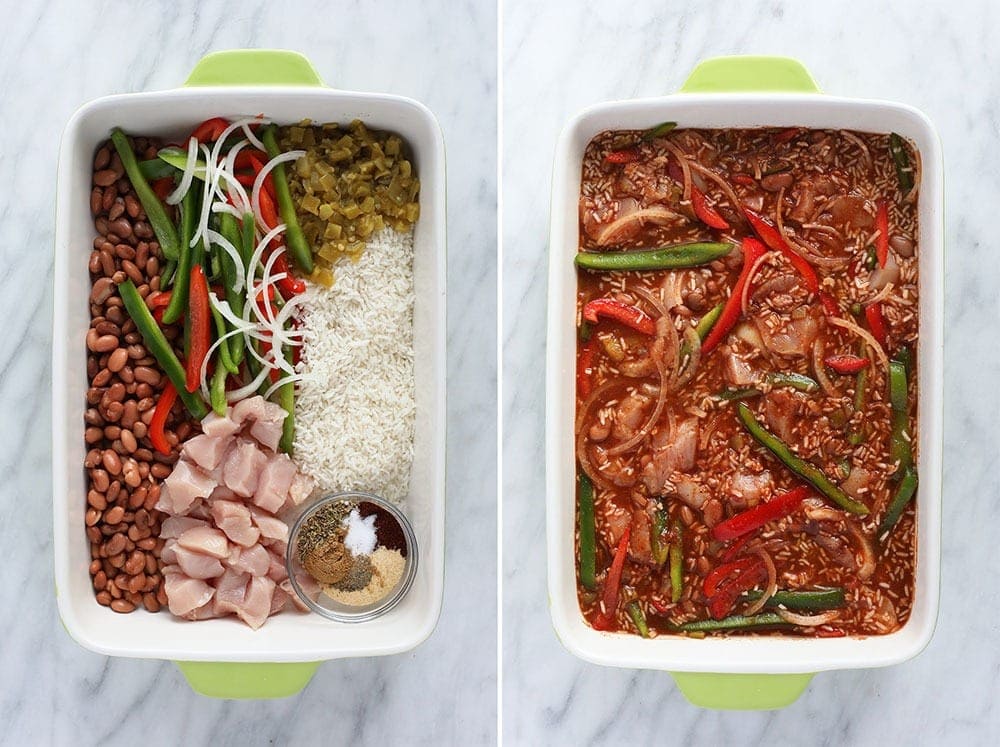 Burrito Bowl Lovers
And if you're a big fan of ordering burrito bowls at Mexican restaurants like we are, you are in luck because this is a homemade, EASY version of just that! All the nummy burrito bowl flavors jam-packed into one casserole. Best part is, you just mix everything together, throw it in your casserole dish, plop it in the oven, and GOOOO.
The best part about this whole dish is that you can prep it in the morning, and when you get home from work just pop it right into the oven. Meal prep made easy, my friends.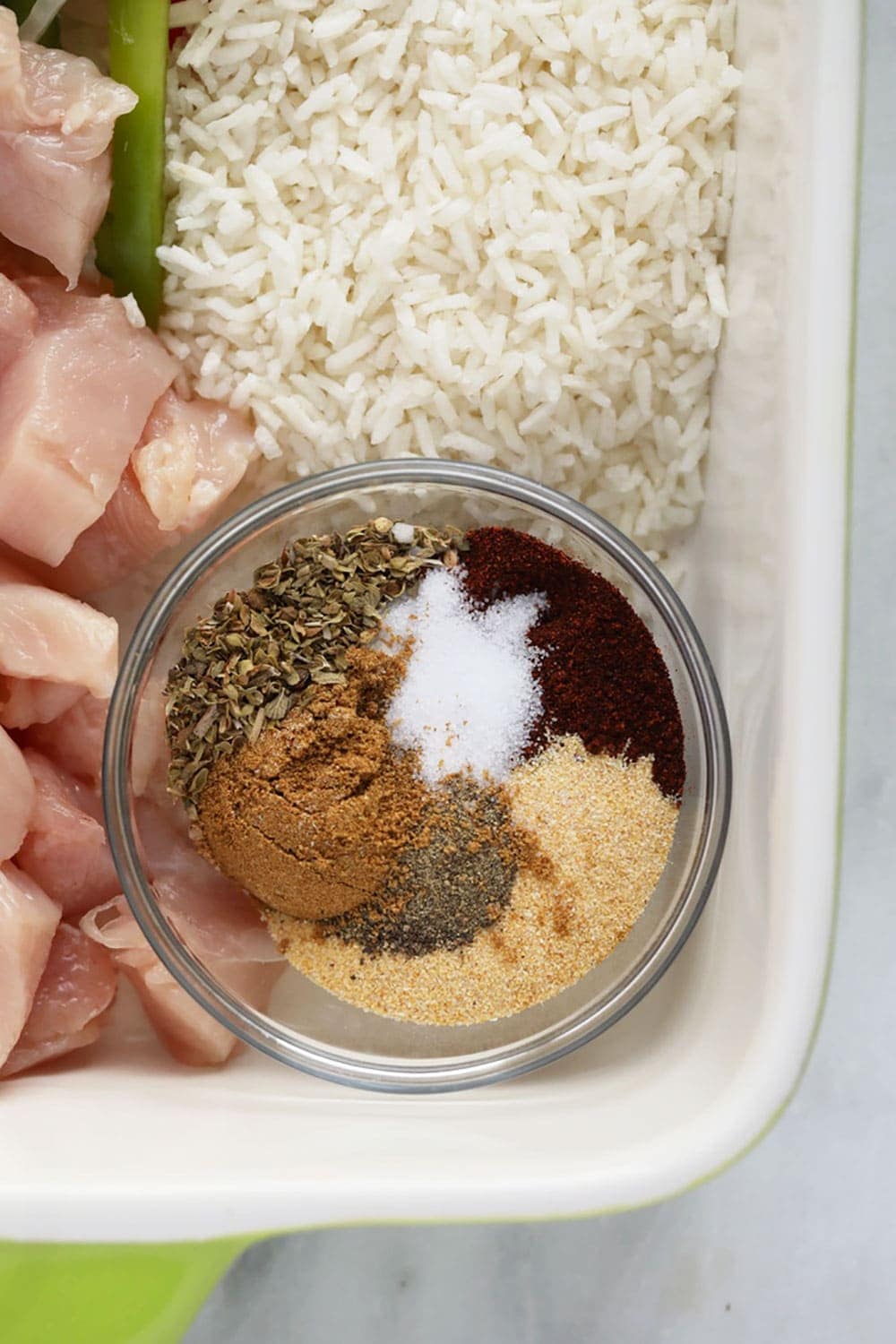 Quick Cooking Rice
We use Minute rice in many of our recipes because we LOVE how evenly and quickly it cooks — especially in casseroles. This chicken burrito bowl casserole calls for quick cooking white rice, but quick cooking brown rice will absolutely work too if you prefer that! Minute rice while cooked in a casserole like this provides for the exact same cook time as the chicken, meaning nothing is over or undercooked — booya.
Pro Tip: We DO NOT recommend making this casserole with traditional white or brown rice, as it will significantly impact the cook time and the ability to cook everything evenly.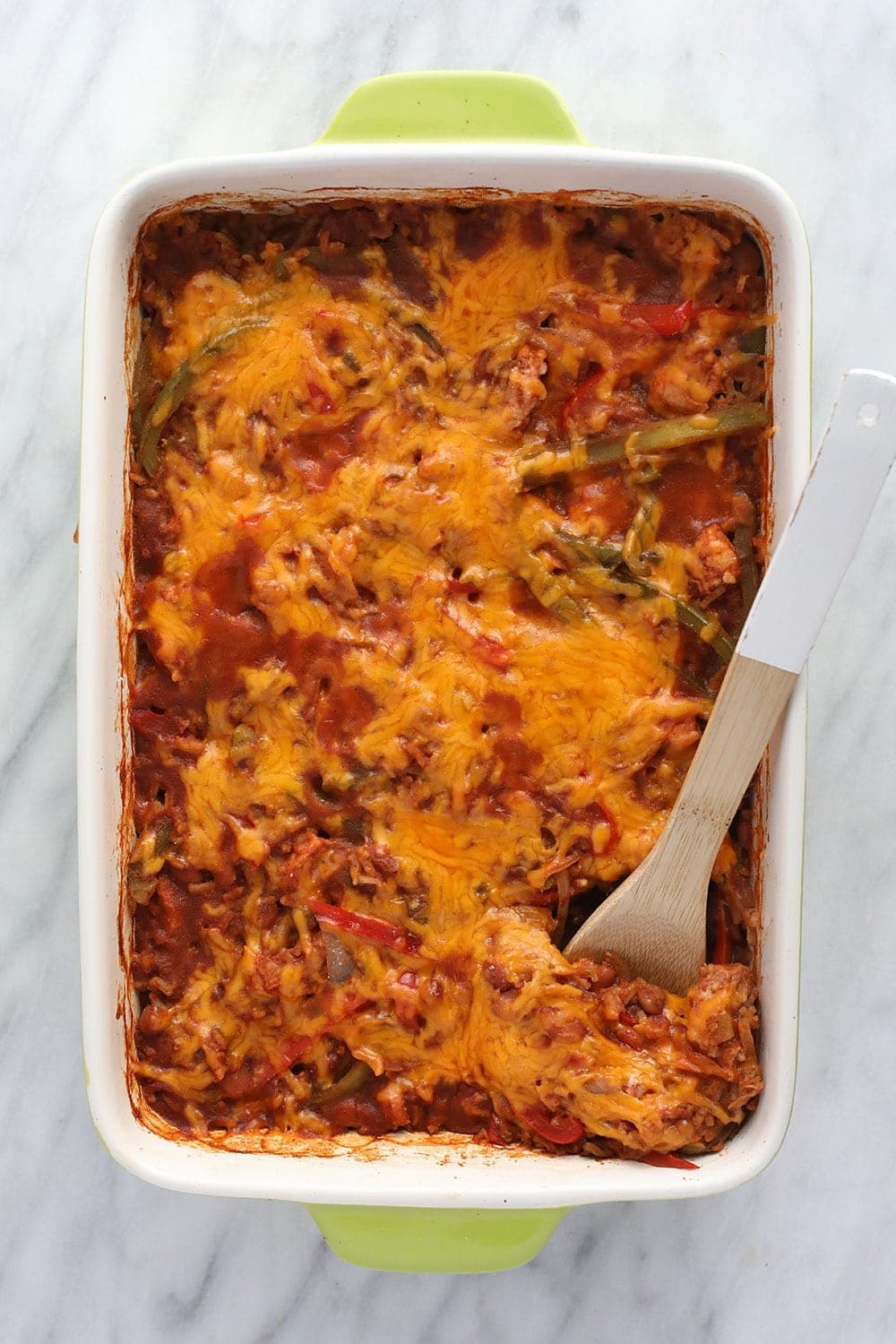 Serving Ideas
Do you have some burrito bowl lovers in your house, and some who would prefer to wrap this deliciousness right up into a tortilla to make a proper burrito?! We got you. This recipe is 100% amazing served in a bowl, but can be jazzed up and wrapped in a tortilla as well.
Need some inspiration for other vessels to get these burrito bowls right into your tummy? Look no further:
Wrapped in a tortilla
With tortilla chips as a dip
Topped with lettuce as a salad
Topped with a dollop of sour cream or Greek yogurt
Topped with thinly sliced jalapeños for an extra kick
Simply enjoyed with a fork!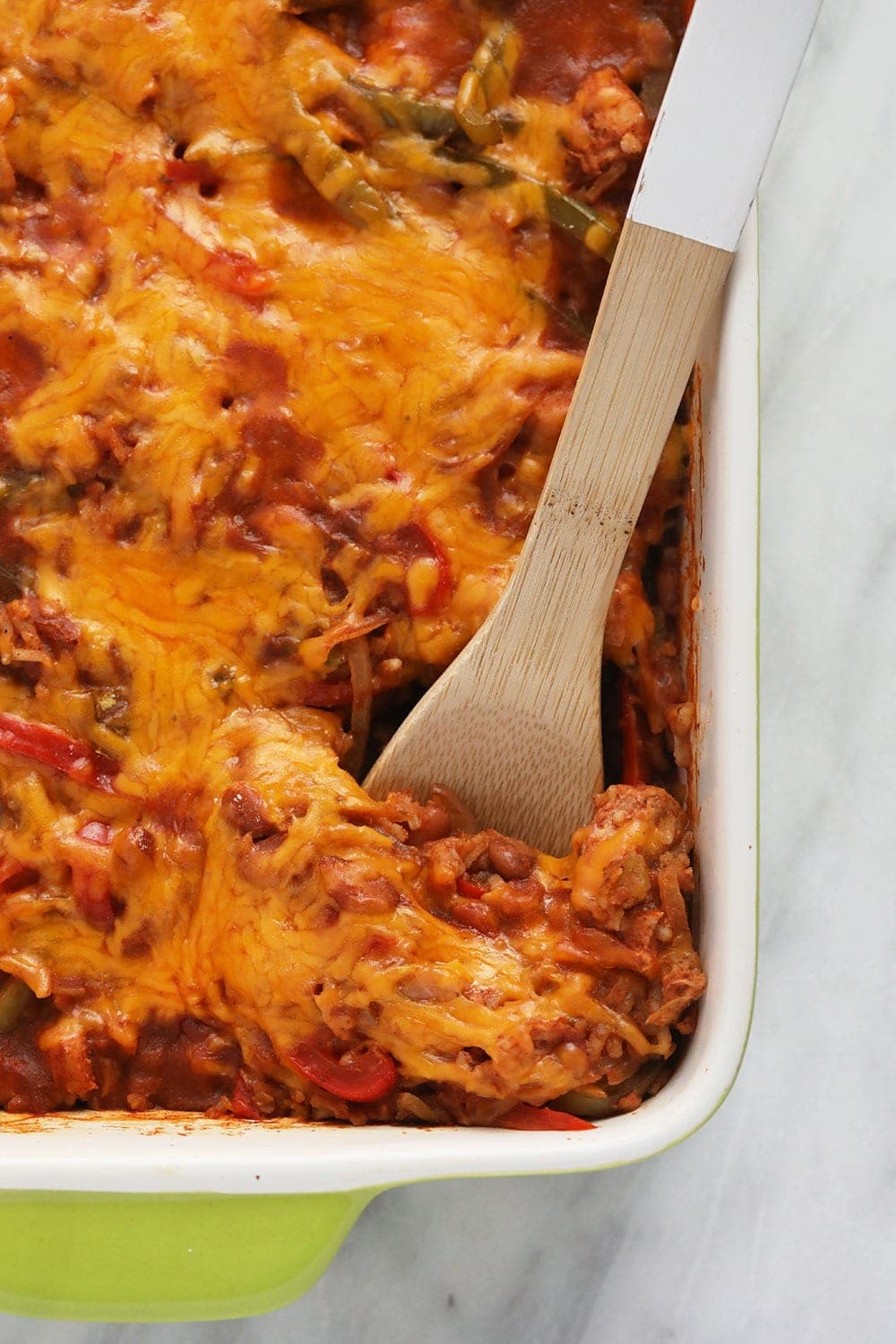 How to Store Burrito Bowls
This casserole will keep in an air-tight container in the fridge for 3-5 days, making it a great meal prep dinner for the week! It's also super easy to reheat either at home, or at work in a microwave.
Can you freeze this casserole? Yes! Let the casserole cool completely before covering with a piece of tin foil. Remove as much air as possible and then seal with additional tin foil or place inside a large freezer-safe bag. Place in the freezer for up to 3 months. Pro tip: If you're planning to freeze this casserole, wait to add the shredded cheese until after thawing as melted cheese can change to an undesired consistency when frozen.
To Reheat
Microwave: Place a serving in a microwave-safe bowl and microwave on high for 1.5 – 2 minutes, or until warm to your liking all the way through.
Stove Top: Transfer casserole into a nonstick pan. Sauté over medium/high heat for 3-5 minutes or until at desired temperature.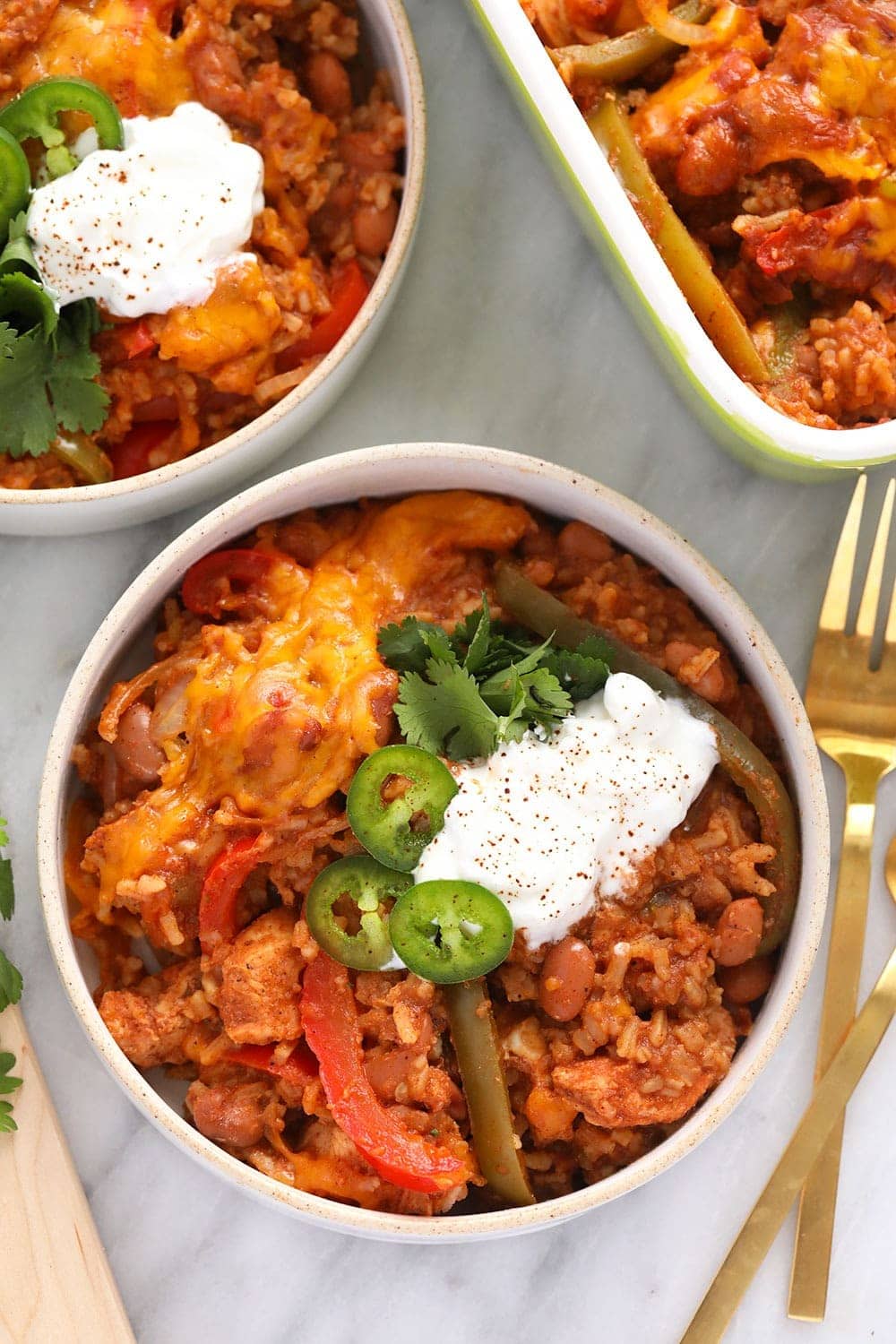 More Healthy Casseroles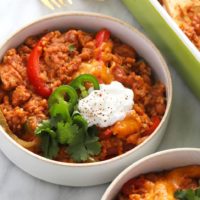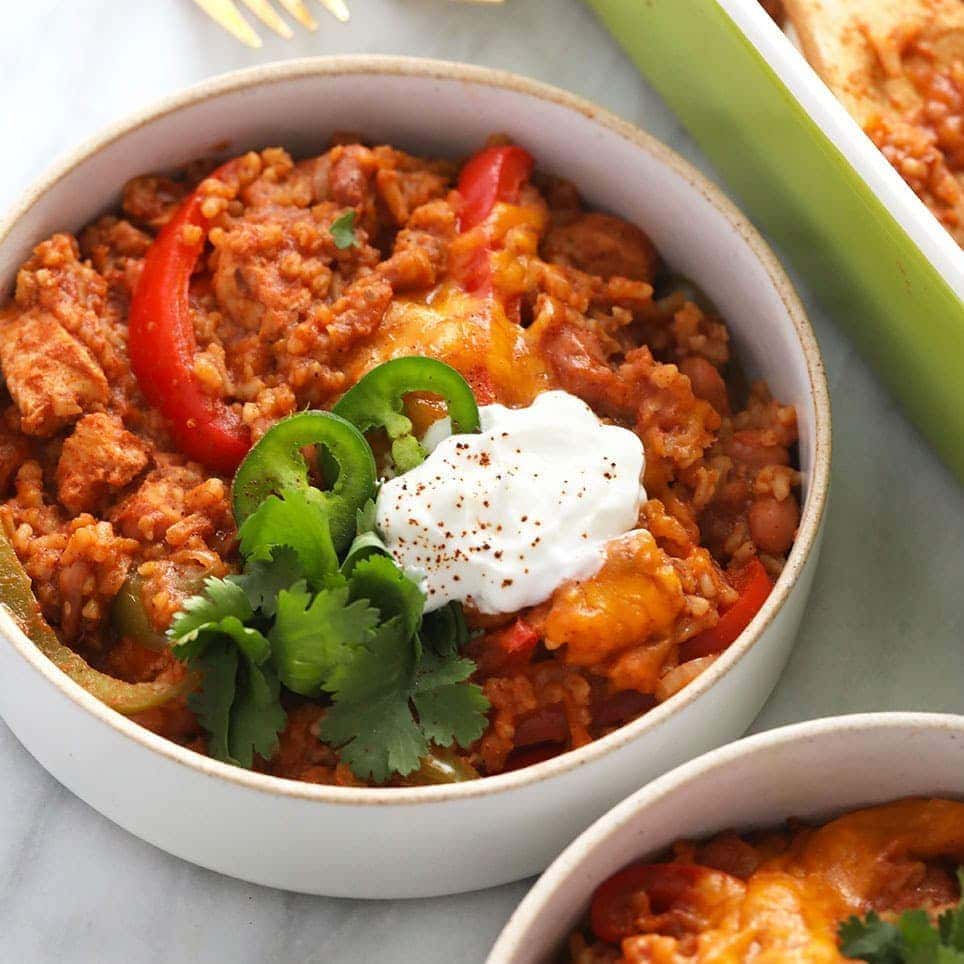 Chicken Burrito Bowl Casserole
This Healthy Chicken Burrito Bowl Casserole is made with chicken breasts, peppers, beans, rice, Mexican spices, and all the toppings you love for a delicious one pot dinner the entire family will enjoy!
Instructions
Preheat oven to 375°F and spray a large casserole dish with nonstick cooking spray.

Add all of the ingredients (minus the shredded cheese) into the casserole dish and mix together with a wooden spoon making sure that everything is well mixed and submerged in liquid.

Then, cover with aluminum foil and bake at 375ºF for 45 minutes.

Uncover and give the casserole a stir. Then, top with shredded cheese. Bake, uncovered, for an additional 5 minutes.

Once fully cooked, let rest for 10 minutes before serving. Top with Greek yogurt, more shredded cheese, salsa, and green onions.
Tips & Notes
This recipe was slightly updated on February 6, 2020. Get the original recipe HERE.
Nutrition facts
Calories:
305
kcal
Carbohydrates:
36
g
Protein:
31
g
Fat:
5
g
Fiber:
6
g
Sugar:
6
g