Beef and Broccoli Casserole >> a one-pot wonder that the entire family will love (even the kids)!
This delicious beef casserole recipe is made with flank steak, tons of veggies, and a homemade Asian brown sauce that is savory and a little bit sweet.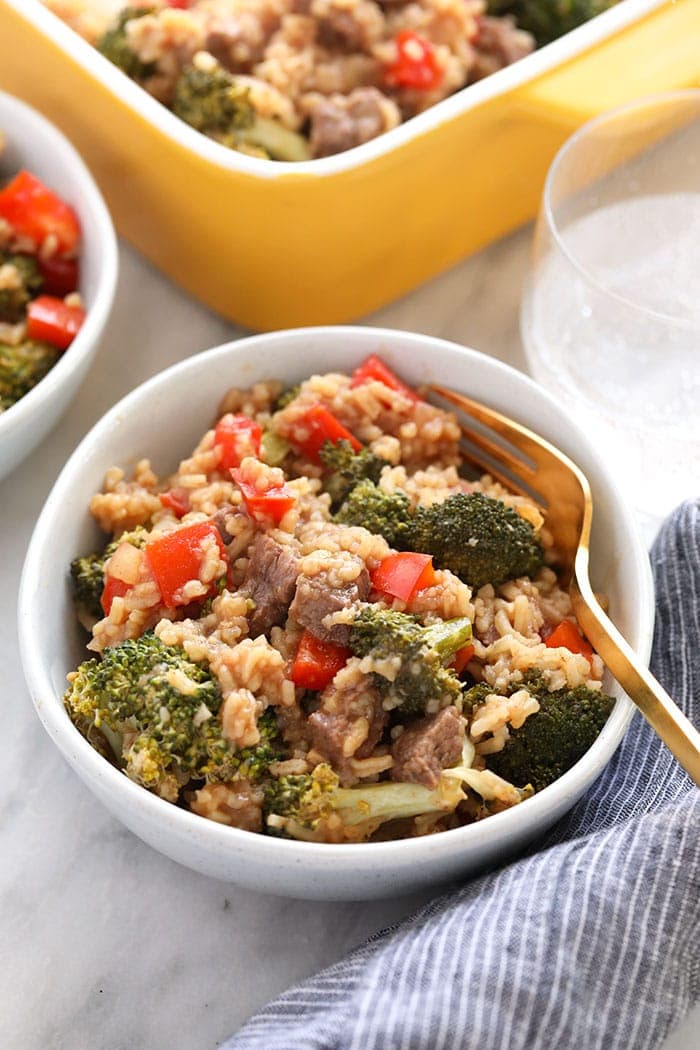 Make this Casserole if you love…
Meal Prep: This recipe makes 6 servings an is an excellent meal prep recipe. Pop your leftovers in a glass meal-prep container and you're good to go for a few days!
Beef and Broccoli: If you love classic Beef and Broccoli then you are going to love this easy variation. Same flavors, just easier to make!
Easy Dinner: There is no stir-frying needed to whip up this classic stir fry recipe! Put everything into a casserole dish completely raw, bake it, and you've got dinner ready in less than an hour.
Balanced Meal: Not only do you get 24g protein per serving, but you also get tons of veggies and grain too! Want to amp it up even more? Use minute brown rice instead of white to get a whole grain.
Why Tenderize?
Flank steak almost always needs to be tenderized in order to make it enjoyable to chew and digest. We tested this casserole both with and without tenderizing and it was so much better after pounding the meat to 1/2-inch.
We suggest placing your flank steak in between two pieces of parchment paper and using a meat tenderizer to pound the meat out until it's around 1/2-inch thick.
Quick tip: don't be gentle. You need to use a little elbow grease in order to tenderize!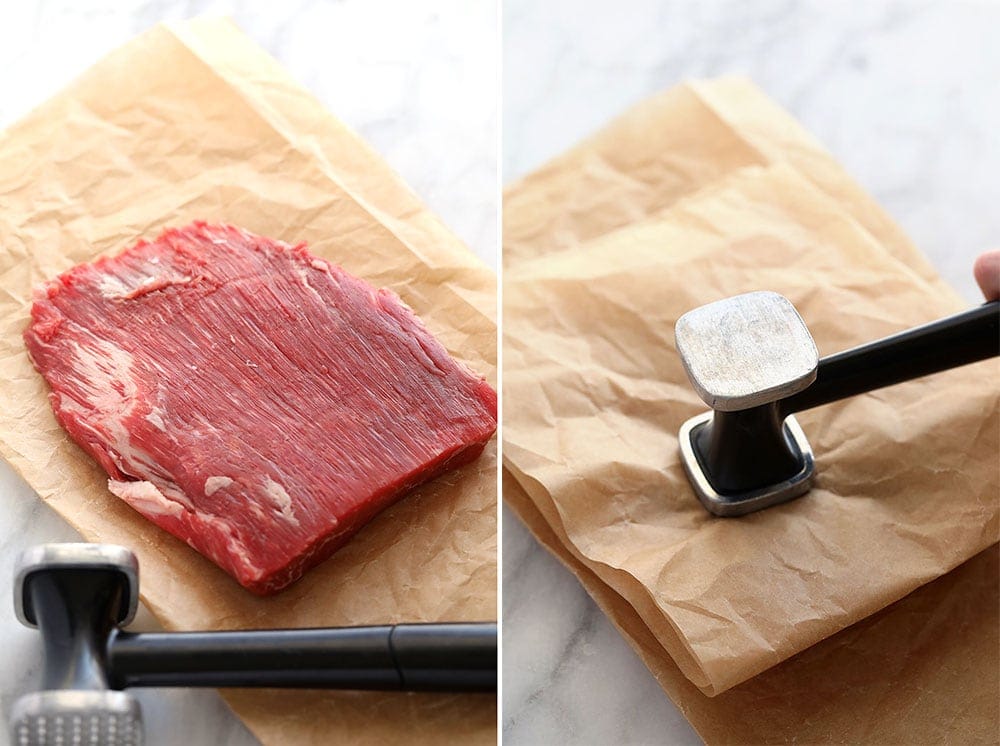 All About the Veggies
We took a vote on Instagram and surprisingly, you guys were all about adding other veggies to this casserole in addition to JUST broccoli. So, we took your advice and did just that!
Broccoli: Cut your broccoli into small florets so that they are easy to eat!
Onion: Any color onion will work for this, just make sure you finely dice it so it cooks properly.
Red Pepper: Red pepper adds a pop of color. Any kind of bell pepper works, so use your favorite!
Other veggie suggestions
Wanting to add more or different veggies to this casserole? Here are some suggestions!
cauliflower
pea pods
green beans
green onion
bell pepper
water chestnuts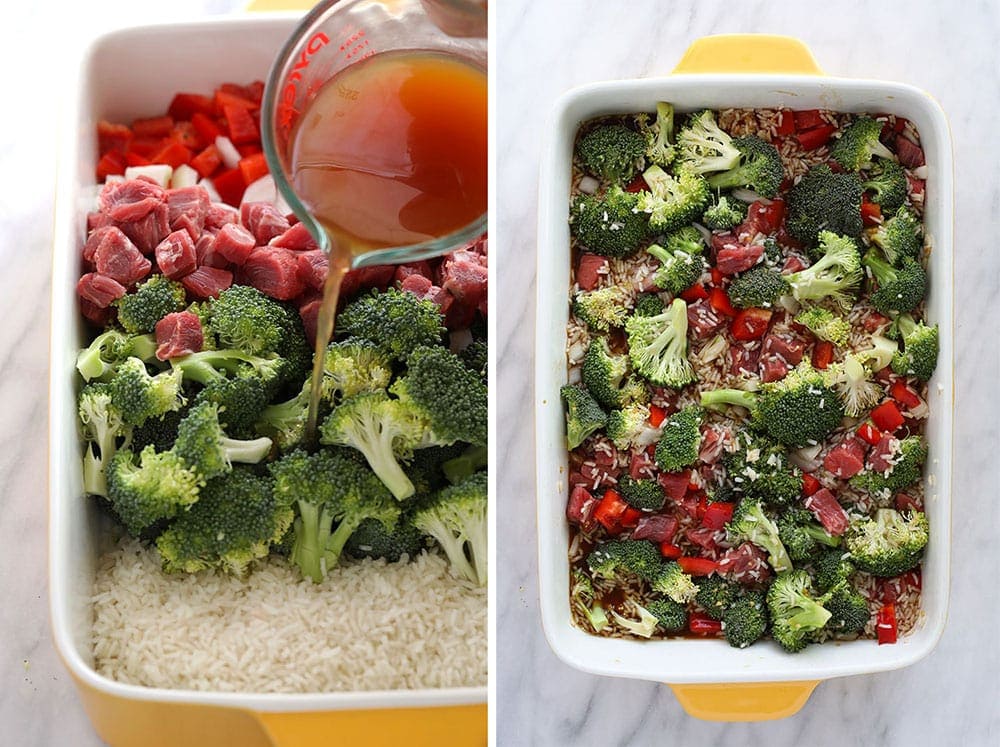 Beef and Broccoli Sauce
Figuring out how to make this beef and broccoli casserole saucy yet not too saucy was a little bit challenging. You don't want to go overboard with the salt, but you also want to make sure there is enough flavor! Good ol' beef broth came in handy for this and the sauce turned out just perfect.
Here's what you need:
soy sauce
hoisin sauce
minced garlic
maple syrup
red chili sauce
beef broth
water
How to Make this Gluten-Free
Soy Sauce >> swap the soy sauce with tamari. Do note that tamari does have a saltier taste than soy sauce, so you may want to balance things out with part water.
Hoisin Sauce >> omit the hoisin sauce and add around 2 more tablespoons of maple syrup. OR- you can use a gluten-free hoisin sauce if you can find one!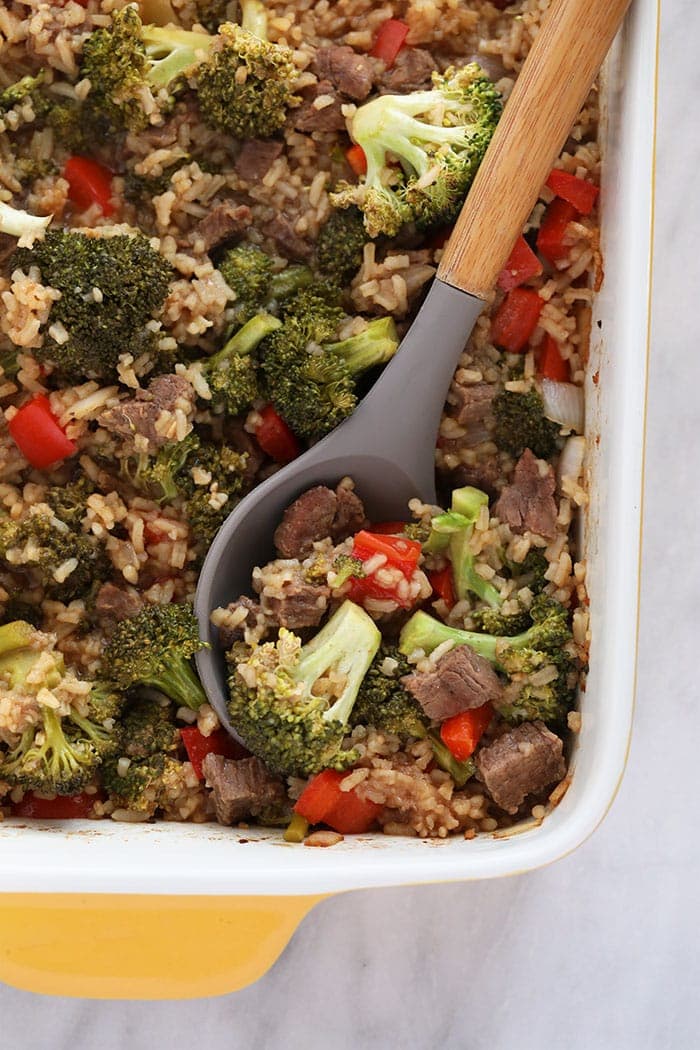 Storage
Store beef and broccoli casserole in an airtight glass container in the refrigerator for up to 5 days.
Can you freeze this casserole? Yes! Let the casserole cool completely before covering with a piece of tin foil. Remove as much air as possible and then seal with tin foil. Place in the freezer for up to 3 months.
How to Reheat
Microwave: Place a serving in a microwave-safe bowl and microwave on high for 1.5 – 2 minutes.
Stove Top: Transfer casserole into a nonstick pan. Saute over medium/high heat for 3-5 minutes or until at desired temperature.
Our Best Stir Fry Recipes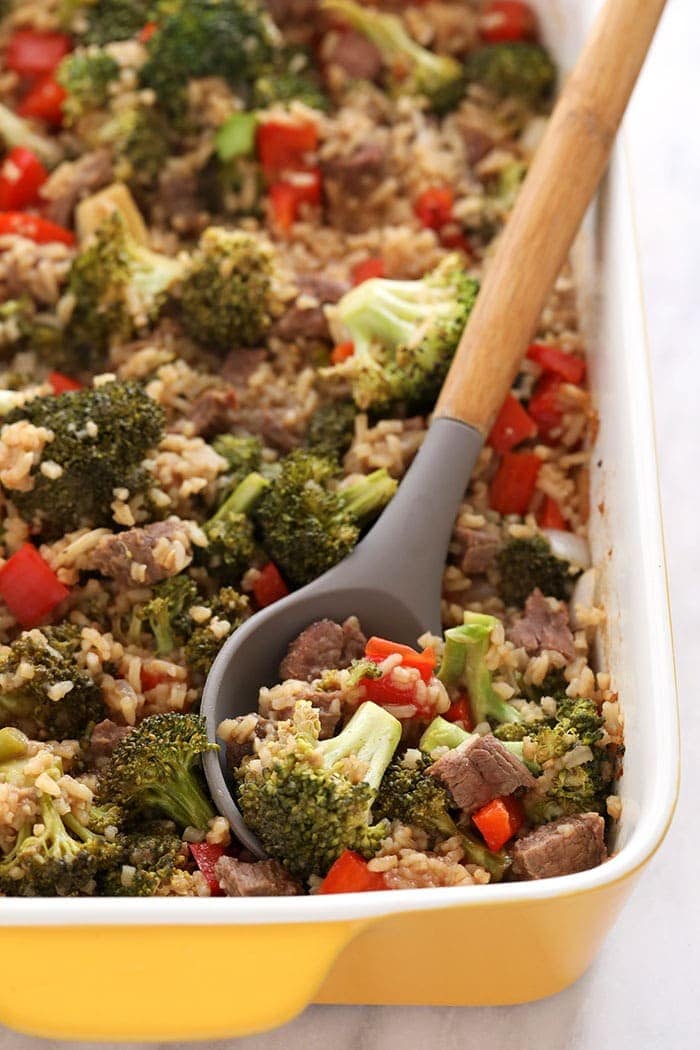 More Beef Casserole Recipes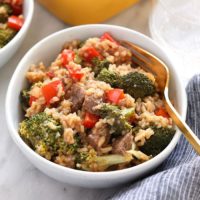 Beef and Broccoli Casserole
Our Beef and Broccoli Casserole is made with flank steak, tons of veggies, and a homemade Asian brown sauce that is savory and a little bit sweet.
Ingredients
2

cups

minute/instant white rice

option to use minute/instant brown rice

2

heads broccoli florets

cut into bite-sized pieces (~6-8 cups florets)

1

large red pepper

finely diced

1/2

medium yellow onion

finely diced

1/3

cup

soy sauce

option to swap tamari

3

tablespoons

hoisin sauce

gluten-free, if desired

1

tablespoon

minced garlic

1

tablespoon

maple syrup

2

teaspoons

red chili sauce

or more if you like it spicy

1.5

cup

beef broth

1

cup

water

1

lb.

flank steak

tenderized and cut into 1/2-inch pieces
Instructions
First, preheat oven to 375ºF and spray a 9-inch x 13-inch casserole dish with nonstick cooking spray.

Then, sprinkle the white rice onto the bottom of the casserole dish.

Next, prepare veggies. Cut broccoli into bite-sized pieces and finely dice a large red pepper and half a yellow onion. Add those to the casserole dish.

Prepare sauce by mixing together soy sauce, hoisin, minced garlic, maple syrup, red chili sauce, beef broth, and water. Set aside.

Prepare flank steak by placing it in between 2 pieces of parchment paper. Then, using a meat tenderizer, tenderize meat until it's around 1/2-inch thick. This will help break down the beef and make it a lot less chewy.

Next, slice the beef into 1/2-inch pieces and add it to the casserole dish.

Pour the sauce over steak, veggies, and rice, and use a large wooden spoon to mix everything together.

Cover casserole dish with a piece of tin foil and bake at 375ºF for 20 minutes.

Remove from oven and mix. Cover again and bake for an additional 15 minutes.

Remove from oven and uncover. Then, bake for an additional 10-15 minutes, uncovered or until the beef is fully cooked and the rice is no longer crunchy.

Let sit for around 5-10 minutes before serving to let the sauce fully soak up.
Nutrition facts
Calories:
325
kcal
Carbohydrates:
44
g
Protein:
24
g
Fat:
6
g
Fiber:
3
g
Sugar:
8
g