This Hamburger Casserole is a better-for-you, homemade Hamburger Helper that is made with NC Sweetpotato puree, warm spices, and ground turkey for a healthy and EASY weeknight dinner.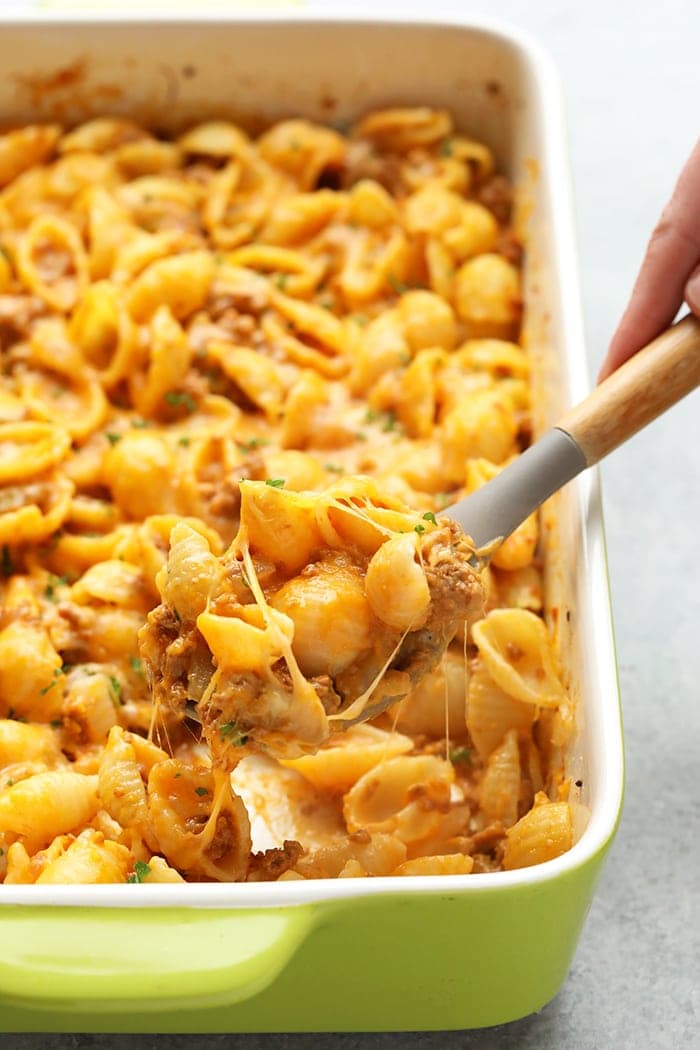 Let's Hear it for Sweet Potatoes!
Raise your hand if you're a big fan of sweet potatoes. Us! Not only are they healthy and nutritious, they're a pantry staple that's easy to find in grocery stores nationwide and can last for up to 2 weeks. What's not to love?
We're super excited to be partnering with our friends over at the North Carolina SweetPotato Commission today to share this easy and delicious hamburger casserole, and the star of this recipe show is, you guessed it: NC SWEETPOTATOES!
Comfort Food Made Healthy
Classic hamburger casserole comes from a box and is essentially noodles and a powdered cheese sauce. Then, you mix in some ground hamburger and call it a meal.
While boxed food has a time and a place (especially right now when we're all doing what we can to limit grocery runs and eat what we have on-hand at home!), we're here to help you recreate hamburger casserole in your own home, while making it healthier at the same time! AKA healthy comfort food comin' atcha.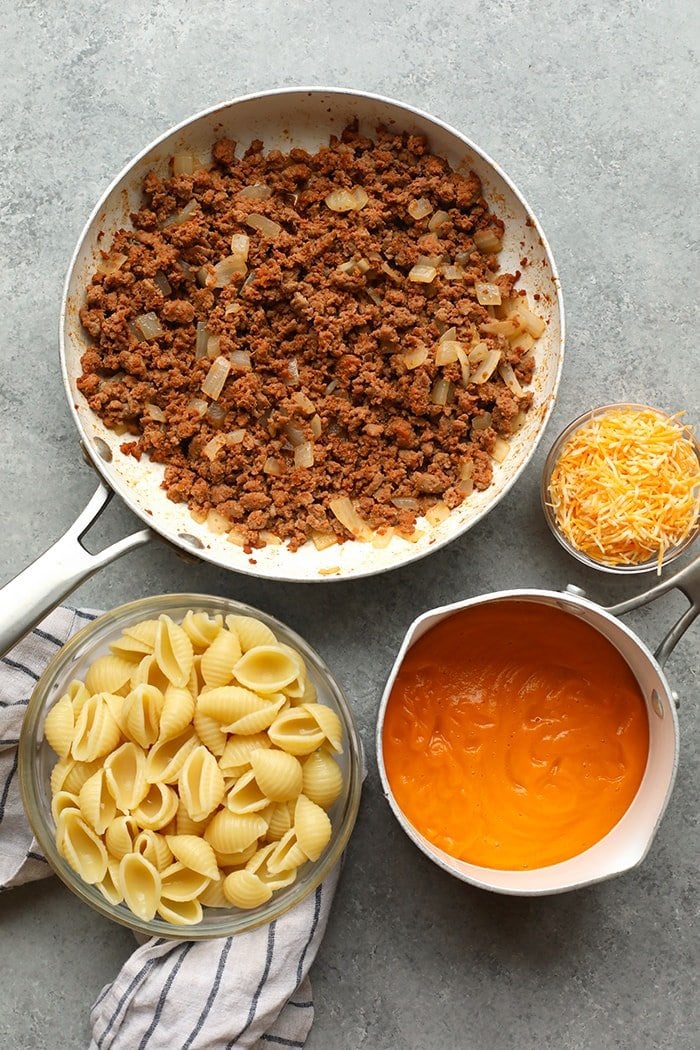 How we Made it Healthier
As you know, most boxed foods are packed with additives and sodium and what we do best is taking classic recipes and making them a little better for you. We lightened the classic hamburger casserole while keeping all the same, wholesome flavors with easy-to-find ingredients. Here's how we did it:
Homemade "cheese" sauce: While there is still cheese in our homemade cheese sauce, the secret ingredient is actually sweet potatoes. NC sweetpotatoes add a touch of sweetness and lots of healthy nutrients such as complex carbs, fiber, and potassium. Plus, that perfect bright orange color!
Meat: Classic hamburger casserole is made with ground beef, but in this recipe we used ground turkey. The option is yours to use whatever kind of meat you wish, but turkey packs in the protein with less fat and calories.
Noodles: Swap the classic white noodle for something a little bit healthier such as a whole wheat noodles or even a chickpea pasta.
What You Need
This healthy hamburger casserole utilizes simple ingredients that are both easy to find in grocery stores right now, and easy to store for a week or two at home. You'll need:
NC sweetpotatoes
Whole wheat pasta shells
Ground turkey
Onion
Spices: garlic powder, dried mustard, salt and pepper
Tomato paste
Chicken broth (or any broth!)
Shredded cheese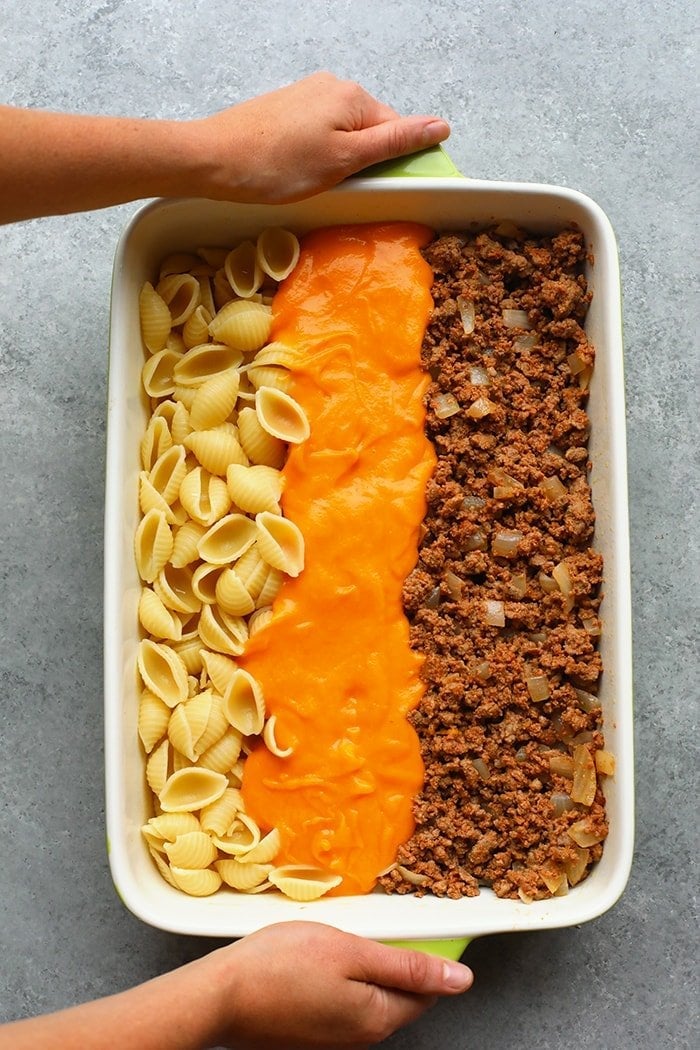 Why did you use sweet potatoes for the sauce?
NC sweetpotatoes pack healthy nutrients, and when pureed create a rich and creamy sauce texture that's perfect for this hamburger casserole! In a dish that typically doesn't have any vegetables, we're pureeing an entire sweet potato for the sauce, so every serving of this casserole gets in on this goodness.
Oh! We also love that NC sweetpotatoes have a long shelf life and can be found year round in grocery stores, which is especially important right now.
Can you freeze hamburger casserole?
We don't suggest freezing hamburger casserole because the noodles will get soggy when defrosting. But, this recipe does reheat well when stored in the fridge for leftover meals throughout the week!
Can I brown ground turkey the night before?
Ground beef or ground turkey can be browned the night before. Just make sure to store in an airtight container in the refrigerator.
How do you make hamburger helper better?
In order to make hamburger helper better, we suggest making it from scratch at home. Or, you can always add more spices and/or veggies to make it taste better!
Can you make hamburger casserole without the hamburger?
Hamburger casserole can be made without the traditional ground beef. We suggest subbing another ground meat such as turkey (like in this recipe!) or chicken, but you could even use a bean or lentils to make it vegetarian.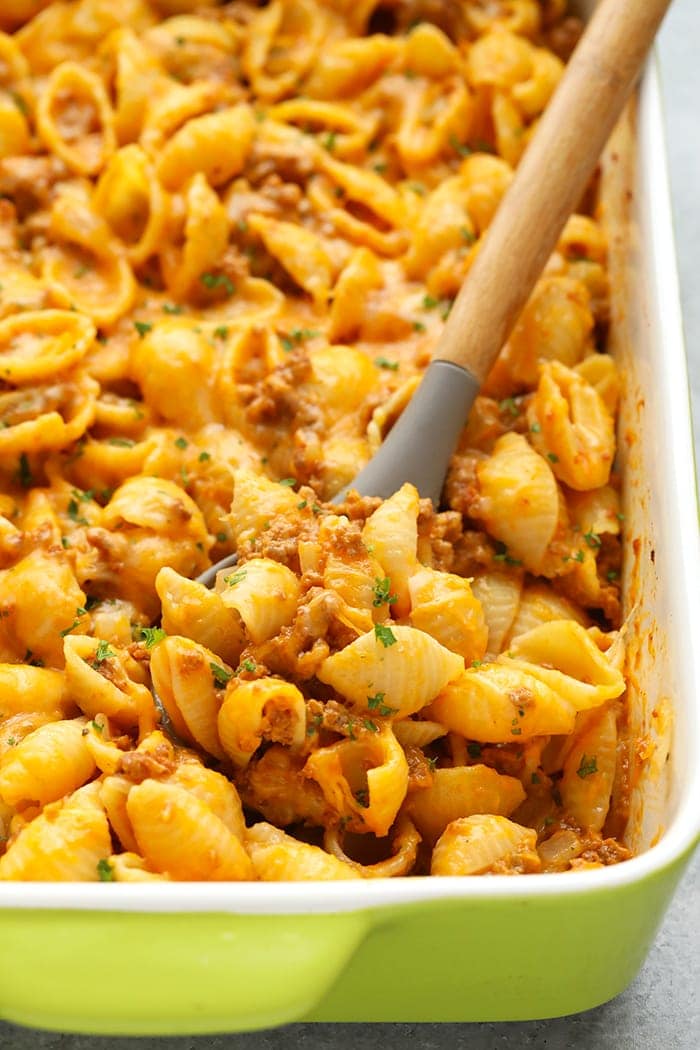 More Recipes with Sweet Potatoes
More Casserole Recipes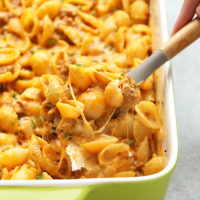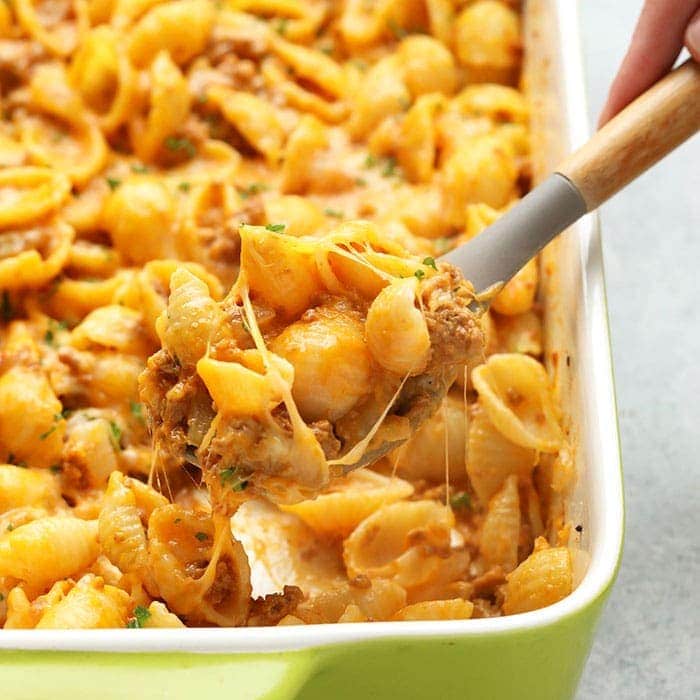 Healthy Hamburger Casserole
This Hamburger Casserole is a better-for-you, homemade Hamburger Helper that is made with sweet potato puree, warm spices, and ground turkey for a healthy and EASY weeknight dinner.
Ingredients
Turkey
1

lb.

ground turkey

1/2

medium yellow onion

minced

1

teaspoon

garlic powder

1/8

teaspoon

salt

1/8

teaspoon

ground pepper

1/4

teaspoon

powdered mustard

3

tablespoons

tomato puree
NC Sweetpotato Cheese Sauce
Other
16

oz.

shells

or any kind of noodle

optional: more shredded cheese for topping
Instructions
Preheat oven to 400ºF. Cook and prepare your sweet potato puree by following our how to make sweet potato puree post for details. You'll need about 1 cup. Set aside.

Bring a large pot of water to a boil. Add 16 ounces of shell pasta to boiling water. Cook pasta until it is almost cooked. You want the pasta to still have a bite to it (harder than al dente) as it will continue to cook in the oven.

Strain pasta, rinse with cold water and set aside.

Next, heat a large skillet over medium heat. Add olive oil. When olive oil is fragrant, add ground turkey. Break the turkey up into small pieces. Add in the rest of the ingredients for the ground turkey mixture, mix, and cook for 4-5 minutes. Remove from heat.

Lower oven temperature to 375ºF and place your sweet potato puree into a blender or food processor with all the ingredients for the sweet potato cheese sauce. Blend until all ingredients are combined and the sauce is nice and smooth.

Spray a large 9x13-inch casserole dish with olive oil cooking spray. Place noodles, ground turkey, and sweet potato sauce into the casserole dish and mix until everything is coated in the sweet potato cheese sauce. Sprinkle with shredded cheese (optional) and place into the oven for 15 minutes.

Remove, let cool for 10 minutes, and sprinkle on fresh parsley.
Tips & Notes
Nutrition information is for 8 servings.
Nutrition facts
Calories:
357
kcal
Carbohydrates:
46
g
Protein:
23
g
Fat:
9
g
Fiber:
2
g
Sugar:
2
g
This post is sponsored by North Carolina SweetPotato Commission. We were compensated and all opinions are our own. Thank you for supporting Fit Foodie Finds!