Looking for ground turkey recipes? This ground turkey pasta recipe is a filling dinner in 30 minutes that's made with a ground turkey red sauce and macaroni shells.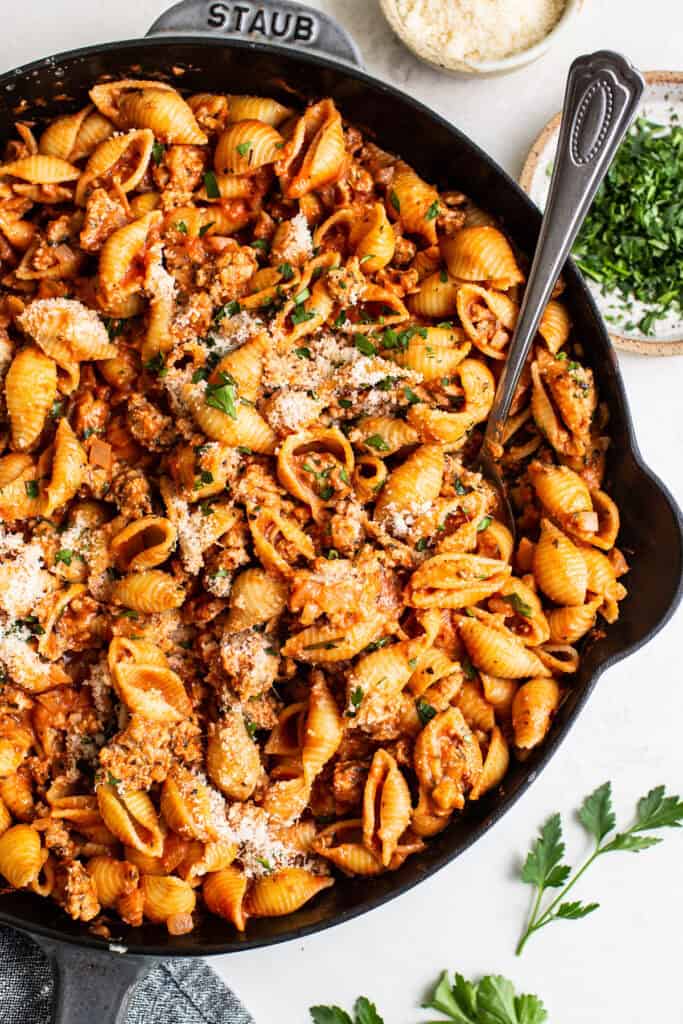 30-Minute Ground Turkey Pasta
If this doesn't scream dinner, I don't know what does. We've been all about the easy ground turkey recipes lately and this one tops our list!
This meal is so filling, savory, and crowd-pleasing. It's made with macaroni shells and the most delicious ground turkey red sauce that has a bit of cream added right at the end. It's served with parmesan cheese and fresh parsley.
I'm drooling. Before we jump into the recipe, we thought we'd chat all things ground turkey <– the star of the show.
More about Ground Turkey
This recipe is all about the meaty red sauce and today we're using ground turkey! Ground turkey is a high-protein, lower in fat meat in comparison to ground pork and beef.
What is ground turkey made from? Ground turkey is made from leftover dark and light turkey meat, including the skin. Because it's made with light and dark meat, it's a pretty affordable meat product.
Ground turkey calories – per 4-oz. serving ground turkey has 170 calories, 8g fat, 21g protein, 0g carbs, 0g sugar, and 0g fiber.
PS: if you love this recipe, try our Ground Chicken Bolognese, but swap the chicken for turkey!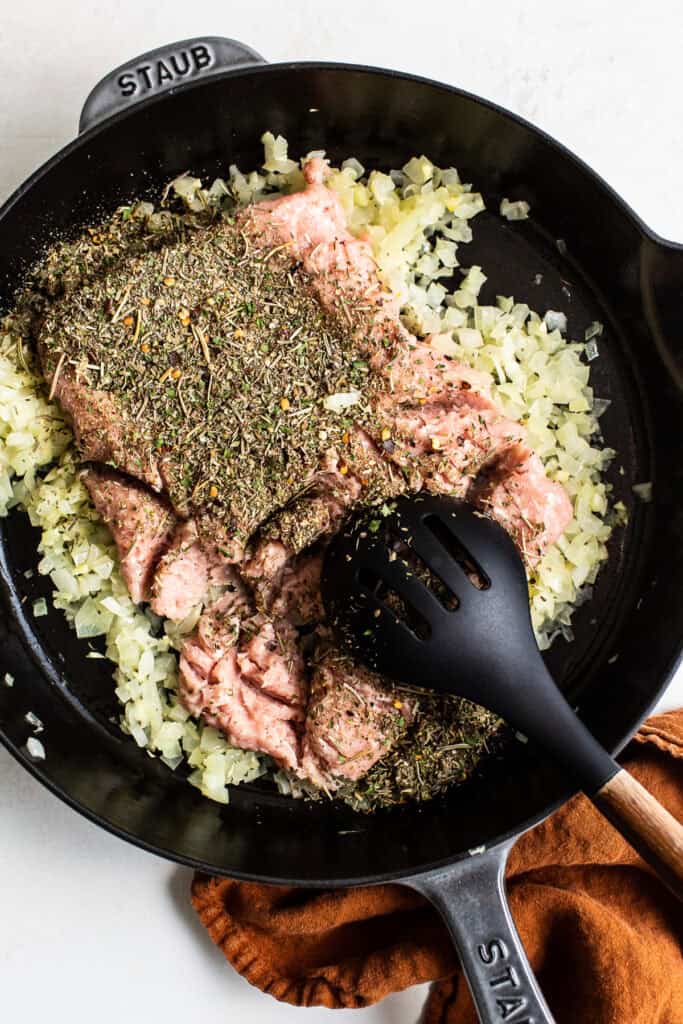 Featured Ingredients
Noodles: It wouldn't be ground turkey shells without the shells! But, you're more than welcome to use your favorite noodle. Some favorite include spaghetti, rigatoni, pappardelle, and elbows.
Onion and garlic: onion and garlic are our holy grail when making a red pasta sauce. Feel free to use more or less of each.
Ground turkey: you'll need 1-lb. of ground turkey for this recipe. We suggest buying your meat directly from the butcher, but if you can't, any kind will work.
Italian seasoning: we were feeling a little extra and used our homemade Italian seasoning for this recipe. It a mixture of all the right spices that will make this pasta taste delicious.
Tomato products: since this is a red sauce, you're going to need tomato sauce and tomato paste.
Anchovy paste: hear us out. Anchovy paste adds such a wonderful flavor. If it's not your jam or you can't find it, feel free to omit it.
Heavy cream: a little bit of cream really brightens up the ground turkey pasta recipe!
Parmesan cheese: it wouldn't be pasta without the parm!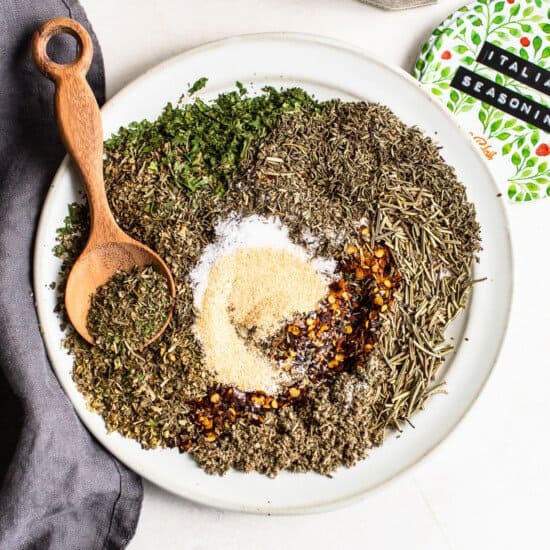 Homemade
Italian Seasonong
Make your own Homemade Italian Seasoning with just 10 ingredients you likely already have in your spice cupboard, and you'll be on your way to the most flavorful recipes in no time.
Get Recipe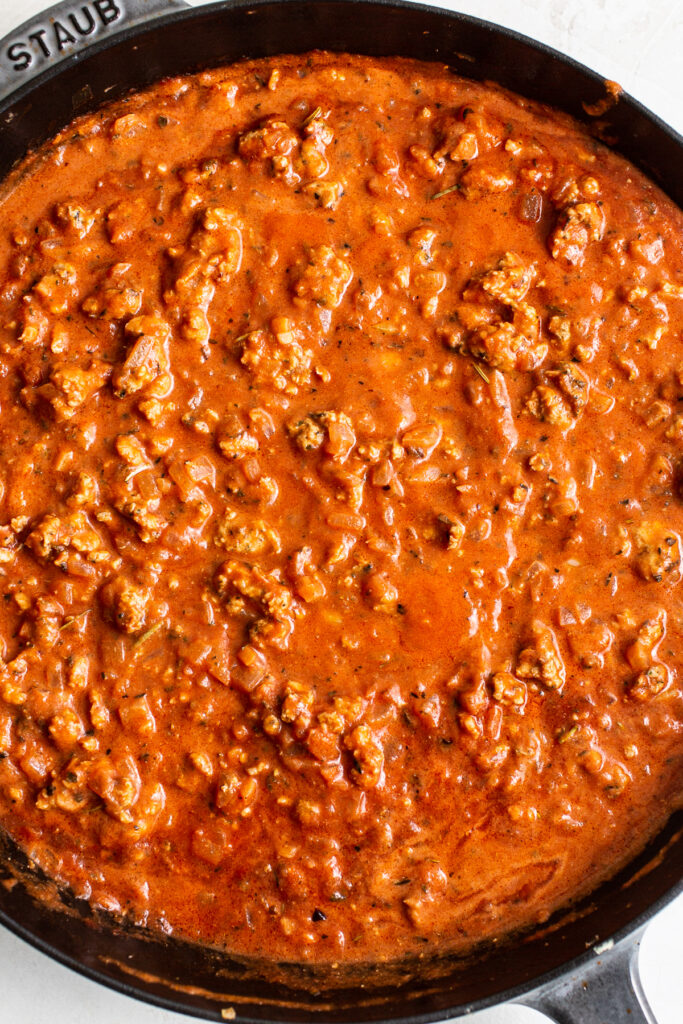 Simple Instructions
Cook pasta: cook pasta until it's al dente. Before straining, make sure to reserve some pasta water for later. Strain and set aside,
Cook onion and garlic: cook onion and garlic in olive oil untirl fragrant.
Brown turkey: add ground turkey and cook until almost browned.
Add sauces and flavors: add tomato sauce, pasta water, tomato paste, and anchovy paste and mix.
Let simmer: bring to a boil and then turn down to let and let simmer for 4-6 minutes.
Add pasta: add heavy cream and mix. Then, add in the cooked pasta and toss to combine.
Serve: serve the ground turkey pasta with grated parmesan and fresh parsley.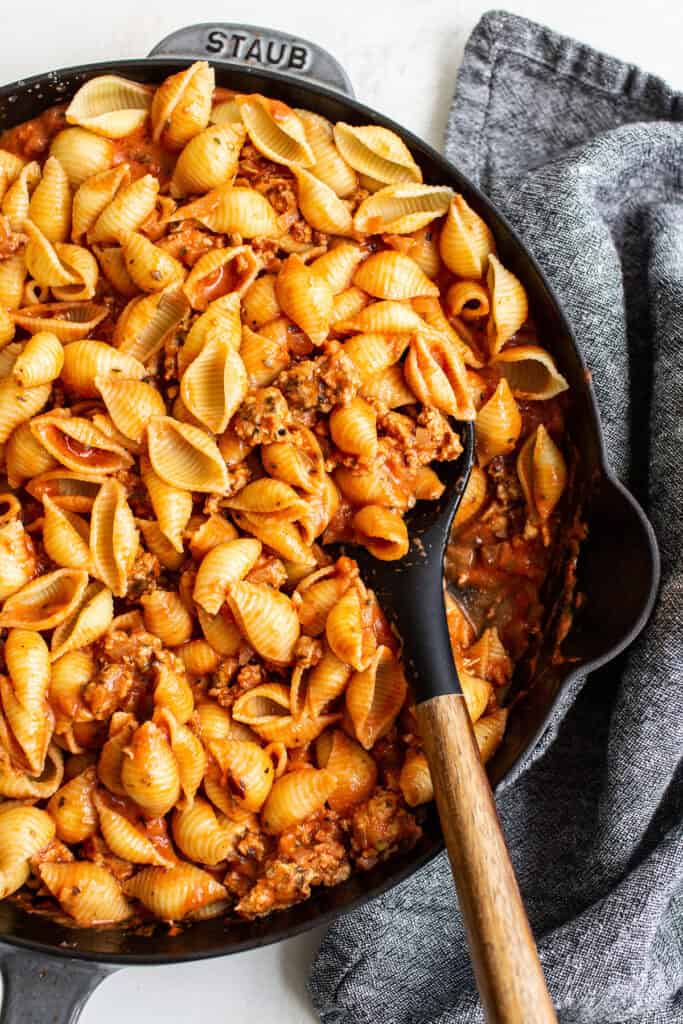 FAQ
Is ground turkey healthy?

Ground turkey is a lower in fat, high protein meat that is a great option for a healthy diet.
Is ground turkey a good substitute for ground beef?

While ground turkey has far less fat than ground beef, it is a great substitute for ground beef.
Does ground turkey taste like hamburger?

Ground turkey tastes similar to hamburger, but it has less fat making it less rich.
Which ground turkey is best?

Our favorite ground turkey is organic ground turkey that you can buy directly from your local butcher.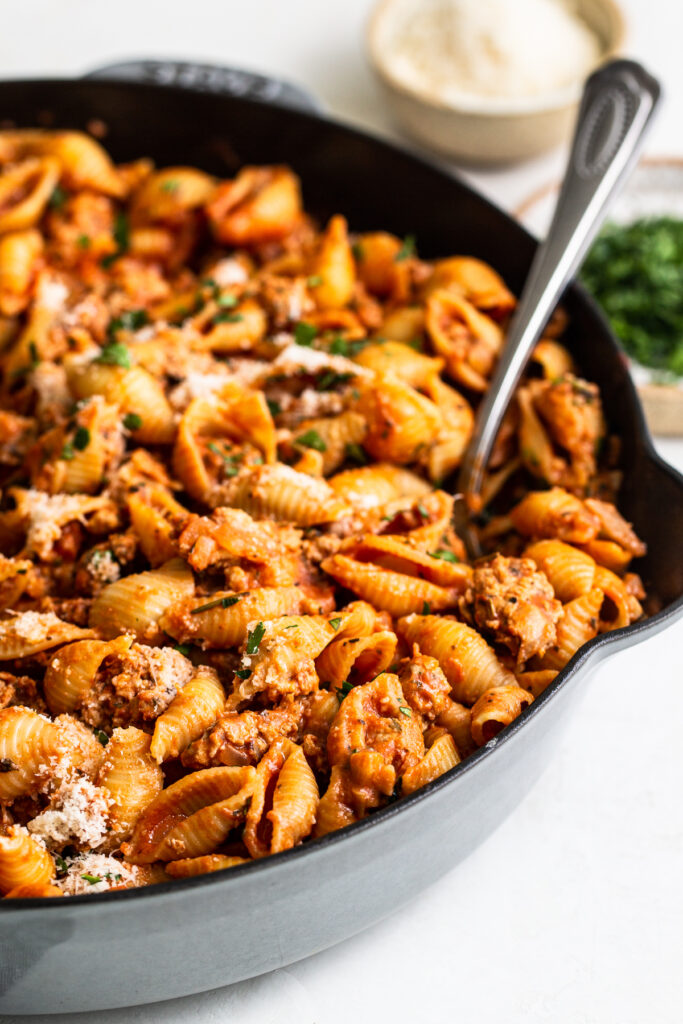 Storage
Transfer cooled pasta into an airtight container and store in the fridge for up to 3-5 days.
To reheat: transfer pasta back into a skillet and add a little water or broth. Reheat over medium heat until hot.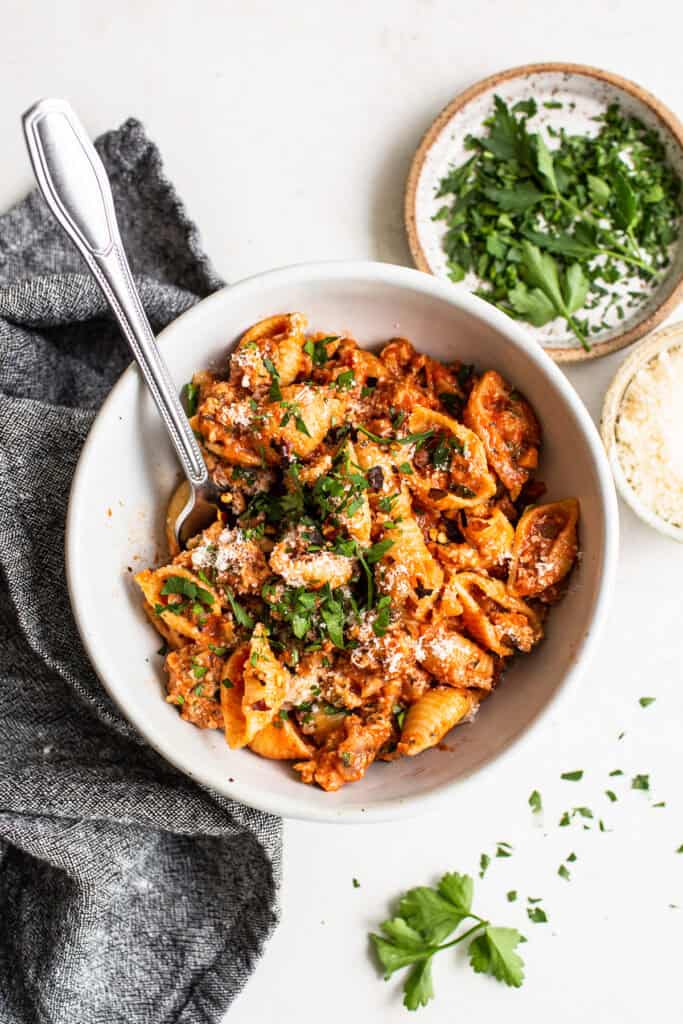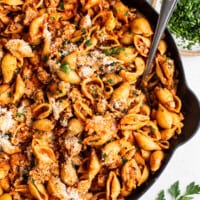 Ground Turkey Shells
Wondering what to make with ground turkey? Make this simple, yet elevated ground turkey pasta recipe! It's made with a meaty red sauce, a hint of cream, and tons of parmesan cheese.
Ingredients
8

oz.

medium dried pasta shells

1

tablespoon

olive oil

1

medium yellow onion

minced

1

teaspoon

salt

separated

5

garlic cloves

peeled and minced

1

lb.

ground turkey

(we used 93% lean, 7% fat)

3

tablespoons

homemade Italian seasoning

1

15-oz.

can tomato sauce

½

cup

starchy pasta water

3

tablespoons

tomato paste

2

teaspoons

anchovy paste

¼

cup

heavy cream

½

cup

grated parmesan cheese

¼

cup

fresh chopped parsley
Instructions
Cook the pasta. Bring a large pot of salted water to a boil. Add the pasta. Cook the pasta until al dente. Before straining the pasta, set aside 1 cup of starchy pasta water. Strain the pasta. Rinse the pasta with cold water and set aside for later.

Heat a large skillet over medium/high heat. Add olive oil. When the olive oil is fragrant, add the onion to the pan and sprinkle with ¼ teaspoon of salt.

Sauté the onion for 2-3 minutes and then add the garlic to the pan. Toss with the onion and cook for an additional 1 minute.

When the garlic is fragrant add the ground turkey to the pan and sprinkle with the Italian seasoning. Break the ground turkey up into small pieces and cook the turkey until it is almost cooked but has bits of pink still left.

Add the tomato sauce and ½ cup of the starchy pasta water to the pan and stir to combine.

Next, add the tomato paste and anchovy paste to the pan and whisk the two ingredients into the tomato sauce. Bring the mixture to a boil.

Turn the heat to low and allow the tomato sauce to simmer and continue to cook the ground turkey (about 4-6 minutes).

Taste the sauce and add ¼ teaspoon more of salt to the sauce. If you desire more salt, add ¼ teaspoon more at a time until you're satisfied.

While the sauce is still on a low simmer, slowly add in the heavy cream, while constantly stirring the tomato sauce until combined.

Finally, fold the pasta into the tomato sauce. Let the noodles heat up in the sauce.

Top with parmesan cheese and fresh parsley and enjoy.
Tips & Notes
The Italian seasoning we make and use in this recipe includes salt and garlic. If you are using a store-bought Italian seasoning you may need to add more salt or garlic to the sauce.
You can use whatever dried pasta you would like! Be sure you thoroughly whisk the tomato paste and anchovy paste into the sauce and then bring the sauce to a simmer. This is important to really cook down the ingredients.
Feel free to add more parmesan to this dish if desired.
Nutrition facts
Calories:
645
kcal
Carbohydrates:
60
g
Protein:
42
g
Fat:
25
g
Fiber:
7
g
Sugar:
9
g
Photography: photos taken in this post are by Ashley McGlaughlin from The Edible Perspective.