Learn how to make sauteed green beans with garlic, lemon, and butter with this easy tutorial!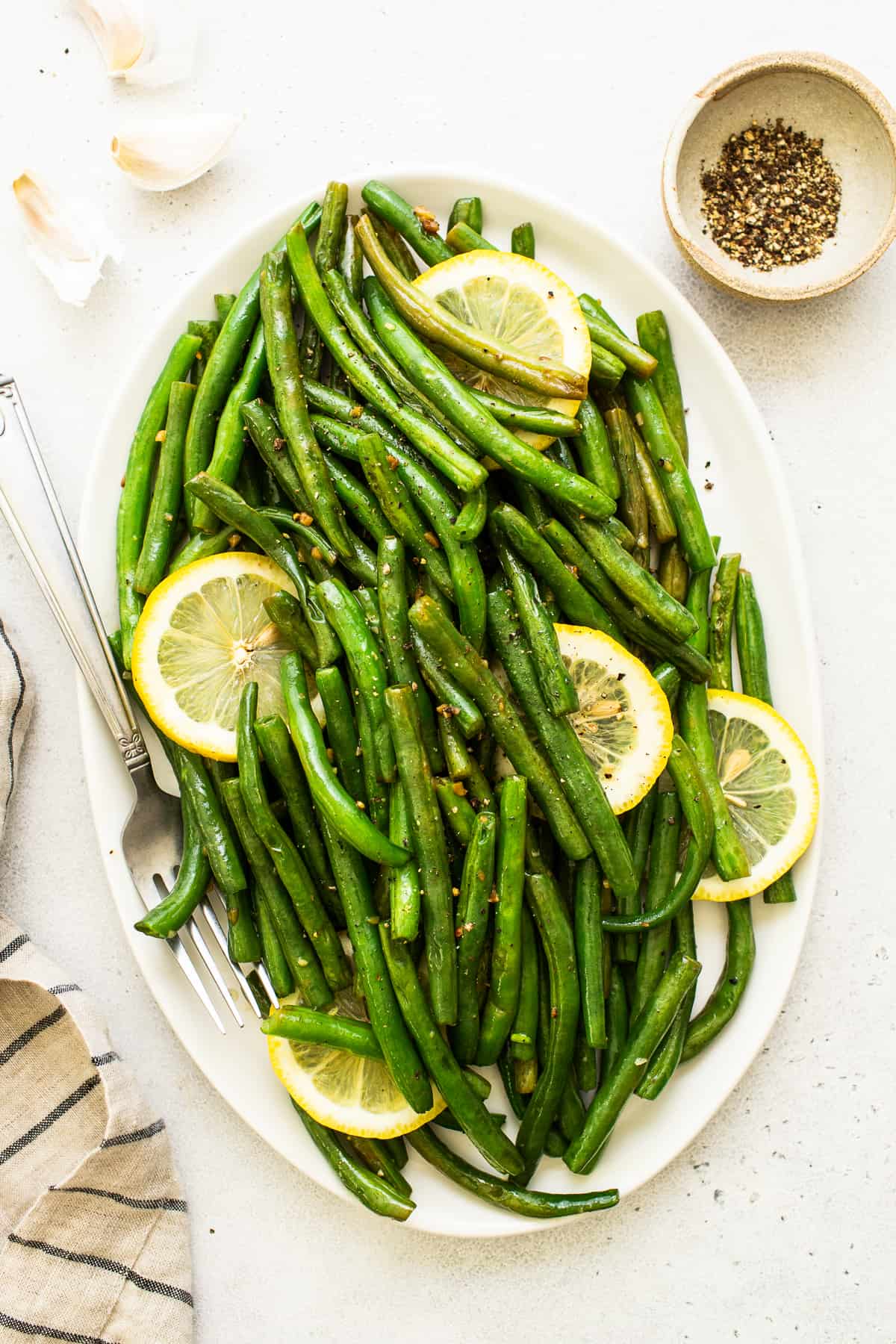 Healthy Side – Sauteed Green Beans with Garlic
One thing that frequented our dinner menu growing up was green beans! Whether we ate them steamed or sauteed, my mom always served them with butter, salt, and pepper to keep things simple.
We're spicing things up today with the addition of garlic and lemon juice, for a flavor-blasted veggie side. Fresh garlic truly adds so much flavor and a little citrus is an amazing balance.
Why you'll love them!
Healthy
Quick and easy
Ready in 20 minutes
Versatile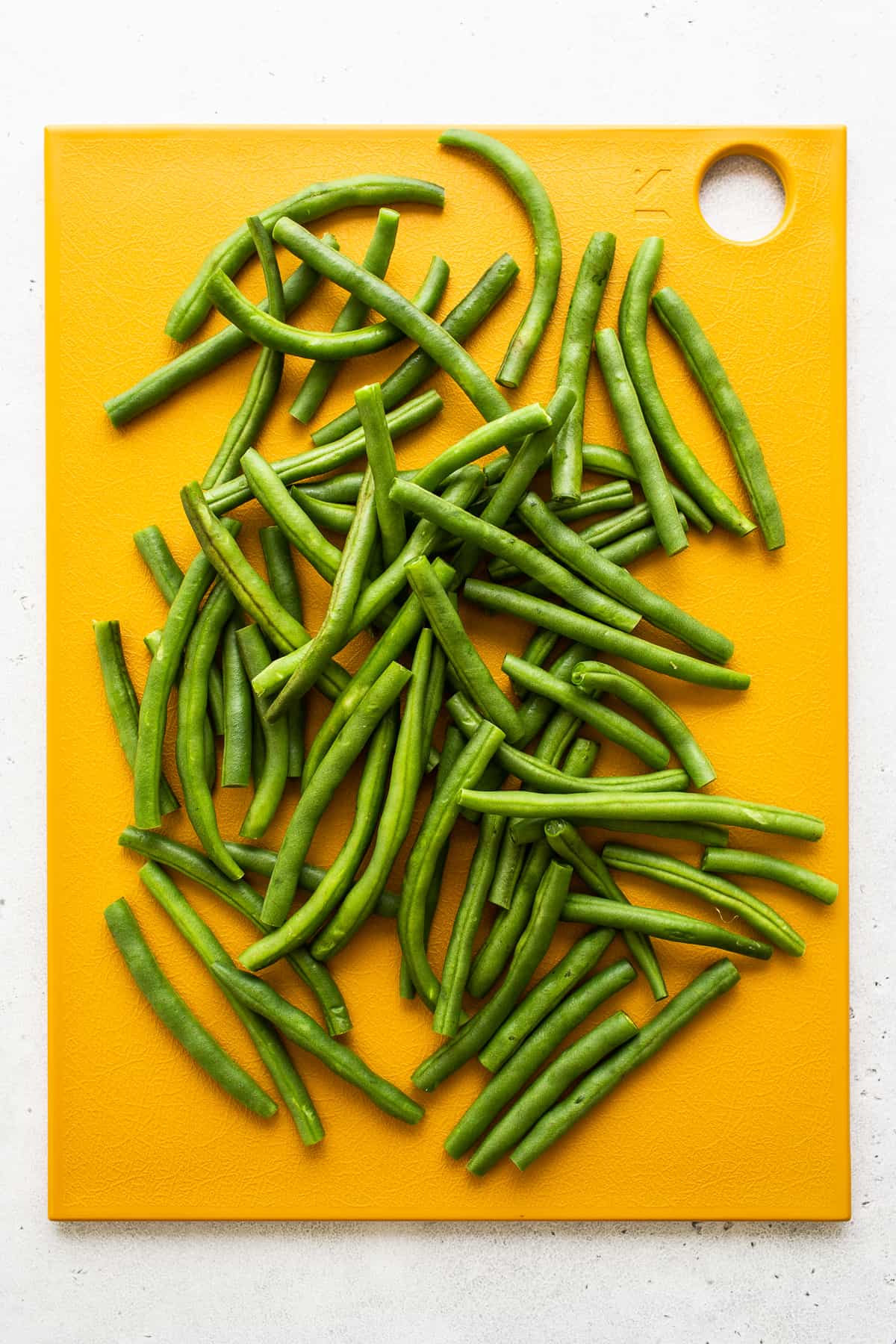 Fresh or frozen green beans for sauteing?
When it comes to making sauteed green beans we ALWAYS recommend using fresh green beans.
Most frozen green beans actually come pre-cooked or at least partially cooked and can end up super mushy.
If you use fresh green beans, you're guaranteed a crispy, bright green veggie once they are sauteed.
Best oil for sauteed green beans?
Olive oil and avocado oil are our go-to oils when it comes to sauteing green beans. They are mild in flavor and have the perfect smoke point.
You can also try vegetable oil, sesame oil. or canola oil, too.
What is the best way to trim green beans?
There are 2 ways to trim green beans. The way I learned growing up was to use a pair of scissors or kitchen shears.
The second way is to use a sharp knife.
Either way works, just make sure to trim your green beans before cooking them!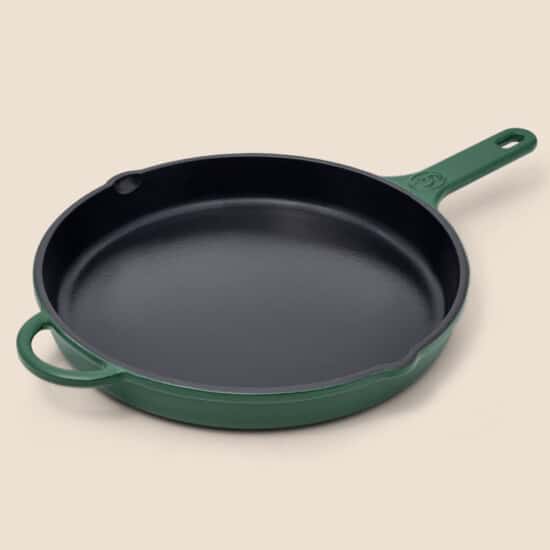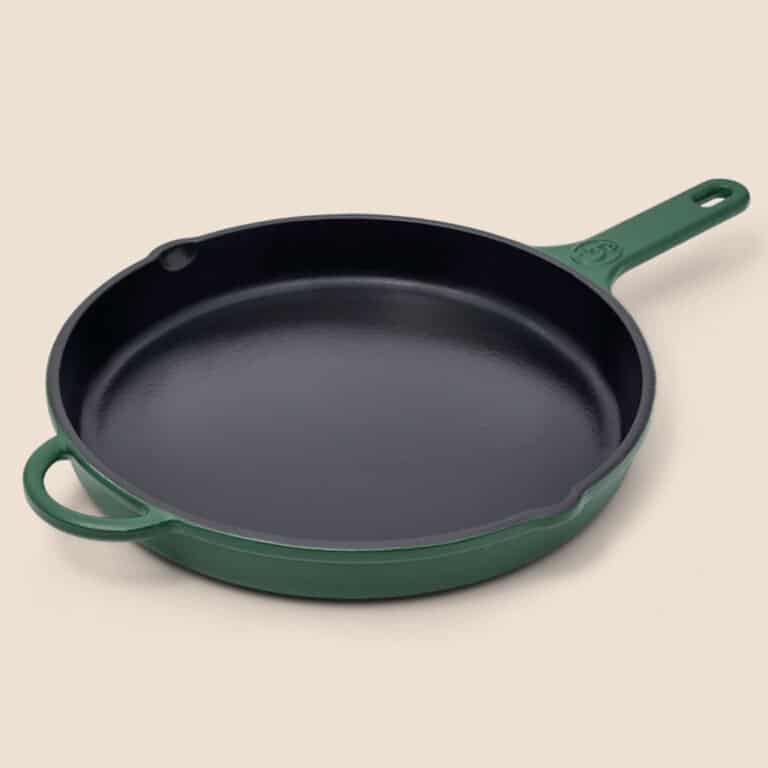 Great Jones
Cast Iron Pan
The Great Jones King Sear is our favorite cast iron pan. It's definitely worth the splurge to add to your kitchen collection!
Buy Now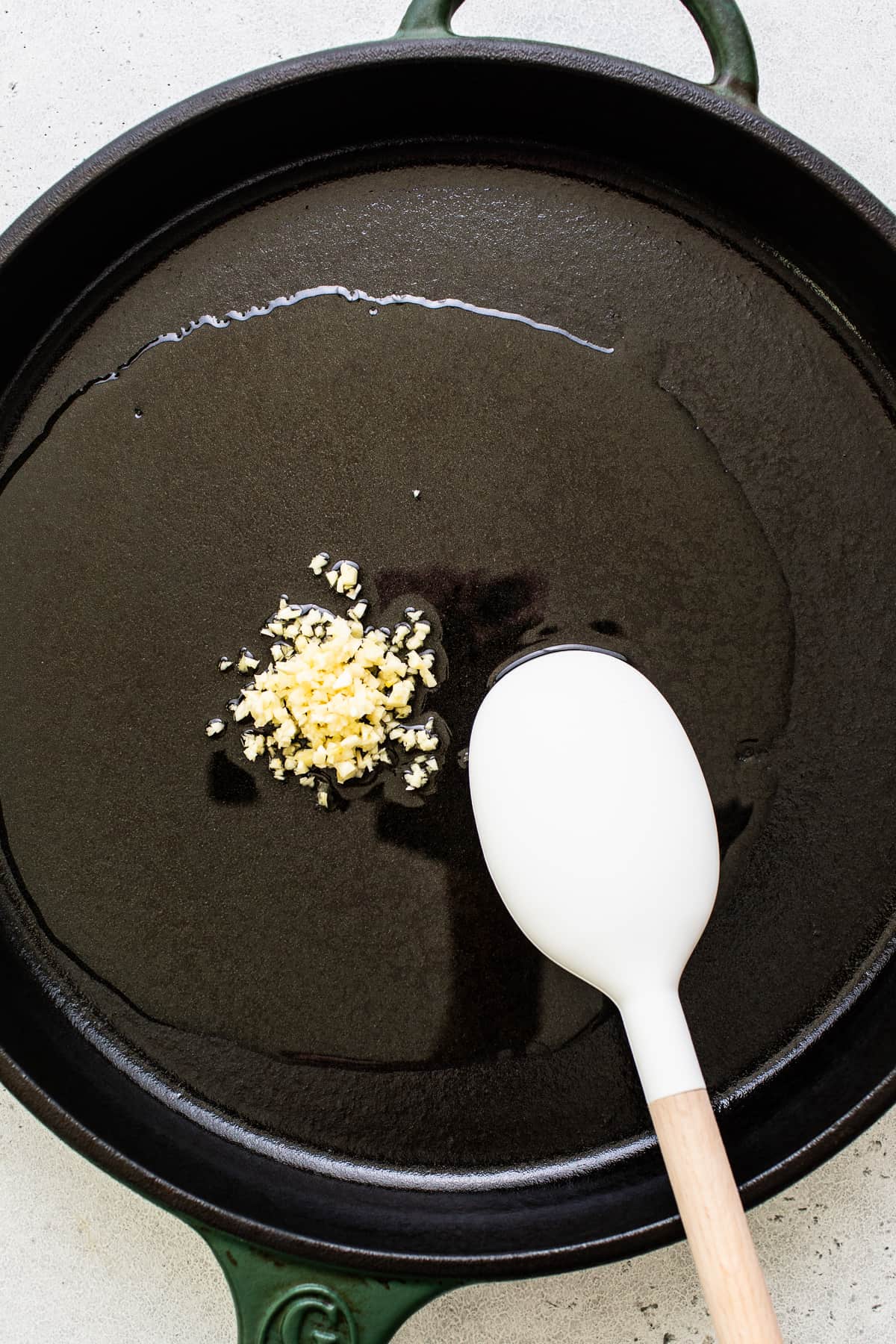 How to Saute Green Beans
Prepare green beans: prepare your fresh green beans by rinsing them under cold water and patting them dry. Then, slice the ends off.
Cook garlic: cook minced garlic in olive oil in a deep skillet until fragrant.
Saute green beans: add the green beans and season with salt. Saute for around 7-10 minutes or until they begin to turn a bright green color. Try a green bean and continue cooking until they've reached the desired texture.
Flavor with butter and lemon: remove the beans from the stovetop and flavor with butter, lemon juice, and freshly cracked black pepper.
Can you cook green beans without blanching them?
Yes, you can saute green beans without blanching them! While blanching them will help them saute faster, it adds a second step and isn't necessary.
#1 tip for sauteing green beans
Do not overcook.
I repeat, do not overcook your beans!
We love when green beans have a bite or crunch to them. Once they hit the point of no return (becoming mushy), there is no turning back.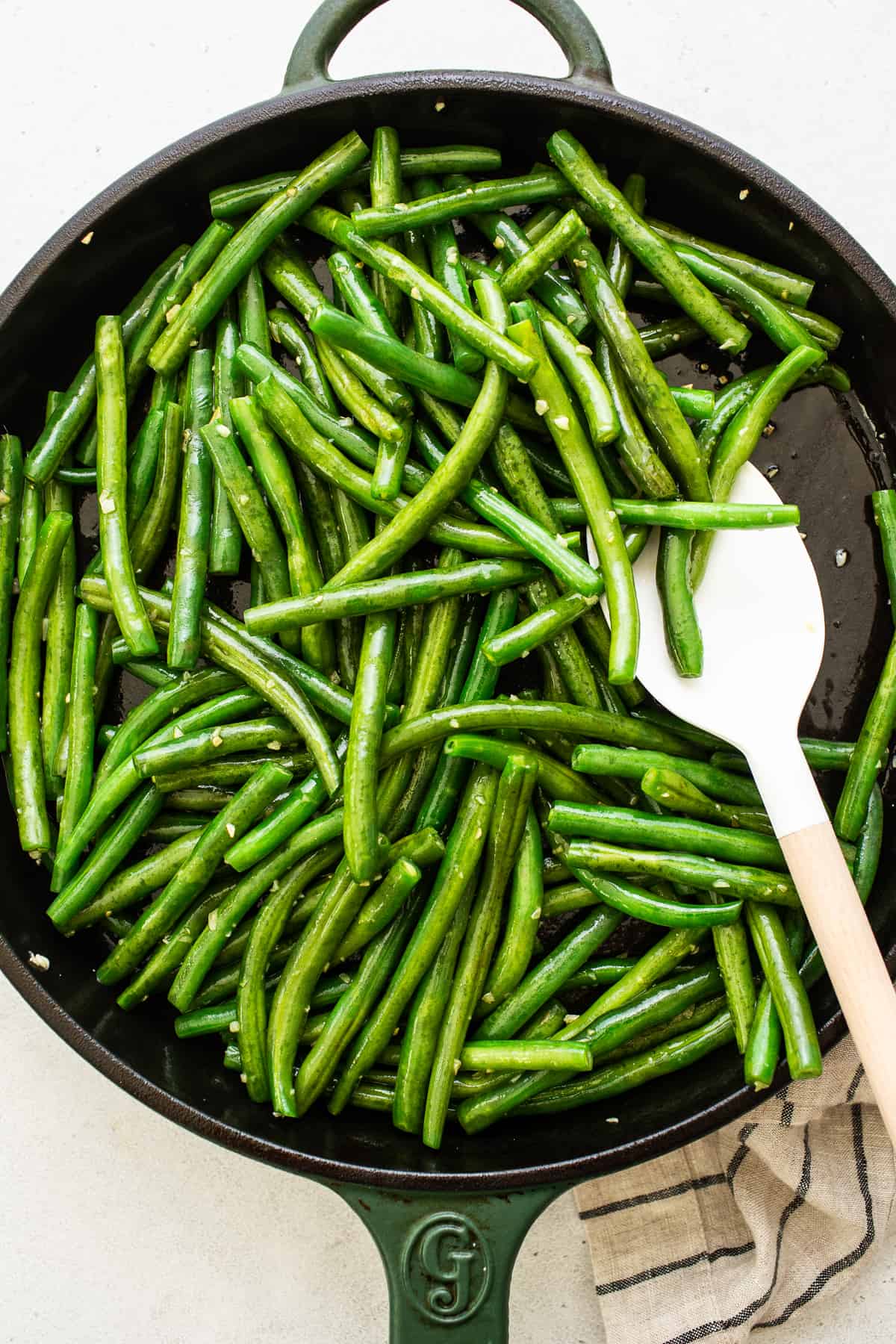 Variations
While you can't go wrong with garlic, lemon, salt, and pepper, greens beans are actually pretty versatile. Here are some more flavor combinations.
Soy sauce and sesame seeds
Orange juice and fresh ginger
Hot honey
FAQ
What can I add to green beans for flavor?

We love adding freshly minced garlic and salt to green beans to give them flavor, but you can also try any premade spice mixes or soy sauce, too.
Do you have to boil green beans before sauteing them?

There is no need to boil or blanch green beans before sauteing them.
How long does it take to cook green beans?

It takes around 10 minutes to cook green beans on the stovetop.
Storage
Store leftover green beans in an airtight container in the fridge for up to 3 days.
To reheat: microwave on high for 60-90 seconds.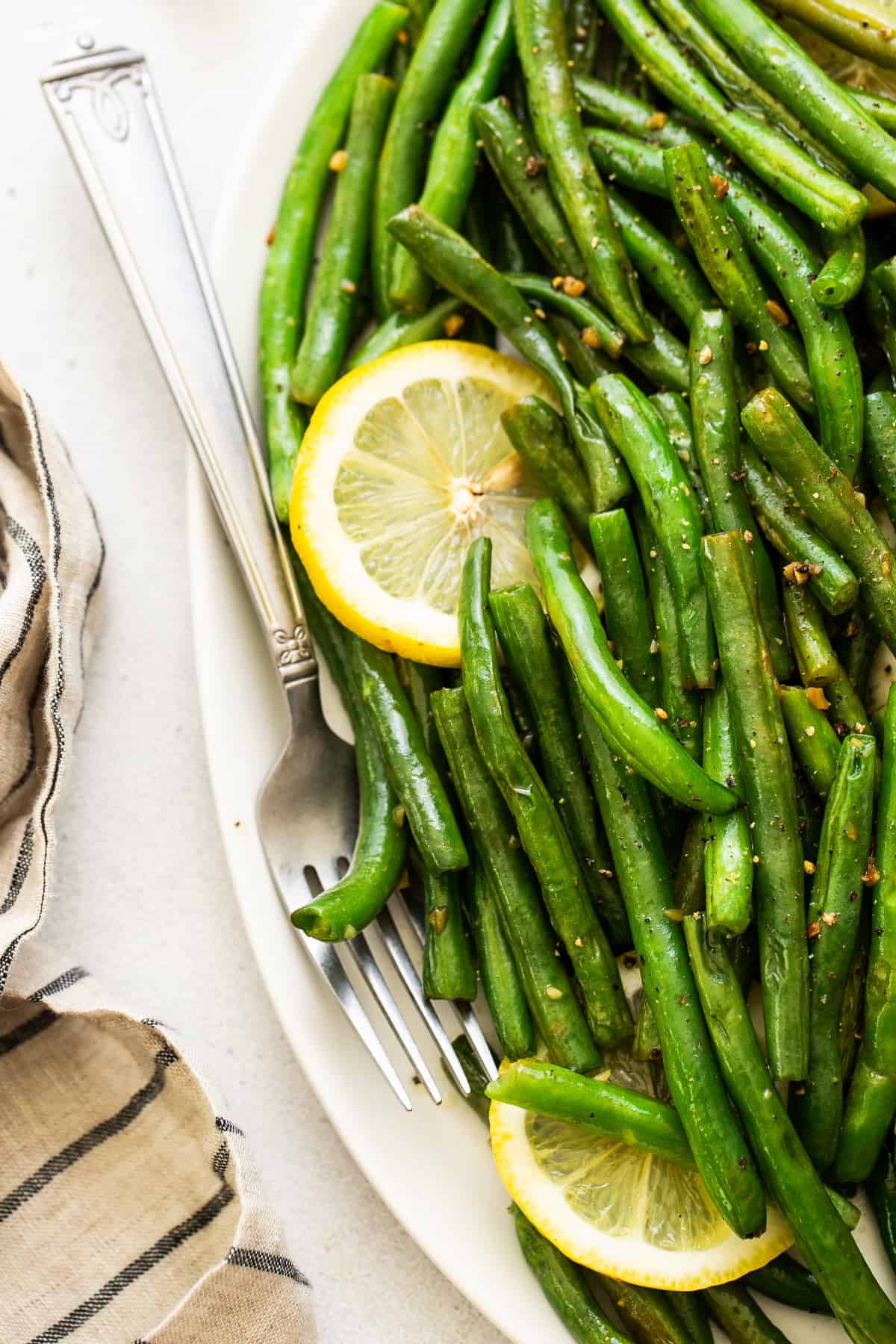 Sauteed Green Beans
These vibrant sauteed green beans are made with butter, salt, cracked pepper, and a little lemon juice for the perfect seasonal side.
Ingredients
Instructions
First, prepare your green beans. Rinse them under cold water and pat them dry. Then, use a knife or a pair of scissors to trim the ends off your green beans.

Heat a large deep skillet over medium/high heat. Add olive oil. When the olive oil is fragrant, add the garlic to the skillet and sauté the garlic for 1 minute until fragrant.

Add the trimmed green beans to the skillet and sprinkle with salt. Turn the heat to medium heat and sauté the green beans for 7-10 minutes or until warmed through and when the green beans begin to turn a bright green color. Do not over cook the beans.

Remove the beans from the heat and add the butter, squeeze fresh lemon juice over the top and sprinkle with black pepper. Toss the beans one last time until the butter melts and enjoy.
Tips & Notes
Remember every stove top is different so be sure to check on the green beans throughout the cook time to be sure they don't turn mushy.
Nutrition facts
Calories:
144
kcal
Carbohydrates:
13
g
Protein:
3
g
Fat:
10
g
Fiber:
5
g
Sugar:
6
g
Photography: photos taken in this post are by Ashley McGlaughlin from The Edible Perspective.