Green Beans Almondine is a fresh, buttery holiday side made with blanched green beans, a delicious slivered almond topping, and fresh lemon zest!
If you're looking for a healthy holiday side, then this green bean almondine is your answer! It's low carb and packed with healthy fats.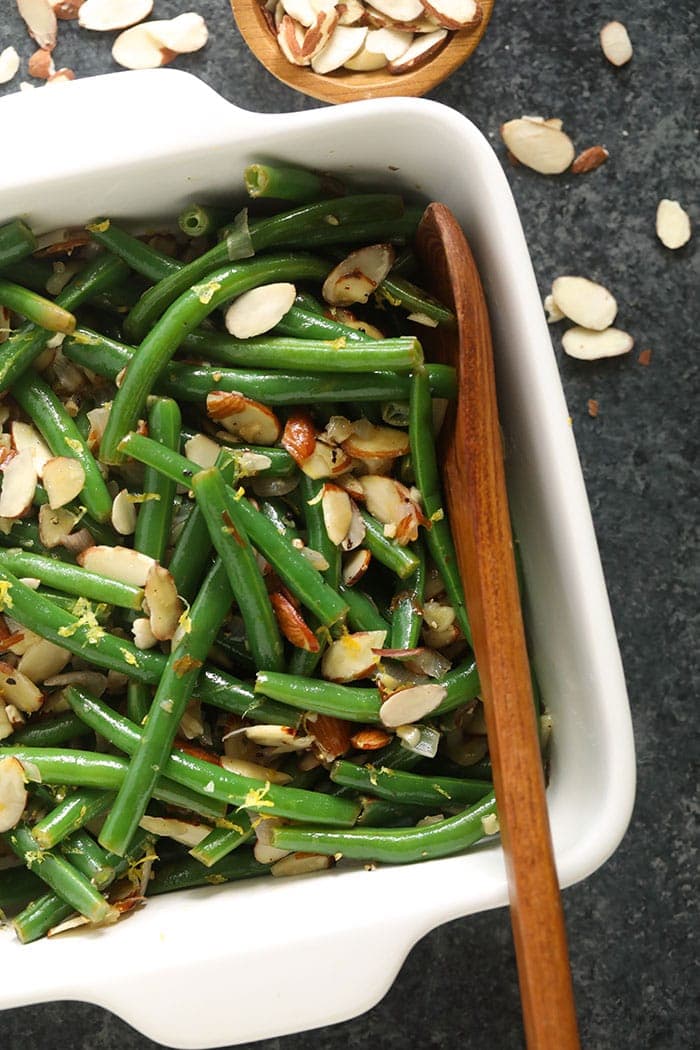 The holidays are right around the corner and we've got an easy Thanksgiving side dish that's healthy, quick, and made with under 10 ingredients!
What is Green Beans Almondine?
Green beans almondine is a popular Thanksgiving or Christmas side dish that is made with blanched or steamed green beans and raw or toasted slivered almonds.
What is almondine? Almondine means garnished with almonds.
So, put green bean and almondine together and you get green beans with almonds! Oh, and PS: our easy green beans almondine recipe calls for fresh green beans. None of that canned stuff!
Is Green Beans Almondine Healthy?
Green beans almondine is one of the healthier Thanksgiving side dishes because it's made with whole, simple ingredients including green beans, olive oil, lemon juice, almonds, and spices.
Green Beans Nutrition
Since the star of this recipe is the green bean, I thought we'd touch on why we love this veggie so much! Green beans are nutrient-dense but lower in calories. Per 1 cup serving, there are only 38 calories and no fat. Green beans are rich in vitamin A, C, and K, and folic acid.
Green Beans Nutrition (per 1 cup): 38 calories, 0g fat, 9g carbs, 2g sugar, 4g fiber, 2g protein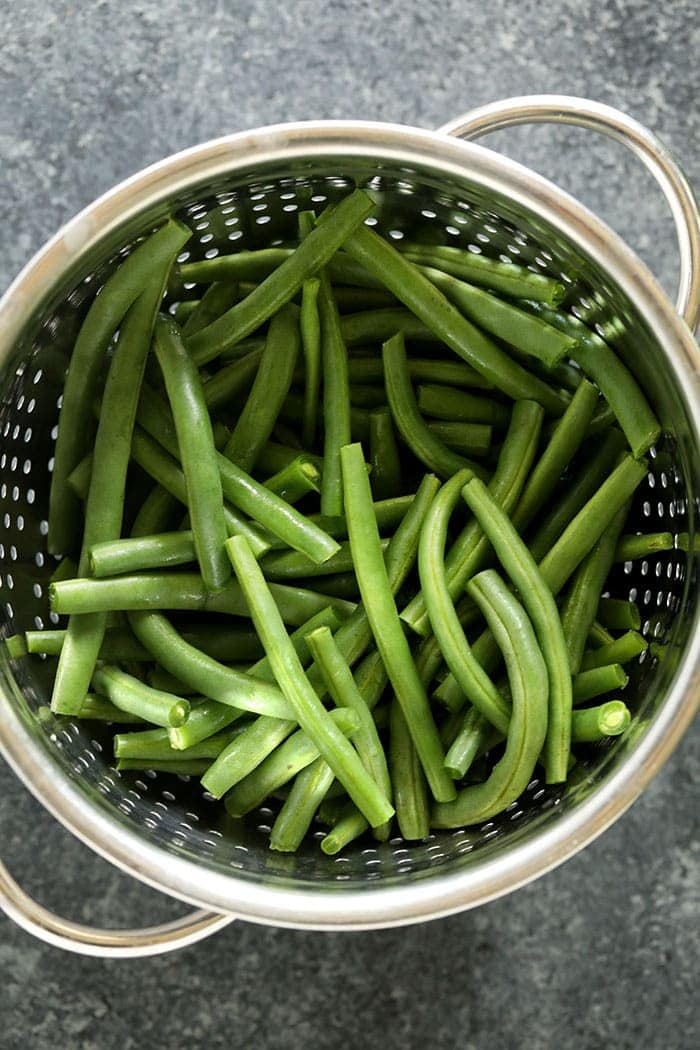 How to Make Green Beans Almondine
Green bean almondine is a 2 part process. 1. blanch and 2. saute. The reason we're taking the extra step to blanch our green beans is to make sure they stay bright green in color, while still being cooked on the inside.
What is blanching?
What is blanching? Blanching is a cooking method where you can easily cook your vegetables by flash boiling them in saltwater for a short amount of time.
Most vegetables, like green beans, only need to boil for around 2 minutes to be blanched. After your vegetables have cooked, transfer them into an ice bath. This will help them stay bright in color and crunchy in texture.
blanching vs. steaming
One reason why we love blanching as opposed to steaming is that blanching helps keep your green beans green as opposed to them turning brown shortly after steaming. It's a little ti[ we thought we'd share!
Step 1: How to Blanch Green Beans
If you've ever wondered how to blanch green beans, here is a super quick tutorial for you!
Prep Green Beans – Wash your fresh green beans under cold water and pat them dry with a towel. Then, use scissors or sharp knife to chop the ends off and discard those pieces.
Boil Salt Water – Once your green beans have been prepped, fill a large pot with water and add about a teaspoon of salt. Salt not only helps crisp the green beans up but also adds flavor.
Add Green Beans – Once the water has come to a rolling boil, add green beans. Set your timer to 2 minutes and let green beans cook.
Drain + Ice Water Bath – While your beans are cooking prepare an ice water bath by filling a large bowl with ice, Then, add water. After the beans have cooked for 2 minutes, immediately strain, and place into the ice water bath for at least 5 minutes.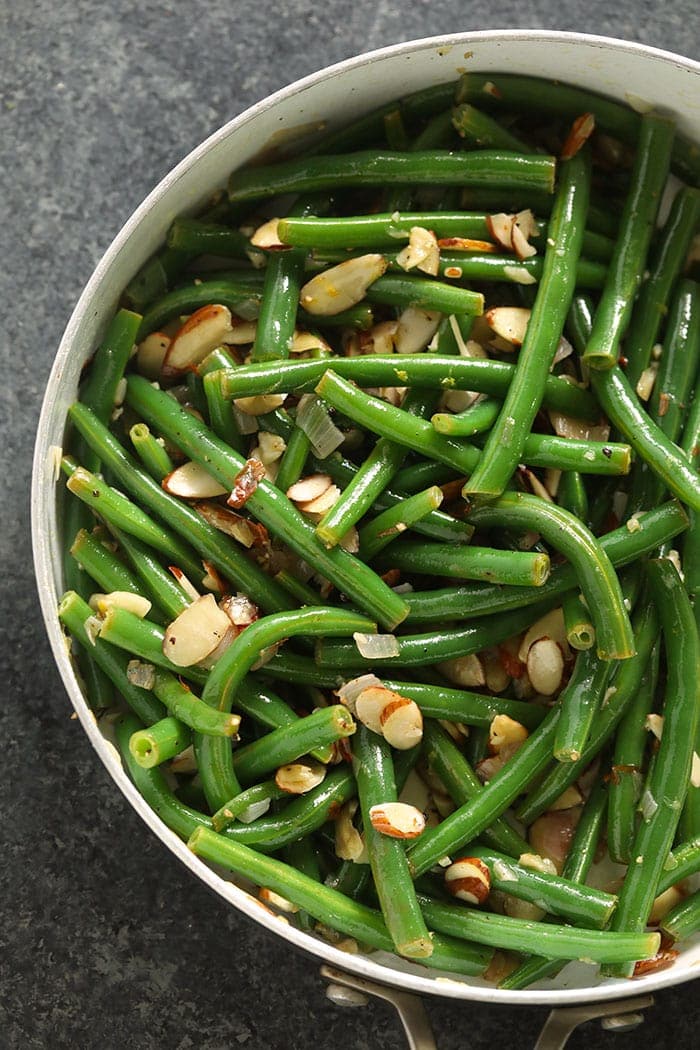 Step 2: Saute + Top
Once you've got your green beans under control, you can start focusing on all things toppings. As you know, 'almondine' means almond topping. Often times the slivered almonds in Green Beans Almondine are served toasted, however, we kept ours raw.
As your green beans are cooling in the ice bath, heat olive oil in a large pan.
Then, add shallot, garlic, salt, and pepper. Saute for 3-4 minutes.
Add butter to the pan and then add chilled green beans and lemon juice.
Saute for 3-5 minutes to heat back up and then add slivered almonds and lemon zest.
Give your beans a taste test. Add salt and pepper, to taste.
raw vs. toasted almonds
Are you more of a toasted almonds kind of person? Feel free to use those instead of raw. To make toasted almonds, simply add 1 tablespoon of butter to a pan and heat over medium/high heat.
Saute almonds for a few minutes, or until they become golden brown. Remove from heat immediately.
How do you French cut green beans?
To French cut green beans, all you have to do is trim the ends off. We like to use a pair of scissors, but you can use a knife or just snap them off with your fingers.
How do you keep green beans green?
Our secret to keeping green beans green is actually blanching them + an ice water bath and not steaming or sauteeing them. Blanching them is quick-boil and will help keep your green beans green.
How do you parboil green beans?
To parboil green beans, boil a large pot of water. Once the water has come to a rolling boil, boil green beans (uncovered) for 2 minutes. Then, transfer your green beans into an ice water bath for at least 5 minutes.
What is good to eat with green beans?
Every green beans almondine recipe deserved to be accompanied by all the classic healthy Thanksgiving recipes. Here are some of our favorites that would go so well with this green beans recipe!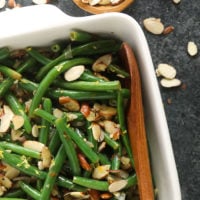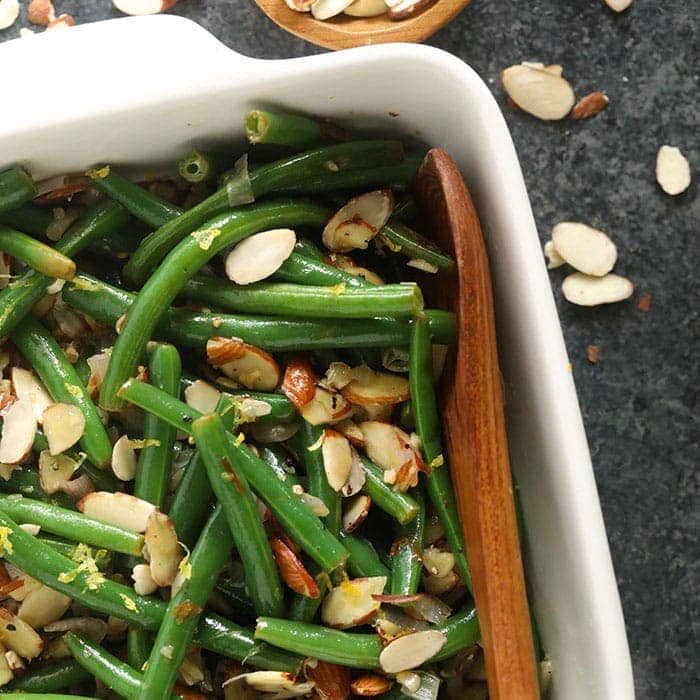 Green Beans Almondine
Our favorite Thanksgiving side dish is this easy green beans almondine recipe! Whip these delicious green beans up in under 30 minutes without taking up precious space in your oven.
Ingredients
1

lb.

green beans

ends removed

2

tablespoons

olive oil

2

tablespoons

unsalted butter

+ more for topping

1

shallot

minced

4

garlic cloves

minced

1/8

teaspoon

salt

or more, to taste

1/8

teaspoon

ground black pepper

2

teaspoons

fresh lemon juice

1/2

cups

raw

slivered almonds

lemon zest

for garnish
Instructions
Start off by preparing a large ice bath. Add 4 cups of ice to a large bowl and fill the rest of the bowl with water. Set aside.

Then, prepare your green beans by rinsing and patting dry. Use a pair of scissors or a knife to remove the ends off of the green beans and set aside.

Next, add a teaspoon of salt to 3-4 quarts of water in a large pot and bring it to a rolling boil.

Blanch green beans by placing them into the boiling water. Continue boiling for 2 minutes.

Immediately remove from heat and strain. Place green beans into the ice bath and let sit for at least 5-10 minutes.

While the green beans are cooling, heat 2 tablespoons of olive oil in a large pan over medium/high heat.

Once fragrant, add shallot, garlic, salt, and pepper and saute for 3-4 minutes, or until the shallot is translucent.

Add 2 tablespoons of butter to the pan and then add the chilled green beans. Then, squeeze in around 2 teaspoons of fresh lemon juice.

Sautee for 3-5 more minutes and then add in slivered almonds and toss.

Remove from heat, give it a taste test and add more salt and pepper as needed.

Serve with lemon zest and more butter, as desired.
Nutrition facts
Calories:
166
kcal
Carbohydrates:
9
g
Protein:
4
g
Fat:
13
g
Fiber:
3
g
Sugar:
2
g