This healthy soup recipe round-up is full of vegan soup recipes, gluten free soup recipes, and chili recipes! Any of these recipes are perfect for meal prep any time of year! Make one today.

This might surprise you, but only recently did I become a major soup lover. You'd think as a food blogger I'd be all about dat soup from a young age, but not me. For some reason, soup seemed intimidating to me because I could never nail the flavor aspect of it. No one likes a flavorless soup.
My gateway soup of choice was definitely chili. I started making chili pretty much weekly when I was in college. It's cheap, super flavorful, and will last you a lifetime. To this day, chili is still one of my all-time favorite foods. I even wrote a post called 4 Ways to Use Leftover Chili because food waste is no bueno.
Lately, I've been challenging myself to get more creative with soup and chili in the Fit Foodie kitchen because, at 28, it's time to conquer my fear of making dull soup. I have to give a lot of the credit to Davida and Linley, the soup masters. I want all of you to feel confident in the kitchen, so I put together a list of frequently asked questions about soup and a list of FFF's gluten free soup, chili, vegan soup, and some helpful kitchen essentials for those of you who need a little extra boost with your soup game!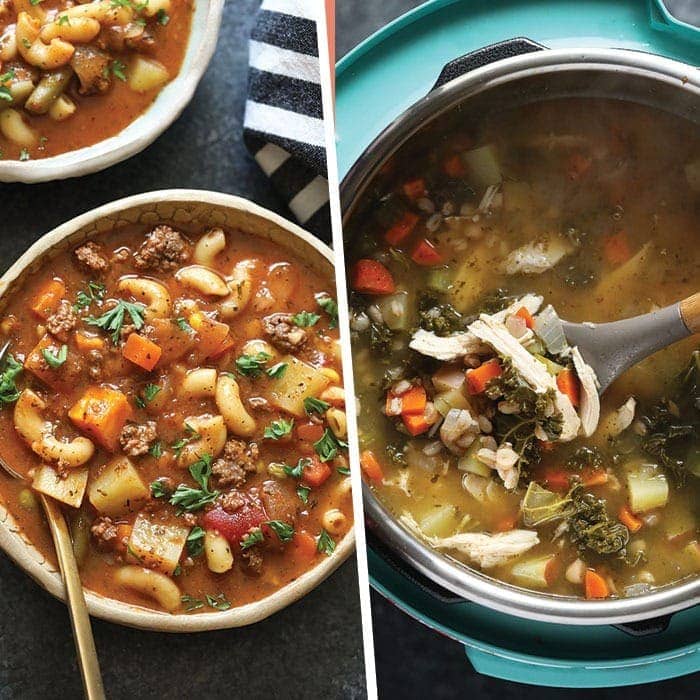 Q's About Soup
What are the different types of soup?
In Fit Foodie Finds's world, there are only three different kinds of soup. Brothy soup, creamy soup, and chili. Done and done.
How do you freeze soup?
To freeze soup for later, remove soup from heat and let your soup cool COMPLETELY. After that, place it in a freezer safe container or in a ziplock bag. The idea is to get as much air out of your container as possible.
How long does soup last in the refrigerator?
Soup lasts about 5-7 days in the refrigerator.
Can you substitute different types of broth in soup recipes?
YES. If a recipe calls for chicken broth, but you prefer vegetable broth, feel free to substitute! Different broths add different flavors, but any liquid will do. You may just have to adjust your spices and salt quantities.
Kitchen Essentials for Every Soup Recipe
 Soup Recipe Pantry Essentials
So, I inspire you to cook up some soup this fall! Step outside your comfort zone a little bit and cook with flavors you don't normally cook within your kitchen. I guarantee you'll be happy you did! Check out some of my favorite Fit Foodie Finds soups below!
Vegan Soup Recipes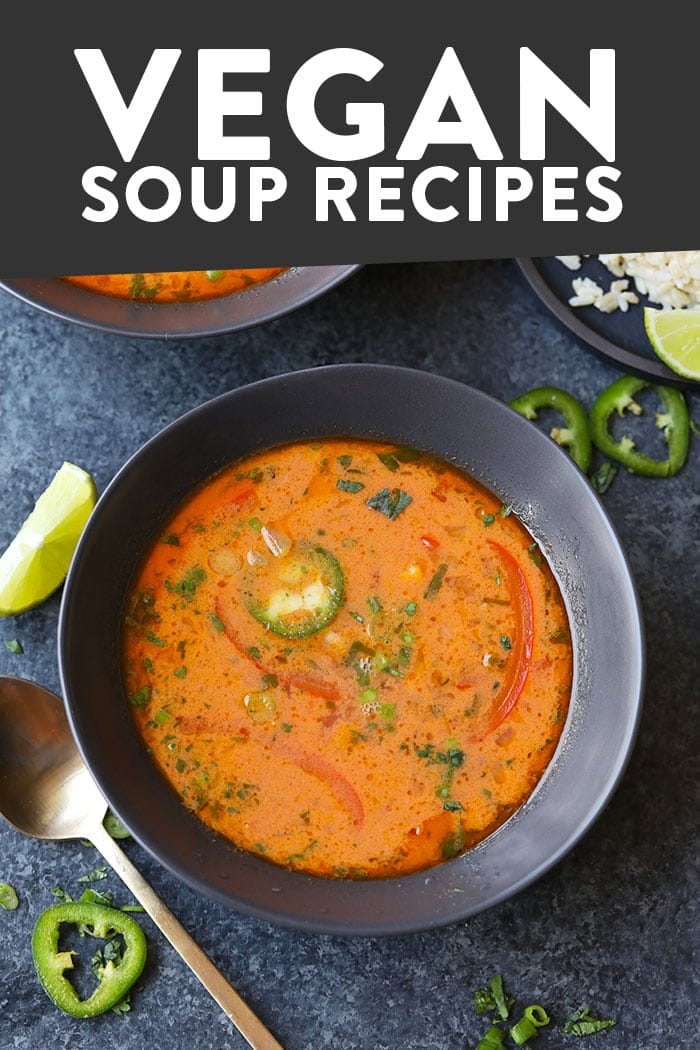 Chili Recipes
Gluten Free Soup