Whip up a batch of this delicious Instant Pot Chili in no time! This Instant Pot Chili recipe is made with ground beef, beans, tomato products, and homemade chili seasoning.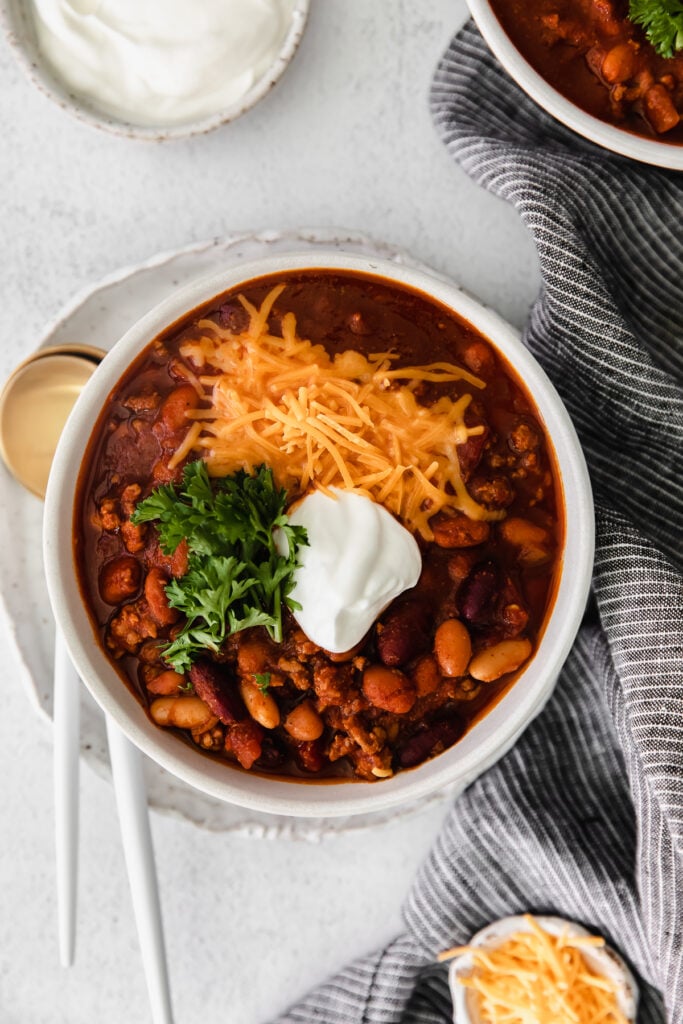 Best Instant Pot Chili
Time to make your new favorite chili recipe! Why yes, it does come together 100% in the Instant Pot in 40 minutes — including the prep time. And yes, we do truly feel like this is the BEST classic Instant Pot chili.
If you've tried our Beef Chili, then you're going to absolutely adore this recipe. It's a spin-off but made in the Instant Pot.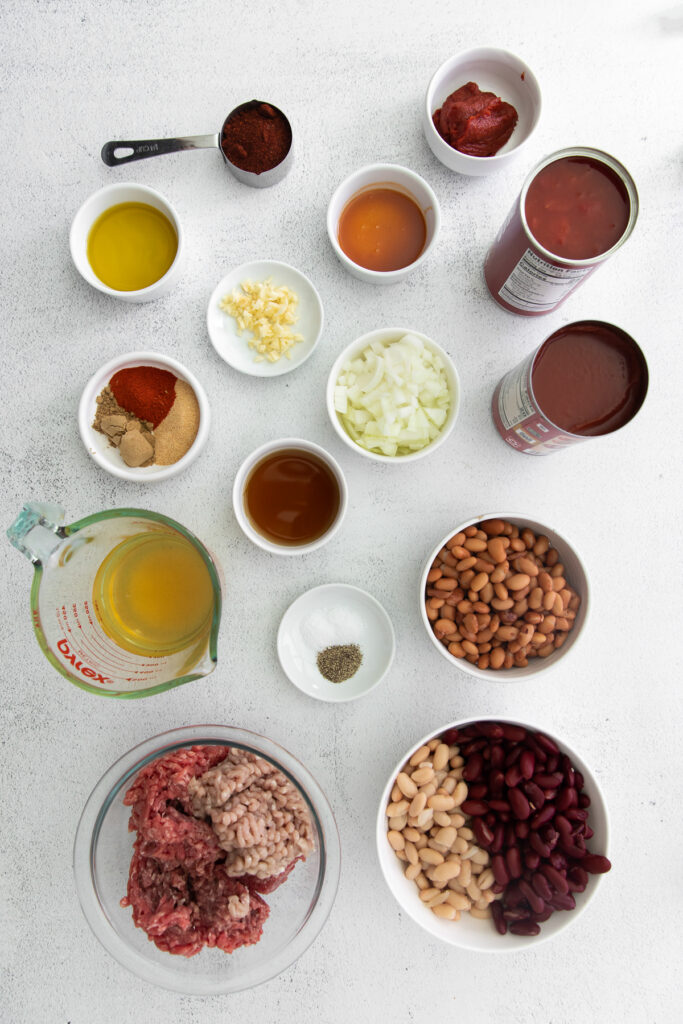 What You Need for Instant Pot Chili
This Instant Pot chili recipe is rather simple using classic chili flavors. Here are the main ingredients you need:
White onion – feel free to use white or yellow.
Ground beef (we used 85% fat!) – make sure your ground beef has a little bit of fat in it. It adds such great flavor.
Ground pork – ground pork is an incredible flavor add. Feel free to use Italian sausage if you have tha ton hand.
Minced garlic – garlic truly makes the world go round and it's essential for Instant Pot chili!
Pinto, kidney, and great northern beans: we know there is an internet debacle on whether beans are a classic chili ingredien and I can tell you right now that we are team beans! Feel free to use 3 cans of your favorite.
Tomato sauce, diced tomatoes, and tomato paste: tomato products are essential for classic chili. We used tomato sauce, diced tomatoes, and tomato paste.
Maple syrup: our secret ingredient. SHHHHH. It brings out all those delicious chili seasoning spices.
Hot sauce: if you don't want to add hot sauce, you can add a dash of apple cider vinegar.
Homemade chili seasoning – once you make your own homeamde chili seasoning, you'll never go back. It's soooo much more flavorful.
Beef broth: beef broth helps thin out the tomato products. You can also use chicken or vegetable broth.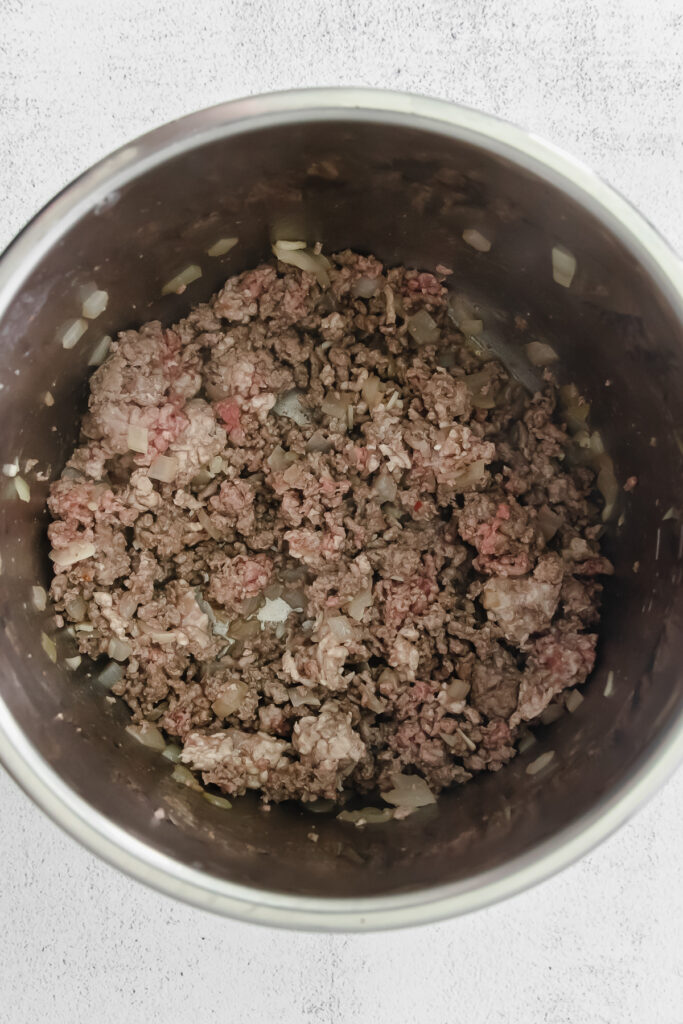 Instant Pot Chili Recipe Tips
Types of Ground Meat
We used ground beef (85%) and ground pork in this recipe, but feel free to sub either for a ground meat of your choice. Be aware that leaner ground meats like ground chicken or turkey may affect the thickness of this chili as they don't produce as much fat when cooked.
Also, speaking from experience, less fat also gives off less flavor.
Types of Broth
We recommend beef broth for this Instant Pot chili because the flavors lend themselves nicely to the ground beef and pork. But feel free to sub 1:1 for chicken broth, vegetable broth or in a pinch, you can use water.
Instant Pot Sauté Feature
If you use the sauté feature before closing your Instant Pot and setting the timer, it actually helps preheat your Instant Pot FASTER! So, work quickly when you're on this step and don't let your Instant Pot cool off too much.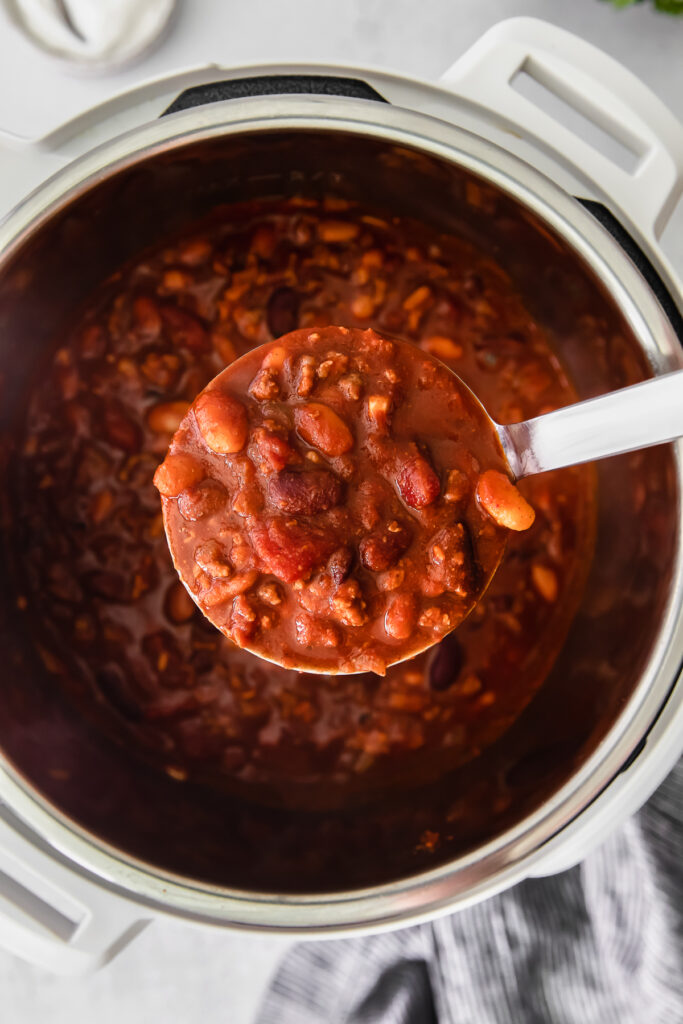 How to Make the BEST Instant Pot Chili
This Instant Pot chili is super duper easy to make. We'll walk you through the 6 easy steps:
Sauté Onions
Turn on the sauté feature and add 1 tablespoon of olive oil to the pot.
When the olive oil is fragrant, add the onion to the pot and sauté for 4 minutes. Add the garlic to the pot and sauté with the onion for 30 seconds.
Partially Cook Ground Meat
Next, add the ground beef and ground pork to the pot and break them up into small pieces to partially cook the meat.
Pour in Rest of Ingredients
Add the rest of the ingredients to the pot and mix until combined.
Pressure Cook
Place the top on the Instant Pot and turn the pressure valve to seal. Set Instant Pot to > manual > high pressure > and set time to 5 minutes. The Instant Pot will take around 15 minutes to build pressure before it begins to count down from 5 minutes.
Quick Release Instant Pot
When the timer goes off, quick release the Instant Pot by manually opening the valve. Once the steam stops, remove the lid, and give her a good mix.
Serve & Enjoy!
Serve immediately with your favorite toppings! YUM.
Freezer Instructions
Instant Pot chili is the perfect chili recipe to freeze! We wrote an entire post on how to freeze soup and it works the exact same way for chili.
Let your Instant Pot chili cool completely.
Then, transfer it into an air-tight container or freezer-safe gallon-size bag.
Remove as much air as possible and seal.
Freeze for up to 3 months.
Storage Instructions
Store your Instant Pot chili in an air-tight container in the refrigerator for up to 5 days.
To reheat: Either place multiple servings of the chili on the stovetop and heat over medium heat until boiling or place 1 serving of chili into a microwave-safe bowl and microwave on high for 1 minute and 30 seconds to 2 minutes.