Green Chili (AKA Chile Verde) never looked so good! This easy green chicken chili is made with roasted peppers, your favorite salsa verde, chicken breast, and white beans.
We decided to take classic Chile Verde flavors but make our recipe a little bit healthier (hello chicken breast) and more accessible (oh, hi salsa verde!).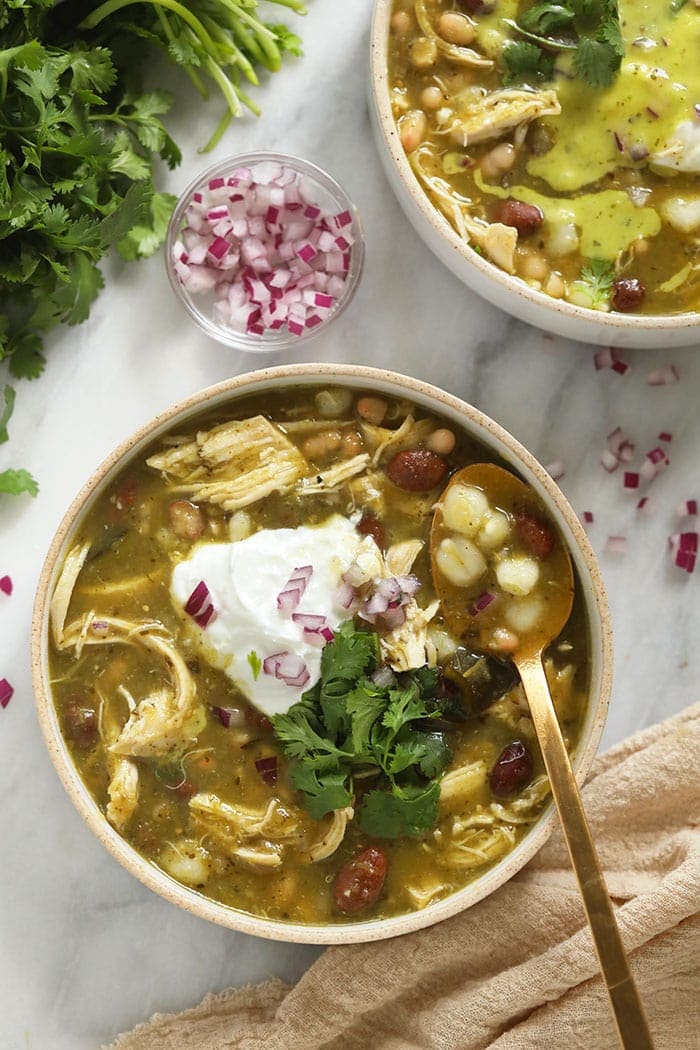 Chili season is here and this green chili needs to be first on your list! Our variation is made healthier with chicken breast, extra beans, and fresh lime juice!
What is Chile Verde?
Chile Verde, also known as Green Chili, is a classic Mexican pork chili made with tomatillos and hot green peppers. In Minnesota, we call Chile Verde…green chili because not only does it translate to that in English, but this chili is also GREEN.
How to Make Green Chili (Healthier!)
Of course, this wouldn't be a Fit Foodie recipe if we didn't try and make it a little bit healthier and a little bit easier to make than the classic Chile Verde recipe. What I love about Chile Verde in general, is that it's already made with tons of veggies and fresh flavors so it wasn't really that hard to make it even better for you.
There are 3 different parts to this recipe and we'll take you step by step how to make it!
Green Veggies
Meat
Beans
1. Green Veggies
What makes green chili green? No, it's not slime, it's the veggies you use! In our recipe, we used 3 different kinds of peppers: 1. poblano, 2. jalapeño, and 3. green chiles. Spoiler alert, we took some of the green legwork out and decided to use a jar of salsa verde. Not only does this add more "green," but it also adds amazing flavor.
How to cut peppers (seeds vs no seeds): There really is no right or wrong way to cut your hot peppers mostly because you will be eventually blending it all together into a puree. However, we do suggest removing the cores and seeds of your peppers to tame the heat down.
In order to do this, slice the top of your pepper off and then cut them long ways down the middle. Remove the innards and seeds and discard.
How to roast peppers: Once you've chopped your peppers and onion, place them on the bottom of a stockpot. Drizzle on some olive oil and season with salt. Toss and roast at 400ºF 25 minutes.
How to make this chili more or less spicy: If you're worried about spice here are a few ways to make them more and less spicy!
More: add one or two more jalapeños to this recipe OR don't discard all of the seeds. The seeds pack in a lot of heat. Also, you can use a spicier salsa verde instead of milk to add more heat.
Less: Replace the jalapeño with another poblano pepper and use a mild salsa verde.
Why blend the peppers? One of the most essential parts about this recipe is actually blending your green peppers, onions, and salsa verde with a handheld blender (or normal blender). We do this because it 1. brings the flavors full circle and 2. thickens up this chili!
Thickening agent: You'll notice that the recipe does NOT call for a thickening agent like flour or cornmeal and that's because you don't need one when you blend all of this goodness together! Saves you a step and an ingredient.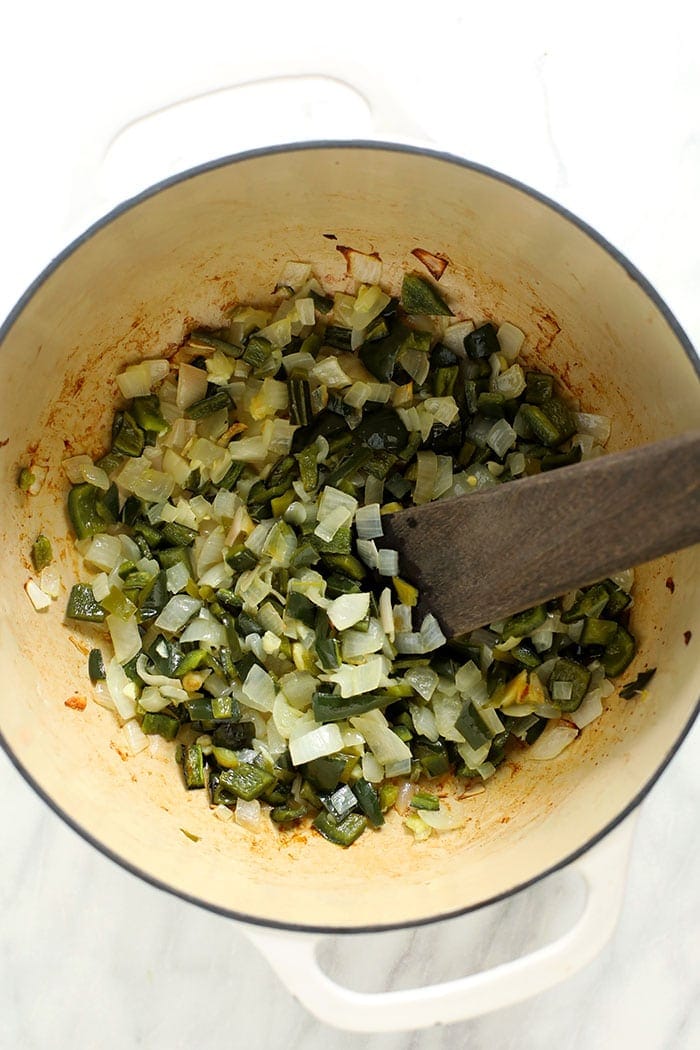 2. Meat
While the classic Chile Verde recipe calls for pork shoulder, we're actually using chicken breasts instead…so that's why this is more like a green chicken chili recipe. The nice thing is that you can totally swap the chicken breast out for pork if you'd like, but we're choosing chicken breasts today to lighten up the fat content of this recipe, while still adding a ton of protein.
Don't have chicken breast? No problem! Try using any of the following cuts of meat in your Chile Verde recipe instead.
pork shoulder
chicken thighs
beef roast
turkey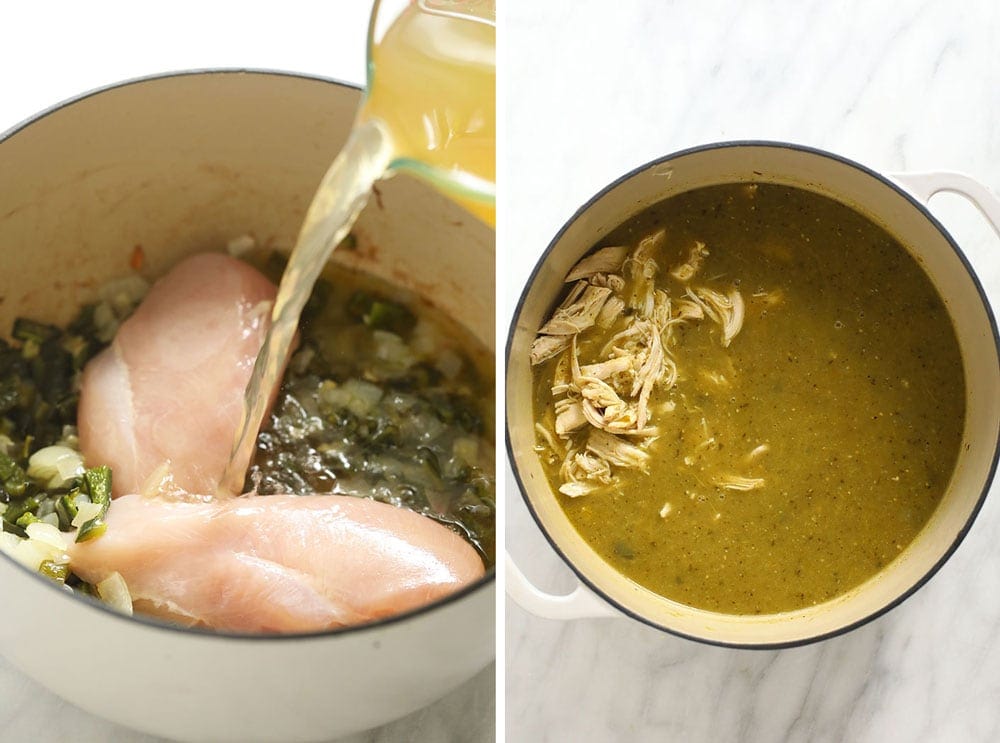 3. Beans
Not only do beans add extra fiber to this recipe, but they also stretch out the number of meals you can get out of this recipe! Most traditional Chile Verde recipes don't call for beans, but guys, we're going nontraditional! Here's what we used:
Pinto: a delicious, mild bean that adds a little color to this green chili.
White Cannellini: don't have white cannellini beans on hand? Use any other kind of white bean in your cupboard.
Hominy: while technically not a bean, hominy adds great texture and flavor to this recipe!

Stove vs. Crockpot
Lucky for you this recipe can easily be made in the slow cooker. Place everything BUT the beans and hominy in your slow cooker and cover. Cook on high for around 3-4 hours or low for 6-8.
Once the chicken is fully cooked, remove and shred with 2 forks. Then, use a handheld immersion blender to blend the contents of the slow cooker. Place the shredded chicken back in and add the beans and hominy. Mix and cook for an additional 15-30 minutes.
Topping Ideas
Chili isn't chili without the toppings! Here are some of my favs:
Greek yogurt or sour cream
Fresh cilantro
Raw red onion
Fresh lime juice
Avocado
Tortilla chips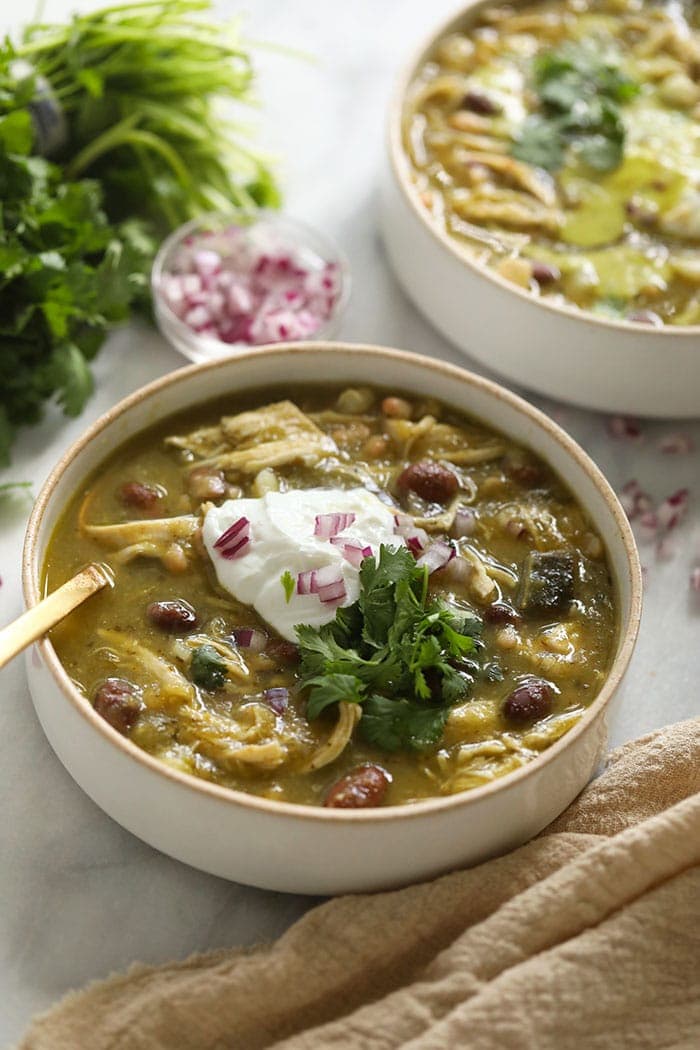 Storage
If you're planning to meal prep this chili for a healthy option all week long, we recommend storing this in a glass, airtight container. Store in the refrigerator for up to 5 days.
How to reheat: To reheat, place green chili in a microwave-safe bowl and microwave on high for 60-90 seconds. Alternatively, you can plan the entire batch of chili back into a stockpot and reheat on the stovetop.
Can you Freeze this chili? To freeze this chili, place into a freezer-safe gallon-size bag or container and remove as much air as possible. Seal and freeze for up to 3 months.
Other Uses
Have leftover chili? Here are some great ideas for repurposing your chili into leftovers!
Top a baked potato with leftover chili.
Use the chili as the meat of enchiladas or burritos. It will thicken overnight in the fridge and become the perfect filling!
Ever heard of breakfast chili? Serve some green chili with a fried egg.
More Chili Recipes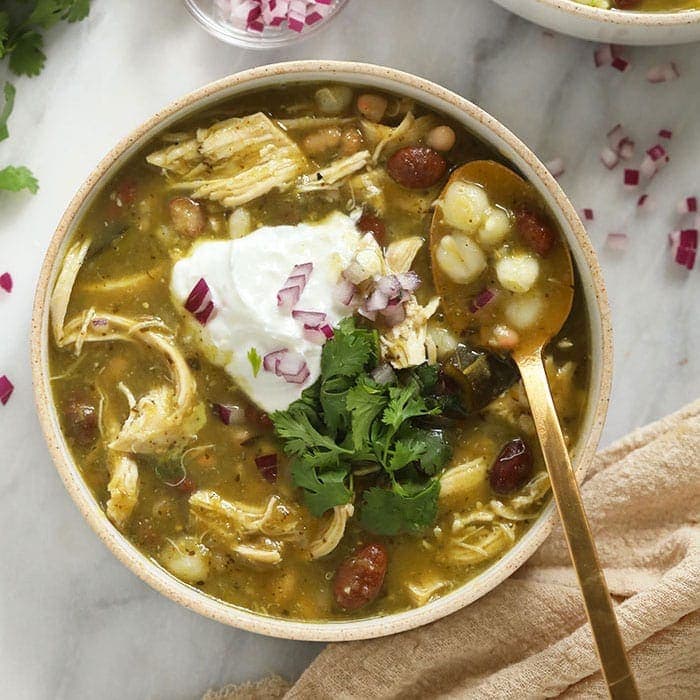 Green Chili (Chili Verde)
Green Chili (AKA Midwestern Chile Verde) never looked so good! This easy green chicken chili is made with roasted peppers, your favorite salsa verde, chicken breast, and white beans.
Prep:
15 minutes
Cook:
60 minutes
Total:
1 hour 15 minutes
Ingredients
1

medium white onion, chopped

2

poblano peppers, diced

1

jalepeño, seeded and diced

1

shallot, minced

4

cloves garlic, minced

2 tablespoons

olive oil

1/8 teaspoon

salt

1

4-oz. can green chiles

16 oz

. salsa verde (any heat works)

4 cups

chicken broth

1

lb. boneless, skinless chicken breast

1

15-oz. can pinto beans, drained and rinsed

1

15-oz. can white cannellini beans, drained and rinsed

1

15-oz. can white hominy, drained
Instructions
First, preheat oven to 400ºF.
Add onion, poblano peppers, jalepeño, shallot, and garlic to a large, oven-safe stockpot.
Then, drizzle on olive oil and salt and toss. Place in the oven and bake for 25 minutes at 400ºF, stirring halfway.
Remove stockpot from oven and add salsa verde, chicken broth, and chicken breast to the stockpot.
Bring to a boil over medium/high heat. Once boiling, cover, and reduce heat to low. Let simmer for 25-30 minutes, or until chicken is fully cooked.
Once the chicken has cooked, remove from the pot and use 2 forks to shred. Set aside.
Using a handheld immersion blender, blend the contents of the pot just until there are small chunks.
Then, add the shredded chicken back into the pot along with the beans and hominy.
Stir and let simmer for an additional 10 minutes.
Category:
Dinner
Method:
Oven