When you need a warm meal to thaw out your bones, this White Chicken Quinoa Chili is just what you need! It's made with chicken breast, quinoa, white beans, and salsa verde…oh and cauliflower crunchies on top!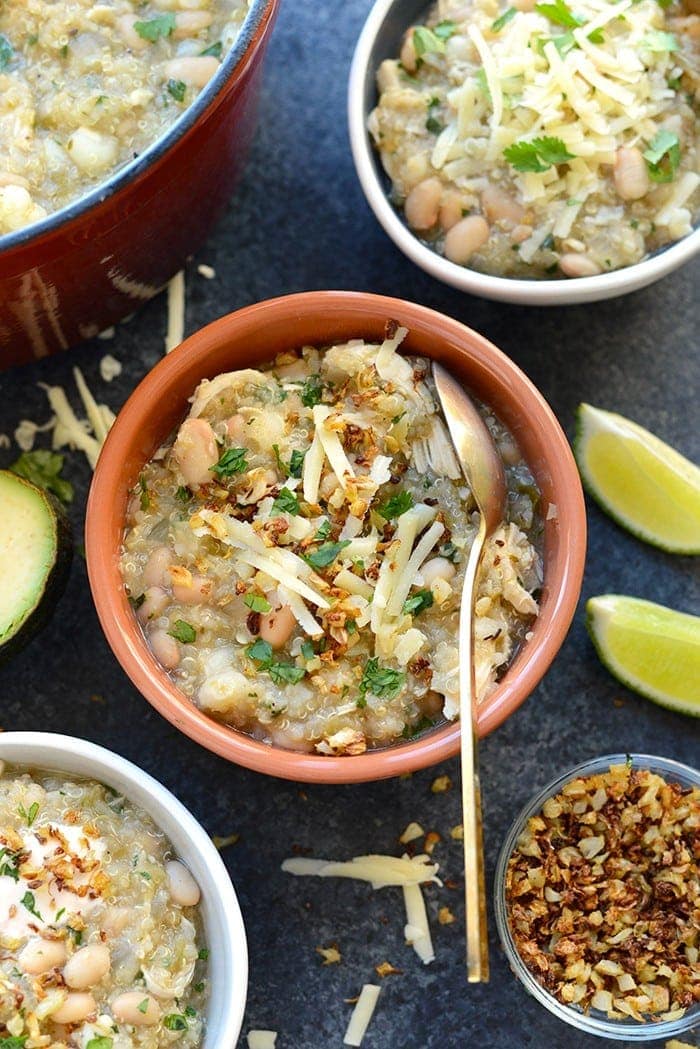 I have been back in Minneapolis for a whole 3 days. As you know, I've been traveling my buns off…so 3 days in a row is pretty good for me. Since I've been traveling so much, Lin and I have had to be very organized in order to stay on task while I am away. We end up testing and shooting recipes like crazy people when I am home in Minneapolis and being VERY strategic when I'm gone. This comes with planning our content calendar at least two or three months out.
We have gotten in a groove lately and one thing that's been amazing is Asana, which is a project management tool. It has seriously changed our lives. My brand manager, Katie from The Healthy Glow Collective, introduced me and I'm OBSESSED. Lin and I can work virtually without a glitch and it's been a dream. So if you are struggling with managing a team, working from home, or anything in-between..seriously check out Asana!
Now, to the chili.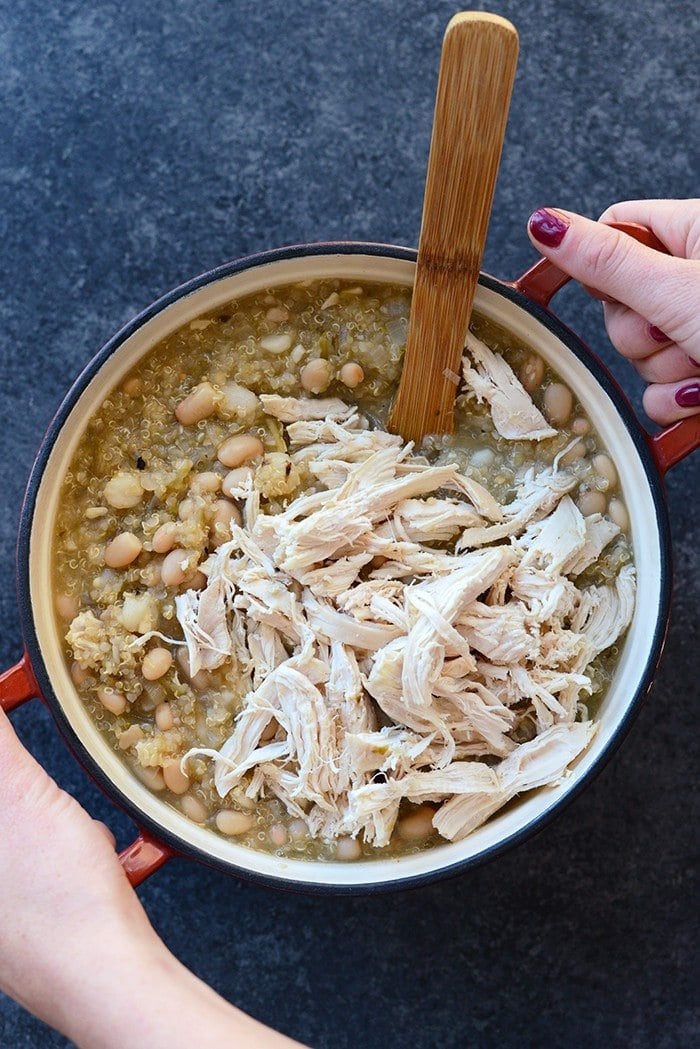 I can't tell you how many times I eat chili starting in the fall——> all the way through the long Minnesota winter. You guys, chili is one of the most versatile, satisfying, and customizable meals out there. Don't you agree? No matter how you like your chili, you can really customize any chili recipe to suit all of your favorite ingredients. If you don't like kidney beans, sub with black beans. If you don't like tomato based chili, skip the tomatoes and just use broth. The options are endless. When Team Fit Foodie is testing a new chili recipe we make sure we include all the chili essentials….
Chili Essentials
Beans
Broth
Protein
Spices
Assorted Toppings
This White Chicken Quinoa Chili uses white beans, chicken broth, quinoa & chicken for the protein, cumin & cilantro for the spices, and greek yogurt & cauliflower crunchies for the topping (more on those later). All of our bases are covered. I have to admit, I am usually a tomato-based chili person. Lin and I have been loving white beans lately, so we wanted to give white chili a chance. It didn't disappoint. This recipe is so comforting and has such a delicious tartness when you added greek yogurt as a topping. Obviously, I opted to use chips instead of a spoon so it was like a delicious, warm, white salsa. HA.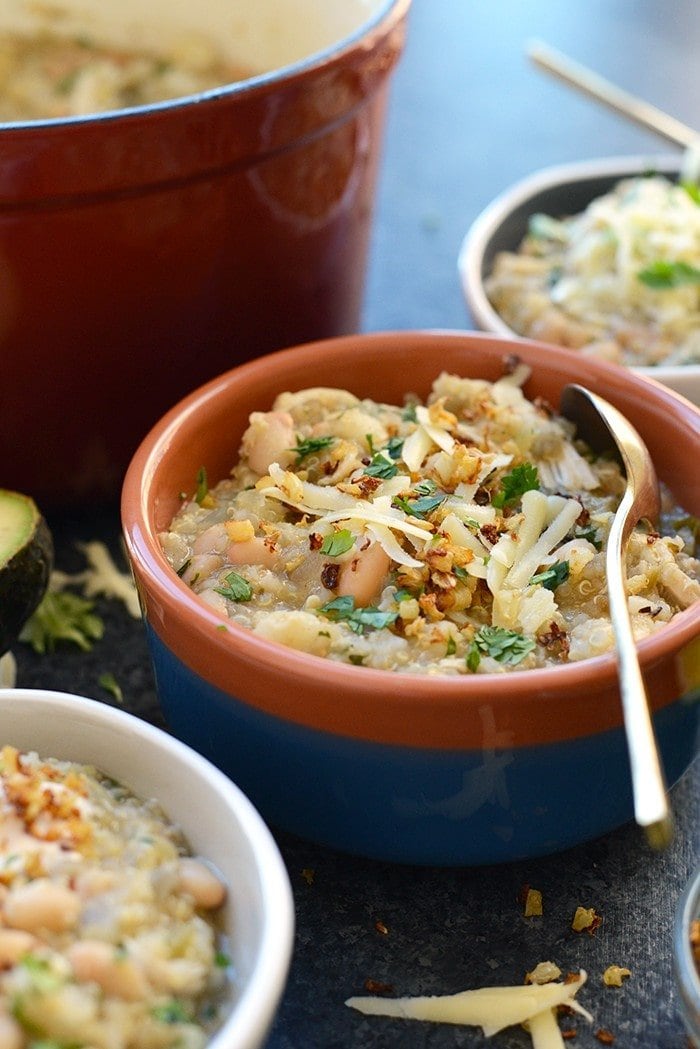 You need to step up your toppings a notch and make these super simple cauliflower crunchies. We were testing a roasted cauliflower recipe the day before we made this chili and realized after you take the big chunks of cauliflower off of the pan, there are still delicious little crunchies of heaven left on the bottom (which are actually my favorite!). So what did we do? We went to the store, bought a bag of cauliflower rice and made a whole batch of ONLY crunchies as a topping for this chili. It was genius and my life will never be the same again.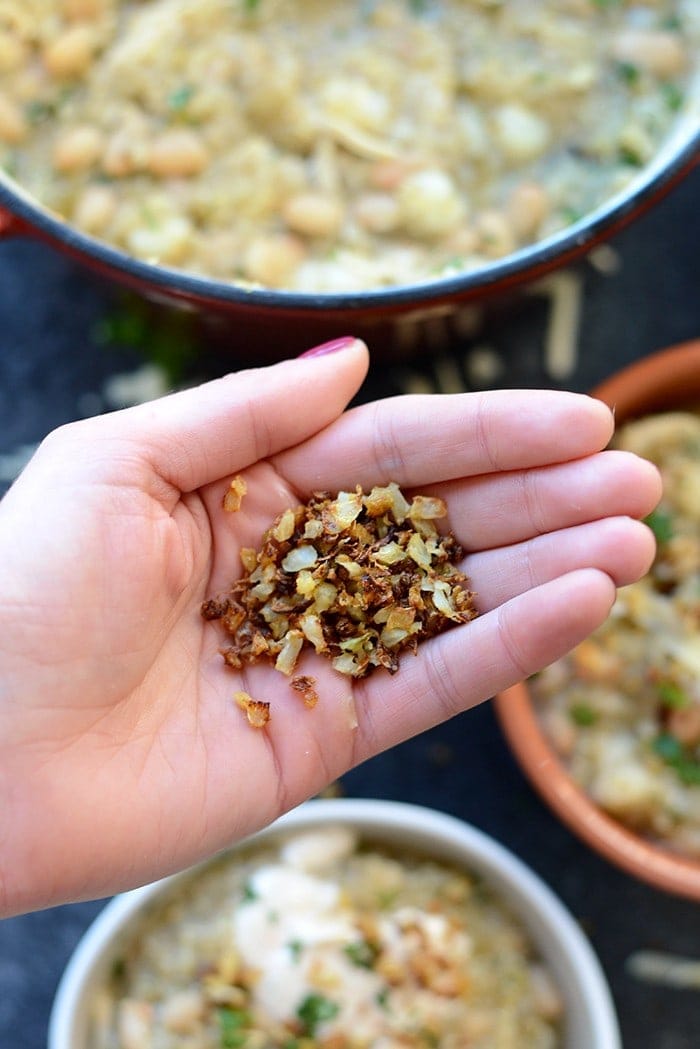 No matter what you decide to top this chili with, it's delicious and perfect for a holiday dinner, meal-prep for the week, and everything in between.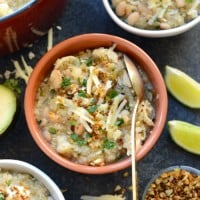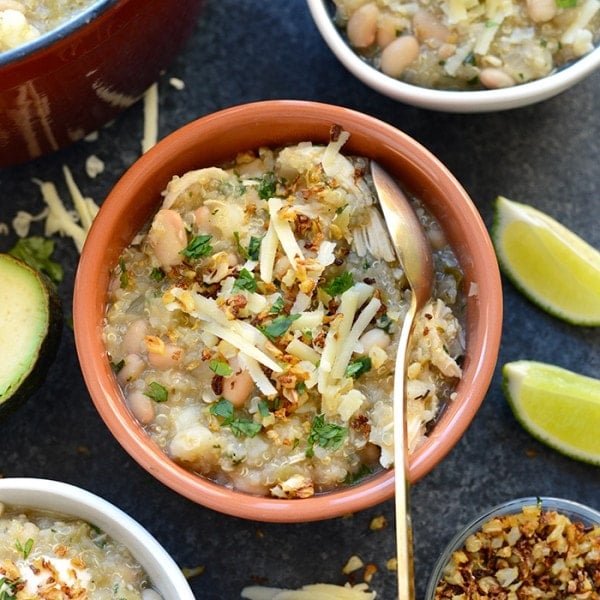 White Chicken Quinoa Chili
This delicious white chicken quinoa chili is high-protein and a healthy fall dinner idea!
Ingredients
For the Chili
2

tablespoons

olive oil

1

tablespoon

mince garlic

1/2

large white onion

finely diced

2

medium chicken breasts

~8 oz.

16

oz.

salsa verde

15

oz.

can white northern beans

drained

15

oz.

can navy beans

drained

15

oz.

can white hominy

or corn

1

cup

white quinoa

uncooked

32

oz.

low sodium chicken broth

4 cups

salt

to taste

1

tablespoon

ground cumin

1/8

cup

lime juice

1/4

cup

cilantro
Instructions
Place 2 tablespoons of olive oil in a large pot. Add in minced garlic and white onion. Sautee for 1 minute and then add in chicken breast, quinoa, chicken broth, beans (drained), hominy, and salsa.

Bring to a boil, uncovered. Let simmer and cover for 30 minutes on low until chicken is cooked.

Shred chicken and then place back in. Add in cumin, salt, lime juice, and fresh cilantro. Mix again. If your chili is too thick (it tends to do that!) add more chicken broth or water.
For the Cauliflower Crunchies
Roast at 400ºF for 10 minutes. Toss and cook for an additional 5 minutes.
Tips & Notes
Nutrition information is without cauliflower crunches.
Option to make this recipe inside of a crockpot. Place all ingredients in your crockpot and cook on high for 3-4 hours or low for 6-8 hours. Once the chicken is tender and the quinoa is fully cooked, shred the chicken and then place back in and mix. Enjoy!
When you reheat the chili for leftovers, you may need to add a liquid such as water or broth because it will thicken even more in the fridge!
Nutrition facts
Calories:
398
kcal
Carbohydrates:
58
g
Protein:
25
g
Fat:
9
g
Fiber:
10
g
Sugar:
4
g
In case you are chili-obsessed like me…we pulled a few of our favorites from FFF for you to try out. Enjoy!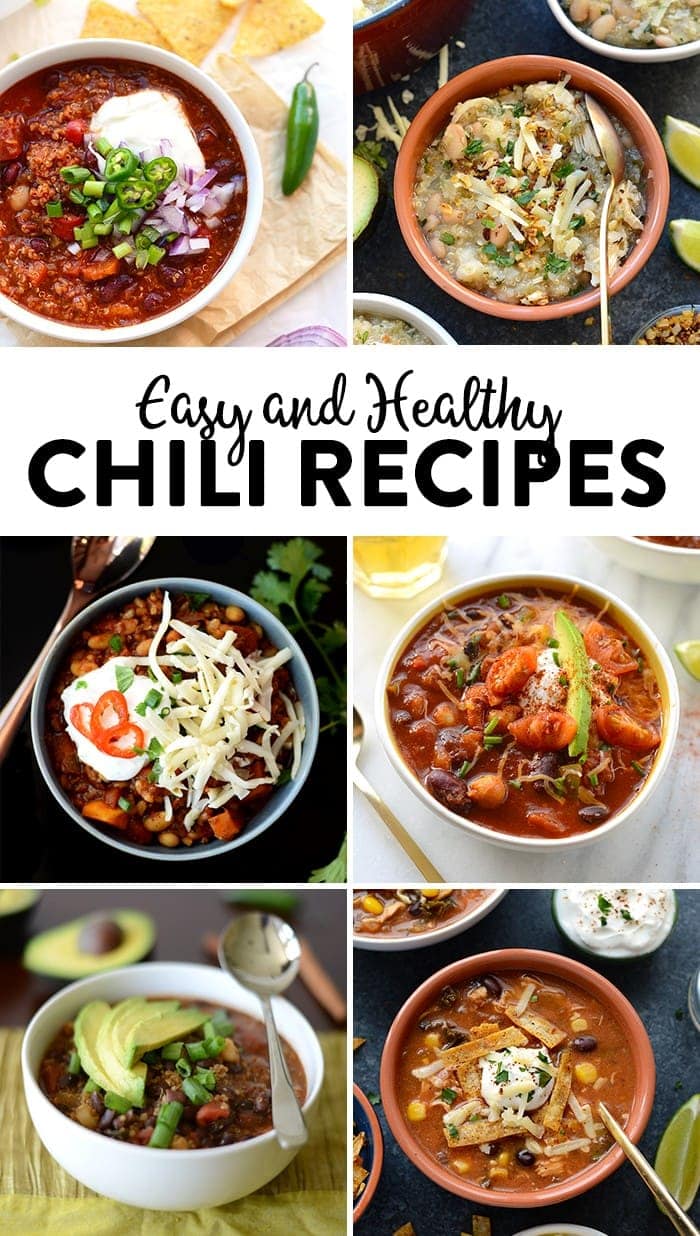 Roasted Red Pepper Quinoa Chili  // The World's Easiest White Chicken Quinoa Chili (this recipe!!) // Healthy Bison Chili //  Vegetarian Beer Chili //  Black Bean Quinoa Chili // Chicken Tortilla Soup with Kale