Beer + chili = a match made in heaven! Spice up classic chili and add a bottle of your favorite brew to make this delish Vegetarian Beer Chili!
Bring on the chili season. We have some of the most delicious chili recipes on FFF including this green chili recipe or this white chicken quinoa chili. You can't go wrong with chili for the perfect meal prep meal!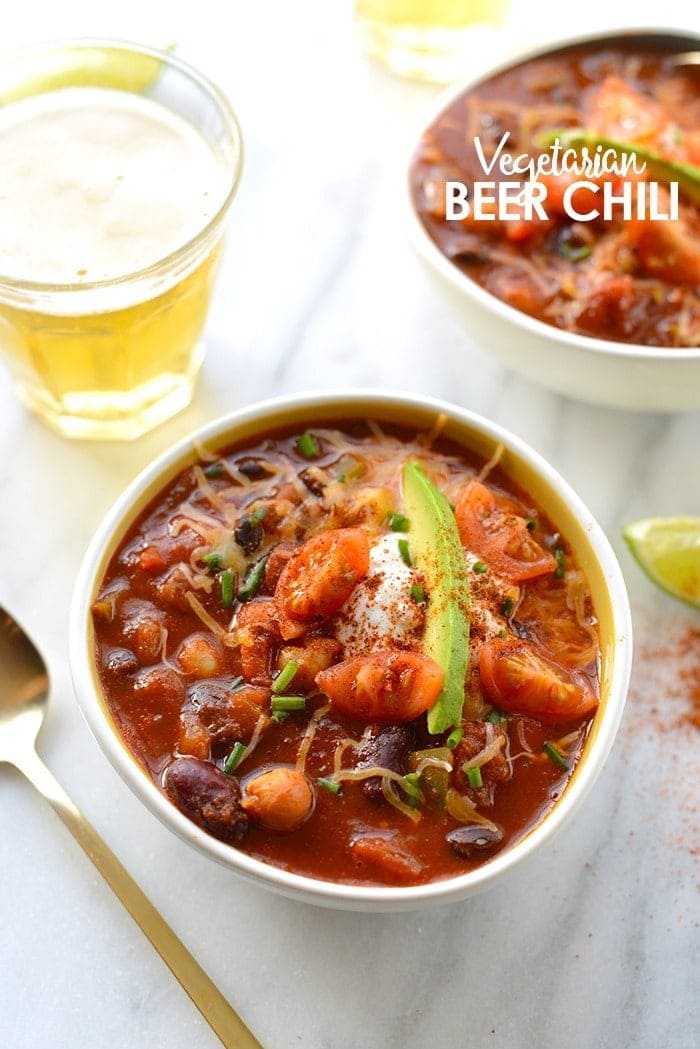 Chili Saves the Day
Oh man, want to know what THE BEST FEELING EVER IS? When you get home at 12 AM from a 3-day trip and you're starving, but have nothing to eat. Then you realize you froze some chili from the week before and all will be well.
That happened to me last week with this very chili and I literally patted myself on the back. I usually try and pawn all of my extra food off to friends and family, but I need to start saving some of it and freezing it for myself!
You also never know when there's going to be a zombie apocalypse or a blizzard so you best be fully stocked with good food. Not only do I keep frozen chili in my freezer at all times, but I always have our homemade chili seasoning in our pantry for emergencies!
This vegetarian beer chili is made with our homemade chili seasoning and is a great meal prep option for the family!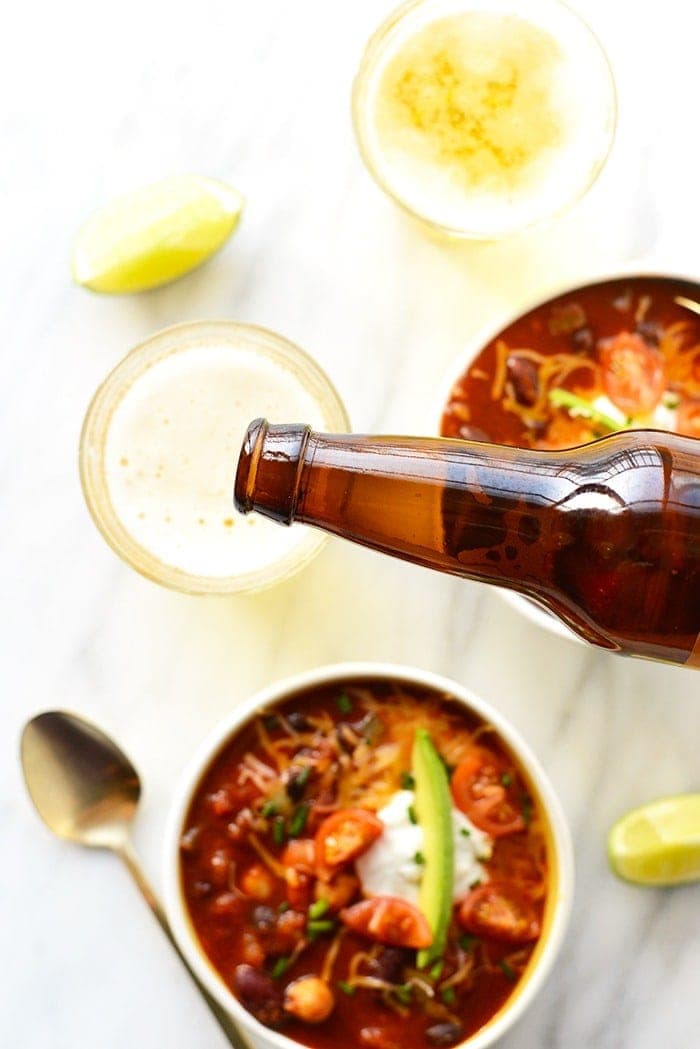 Everything You Need to Know: Beer Chili
Beer in chili? You bet! Whether you are a beer lover or not, adding beer to your chili gives in an extra layer of flavor that will make you finish the whole bowl.
Typically you add a liquid (broth, water, etc.) to chili anyway and substituting some of your liquid with beer can totally change a recipe.
What kind of beer do I use in beer chili?
What beer you use will determine the flavor of your chili. For this vegetarian beer chili, we used a light lager. We wanted a light hoppy flavor that wasn't very overpowering.
However, feel free to use any beer you would like!
IPA- IPAs tend to be a bit hoppier than most beers. Using an IPA will really enhance the beer flavor of your chili more than any other beer option. So if you're not a big beer drinker, steer clear of using this beer in your chili.
Pale Ale- A pale ale will act like a lager in that it will not overpower the chili seasoning flavors and will give you just the right amount of beer flavor.
Stout- A nonflavored stout will add a complex richness to any beer chili!
Flavored- Go crazy and use a jalapeno flavored beer or a beer with another warm infusion for an extra punch!
Can I use gluten-free beer or alcohol-free beer?
YES, there are great gluten-free beers out there (Omission beer) as well as alcohol-free beer (Heiniken 0.0). There is something for everyone!
Can I freeze chili?
Yes, you can freeze chili! Meal prepping chili for the week or when you know you'll need a meal fast in the future is clutch. Follow the steps for how to freeze chili in this How to Freeze Soup post!
What other recipes can I use chili in?
Our favorite way to eat chili is right out of the bowl using a tortilla chip as a spoon! However, If you make a big batch of chili and need more meal ideas to keep mealtime interesting, here are some recipes that you can use chili in!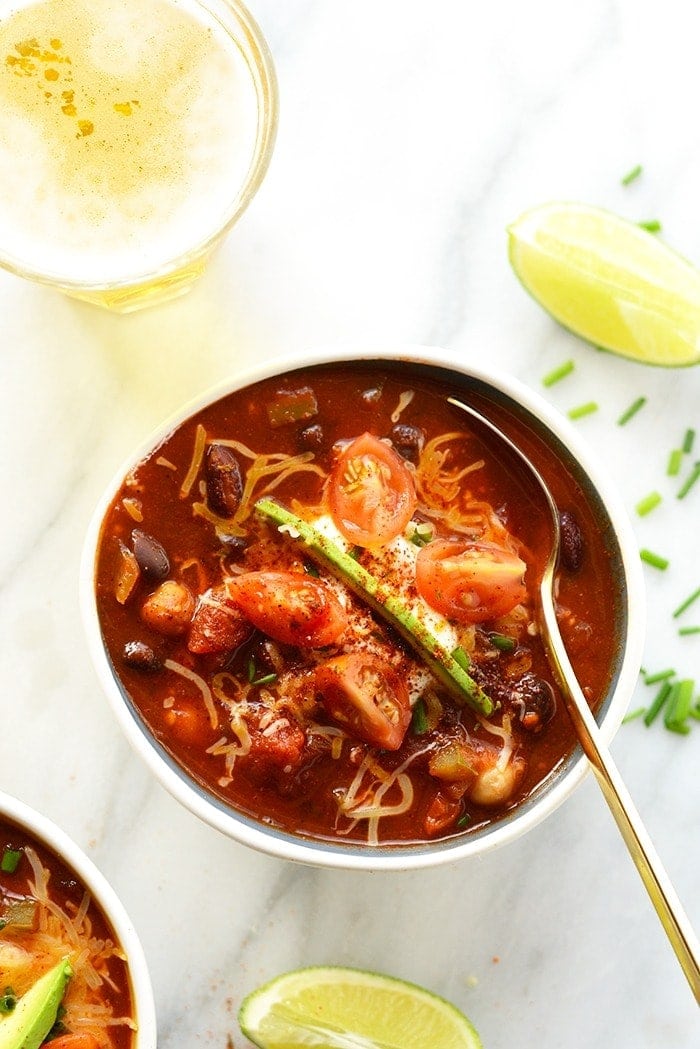 Vegetarian Chili Options
Not only is this chili recipe unique because it uses beer, but it is also a vegetarian recipe! Forget the meat in this recipe and add the beans, please!
Here are some substitution options if you are making this chili recipe last minute or if you need to be inspired.
Liquid- The liquid in this recipe is obviously BEER. If you don't have a beer or need an alternative feel free to use any broth or stock you have on hand!
Protein- Since this is a vegetarian recipe, we used beans as our main source of protein in this recipe! If you are not a vegetarian, feel free to add more protein by adding a 1/2 pound of ground beef, chicken, or turkey.
Toppings- Our favorite chili toppings are avocado, greek yogurt, and cheese! Feel free to make this chili your own by adding your favorite toppings!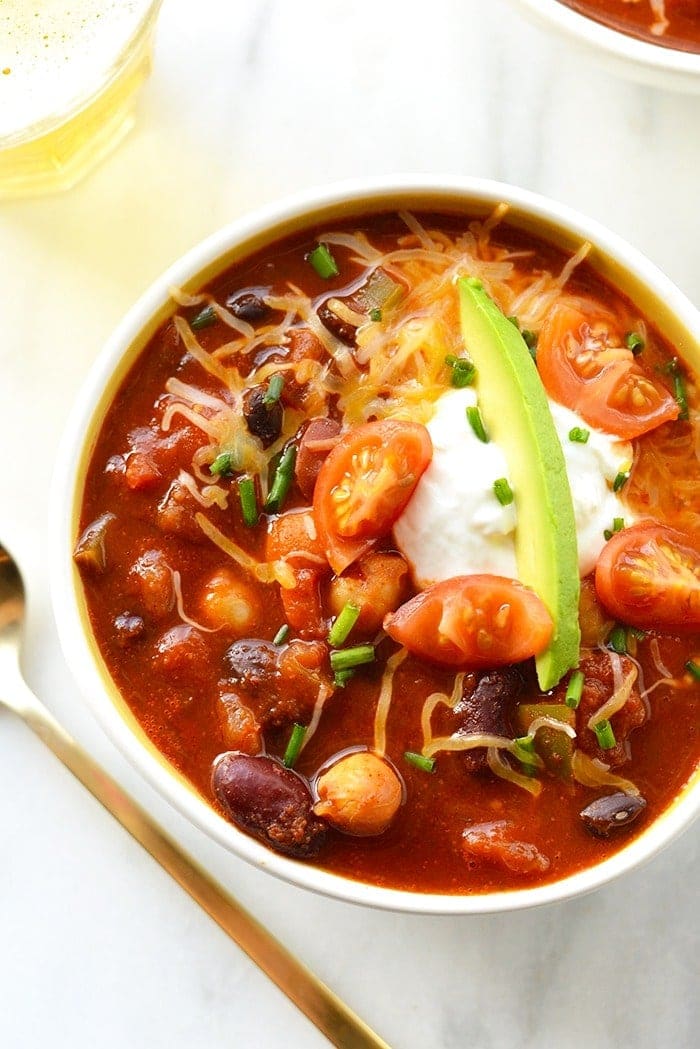 Healthy Chili Recipes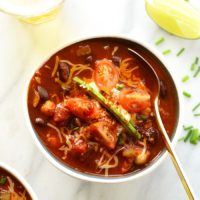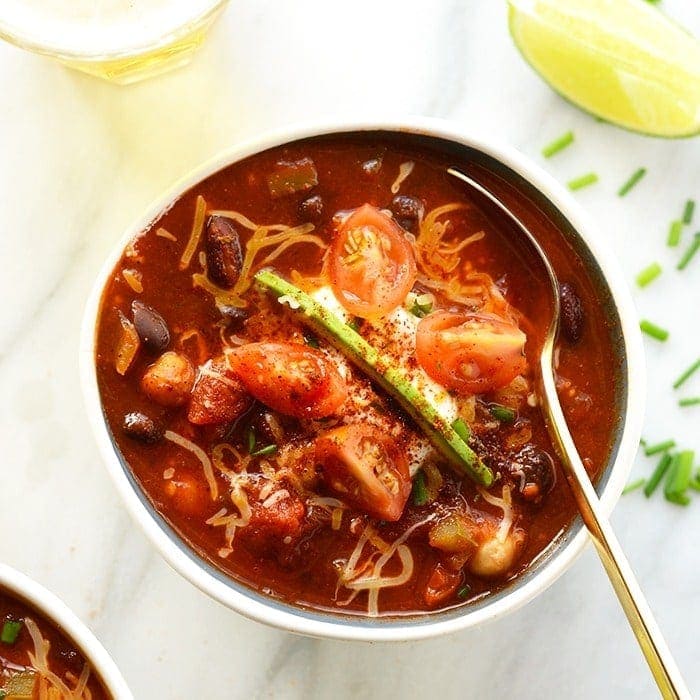 Vegetarian Beer Chili
Beer + chili = a match made in heaven! Spice up classic chili and add a bottle of your favorite brew to make this delish Vegetarian Beer Chili!
Ingredients
2

tablespoons

olive oil

1

large green bell pepper

diced

1

large red bell pepper

diced

1/2

red onion

finely diced

1

tablespoon

garlic

minced

28

oz.

can diced tomatoes

4

oz.

can chopped jalapeños

4

oz.

can tomato paste

15

oz.

can kidney beans

drained

15

oz.

can black beans

drained

15

oz.

can garbanzo beans

drained

12

oz.

bottle light beer

we used a lager

1/4

cup

chili seasoning

1

tablespoon

maple syrup

1/4

teaspoon

sea salt
Instructions
In a large pot, heat olive oil to medium/high and sauté onion, garlic, red pepper, and green pepper.

When onions are translucent, add the rest of the ingredients to the pot and bring to a boil.

Turn to low and let simmer for 10 minutes and enjoy.
Nutrition facts
Calories:
245
kcal
Protein:
9
g
Fat:
4
g
Sugar:
11
g