Vegetarian Chili so tasty you won't even know it's meatless. This vegetarian chili recipe is made with beans, sweet potato, diced tomatoes, and a delicious homemade chili seasoning.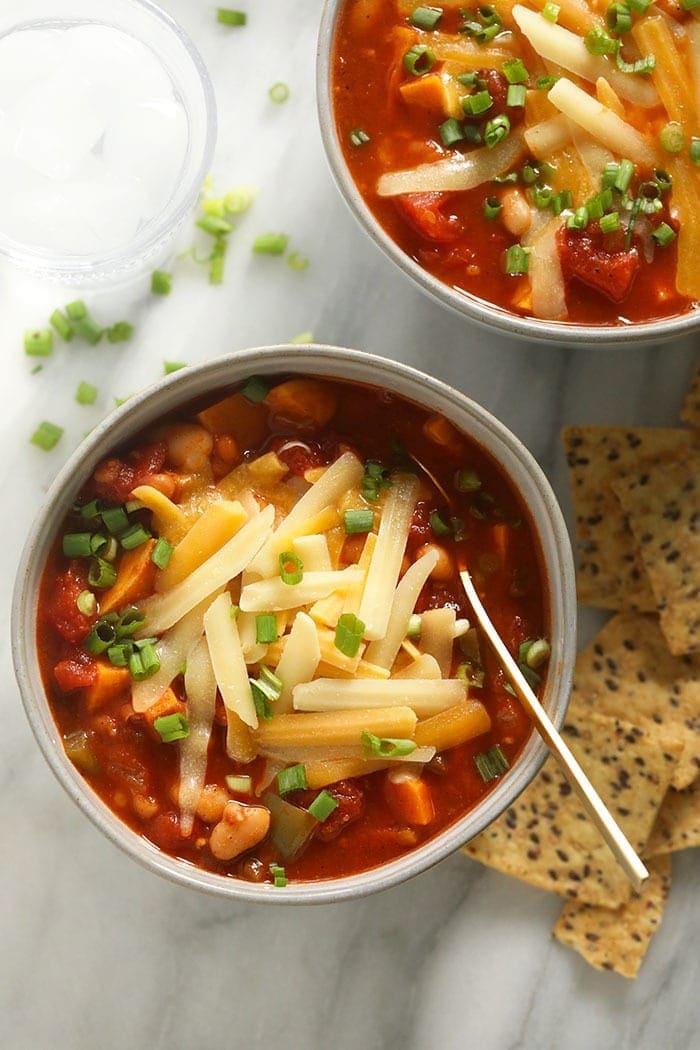 Best Vegetarian Chili Recipe
Take meatless Monday up a notch with the best vegetarian chili recipe on the internet! This one-pot meal is made with real, wholesome ingredients, an amazing homemade chili seasoning, and ready in less than an hour.
If you've tried our vegan Instant Pot chili then you will love this variation! It's similar in that it's packed with all different kinds of veggies, made with pantry staples, and comes together in no time!
Plus, there's nothing better than a giant bowl of vegetarian topped with all the things.
Is vegetarian chili good for you?
Vegetarian chili is extremely good for you. It's packed with both fiber and protein and made with so many veggies. This recipe has 13g protein per serving and a whopping 19g fiber per serving, which makes it a healthy lunch or dinner idea for any day of the week.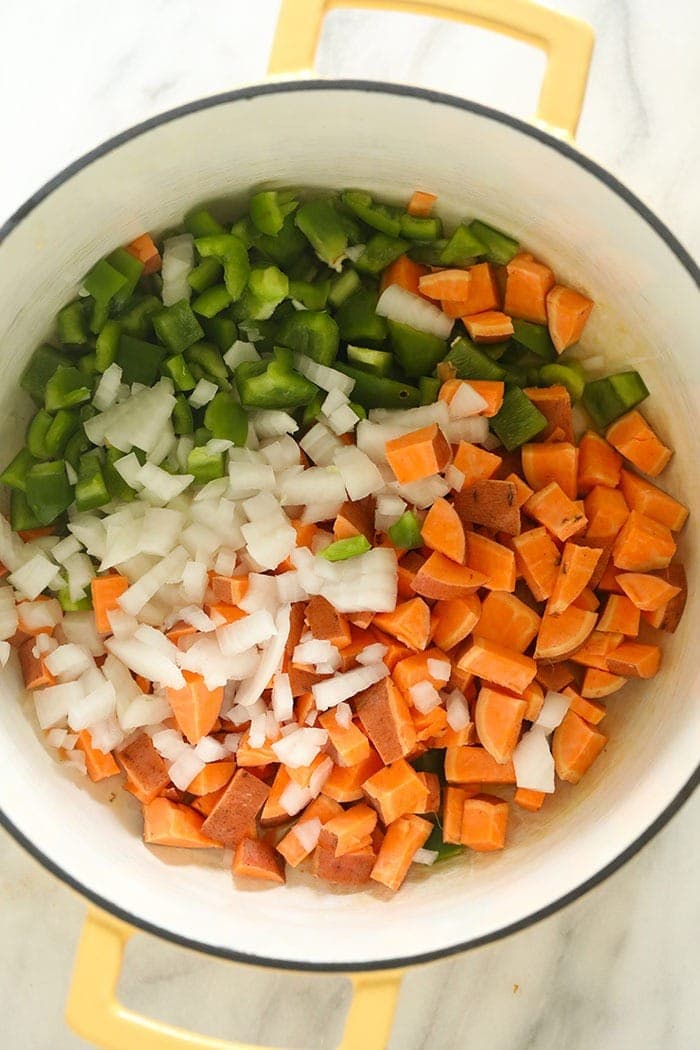 What is Vegetarian Chili Made Of?
Vegetarian chili is a red chili made of beans, tons of veggies, diced tomatoes, and a delicious homemade chili seasoning. All you have to do is let it simmer on the stovetop and you'll have dinner ready to go in no time!
Beans: beans are high in fiber and a great source of plant-based protein! This recipe calls for white northern beans, but you can use 2 cans of any beans you like. Here are some other bean options:
Black beans
Kidney beans
Pinto beans
Garbanzo beans
Bell Pepper: bell pepper is an inexpensive way to add more veggies to your chili. Choose whatever color you like best! Our preference is either green or red bell pepper.
Sweet Potatoes: I love adding sweet potato to chili because it adds a little bit of sweetness and a complex carb! Instead of sweet potatoes, you can always add a different kind of potato such as:
Yams
Russet Potatoes
Red potatoes
Carrot: we know carrots aren't potatoes, but they'll cook the same way!
Onion: When in doubt, add an onion. Any color works.
Diced Tomatoes: Since this is a red chili, we love using both diced tomatoes and tomato sauce as our base.
Chili Seasoning: Instead of buying chili packets at the store, we recommend making your own. Our chili seasoning recipe is made with:
chili powder
garlic powder
cumin
smoked paprika
salt
ground pepper
Secret ingredients for Vegetarian Chili
Wondering what the secret ingredient is to this chili? Well, there are two of them! The first one is maple syrup. A little sugar does wonders for chili. The second is apple cider vinegar. Vinegar really helps balance out all the flavors and make it taste so yummy.
Make your chili spicy!
Are you a fan of spicy chili? You can easily make this chili spicy by adding any of the following:
Green chiles: these are definitely a mild chili, but it does add a bit of spice.
Jalapeño seeds: while there are already diced jalapeños in this recipe, you can make it even spicier by adding some of the seeds.
Hot sauce: swap out the apple cider vinegar for some Frank's hot sauce.
​Cayenne pepper: this is a great spice to add to really up the heat. Start small and go from there.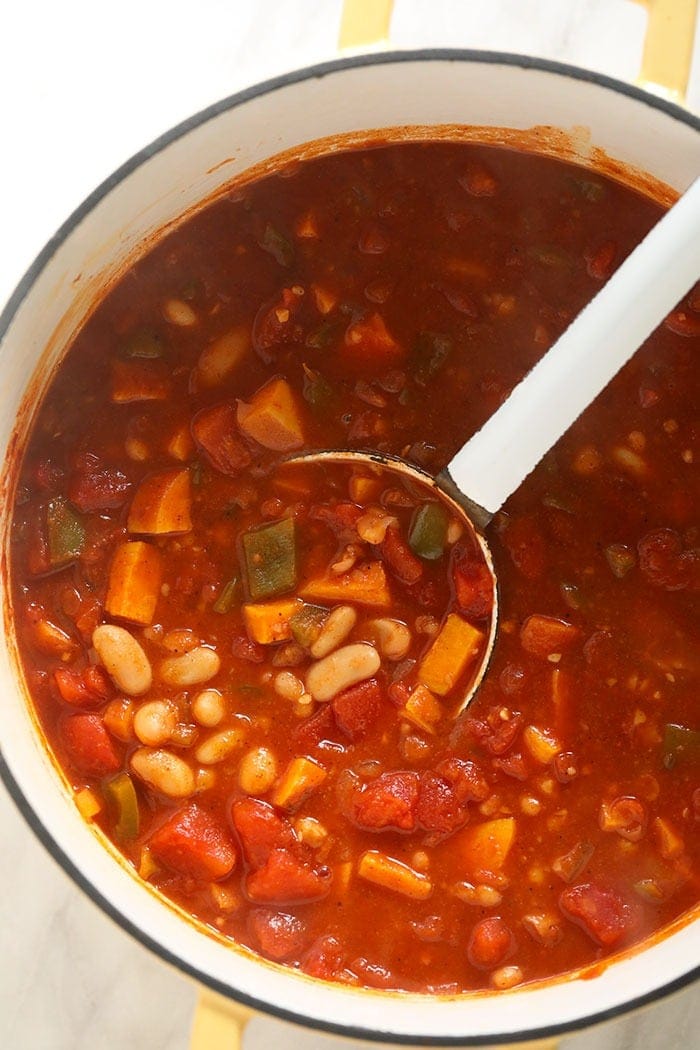 How can I thicken my vegetarian chili?
Thickening chili is easy! We have two methods for you below.
Tomato paste: tomato paste is a great way to add flavor and thicken your chili at the same time. Add a few tablespoons and let your soup simmer for about 15 minutes. It should start to thicken up.
Flour: flor is another good way to chicken chili. Add 1 to 2 tablespoons and let it simmer for 15 minutes.
When in doubt, chili always thickens as it sits in the refrigerator. So, when in doubt, you can just refrigerate it and it will thicken naturally.
Topping Ideas
Chili isn't chili without the toppings! You can keep it super simple like we did with shredded cheddar cheese and green onion or you can get fancy. Here are some more ideas:
Sour cream or Greek yogurt
Fresh cilantro
Avocado
Tortilla chips
Lime juice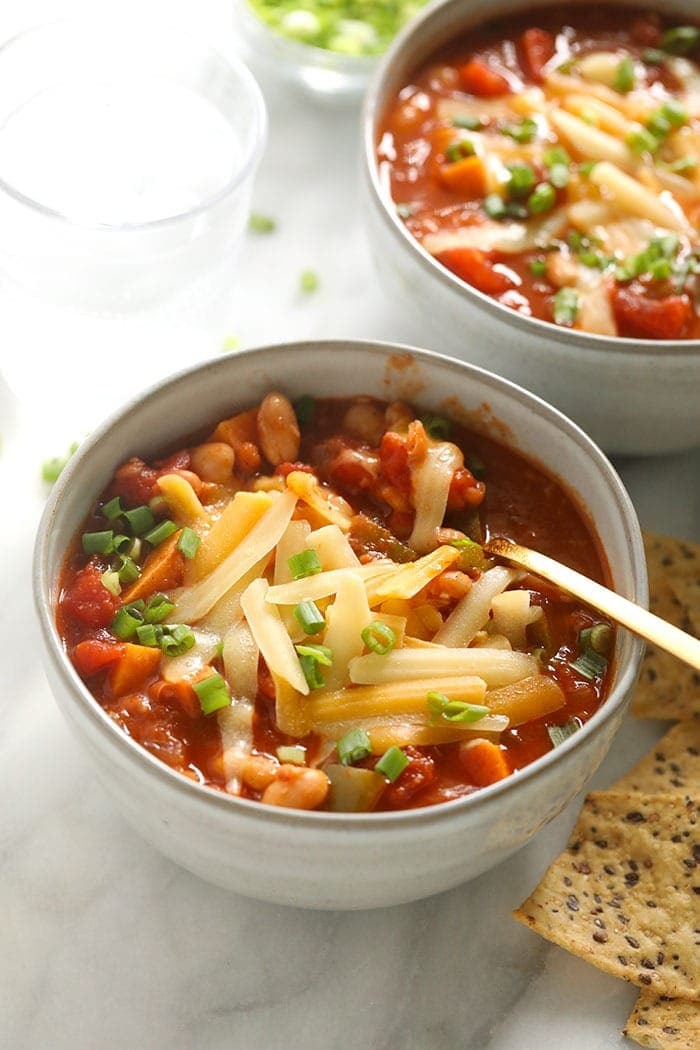 Make the Most of your Chili!
This chili is a great meal-prep option because it serves 6 so that you can eat it all week long! There are so many different ways to eat your chili on days 2 and 3. Here are a few ideas:
Chili Nachos: dump a bag of your favorite tortilla chips on a baking sheet. Then, top it with vegetarian chili, shredded cheese, jalapenos, and black olives. Broil it until the cheese melts and enjoy.
Chili Baked Potatoes: this is my personal way to eat chili on day 2. Make either a baked potato In foil or a baked sweet potato and then top it with your chili and some shredded cheese.
Chili and Eggs: yes, this is a thing. Fry up a few eggs and top them with your chili.
Instant Pot Instructions
You can absolutely make this chili in the Instant Pot. We recommend using our Vegan Instant Pot Chili recipe as a guideline for how to cook it.
Long story short, cook it on high pressure for around 7 minutes with a quick release.
Slow Cooker Instructions
To make this chili in the slow cooker, place all ingredients into your crockpot and stir. Cover and let cook on high for 3-4 hours or on low for 6-8. The key is to take it off the heat once the sweet potatoes are at the desired texture.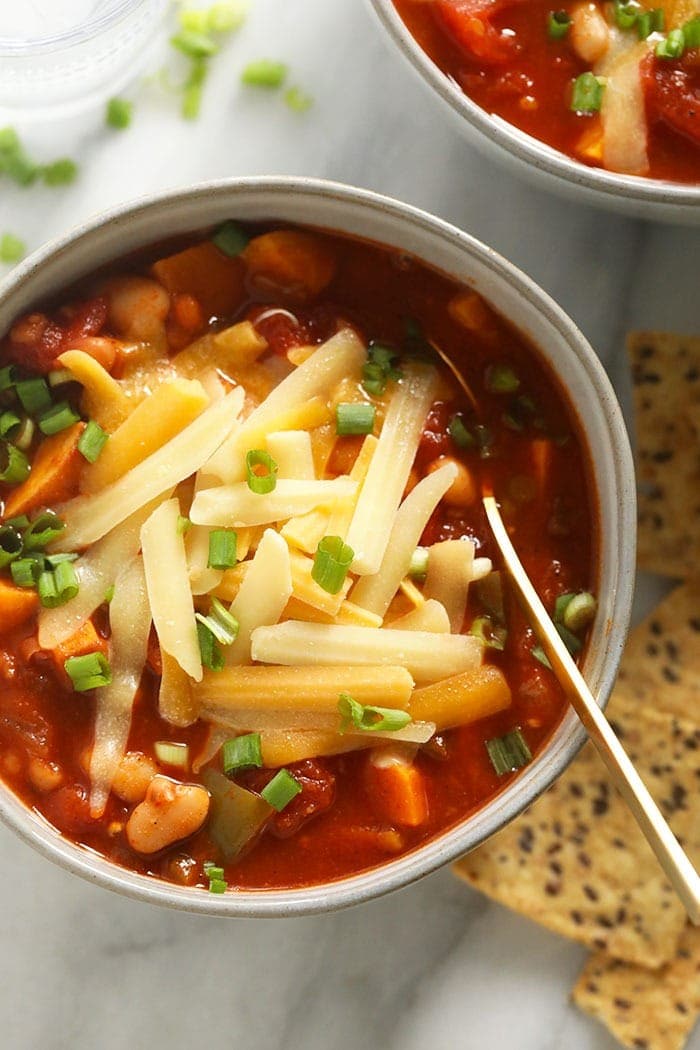 Storage Instructions
Let your chili cool completely. Then, transfer it into an airtight container and seal. Refrigerate for up to 3-5 days.
Reheating Instructions
We always recommend reheating the same way that you cooked it. So, transfer your chili back into a medium pot and reheat over medium heat until hot.
Freezer Instructions
Chili is a fantastic meal to freeze. Make sure to let your chili chill completely before transferring it into a plastic container or freezer-safe gallon-size bag. Remove as much air as possible and seal. Then, freeze for up to 3 months. You can find a complete guide to how to freeze soup and chili HERE.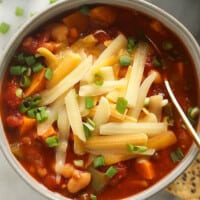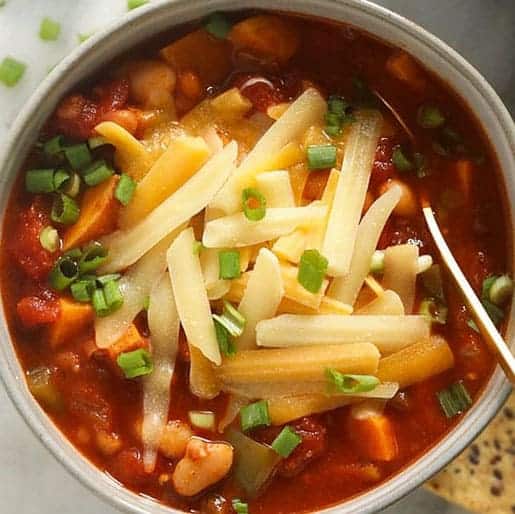 Best Vegetarian Chili (with sweet potatoes!)
This nutrient-packed vegetarian chili never tasted so good. Our vegetarian chili recipe is made with a homemade chili seasoning, sweet potatoes, bell pepper, beans, and diced tomatoes.
Instructions
Begin by heating 2 tablespoons of olive oil in a large stockpot over medium/high heat.

when olive oil is fragrant, add onion, bell pepper, sweet potato, jalapeño, and garlic. Saute for around 5 minutes or until the onion starts to become translucent.

Add the rest of the ingredients but the beans and bring to a boil over medium/high heat.

Once boiling, turn chili down to low and cover.

Let simmer for around 15 minutes or until the sweet potatoes are easily pierced with a fork.

Finally, add in beans and stir. Cook for an additional 2-3 minutes.

Serve with your favorite chili toppings.
Tips & Notes
Jalapeño: add more or less depending on spice preference.
Nutrition information does not include toppings.
Nutrition facts
Calories:
325
kcal
Carbohydrates:
62
g
Protein:
13
g
Fat:
5
g
Fiber:
19
g
Sugar:
23
g