Vegetarian Chili so tasty you won't even know it's meatless. This vegetarian chili recipe is made with beans, sweet potato, diced tomatoes, and a delicious homemade chili seasoning.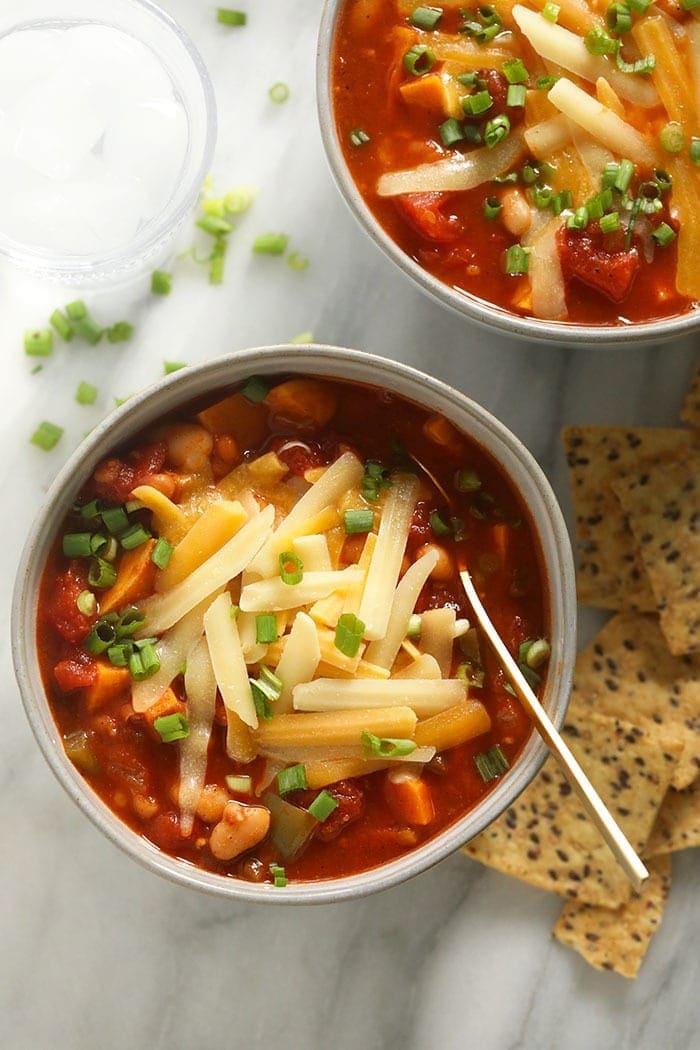 Best Vegetarian Chili
Take meatless Monday up a notch with the best vegetarian chili recipe on the internet! This one-pot meal is made with real, wholesome ingredients, an amazing homemade chili seasoning, and ready in less than an hour.
If you've tried our vegan Instant Pot chili then you will love this variation! It's similar in that it's packed with all different kinds of veggies and made in no time!
What is vegetarian chili made of?
Vegetarian chili is a red chili made of beans, tons of veggies, diced tomatoes, and a delicious homemade chili seasoning. All you have to do is let it simmer on the stovetop and you'll have dinner ready to go in no time!
Beans: beans are high in fiber and a great source of plant-based protein! This recipe calls for white northern beans, but you can use 2 cans of any beans you like.
Bell Pepper: bell pepper is an inexpensive way to add more veggies to your chili. Choose whatever color you like best!
Sweet Potatoes: I love adding sweet potato to chili because it adds a little bit of sweetness and a complex carb!
Onion: When in doubt, add an onion. Any color works.
Diced Tomatoes: Since this is a red chili, we love using both diced tomatoes and tomato sauce as our base.
Chili Seasoning: Instead of buying chili packets at the store, we recommend making your own. Our chili seasoning recipe is made with:
chili powder
garlic powder
cumin
smoked paprika
salt
pepper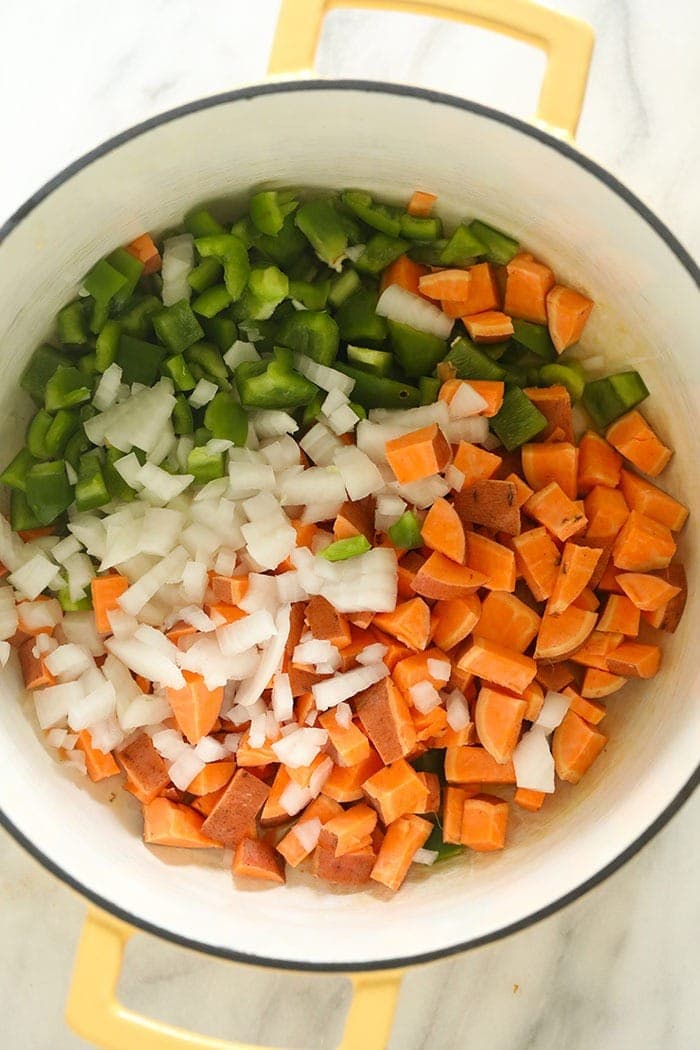 Is vegetarian chili good for you?
Vegetarian chili is extremely good for you. It's packed with both fiber and protein and made with so many veggies. This recipe has 13g protein per serving and a whopping 19g fiber per serving, which makes it a healthy lunch or dinner idea for any day of the week.
Make the Most of your Chili!
This chili is a great meal-prep option because it serves 6 so that you can eat it all week long! We get lots of questions on how to store and freeze soup/chili all the time, so we'll give you the rundown.
How long does vegetarian chili last?
Vegetarian chili will last around 5 days in the refrigerator. Just make sure to store it in an airtight container in the refrigerator.
Can I freeze vegetarian chili?
Chili is a fantastic meal to freeze. Make sure to let your chili chill completely before transferring it into a plastic container or freezer-safe gallon-size bag. Remove as much air as possible and seal. Then, freeze for up to 3 months. You can find a complete guide to how to freeze soup and chili HERE.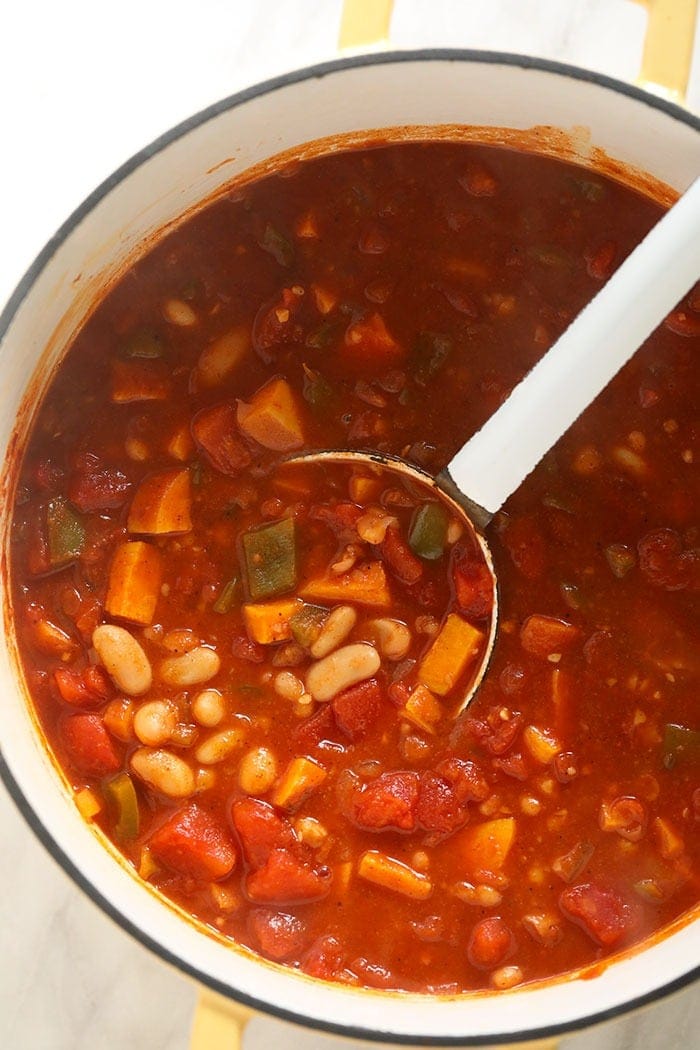 How can I thicken my vegetarian chili?
Thickening chili is easy! We have two methods for you below.
Tomato paste: tomato paste is a great way to add flavor and thicken your chili at the same time. Add a few tablespoons and let your soup simmer for about 15 minutes. It should start to thicken up.
Flour: 

flor is another good way to chicken chili. Add 1 to 2 tablespoons and let it simmer for 15 minutes.
When in doubt, chili always thickens as it sits in the refrigerator. So, when in doubt, you can just refrigerate it and it will thicken naturally.
Can you make this chili in the Instant Pot?
You can absolutely make this chili in the Instant Pot. We recommend using our Vegan Instant Pot Chili recipe as a guideline for how to cook it.
What about the Slow Cooker?
To make this chili in the slow cooker, place all ingredients into your crockpot and stir. Cover and let cook on high for 3-4 hours or on low for 6-8. The key is to take it off the heat once the sweet potatoes are at the desired texture.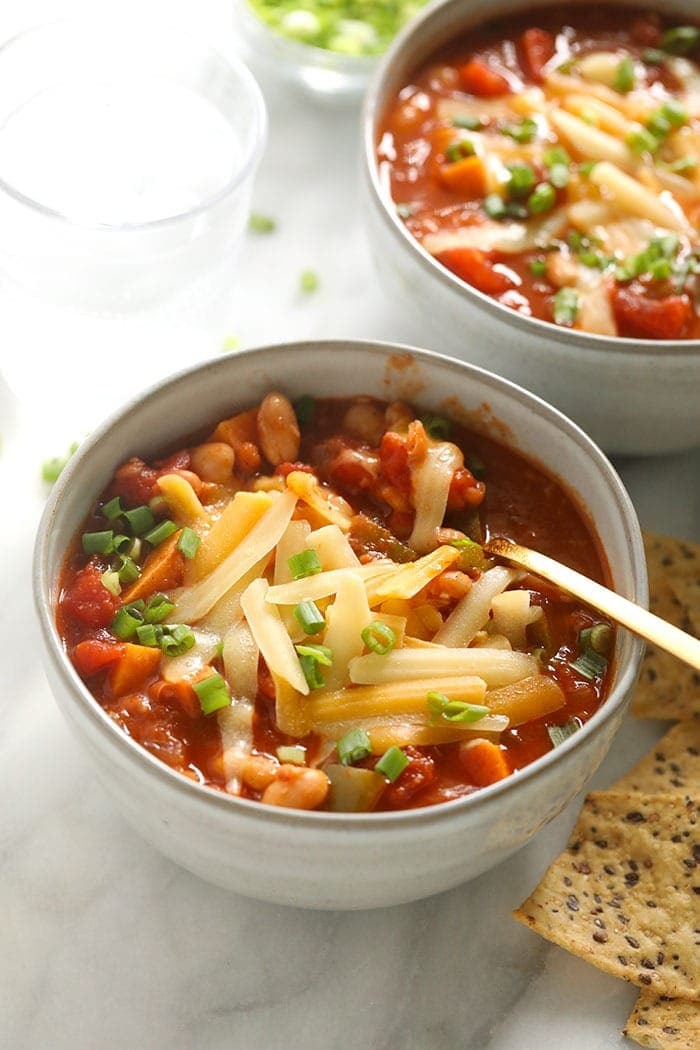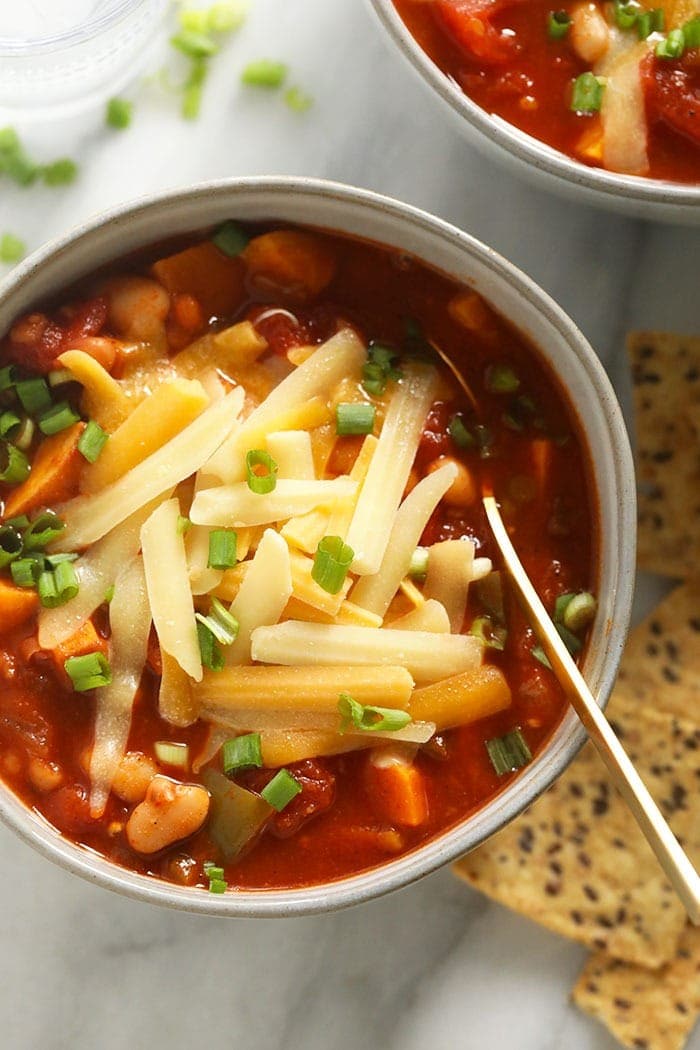 More Vegetarian Chili Recipes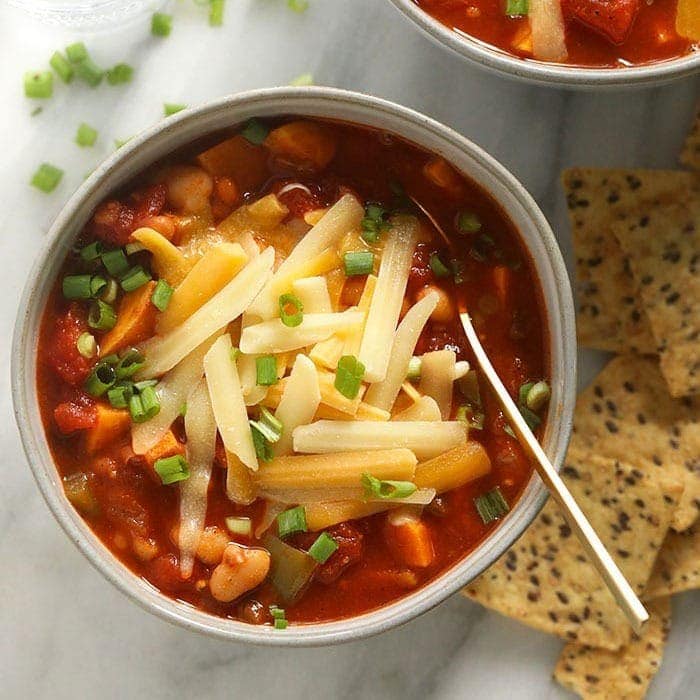 Flavorful Vegetarian Chili
Vegetarian Chili so tasty you won't even know it's meatless. This vegetarian chili recipe is made with beans, sweet potato, diced tomatoes, and a delicious homemade chili seasoning
Prep:
15 minutes
Cook:
25 minutes
Total:
40 minutes
Fat
5
Carbs
62
Protein
13
Ingredients
1 tablespoon

olive oil

1/2

medium yellow onion, minced

1

large bell pepper, finely diced (any color)

2

medium sweet potatoes, diced

1

–

2

tablespoon minced jalapeño* (we used canned)

1 tablespoon

minced garlic

1 cup

vegetable broth

1

15-oz. can tomato sauce

2

15-oz. cans diced tomatoes

1 teaspoon

apple cider vinegar

2 teaspoons

maple syrup

1/4 cup

homemade chili seasoning

2

15-oz. cans white northern beans
Instructions
Begin by heating 2 tablespoons of olive oil in a large stockpot over medium/high heat.
when olive oil is fragrant, add onion, bell pepper, sweet potato, jalapeño, and garlic. Saute for around 5 minutes or until the onion starts to become translucent.
Add the rest of the ingredients but the beans and bring to a boil over medium/high heat.
Once boiling, turn chili down to low and cover.
Let simmer for around 15 minutes or until the sweet potatoes are easily pierced with a fork.
Finally, add in beans and stir. Cook for an additional 2-3 minutes.
Serve with your favorite chili toppings.
Tips & Notes
Jalapeño: add more or less depending on spice preference.
Nutrition information does not include toppings.
Nutrition Facts
Serving Size:
1/6
Calories:
325
Sugar:
23
Fat:
5
Carbohydrates:
62
Fiber:
19
Protein:
13
Category:
Chili
Method:
Stove-Top
Cuisine:
American
Keywords: vegetarian chili